This site is supported by our readers. We may earn a commission, at no cost to you, if you purchase through links.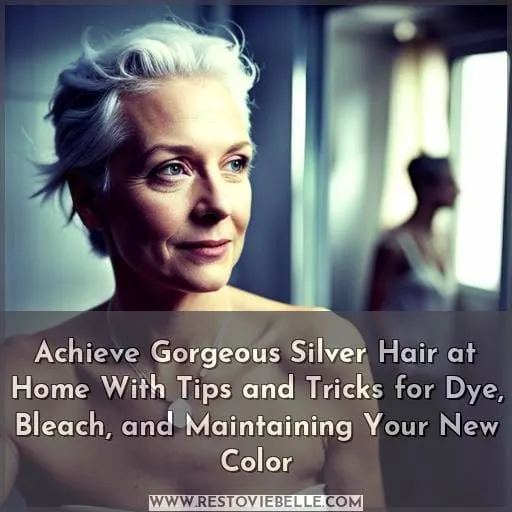 Let's dye those grays! After witnessing your friend's gorgeous silver hair transformation, you're inspired to go for the bold look yourself. Though bleaching your brunette hair platinum can be tricky, the right products and techniques will have you rocking silver strands in no time.
Carefully prep your hair to minimize damage. Once it's pre-lightened, use a violet toner before applying the silvery dye. Maintain that icy color with purple shampoo. While it takes commitment, you'll gain confidence and freedom in your daring new 'do.
Key Takeaways
Pre-lighten your hair and use a violet toner before applying silver dye for the best results.
Use purple shampoo regularly to reduce brassiness and maintain your silver hair color.
Do tests and take precautions before dyeing to avoid allergic reactions and staining.
Deep condition and avoid heat styling to keep your dyed silver hair healthy.
Top 5 Products for Silver Hair
When seeking to dye your hair silver at home, know that the right products are key for achieving beautiful results. Clairol Shimmer Lights blonde and silver shampoo, Garnier Olia metallic silver ammonia-free hair dye, Schwarzkopf Live Ultra Bright silver steel semi-permanent hair color, Color Freedom metallic permanent silver gray dye, and Clairol Root Touch Up concealing powder provide excellent options for toning, lightening, coloring, and maintaining fashionable silver shades.
3. Clairol Shimmer Lights Blonde Silver Shampoo
View On Amazon
You can brighten your faded blonde locks and remove brassiness with Clairol's protein-rich shampoo, according to enthusiastic reviewers. This affordable purple toner shampoo effectively tones down yellow and orange hues in highlighted, bleached, or naturally blonde hair.
Simply use it in place of regular shampoo and let it sit for 5-15 minutes before rinsing out. The pigmented formula can produce slight purple tones if left on too long or overused. Follow up with a hydrating conditioner or mask to avoid dryness. Overall, it refreshes faded color, restoring cool ash tones to blonde and silver hair.
Effectively reduces brassiness
Brightens highlighted and natural blonde hair
Affordable compared to salon toners
Easy to use as a regular shampoo
Can over-tone hair purple if left on too long
Drying without deep conditioning
Fades quickly, requires repeated use
4. Garnier Olia Metallic Silver Hair Dye No Ammonia Maximum Coverage
View On Amazon
Imagine the dazzling metallic shimmer as this ammonia-free formula glides through your locks, leaving behind a trendy platinum purple sheen. Garnier Olia's patented 60% flower oil-infused formula nourishes each strand, ensuring a smooth and pleasant dyeing experience.
The maximum color performance lightens up to three levels while providing 100% grey coverage for a flawless transformation.
Ammonia-free for a pleasant experience
Nourishing formula with natural flower oils
Lightens hair up to 3 shades
100% grey coverage
Long-lasting vivid color
May turn hair purple instead of silver
Works best on light blonde hair
Can be messy to apply
5. Schwarzkopf Live Ultra Bright Silver Steel Hair Dye
View On Amazon
Achieving a striking, blue-black hue sans red tones involves Schwarzkopf Live Ultra Bright Silver Steel hair dye. Though reviews are mixed, this semi-permanent formula delivers intense color on pre-lightened locks.
The HD pigments provide a bright, vivid result that withstands fading and washing. Users report enduring color and receiving compliments. However, initial patchiness may necessitate additional boxes for full coverage.
Color bleeds slightly when wet but remains on hair. While some fading occurs, the steel blue shade prevails for weeks.
Vibrant, long-lasting color
Good for blue-black without red tones
Endures through washes without major fading
Patchy initial application
Requires multiple boxes for thick hair
Slight bleeding when hair is wet
6. Color Freedom Metallic Permanent Silver Gray Hair Dye
View On Amazon
Dancing with desire, experience the striking shine when embracing this bold metallic color for your flowing locks. Create a daring expression of self with Color Freedom's permanent dye. The ammonia-free formula achieves a stand out silver-tinged result when evenly applied to blonde or light hair, taking your look to edgy new heights.
However, uneven color uptake can occur on patchy hair leading to patches of steely blue. Pre-bleach for best saturation on darker hair. Remember – rock your true colors fearlessly.
Ammonia-free formula
Blends roots well
Bold, edgy color
Can appear uneven on multi-toned hair
May skew dark blue in daylight
Pre-lightening recommended for brunettes
7. Clairol Root Touch Up Concealing Powder Dark Brown Hair Color
View On Amazon
When your roots start to show, reach for this quick fix to blend away those grays until your next salon visit. Clairol's Root Touch Up concealing powder provides precision coverage for dark brown hair.
Its multi-use powder and application brush seamlessly blend in grays. The portable compact makes on-the-go touch-ups a breeze.
Simply brush the lightweight powder where needed for natural-looking results that stay put. The dark brown shade works well for covering greys on darker brunette hair while washing out easily with shampoo.
Convenient and portable for quick touch-ups.
Simple and easy to apply.
Provides natural looking temporary coverage.
Works well for darker brunette hair colors.
Affordable compared to salon root touch-ups.
May not work as well for lighter brunette shades.
Can drip if applied at hairline in humid/hot weather.
Requires frequent touch-ups as it washes out.
Results may appear darker than expected on some hair colors.
Not as seamless or precise as professional root touch-up.
Preparing for Silver Hair

Y'all'd better do a patch test before bleaching your locks if you wanna keep your scalp from throwing a fit. To prep for achieving gorgeous silver hair, start by choosing your perfect pampering playlist – whether it's a chill mix or your favorite throwbacks, good tunes set the mood.
Next, perform an allergy test 48 hours prior to prevent irritation. Once you gather your dye, bleach, protective gear and tools, get rid of any buildup with a clarifying shampoo for better bleach uptake.
Don't forget to coat your hairline in barrier cream so you steer clear of skin stains. If done responsibly by testing products and prepping hair properly beforehand, you can safely get striking silver hair results right at home.
Bleaching Hair Before Dyeing Silver

You'll need multiple bleaching sessions for getting dark hair light enough before silvering. To prepare, do a patch test and deep condition hair a few days before lightening. Mix the bleach carefully following instructions. Apply Vaseline around hairline to prevent irritation.
Section hair and apply bleach close to roots first, then mid-lengths, ends last since they lighten quickest.
Check every 5-10 minutes until desired level is reached. Rinse thoroughly and tone with violet to cancel brassiness.
Deep condition after each lightening session. Give hair rest days between bleaching. Add bond-building and protein treatments to nourish hair before applying silver dye.
With patience and proper technique, you can safely bleach hair for silvering at home.
Toning Hair Before Silver Dye

You'd then use a purple shampoo as a toner before applyin' the silver dye for the coolest tones. Toning's crucial for preppin' hair and avoidin' brassiness before dyein' it silver. Choose a purple- or blue-based toner like Wella Color Charm or Clairol Shimmer Lights to neutralize yellow and bring out icy tones.
Apply it thoroughly from roots to ends after shampooing and rinse well. Too much time toning can make hair too ashy so follow directions carefully.
Done right, toning pre-lightened hair helps the silver dye grab better for maximized vibrancy.
Toning is a helpful step before going silver that makes a big difference in the final look.
Applying Silver Hair Dye

You need to be careful when you're painting your hair that silvery hue at your place. Applying the dye is an essential step to achieving beautiful silver locks. Here are 5 tips for applying silver hair dye.
Cover surfaces with old towels to avoid stains.
Wear gloves and apply petroleum jelly to skin to prevent staining.
Section clean, dry hair and apply dye evenly from roots to ends.
Time development carefully and don't exceed maximum processing time.
Rinse thoroughly until water runs clear. Avoid staining by keeping dye off skin and surfaces.
When applying silver hair dye at home, take precautions to protect your skin and surroundings. Carefully follow instructions based on your chosen hair dye and desired silver shade. Proper application technique helps maximize color results and minimize accidents.
Caring for Silver Hair

After processing your silver hair, be sure to deep condition and avoid heat styling to maintain its health and shine. Treating your strands gently will help the vibrant color last longer. Use a nourishing mask weekly and avoid washing daily to prevent drying.
When styling, let hair air dry rather than blow drying; heat styling can fade the color quickly. Wear a swim cap and sun hats when outdoors to protect from chlorine and UV rays.
Diligent aftercare is crucial for longevity of your silver shade. Refresh the color every 6-8 weeks and use a toner shampoo between salon visits. With proper maintenance, you'll enjoy beautiful, healthy silver locks for weeks at a time.
Investing in hydrating and repairing products will keep your hair looking its best.
Maintaining Color Between Dyes

Whoa, that silver's fading fast – it's time for a toner touch-up to keep your locks luminous! Here're 4 ways to maintain your color between dyeing:
Use a purple toner shampoo once a week to prevent brassiness and refresh your silver shade.
Protect your color from UV rays by always wearing a hat when outdoors. Chlorine from pools can also strip color, so wear swim caps.
Nourish your hair with a weekly deep conditioning mask or oil treatment. This maintains your strands' integrity.
Stick to color-safe, sulfate-free shampoos and products to avoid stripping your silver dye.
Using the right maintenance techniques maximizes your silver shade's life. Consistent toning, protection, and conditioning will keep your hair looking stunning between dye sessions.
Letting Dyed Hair Transition to Gray

Fresh from the salon, your new silver strands shine under the lights. But embracing your natural evolution means letting those dyed tresses fade gracefully. If you're ready to transition to silver, patience is key. Nothing damages hair more than constantly coloring over faded dye trying to avoid those first peeking gray strands.
Let your roots grow out inch by inch, snipping split ends along the way. With some TLC those silver strands will multiply steadily. Cut and style your hair to blend and frame new growth in a flattering way during the process.
In several months you'll be rocking a stylish short silver cut, no bleach required.
Achieving Gray Hair Without Dye
Stop coloring every 6-8 weeks to let your roots grow in. Avoid a harsh line of demarcation.
Use dry shampoo at the roots to soak up oils and make gray blends look soft.
Ask your stylist for lowlights near your face to complement the gray.
Change your style to showcase your natural texture and movement.
Invest in a purple shampoo to prevent brassiness and nourish the hair.
Embrace the transition to natural silver locks with pride. Rocking the gray gives a sophisticated style well-suited to your evolving beauty and wisdom. With proper hair care, your silver tresses will shine as gracefully as the moon.
Frequently Asked Questions (FAQs)
Some top-rated silver hair dye brands include Pravana, Schwarzkopf, and Clairol. Consider your current hair color and budget when selecting a brand. It's best to read reviews to determine which works best for your hair.
Pravana works well for a semi-permanent light grey. Schwarzkopf is great for intense cherry tones. Clairol helps blend roots nicely. Carefully read reviews before deciding which silver hair dye brand works best for your current hair color and goals.
Conclusion
Blessed with new shimmering strands, your silver mane glimmers with vitality. Though the process of molten moonbeams flowing from root to tip tests the strength of mind, spirit, and hair, take heart in knowing the radiant fruits of your labor will reward you abundantly.
With proper care, your sterling tresses will crown you a silver goddess. To preserve this regal gift, rely on toners to refresh the silver patina, deep conditioners to restore luster between colors, and color-safe routines to maintain your metallic magnificence.