This site is supported by our readers. We may earn a commission, at no cost to you, if you purchase through links.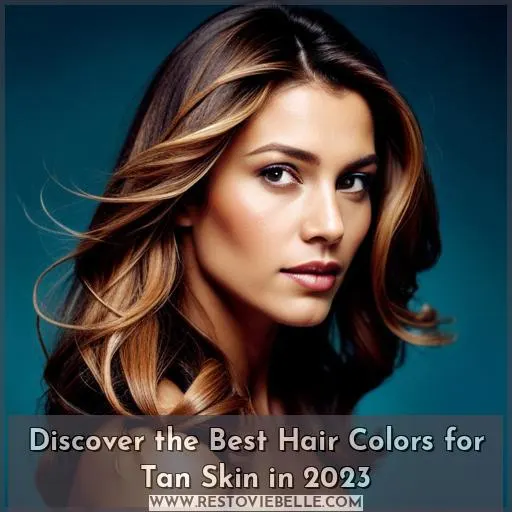 Surprising as it may sound, almost 50% of people in the U.S. have tan skin! If you're one of them and searching for a new hair color to flatter your complexion this year, look no further. Here's everything you need to know about the best hair colors for tan skin in 2023.
From light golden browns to deep coppers and mahogany hues, we've got plenty of gorgeous shades that will bring out all your natural beauty.
Keep reading for our tips on how to choose the perfect hue (and maintain it!) according to your unique tone.
Key Takeaways
Warm tones like light golden browns and deep coppers are ideal for tan skin.
Beige, honey, and sandy blonde tones bring out yellow/golden undertones.
Ash highlights can brighten tan skin while still keeping it warm.
Vibrant colors like orange, red, and copper tones bring out rosy hues on tanned skin.
Blonde Hair Colors for Tan Skin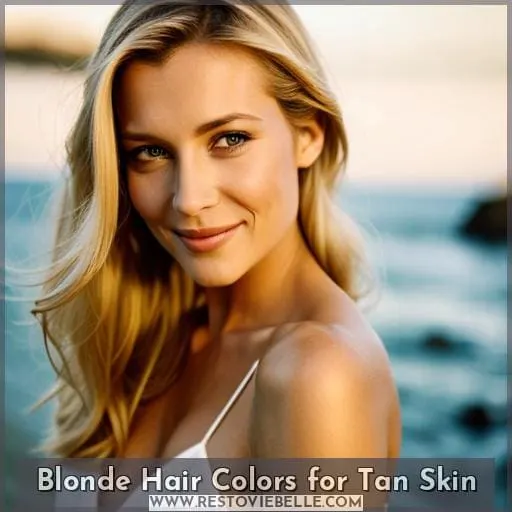 Beige blonde, honey blonde, and sandy blonde are all great hair colors for those with tan skin.
Beige Blonde
Try out a beige blonde shade for your tan skin to give it an effortless, muted tone that complements its golden undertones. For a glossy shine, add some honey highlights to create dimension and texture. A chestnut blonde with sun-kissed auburn tones is great if you want something more natural-looking.
Bronde contrast gives your hair subtle depth without washing out the color on tan skin, while platinum tips offer just the right amount of pop! Ash highlights are also perfect for creating bright yet warm colors against darker tans.
Honey Blonde
Honey blonde is a luminous shade that brightens tan complexions without washing out the color. To create this look, try subtle hue variations such as golden highlights and chestnut brown to balance tones while blonding.
Sun protection products enhance color by moisturizing and protecting from fading.
Sandy Blonde
Sandy blonde creates a sun-kissed look that sparkles on your tan skin. The benefits of this shade extend beyond its aesthetic appeal, with added protection from the sun's harmful UV rays.
To achieve and maintain a sandy blonde hue, use hair care products specifically designed for color-treated hair to keep it looking healthy and vibrant all year round. Blonde toning shampoos are also recommended to eliminate brassiness between salon visits while keeping your natural base color intact.
Play around with different colors by adding platinum blonde or light golden brown highlights or ginger lowlights for an extra dose of depth and texture! Surfer blondes can also rock their own unique style by combining lighter pieces at the crown with darker shades towards the ends for an effortless beachy look that won't fade away in summer heat!
Brown Hair Colors for Tan Skin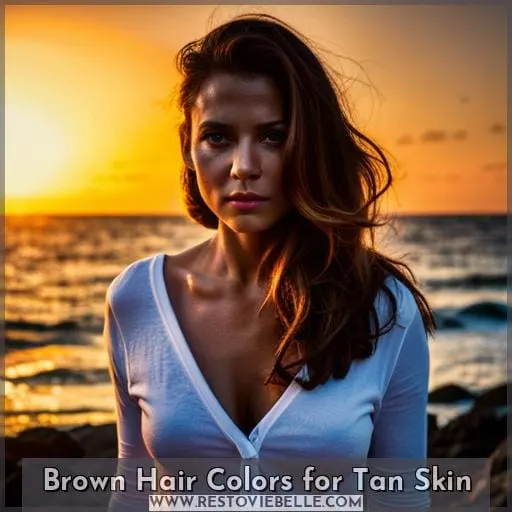 If you have tan skin, brown shades can create a stunning look. Light golden brown highlights add warmth and sun-kissed vibes to your complexion. Chestnut brown offers a rich brunette shade that adds dimension, and mahogany provides the perfect balance between red and natural tones for an eye-catching effect.
Light Golden Brown
Light golden brown offers a sun-kissed look that adds warmth and depth to your complexion. Red undertones make it an ideal choice for tan skin, while still allowing you to keep dark roots in place. The metallic touch of this rich brown shade creates the perfect balance between blonde and light brown hair colors.
Chestnut Brown
Chestnut brown adds a rich brunette shade to your tan complexion for an eye-catching dimensional look. It provides the perfect sun-bleached look with cool tones, brightening skin and giving hair added texture.
Toning down any blonde highlights while still allowing some warmth will create a unique sun-kissed red hue that's ideal for tan skin.
A chestnut brown color paired with darker roots is a great way to make cool colors appear more natural.
Mahogany Brown
Mahogany brown is a gorgeous reddish-brown shade that blends both red and brown tones to give your tan skin an unmistakable glow. This shimmering depth pairs nicely with copper and dark brown shades, creating warm contrast against bronze tones for tonal balance.
Deeper hues such as pumpkin spice or nut-brown bring out the best in any complexion, especially those with a golden undertone! Rich mahogany also beautifully complements lighter complexions, allowing you to embrace the deepness of its hue while still flaunting warmth on your face.
Whether you have light or dark tan skin, this striking color will be sure to make an impactful statement without being too overpowering.
Red Hair Colors for Tan Skin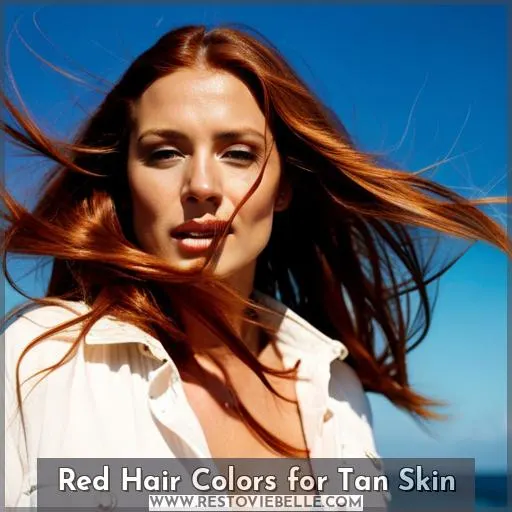 Are you looking for the perfect red hair color to enhance your tan skin? Sunkissed Red, Bright Copper Red, and Auburn Reddish Brown are all excellent choices that will add a vibrant hue to your look. These shades can be used together or separately for an eye-catching style with maximum impact.
Sunkissed Red
Try a sun-kissed red shade on your tan complexion for an eye-catching look that will really make you stand out! Copper tones bring out warm rosy hues, while vivid blonde and ash blonde highlights add contrast.
A bold color like cream soda or rose gold can transform your hair with the perfect balance of light and dark. For a more gradual transition, try brown to blonde ombre – it'll provide dimension without being too overwhelming.
Bright Copper Red
Bright copper red is the perfect choice for tan skin to instantly make your look shine like a blazing fire. Rich, rosy tones of orange and yellow can be found in this fiery shade that will bring out the best in tan complexions.
Highlights of bubblegum pink or icy lavender add dimension against dark silver while contrasting shades of blue and lavender give depth to create an edgy yet elegant style. Copper tones blend with golden undertones on tanned skin, creating a unique hue that complements any wardrobe choices from soft neutrals to bold statement colors such as fiery red.
Turn heads wherever you go wearing bright copper red highlights, sure to leave lasting impressions!
Auburn Reddish Brown
Auburn reddish brown is a great way to bring out the warmth of your tan skin, creating a soft and subtle look. Darkening roots with this color can create an effortless transition into cool colors like cherry red, copper shades, or even midnight blue.
Adding subtle highlights like acid yellow or cool pink will also help give you that multidimensional effect without going too bold with color for those who haven't colored their hair before! This expertly chosen hue brings out the natural beauty in tan skin while adding dimension.
Color Techniques for Tan Skin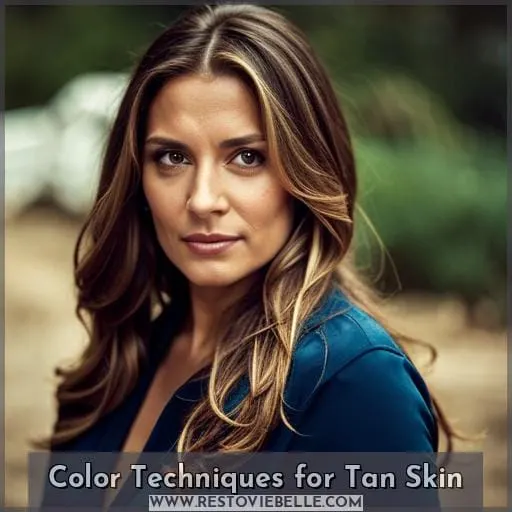 For tan skin, a color technique that stands out is an ombre transition from dark roots to vivid blonde mid-lengths. Additionally, the three-toned look of light blondes and medium browns against darker hair creates a bold statement.
Finally, adding colorful money pieces with bright green, blue, or pink hues gives your style some serious personality.
Ombré Transition
An ombré transition from dark roots to vivid blonde mid-length will give you a stylish look that flatters your tan skin. Experiment with multi-tonal looks, incorporating bold colors like pink and blue for a daring style.
For brunette shades, honey highlights outline and boost the darker color, while sun exposure can lead to high-lift blonde shades lightening over time – use blue toners to reduce any brassiness.
Keep in mind that orange, red, and copper tones bring out rosy hues on tanned skin, while muted jewel tones work as neutrals for darker complexions.
With an ombré transition, you'll have your own unique style that celebrates your tan complexion!
Three-Toned Look
Try a three-toned look that tantalizes tan skin with warm, golden hues and highlights. For an eye-catching style, combine multidimensional cool-toned shades to bring out rose tones in the complexion. Dual shades of brown and blonde are perfect for achieving vibrant hues without looking brassy or unnatural on tan skin.
Clients can also consider adding accents of copper red if they want more drama or even just a few streaks for subtle definition.
Colorful Money Pieces
For tan skin, try adding vibrant money pieces with hues of green, blue, pink, and yellow for a bold look that stands out. The balance of brightness between the cool tones and vivid hues will help to further intensify your complexion while still looking natural.
These colorful strands create warm glows around the face as they contrast against darker hair colors for an eye-catching effect. For those who are feeling adventurous or want to make a statement with their style, give this look a go! You won't be disappointed by how it can bring life to any style.
Hair Color Maintenance for Tan Skin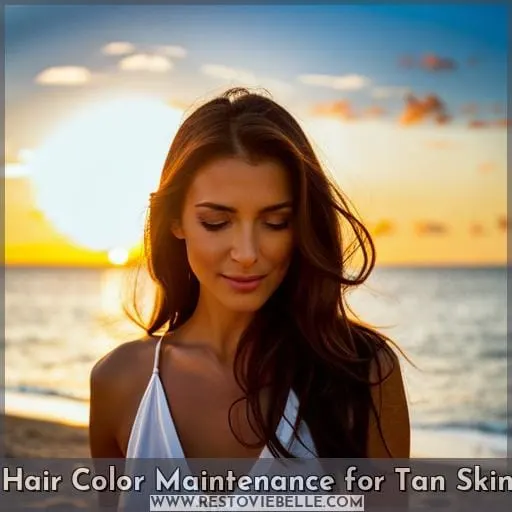 To keep your tan skin looking its best, hair color maintenance is key. Leave-in conditioners and masks help retain vibrancy, while consultation with a stylist ensures proper formulating and application of bold colors.
To maintain color integrity between salon visits, proper at-home care is essential.
Leave-in Conditioners and Masks
Leaving in conditioners and masks helps keep your hair's hue healthy, hydrated, and vibrant.
Use the right formulating colors for desired results.
Blondes should use toners to reduce brassiness from sun exposure.
Reapply conditioning treatments every few weeks to protect against breakage or fading of colors.
Tone down highlights when necessary by using glossing treatments instead of a full dye job on hair strands for longer-lasting hues with added shine and softness!
Choose an appropriate shampoo that defends against UV rays while nourishing locks before styling products are applied – this will ensure optimal vibrancy from root to tip! With these tips, you can create bold looks without sacrificing the health of your tresses – unleash your inner freedom today!
Consultation With Stylists
Consulting a stylist before choosing hair colors for tan skin is key to achieving the look you desire. With expert coloration advice and access to salon treatments, they'll help ensure your sun-kissed strands get all the protection and care they need.
Get tips on tone variations, dye application techniques, as well as at-home maintenance routines tailored just for you! For any hue from blonde to brunette or even reds of every shade – talking with an experienced pro can make all the difference in finding that perfect color match.
Proper At-Home Care
You'll want to make sure you properly care for your hair color at home in order to keep it vibrant and healthy.
Properly store all products away from direct sunlight.
Use sun protection when outdoors, such as a scarf or hat.
Color-safe shampoos help preserve the vibrancy of the dye without causing damage like fading or stripping it away over time.
Toners can be used after coloring to prevent brassiness and maintain the desired hue long-term with regular use every 6 weeks or so.
Cold rinses are also beneficial for closing cuticles, which helps retain moisture, leaving your locks looking glossy and feeling silky smooth!
General Tips for Hair Colors on Tan Skin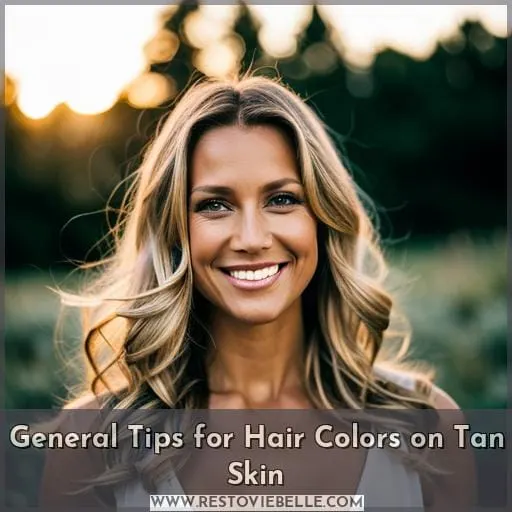 For tan skin, muted and jewel-tone shades may serve as neutrals, while warmth should be avoided with dark ash blonde or charcoal colors. Subtle highlights and lowlights can create dimension for brunette hues, giving your hair an attractive look.
Muted and Jewel-Tone Shades
Muted and jewel-tone shades, such as pink, lavender, or blue, can contrast both lighter and darker tan skin for an eye-catching look. Regular hair conditioning is key to maintaining the vibrancy of the color while protective styling helps keep your desired look intact, with discoloration prevention in mind.
Cool tones like blues and purples are best for those with a warmer complexion because they help balance out natural shades rather than washing them out.
Whether you're going bold with bright hues or keeping it subtle with softer tones, make sure you find a unique way to express yourself through color that also enhances your complexion.
Avoiding Too Much Warmth
Avoid warm shades like dark ash blonde and charcoal when choosing colors for your tan complexion to keep it looking vibrant. Instead, opt for sun-kissed looks with bold cool colors that contrast against rosy tones in the skin.
Light Golden Blonde
Bright Copper Red
Auburn Reddish Brown
Bronze Blonde with Champagne Highlights
Natural Dark Brown

Give a beautiful finish to enhance your unique tone without washing out its natural vibrancy! So experiment and have fun finding which shade suits you best – be daring!
Subtle Highlights and Lowlights
Subtle highlights and lowlights can create a dimensional look for brunette shades that stands out against tan skin. A honeycomb effect with complementary shades of warm or cool tones can provide contrast to the complexion.
Highlights bring out natural warmth, while lowlights add depth and dimension to brunettes. Mixing various shades creates an overall appearance that pops on tan skin, giving it a vibrant boost of color without looking overly done-up.
To achieve this look, have your stylist apply lighter hues around your face in order to brighten up the area as well as darker colors towards the ends to give you an extra dimension! The end result is subtle yet stunning – perfect for those who want something more than just one solid tone but don't want anything too overpowering either!
Frequently Asked Questions (FAQs)
What are the best products to use when coloring hair for tan skin?
For tan skin, opt for products specifically designed to protect and nourish your hair. Choose a leave-in conditioner or mask to keep the color vibrant and moist. Consult with stylists for the right formula and application of bold colors.
How often should I color my hair if I have tan skin?
How often you color your hair depends on the look you're after. Opt for low-maintenance shades that'll last longer if you don't want to visit the salon too frequently.
Are there any tips for maintaining the color of my hair over time if I have tan skin?
Maintain your hair color with regular leave-in conditioners and masks. Consult a stylist for proper formulation and application of bold colors. Shadowy, darker roots help make cool hues look natural. Highlift blondes may lighten with sun exposure, so use blue toners regularly to keep brassiness away! With proper at-home care, you can preserve your hue between salon visits.
Is there a way to make the color last longer if I have tan skin?
Yes! Use leave-in conditioners and masks to keep the color vibrant and moisturized. Consult a stylist for properly applying bold hues, and darker roots help cool colors look more natural.
Are there any special techniques for styling hair with color if I have tan skin?
Yes! Enhance your tan skin with subtle highlights, lowlights, and multi-toned color to create dimension. Try a bolder look using money pieces with bright pops of color or an ombre transition from dark roots to vivid blonde mid-length.
Conclusion
Are you looking to refresh your look for 2023? If you have tan skin, you're in luck! There are a variety of best hair colors for tan skin that will bring out your natural beauty.
For blonde shades, try a strawberry blonde, buttery blonde, or bronde for a dimensional look. If you prefer brown shades, light golden brown and chestnut brown will add warmth and a sun-kissed look.
To stay on-trend and bold, consider color techniques like ombré transitions, three-toned looks, and colorful money pieces.
When it comes to hair color maintenance, it's important to use leave-in conditioners and masks. Consulting a stylist for proper application and practicing proper at-home care is also crucial.
For a more subtle and natural look, consider muted and jewel-tone shades. Avoiding too much warmth and opting for subtle highlights and lowlights can also enhance your tan skin.
With a little bit of knowledge, you can easily find the best hair colors for tan skin that will make you shine in 2023!