This site is supported by our readers. We may earn a commission, at no cost to you, if you purchase through links.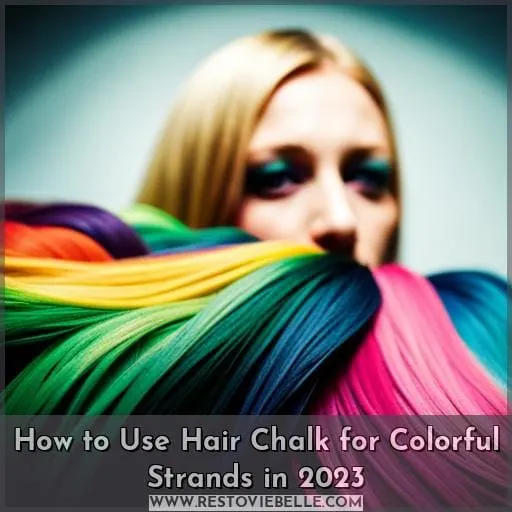 Ready to get creative with your hair color? Hair chalk is an easy and fun way to add temporary, vibrant streaks of color without the commitment of dye. In fact, according to a report from Cosmetify in 2020, hair chalking has seen a 75% increase in popularity among people looking for new ways to express themselves.
Not only does it allow you to experiment with different colors but also gives you the freedom to choose when and how often you want them! Read on for our top tips on how to best use this trend-setting product.
Key Takeaways
Hair chalk offers temporary, vibrant hair color without a dye commitment.
There are various application methods for hair chalk, including liquid, compact, stick, and spray.
Hair chalk comes in a wide range of colors, from mild pastels to bright neons, allowing for a unique look.
Hair chalk is safe to use, temporary, and won't damage hair, but it can dry out the hair if used long-term.
What is Hair Chalk?

Discover how to add a burst of color to your hair with non-toxic, temporary hair chalks and experiment with the latest trends without damaging your locks. Hair chalk allows you to add vibrant hues in an easy way that won't damage or stain like traditional dyes.
There are various application methods available depending on what type of dye you use – from liquid chalk and spray options through compact sticks and more.
With clip-in extensions, colored hairspray, and even temporary liquid dye as alternatives, there is no limit when it comes to experimenting with new looks using these fun products.
How to Use Hair Chalk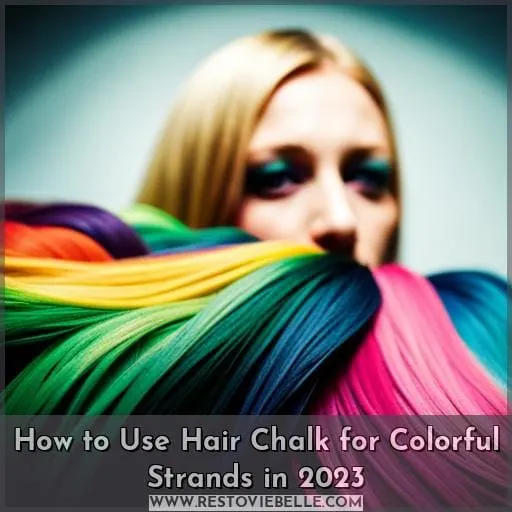 Hair Chalk is a great way to add temporary, vibrant color to your hair without the fear of damage. You can apply it in various forms such as liquid, compact, stick, and spray; each offering different results for an array of styles.
Hair Chalk Spray
Experience a rush of color with hair chalk spray! Get creative and bring out your colorful side for any occasion. Hair chalk sprays are heat-resistant, so you can use them to create vibrant looks without fear of the color fading away due to heated styling tools.
The multiple formulations available offer quick application with sealed color that lasts until you shampoo it off. Try mild shampoos or soft chalk pastels for an easier removal process when needed.
When applying this temporary dye, remember to seal the sprayed areas with hairspray before styling in order to prevent dust particles from affecting its vibrancy and durability – making sure your look stays intact all day long!
Hair Chalk Stick
Add a pop of color to your look with just a few strokes using hair chalk sticks! You don't need to bleach or dye your hair, as the pastel tones can easily be applied directly on dry or wet hair. Hair chalk stick is ideal for root touch-ups and heat protection. Leave-in conditioner helps keep the colors sealed in.
There are different formulations available, so you'll have no problem finding one that works best for you.
Removal isn't too difficult either. Usually, an oil massage and baking soda with shampoo do the trick.
Hair Chalk Compact
You can apply the Hair Chalk Compact similarly to a stick for intense color. Take precautions such as wearing old clothing and gloves to prevent messes while dyeing your hair. Combinations of different colors are possible with this method to create unique styles.
To ensure safety measures are taken, make sure not to leave the chalk on for too long or shampoo directly after applying it without conditioner first.
Liquid Hair Chalk
Dip your brush into the liquid chalk and paint streaks of vibrant color onto your hair for a long-lasting look. Protect styling tools to prevent transfer, then seal with hairspray. To remove, use an oil massage and baking soda shampoo; blondes may need extra rinsing.
Color longevity lasts up to 10 washes, so deep condition or wrap in a protective towel after dyeing.
How Long Does Hair Chalk Last?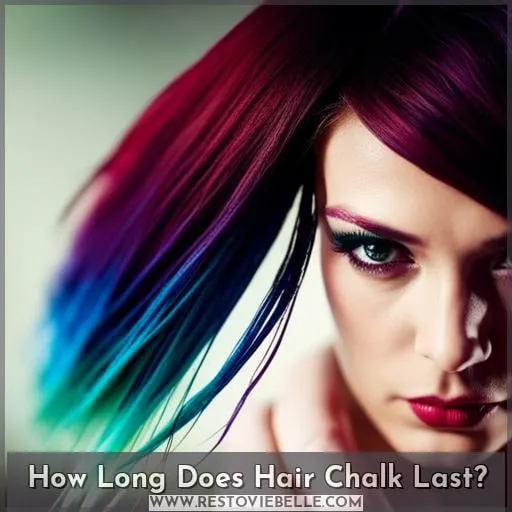 Discover how long hair chalk lasts, from a single wash to up to 10 shampoos depending on the type you choose.
Liquid chalks last longest with 2-10 shampoos, followed by sticks lasting 2-4 washes. Spray and compacts are short-lived, lasting only 1 or two washes at most. Protect your clothes from staining by using protective gloves during application.
Goldwell's Elumen Play offers more lasting power (10 – 15 Washes) compared to other types of hair chalks like Ilovebaby Hair Chalk. Ilovebaby Hair Chalk comes in a set of 24 different colors, offering pigmented dye for color intensity.
However, it is limited to one or two days maximum before needing reapplication due to a lack of staying power when shampooing it out later. Using a blow dryer or hair straightener may help reduce fading faster than air drying alone.
How to Remove Hair Chalk From Hair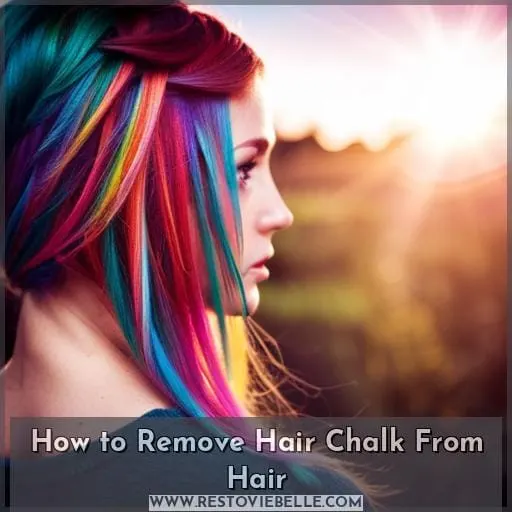 Once you've enjoyed the temporary color boost hair chalk offers, it's time to remove it! Luckily, there are several methods for removing hair chalk depending on what kind of product was used.
First and foremost, give your hair a good oil massage with baking soda and shampoo. This will help break down any silicone-based leave-in conditioner that may be present in your locks.
You can also use a clarifying shampoo to help strip out the color staining from the strands quickly without drying them out too much.

To avoid damage, take extra care if you're using harsh chemicals like bleach or peroxide, which could lead to extreme dryness or even worse – split ends – if not done properly! Finally, try copying over sections of dampened strands multiple times until desired results have been achieved.

Removal Tips List:

Oil massage with baking soda & shampoo
Take extra care when using harsh chemicals such as bleach/peroxide
Copy over sections of dampened strand repeatedly until desired result is achieved
Follow up the removal process by rinsing hair in cold water
What Are Some Alternatives to Hair Chalk?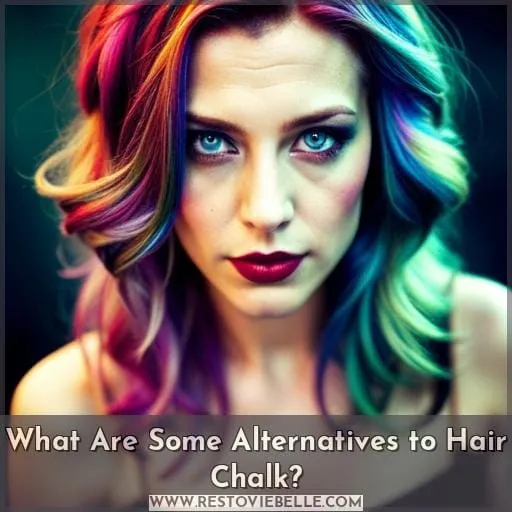 If you're looking to switch up your look without the commitment of hair chalk, try out clip-in extensions, colored hairspray, or temporary liquid dye for a dramatic transformation! Alternatives to permanent hair dyes include:
Clip-in Extensions: a quick and easy way to add color that can be removed just as quickly.
Hair Coloring Sprays: offer a great color selection with long-lasting power and no damage.
Goldwell Elumen Play Semi-Permanent Color: perfect for intense shades and lasts up to 10 washes while keeping hair healthy.
For an even more daring style, curling iron sea foam is sure to turn heads! To maintain vibrancy in your new look, use a deep conditioning mask once per week.
The Final Takeaway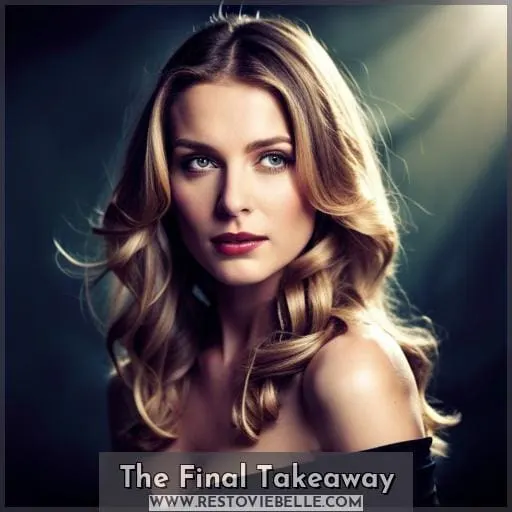 Now that you know how to use hair chalk effectively, let's take a look at the final takeaway.
For vibrant color without damage or staining, dampen your hair before applying and choose non-toxic temporary dye for best results. To prevent any kind of staining from happening on fabrics or materials, wear gloves when using hair chalks.
When it comes to protecting your locks while coloring them with chalk, make sure to apply a surfactant-based shampoo afterwards so as not to dry out the strands too much and keep them healthy-looking.
Lastly, don't forget that there are other ways such as clip-in extensions, colored hairspray, and temporary liquid dyes available if you're looking for something more lasting than what's offered by regular non-permanent colors like Hair Chalk.
Step 1: Choose Your Hair Chalk

Choose a hair chalk from Ilovebaby's 24-color pack to instantly transform your locks with an intense burst of color! Get ready to experience safe application, long-lasting vibrant color, and non-toxic ingredients for all types of hair.
To ensure the perfect look, consider these tips:
Choose colors that will give you the desired intensity – dark hues work best on darker hair, while lighter shades are great for lighter strands.
Make sure you use clarifying shampoo when removing the color, as it can help remove any stubborn traces left behind in your tresses after washing out the pigments.
If you want more staying power, go for liquid chalks that last up to 10 washes instead of sticks or sprays, which may only last one wash at most!
Finally, seal in your new hue with hairspray before styling, so dust won't affect its vibrancy over time!
With Ilovebaby Hair Chalk and these simple steps, be prepared to explore limitless possibilities without worrying about damaging your locks or compromising their health!
Step 2: Wash Your Hair and Skip Product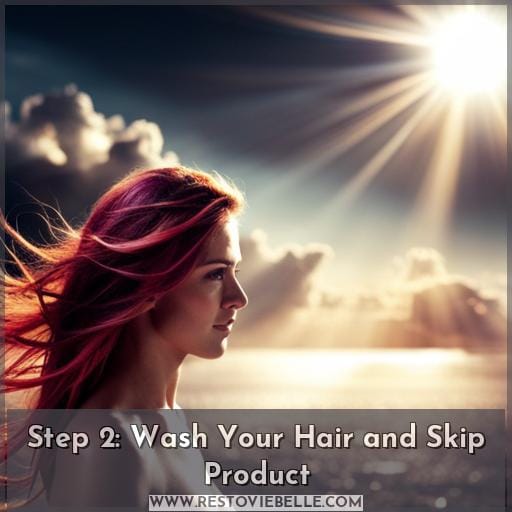 Before applying hair chalk, wash your hair and avoid using styling products. It's important to pre-bleach dark brown locks for best results. Lightening the shade of your natural color will allow it to absorb more pigment from the chalk.
Choose a sulfate-free shampoo with heat protection that caters specifically to each individual's unique hair type. When washing out after dyeing, use lukewarm water and only rinse until all remaining residue has been removed.
Pre Bleach
Yes
When dry, apply an even amount of product throughout dampened strands using a brush or sponge applicator for softer tints. Saturating them with fingers creates bolder colors. Achieving vibrant hues takes practice, so be patient when trying different techniques such as layering multiple colors together.
Use hairspray afterward if additional hold is needed before going about regular styling routines.
Step 3: Wet the Section of Hair You Want to Color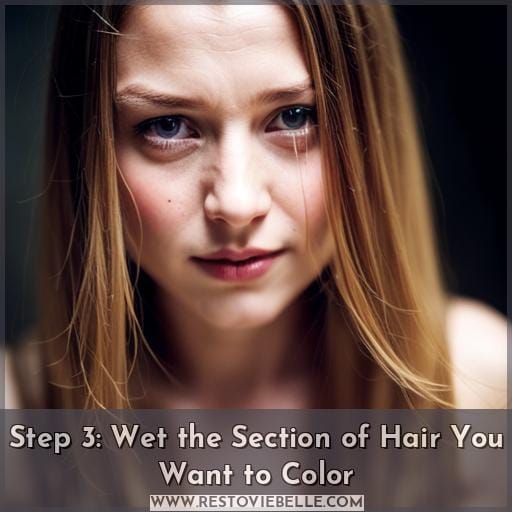 Gently dampen the section of hair you'd like to color for a more vibrant hue. Make sure your hair is wet to help intensify the dye and ensure an even application. When selecting colors, remember that mixing colors can create unique hues or even a technicolor look! Consider which products are best for achieving your desired outcome.
It's important to factor in protection from damage when coloring with chalk. Once you've chosen your product(s), experiment with different techniques. Use twisting motions on certain sections of hair for an ombre look. Apply smooth strokes along strands if you're aiming for something punchier! Hair chalk offers endless possibilities, so don't be afraid to get creative and have some fun playing around with different styles and looks.
Frequently Asked Questions (FAQs)
Is Hair Chalk Safe to Use?
Hair Chalk is generally safe to use, with its non-toxic and temporary nature. It can last up to 10 washes, giving you the chance to experiment without long-term commitments! With proper preparation and removal techniques, it's an empowering way for anyone looking for vibrant color or a unique style.
Can Hair Chalk Be Used on Dyed Hair?
Yes, hair chalk can be used on dyed hair. Apply it with a light touch for an even, vibrant look that will add a pop of color and leave you feeling empowered! With the proper application technique, you'll have gorgeous locks worthy of envy in no time – it's truly magical!
Does Hair Chalk Require Special Maintenance?
Yes, hair chalk requires special maintenance to keep the color vibrant. To ensure maximum staying power, reapply before styling and use a hairspray sealant. Additionally, an oil massage and baking soda with shampoo help remove the color when desired.
How Does Hair Chalk Affect Hair Growth?
Tired of hair that's stuck in the same old style? Chalk it up! Hair chalking can give you vibrant color without damaging your 'do.
Does Hair Chalk Damage Hair?
Hair chalk won't damage your hair in the long term, but it can dry out strands and fade quickly. Protect your locks by moisturizing regularly and using color-safe shampoo for vibrant results that last.
Conclusion
With the latest hair trends always changing, it's no surprise that hair chalk is becoming the go-to for vibrant, temporary color. An estimated 20 million Americans are using hair chalk to experiment with their look, showcasing an impressive variety of shades and styles.
Whether it's a subtle highlight or an extreme transformation, hair chalk has something for everyone. From liquid to compact, there are several types of hair chalk available, and each one offers unique benefits and results.
With a bit of preparation and some practice, you can easily use hair chalk to get the look you want. Just remember to use a protective sealant to keep your color lasting longer and protect your styling tools from staining.
With the right hair chalk and a few tips, you can make 2021 the year of the most vibrant hair yet!