This site is supported by our readers. We may earn a commission, at no cost to you, if you purchase through links.
Diving into the world of bleaching your hair can be daunting, but it doesn't have to be. With a little bit of knowledge and research, you can confidently bleach your own hair with ease – like a butterfly emerging from its chrysalis! Whether you're looking for an all-over blonde look or just want to lighten up some highlights, this step-by-step guide will help you get there safely.
So grab that notepad and prepare yourself as we walk through how to bleach hair like an expert.
Key Takeaways
Prepare and assess before bleaching
Choose the right products and supplies
Take care of hair health during and after bleaching
Use toning techniques and products for desired results
Recognize the Risks

It's important to recognize the risks associated with bleaching hair, such as potential damage to scalp health and discoloration of strands, so you can make an informed decision about whether professional help or a DIY approach is right for you.
Before taking any steps towards bleach application, it's vital to assess your own personal risk factors relative to allergies and sensitivities. If in doubt, seeking professional advice from a stylist may be best when considering bleaching hair yourself.
Bleach allergies are real and should not be taken lightly. If exposed unprotected skin could potentially suffer rashes or other irritations due to improper handling of chemicals used in the process.
Additionally, those with sensitive scalps need extra caution before applying products themselves, which can lead to further damage if done improperly. This often results in more visits than necessary to salons due to frequent corrections needed after attempting at-home solutions that weren't properly researched prior to application.
This can be costly and could have been avoided entirely had proper research been conducted beforehand, ensuring safety first while being mindful of the money-saving factor by doing it all oneself instead of opting for salon services every single time minor color fixing needs attention.
Understand the Basics of Hair Bleaching

Bleaching your hair is a great way to achieve the look you want, but it's important to understand the basics of this process. Knowing about hair levels and tones, as well as having all the right supplies on hand, is a key piece of knowledge that will ensure success with bleaching.
Hair Levels and Tone
Understanding the difference between hair level and tone is essential for achieving silver hair. Hair levels are determined by a color chart, ranging from 1-10. 1 is the darkest black, while 10 is the lightest blonde.
Tone, on the other hand, refers specifically to whether your hair has warm or cool undertones. Warm undertones include colors like gold, yellow, orange, and red. Cool undertones, on the other hand, include purple and blue tones like ash and silver.
When bleaching your locks at home, it's important to use a low peroxide developer strength of 20 volumes or less.
After the lifting process, you'll need to use a toner to achieve your desired shade. Selecting a toner that suits your natural color level will help ensure successful results.
To keep brassiness away and maintain your icy locks, it's recommended to use purple shampoo on a weekly basis.
Supplies You'll Need
Gather the supplies you'll need to bleach your hair, such as bleach, developer, gloves, and more. Select products based on the level of lightening you want and use a low-volume peroxide for extra safety.
For DIY techniques, opt for an all-in-one kit like the Manic Panic Hair Bleach Kit or the Pieces Hair Coloring Kit. These kits include everything from brushes to plastic capes. Ensure proper hair protection with disposable caps and mixing trays.
Additionally, use deep conditioning treatments like the Bold Uniq Purple Hair Mask after bleaching is done. To protect color maintenance, use purple toning products weekly. For healthy locks, incorporate strong protein supplements like DeeplyRooted Collagen into your daily routine.
Preparing Your Hair for Bleaching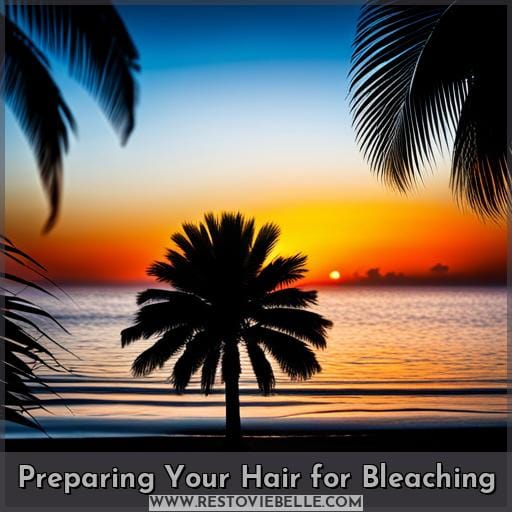 Before you head into the unknown abyss of hair bleaching, make sure your locks are prepped and ready to go with these helpful tips!
Start by assessing porosity levels: if your hair is porous or has been heat-treated in the past, it will require a professional touch. Likewise, fine or damaged strands may need additional care that only an experienced stylist can provide.
Give extra attention to scalp health; treat any irritation before attempting a bleach job for optimal results.
Once all this is done and dusted, hydrate those tresses! Make deep conditioning treatments part of your regular routine. They keep dryness at bay while protecting against breakage caused by chemical treatments like bleaching agents.
Finally, get creative with toning techniques. Use purple shampoos designed specifically for blondes or try ombre coloring effects using balayage kits.
With proper preparation and excellent products on hand, you're well on track to achieving that flawless blonde look without compromising hair health along the way.
Step-by-Step Guide to Bleaching Your Hair at Home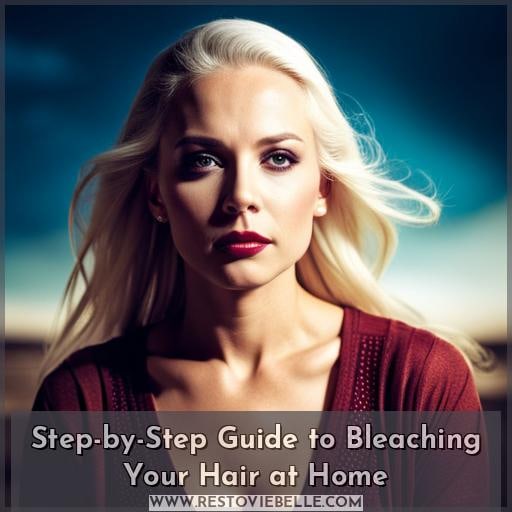 Before you begin bleaching your hair at home, it is crucial to divide your hair into sections and accurately mix the bleach and developer. Ensure that you apply the bleach evenly to each section, starting from the roots and working towards the tips.
Pay extra attention when bleaching your roots. Keep a close eye on the process for any changes in color or texture to prevent overprocessing or damaging your hair.
Sectioning Your Hair
Partitioning your hair into sections is key for an even application of the lightener. Use a comb to divide your hair from ear-to-ear across the crown and clip each section separately.
For root touch-ups, part vertically into 1/2 inch parts to ensure consistency at the roots when bleaching.
To avoid red or violet undertones during the toning process, make sure to adequately cover all areas with the bleach and developer mix before moving on to a new quadrant of hair.
Achieving that perfect shade also requires consistent root bleaching. Remember to maintain your hair properly by getting regular trimmings and using purple shampoo weekly.
Mixing the Bleach and Developer
Mix the bleach and developer according to the instructions, using a ratio suitable for your hair color level. This ensures an even lightening of locks. Understand chemical reactions; too much can cause scalp irritation or overprocessed hair.
To avoid this, measure correctly and mix thoroughly with a tint brush for evenly distributed product. If adding dye colors, make sure they're compatible with both products before mixing – otherwise, you could risk damaged hair.
Applying the Bleach
Put on your gloves and grab a tint brush, it's time to start applying the lightener! When bleaching hair at home, you'll need to divide your locks into sections. Start by applying bleach one inch away from the scalp for safety. If you're going for silver hues, choose toner based on your natural color level and carefully follow the instructions on the product.
It's always recommended to seek professional help if you're not taking DIY precautions seriously. Remember to cover your hair with a shower cap while processing to avoid damage from heat or moisture. Finally, after the bleach session, make sure to invest in purple toning shampoo and conditioner.
Bleaching Your Roots
Treat your tresses to a new look by bleaching your roots! Opt for a root touch-up instead of a complete makeover to make color maintenance easier. Before applying the bleach, do thorough hair care research and choose the right bleach strength based on your natural color level.
Be sure to follow DIY precautions carefully and avoid using excessive oils or styling products before application.
To begin, divide your hair into sections and mix the lightener and developer according to the instructions. During the processing time, use a plastic shower cap to retain heat. It's important to check the progress regularly in proper lighting to avoid overprocessing.
After bleaching, use a toner with peroxide developer as instructed. To maintain a silver shade, follow up with purple shampooing and deep conditioning. This will help keep your hair looking beautiful and prevent damage or discoloration as your roots grow out.
By properly bleaching your roots, you can ensure that your regrowth is free of damage or discoloration, giving you gorgeous locks every day!
Monitoring the Bleaching Process
Check your hair's progress every few minutes while bleaching to ensure you don't overprocess it. Invest in a reliable lightening kit and follow the product instructions for accurate results.
Monitor progress during application and rinse thoroughly after each step with shampoo or conditioner for optimal hair health. Use purple shampoos, deep conditioning treatments, as well as bond-repairing masks regularly to maintain color and avoid damage from frequent bleaching sessions.
Don't forget: Healthy locks are essential before any bleach job!
Post-Bleaching Care and Maintenance

Maintaining bleached hair requires dedication and regular upkeep. After you've completed the bleaching process, it's essential to schedule regular trimmings, deep conditioning treatments with moisturizing ingredients, and bond repairing treatments to keep your hair healthy.
Consistent root touch-ups will also help maintain your desired shade of blonde or silver locks for longer periods of time.
Schedule Regular Trimmings
Schedule regular trimmings to keep your hair healthy and looking fresh, so you can maintain that silver-blonde shade. Trimming frequency should be based on the haircut style. A layered cut may need more frequent touch-ups than a blunt one.
Regular haircuts help remove split ends and promote natural hair growth while maintaining your desired look.
Consider scheduling salon visits every 4-6 weeks for trimming or toning services. These services can include shampoo, conditioner, or comb treatments to keep color vibrant and protect from damage due to bleaching processes.
Deep Conditioning and Moisturizing
After bleaching, nourish your hair with a deep conditioning treatment and regular moisturizing masks to keep it healthy and strong. For maximum hydration, opt for bond repairing treatments that rebuild elasticity while protecting from future damage.
DIY transformations can be done using store-bought conditioners or deep hydrators specifically designed for post-bleach hair needs.
To prevent dryness after rinsing out the mask, use lukewarm water instead of hot. This will protect your scalp's natural oils and create a barrier against environmental pollutants. Apply an intensive leave-in cream or oil daily to replenish moisture levels in between washes.
Using Bond Repairing Treatments
To keep your hair looking its best, try using a bond-repairing treatment to help strengthen and nourish bleached strands. Celebrity colorists often recommend Olaplex or Collagen treatments for post-bleaching care; these can give damaged hair a second chance at health.
For DIYers, there are bonding masks that provide deep conditioning without the need for salon treatments. When it comes to achieving silver hair, toning techniques may be required after lightening. Use purple shampoo weekly and follow with regular trimmings to maintain the desired shade of pale yellow.
Finally, when it comes time for root touchups, don't forget plastic shower caps as they trap heat and moisture during bleach application!
Consistent Root Touch-Up
Keep your color looking fresh with a consistent root touch-up every four to six weeks! To maintain perfect platinum, blonde, or silver hair at home without damage, get advice from a master colorist.
Gather supplies: good lighting, developer strength 20 volumes or lower, and a shower cap for heat and moisture trap.
Section the hair into quadrants for even application of the bleach mixture. Then cover with a cap and check progress during processing time before rinsing out completely.
Aftercare includes using purple shampoo weekly and deep conditioning treatments monthly to ensure healthy locks that stay vibrant.
Top 5 Hair Bleaching Products
Bleaching your hair can be a daunting task, but with the right products, you can achieve beautiful results. For those looking to bleach their hair at home, we've curated our top 5 bleaching products: Manic Panic Hair Bleach Kit, Hair Growth Supplement Collagen, Bold Uniq Purple Hair Mask, Pieces Hair Coloring Kit, and Disposable Clear Mop Cap.
Manic Panic Hair Bleach Kit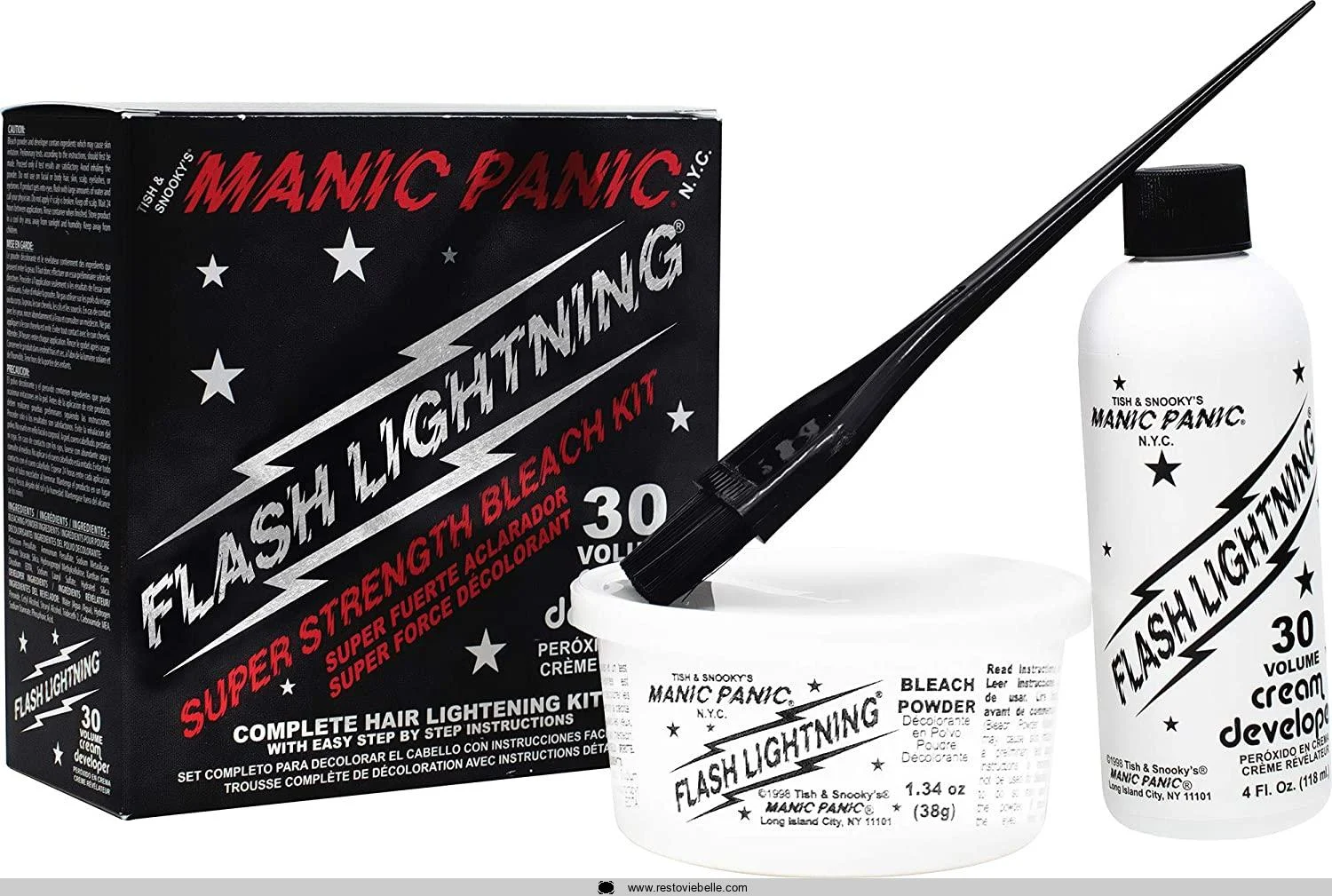 View On Amazon
Try the Manic Panic Hair Bleach Kit to easily and quickly lighten your hair up to five levels for a bright, even blonde! This all-in-one vegan and PETA accredited kit comes with everything you need for successful bleaching at home.
The dust-free bleach powder is designed to lift hair color without causing damage or an unpleasant smell.
It's ideal for cosmetology work too. Experienced users will be able to achieve desired results in no time thanks to its fast-acting formula.
Be careful when using this product on sensitive skin as it can cause burning if not applied swiftly.
Vegan & PETA accredited
Dust-free bleach powder
Fast-acting formula
Ideal result with swift application
Not suitable for sensitive skin
Can cause burning
Must follow instructions carefully
Hair Growth Supplement Collagen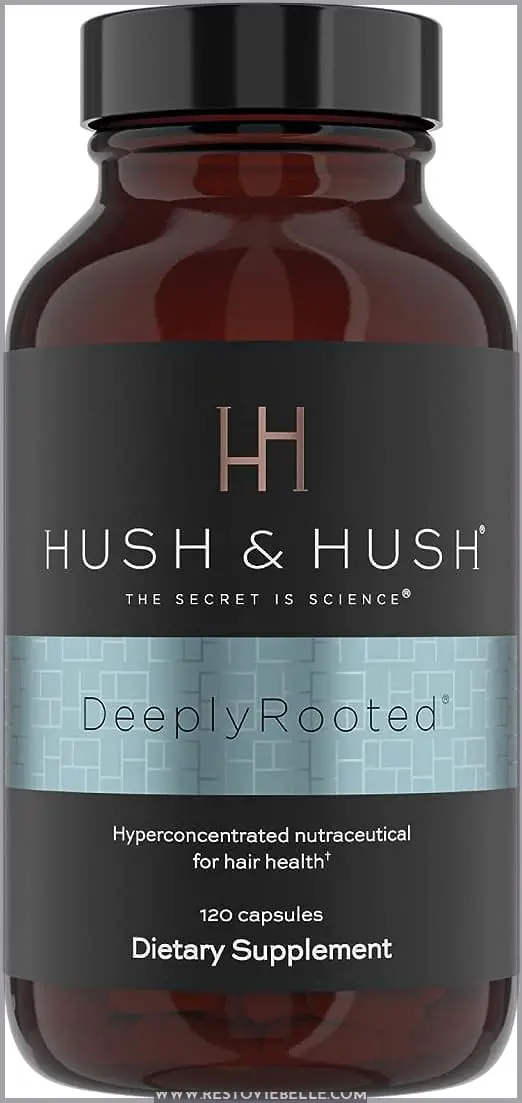 View On Amazon
If you're looking to give your hair a boost, consider trying DeeplyRooted's natural hair growth supplement Collagen—it'll take your locks from drab to fab! This award-winning product is scientifically proven to strengthen and repair dry, damaged hair up to two times more effectively after three uses.
It contains nourishing ingredients like rosehip oil, B-vitamins, algae extract, and other super oils that help reduce shedding while increasing thickness and manageability.
Stimulates Hair Regrowth & Blocks Causes of Hair Loss
Boosts Volume & Shine for Thicker Healthier Look
97% Naturally Derived Formula Nourishes Strands
Costs More than Other Supplements on the Market
Contains Soy which Some People May Be Allergic To
Bold Uniq Purple Hair Mask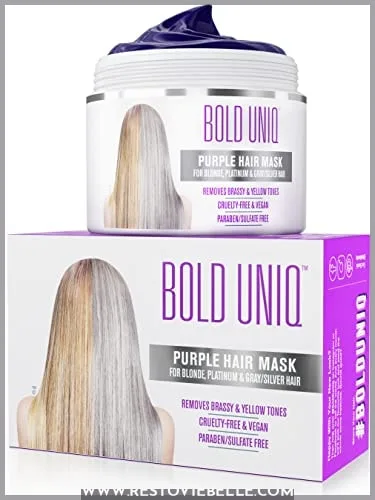 View On Amazon
Experience the unique benefits of Bold Uniq's Purple Hair Mask, designed to keep blonde, platinum, gray, or silver hair looking its best. This vegan and PETA-accredited formula contains natural oils like coconut and marula oil, as well as soy protein, vitamin B5, and other super oils that protect your hair from the sun while reducing unwanted brassiness.
It is paraben-free, so it won't damage your scalp health, nor will it leave orange or yellowish hues on your locks.
Its lightweight consistency means you can use this monthly for lusciously soft tresses without worry about product build-up! Plus, with regular use, you'll notice significantly reduced breakage thanks to its strengthening properties.
Vegan & PETA accredited
Contains natural ingredients – coconut & marula oil soy protein & B5 vitamins
Neutralizes brassiness subtly yet effectively
Paraben-free – won't damage scalp health nor give orange/yellow tones
Lightweight consistency – manageable for monthly treatments
May require generous application
Slight blue tint noted by some users
Results only visible after 20 minutes
Pieces Hair Coloring Kit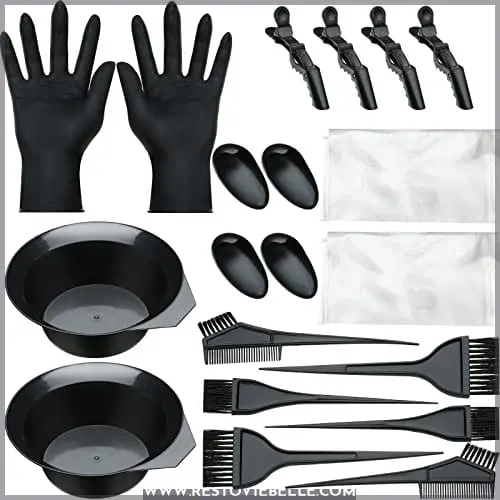 View On Amazon
The Pieces Hair Coloring Kit provides a neat and clean experience with flexible yet stiff bristles for smooth dye application. This all-black design is durable and lightweight, making it an ideal cost-effective choice for both home hair bleaching and salon processing needs.
The kit includes:
Two large mixing bowls to avoid spillage
Four brushes in different sizes
Two combs
Plastic capes
Four hairdressing clips
Ear caps
Gloves
Everything you need to create the perfect look!
Flexible yet stiff bristles make it easy to apply color evenly.
Durable design is suitable for multiple uses over time.
Spacious mixing bowls reduce spills while dyeing hair.
Brushes may not be strong enough when using bleach or other harsh chemicals on the scalp or skin around the eyes/face.
Plastic cape material can tear easily if not handled carefully during use.
Ear caps are too tight fitting, which could cause discomfort or pain after prolonged wear.
Disposable Clear Mop Cap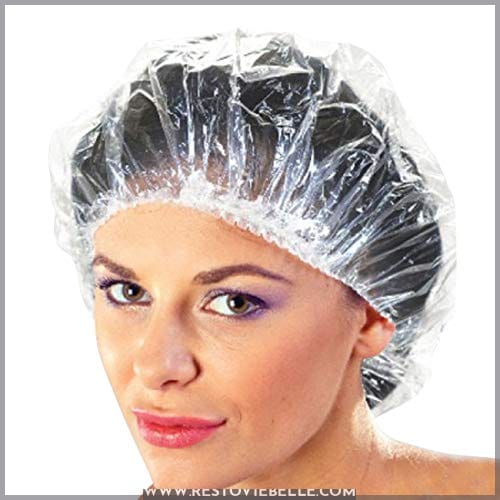 View On Amazon
You'll love how the Disposable Clear Mop Cap fits snugly and securely on your head, protecting your hair from treatments like hot head deep conditioning heat caps or spray tanning. This cap is designed to fit all clients comfortably, making it a great go-to for beauty salons and other professional services.
It's also ideal for home hair routines such as bleaching, dying, masks – anything that requires extra protection in order to keep your locks looking their best! The durable design ensures this cap can be reused multiple times without losing its shape or strength.
Plus, with an elastic band offering a comfortable fit while keeping out any unwanted smells of chemicals.
Its convenient packaging makes it easy to store away when not in use and transport if necessary too, so you don't have bulky items cluttering up space!
Fits well on big heads with lots of hair
Durable design allows reuse
Suitable for covering food
Elastic bands offer a comfortable fit
Only comes in one size/color option
Expert Tips for Successful Hair Bleaching

To get the perfect bleached look, be sure to follow expert advice and use quality products. When choosing a product, consider factors like hair porosity and processing time.
To achieve silver hair tones, toner selection is key. Try Bold Uniq Purple Hair Mask for best results. The Pieces Hair Coloring Kit provides all the supplies you'll need for DIY bleaching at home – from mixing bowls to plastic capes.
Don't forget about maintenance with weekly purple shampoo treatments or DeeplyRooted Collagen supplements! Proper preparation and careful application of bleach, as well as timely toning processes, can make your silver dreams come true in no time at all.
Follow these tips for healthy-looking hair that will last longer between touch-ups!
Understanding the Importance of Hair Health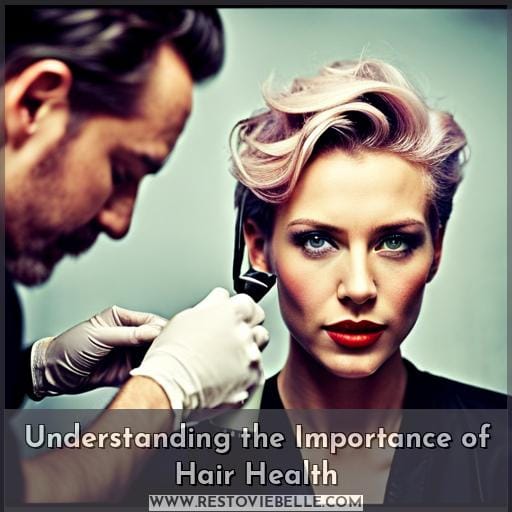 Before bleaching, it's essential to understand the significance of maintaining healthy hair for successful results.
Hair nutrition is important to ensure scalp health and hair resilience throughout the process. It's also key to keep your locks hydrated before you begin lightening them – this will help reduce damage during processing time.
Protein care should also be considered since bleaching often removes natural proteins from strands that are necessary for healthy growth and shine. You can use protein-rich masks or supplements such as collagen on a regular basis prior to lightening up your mane if needed.
If possible, seek professional advice from experts who specialize in color treatments and have experience with prepping blonde tresses!
The Role of Toning in Achieving Silver Hair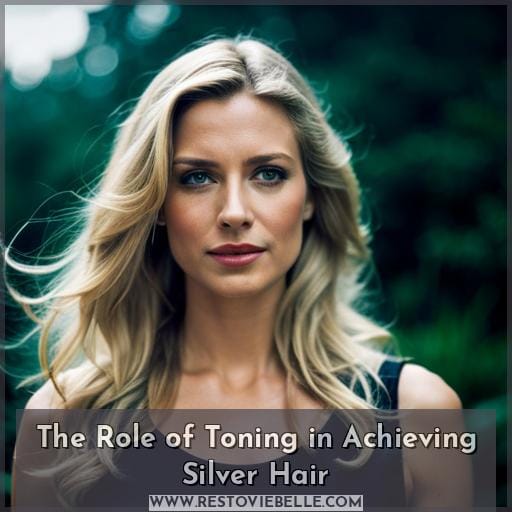 Tone your locks to achieve a stunning silver shade after lifting the pigment, and keep it looking vibrant with regular trimmings and purple shampoo. Before bleaching for silver hair, understand that the process may take multiple sessions over weeks or even months.
To determine how much you need to lift the pigment in order to get silvery-gray shades of blonde, check your natural color level on a scale from 1-10. Bleaching breaks down proteins in hair, making it weak and prone to damage, so use Twenty Volume Cream Developer or lower strength peroxide when possible.
Prepare toner according to the selected instructions after pale yellow is reached, then apply evenly. Leave it on for the recommended time before rinsing off thoroughly, followed by shampooing and conditioning afterwards.
Maintain the platinum look through weekly toners while keeping up with deep conditioning treatments.
Maintaining Silver Hair: Tips and Tricks

Maintaining silver hair can be a challenge, but with the right products and regular trimmings, you'll have your locks shimmering like stars in no time! For optimal results, use purple toning products weekly to keep brassiness at bay.
Take extra care when bleaching roots, as this is where most damage occurs. Opt for a low peroxide developer strength of 20 volumes or lower. Deep conditioning treatments are also important to restore moisture and shine after lightening.
If all else fails, it's time for a color refresh. Glosses are an excellent way to add vibrancy without damaging hair further.
Use purple toning products weekly.
Opt for low peroxide developer strength (20 volumes or lower).
Restore moisture and shine with deep conditioning treatment.
Refresh color with Gloss Treatments.
Conclusion
You may be hesitant to bleach your hair at home, but with the right supplies and knowledge, you can achieve great results without damaging your hair. Bleaching your hair is a process that takes time and care, but with the right preparation, you can bleach your hair safely and effectively.
From understanding the basics of hair bleaching to using the best products for the job, this guide has provided you with all the information you need to get started. Follow our expert tips and take care of your hair to ensure long-lasting, healthy, and beautiful results.
With the right approach, you can master how to bleach hair and enjoy salon-quality results from the comfort of your own home.