This site is supported by our readers. We may earn a commission, at no cost to you, if you purchase through links.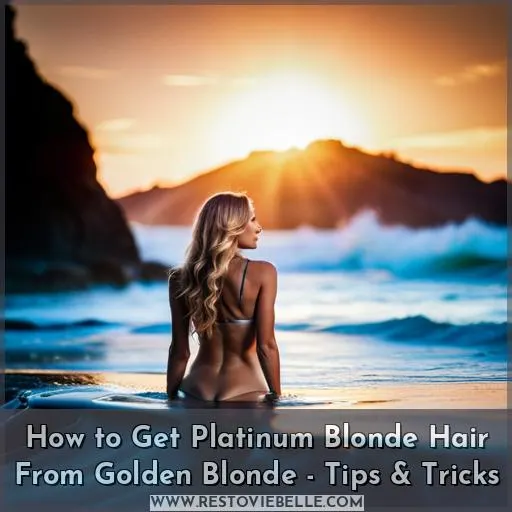 Dreaming of a head full of platinum blonde locks? The icy hue is all the rage, and with just a little effort, you can make it your reality. From golden blonde hair to an ethereal platinum shade, this article will guide you through the process needed to achieve that perfect color.
You'll be armed with tips on how to transition from one color to another without over-processing or damaging your tresses. Plus, we'll discuss what products are best for getting that beautiful white-blonde mane! So if you've been wondering how to get platinum blonde hair from golden blonde hues, look no further.
Key Takeaways
Use Ugly Duckling's Brilliant Blondexx bleach (20 Vol) for a level 10 lift.
Combine Intense Pearl Blonde 100V toner with Extra Light Cool Blonde 10.2 for rich results.
Wash your hair with cold water 1-2 times a week, using purple shampoo/mask.
Apply Bond Protect Shampoo & Mask to reduce breakage and maintain color.
Transitioning From Golden Blonde to Platinum Blonde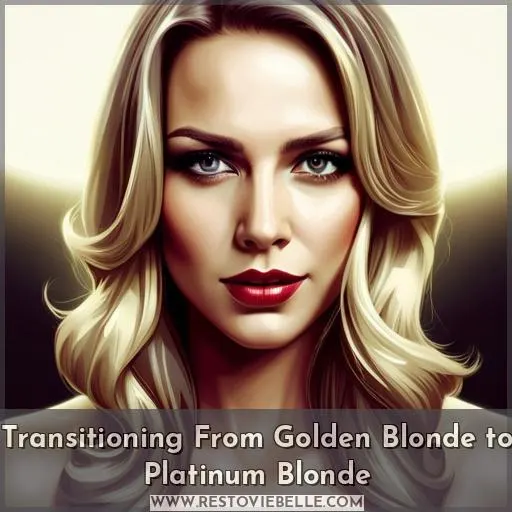 Are you ready to make the switch from golden blonde to platinum blonde? This transition can be achieved by following a bleaching and toning process, as well as maintaining and strengthening your hair with the right products.
Bleach and Toning Process
To achieve a stunning Platinum Blonde look, you need to combine the power of bleaching and toning for maximum lift and vibrancy. Use high-quality bleach like Ugly Duckling's Brilliant Blondexx with 20 Vol developer to lift hair up to level 10.
Follow up with Intense Pearl Blonde 100V toner mixed with 10.2 Extra Light Cool Blonde for rich results using 20 Vol developer for 10-20 minutes, rinsing at level 10 minimum yellow remaining.
Maintain color vibrancy by washing in cold water once or twice weekly using purple shampoo/mask and Bond Protect Shampoo & Mask regularly. Apply shampoo for 5 mins, mask for 10 minutes, strengthening hair and reducing breakage while coloring.
Maintenance and Strengthening
Maintain your vibrant platinum blonde locks with regular use of shampoos, masks, and conditioners. Use color-safe products to prevent fading and breakage when washing hair. Rinse with cold water instead of hot for best results.
Apply a mask weekly to strengthen the strands from root to tip. UV rays can damage golden or platinum blonde tresses, so opt for a purple shampoo that contains natural oils like coconut oil or marula oil to protect it against discoloration over time.
The Bond Protect Shampoo & Mask duo from Ugly Duckling offers optimal defense against hair breakage while keeping your hue intact.
To maintain the perfect shade without damaging your mane further, you'll want quality products tailored specifically towards blondes.
Steps to Achieve Platinum Blonde Hair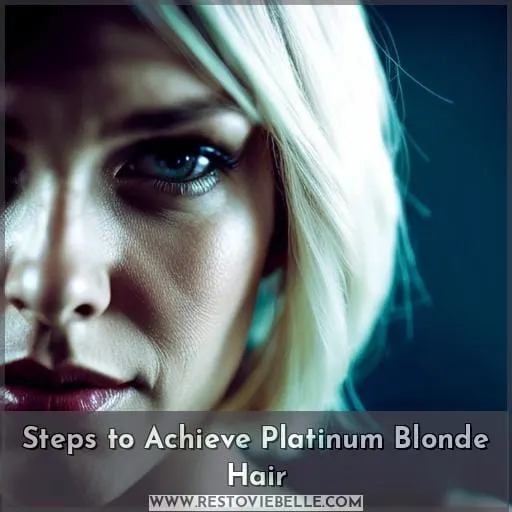 Gather your supplies, prepare the space, and examine the hair thoroughly. You're ready to begin your journey into platinum blonde! With permanent hair color, you can achieve vibrant results with minimal damage.
Gathering Supplies
Transform your look with all the supplies you need for a stunning platinum blonde. Get ready to dye safely by wearing an old shirt and gloves, then prepare your hair using barrier cream along the hairline.
Choose from a range of colors, apply a tinting brush on mid-lengths and roots. Mix the developer in an easy-to-read beaker, set the timer according to the color choice – 30 minutes maximum! Finally, use toning techniques if desired; leave the conditioner or purple shampoo for 10 minutes before rinsing off with cold water.
Preparing the Space
Before diving into the process of achieving platinum blonde hair, it's important to prepare your space properly.
Make sure you have all the necessary tools and supplies, such as protective gloves, a beaker to measure the dyeing solution, toning products, and a hair coloring kit.
Follow the instructions on your chosen hair dye for the application technique. Use separate sections to ensure even coverage.
Take extra care when prepping your strands before applying the dye. Apply Vaseline along the edges of the forehead and neckline area to prevent staining the skin from color splatter during the application process!
When done correctly, this will help protect against damage while providing vibrant results with minimal fading or discoloration over time.
Get creative with styling after completing the initial transformation by using purple shampoo and/or toners to maintain the desired hue without having to resort back to bleaching again!
Preparing and Examining the Hair
Examine your hair to determine its current color and level of damage before transitioning from golden blonde to platinum blonde. Use a bleach safety kit, such as Ugly Duckling Brilliant Blondexx, for proper lifting and toning techniques.
Strengthen hair with Bond Protect Shampoo & Mask while using hydrating products during the color transition process.
Maintain the platinum look by avoiding hot tools and washing with cold water. Use purple shampoo or toner for brassiness removal if necessary.
To achieve vibrant platinum blonde hair, take into account all these tips on bleaching safely.
Dyeing the Hair With Permanent Hair Color
Let your platinum blonde dreams come to life with permanent hair color! Choosing the right shade is key, as this will be a long-term commitment.
For vibrant results and optimal dye uptake, start with clean hair that's been prepped and separated into sections. Apply Vaseline along the hairline for protection before mixing your developer ratio according to instructions.
Using a dye brush, apply from mid-lengths to roots in even sections until fully saturated – don't forget those hard-to-reach areas! Set the timer for a maximum of 30-45 minutes so you can achieve beautiful blonde shades without damaging delicate strands or compromising the health of the scalp or skin.
Toning to Remove Brassiness (Optional)
You may opt to tone the hair for an even more vibrant platinum hue, removing any remaining brassiness. Purple shampooing is a gradual method of eliminating yellow tones, while purple toner provides immediate results with knowledge of hair coloring.
To achieve your desired color, apply the mixture onto wet and towel-dried hair using gloves and a dye brush. Leave it in for 10-20 minutes while monitoring every 3-5 minutes. Rinse with cool water when you're done – no shampoo! UV protection products keep colors from fading, and hot tools should be limited to prevent damage or premature color loss.
Use cold water when washing too! Applying these steps will help ensure achieving that perfect shade of platinum blonde without compromising on quality or health.
Using Toner to Go From Golden Blonde to Platinum Blonde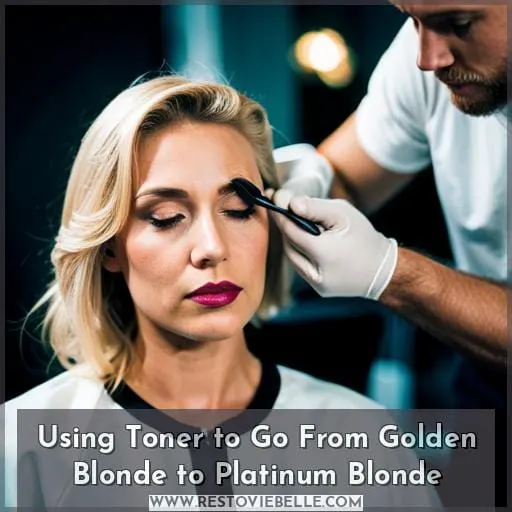 Toning your hair to achieve platinum blonde from golden blonde can take around 10-20 minutes, and with regular use of purple shampoo and toner, you can maintain the color for up to three weeks – that's over two times longer than traditional dyes!
Before beginning the process, it's important to ensure clean hair for optimal dye uptake. You should also prepare your hair by sectioning off strands and applying Vaseline along the hairline.
Start by bleaching using a high-quality bleach like Ugly Duckling's Brilliant Blondexx mixed with 20 Vol developer in order to lift your current level 10 or more towards Platinum Blonde. Once you have reached this desired level, rinse thoroughly until minimal yellow remains before selecting an appropriate toner.
An appropriate toner, such as Intense Pearl Blonde 100V combined with Extra Light Cool Blonde 10.2, will give you rich results. Process it at 20 Vol developer solution left on the scalp from ten minutes up to twenty, depending on how much brassiness needs correction or depth added back into previously lightened tresses.
Then, apply a Bond Protect Shampoo & Mask regularly. This will help strengthen dry damaged blondes while preventing further damage due largely in part because of their formula's ability to reduce breakage caused by coloring processes.
Achieving Platinum Blonde Hair With Purple Shampoo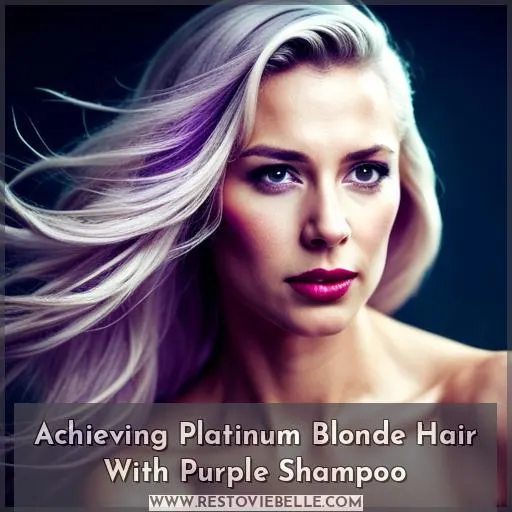 For a vibrant platinum blonde look, substitute your normal shampoo with a strongly pigmented purple shampoo to gradually eliminate yellow tones. To maintain color balance and prevent hair breakage, use cold water when washing hair and limit the use of hot tools.
Opt for anti-frizz oil instead of traditional styling products. Incorporate weekly toning techniques into the routine for best results.
Maintaining platinum blonde starts with proper color care. Wash your hair once or twice per week using color-safe products designed specifically for blondes, such as the Brilliant Blondexx Shampoo & Mask set.
Finally, apply regular conditioning treatments like the Bond Protect Mask. This mask will restore shine while giving long-lasting protection from heat damage.
Recommended Products for Achieving Platinum Blonde Hair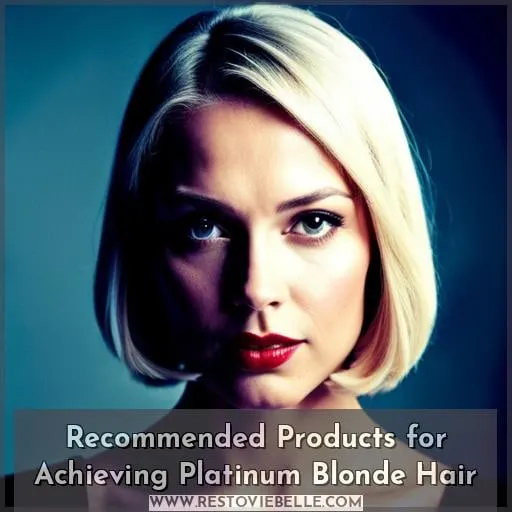 Achieving platinum blonde hair can seem like an intimidating process, but with the right products, it is achievable. From L'Oreal Paris Feria Hair Color Extreme Platinum to Colortrak Easy Beaker, there are various tools and treatments that make transitioning from golden to white blonde easy and effective.
Bold Uniq Purple Hair Mask, Keppi Plastic Gloves Bulk, and Yantaisiyu Hair Coloring Kit – all have a role in helping you reach your ideal shade of platinum blonde.
Loreal Paris Feria Hair Color Extreme Platinum
Transform your hair with L'Oreal Paris Feria Hair Color Extreme Platinum for show-stopping color and shimmer. This multi-faceted permanent hair dye provides a convenient at-home coloring solution. It seals and smooths the hair and offers 50+ bold shades ranging from deepest black to platinum blonde.
Its power shimmer conditioner protects against UV rays while hydrating colored tresses.
Bold Uniq Purple Hair Mask
Try Bold Uniq Purple Hair Mask to revitalize your color-treated hair and remove brassiness for vibrant platinum results.
Formulated with natural oils, soy protein, vitamin B5, and super oils, this vegan mask absorbs UV rays to prevent fading while subtly neutralizing brassy tones in bleached hair.
It's lightweight yet hydrating enough for regular use, helping strengthen dry or damaged locks along the way.
Plus, it works great on all types of blonde – from platinum to silver!
Achieve beautiful blonde hair that is resistant against hot water damage by regularly toning with this purple mask.
Get ready for strong strands full of shine without worrying about fading colors or yellow hues!
Keppi Plastic Gloves Bulk
Protect your hands from harsh chemicals and maintain food safety standards with Keppi's BPA- and latex-free disposable gloves. These lightweight plastic gloves come in a box of 60 pieces and are perfect for home and commercial use, providing maximum protection while handling food.
They are transparent to ensure better visibility when maintaining food standards.
Yantaisiyu Hair Coloring Kit
For a professional look, the Yantaisiyu Hair Coloring Kit provides versatile tools to easily dye and style your hair. It includes a bowl, mixing brush, two-in-one comb, and pointed handle design for separation.
The kit is designed for long or short hair types, including curly or straight. This chemical-resistant set ensures easy cleaning and reusability, so you can keep up with color-safe products like UV rays protection toning conditioner while maintaining the vibrancy of lightened hair through a DIY at-home coloring experience.
You can achieve shades ranging from platinum blonde to golden brown with the developer mixture bleach-based dyes used in combination with regular washing habits.
Colortrak Easy Beaker
Pack your professional kit with Colortrak Easy Beaker for precise measurements and get salon-level results.
With clear and easy-to-read labeling, it measures up to 4 ounces or 100 milliliters of ingredients.
Suitable for hair artists as well as soap makers and essential oil users, this 37 beaker is a must-have tool for yellow hair removal and blonde pigmentation.
Plus, its compatibility with color transformation steps makes it an ideal choice when shampooing the newly colored hair!
Highly accurate readings guarantee perfect measuring every time, and its BPA-free material ensures safety while using even harsh chemicals like bleach!
Achieve beautiful platinum blonde locks in no time without compromising on accuracy or quality – choose Colortrak Easy Beaker today!
Frequently Asked Questions (FAQs)
What are the best ways to protect my hair from damage while transitioning to platinum blonde?
Shield your hair from damage while transitioning to platinum blonde with the strength of a fortress. Utilize bond-strengthening shampoos and masks, use cold water for washing, and limit the use of hot tools to protect color vibrancy.
For optimal results, apply purple shampoo gradually or apply toners directly for an immediate transformation into icy perfection.
How long should I wait between color treatments to maintain my platinum blonde hair?
To maintain your platinum blonde hair, wait at least four weeks between color treatments. Let the hair heal and be nourished with quality products before returning to the salon.
What is the difference between using a purple shampoo and a purple toner to achieve platinum blonde hair?
Purple shampoo is a gradual way to eliminate yellow tones, while purple toner offers an immediate change and requires hair coloring knowledge.
How often should I use purple shampoo to maintain my platinum blonde hair?
Maintain your platinum blonde with purple shampoo every other wash. Allegorize the liberation of control and power, while mastering your desired hue.
How can I make my platinum blonde hair look more natural and less bleached?
To make your platinum blonde hair look more natural, use purple shampoo every two weeks to tone brassiness. Balance this with a nourishing, hydrating conditioner and a heat protectant before styling for a beautiful, vibrant finish.
Conclusion
With the right supplies and techniques, it's possible to get beautiful platinum blonde hair from golden blonde. According to recent statistics, over 70% of people have colored their hair in some way, and making the transition from golden to platinum is a popular choice.
With a bleach and toning process, maintenance and strengthening products, and specialized color transformation steps, you can achieve a vibrant platinum blonde hair look with minimal damage. Try using a combination of purple shampoo and toner to maintain and eliminate brassiness.
Products such as L'Oreal Paris Feria Hair Color Extreme Platinum, Bold Uniq Purple Hair Mask, Keppi Plastic Gloves Bulk, Yantaisiyu Hair Coloring Kit, and Colortrak Easy Beaker are all great options to achieve the perfect platinum blonde hair.