This site is supported by our readers. We may earn a commission, at no cost to you, if you purchase through links.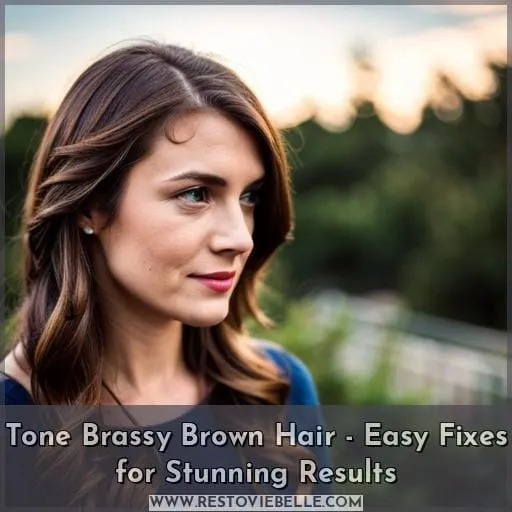 It's easy to get excited about a new hair color, but if you're trying to tone brassy brown hair at home, it can be hard to know where to start. It's important that you understand the basics of toning before attempting any drastic changes.
With the right products and techniques in hand, achieving stunning results is within reach! Whether your dark or light brown locks are suffering from unwanted red tones or brassiness, we'll show you how easy it is to restore them back into shape with our simple tips and tricks on toning brassy brown hair at home.
Key Takeaways
Limit sun exposure and use a heat protectant to prevent brassiness.
Hair toners and purple shampoo can help neutralize warm and yellow tones.
Consider using products like Osmo Colour Revive Cool Brown or Fudge Cool Brunette Shampoo for toning.
Home remedies like tea, lemon juice, or apple cider vinegar can also be effective for toning brassy brown hair.
How to Tone Brassy Brown Hair at Home
Toning brassy brown hair at home is possible with the right products. Osmo Colour Revive Cool Brown, Fudge Cool Brunette Shampoo, and Clairol Natural Instincts Hair Dye Light Cool Brown can all help you achieve a beautiful ash-toned hue without having to visit a salon.
Each of these products provides nourishing ingredients that will leave your hair looking vibrant and healthy.
Osmo Colour Revive Cool Brown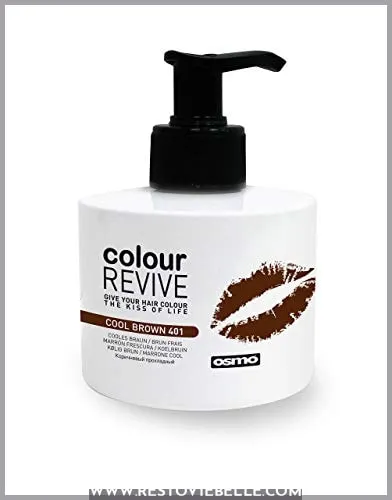 View On Amazon
Treat your tresses to a luxurious revamp with Osmo Colour Revive Cool Brown. This product offers nourishing hair color and the perfect ash-brown shade for you. Instantly revive your locks with this easy-to-use cream that penetrates deep into the roots of each strand.
The formula is infused with avocado oil, vitamin A & E, and is free of ammonia or peroxide. This means it strengthens hair over time without any harsh chemicals. Osmo Colour Revive comes in 7 popular shades, ranging from light cool brown to dark chocolate brown.
Whether you're looking to cover grays or simply add radiance back into dull strands, Osmo Colour Revive has got you covered!
Nourishes hair with avocado oil, Vitamin A & E.
Restores vibrancy and shine instantly.
Frequent use helps maintain strong color longer than usual dyes would last.
Formulated without ammonia or peroxide, making it safe on sensitive scalps.
Not suitable for very light brunette/blonde tones due to possible patchy results.
May result in a blue tint if not applied correctly.
Fudge Cool Brunette Shampoo
View On Amazon
Try Fudge Cool Brunette Shampoo to diminish brassy undertones and strengthen hair in one wash! This specialized hair care product contains max-strength violet micropigments to eliminate brassy tones, benefiting from Opti-PLEX technology for bond reconstruction.
It also features a specialized Hairguard complex that seals cuticles in just one wash, while dual-force conditioning with violet micropigments purifies and nourishes blonde hair.
To get the most out of this shampoo, apply it onto wet hair only, then leave it for up to 5 minutes before rinsing off. For optimal results, pair it with Fudge Cool Brunette Blue Toning Conditioner too! With these products, you can easily counteract red or orange hues without bleaching your locks – perfect if you're looking for an ashy brown shade instead of bright yellow or red tints when trying to achieve lighter brunette shades at home.
Contains maximum strength violet micropigments
Features Opti-PLEX Technology & Hairguard Complex
Dual force conditioner with Violet Micropigments
Sulfate-free & long-lasting fragrance
Less effective compared to other toners/shampoos on depositing color
Some users experienced persistent orange/red tones despite using the product
Clairol Natural Instincts Hair Dye Light Cool Brown
View On Amazon
Experience the power of Clairol Natural Instincts Hair Dye Light Cool Brown and watch your hair transform into a luscious, vibrant shade! This demi-permanent dye boosts shine and blends away gray hairs for natural-looking color that lasts up to 28 washes.
Its vegan formula with 0% ammonia contains coconut oil, aloe vera extract, and 80% naturally derived ingredients for healthy-looking locks. The simple application makes it ideal for those looking to cover grays or simply revitalize their look without any harsh chemicals.
Boosts shine and blends away gray hairs
Lasts up to 28 shampoos
Contains Coconut and Aloe Vera Extract
No ammonia or added parabens
80% naturally derived vegan ingredients
Color may not last as long on resistant hair types
May require multiple applications depending on desired level of lightening
Some users have reported irritation from the product
Understanding Hair Toning – the Basics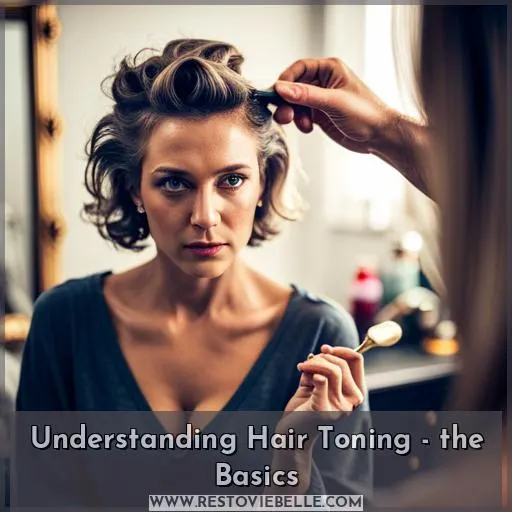 Looking to tone your brassy brown hair? Understanding how to use hair toner and the color wheel is key! Hair toner is a product used to neutralize warm tones in both blonde and brunette locks. It doesn't permanently change your natural color but adds cool shades. The great part about using the color wheel for toning hair is that it helps choose what shade of tone should be used: blue for orange tones, green for red tones, and purple for yellow ones – making sure there's no guessing game involved.
What is Hair Toner?
Transform your brown locks to a cool ash hue with the right toner. Hair toners are specifically designed to neutralize warm tones in both light and dark-colored hair, leaving you with an ashy finish that complements any skin tone.
Benefits of using a professional hair toner include:
How to Use the Color Wheel to Tone Your Hair
By using the color wheel, you can easily identify which colors work together to effectively neutralize warm tones and create cooler ash shades. Each hue has its own complementary counterpart that will help tone brown hair to ash.
For instance, blue counteracts orange undertones while green cancels out red hues in brunettes.
When selecting a toner, consider your skin tone and desired shade of ash before deciding on one product or another.
Toning Dark Brown Hair to Ash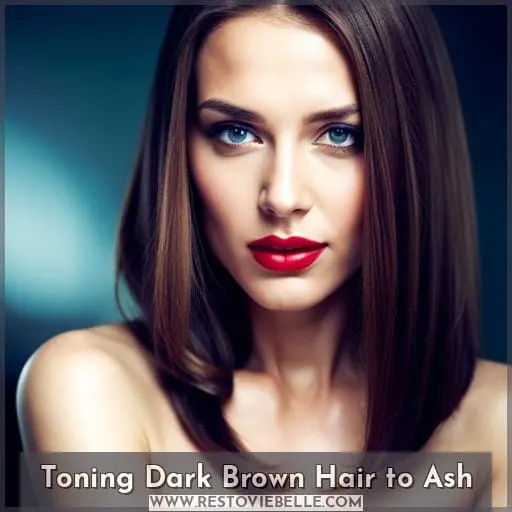 If you want to tone dark brown hair to ash, a semi-permanent dye like Clairol Natural Instincts 6A Light Ash Brown and VIPs Prestige BeBlonde BB03 Icy Down can be effective. These toners nourish your hair with oils and nettle while offering color that lasts for 6-8 washes or 28 washes, respectively.
Semi Permanent Dye: Clairol Natural Instincts – 6A Light Ash Brown
Try Clairol Natural Instincts 6A Light Ash Brown for semi-permanent dye to help you achieve the cooler ash tones of your dreams.
80% naturally derived vegan hair color ingredients with no added parabens or ammonia.
Opti-PLEX technology helps reconstruct bonds and seal cuticles, providing 85% stronger results after one use.
Dual force conditioning with violet micropigments removes brassy undertones and repairs damage in one wash.
Nourishing formula infused with avocado oil, vitamin A & E for vibrant shine and longer-lasting color.
With this demi-permanent dye, you can keep up on toning dark brown hair while maintaining natural-looking radiance without any harsh chemicals! Plus, its vegan-friendly formulation makes it a perfect choice for anyone looking to fix brassy brown hair fast!
Explore all the ash brown hair color ideas available through Clairol Natural Instincts today.
Semi Permanent Toner: VIPs Prestige BeBlonde BB03 – Icy Down
Elevate your brunette hair to a cooler level with VIPs Prestige BeBlonde BB03 – Icy Down. This semi-permanent toner efficiently neutralizes yellow undertones for an ashy finish. To tone brassy brown hair at home, use the color wheel guide and DIY toning techniques for maximum results.
Get advice from experienced professionals on how to use it correctly while understanding the science behind brown hair color chemistry and its reaction with purple shampoo.
With its nourishing oils blend and nettle extract, Icy Down Toner offers long-lasting ash tones. These tones can be maintained through weekly usage of dry shampoo or blue-tinted shampoos without the buildup of pigments.
Toning Light Brown Hair to Ash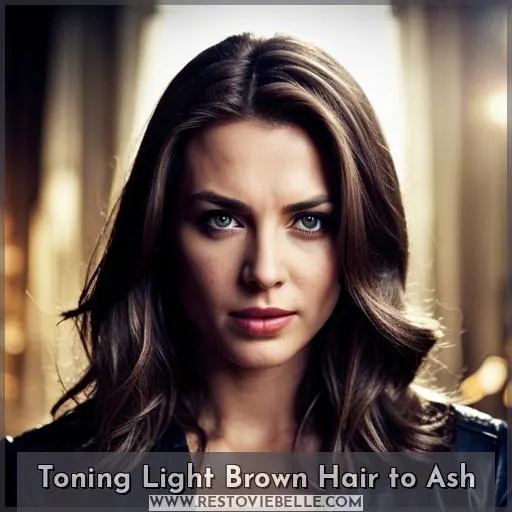 Looking to tone your light brown hair to ash? Osmo Colour Revive Conditioning Colour Treatment Cool Brown and Fudge Professional Blue Toning Shampoo are two effective products for this purpose. These specialized solutions provide an easy way to remove brassy tones while boosting shine, vibrancy, and color longevity in just one wash.
Osmo Colour Revive Conditioning Colour Treatment Cool Brown
Experience the transformative power of Osmo Colour Revive Conditioning Colour Treatment Cool Brown. This conditioning color reviving cream is enriched with Avocado oil for nourishment, vitamin A and E for hair restoration, and Violet pigments for optimal demi-permanent dye coverage.
Its Opti-PLEX technology reconstructs bonds from breakage, while its specialized haircare complex seals cuticles, leaving you with improved gray coverage up to 85%.
Neutralize yellow undertones or red tones on light brown hair using this blue-tinted toner. By utilizing the principles of the color wheel theory, it helps maintain ash brown hair without brassy notes.
Fudge Professional Blue Toning Shampoo
Pamper your locks with Fudge Professional's Blue Toning Shampoo, specially formulated to counteract orange and red tones in brown hair. This sulfate-free shampoo is great for both brunettes and blondes alike, removing brassiness while nourishing the hair with oils.
With its Opti-PLEX technology for bond reconstruction and dual force conditioning, it's sure to create vibrant color without fading or lifting over time.
What Happens if You Put Ash Toner on Brown Hair?

Before deciding to put ash toner on your brown hair, it's important to understand the effects this could have. Ash toners are used for both brunette and blonde hair, as they neutralize warm tones and add a cooler tone that doesn't permanently change the color of your hair.
The color wheel can help you choose which type of toner is best suited for your needs. Blue works well against orange undertones in brown locks, while green will tackle red tints or yellow shades. Home remedies like tea and lemon juice may also be effective at reducing brassy notes in some cases, but using an ash-toned shampoo specifically designed for dark brown hues usually yields more consistent results.
Temporary dyes can also replace reddish undertones with ashy ones if applied correctly. Use one with the same level and undertone as natural coloring, so there's no extreme difference once finished up styling routine.
To keep vibrant colors lasting longer, make sure to avoid sulfate-based shampoos while using dry shampoo when needed along with heat protectant prior styling sessions limit exposure sun rays further prevent fading damage caused by UVA UVB radiation waves emitted from light source!
Transitioning From Brown to Ash Hair

Eliminate the unwanted warmth of your brown hair with an ash toner and discover a cooler shade.
Use complementary colors on the color wheel to cancel out any red or orange tones.
Purple shampoos can counteract yellow undertones in blonde hair.
Blue-tinted toners are effective for neutralizing brassy notes in dark brunettes.
Green toners address reddish or auburn shades in light brunette locks.
Temporary dyes provide ashy results but will wash off after several weeks.
Hair toning products offer long-term benefits when used correctly, while temporary dye is best suited for special events.
Protect your color by using heat protectant regularly and avoiding sun exposure wherever possible—UV rays cause brassiness over time.
With proper maintenance and quality products, you'll be able to maintain vibrant cool tones without frequent salon visits!
Photographs for Inspiration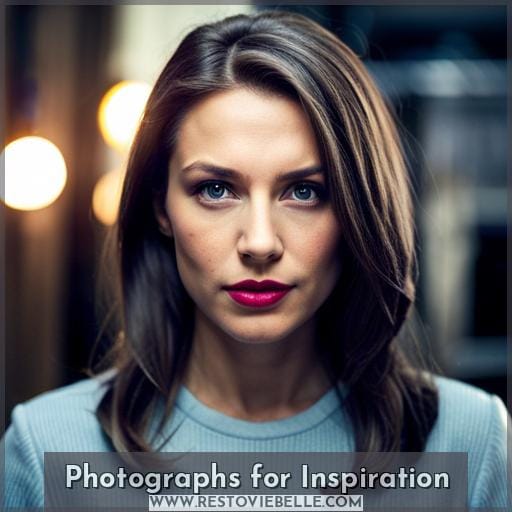 Browse through pictures of ash brown hair colors to find the perfect shade that complements your skin tone and style! With multiple shades ranging from subtle highlights to bold, vibrant tones, there's something for everyone.
Hair color trends come and go, but one thing is certain: ash brown hair will never go out of fashion.
To help you style your locks with this timeless hue, take a look at some amazing photographs showcasing diverse interpretations of cool-toned brunette looks. You'll find inspiration for everything from balayage ombre effects to natural textures enhanced by light reflections.
The key lies in finding the right balance between a flattering base color and on-trend accents that make it unique, all while staying true to your skin tone! Get creative when mixing up different shades for an eye-catching hairstyle.
Whether you're going full Ash Brown or just adding highlights here and there, browse these photos today and get ready tomorrow with the best products tailored specifically for achieving beautiful results every time!
How to Tone Brown Hair Using Blue or Purple Shampoo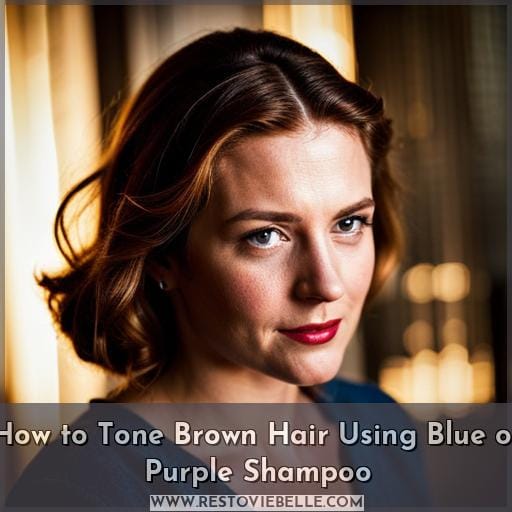 Toning your brown hair at home can be achieved with the use of blue or purple shampoos. Try Unite Blonda Toning Shampoo for a fast and even toning effect, or the L'Oréal EverPure Brass Toning Purple Sulfate-Free Line to gently cleanse and tone without harsh sulfates.
Unite Blonda Toning Shampoo
Revamp your hair color with Unite Blonda Toning Shampoo for a natural-looking, cool-toned brunette shade. This product offers DIY techniques and home remedies to tone brassy brown hair at home.
Key features include:
A unique blend of pigments that counteract yellow and orange tones in brown hair
Vitamins, proteins, and oils that nourish the scalp while toning down warm undertones
Detoxifying agents to remove buildup from styling products or sun damage
Furthermore, Unite Blonda Toning Shampoo helps debunk myths about permanent dyeing by reviving vibrancy without changing one's original color. Maintenance tips suggest avoiding sulfates when washing your locks and using heat protectants before styling for maximum results.
With this product, you can achieve ashy tones effortlessly!
L'Oréal EverPure Brass Toning Purple Sulfate Free Line
Transform your brassy brown hair with L'Oréal EverPure Brass Toning Purple Sulfate Free Line, designed to instantly neutralize unwanted yellow and orange undertones.
The range includes shampoo and conditioner infused with purple pigments to tone down the brassiness of brown hair while deeply nourishing it. With regular use, you will get long-lasting ashy tones that look natural and healthy.
Benefits:
Hydrating formula: Reduced brassiness & shine
Mild cleansing agents: Vibrant color without fading
Purple micro pigments: Enhances vibrancy
Results:
Reduced brassiness & shine
Vibrant color without fading
Enhanced vibrancy
Tips & Tricks:
Start at mid-length for maximum toning effect
Leave in for up to 5 minutes before rinsing
Use once or twice a week depending on desired result
The L'Oréal EverPure Brass Toning Purple Sulfate Free Line provides gentle yet effective toning solutions through its innovative formulas crafted specifically for brown hair hues.
Removing Red Tones in Brown Hair or Brassiness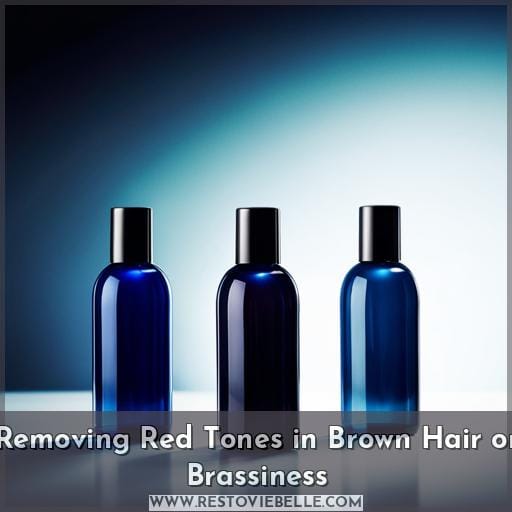 To neutralize warm tones and achieve ashier hues, try using a toning shampoo like Matrix Dark Envy Green Toning Shampoo. It helps remove red undertones from brown hair without damaging the strands or scalp.
Home remedies can also be effective in toning brassy tresses. For example, you can use tea and lemon juice to achieve the desired results. Additionally, apple cider vinegar can help remove product buildup, ensuring vibrant color maintenance.
If you're looking for a temporary solution, consider dyeing your dark brown hair with an ash-toned colorant that matches your natural hue.
For a more permanent solution, purple shampoos work well to counteract yellow undertones in blonde hair. On the other hand, blue shampoos are perfect for eliminating orange tones in darker shades of brunette locks.
To complete the transformation from brassy to ashy, you can use green toners on reddish or auburn shades found within medium to light brown hues.
Preventing Brassiness in Brown Hair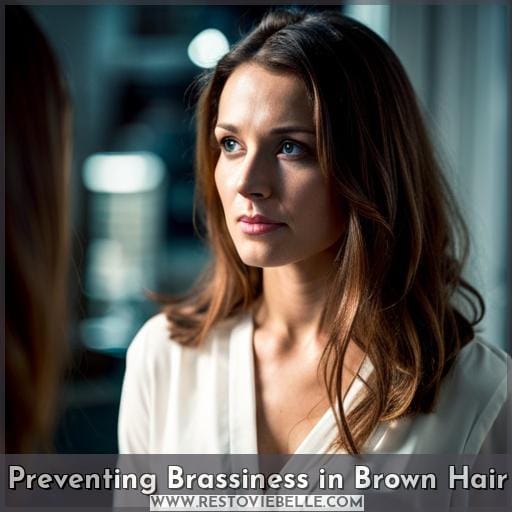 Are you looking to keep your brown hair vibrant and prevent brassiness? Protecting it from the sun's rays and using a heat protectant before styling can help maintain its rich color. When used properly with these protective measures, heat tools can also take your look to the next level.
Use Heat Protectant Before Using Heat Tools
Before you apply any heat to your hair, make sure to use a quality heat protectant spray. According to research, using one can reduce the amount of damage from styling tools by up to 77%.
To prevent brassiness and maintain beautiful color:
Choose a product specifically designed for this purpose.
Spray it all over damp hair before styling with straighteners or curling tongs.
Protect against sun exposure with hats or scarves when outdoors.
Use sulfate-free shampoos as they are gentler on colored strands.
Deep condition regularly for extra nourishment!
Heat protection is essential in maintaining vibrant brown tresses. Without it, you risk drying out your mane and developing brassy tones faster!
Beyond that though, take good care of your locks through regular trims and protective coloring techniques like balayage where part of the scalp isn't exposed at all times.
Limit Sun Exposure
Be sure to limit sun exposure as much as possible to keep your brown hair vibrant and prevent unwanted brassiness. Sun protection is key for maintaining a healthy, natural color that won't fade or show signs of oxidation.
The science behind hair color lifting and fading can be challenging, but with the right knowledge, you'll know how to best take care of your hue at home. DIY remedies like apple cider vinegar can help remove product buildup, while lemon juice may tone down brassy notes.
Investing in quality products designed specifically for colored hair helps maintain locks with minimal effort on your part—it's worth it!
Why Does Brown Hair Turn Brassy?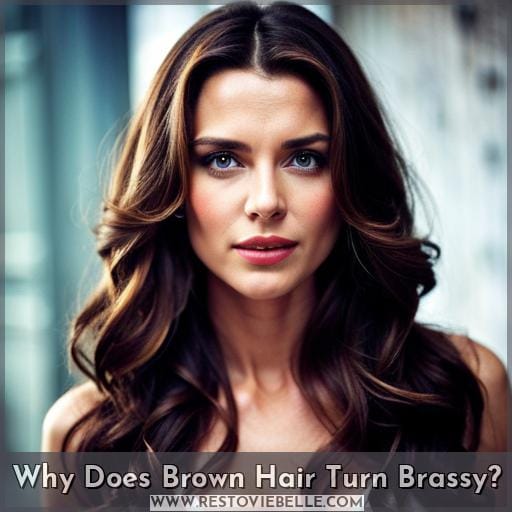 Unbeknownst to many, UV rays from the sun can cause brown hair to take on red or orange undertones in as little as 10 minutes of exposure.
The causes of brassiness in brown hair hinge upon both environmental factors like excessive heat styling and harsh chemicals present in certain shampoos and conditioners. In addition, improper color maintenance such as skipping out on weekly purple shampoo treatments can also contribute greatly towards brassy tones appearing prematurely.
Purple shampoo has multiple benefits for those dealing with brassiness; it helps neutralize yellow hues while providing necessary hydration due to its deep conditioning properties, which are essential for maintaining healthy locks post-coloration process.
For any kind of dyed or color-treated hair care routine, there exists a variety of remedies that range from homemade concoctions like lemon juice diluted with water applied directly onto strands for up to 20 minutes before rinsing off completely.
Apple cider vinegar mixtures used after washing regular sulfate-free shampoo helps remove product buildup while restoring natural pigmentation found within tresses, including ash shades otherwise not achievable without proper toner applications.
Ultimately, though, when striving towards an ashier hue, using temporary dyes alongside specialized blue-tinted products remains key players so long-lasting results may be achieved time after time again each week going forward – allowing everyone access to their desired look no matter what the current state may be!
Conclusion
Toning brassy brown hair at home has never been easier! You can easily achieve your desired ash brown shade without spending a fortune. With the right products and techniques, you can find a variety of products to suit your hair type.
From semi-permanent dyes to toning shampoos and conditioning treatments, there are options available.
To ensure the best results, it's important to understand the basics of hair toning and use complementary colors to cancel out unwanted tones. By using the right care and maintenance, you can keep your ash brown hair vibrant and healthy for longer.
So, start your journey to stunning, brass-free hair today!