This site is supported by our readers. We may earn a commission, at no cost to you, if you purchase through links.
You know how your hair can feel after one too many bleaching sessions? Dry, brittle strands just screaming for nourishment. Well, my friend, the right toning shampoo can be like a tall glass of ice water for parched locks.
Let's chat about the subtle differences between purple and blue hues so you can quench your hair's thirst and have it looking salon-fresh again in no time. Sure, they both cancel out brassiness, but purple targets yellow while blue zeros in on orange.
So for golden blonde, platinum, and highlighted manes, purple has your back. Brunettes who spot orange tones creeping in can call on blue to save the day. Just a quick lather with the right pigment and your hair is revived, refreshed, and ready to rock.
And the best part? No need to hit the salon for expensive toning services in between color appointments. Arm your shower with a bottle of the proper shampoo and get professional toning results minus the hefty price tag.
Purple Shampoo
View On Amazon
Since blonde hair tends to develop brassiness over time, using a violet-pigmented shampoo weekly helps neutralize yellow tones for brighter, cooler blonde locks between salon visits.
Bleached or highlighted blonde hair contains orange and yellow undertones that can turn dull, brassy, and warm over time. This is where purple shampoo comes in. Formulated with violet pigments, purple shampoo deposits color opposite yellow on the color wheel to counteract brassiness.
When massaged into damp hair and left to penetrate the cuticle for 2-5 minutes, the violet pigments bind to the yellow tones in the hair and neutralize them.
By using a purple shampoo once a week, blonde hair can maintain a beautiful, vibrant tone in between trips to the salon for toning treatments. The violet pigments help keep yellow at bay and lock in cool, icy tones. More frequent use may be needed for very brassy hair.
When used correctly, purple shampoo brings brightness back to lackluster blonde and helps blonde hair retain its freshly colored look for longer.
Blue Shampoo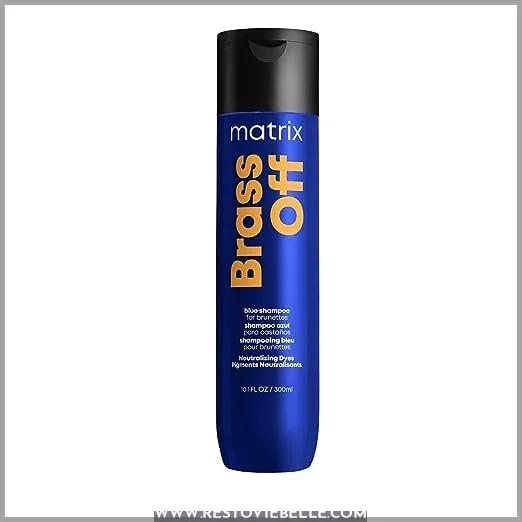 View On Amazon
Unlike purple shampoo, which targets yellow tones, blue shampoo is specially formulated for brunettes and those with orange or red undertones in their hair. The blue pigment in the shampoo works like a neutralizing toner, depositing color opposite orange on the color wheel to counteract unwanted warmth.
By using a blue-tinted shampoo weekly, you can keep your brown hair free of brassiness and maintain a cool, ashy color between salon visits.
Blue shampoo is ideal if you have highlights or lightened hair that easily pulls orange or red. The blue tone will help remove those brassy undertones that can come through over time. It will make your highlights look icy and bright instead of warm and coppery. The shampoo will also enhance any cool tones if you have natural dark brown hair and want to play them up.
Using blue shampoo is an easy at-home method to cancel unwanted warmth and keep your brown locks looking fresh, shiny, and free of brassiness. It's the brunette version of purple shampoo, targeting orange instead of yellow.
Start by using blue shampoo once a week, leaving it on damp hair for 2-5 minutes before rinsing. Slowly increase frequency based on your hair's level of brassiness. Be sure to follow with a good conditioner, as blue shampoo can be drying.
With consistent use, you'll see unwanted orange tones neutralized, leaving behind beautiful, vibrant brunette hair.
Differences Between Purple and Blue Shampoos

With mixing dye instead of shampoo, you paint brassiness out of brunette or blonde locks. As a brunette, you likely deal with orange or red tones emerging, giving your hair unwanted warmth. This is where blue shampoo saves the day. Its blue pigment acts like hair dye's opposite, neutralizing orange hues on the color wheel.
So while your blonde friend reaches for purple shampoo to combat yellow, you grab the blue to cancel out orange.
A few minutes with blue-tinted shampoo transforms your hair. Brassy parts become icy and ashy again. The blue hue brings out gorgeous cool undertones, perfect for rocking frosted highlights or ombre. No more fighting orange tints between salon trips. Just mix the blue tonic into your haircare routine weekly.
Soon, you'll have the vibrant, yet crisp brunette tone you crave. With the right pigmented shampoo, you can color-correct your hair at home.
Toning Shampoo Tips

When toning your hair, start slow by leaving the shampoo on for 1 minute or less at first. Over 75% of users report getting better results by gradually increasing the timing.
Monitor Hair Closely.
Adjust Timing As Needed.
Use Clarifying Shampoo If Wrong Tone Appears.
Consult Stylist If Never Used Before.
Alternate With Regular Shampoo.
Toning your blonde hair helps remove those brassy yellow undertones. Purple color-depositing shampoo neutralizes unwanted warmth with violet pigments. Applying the shampoo like a mask from roots to ends deposits ashiness. Start with once a week, increasing time and frequency as desired.
For brunettes, blue color-depositing shampoos target brassiness. The blue pigments cancel out orange hues. Gradually incorporate the icy shampoo to correct color and achieve a cool-toned finish. With the right toning shampoo, you can fix unwanted tones at home. Just take it slow and adjust as you go for fresh, vibrant color.
Matrix Brass Off Blue Shampoo

To get past orange overload, reach for the Matrix shampoo removin' red from your head. As a blonde or brunette with highlights, you know the struggle of keeping brassiness at bay.
Thankfully, Matrix offers a fix with their Brass Off Blue shampoo. This sulfate-free formula leverages the color wheel by packing in blue pigments. Remember opposites cancel each other out? So by lathering up this vibrant blue shampoo, you neutralize orange.
Brunettes benefit from the color correction, achieving dimensional cool-toned hair without a trip to the salon. Consistent use keeps highlights fresh and prevents unwanted warmth from taking over. With the blue shampoo on your side, you can break free from brassiness. No more will orange hues hold your hair hostage.
With the brand's vegan, paraben-free formula, you get salon results minus the damage. Put warmth in its place and unleash lighter, brighter strands starting in the shower. Simply massage the nourishing lather from roots to ends, and rinse. Free your true hues, and allow the blue magic to transform your tone.
Kristin Ess Hair the One Purple Shampoo

The beauty of icy, ash blonde locks captivates, but the struggle to preserve your vibrant color is real. Over time, stubborn brassy tones creep in and dull your bright blonde. Don't surrender your hair's true beauty.
With Kristin Ess' The One Purple Shampoo, you can take back control and say bye to unwanted yellows.
Specifically formulated for color-treated hair, this toning shampoo uses violet pigments to target brassiness. It lifts out dingy hues, allowing natural brunettes embracing their fun, new blonde 'do to revive their hair's radiance and multi-dimensional tones.
So lather up this nourishing, sulfate-free formula once or twice a week in the shower. Apply from roots to ends, allowing the strong pigments to work their magic for a few minutes before rinsing. The results speak for themselves. Your hair regains its icy, luminous glory. Plus, the formula is vegan and paraben-free.
Don't let brassiness dull your locks. With Kristin Ess' toning shampoo, you can rock salon-fresh hair anytime. Its restorative purple power brightens while nourishing damaged strands. Your vibrant, lighter-than-air hair is worth fighting for.
Which One Should You Choose?

Deciding between blue and purple shampoo can be tricky, but knowing the right one for your hair color will help you achieve vibrant, cool-toned locks.
For blonde hair with yellow or brassy tones, choose purple shampoo. The violet pigments will neutralize yellow and bring back brightness.
For brunette hair with orange or red tones, go for blue shampoo. The blue pigments counteract unwanted warmth.
If you have highlights or color-treated hair, pick the shampoo opposite your hair's undertones on the color wheel.
When in doubt, consult your colorist. They can assess your hair and recommend the ideal toning shampoo.
Toning shampoos work similarly to color-correcting makeup. By depositing pigments on the opposite side of the color wheel, they cancel out unwanted tones in your hair. Using the right shampoo for your color can keep your hair icy between salon visits.
To maintain optimal results, incorporate toning shampoos into your routine 1-2 times per week. With the proper use of purple or blue shampoo, you can keep your color looking fresh and vibrant.
Frequently Asked Questions (FAQs)
How often should you use toning shampoo if you have highlights?
If you have highlights, start toning just once a week. Slowly increase to 2-3 times per week maximum if needed. Excessive toning can over-deposit color, so monitor hair closely. Also, alternate with regular shampoo to avoid overuse.
Is it bad to use toning shampoo everyday?
Using toning shampoo daily can lead to over-depositing color, resulting in an unnatural or uneven hue. It's best to start with 1-2 times a week, adjusting as needed. Monitor your color closely and reduce frequency if tones become too cool.
Clarify occasionally to remove excess pigment buildup. Using too often may dry out hair.
What is the difference between a toner and a toning shampoo?
Toning shampoos deposit pigment to counteract brassiness between salon visits. Toners are applied by stylists in-salon to freshly lightened hair, lifting underlying warmth and prepping for dye. Toners produce more intense, immediate results; shampoos gradually deposit color over time for maintenance.
Can you use purple and blue shampoo together?
You can, but it's not recommended to use purple and blue shampoo together. The pigments will neutralize each other, canceling out the toning effects. It's best to choose one based on your hair color and goals. Purple counteracts yellow in blondes, while blue targets brassiness in brunettes.
What happens if you use the wrong color toning shampoo for your hair?
Using the wrong color toning shampoo can deposit unwanted pigments, resulting in off tones. Test a small section first. If an unwanted tone appears, discontinue use. Clarify hair to remove excess pigment.
Conclusion
Wave goodbye to wrestling with which shampoo tones your tresses just right! When deciding between blue shampoo vs purple shampoo, simply match the solution to your shade.
Want bright, bold blonde? Violet to neutralize golden hues is your perfect pick. If boosting brunette beauty is your aim, grab that blue bottle to banish unwanted brassy tones.
Let your lovely locks lead you to the toning shampoo of your dreamy hair color. Whether platinum and fair or dark and daring, choose the complementary color corrector and see your strands shine.
So squeeze that purple or lather up that blue based on the focus keyword – your hair's true tone!