This site is supported by our readers. We may earn a commission, at no cost to you, if you purchase through links.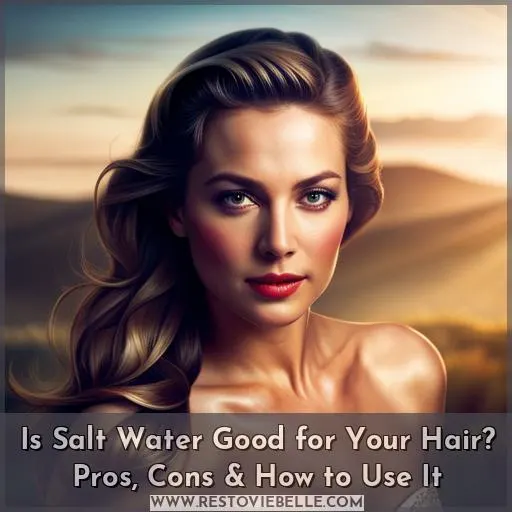 Curious about whether salt water is good for your hair? You're not alone. Many people are drawn to the idea of getting that beachy wave look, but worry about damaging their strands in the process.
Salt water can be a double-edged sword. It's hygroscopic, so it attracts more water to your hair and forms extra salt crystals, which add body and texture. However, this also draws out moisture from inside your hair strands, making them dry and brittle.
So, is saltwater really worth the risk? Let's take a closer look at its pros, cons, how you can use it safely (for both straight or wavy tresses), plus some top products for post sea care!
Key Takeaways
Saltwater can create beachy waves but may damage hair.
Saltwater increases moisture levels and circulation, leading to increased hair volume.
Saltwater nourishes the scalp with minerals and stimulates blood flow for hair growth.
However, saltwater can also draw moisture out of hair, making it dry and brittle, and strip natural oils, leading to further drying.
Is Salt Water Good for Your Hair?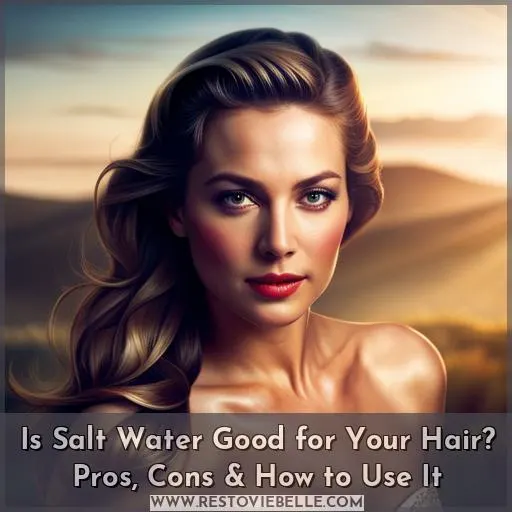 You may be wondering if saltwater can help your hair look and feel its best, and the answer is yes! Deep ocean water contains minerals like magnesium, zinc, and potassium that provide antibacterial properties to promote skin health.
Saltwater helps regulate oil production on the scalp, aiding in hydration while preventing moisture loss from hair strands. When used correctly, it can add texture with beachy waves without causing too much damage.
To get maximum benefits from saltwater, use reef-friendly oils to protect your locks before swimming. You can also create a homemade sea salt spray for extra volume after showering. For an additional boost of protection, try using leave-in conditioners with SPF.
These will lock nourishment into every strand while shielding them against sun damage.
With just a few simple steps, you'll enjoy all kinds of benefits from dipping into salty waters.
Pros and Cons of Salt Water for Hair

Looking for an easy way to add body, volume, and shine to your hair? Saltwater may just be the answer. It can provide beachy waves and extra body while also nourishing the scalp with its mineral-rich content.
However, there are some drawbacks – extreme dryness is possible if used on chemically treated hair, and dehydration may occur from prolonged exposure.
Pro: Beachy Waves and Extra Body
Surfing in the ocean can give you gorgeous beachy waves and add extra body to your hair, with just a little bit of effort! On average, swimming in salt water for 20 minutes can increase your hair volume by up to 38%.
Salt water benefits include hydration, texture enhancement, and improved moisture retention. For those wanting that classic beachy look without the frizz or dryness from sun exposure, using sea salt-based products is an excellent way to protect against damage while getting beautiful results.
When it comes to healthy hair growth and protection from harsh elements like chlorine or UV rays, it's hard not to beat what regular applications of natural sea salts have to offer.
Pro: Nutrient Absorption and Scalp Health
Your scalp will love the nutrient absorption that saltwater provides, leaving it feeling healthy and replenished. Sea water is full of essential minerals like magnesium, potassium, zinc, and selenium, which can help protect against environmental damage while hydrating hair follicles.
Saltwater helps stimulate the scalp to promote faster growth or combat thinning hair by stimulating blood flow.
Regular use of saltwater treatments can help bring life back into dull strands with improved texture and shine, as well as provide protection from sun exposure due to its natural SPF properties.
Con: Dehydration and Extreme Dryness for Chemically Treated Hair
However, too much saltwater exposure can leave chemically-treated hair feeling dehydrated and extremely dry. Chemical treatments often strip the hair of its natural protective oils, making it more susceptible to damage from ocean water's high mineral content.
This disrupts the moisture balance, leading to further drying out of strands and leaving them brittle and prone to breakage.
Ocean water effects may even be irreversible if left untreated for long periods, causing permanent dehydration that will require professional intervention to restore hair resilience. To avoid such damage, it is important for those with chemically-treated or otherwise fragile hair types to take extra precautions when exposed to saltwater's hygroscopic properties.
How Does Salt Water Create Beachy Waves?

By combining a leave-in conditioner with salt water, you can achieve the perfect beachy waves look.
Start by adding a leave-in conditioner to damp hair and scrunching it in sections for definition.
Then apply sea salt spray, focusing on any areas that need more texture or hold, such as around your crown and temples, for added volume-building effects.
Next, use your hands or an extra wide paddle brush to gently shape the hair into soft curls and waves while blow-drying using a diffuser attachment at low heat settings on medium speed setting if needed.
When finished, spritz some light finishing hairspray onto the roots of your strands, avoiding spraying directly onto the already formed wave pattern.
Finally, seal all moisture from root ends up with natural oils rich in magnesium, like avocado oil, which helps keep locks hydrated throughout the day, creating beautiful shiny long-lasting beachy style!
Saltwater styling is an easy way to create fresh-looking, salon-quality hairstyles without having to spend a fortune visiting a hairdresser! With a proper maintenance routine using the right products, the achieved results will last much longer than one single session!
Alternatives to Ocean Water for Hair Health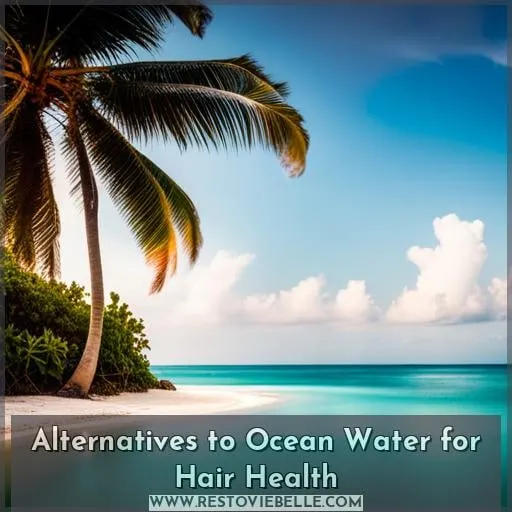 If you're looking for an alternative to ocean water for hair health, consider natural treatments and products that provide essential nutrients. Homemade remedies like salt-based masks or shampoos can help restore moisture balance while providing scalp blood flow stimulation.
DIY solutions such as leave-in conditioners, hair masks, and protective oils are also effective in protecting locks from sun damage and seawater exposure. Hair hydration is important too; using a deep conditioning treatment with humectants helps lock in moisture without leaving your strands feeling weighed down or greasy.
For those who prefer store-bought options, look out for sulfate-free shampoo formulas specifically designed to combat dryness due to chlorine or seawater exposure – they can be used on both wet and dry hair! Finally, opt for products packed with nourishing ingredients like shea butter, which will work together to promote healthy growth while adding shine back into dull tresses.
Top 5 Recommended Products for Post-Sea Hair Care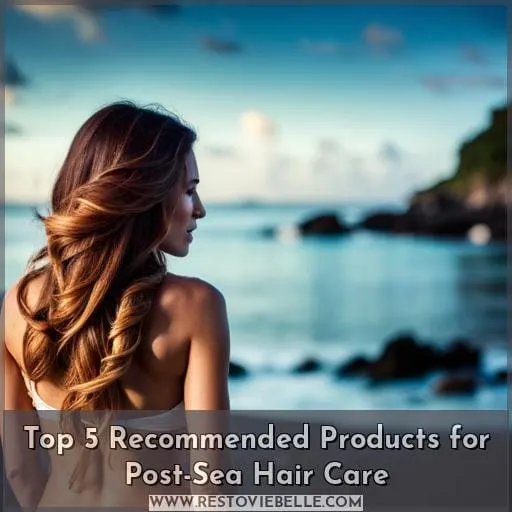 After a day at the beach, restore your hair to its former glory with these five top-rated products for post-sea hair care: Hair by Sam McKnight Rich Cleanse Shampoo, Philip Kingsley Swimcap Water Resistant Mask, It's A 10 Haircare Miracle Leave-In Conditioner, R+Co Dreamhouse Cold Pressed Watermelon Wave Spray, and Moroccanoil Treatment Original.
To protect against saltwater damage and sunburns on the scalp, apply sunscreen or an SPF-enriched mask before swimming. For curly hair, use intensive conditioners to embrace natural texture while styling options like sea salt mixtures can be used for tousled finish looks.
Leave-in conditioning treatments are also recommended for low maintenance evening hairstyles, such as braids that create beachy waves overnight.
Alongside these products, remember to rinse immediately after ocean exposure and make sure to follow up with nourishing masks or oils afterwards!
Tips for Protecting Your Hair From Salt Water Damage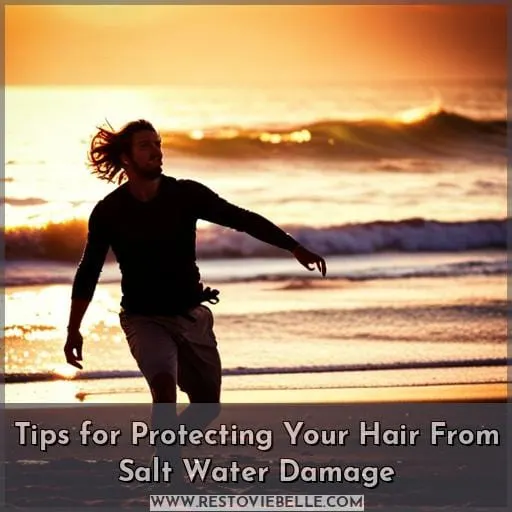 To protect your hair from saltwater damage, apply a protective barrier before swimming and rinse with fresh water immediately after.
Use natural shampoo and conditioner to avoid harsh chemicals on the scalp.
Apply sunscreen or a reef-friendly oil around the hairline before entering the ocean.
Rinse hair with cold water as soon as you come out of saltwater to prevent drying out strands.
Braid damp locks during day activities for beachy waves at night without overdoing it on styling products like sea salt spray, which can cause breakage if used excessively.
Consider using intensive conditioners specifically made for curly textures, such as It's A 10 Miracle Leave-In Conditioner, to help keep curls hydrated while protecting them from salty seawater elements.
By following these precautions, you can ensure that your mane remains healthy even when exposed to salty oceanside environments!
Conclusion
In a nutshell, salt water is great for getting beachy waves, but it can also damage your hair. It's important to use the right products and take precautions to protect your hair from the sun and salt water.
While salt water can help absorb nutrients and improve scalp health, it can also cause dehydration and extreme dryness for chemically treated hair. To minimize damage and keep your hair healthy, use a hair masque with SPF before swimming.
Afterward, double cleanse with shampoo and apply leave-in conditioners and natural oils to protect your hair.
By using the right products and following a care ritual, you can achieve beautiful beachy waves without harming your hair.