This site is supported by our readers. We may earn a commission, at no cost to you, if you purchase through links.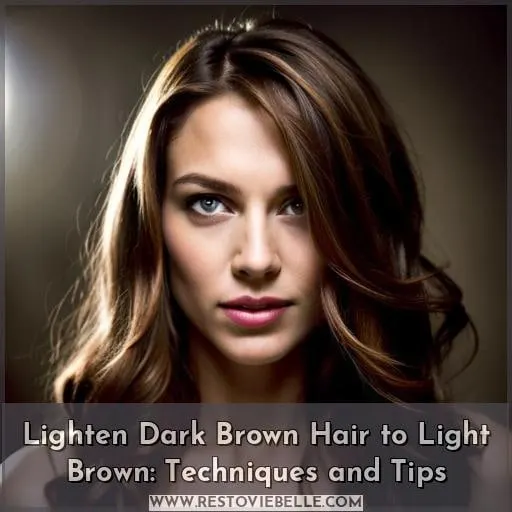 Itching to lighten up those dark brown locks of yours? Whether you're aiming for a subtle transition or going all out with blonde, we have the tips and techniques that will keep your hair looking healthy while you make it lighter.
But before diving in, it's important to choose the right shade for your complexion. Flip your wrists and examine your veins — if they're blue, you're cool-toned; green means warm-toned; anywhere in between is neutral.
To achieve an optimal result when lightening dark brown hair with box dye or other methodologies, select colors within three shades of natural color — this helps maintain its healthiness as much as possible!
Keep reading to discover how best to take on this transformation without sacrificing the integrity of our mane.
Key Takeaways
Choose the right shade based on your skin's undertones.
Use gradual lightening techniques or professional options for desired results.
Protect your hair from heat styling and use protective clothing during dye application.
Follow proper preparation and aftercare routines to maintain the lightened color.
How to Lighten Dark Brown Hair to Light Brown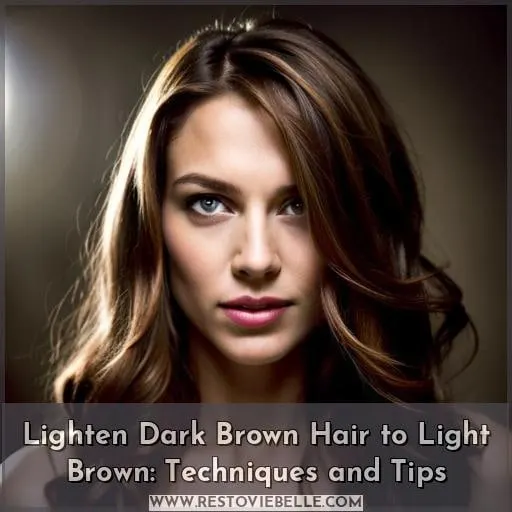 If you're looking to lighten your dark brown hair, there are a few important steps to consider. First, choose the right shade for your skin's undertones – cool-toned skin suits warmer shades, while warm skin looks best with cooler tones.
Secondly, use gradual techniques such as Sun-In Hair Lightener Spray or natural methods like lemon juice and apple cider vinegar to achieve subtle results over time instead of harsh bleaching sessions that can damage hair health.
Additionally, minimize heat styling by using protective clothing and waiting 2 days before shampooing again after dyeing.
Finally, enhance color with L'Oréal Paris Le Color Gloss for an in-shower toning gloss that brightens and conditions all types of hair textures!
Choosing the Right Shade
When deciding on the right shade for you, consider your skin's undertones and choose a high lift box dye that complements them.
Keep in mind bleaching tips: wait 14 days between sessions; use protective clothing; mix dye & developer thoroughly before applying to sectioned hair, focusing on roots first; ensure full coverage and rinse with cold water after 35-40 minutes.
Alternatives like L'Oréal Paris Feria Hyper Platinum Advanced Lightening System Bleach are recommended. Additionally, use sulfate-free shampoo/conditioner and weekly masks to protect from damage caused by heat styling & Sun In products that may lead to orange or brassy tones.
Gradual Lightening Techniques
Try using natural methods such as henna, apple cider vinegar, or lemon juice to gradually lighten your hair. Sun-In Hair Lightener Spray is a great option for a subtle transformation and can be used with heat and sunlight to enhance the effects.
Alternatively, opt for a professional permanent dye that will provide longer-lasting results if you're looking for a more dramatic change. A hair toning gloss or anti-brass conditioner may also help neutralize brassy tones caused by bleaching treatments.
Minimizing Heat Styling
Reduce heat styling to maintain the lightness of your hair and keep it healthy – curl up with a good book instead! Heatless curls, waves, and other styles are possible without tools like blow dryers or curling irons.
Protecting dark brown hair from damage associated with heat is essential for maintaining the lighter shade.
Alternatives such as braids or twists can lead to beautiful looks without damaging your mane. Experimenting with no-heat hairstyles like bantu knots and rag rolls will create unique textures that won't require any additional products for hold.
Use these tips to achieve vibrant color while avoiding breakage, split ends, and excess drying time due to overuse of hot tools on lightened tresses!
Enhancing With Hair Gloss
Give your hair a boost of color and shine with L'Oréal Paris Le Color Gloss, an in-shower toning gloss that'll brighten up your look! Hair gloss benefits include improved condition and vibrancy. It's the perfect way to enhance natural highlights without damaging dark brown locks.
Try it after lightening treatments for a glossy finish or use it on its own as a semi-permanent alternative to coloring services. For best results, apply the product evenly throughout damp hair before rinsing thoroughly with cold water for maximum conditioning effects.
With proper care, enjoy lustrously shiny hair for weeks at a time!
Tips for Lightening Dark Brown Hair With Box Dye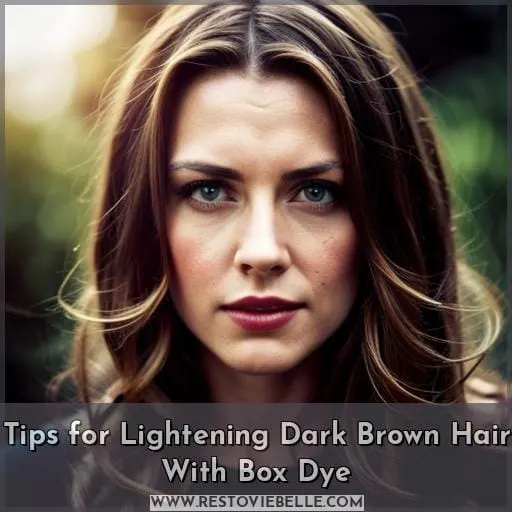 Are you looking to lighten your dark brown hair with box dye? Preparing and selecting the right color is essential for achieving optimal results. To get started, make sure to nourish your hair beforehand by using natural products or coconut oil.
Then, pick a high-lift box dye that complements your skin's undertones for an even lighter shade. Last but not least, take it slow! Gradually lightening will help preserve the integrity of your locks while giving them a healthy shine over time.
Preparing Your Hair
Before you begin your hair lightening journey, make sure to give it some extra TLC with a nourishing shampoo and conditioner. Choose a box dye that is high lift for better results. Keep in mind the undertones of your skin when selecting color.
Also, try to minimize heat styling as it can cause damage to bleached dark brown hair.
For a gradual lightening effect on dark brown locks, you can use Sun-In Hair Lightener Spray. However, always remember to wear protective clothing during the application process.
Selecting the Right Box Dye Color
Choosing the right box dye color for lightening dark brown hair is key to achieving your desired result, so take time to look through the options and pick one that fits you like a glove.
Consider avoiding brassiness with cool-toned shades and using application techniques such as sectioning your hair for even coverage.
Protecting hair health during this process is essential; use natural products or coconut oil before each application and air dry afterwards.
For long-lasting results, maintain regular touch-ups while following maintenance tips such as weekly masks or sulfate-free shampoo/conditioner.
With careful selection of shade, appropriate application methods, and proper care, enjoy beautiful locks during your brunette to blonde transition!
Gradual Lightening for Optimal Results
If you're looking to achieve a lighter shade of brown without risking damage, consider taking the gradual lightening approach. This will allow you to adjust your hair color options as needed and minimize any potential issues that may arise from bleaching or chemical treatments.
Natural methods such as henna, apple cider vinegar, and lemon juice can help lighten darker shades of brown over time with minimal risk for damage. A product like Sun-In Hair Lightener Spray is also helpful in gradually brightening dark strands while still protecting them from harm.
When it comes to changing up your hair color safely and effectively, slow but steady wins the race!
Steps to Lighten Dark Brown Hair With Box Dye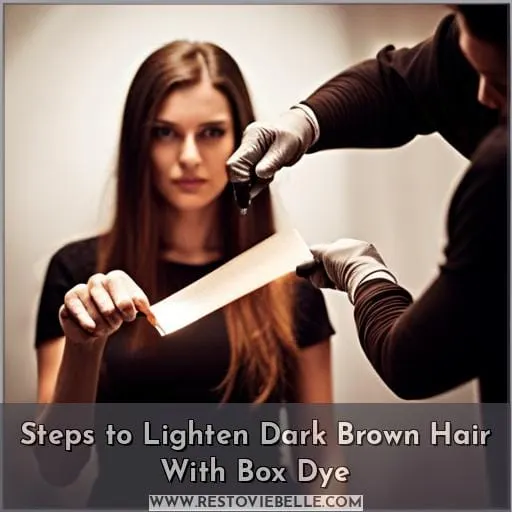 Ready to take the plunge and upgrade your hair color? Start by picking a high-lift box dye for maximum results. Lightening dark brown hair with box dye requires choosing the right shade, avoiding brassiness, protecting hair during application, focusing on root application, and maintaining color afterwards.
When selecting a lightening shade, look at your skin's undertones for guidance. Warm tones suit cooler shades, while cool tones require warmer colors.
During the bleaching or dying process, it is important to use protective clothing and apply Vaseline on exposed areas of skin to prevent staining.
Additionally, when applying bleach, focus primarily on the roots as they take longer to lighten than the tips of strands.
After coloring, make sure you wait two days before shampooing again. Then, maintain the newly achieved hue using sulfate-free haircare products, such as L'Oréal's EverPure system, which seals in vibrancy for up to 60 days!
With these steps, anyone can enjoy lighter locks without salon visits!
The Lightening Process for Dark Brown Hair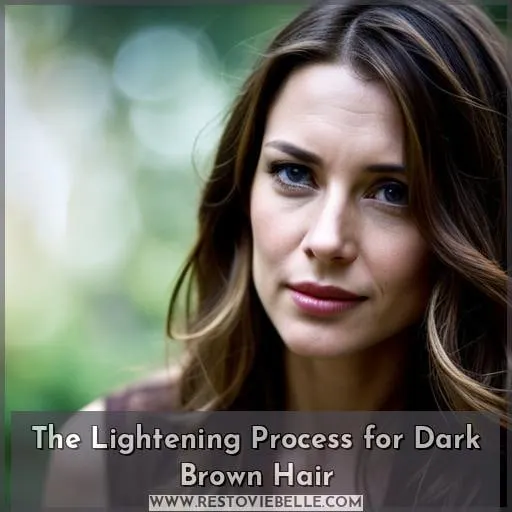 Transitioning from box dye to lightening techniques is the next step for achieving your desired lighter hair color. To achieve a natural-looking shade of light brown, you'll need to go through a gradual process that involves bleaching and using glosses or toners.
Start by assessing the health of your hair. If it's dry or damaged, consider delaying any further chemical treatments until it recovers. If all looks good, then buy quality box dyes and developer with high lift capabilities, as these will give you better results when lightening dark brown strands.
When mixing up the dye solution, be sure not to leave out any ingredients, as they are essential for safe application! Additionally, section off your hair while applying so that each part gets equal coverage.
Finally, use protective clothing such as gloves and Vaseline on areas surrounding skin exposed during treatment to avoid staining caused by accidental splashes of bleach mixture.
Potential Damages of Lightening Dark Brown Hair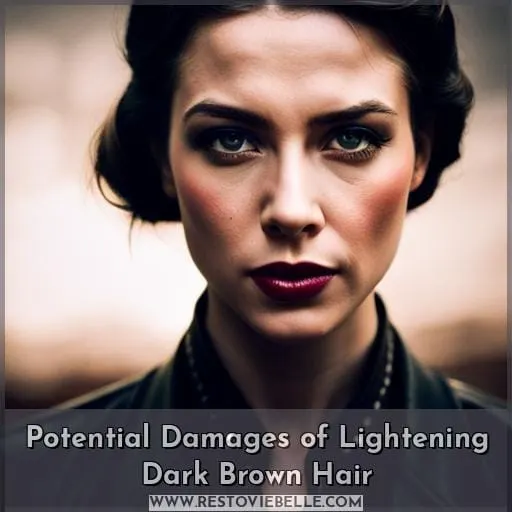 Be mindful that lightening your dark brown hair can cause irreversible damage, so it's important to understand the risks before starting.
The bleaching process and use of harsh chemical dyes may weaken hair proteins, leading to brittleness or breakage if done incorrectly. Color maintenance is also essential, as using the wrong products could lead to brassiness or fading over time.
Sun-In Hair Lightener Spray is known for its ability to quickly lighten darker shades, but it comes with potential risks such as dryness, orange tones, and weakening of hair structure due to excessive protein breakdown caused by phosphoric acid in its solution.
Therefore, proper conditioning treatments are recommended after each application session.
To prevent further damage during the color transition, always use protective clothing, gloves, Vaseline, and natural-based products like coconut oil before any bleach treatment.
Strand Restorers for Lightened Dark Brown Hair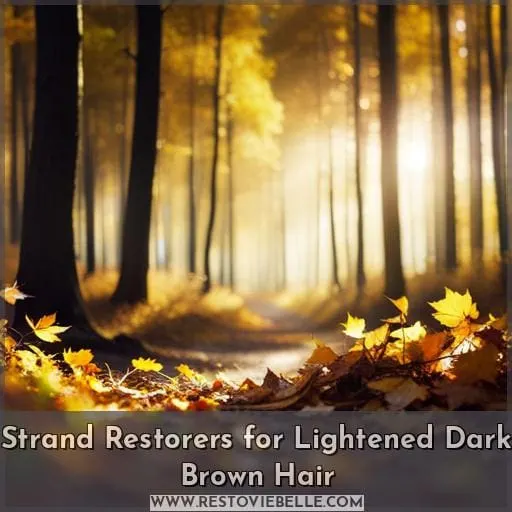 After lightening dark brown hair, don't forget to use strand-restoring products to help keep your locks healthy and vibrant! To maintain color and repair any damage that has occurred from lightening treatments, try a conditioning treatment once per week.
Additionally, using a heat protectant before styling is important for keeping hair strong during high-temperature processes like blow-drying or curling. When it comes to at-home maintenance of lighter shades of brown hair color, look for shampoos specifically designed for colored tresses as they contain special ingredients that enhance vibrancy and longevity of hue options like golden blondes or ashier tones.
Lastly, if you're considering taking your mane even lighter than its current shade, then be sure to apply deep conditioners regularly as bleaching can cause extreme dryness over time.
Achieving Subtle Progression in Lightening Dark Brown Hair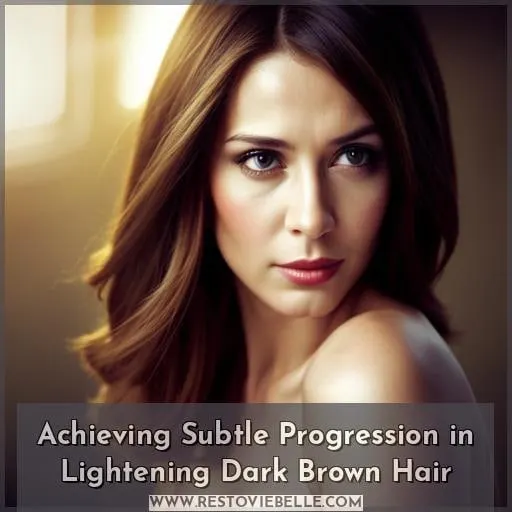 If you're looking to lighten your dark brown hair, a subtle approach is key. Natural highlights produced by lemon juice applied twice monthly will give your locks a sun-kissed look and help you achieve gradual lightening.
A weekly deep conditioning treatment with natural oils helps protect strands while they're being bleached or toned.
If desired, professional hair coloring options, including demi-permanent dyes, provide more control over the final results when it comes time to lighten dark brown hair to light brown.
Conclusion
Lightening dark brown hair can be a tricky task, but with the right techniques and products, you can achieve beautiful results without damaging your hair. Start by selecting the right shade and using natural methods to lighten your hair gradually.
When using box dye, make sure to select the right color and apply it carefully, focusing on the roots. It's also important to minimize heat styling and use strand restorers to protect your hair during the process.
With a bit of patience and practice, you can lighten your dark brown hair to light brown and achieve the look you desire.