This site is supported by our readers. We may earn a commission, at no cost to you, if you purchase through links.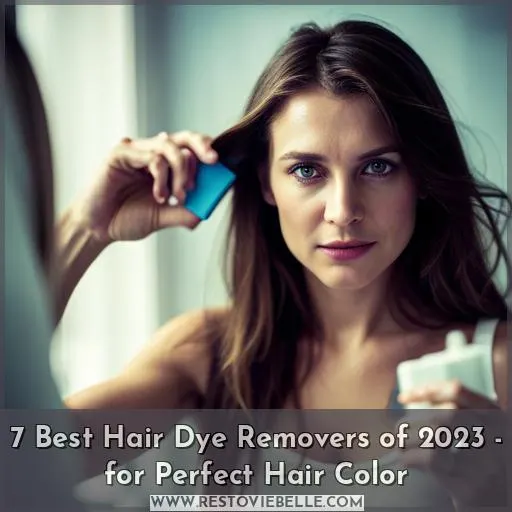 Surprise! Your bad hair color doesn't have to be permanent. The best hair dye removers can help you get rid of the regretful hue that's been haunting your tresses and restore them back to their former glory.
We've done the hard work for you, testing out all kinds of different products so we can recommend only the very best options available in 2023.
From Framar Kolor Killer Wipes to Color Oops and CBC Color Balance Corrector, these are our top picks for maximum results with minimal effort – perfect if you're looking to change up your look without damaging your locks or breaking the bank!
Key Takeaways
Gentle and effective: The best hair dye removers are gentle on the hair and scalp, while still effectively removing dye without causing damage.
Versatile and powerful: These removers can remove any level of dye, erase tints and stains, and can even remove color buildup from previously dyed hair.
Restorative and moisturizing: Deep conditioning after using a hair dye remover helps restore moisture and prevent dryness, breakage, and brittleness.
Considerations for different dyes: Permanent and semi-permanent dyes require different removers, so it's important to choose the right product for your specific needs.
Top 7 Best Hair Dye Removers
Are you searching for the best hair dye removers? Look no further – Framar Kolor Killer Wipes, Roux Clean Touch, Color XChange, One N Only Colorfix, Scruples Delete, Color Oops, and CBC Color Balance Corrector are here to help! These products provide gentle and effective removal of hair dye from the skin.
They also quickly eliminate tints and stains while nourishing your hair with oils or keratin.
Framar Kolor Killer Wipes
View On Amazon
Experience a gentle, fast clean-up with Framar Kolor Killer Wipes — perfect for hair colorists, artists, and estheticians looking to quickly erase tints and stains! This product is designed with an effective formula that cleans dye from the skin safely.
Each canister contains 100 wipes that pop up easily without ripping. It has a fresh scent, so you don't have to worry about any harsh odors when using it.
Using Framar Kolor Killer Wipes will help you keep your clients happy by providing them with quick results that are also gentle on their scalp.
Gentle yet effective formula
Fresh scent
No harsh chemicals such as bleach or ammonia
Easy to use
Quick results
Keeps natural pigment intact
Lid closure could be more airtight
Works best on fresh stains
Thin wipes may require using more than one
More moist wipes could improve dye removal
Roux Clean Touch
View On Amazon
Roux Clean Touch is a color remover that quickly and effectively erases tints and stains from hair, skin, and clothes. It features a vegan-friendly formula free of harsh chemicals like PPD, ammonia, peroxide, or parabens.
This gentle product has been designed to be safe while still being able to remove even the most stubborn stains in no time at all! It's perfect for those who want an easy way to take off excess dye without damaging their hair or skin.
Gentle formula with no harsh chemicals
Quickly removes tints & stains
Provides up to 40% more coverage than other products
May require multiple applications
Results vary based on original hair color & type
Color XChange
View On Amazon
Color XChange is a vegan, gluten-free hair color that can quickly and easily change your look without worrying about harsh chemicals damaging your hair. It contains no PPD, ammonia, peroxide, or parabens. It is made in the USA without any fragrance, ethyl alcohol, or sulfates.
This cruelty-free formula gives you the power to transform yourself with beautiful colors while nourishing and protecting your locks. At the same time, its easy mix-with-water solution makes it simple for anyone to use – even those new to coloring their own tresses! Whether you are looking for subtle highlights or vibrant hues of reds and blues, Color XChange has something perfect for everyone's unique style needs.
Free of harsh chemicals like PPD, ammonia, and peroxide
Vegan and gluten-free formulation
Made in the USA
May require multiple applications
Results may vary by hair type/color
One N Only Colorfix
View On Amazon
One N Only Colorfix is a professional salon-quality eraser that effortlessly removes any level of hair dye without damaging your natural pigment. It contains argan oil and is safe to use on all types of hair, including bleached and non-bleached strands.
The 3 part system includes a color reducer, conditioning catalyst, and processing lotion which makes it easy to mix and apply for optimal results.
This vegan-friendly formula does not contain ammonia or bleach, so you won't find yourself dealing with harsh chemicals when using this product.
Cruelty-free formula
No damage to hair
Works on bleached & non-bleached strands
Strong rotten egg smell
Multiple applications may be needed
Can stain skin & surfaces
Scruples Delete
View On Amazon
Scruples Delete is a gentle and effective color remover that quickly erases tints, restoring your hair to its natural hue with no harsh chemicals. This vegan and gluten-free product is made in the USA without any of the harsh ingredients like PPD, ammonia, peroxide, or parabens found in other dye removers.
Plus, it comes with an added bonus—no fragrances or sulfates—so you won't have to worry about drying out your hair either.
Gentle and effective cleaning of hair dye from skin
No harsh chemicals like PPD, ammonia, peroxide, or parabens
Cruelty-free formula contains no fragrance or sulfates
Easy to use by mixing with water for fast results
May require multiple applications depending on the original hair color type
Risk of damage if not used correctly, so deep condition after using this product
Results may vary based on the original color history
Color Oops
View On Amazon
You'll be relieved to know that Color Oops is a gentle, ammonia-free formula that can help restore your hair color without damaging it. It shrinks artificial dye molecules so they can be washed out, leaving you with undamaged hair and ready for recoloring the same day.
Aloe vera and soy protein condition your locks during the process while washing away unwanted tints or stains from semi-permanent dyes quickly and easily.
This vegan product is made in the USA without harsh chemicals like PPD, ammonia, peroxide, or parabens, making it safe for all types of hair textures – even those who have bleached their strands! The wash out system works in 20 minutes, meaning you don't need to wait around too long either!
Ammonia-free formula
Quickly removes semi-permanent dye with minimal damage
Conditions hair during the removal process
May not work as well on permanent colors
Strand test recommended before full application
More than one application may be necessary
CBC Color Balance Corrector
View On Amazon
CBC Color Balance Corrector instantly neutralizes redness, brightens dull skin, and minimizes ashy tones for a flawless complexion. This vegan formula is free of harsh chemicals like PPD, ammonia, peroxide, and parabens.
Available in four shade ranges to match your unique skin tone needs, this product will have you looking effortlessly beautiful all day long without worrying about fading away too quickly due to its 12-month shelf life after opening!
Neutralize redness from rosacea & acne irritation
Brighten sallow & dull skin
Minimize dark circles & ashy tones
Sheer lightweight liquid formula
Soft focus pigments even out tones while blurring imperfections
Fragrance-free, paraben-free & cruelty-free
Limited availability in 4 shade ranges only
May require multiple applications depending on desired results
Product may not be effective for everyone
What to Look for in a Hair Color Remover

When choosing a hair color remover, it's important to look for formulas free of ammonia and bleach. These harsh chemicals can damage your hair, so try to find products with hydrating and reparative ingredients instead.
Also, check the indications on the packaging as to what kind of dye removal it is best suited for – whether permanent or semi-permanent – in order to get the best results possible from your product.
Ammonia- and Bleach-Free Formulas
When it comes to ammonia- and bleach-free formulas, you're sure to leave your hair in a much healthier state than if you just used any old dye remover! A great formula contains natural cleansers like ascorbic acid, lactic acid, and sulfinic acid, which can remove the color without damaging the hair.
Sodium oxymethylene sulfoxylate is another effective ingredient that helps break down harsh chemical dyes. Additionally, sodium cetearyl sulfate works well in removing stubborn stains from the skin while being gentle on both the scalp and strands.
Whatever your preference may be – gentle cleansing or dramatic fading – a quality product will deliver results without sacrificing your mane's health!
Hydrating And/or Reparative Ingredients
Look for hair color removers that contain hydrating and/or reparative ingredients like oils, keratin, or vitamin C to nourish your locks while lightening them. Active ingredients such as clarifying shampoos, hydrating masks with aloe vera extract, and other humectants can help keep your hair healthy during the color removal process.
A few top recommended products include: Olaplex Clarifying Shampoo, Color Oops Extra Strength, Malibu C Color Correction, Joico Intensity Eraser, and ColourB4 Extra Strength. To get the best results from these treatments, be sure to closely follow directions on packaging.
With careful implementation of a quality product, you'll be able to restore natural lighter hues in no time!
Indications as to What Kind of Hair Color It Can Remove
Check the indications on the product to determine what kind of hair color it can remove. Permanent, semi-permanent, and temporary colors all require different types of removers. Consider the application method too. Some may be designed for a single use, whereas others are meant to be left in overnight or activated with heat or water.
Certain products also vary by brand, so check for special dyes like reds, which have their own unique type of color director that needs a specific remover tailored just for them! Choose wisely based on your hair's history and desired outcome.
Frequently Asked Questions (FAQs)
Conclusion
It's no surprise that getting the perfect hair color can be tricky. From choosing the right shade to dealing with unexpected results, there are a lot of variables to consider. But luckily, with the best hair dye removers of 2023, you won't have to worry about any of that.
From gentle yet effective wipes to ammonia- and bleach-free formulas, there are plenty of options to choose from. And with options that contain hydrating and reparative ingredients, you can be sure your hair will stay healthy and vibrant.
So, if you're looking to make a change with your hair color this year, make sure you have the right tools to help you get the job done!