This site is supported by our readers. We may earn a commission, at no cost to you, if you purchase through links.
Looking for the perfect shampoo to maintain your balayage hair color? You're in luck! Here's a list of the top 10 shampoos specifically designed to help keep your balayage looking its best. From Matrix Brass Off Shampoo to Luseta Purple Shampoo for Blondes, we've got you covered with all the essential products needed to keep your locks looking vibrant and healthy.
Plus, learn how choosing the right shampoo can make or break your balayage look, as well as tips on maintaining that beautiful color for longer.
Top 10 Shampoos for Balayage Hair
Finding the right shampoo for your balayage hair can make a big difference in keeping your color looking its best. Matrix Brass Off Shampoo, Joico Color Balance Purple, Fanola No Orange Shampoo, Redken Purple Shampoo Blondage, Kerastase Blond Absolu UltraViolet, and Moroccanoil Blonde Purple Shampoo are some of the top purple shampoos to neutralize brassiness, while ProVoke Blue Shampoo Brunette and Framesi Color Lover are great options for brunettes.
Luseta Purple Shampoo Blonde is perfect for blondes and gray hair maintenance, as Surface Hair PureBlonde Violet stands out among other professional-grade formulas with an added pleasant scent.
1. Matrix Brass Off Shampoo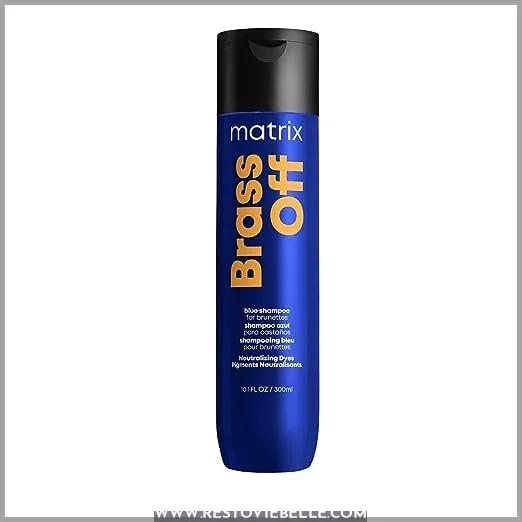 View On Amazon
If you're looking to neutralize unwanted orange undertones and keep your lightened hair healthy, Matrix Brass Off Shampoo is an excellent choice. This anti-brass toning blue shampoo deposits blue-violet pigments to reduce brass and red tones while cleansing without stripping color.
Suitable for both color-treated and natural hair, this product from the Brass Off Collection works best with dark blondes or brunettes who have lightened their locks.
With its vegan formula free of sulfates or parabens as well as its pleasant scent, you can trust that Matrix has created something special in this product—it's easy enough for at-home use yet powerful enough to get salon-quality results!
Neutralizes unwanted orange undertones
Deposits blue-violet pigments reducing brass & red tones
Cleanses without stripping color
Suitable for both colored & natural hair
Can dry out when used too frequently
May stain hands/nails if left on too long
2. Joico Color Balance Purple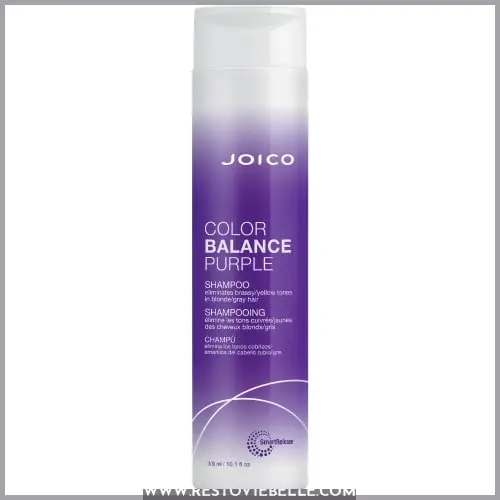 View On Amazon
Bring out the cooler tones in your hair with Joico Color Balance Purple Shampoo – perfect for blondes and brunettes alike. This sulfate-free, paraben-free shampoo is enriched with violet pigments to neutralize warm yellow undertones and restore shine, while its Smart Release Technology repairs damage quickly.
Perfect for all hair types, it nourishes each strand of hair without stripping away color or moisture.
Plus, this product comes complete with a pleasant fragrance that will leave you feeling refreshed throughout the day.
Neutralizes warm yellow undertones
Restores shine
Suitable for all hair types
Nourishes each strand of hair
Improves moisture levels after first use
Pleasant fragrance included
May dry out if overused
Pigmentation may be too strong
3. Fanola No Orange Shampoo
View On Amazon
Fanola's No Orange Shampoo is a must-have for those looking to eliminate unwanted copper and red highlights from their balayage locks. This product contains extra blue pigment that neutralizes orange reflections in colored hair with dark tones, while providing shine and hydration.
It works best on brunette, dark blonde, grey, or platinum hair. Apply 1-2 times a week onto wet hair for up to 5 minutes before rinsing off. For maximum results, it can be used after regular shampoo, but caution should be taken as prolonged use may dry out the strands of your tresses.
Users have reported effective toning down of warm oranges in everything from light browns to darker blondes after just one use. Although the effects do improve over multiple uses according to some consumers. Take care when using this product, however, as some have noticed a slight residue left behind if not applied correctly.
With an 11-ounce bottle coming at quite an affordable price point compared with other alternatives available, Fanola's No Orange Shampoo definitely deserves consideration when choosing between options available today!
Neutralizes orange reflections
Gently cleanses & provides shine/hydration
Effective at reducing brassy colors
Suitable for most color-treated/natural hair types
Affordable price point compared with other brands
May dry out hair if used too frequently
Can cause hand staining without protective gloves
Slight residue possible depending on application
4. Redken Purple Shampoo Blondage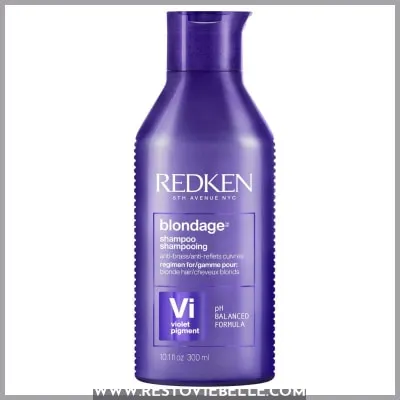 View On Amazon
Redken's Purple Shampoo Blondage helps you achieve salon-quality color retention and anti-fade protection for your balayage hair with its highly pigmented formula. This shampoo contains purple pigments to instantly tone, neutralizing brassy, yellow, and orange undertones in color-treated or chemically treated hair, including bleached hair.
It also strengthens the strands while adding softness as well as shine thanks to protein, amino acids, and glycerin contained within. To use it correctly, apply 2 – 3 times a week, leaving it on for 3 – 5 minutes, then rinse out thoroughly, making sure all product has been removed from the scalp area.
Neutralizes brassy tones
Strengthens blonde/bleached/colored hair
Moisturizes & adds shine
Intensely colored, so it can stain wet skin areas
Not suitable if not using bleach or dye on blondes
5. Kerastase Blond Absolu UltraViolet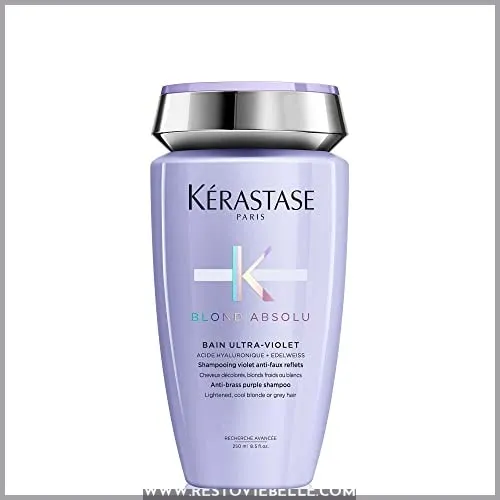 View On Amazon
Experience the ultimate in blonde care with Kerastase Blond Absolu UltraViolet, boosting luminosity and neutralizing yellow undertones. This innovative purple shampoo is designed for lightened, cool blonde, bleached, ashy, or gray hair to reduce brassiness and promote healthy-looking locks.
Powered by concentrated blue and violet color-depositing pigments plus Hyaluronic Acid to strengthen while softening hair fibers from within, it's no surprise this product has earned its place among top balayage shampoos!
For best results, alternate weekly use with Bain Lumière shampoo. Apply generously onto damp hair for 2–5 minutes before rinsing thoroughly.
The Blond Absolu range repairs damage caused by daily wear-and-tear, which can affect the vibrancy of your color over time.
Users love how easy it is on their wallets too: one bottle lasts a long time thanks not only to its great value but also because you don't need much product per wash cycle.
Reduces brassy tones & removes yellow in grey/light blonde/streaked hair
Neutralizes warm undertones & adds luminosity
Protects against oxidation
Long-lasting effect
May be drying if used regularly
Can stain hands/nails if left on for an extended period
6. Moroccanoil Blonde Purple Shampoo
View On Amazon
Feel the power of Moroccanoil's Blonde Purple Shampoo, transforming your balayage hair from dull and lifeless to vibrant and full of life! This multi-tasking formula is designed specifically for fine or light-colored hair, conditioning as it detangles while speeding up drying time.
Highly pigmented with its violet hue, a little goes a long way. Use this shampoo once or twice weekly to tame brassiness and provide an ashy tone. It is enriched with coconut oil extract plus Vitamin E for nourishment without sulfates or chemicals that could damage color-treated hair fibers.
Users love the pleasant scent along with the softness in their mane after application.
With rave reviews in multiple languages praising its effectiveness on blonde highlights, many find they need fewer salon visits due to improved color maintenance between appointments.
Neutralizes brassy tones effectively
Provides an ash tone
Pleasant fragrance
Improves texture & shine
Suitable for weekly use
Extremely pigmented – caution advised
Might not brighten gray/silver hairs enough
Complaints about spillage during shipment
7. ProVoke Blue Shampoo Brunette
View On Amazon
Try ProVoke's Blue Shampoo Brunette for color-treated hair to reduce the need for frequent salon visits and protect against UV damage. This sulfate, paraben, and silicone-free shampoo is enriched with Inca Inchi Oil, which gives a smooth, glossy finish after use.
It also contains blue pigments that help enhance brunette or balayage color by providing richer and deeper shades of browns.
The product helps boost vibrancy while protecting your hair from fading due to exposure from the sun or chemical treatments at salons over time. Users have experienced mixed results when using this product. Some found it great in removing yellow tones but noticed dryness afterward, whereas others felt it added too much purple, resulting in dulled colors instead of brightening their desired blonde hues.
Despite this feedback, though, many who used it for gray coverage were pleased with the compliments they received after usage and preferred its effectiveness compared to other brands available on the market.
Neutralizes brassiness in blondes/brunettes
Enhances brunette & balayage color
Protects against UV damage & fading
Mixed reviews on effectiveness
May cause mild dryness
More expensive than alternatives
8. Framesi Color Lover Shampoo
View On Amazon
Discover the difference Framesi Color Lover Shampoo can make to your hair, reviving and maintaining blonde color while toning down any yellow or orange hues for a beautiful look. This highly pigmented purple shampoo is designed specifically to remove golden tones from hair, helping you achieve the perfect shade of blonde.
It's suitable for white hair with a lavender tint on application and proven effective even for former blondes with grey locks.
Vegan-friendly and free from sulfates and chemicals, this product also nourishes your strands as it works its magic.
Neutralizes brassy tones
Removes yellow in gray hair
Helps maintain gray hair color
Nourishes strands while working its magic
Pleasant fragrance
Highly pigmented – may turn hairs purple if left on too long
Does not lather much
May stain hands/nails if left on too long
9. Luseta Purple Shampoo Blonde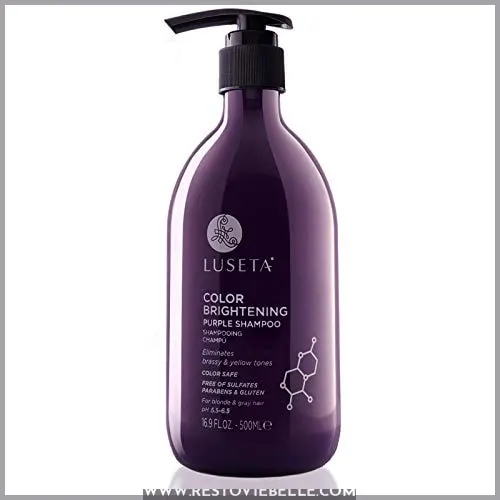 View On Amazon
Unlock the beauty of your balayage with Luseta's Purple Shampoo Blonde, formulated for softness and shine without compromising on color. This sulfate-free shampoo helps neutralize brassiness in blondes while removing yellow tones from gray hair, leaving it feeling nourished and healthy.
Enriched with coconut oil extract and Vitamin E, this shampoo is suitable for fine to medium texture as well as curly hair types.
With a pleasant scent that won't overpower you or lead to an overwhelming cologne-like aroma like some other shampoos do, it's no wonder why customers prefer this product over others when they are looking for a gentle yet effective purple shampoo.
You can even pair it with Luseta Biotin & Collagen formula if you're really keen on getting the most out of its benefits!
Removes brassy tones without turning hair lavender
Does not contain sodium laureth sulfate
Moisturizing and gentle on hair
Suitable for different textures – fine/medium/curly
Leaves hair soft & shiny
Helps maintain gray color
Can be used in conjunction with LUSETA Biotin & Collagen Formula
Pleasant fragrance but strong distinctive smell similar to cologne
Some packaging issues leading to leakage during shipping
10. Surface Hair Pure Blonde Violet Shampoo
View On Amazon
Gain a beautiful, vibrant shade of blonde with Surface Hair's Pure Blonde Violet Shampoo – designed to help maintain color between salon visits and nourish your hair. This professional-grade purple shampoo effectively helps prevent brassy tones from appearing in blonde hair, while also providing a nice tint for gray strands.
It can be used judiciously (about once every four shampoos) to ensure the best results without drying out or damaging the hair.
Prevents brassy tones from appearing in blonde hair
Provides a nice tint for gray strands
Helps maintain color between salon visits
Can leave the hair dry if used too often
No protective cover on bottle – potential spills
How to Choose the Right Shampoo for Balayage Hair

Choosing the right shampoo for balayage hair is essential to maintain a vibrant color. With so many options available, understanding how each one works and what it can do for your hair will help you select the best product for your locks.
Choosing the right shampoo:
When it comes to maintaining your balayage hair, choosing the right shampoo is essential for achieving desired results. Shampoo selection should be based on hair color and toning needs, with sulfate-free formulas recommended for greater color protection.
Matrix Brass Off or Joico Color Balance Purple are excellent options for dark blondes and brunettes who lighten their hair. Fanola No Orange works well to tone down yellow hues in grey or platinum locks. Redken's Purple Shampoo Blondage is great at neutralizing unwanted red undertones.
Kerastase's Blond Absolu UltraViolet enhances cool blonde tones. Moroccanoil's formula boosts shine and tames brassiness in all shades of blonde. ProVoke Blue Brunette helps protect against UV damage for anyone looking to maintain a darker shade.
Framesi Color Lover shampoo is beneficial for those who want to maintain a darker shade.
With so many specialized choices available today, you're sure to find one that suits your personal style best!
Consider hair type:
With different hair types and textures, you'll want to pick a shampoo that will best suit your balayage for the desired look. Color-safe shampoos are great for preserving color over time. Sulfate-free options are gentle on strands while providing moisture-rich treatments and UV protection from sun damage to prevent fading or brassiness.
For brunettes, browns, or blacks with caramel highlights, consider using blue shampoos. They help retain the vibrancy of light hues while nourishing each strand without stripping away natural oils.
For blondes, purple is preferred as it neutralizes yellow tones in color-treated hair, resulting in increased shine.
Address specific concerns
Considering your specific concerns, you can select the shampoo that best suits your hair type and color to ensure optimal protection. UV filters in shampoos protect against sun damage while purple or blue shampoos neutralize brassiness and help maintain balayage tones.
For ash blonde balayage, Kérastase's Blond Absolu line is recommended. For black or dark brown hair, try caramel shades with a blue shampoo. Reds benefit from Joico Color Infuse Red Shampoo, while gray needs Redken's Graydiant Shampoo.
Minimize heat styling to prevent fading and use heat protectant products. Finally, avoid daily washing.
Maintaining Your Balayage Hair Color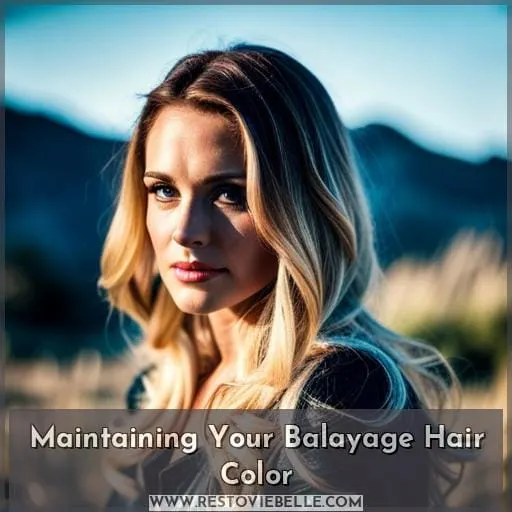 Now that you've chosen the perfect shampoo for your balayage hair, it's time to focus on maintaining its color. To keep your balayage looking fresh and vibrant, invest in a good quality color-safe shampoo with UV protection.
This will help protect against sun exposure, which can cause fading of the colors over time.
When swimming in chlorinated pools or saltwater, make sure to wear a swim cap or use an oil-based product beforehand. Chlorine and salt can strip away the dyes used during coloring treatments like balayage.
Heat styling is another factor that should be kept low since high temperatures are known to fade hair dye quickly.
With proper care and maintenance by following these steps, you'll be able to keep that gorgeous new look going strong for months ahead!
Conclusion
It can be a challenge to find the right shampoo for balayage hair, but with the right knowledge and an understanding of your hair type and texture, you can keep your balayage looking vibrant and beautiful.
From Matrix Brass Off to Surface Hair Pure Blonde Violet, there are a variety of shampoos that can help you maintain the perfect balayage look.
Additionally, it's important to use a heat protectant to prevent color fading and to protect your hair from sun exposure and chlorinated pools.
With the right products and regular touch-ups, you can keep your balayage looking its best.
If you're looking for a way to keep your balayage hair looking vibrant and healthy, using the right shampoo is the key to achieving the perfect look.