This site is supported by our readers. We may earn a commission, at no cost to you, if you purchase through links.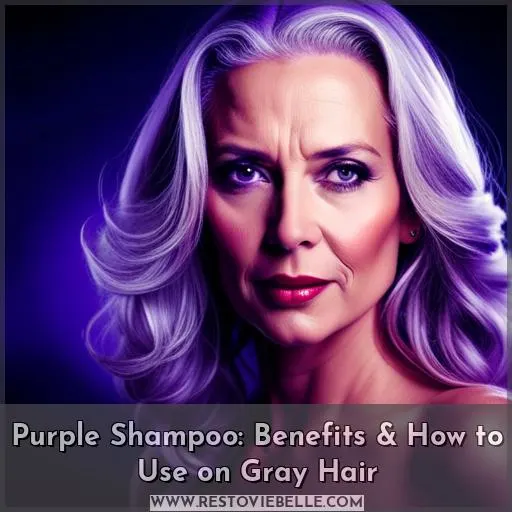 Are you looking to brighten up your gray hair? You may be surprised to learn that purple shampoo can do the trick! Purple shampoo, also known as toning shampoo, works by neutralizing brassy yellow tones in blonde and grey hair.
It's an effective way for anyone with silver strands to keep their color vibrant and fresh-looking.
But how exactly does it work on gray hair? And what is the best purple shampoo for achieving results without damaging your locks? This article will explore the benefits of using a purple shampoo on gray hair, explain how to choose one tailored specifically for silver tresses, and provide tips on getting optimal results from this powerful product.
So don't wait any longer – discover all you need to know about using a purple shampoo on gray hair right here!
The Benefits of Purple Shampoo on Gray Hair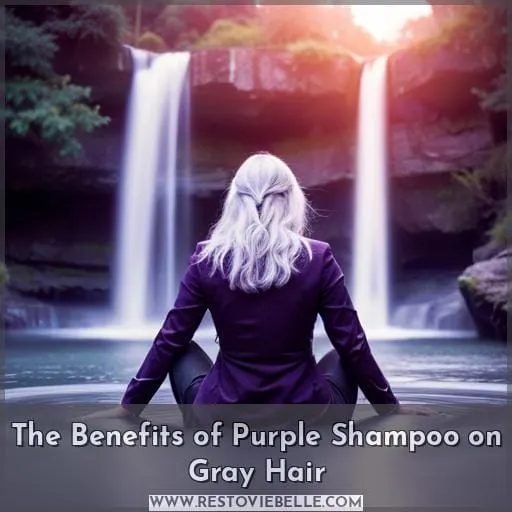 Are you looking for a way to keep your gray hair vibrant and healthy? Purple shampoo is an effective solution that can help protect against discoloration from environmental particles while also toning the color of your natural gray locks.
With its violet pigments, purple shampoo not only cancels out warm yellow tones but also strengthens hair with keratin protein.
How Does Purple Shampoo Work?
You can instantly transform your locks to a cool, silver hue with the magical power of purple toning. Purple shampoo works by depositing violet pigments into gray hair and neutralizing yellow or brassy tones.
To get the best results, choose a reliable product like Fudge Clean Blonde Damage Rewind Shampoo for daily use and their Tri-Blo Spray for heat protection.
For subtle toning, leave it in for 1 minute. For intensive toning, leave it in for 5 minutes before rinsing.
The Effectiveness of Purple Shampoo on Gray Hair
Discover the amazing results that can come from using purple shampoo on your gray hair. With the right product, you can neutralize yellow and brassy tones to keep your silver strands looking their best.
Violet pigments in products like Fudge Everyday Clean Blonde Damage Rewind Shampoo deposit into hair, creating an anti-yellow effect while also protecting against heat damage.
Choosing the Right Purple Shampoo for Gray Hair

When it comes to choosing the right purple shampoo for gray hair, there are several factors that must be taken into consideration. Not all purple shampoos are created equal; some may be better suited for daily use, while others work best as a weekly toning treatment.
It is important to select one with violet pigments and keratin protein, which helps neutralize yellow tones and restore damaged hair, in order to maintain vibrant silver tresses.
Factors to Consider When Choosing a Purple Shampoo
When selecting a purple shampoo for gray hair, consider the strength and frequency of use for best results. Look out for brands with violet pigments to neutralize yellow tones as well as keratin proteins to strengthen your hair.
Ensure you're using appropriate gloves when applying it. Remember that regular weekly toning will help keep discoloration away.
Fudge Clean Blonde Damage Rewind Shampoo is ideal for daily use. Clean Blonde Tri-Blo Spray protects grey locks from heat damage while maintaining cool silver tresses.
Keep in mind these tips when choosing a purple shampoo: its effectiveness, routine application, and complementary products like conditioner or treatment spray all make up an effective gray care regime!
Recommended Purple Shampoo Brands for Gray Hair
Take your gray hair to the next level with top-rated purple shampoos. When selecting a product, look for one that neutralizes yellow and brassy tones while adding hydration and protein.
For toning techniques, try lathering in palms before applying to damp hair; leave it on for 1 minute or 5 minutes depending on the desired intensity of color boost.
Gray hair maintenance is key. Use a weekly shampoo treatment plus a heat protection spray for an extra layer of defense against discoloration from environmental particles.
Finally, don't forget conditioner. A hydrating formula helps make sure you keep those cool silver tresses looking their best!
How to Use Purple Shampoo on Gray Hair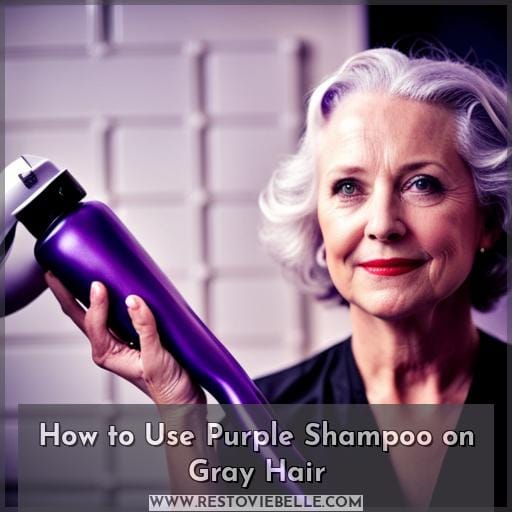 If you're looking to maintain your gray hair color and vibrancy, purple shampoo is an essential part of the journey. Purple shampoo deposits violet pigments into the hair, which counteract yellow tones in gray hairs; this helps keep your locks looking vibrant and fresh.
Step-by-Step Guide for Using Purple Shampoo
Elevate your gray hair experience with a step-by-step guide to using purple shampoo – and get ready for stunning results. Choose the best brand based on your washing routine, such as Fudge Everyday Clean Blonde Damage Rewind Shampoo, then apply while wearing gloves.
Leave it in for one minute or up to five minutes, depending on the desired intensity of the toning process.
Protect against heat damage with Tri-Blo Spray and complete the maintenance routine weekly or biweekly to avoid common mistakes like overusing purple shampoo too often! With regular application tips, you can achieve salon-quality gray hair care that will be sure to turn heads wherever you go!
Tips for Achieving the Best Results With Purple Shampoo
To get the most out of your gray hair journey, try using purple shampoo for a trendsetting look that'll have heads turning. Perfect application techniques can make all the difference. Use gloves to prevent staining and massage the shampoo into damp hair for maximum toning.
For an extra boost, opt for blue-based shampoo instead of purple. It helps maintain silvery shades longer than its counterpart. Avoid common mistakes like leaving the shampoo on for too long or not applying enough product.
To get extended toning benefits, incorporate other products into your routine. Try using Fudge Clean Blonde Damage Rewind Treatment and Tri-Blo Spray.
Common Mistakes to Avoid When Using Purple Shampoo on Gray Hair

Using purple shampoo on gray hair is a great way to maintain and enhance your color, but there are some common mistakes that can be easily avoided. From the timing of application to the type of products used, understanding how to use purple shampoo effectively will ensure your silver tresses remain vibrant and beautiful.
Avoiding the Use of Blue or Green Shampoo
When it comes to gray hair care, have you ever considered why blue or green shampoo isn't an option? Purple shampoo is essential for preventing discoloration and brassy tones in silver and gray hair. It deposits violet pigments into the locks to neutralize any yellow undertones while also providing hydration.
Green or blue shampoos should be avoided as they can deposit unwanted color pigment that will leave your hair looking washed out. To maintain healthy, vibrant gray tresses, use purple toning products on a regular basis.
Combine them with conditioner for extra hydration. Additionally, protect your hair from environmental factors like heat with specialized sprays.
With these tips in mind, you'll ensure your grey locks stay beautiful and strong all year round!
Understanding the Importance of Readiness for Transitioning to Gray Hair
Before making the journey to gray hair, it's important to ensure you're fully ready and confident in your decision. Readiness assessment is key; consider emotional preparation for societal pressures. Build a support network of friends, family, or online communities for an easier transition.
Don't forget that purple shampoo is essential in maintaining gray hair's vibrancy! While going grey may feel daunting at first, understand that change starts with you and take comfort knowing others have done this before – seek out inspiration from them and enjoy the process!
With purple toning sessions, maintenance products like Tri-Blo Spray, and the right support system behind you – all while feeling comfortable with your readiness level – it will be easy to make a successful transition into beautiful silver locks!
Seeking Support and Advice for Maintaining Gray Hair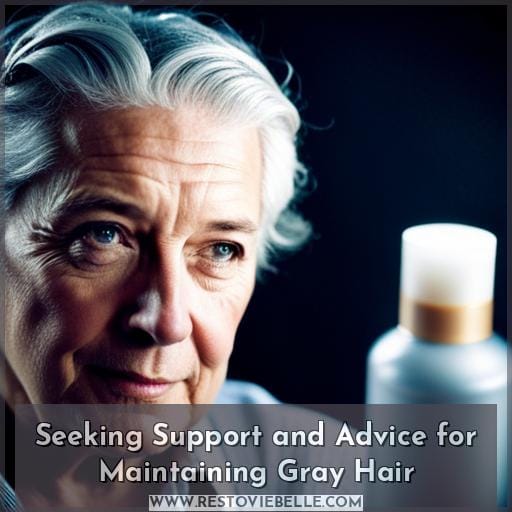 Reaching out to support and advice systems can help you stay on top of maintaining your gray hair journey. Why not ask the experts what they recommend? Joining online communities and seeking out experienced people who have gone through a similar transformation are great confidence boosters.
They can provide positive influences, offer going gray tips, or simply be a listening ear when needed.
Additionally, reading up on purple shampoo guides, as well as other products specifically designed for grey hair, will ensure that you're taking all necessary steps for maintenance.
Seeking out support networks is essential to make sure that this new chapter in life is nothing short of amazing. Don't let fear or doubt keep you from owning your silver locks! With enough enthusiasm and guidance from those around you—both online and off—your friends might just end up being inspired by your brave decision too.
Purple Shampoo: Not Just for Blondes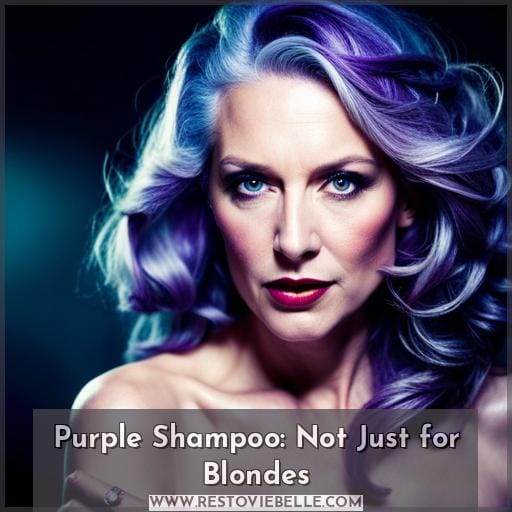 Are you wondering if purple shampoo works on gray hair? It certainly does! Purple shampoo is not just for blondes; it can be used to neutralize yellow and brassy tones in different shades of gray hair.
Purple Shampoo for Gray Hair Versus Blonde Hair
You'll want to consider the differences between purple shampoo for gray hair and blonde hair. Gray strands need extra care as they're more prone to yellowing due to environmental factors. Purple pigment deposits can help neutralize brassy tones while protecting against further discoloration or damage.
Regular use of Fudge products like Clean Blonde Damage Rewind Shampoo and Tri-Blo Spray can be beneficial. For blonde tresses, violet pigments coupled with keratin protein offer optimal toning results compared to gray haircare treatments.
The Benefits of Purple Shampoo on Various Shades of Gray Hair
Empowering yourself with the right products will make a huge difference in your gray hair journey. Purple shampoo is essential for toning various shades of gray hair and maintaining vibrancy. Benefits include: neutralizing yellow and brassy tones; depositing purple pigments that counteract yellow on the color wheel; preventing dullness from environmental factors; gradual or instant removal of brassy tones.
Choose carefully, as some shampoos are more suitable for daily use than others, while conditioners can add extra hydration to protect against heat damage.
Conclusion
You've come to the right place for a comprehensive guide on purple shampoo for gray hair. Purple shampoo has life-changing benefits for maintaining cool, silver tresses. Its violet pigments effectively cancel out the warm yellow tones, leaving you with vibrant and fresh gray hair.
Whether you're a blonde looking to neutralize brassiness or a gray-haired individual wanting to keep your hue cool and toned, purple shampoo is the perfect choice.
With a few simple steps, you can ensure your gray hair is healthy and vibrant. It's time to take control of your gray hair journey and enjoy the beauty and confidence that comes with it.