This site is supported by our readers. We may earn a commission, at no cost to you, if you purchase through links.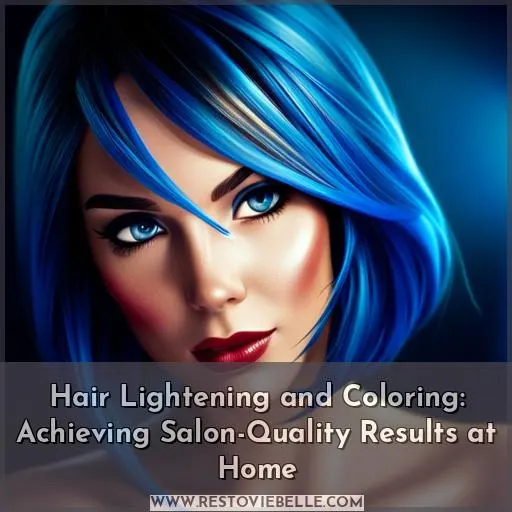 If you're looking to lighten or color your hair without stepping into a salon, know that achieving salon-quality results at home is possible with the right tools and products.
For hair lightening, baking soda can be an effective and inexpensive option. Make a paste by mixing baking soda with water or developer cream and apply it to dry hair. Cover with plastic wrap and allow it to process for up to an hour, checking frequently to avoid damage.
When it comes to coloring, award-winning Madison Reed hair color formulas are a great at-home choice. These ammonia-free semi-permanent hair dyes come in a wide range of natural-looking shades.
If you want to avoid harsh chemicals altogether, consider using natural herbs. Chamomile and calendula can add sunny highlights, while sage may help cover grays.
With the right preparation and techniques, you can absolutely lighten or color your hair at home. Just be sure to do your research and patch test any products before trying it yourself.
Key Takeaways
Achieve salon-quality hair results at home with the right tools and products.
Prioritize moisture and hydration to minimize damage.
Use natural alternatives like lemon juice, chamomile tea, and honey-cinnamon masks for hair lightening.
Consider Madison Reed hair color for at-home coloring, with ammonia-free semi-permanent options.
Hair Lightening Methods:

You can lighten dyed hair with baking soda. Create a mixture by combining baking soda, anti-dandruff shampoo, and water, then apply it to your hair.
Baking Soda for Hair Lightening
You've got to try baking soda for lightening up your locks without harsh chemicals! Mix baking soda with anti-dandruff shampoo for a gentle lightener. It removes hair dye by neutralizing chemicals. Be aware, baking soda can dry out hair so use sparingly and deep condition after.
For maximum lift, combine baking soda and peroxide but limit this mix to avoid overprocessing.
Hydrogen Peroxide for Hair Lightening
Let's explore how hydrogen peroxide can lighten hair while protecting your scalp and strands. Did you know that one study found that almost 75% of women who regularly bleach their hair experience some scalp irritation? Hydrogen peroxide can effectively lighten hair through oxidation, but it's important to take precautions.
Test sensitivity first and limit contact with the skin. Consider gentler alternatives like vitamin C treatments. Protect your strands by thoroughly conditioning them and avoiding heat styling. With care, you can safely lighten your hair a few shades without causing damage.
Understanding Hair Coloring: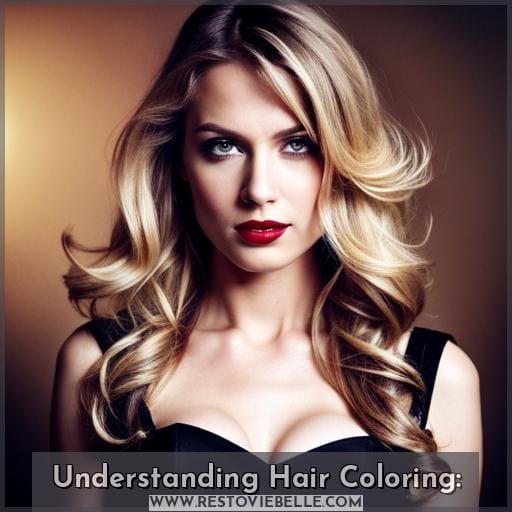 Are you considering taking your hair color game to the next level? Understanding the basics of hair coloring is key – from permanent, demi-permanent, semi-permanent, and temporary dyes to essential accessories like lightener and developer; bleach with hydrogen peroxide or baking soda for maximum effect.
Different Hair Color Categories
Discover the range of hair color options available to you, from permanent and semi-permanent dyes to temporary tints. Permanent colors offer long-lasting results but require more maintenance than other types.
Semi-permanent is perfect for those wanting a subtle change with low commitment; it fades gradually over time and can be easily re-colored when desired.
Temporary tints are great if you're looking for an easy way to experiment with different shades without any commitment at all!
Color correction products help correct mistakes in coloring or lightening while preserving the integrity of your hair's natural hue.
Hair lightening techniques like hydrogen peroxide or baking soda create dramatic changes in color that take some skill level as well as knowledge on how they work best together for various outcomes.
With these tools, understanding hair coloring becomes simpler so you can confidently achieve salon-quality looks right at home!
Chemical Processes and Risks
Ready to get your glam game on? Well, buckle up 'cause divin' into the world of hair colorin' involves understandin' chemical processes that can be quite risky. While hair dyes and bleaches give us vibrant, head-turnin' hues, they also weaken strands and irritate scalps.
Careful research, patch tests, and damage control are key for hair health.
Weekly deep conditionin' masks repair overprocessed locks. Don't forget the scalp — massage in hydratin' oils to soothe irritation and promote a healthy foundation.
With knowledge and TLC, your hair will thrive through any shade change.
Achieving Salon-Quality Results at Home
With the right products and tools, you can achieve salon-quality results at home! To achieve this, choose color correctors for removing top colors and diluters to lighten hair without bleach or ammonia.
If bleaching is necessary, select hydrogen peroxide of a lower concentration with anti-dandruff shampoo. For natural alternatives, use baking soda sparingly to prevent irritation. Investing in quality conditioners and moisturizers will help maintain desired shades longer while reducing damage from heat styling.
Benefits of Madison Reed Hair Color: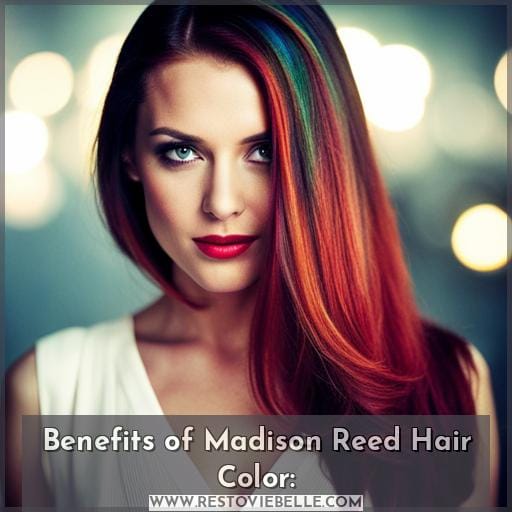 You can enhance and customize your hair color journey with Madison Reed. Their Smart 8-Free formulas and virtual try-on tool empower you to achieve salon-quality results from home, while tips for maximum gray coverage ensure you'll get the dramatic yet natural look you desire with their award-winning products.
Madison Reed's Smart 8-Free Formulas
Madison Reed's Smart 8-Free Formulas
Madison Reed innovates chemical-free hair colors unlike any other, ensuring your tresses stay lustrous with their exclusive Smart 8-free formulas. Their ammonia-free colors banish brass and gray while nourishing every strand, so your hair looks naturally beautiful.
Driven by health and safety, Madison Reed rose above by creating 8-free hair colors formulated with you in mind. You're better off coloring your hair at home with Madison Reed's gentle Smart 8-free formulas that are kinder to your locks than a lamb.
Virtual Try-on Tool and Award-Winning Products
You've got a way to see the real you shine through before even applying our award-winning colors. Madison Reed's virtual try-on tool offers an easy and convenient way for users to experiment with hair color.
You can get product recommendations based on your skin tone, explore user reviews of different shades and products, all without leaving home.
Our ammonia-free hair dye is designed to provide maximum gray coverage while also nourishing your hair with natural ingredients like argan oil and ginseng root extract.
Maximum Gray Coverage Tips
To get the best results when coloring your hair, consider using Madison Reed products to achieve maximum gray coverage. But how can you make sure it's done right? Gray blending techniques and root touch-up strategies are important for achieving a natural look.
Coloring gray hair naturally requires more maintenance as lighter colors tend to be less resistant to changes in pigment over time. To keep coverage looking great, use a product specifically designed for those with graying locks.
Madison Reed offers several different shades of permanent color like copper, red, blonde, brunette, and black, all of which are gray-friendly.
Damage Control and Hair Care: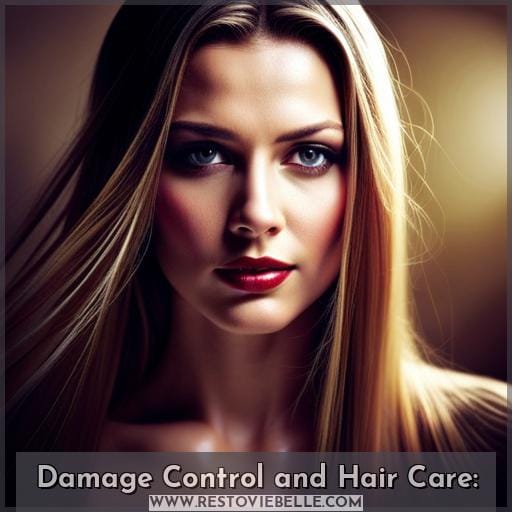 Salon-quality hair coloring and lightening can cause significant damage without proper aftercare. To keep hair healthy, focus on deep conditioning treatments, avoid excessive heat styling, and nourish strands daily with a hydrating shampoo and conditioner that will restore moisture and vibrancy.
Importance of Moisture and Hydration
It's important to ensure your hair is adequately hydrated and nourished when lightening or coloring, as this will help minimize damage. To maintain a healthy moisture balance, avoid over-washing with harsh shampoos and use deep conditioning treatments weekly.
If you have dry hair, opt for gentler cleansers that won't strip the scalp of its natural oils. Regularly apply leave-in conditioners to lock in moisture after styling or bleaching your hair.
Minimizing Damage From Heat Styling
Protect your hair from heat damage by using the right products and techniques. Invest in a good quality heat protectant spray or cream to shield strands against high temperatures. When blow-drying, use a nozzle attachment on your dryer to direct the airflow down onto the hair shaft instead of all over – this will help reduce breakage caused by too much stress on individual hairs.
Avoid excessive brushing when styling in order to minimize breakage and split ends. Try finger combing for natural waves and curls instead! Heat tools such as curling irons should also be used with caution, minimizing their direct contact with fragile ends which can easily become damaged due to intensive exposure from heated styling instruments.
Choose quality heat protection products.
Use nozzle attachments on blowdryers.
Minimize brushing when styling.
Finger comb for natural waves/curls.
Reduce contact between heated tools & fragile ends.
Quality Conditioner and Hair Care Routine
Properly caring for your hair is key to avoiding damage from heat styling – and it starts with using a quality conditioner. Deep conditioning helps restore moisture balance, which can prevent split ends and other issues.
In addition, properly nourishing the scalp is essential for healthy locks; use a hydrating mask or protein treatment as needed. It's also important to remember that lightening or coloring hair requires extra care, so be sure to follow up with deep conditioning products specifically designed for color-treated strands.
Regular trims are another must when dealing with colored tresses in order to keep them looking their best! Remember: consistent attention pays off in the long run when it comes to keeping your hair looking vibrant and strong!
Safe and Natural Alternatives: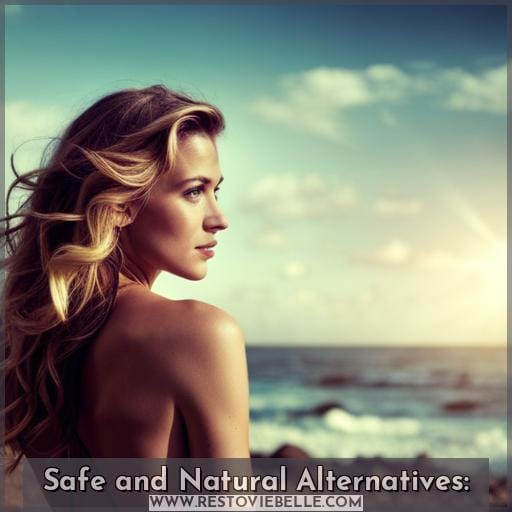 If you're looking for a safer, more natural way to lighten or color your hair, there are several alternatives available. From baking soda and hydrogen peroxide to vegetable dyes and lemon juice mixtures, these solutions offer an effective alternative without the harsh chemical components of traditional products.
Natural Alternatives to Hydrogen Peroxide
Vitamin C powder is the best-kept secret for brightening your locks without frying them. Create a paste with the powder and water to gently lift color from your hair over time. Lemon juice also naturally lightens due to the citric acid. For darker hair, steep strong chamomile tea and rinse through for subtle sun-kissed highlights.
Honey and cinnamon make a conditioning mask that slowly lightens dyed hair when left on for an hour.
Safeguarding Skin and Minimizing Cuticle Damage
Take precautionary measures to ensure your skin and hair cuticles are shielded from potential damage when lightening or coloring your hair.
Apply petroleum jelly along the hairline and ears.
Wear gloves to protect hands and nails.
Rinse immediately if the product touches the skin.
Seal ends with conditioner before applying lightener.
Avoid overprocessing and follow timing guidelines.
Protecting your skin and cuticles will allow you to enjoy the hair transformation process safely.
Recommendations for Safe Use
You'd be wise to heed caution when bleaching those lovely locks, lest you damage your crowning glory. While hydrogen peroxide effectively lightens hair, its harsh chemicals can irritate the skin and damage the hair cuticle.
Seek professional guidance for safe use. Prep your skin for lightening sessions. Consider gentler, natural lighteners like lemon juice or chamomile tea. They brighten subtly over time with less risk of chemical damage.
Conclusion
Through proper prep and care, you can unlock stunning shades that'll have heads turning with DIY hair lightening and coloring. Armed with know-how, the right products, and damage control, you'll master the technique and achieve salon-worthy results without leaving home.
Stay bold yet wise, using safe, natural lighteners like baking soda sparingly. With creativity and commitment to hair health, you'll make those vibrant hues last, turning your tresses into a canvas for self-expression.
When done right, hair lightening and coloring grants the power to reinvent yourself.