This site is supported by our readers. We may earn a commission, at no cost to you, if you purchase through links.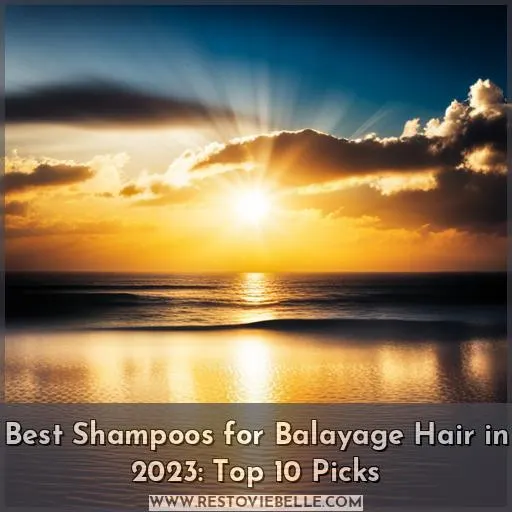 Are you looking for the best shampoo to keep your balayage hair looking vibrant and healthy?
Balayage is one of the most sought-after styles in hair coloring, but it can be tricky when it comes to finding a suitable shampoo that won't strip away its color.
Fortunately, we've done all the hard work for you by compiling our top 10 picks of shampoos specifically designed for balayage hair.
From Matrix Brass Off Shampoo to Luseta Purple Blonde Shampoo, these products are sure to help maintain your beautiful colored locks!
Keep reading as we discuss types of balayage techniques along with tips on how to choose and maintain this style so you can have salon-worthy results at home.
Key Takeaways
Use sulfate-free shampoos with UV filters to protect and preserve vibrancy.
Deep condition regularly with shea butter and hyaluronic acid for hydration and nourishment.
Limit washing to 2-3 times a week to prevent stripping essential oils.
Regular touch-ups and deep conditioning treatments are important for maintaining vibrancy.
Top 10 Best Shampoos for Balayage Hair
If you have balayage hair, finding the right shampoo can be challenging. To help make it easier for you, we have compiled this list of the top 10 best shampoos for balayage hair: Matrix Brass Off Shampoo, Cool Blonde Shampoo, Fanola No Orange Shampoo, Redken Blondage Purple Shampoo, Kerastase Blond Absolu Purple Shampoo, Moroccanoil Blonde Purple.
Matrix Brass Off Shampoo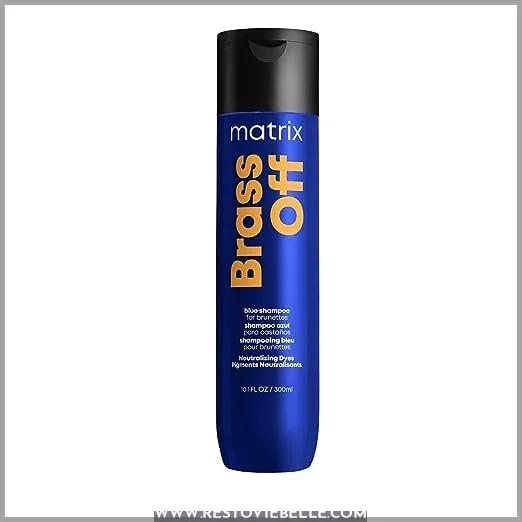 View On Amazon
You'll love Matrix Brass Off Shampoo for its anti-brass toning blue pigments, cleansing, and hydrating abilities to neutralize orange tones in dark blondes and brunettes. Plus, it works with the Brass Off Collection mask for extra toning power. It is suitable for those who lighten their hair as well as natural hair types.
This multi-tasking shampoo also enhances cool tones while restoring vibrancy and shine to your locks.
Plus, the sulfate-free formulation ensures maximum protection against fading so that your new look lasts even longer!
Effective at toning orange/brassy hair
Works well on level 6 or lighter hair
Corrects color and removes brassiness
Easy to use, no mess
Allows highlights to pop & last longer
Effective for toning yellow/orange tones
Gentle on curly hair
Can turn hair purple if left on too long
Cool Blonde Shampoo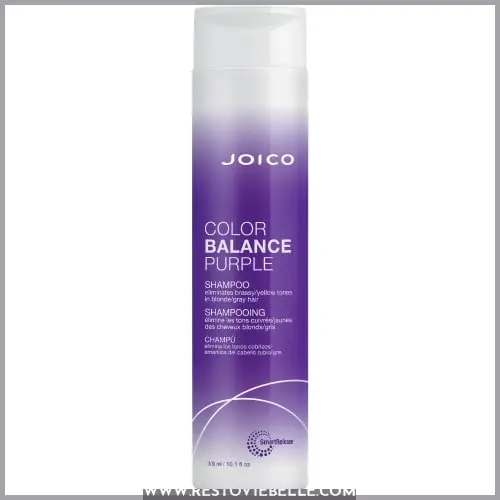 View On Amazon
Experience the luxurious feeling of soft, smooth hair as Joico's Cool Blonde Shampoo works its magic to tone and brighten. Enriched with Rosehip Oil, Arginine, and Keratin for maximum nourishment and protection from damage caused by environmental aggressors such as sun exposure or pollution contamination.
This violet pigmented shampoo neutralizes unwanted yellow tones while providing your hair with a healthy shine that lasts all day long.
Ideal for bleached or highlighted blonde hues looking to maintain their icy coolness in between salon visits – this sulfate-free purple shampoo is suitable for all types of hair textures too!
Neutralizes unwanted yellow/warm tones
Boosts shine & controls static
Contains coconut oil & Tiare flower nourish cuticles
Can dry out the hair due to pigmentation
May turn some strands purple if left on too long
Expensive compared to other purple shampoos
Fanola No Orange Shampoo
View On Amazon
Bring out the best in balayage with Fanola No Orange Shampoo. This professional-grade liquid shampoo is formulated with Coconut oil and Tiare flower to nourish and seal hair cuticles, making it ideal for brunette, dark blonde, or high-level blonde hair.
It contains an effective blue pigment that tones down brassy orange or yellow hues without drying out the locks.
Apply to wet hair 1-2 times a week for maximum effectiveness. Leave on for 1-5 minutes before lathering up like normal. With regular use, you can expect softer, toned-down tresses that are protected from fading due to its UV filter content.
It also contains restorative ingredients such as Inca Inchi Oil, which infuses your mane with added strength and smoothness.
Neutralizes brassy/orange undertones
Contains UV filters & restoring ingredients
Hypoallergenic
Can be drying if used too often
May stain hands if not used with gloves
Price may be expensive for some
Redken Blondage Purple Shampoo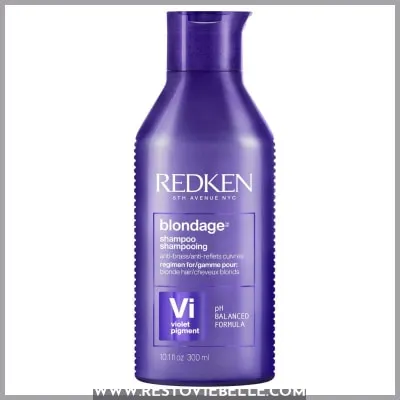 View On Amazon
Treat your balayage to the ultimate toning and nourishing experience with Redken Blondage Purple Shampoo. This professional-grade liquid shampoo is specifically designed for color-treated or chemically treated hair, particularly blonde or bleached hair – but it works wonders on any warm tone.
Formulated with purple pigments to instantly tone, strengthen, and moisturize, this shampoo also contains salicylic acid to repair from within while neutralizing brassy yellow and orange undertones.
Neutralizes brassy tones in blonde/bleached hair
Contains purple pigments & salicylic acid for repairing & brightening effects
Sulfate-free formula preserves colored locks
Can stain fingertips due to its pigment content
Some users experienced smaller bottle size than expected
Kerastase Blond Absolu Purple Shampoo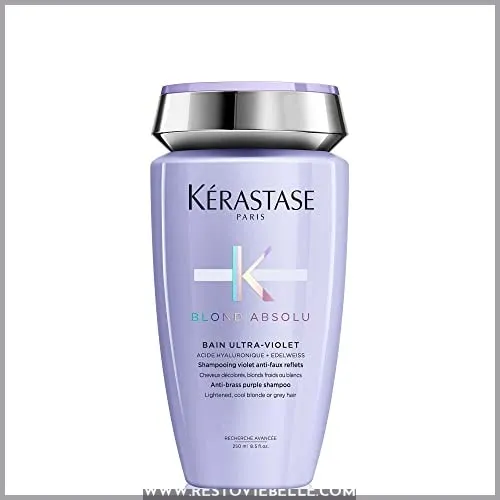 View On Amazon
Try Kerastase Blond Absolu Purple Shampoo for ultra-violet anti-brass action that neutralizes warm, brassy undertones in lightened hair.
Formulated with concentrated blue and violet color depositing pigments, this shampoo promises to cancel out yellow undertones while strengthening and nourishing damaged locks.
Hyaluronic Acid helps restore softness and luminosity to hair fibers while protecting from oxidation and pollution – perfect for those looking to maintain cool tones without any brassiness!
Use as part of the Blond Absolu range once a week alternating with Bain Lumière shampoo, or use on its own up to twice a week depending on your desired results.
Apply it onto wet hair evenly before rinsing thoroughly – you can even leave it in for two minutes if necessary – then follow up with Cicaflash conditioner afterwards for radiantly healthy blonde locks!
Enriched with concentrated blue/violet pigment deposits
Neutralizes warm/brassy tones
Protects against oxidation/pollution
Results may take time to be noticeable
Can dry out the hair due to pigmentation
Moroccanoil Blonde Purple Shampoo
Transform your locks with Moroccanoil Blonde Purple Shampoo, packed full of nourishing ingredients to help protect and enhance blonde highlights. Specifically formulated for fine and light-colored hair, this shampoo is enriched with Babassu oil that helps settle down flyaways while leaving the hair feeling soft and manageable.
It has a delicious fragrance unlike many other purple shampoos that can dry out the hair. Thanks to its strong pigment, it effectively manages bright blonde or white color without turning them purple – making sure you get silver gray without a yellow tinge! Plus, its size makes it perfect for travel or gym bag use.
The only drawback is that one needs to take precautions during application as the color takes time to fade – so using gloves is recommended to avoid any stains on the hands afterwards!
Multitasking formula conditions & detangles while speeding up drying time
Delightful scent unlike many other purple shampoos
Strong pigment manages bright blondes/white effectively
Perfect size for travel/gym bag use
May cause some dryness depending on how often used
Color takes a long time to fade – necessitating caution during application
PRO:VOKE Blue Shampoo Brassy Hair
View On Amazon
For an effective solution to brassy hair, PRO:VOKE Blue Shampoo will blow you away with its incredible color-enhancing properties. It's a sulfate-, paraben-, and silicone-free shampoo that's enriched with Inca Inchi Oil for soft and smooth strands.
It adds blue pigments to enhance brunette or balayage color while brightening blonde hair. Additionally, it has UV filters and restorative ingredients that protect your hue from fading over time.
However, some users may experience a greenish hue if the product is left on too long. Plus, excessive use can lead to dryness in the locks due mainly to its pigment content.
Neutralizes brassy & warm tones in lightened/gray hair
Enriched with coconut oil & vitamin E
Color effect builds after every use
Can leave a greenish hue if left on too long
Excessive use can result in dryness & damage
May not be as effective at combating brassiness
Framesi Color Lover Shampoo
View On Amazon
With its sulfate-free, gluten-free, and paraben-free formula, FRAMESI Color Lover Shampoo is perfect for color-treated hair. It lightly purple tones white hair and removes golden color. It works well on former blondes with grey hair, too.
This shampoo will keep your highlights fresh for months without leaving them dried out or overly brassed up like some other products can do. It's also great at maintaining overall color while providing nourishment and protection to the strands of your locks.
But bear in mind that this product does dry out the hair due to its pigmentation.
Lightly purples white hair more or less lavender
Works well to remove golden color & maintain tones in curly gray hairs
Keeps highlights fresh for months & maintains overall color
Nourishes & protects from drying/brassing up; pleasant smell
Dries out the hair due to its pigmentation
Can turn hair purple if left on too long
A strong smell
Luseta Purple Shampoo Blonde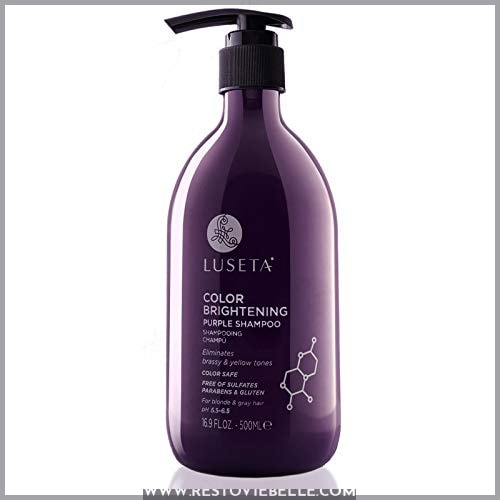 View On Amazon
You'll be amazed at how Luseta Purple Shampoo Blonde can neutralize brassiness from your balayage hair in just a few washes!
Formulated with coconut oil, coconut extract, and Vitamin E, this protein-enriched color-enhancing shampoo repairs split ends and promotes glossy hair.
The chemical-free formulation is ideal for both color-treated or keratin-treated hair as its pH level of 5.5 – 6.5 means it won't strip off the existing dye job but rather provide a gentle depositing effect that will keep your highlights icy bright while removing any dull yellow tones from gray locks.
Plus, its pleasant scent comes courtesy of Babassu Oil, so you won't have to worry about smelling like cologne when you leave the shower!
Neutralizes brassy tones in blondes & removes dull yellow in gray hairs
Repairs split ends & provides deep hydration
Chemical-free formula with a pleasant scent
Strong cologne smell
Does not provide enough pigment for toning blonde hairs
Made thick curly hair frizzy and dry after 4 uses
Pump was not secured during shipping causing leakage
Surface Hair Violet Blonde Shampoo
View On Amazon
Experience the nourishing and protective properties of Surface Hair Violet Blonde Shampoo to help maintain color and remove brassy tones from your colored hair. The shampoo is specifically formulated for chemically treated hair and is infused with Babassu Oil for a pleasant scent while helping to brighten blonde hair.
It also helps turn silver gray hair without a yellow tinge, while providing volume, shine, and strong pigment to manage bright blonde or white locks.
With regular use, this purple shampoo can leave you feeling confident that your highlights will pop as well as have an icy cool tone rather than being dulled by brassiness.
Neutralizes brassy tones & dull yellows in lightened/bleached/gray hairs
Enhances brunette or balayage colors & brightens blondes
Protects against fading with UV filters & restorative ingredients
Provides nourishment & protection while conditioning cuticles
Suitable for fine to medium textures curly grey hairs
Can dry out the scalp when used frequently
Potential spillage due to lack of cover on bottle
No guarantee it won't turn some lighter shades purplish
Types of Balayage

Discover the subtle, natural look of balayage and see how it can upgrade your style! Balayage is a French word meaning to sweep or paint. It's a freehand hair-coloring technique that adds highlights to create an ombré effect with gradual color transitions from light to dark.
To maintain this beautiful look, protective care is key: regular touch-ups are recommended every 3-4 months. Using sulfate-free shampoos containing UV filters for toning properties helps preserve vibrancy.
Biolage Colorlast shampoo strengthens and protects colored hair while providing deep conditioning benefits that prevent fading due to heat damage, sun exposure, hard water minerals, or chlorine in swimming pools.
Fanola No Orange Shampoo helps neutralize yellow undertones on blondes while preventing brassiness.
To keep balayaged tresses healthy between salon visits, opt for quality products formulated with nourishing ingredients designed specifically for color-treated locks.
How to Choose a Shampoo for Balayage Hair

Choosing the right shampoo for balayage hair can make all the difference in maintaining a vibrant, healthy look. It's important to consider color-correcting and salt protection properties, as well as lightening products that won't damage your locks.
Redken, Wella, and John Frieda offer toning shampoos with UV filters to help protect against sun damage.
For best results, try Matrix Total Results Brass Off Blue Shampoo or Kérastase Blond Absolu Bain Ultra-Violet Anti-Brass Purple Shampoo. Both of these shampoos will neutralize unwanted orange undertones in brunettes and dark blondes while providing moisture without stripping away color pigments.
Look out for sulfate-free formulas specially designed for colored hair types, like curly or straight textures too!
How to Maintain Balayage Hair

Now that you have the perfect balayage, it's time to learn how to maintain it. You can keep your hair looking vibrant and healthy with these tips:
Protect your color by using a color-safe shampoo like Pro:Voke Touch of Silver Brightening Shampoo or Surface Hair Violet Shampoo. These shampoos contain UV filters, which help protect against sun damage while toning down brassiness in the hair.
Deep condition regularly with products containing shea butter and hyaluronic acid for intense hydration and nourishment for damaged strands.
Limit washing to 2-3 times a week only, as overwashing may strip away essential oils from the scalp that are necessary for keeping colored locks healthy – use a sulfate-free shampoo if possible!
Whenever swimming in pools or oceans, make sure you wear protective gear such as swim caps or scarves since chlorine can be damaging to colored hair – an overnight coconut oil treatment comes highly recommended too!
Taking care of balayage is easy once you know what steps need to be taken; just remember these tips so that beautiful highlights will last longer than ever before!
Frequently Asked Questions (FAQs)
Is balayage suitable for all hair types?
Yes, balayage can be a great choice for all hair types. It's like painting the canvas of your own style – with careful strokes, you can create whatever look suits you best! Whether it's curly, straight, or something in between, balayage is an ideal way to give life and vibrancy to any mane.
Can balayage be used to lighten natural hair?
Yes, balayage can be used to lighten natural hair. It is a freehand technique that blends highlights with the existing color for an effortless look.
Are there any alternatives to purple shampoo?
Yes! There are alternatives to purple shampoo, such as blue shampoos and tone-correcting shampoos. Try out products with UV filters, color protection, and sulfate-free formulas for a cool-toned finish that's sure to last.
Does balayage require more frequent touch-ups than other color treatments?
Absolutely! Balayage requires more frequent touch-ups than traditional hair coloring methods, as its painted-on highlights are particularly prone to fading.
What are the best ways to keep balayage hair looking vibrant?
To keep balayage looking vibrant, pamper it with a color-safe and sulfate-free shampoo to protect it from fading. Use purple or blue shampoos weekly to remove brassiness. Limit the frequency of washing and use heat protection products for sun exposure.
Conclusion
Balayage hair is a lovely look, and it's no surprise that it's become so popular. With the right care, you can ensure that your balayage hair remains looking vibrant and healthy for months. The key to this is using the best shampoo for balayage. To hit the nail on the head, the top 10 shampoos for balayage hair in 2023 are Matrix Brass Off, Cool Blonde, Fanola No Orange, Redken Blondage, Kerastase Blond Absolu, Moroccanoil Blonde, PRO:VOKE Blue, Framesi Color Lover, Luseta Purple, and Surface Hair Violet.
To get the most out of these shampoos, you should also be aware of the type of balayage you have, how to choose the right shampoo for your hair, and how to maintain balayage hair. With these tips, you'll be well on your way to achieving the best shampoo for balayage results.