This site is supported by our readers. We may earn a commission, at no cost to you, if you purchase through links.
Jumping in to the deep end of at-home hair coloring can be a daunting task, especially with so many products on the market.
To make sure your search for the best hair dye to use at home is as stress-free and successful as possible, we tested out top nine brands that will give you salon results without leaving your bathroom.
From Schwarzkopf Keratin Color Cappuccino and Garnier Olia Hair Color to Clairol Perfect 10 Black Hair Dye and Good Dye Young Lightener, these are our favorite formulas that deliver amazing color with minimal effort (and smell).
We'll provide tips on what to look for when choosing an at-home kit, discuss safety guidelines like proper skin protection techniques during application, and answer questions like how to choose color shades and whether it's safe.
Finally, we'll also cover how to remove any excess product from skin or hairlines if needed.
All this information awaits below – let's get started!
Key Takeaways
Schwarzkopf Keratin Color Cappuccino, Garnier Olia, Clairol Perfect 10 Black Hair Dye, and Good Dye Young Lightener are among the top recommended home hair dyes.
When choosing a hair dye, consider factors such as ammonia-free options, conditioning ingredients, and performing a patch test.
Safety precautions for at-home hair coloring include wearing gloves, following instructions carefully, and allocating enough time for the process.
Matching hair color to skin tone and considering hair texture for color selection can help achieve the desired results.
Top 9 Best Hair Dyes for At-Home Coloring
Are you looking for the best hair dye to use at home? Schwarzkopf Keratin Color Cappuccino, Garnier Olia Hair Color, Clairol Perfect 10 Black Hair Dye, Good Dye Young Lightener, OVERTONE Espresso Brown Conditioner, Madison Reed Hair Dye, and Manic Panic Cotton Candy Pink are some of the top-rated products available that can give you salon-quality results.
1. Schwarzkopf Keratin Color Cappuccino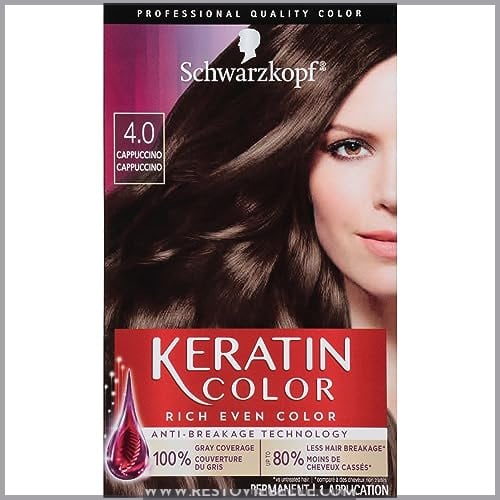 View On Amazon
For an intense, long-lasting color and up to 80% less hair breakage, Schwarzkopf's Keratin Color Cappuccino offers salon-quality results you can achieve at home. Its unique formula contains K·Bond-Plex, which repairs the inner hair structure while coating it for strength and health.
The pre-color serum conditions the hair for a more even coloring result that won't fade away quickly. This product is great for those who want to cover gray hairs since it provides 100% coverage with natural-looking results that are also shiny and rich in color.
Provides 100% gray coverage
Contains K·Bond Plex™ technology for repairing the inner hair structure and improving shine & softness
Pre-Color Serum conditioners provide an even color result from root to tip
Non-Drip Cream Formula prevents staining of clothing or skin during application
Strong smell associated with the product
Initial orange hue may be visible before darkening over time
2. Garnier Olia Hair Color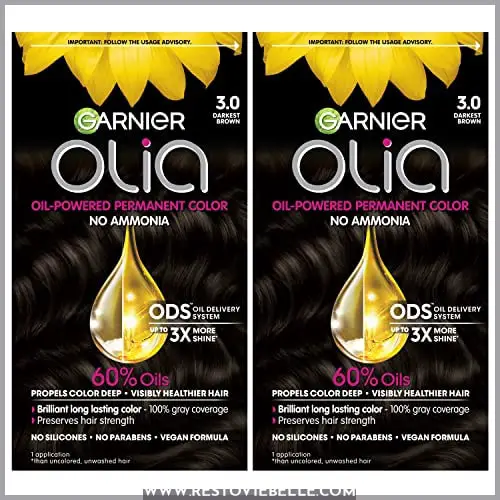 View On Amazon
Garnier Olia Hair Color offers a powerful, oil-based formula with natural flower oils to penetrate deep into the hair for long-lasting, vivid color and up to 3x shinier results. It is perfect for those on a budget who are looking to cover grays without compromising their hair health.
The kit includes a developer applicator, colorant tube, conditioner, gloves, and instructions so you can easily achieve salon-quality results at home.
Customers praise this product for its effectiveness in covering gray hairs and fast service from the seller.
Ammonia-free & paraben-free
Silicone & phthalates free
Leaping Bunny certified cruelty-free & vegan
Up to 100% Gray Coverage
Natural Flower Oils improve hair health
May fade over time if not used properly or touched up regularly
Not ideal for lightening existing colors since it is deposit only
Mixed opinions on how long color lasts
3. Clairol Perfect 10 Black Hair Dye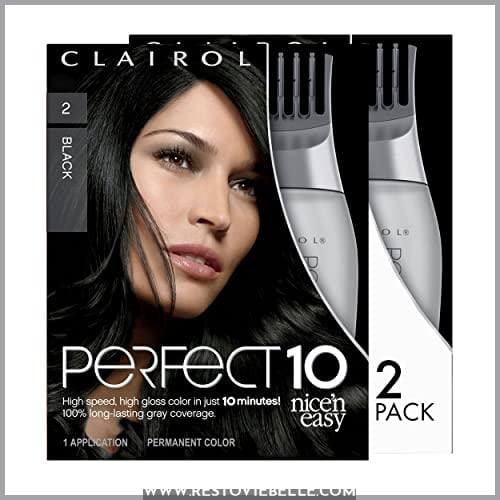 View On Amazon
Try Clairol Perfect 10 Black Hair Dye for glossy, natural-looking black hair color that covers grays in just 10 minutes! With its advanced color crème formula and micropearls, this product ensures efficient color delivery while an exclusive PerfectColor Comb helps achieve even distribution.
Plus, the non-drip formula leaves a high gloss finish with no mess. It's gentle on both your scalp and hair, so you can enjoy beautiful results without any irritation or damage.
The kit comes complete with gloves, conditioner, and instructions to make application easy at home – perfect for those who want hassle-free coloring!
Quick & easy application in 10 minutes
100% gray coverage
High gloss finish
Gentle on scalp & hair
Skin allergy test required before use
Not suitable for eyebrows/eyelashes
Discontinued in some stores
4. Good Dye Young Lightener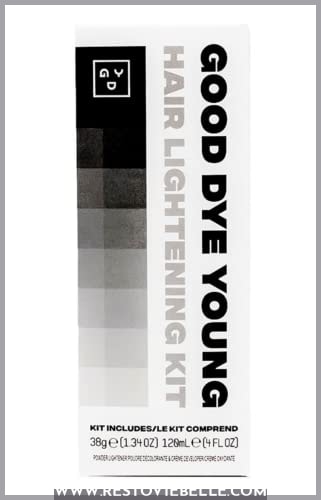 View On Amazon
Good Dye Young Lightener offers an effective solution for dark hair, lifting locks to around level 8 in just 30 minutes while preserving curl and coil patterns. Its vegan, cruelty-free, and gluten-free formula contains coconut oil for conditioning during the lightening process, plus soy protein to minimize damage.
With minimal tingling sensation near the scalp and consistent results across various types of black hair from type 4a through c, this product is a great choice for achieving vibrant semi-permanent dye effects with ease.
The kit includes dust-free powder lightener (1.34 oz) as well as 25 volume cream developer (4 oz), so you're ready to go! Plus, it's more affordable than other brands on the market but still delivers quality results without compromising safety or performance standards.
However, bleached hair may have an initial yellowish-green tint after use, which can be eliminated with toner if desired.
Vegan & Cruelty-Free
Gluten-Free Formula
Contains Coconut Oil Conditioners
Soy Protein Minimizes Damage
Quick Results within 30 Minutes
Affordable Compared To Competitors
Must Wait 24 Hours Before Further Lightening
Initial Yellowish-Green Tint Possible After Use
Not Recommended For Completely Black Hair
5. OVERTONE Espresso Brown Conditioner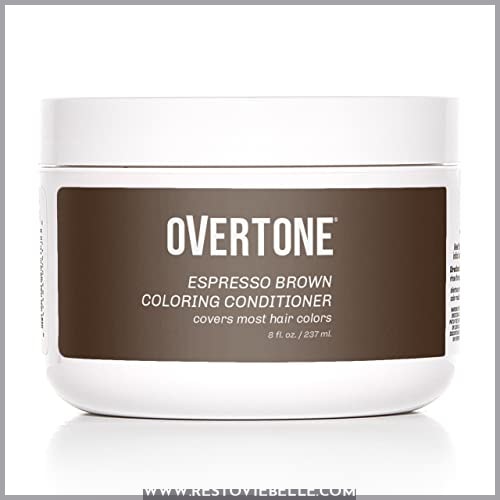 View On Amazon
For a warm, medium brown hue with no lightening required, try OVERTONE's Espresso Brown Conditioner for an easy-to-use deposit-only formula. This vegan and cruelty-free product is perfect for those who have warm or neutral medium blonde to medium brown hair.
Non-drip formula
High gloss finish
Vegan & cruelty-free
Lasts up to 20 washes before needing reapplication
Not suitable for bleached/platinum blondes
May not cover naturally white/gray hair
6. Madison Reed Hair Dye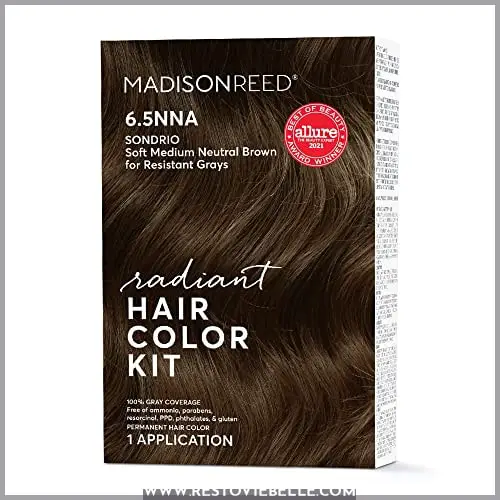 View On Amazon
Transform your look with Madison Reed Hair Dye, a permanent hair color delivering multi-tonal and natural-looking results in only one application. The cream-based formula is dermatologist tested and improves the condition of the hair without any ammonia, PPDs, resorcinol, parabens, phthalates, SLS, gluten, or titanium dioxide.
It provides 100% gray coverage with dimensional non-flat results for up to 8 weeks of lasting vibrant color.
Customers report that Madison Reed Hair Dye has less scalp irritation compared to other products along with great gray coverage, even on minimal grays, and gentle effects on naturally curly hair without adverse reactions too! With impressive results, many have praised this product as one of the best out there, especially since they've tried various brands before settling onto this brand.
High-quality permanent hair color with multi-tonal and natural-looking results
Cream-based formula derma test approved, improving the condition of hair
Free from harsh ingredients, providing 100% gray coverage
Long-lasting vibrant colors
Shade may appear slightly darker than expected
Pricey compared to competitors
7. Manic Panic Cotton Candy Pink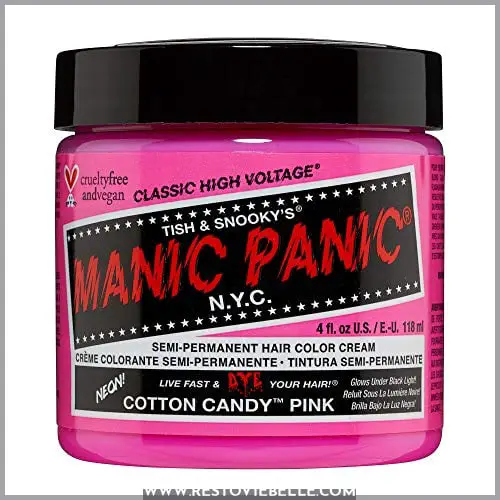 View On Amazon
Experience an explosion of cool-toned pink with Manic Panic's Cotton Candy Pink hair dye – perfect for pre-lightened locks! This semi-permanent formula requires no developer and provides a vivid, long-lasting color.
The unique blend of vegan ingredients is free from ammonia, parabens, resorcinol, and phthalates to ensure the highest quality.
With this product, you can easily achieve bright colors that won't damage your hair or scalp while conditioning it at the same time. Mixable colors allow you to customize shades as desired for fun experimentation too! Plus, its gradual fading makes maintenance easy, requiring only cold water washing to prolong color vibrancy over 4-6 weeks.
No developer required
Long-lasting color
Vegan-friendly formula
Customizable colors
Gradual fading
Limited coverage
Staining issues
Needs bleached/pre-lightened hair
8. WELLA Color Charm Permanent Liquid Hair Color 7G Sunlight Blonde Brown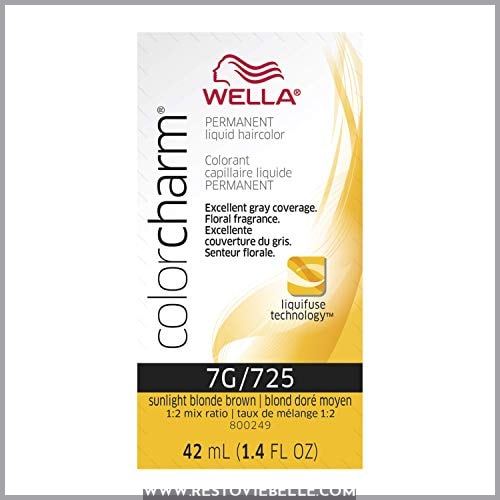 View On Amazon
Glow like the sun with WELLA Color Charm Permanent Liquid Hair Color 7G Sunlight Blonde Brown, a vibrant and fade-resistant hair color that promises to shine up your tresses.
Mixing 1 part of the formula with 2 parts of 20vol developer ensures optimal results when developed for 15 minutes (with an option to extend 30 minutes).
Users love purchasing on Amazon due to better pricing compared to Sally Beauty stores; they appreciate the depth of coverage provided as well as true colors coming out after application.
Reviewers rated it high for grey covering capabilities, and there are many positive comments about specific shades such as 7AA (light copper) & Black Cherry – all effective in toning down warm tones too! Quick successful transformations have been shared by users, making Wella Color Charm Permanent Liquid Hair Color 7G Sunlight Blonde Brown a reliable choice indeed.
Affordable price on Amazon compared to Sally Beauty Stores
True colors come out after application
Great grey coverage capability
Can be used across multiple shades including light copper & black cherry
Effectively tones down warm tones
User feedback suggests quick successful transformations
Strong Fragrance
Adjustment required depending upon length or texture
9. Kristin Ess Hair Gloss Wild Berry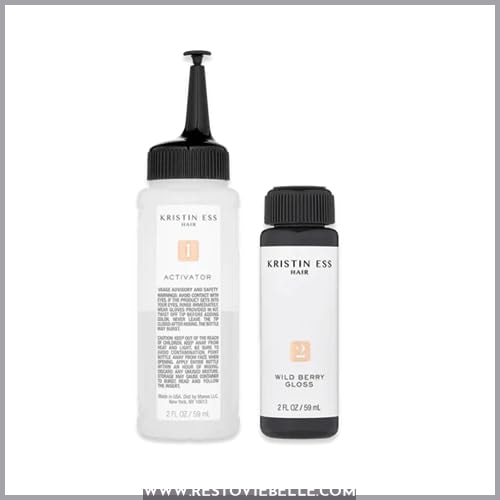 View On Amazon
Unlock your inner berry goddess with Kristin Ess Hair Gloss Wild Berry, a single application kit that boosts vibrancy and shine while adding a deep burgundy tone to color-treated or naturally brown hair.
Formulated with Vibrancy Boosting Technology, Anti-Oxidant Complex, and Alkaline Neutralizing System, this in-shower treatment is designed to keep your color fresh between salon appointments.
Messy application? No worries! Just use a shower cap for prevention of dripping – plus, the product needs to stay wet during its usage anyway!
This easy-to-use at-home hair dye has an attractive berry hue without any strong scent; it's perfect for black hair transitioning into white shades as well as other colors such as dark blonde and light brown hues.
After rinsing off carefully under running water until clear, you will have beautiful vibrant locks that look like they were done by a professional stylist right away!
Easy to use formula
Keratin safe
Pleasant scentless smell
Suitable for all types of hair
Needs prelightened level 9 or 10 before applying (for best results)
Can be messy when used incorrectly
What to Look for in At-Home Hair Color Kits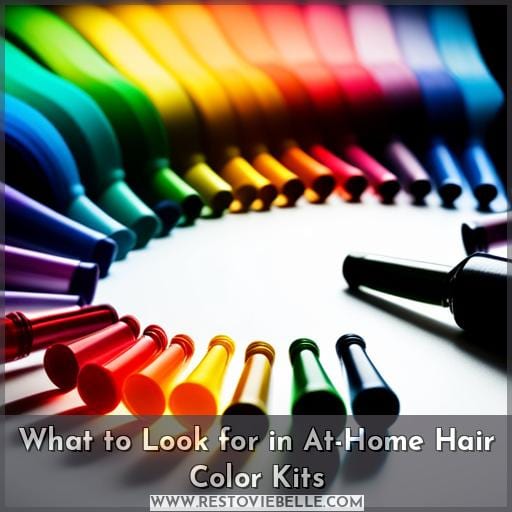 Elevate your hair color game with an at-home kit containing the necessary tools and ingredients for professional results. When choosing a formula, look for ammonia-free dyes that are gentle on your hair, as well as conditioning benefits like coconut oil or soy protein.
For application techniques, always perform a patch test before using any product to avoid allergies or scalp irritation due to chemicals in some formulas.
Lastly, choose reputable brands such as IGK Hair or Madison Reed – both praised by professionals – so you can make sure you're achieving beautiful results without sacrificing healthiness!
Is It Safe to Color Your Hair at Home?

Coloring your own hair at home can be a daunting task, but with the right precautions and products, it can provide beautiful results.
While it's generally safe for healthy hair, over-processed or chemically treated locks are more susceptible to damage from at-home color treatments. Talk to a professional if you have any doubts about which product is best for your hair type or skin sensitivity before beginning the process yourself.
Additionally, use caution when using lightening products as these contain powerful ingredients that may cause scalp irritation if not used correctly.
Always perform a patch test beforehand.
Use gloves.
Read instructions carefully.
Invest in quality tools like pre-made kits from reliable companies such as Colortrak or Madison Reed.
Remember timing is key – allocate 2 hours total – and do not wash prior to dyeing so natural oils will help protect against stains during application!
How to Choose the Right Color for You?

Choosing the right hair color for at-home use can be daunting, with so many options available. If you're looking to make a bold statement, there are vibrant shades that will last several weeks without requiring any further maintenance.
On the other hand, natural colors are perfect for those seeking subtle highlights or an overall change in tone without being too drastic.
Natural vs. Bold Shades
If you're looking to make a statement with your hair, why not try out the bold shades from Manic Panic and Good Dye Young for vibrant colors or Kristin Ess' Wild Berry Gloss for a subtler hue? Color matching tips, like consulting an expert or using editing apps, can help determine the best option.
For DIY coloring, semi-permanent formulas are ideal for maintaining highlights and lightened hair, while permanent dyes offer long-lasting results. Safety is key when it comes to at-home dyeing; opt for natural ingredients over harsh chemicals and always perform patch tests before application.
Invest in quality tools such as gloves, bowls, brushes, and applicators. You can find pre-made kits from reputable companies if needed! Hair color options range from dark brunette hues to bright rainbow shades.
Considering Skin Tone
When selecting a hair color, consider your skin tone for the most flattering result. For instance, if you have cool undertones, then opt for hues like ash brown and ashy blondes. Warm undertones look best with golden blonde or honey-brown shades. Matching your natural complexion is key when DIY dyeing at home; otherwise, results may be unexpected.
It's also important to pay attention to product ingredients and perform patch tests beforehand. Consult a professional before attempting drastic changes like going lighter from brunette or bleaching hair altogether.
Matching Hair Texture
Matching your hair texture when selecting the perfect at-home color is essential. Consider smooth, glossy strands or something with more body and bounce. Texture can impact how the dye takes to your locks and ensure even coverage for an optimal result.
Additionally, hair color selection should be specific to all types of textures from fine straight locks to wavy curls and coily coils for a customized look that reflects you!
When it comes to DIY coloring, safety must always come first—never use heat on dyed hair and always patch test prior to application.
For removal of unwanted hues, opt for IGK stain removers or makeup wipes mixed with Dawn dish soap as effective solutions without causing damage!
With these tips in mind, you will soon find the right shade that fits just for you!
How to Remove Hair Dye From Skin and Hairline?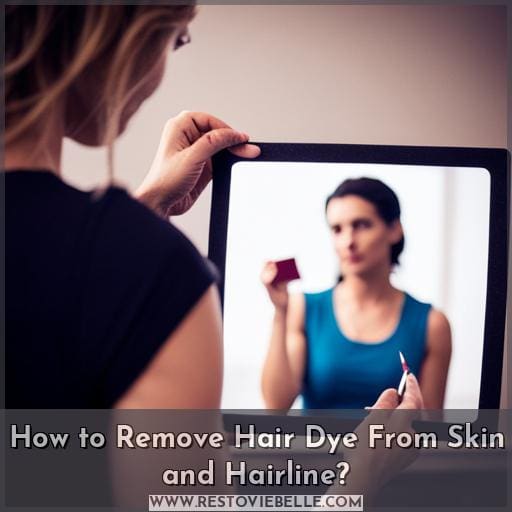 Removing hair dye from skin and hairline can be a difficult task, but with the right products like IGK, Vaseline, Roux Hair Color Stain Remover, or makeup remover wipes, you can easily tackle those pesky stains! Here are some tips to help protect your skin while coloring at home:
Wear gloves when applying color for protection.
Use petroleum jelly around your forehead and ears before applying color to reduce staining on these areas.
If you experience any allergy symptoms after using a product, stop use immediately and consult a doctor if necessary.
Always perform patch tests prior to application to avoid possible allergies caused by certain dyes or ingredients in the formula.
Keep an eye out for quick stain fixes such as alcohol-based cleaners that are safe for all types of fabrics, including those found in clothing items like t-shirts and towels used during styling sessions.
Keeping these simple steps in mind will ensure that no matter what type of at-home coloring process you're undertaking – permanent or semi-permanent – there is less stress about potential messes along the way!
Conclusion
Drawing to a close, we can confidently say that at-home hair dyeing can be a worthwhile endeavor, as long as it's done with the utmost care and caution. With the right products and tips, you can achieve professional-level results without leaving the comfort of your home.
When it comes to the best hair dye to use at home, there are several excellent options to choose from. Schwarzkopf Keratin Color Cappuccino, Garnier Olia Hair Color, Clairol Perfect 10 Black Hair Dye, Good Dye Young Lightener, OVERTONE Espresso Brown Conditioner, Madison Reed Hair Dye, and Manic Panic Cotton Candy Pink are all great choices for their outstanding performance and safety.
Before making your purchase, be sure to check the labels for harmful ingredients, perform a patch test, and consider your desired shade. With the right preparation and product selection, you can have beautiful hair in no time at all.