This site is supported by our readers. We may earn a commission, at no cost to you, if you purchase through links.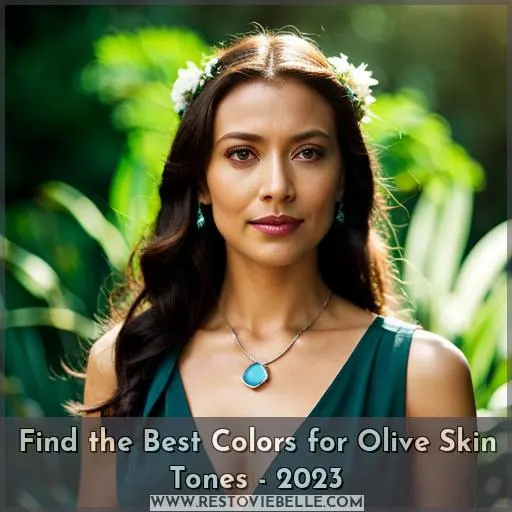 Do you have olive skin? You're in luck – there are a range of colors that best suit your complexion.
But knowing which colors to choose can be tricky. To help make it easier for you, we've compiled this guide on how to find the best colors for olive skin tones in 2023.
Key Takeaways
Olive skin tones can be complemented with earthy oranges, reds, emerald, and turquoise.
Jewel tones and warm rich oranges are flattering for olive skin.
Icy blues and brights can bring out the olive tones in the skin.
Dark reds, bright corals, and sandy or beige blonde shades are suitable hair colors for olive complexions.
How to Determine Your Skin Tone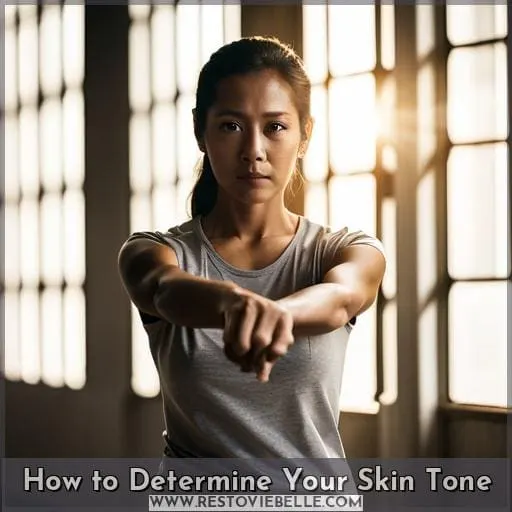 Discovering your skin's undertone is the key to finding colors that make you look and feel amazing, so let's get started!
The best way to assess your base color is a simple skin assessment. Start by taking a white piece of paper up close to your face in natural light. If there are hints of green or yellow, then it's likely you have an olive complexion with warm undertones.
You can also take partial highlights on either side of the head for further evidence that will help determine which hair color suits you best.
For makeup looks, opt for earthy tones like oranges and reds — they'll bring out any gold flecks naturally found in olive complexions — as well as sultry greens like emerald or turquoise blue hues for eye makeup when contrast level low enough not too harsh daily black tops.
Finally, accessorize with bolder colors such as purples and pinks if desired but always use soft muted versions first before going brighter ones – this works great even for many people regardless of their contrasting levels!
Understanding Contrast in Color Choices

From bright oranges to deep purples, finding the right colors for olive skin requires understanding contrast levels. High contrast is best achieved with clear icy shades, while medium skin tones can be overwhelmed by super brights.
Low contrasts should avoid harsh black tops and instead opt for vibrant light colors that pop on darker complexions. Understanding what works best will help create a versatile wardrobe of stunning hues perfect for any occasion.
High Contrast
Highlighting your olive complexion with colors of high contrast can create a stunning look that will make heads turn. Opt for shades like icy blues, super brights, and deep browns to really bring out the best in your skin tone.
Hair-wise, dark reds and bright corals suit you well – don't be afraid of dramatic pops of color! For blonde shades, sandy or beige platinum is beautiful on olive skin, while honey tones are perfect if you want something more subtle but still striking.
Caramel highlights add even more dimension when paired with auburn or gold lowlights.
Medium Contrast
For medium contrast, try subtle honey highlights to avoid a washed-out look. A color wheel can help determine the best texture and mixing choices for seasonal trends. Hair color for olive skin should be warm greens with a deep mocha cocoa sheen or bronze bangs.
The key is striking the right balance between cool and warm tones – too much of either can wash out your complexion or make it appear dull in comparison to your hair color choice.
Low Contrast
Avoid harsh black tops to keep your low contrast look balanced and beautiful. Dark brown curls, two-tone ombré, or sun-kissed cinnamon give an alluring glow to olive skin. To maintain the subtlety of a low contrast level, opt for beachy bronde highlights with lighter pieces over a dark base or light brown balayage blended into darker hair.
The Best Colors for Fair and Light Skin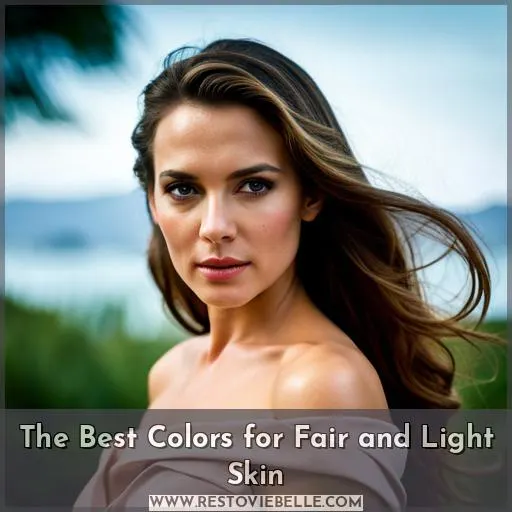 Fair and light skin tones look beautiful in icy versions of colors, bright rose, ruby or emerald hues, as well as soft muted shades. To make the most of these features, accessorize to add pops of color. Test out shades in real life if uncertain.
Break rules if you love a color. Make sure your hair and makeup align with your complexion. Clear icy colors are great for high contrast, while super brights can overwhelm medium skin tones. Black tops might be too harsh daily on low contrast complexions, so try adding vibrant pinks or oranges instead! Blonde shades like sandy platinum or warm honey caramel pair nicely with olive undertones, while rich chestnut browns bring out its coolness perfectly.
The Best Colors for Medium Skin

Dusty, neutral hues like taupe and jade green can enhance your medium skin's beauty, creating a stunning canvas for you to play with vibrant pops of color. When selecting colors that look best on medium skin tones, it's important to test them in real life before making a decision.
Black tops may be too harsh daily, but high contrast clear icy versions of colors will suit the complexion well. Hair colors such as brown-reds with deep dark tones or blonde shades like sandy or beige platinum are flattering options.
Dramatic red lips and dark eyeliner complete the look perfectly! Caramel highlights also provide an eye-catching result, while warm metallics including bronze and copper highlight olive complexions without washing out their natural hue.
To add fun streaks, try yellow, gray, or chocolate brown – all suitable for this tone! With so many fabulous choices available, there's something for everyone.
The Best Colors for Olive Skin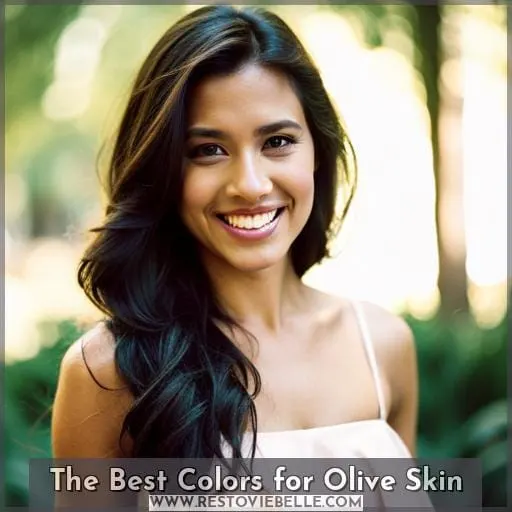 Vibrant hues, rich warm tones, and striking jewel colors are perfect for bringing out the beauty of your olive skin! For the perfect styling tips and color combinations, try accessorizing with pops of color to add some flair.
Hair colors like brown-reds with deep dark tones or bright corals mixed with warm metallics like bronze and copper will flatter your complexion. Honey blonde shades work well too; opt for a light, medium, or dark honey tone that balances ashy and warm hues.
Blonde shades should be sandy or beige platinum if done correctly – avoid medium blues, greens, which can look sickly on olive skin. Rich chestnut brown also looks great against an olive complexion while chunky caramel pieces will add dimension to darker hair types.
The Best Colors for Dark Skin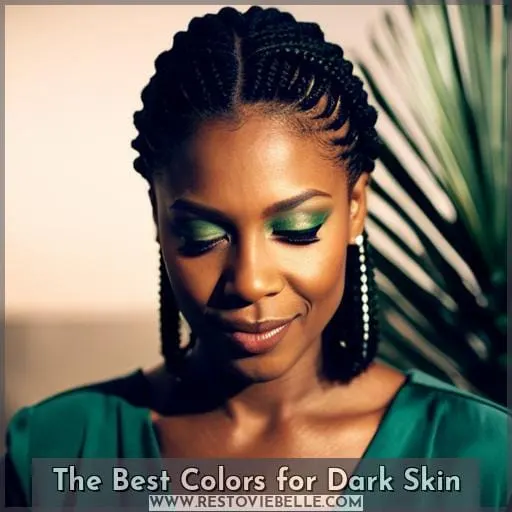 Pair your dark complexion with colors that will bring out the richness of your skin, such as purple, pink, and peach – all like rays of sunshine illuminating you. Head-turning palettes can be created with these go-to colors to draw attention while still looking sophisticated.
Lighter shades will give a natural contrast against darker skin tones, while matching makeup gives an extra boost to flatter any outfit choices.
To complete the ensemble, add subtle highlights around facial features using lighter foundation or eyeshadow for extra definition – just enough to make sure they stand out but never overpowering!
Colors to Avoid for Olive Skin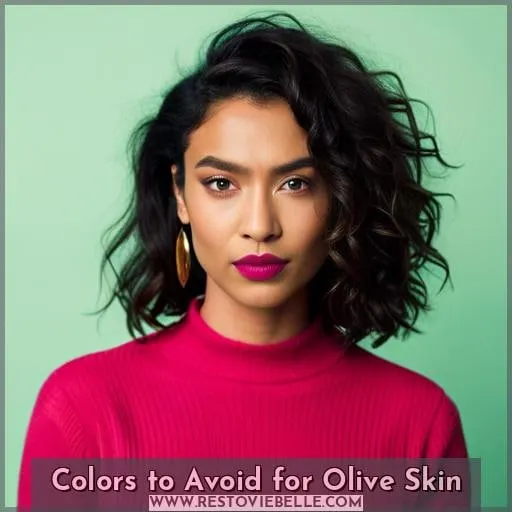 Transitioning from dark skin to olive skin, it's important that you avoid brights and bold colors. Instead, opt for subtle purples or warm metallics like bronze and copper. Dark yellows with gold and brown undertones can prevent a washed-out look as well.
Here are five key items to remember when picking the best colors for your complexion:
Test shades in real life when uncertain.
Break rules if you love a color.
Accessorize to add pops of color.
Soft muted versions of colors work well too.
Bright rose, ruby, emerald flatter fair skin, peach, jade green, taupe ideal darker tones.
The most important thing is finding what works best with your hair and eye color, as fit matters more than anything else.
Neutral Colors That Complement Olive Skin

When considering colors that complement olive skin, classic black, crisp white, and various shades of gray are timeless choices. Black is a bold statement color for all occasions, while white provides an open canvas to create interesting looks.
For more subtlety, the range of neutral grays from charcoal to silver can be used as base tones or highlights in any outfit.
Classic Black
Classic black is a timeless and sophisticated choice for olive skin, adding an air of mystery with its dramatic contrast. Bold styling can be achieved when pairing cool tones like blacks, greys, or blues against warm accents such as gold jewelry.
Or go for subtle shades by mixing dark hues with muted items from the same color family – think navy blazers paired with charcoal trousers.
Crisp White
Crisp white is a great way to brighten up your look and add contrast to olive skin tones. Matching colors, wardrobe planning, hair colors, and blonde shades are all important elements in creating the perfect vibe for this skin tone.
Caramel tones can also be used as highlights or lowlights against darker browns for a subtle yet striking effect.
For those who want an eye-catching style without being too bold, try pairing pale neutrals with icy blues and greens. These cool combinations work well together while still accentuating the complexion's unique undertones.
Various Shades of Gray
Grays, from light to charcoal, can provide a subtle backdrop that complements your olive skin and brings out its natural beauty. Embrace color theory with gray hues like warm beige-gray for a touch of softness or cool blue-grays for an edgy feel.
Consider tonal shades across the spectrum; look at subtle tints such as dove gray or muted tones like pewter.
Choosing the Right Colors for Different Occasions

Finding the right colors for olive skin can be tricky, especially when considering different occasions. Whether you're dressing up for work or wanting to keep it casual, there are some great color options that will flatter your complexion and help you make a statement.
Workwear
Create a professional look for the workday with subtle shades of brown, mocha, and chestnut that bring out the richness in your olive skin. Color coordination is key when selecting business attire for job interviews or dress codes.
Warmer caramel tones beautifully illuminate olive skin and create an eye-catching fashion trend without overwhelming your complexion. To stay within office guidelines, opt for cooler colors like deep purples paired with warm metallics to add pops of color without overdoing it.
A neutral outfit, such as black trousers and a cream top, can be accessorized to include vibrant hues that match perfectly against darker complexions while still remaining appropriate in most situations.
Casual Outfits
For casual outfits, try pairing warm, rich tones like oranges and ambers with vibrant light colors for an eye-catching contrast that will flatter your olive skin.
For maximum impact, mix hues in statement pieces such as bright prints and bold pastels. Accentuate the look by adding bright accessories like scarves, jewelry, and sunglasses for a unique style! If you're looking to stand out at any occasion without being too over the top, then pastel shades are excellent choices that still make an impact.
Lastly, break up darker colors with lighter accents for balance – it's all about finding what works best on your complexion!
Tips for Incorporating Colors Into Your Wardrobe

Experimenting with accessories is a great way to add color and personality to any look. Combine flattering colors such as those that suit olive skin with neutrals like white for timeless appeal. Use makeup to enhance or complement your outfit – bright rose, ruby, and emerald flatter fair skin tones while peach, jade green, and taupe are ideal for medium complexions.
Experiment With Accessories
Try out different shades of accessories to add just the right pop of color for your olive skin! Accessorizing is a great way to experiment with bright colors and muted shades that will flatter your complexion.
Consider wearing statement pieces such as jewelry, scarves, hats, or bags in bold hues like oranges, reds, and purples. To complete the look, pair these with complementary hair and eye colors for an overall effect that pops against olive skin tones.
If you're feeling adventurous, have some fun by mixing up textures too – think velvet chokers or beaded earrings paired with silky fabrics! With accessorizing tips, you can find a unique style perfect for any occasion that's sure to make heads turn.
Combine Flattering Colors With Neutrals
Mix warm, rich tones like orange and amber with neutrals for a flattering look on olive skin. For an effortless style, try color blocking soft muted colors in the same shade family. To make seasonal colors pop, combine them with lighter or darker shades of the same hue.
If you want to stay ahead of the trends, mix different textures and layer complementary pieces together for a bold statement look.
Use Makeup to Enhance or Complement Your Outfit
Enhance your look with makeup that complements the colors of your outfit. Think rich purples, pinks, and peaches for darker skin tones. Opt for brighter colors like fuchsia or magenta to really make a statement. You can also use bolder makeup such as dark eyeliner and red lips.
Try color blocking by pairing contrasting shades in one eye look. Additionally, pastel shades can be used to accentuate certain features. For a more subtle finish, mix up textures instead. For example, try applying matte shadows over metallic creams.
Finally, don't forget to experiment. You never know what could work until you try it!
Frequently Asked Questions (FAQs)
What are the best hair colors for olive skin?
Rich chestnut brown, honey blonde tones, and caramel highlights are great hair colors for olive skin. Try light or dark honey shades with deep red undertones and warm metallics like bronze and copper to flatter your complexion.
What is the best way to contour with makeup for olive skin?
Contour your olive skin with dark purple shadows for a sexy, sophisticated look. Highlight the features you want to stand out with light purples and balayage.
Are there any specific colors that are particularly flattering for olive skin?
Yes! Contrasting jewel tones, dusty neutrals, warm rich colors like orange and amber, vibrant pastels – all are flattering for olive skin.
Are there any colors to avoid when dressing for different occasions?
For olive skin, avoid medium blues and greens to prevent a washed-out look. Stick to vibrant light colors for dark skin, warm rich tones like orange or amber for olive complexions, and softer muted shades for fair skins.
What is the best way to accessorize with color for olive skin?
Accessorize with color to express your unique style! Rich tones like orange, amber, and vibrant light colors will bring out the best in olive skin. Mix up shades for a fun look or opt for muted versions of favorite hues. Find what works by testing in real life and don't be afraid to break rules if you love it.
Conclusion
It's important to know your skin tone before selecting colors for your wardrobe. Whether you have fair, medium, olive, or dark skin, understanding the contrast level of colors is key to finding the best hues that will flatter you.
Neutral colors like black, white, and various shades of gray are great for creating a versatile wardrobe. For olive skin, warm rich tones like orange, amber, and vibrant light colors will pop, while icy versions of colors suit high contrast better.
Accessories can be used to incorporate different colors into your outfits. Experimenting with different shades and tones can help you create flattering and stylish outfits for any occasion. Knowing the best colors for olive skin tones is essential for creating an eye-catching and stylish wardrobe.