This site is supported by our readers. We may earn a commission, at no cost to you, if you purchase through links.
Curious about what toner can do for your hair? Whether you're trying to enhance or soften hues, add volume and dimension, or counteract yellow tones and brassiness – toning is an easy way to achieve a unique look with minimal commitment.
From in-salon treatments to at-home products, it's important to understand the different types of toners available before deciding which one is right for you.
Key Takeaways
Toner enhances hair color, adds depth, and neutralizes warmth.
Toner lasts 2 to 6 weeks depending on hair type and product.
Toner works for all hair colors, not just blondes.
Toner can add shine and radiance to hair.
What Does Toner Do to Hair?

Are you wondering what toner does to hair? Toner works by enhancing color after professional treatments, neutralizing unwanted warmth post pre-lightening, and adding depth and shine. Not only is it beneficial for blondes, but also brunettes and redheads – as well as colored or bleached hair – which can be corrected with tones that personalize the hue.
How Does Toner Work?
Toning your hair can add depth and shine, while restoring fading color and neutralizing brassy tones – in fact, professional salon toners are more pigmented than at-home options for longer-lasting results.
Before applying a toner to hair pre-lightening or coloring is essential to lift the desired lightness. Toners work by targeting unwanted warm undertones like brassiness with ashy hues. For icy white shades, use an extra pale blonde base with purple shampoo for maintenance purposes.
Does Toner Only Work on Colored Hair?
With toner, you can enhance color on both natural and colored hair for a personalized look. Toner provides benefits such as removing brassy tones from blondes or adding warmth to browns and reds. The toning process varies depending on the type of toner used – in-salon products are more pigmented while at-home options provide gentler results.
Application tips include choosing the right shade based on a color wheel, prepping hair with pre-lightening or coloring, limiting application time to a maximum of 20 minutes, and using purple shampoo for maintenance post-treatment.
There are many types of toners available, ranging from ashy whites to pastel hues, so there's something perfect out there for everyone!
Does Toner Add Shine to Hair?
You can enhance shine and radiance with the right toner. Toner benefits include removing unwanted warmth, adding depth and gloss to hair, restoring fading color, countering brassiness, and enhancing desired shades.
Hair toners come in a variety of shades – from ashy tones to icy whites – each suitable for different base colors. Application should follow shade selection. Apply toner no longer than 20 minutes to achieve the best results.
Maintenance includes professional haircare products like dpHUE Gloss+ or Wella Professionals Care Color Fresh, combined with purple shampoo for maintaining ashy tones or silver shampoo against brassy hues.
Enjoy beautiful healthy locks full of vibrant shine!
What Are the Different Types of Hair Toners?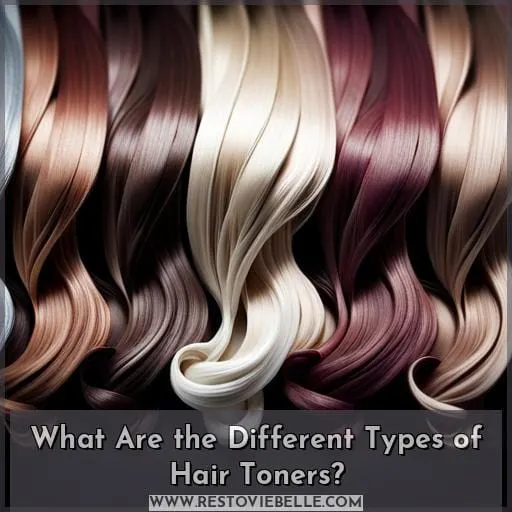 Are you looking to customize and intensify your hair color? Toners can be a great way to get the perfect hue! In-salon products such as dpHUE Gloss+ and Wella Professionals Care Color Fresh are more pigmented than at-home toners, while clear toners and gloss treatments add shine without affecting color.
In-Salon Toners
Are you looking for a salon-grade transformation? In-salon toners are the ideal way to achieve professional results. Stylists can help select the right shade and apply the toner with precision and expertise.
The professional benefits of in-salon toners include removing unwanted warm undertones, enhancing depth & shine, correcting streaks & fading hair color, as well as adding gloss & vibrancy.
To maintain desired tones and prolong the longevity of your look at home, follow your stylist's maintenance tips. Use products like dpHUE Gloss+ or Wella Professionals Color Fresh. Pair icy white or ash blonde tones with purple shampoo.
Avoid over washing hair (max twice per week) and protect it from UV/heat styling damage.
Achieving gorgeous locks is easy when you trust a pro!
At-Home Toners
Try at-home toners to give your hair shine and depth, perfect for personalizing color post pre-lightening. Use products from the best brands like dpHUE Gloss+ and Wella Professionals Care Color Fresh for DIY toning techniques.
To maintain desired tones with at-home toner applications, follow these tips:
Purple shampoo prevents yellowing.
Air pollution can lead to brassiness.
UV protection helps extend the longevity of the product.
Opt for silver shampoo if unwanted warmth is present.
Keep hair healthy by avoiding excessive heat styling or washing – twice a week maximum! With careful maintenance and quality products, you'll have salon-fresh results in no time.
Clear Toners and Gloss Treatments
Transform your locks with clear toners and professional gloss treatments to add lasting shine without affecting color.
Toner application techniques vary across brands, but a pre-lightened base is essential for all products.
Toner neutralizes brassiness while hair dyes produce more vibrant colors, so the choice between toner and dye depends on the desired end result.
For brassy hair, opt for ashy or icy white tones to counteract yellowing in lightened shades.
To maintain the results, use UV protection and avoid heat styling tools when possible.
The duration of toner varies from two weeks up to six weeks, depending on the product used and how often you wash your hair.
How Does Pre-Lightening Affect Toner Results?

As you know, hair toner is used to enhance color after professional treatment. To ensure the best results for your toning, it's important to pre-lighten and achieve a pale yellow undercoat as the base of your coloring.
Achieving the Desired Lightness
To achieve the desired lightness, pre-lightening is essential as it lifts hair to a paler yellow undercoat for cleaner results. But if you're worried about overdoing it, consult with your stylist to ensure optimal toning.
To get the most out of your color correction process:
Use a pale yellow tone for best results
Prepare hair correctly by using toners and other products prior to application
Apply product evenly and accurately in order to avoid any undone areas or spots
Utilize blue or silver based tones when needed for a more natural look
Maintain the desired level of lightness through regular glosses, glazes, or color depositing masks at home.
Hair toners are an important part of achieving the desired lightness while still maintaining healthy strands.
Importance of a Pale Yellow Undercoat
For ideal results, it's essential to achieve a pale yellow undercoat before applying toner. This base shade helps the toner bind properly and creates depth in your hair color.
The pre-lightening process lightens strands and prepares them for even coverage of the desired tone. It also allows for maximum longevity of your new look. To counteract brassy hues, use an ashy undertone when selecting a toner shade.
This can result in improved glossing effects on lighter hair types or enhance darker shades with vibrant tones like lavender or rose gold.
Color correction shampoos also help maintain freshness after professional treatment. They prevent brassiness from occurring over time without diminishing color depth achieved through glossing agents such as dpHUE Gloss+ and Wella Professionals Care Color Fresh.
With proper preparation prior to application, you can trust that your tresses will remain vibrant with beautiful depths of color!
How Long Does Toner Last?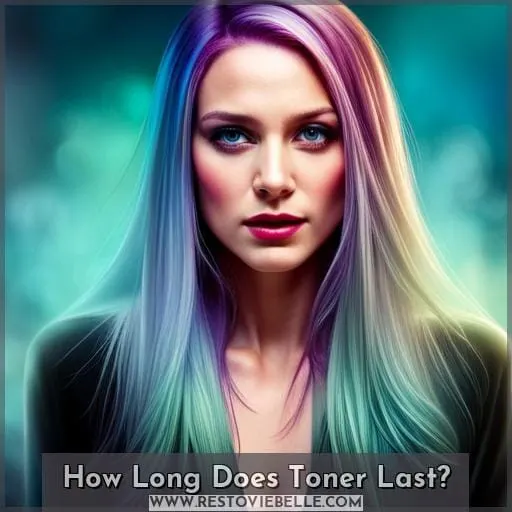 When it comes to your hair color, toner is a great way to achieve and maintain the perfect shade. But how long does toner last? It depends on several factors such as washing frequency, exposure to UV and heat styling, whether you have colored or porous hair, as well as the type of product used.
Colored and porous hair holds onto toners for shorter periods of time than natural locks do. Professional salon products tend to be more pigmented and longer-lasting than at-home options like dpHUE Gloss+ or Wella Professionals Care Color Fresh.
Factors Affecting Toner Longevity
Factors like how often you wash your hair, sun exposure, and air pollution can significantly affect the longevity of your toner. To extend its life, use professional haircare products and protect from UV rays and heat styling.
Color-correcting shampoos help maintain salon-fresh tones while taming brassiness in colored hair.
Try incorporating toners into at-home haircare products for a refresh while washing without overdoing it.
Toner's duration varies on other factors as well. Previously colored or porous hair holds less than natural strands, so try using more pigmented salon brands with longer-lasting results. Some good options are dpHUE Gloss+ or Wella Professionals Care Color Fresh for best results.
If you're looking to experiment with unique effects, Bleach London also offers an effective Toner Kit with Shade Variation Mask.
Duration of Toner on Colored and Porous Hair
Discover how long your toned locks will last with colored and porous hair! Toner maintenance largely depends on hair type, washing frequency, and environmental factors such as sun and air pollution.
For colored or previously treated hair, the duration of toner is usually two to six weeks, depending on the product used. Professional salon-use products are more pigmented, resulting in longer-lasting results.
At-home options include pigment depositing masks, glazes, glosses, and color-correcting shampoos.
Haircare professionals can recommend varieties such as dpHUE Gloss+, Wella Professionals Care Color Fresh, or Bleach London Toner Kit plus Shade Variation Mask to ensure optimal tone preservation. It is important to avoid overwashing, as this can lead to faster fading than desired.
Enjoy the benefits of a perfect shade every time!
Can Toner Be Used on Different Hair Colors?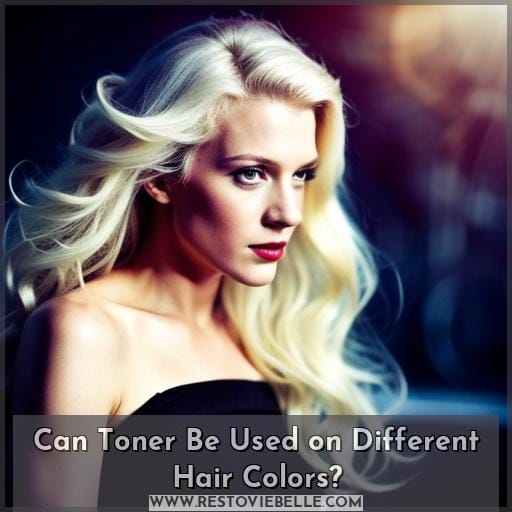 Toner is not exclusive to blondes; it can be beneficial for brunettes and redheads as well. Different tones of hair require different toners, from ash blonde, golden blonde, icy white to gray lavender or rose gold shades.
Toner helps neutralize unwanted warmth in the hair post pre-lightening while adding depth and shine with its subtle hues.
Toner for Blondes
You don't have to be a blonde bombshell to benefit from toner – even if you can already rock it! Blonde hair requires special maintenance and care, which includes choosing the right toner for application.
Ashy tones are great for neutralizing brassiness, while icy white tones achieve pure or light blonde shades.
Selecting the correct color is essential; pair it with purple shampoo to maintain ashy hues and silver shampoo for countering unwanted warm colors.
Toner for Brunettes and Redheads
Unlock new depths and shine in your brunette or red hair with toners! Toner shades offer a range of warm to cool tones that can reduce brassiness. With professional haircare, you'll be able to extend the longevity of your color while maintaining its vibrancy.
Hair glosses and masks will further enhance the look for an on-trend finish. Incorporating at-home beauty products into your haircare routine helps maintain salon fresh tones while keeping up with current trends.
Achieve beautiful color without compromising health by avoiding overwashing – twice weekly is ideal – and protecting from UV rays, pollution, heat styling tools, etc.
Create gorgeous locks today!
Toner for Gray, Lavender, or Rose Gold Shades
For an ethereal look, try color toner for gray, lavender, or rose gold shades – a subtle twist on the traditional blonde. Gray toners are perfect for neutralizing yellow undertones and creating a cool-toned ash effect.
Lavender adds depth to lightened hair while maintaining shine and softness; pair it with purple shampoo to keep it looking vibrant longer.
Rose gold is achieved using warm pigments that offer multi-dimensional results when used alongside heated tools like curling wands or flat irons.
For best results, use professional haircare products designed specifically for such tones, as well as UV protection and heat styling control measures, to extend the longevity of your color tone!
What is Purple Shampoo and How Does It Complement Toner?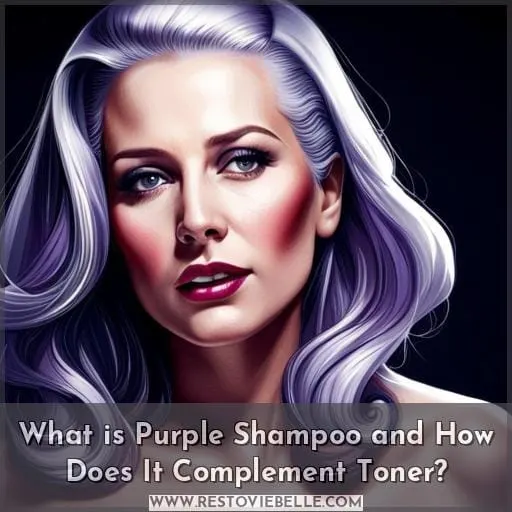 Are you looking to maintain ashy tones and counteract unwanted brassiness in your hair? Purple shampoo can be a great complement to toner, helping to keep blonde locks cool and vibrant. It's an essential component of any hair care regimen for those with lighter shades of hair.
Maintaining Ashy Tones
To maintain ashy tones, pair toner with a purple shampoo to counteract yellowing. For redheads and brunettes, a neutralizing green-based toner can work wonders for eliminating brassiness. Meanwhile, icy whites offer pure white or light blonde hair results, while pastels require the palest base possible.
To extend toner life, use professional haircare products, limit washing frequency, and protect from UV and heat styling.
Here are five tips for successful maintenance of ashy tones:
Select an appropriate shade based on your goal.
Pre-lighten if necessary.
Use purple shampoo regularly after pre-lightening.
Incorporate it into your at-home haircare routine.
Protect your hair from environmental factors such as sun exposure and pollution.
With these steps in mind, you can achieve vibrant ash hues that won't fade quickly!
Countering Unwanted Brassiness
Counter unwanted brassiness with a purple shampoo to maintain your ashy tones. Purple shampoos are specifically designed to counter the yellow, orange, and brassy tones that can occur post-toning or pre-lightening.
They work by neutralizing these warm hues while also nourishing strands for softness and shine.
For best results, select a toner shade based on the color wheel before using purple shampoo. This helps you choose an appropriate hue of blonde or brunette that won't turn too ashy after washing with a violet-tinted formula.
To keep hair looking polished between washes, use professional products like Redken Blondage and Brownlights ranges.
How Can Toner Benefit All Hair Shades?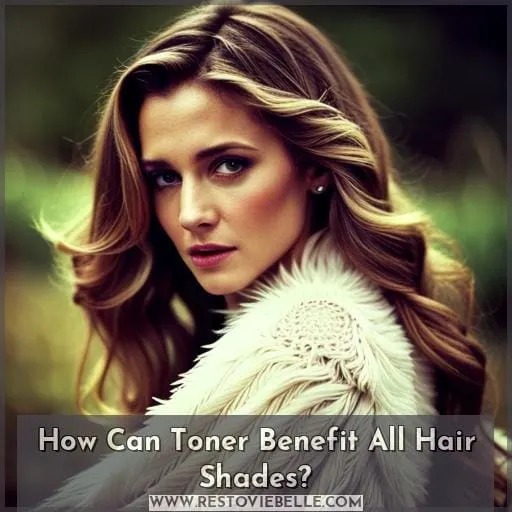 Are you looking to spruce up your hair color? Toner can be the key to unlocking a vibrant, glossy look for all shades. It adds depth and shine while correcting fading hair and streaks, revealing a beautiful hue that complements any style.
Adding Depth and Shine
You can enhance your hair with toner, adding depth and shine for a salon-fresh finish.
Enhancing shine
Adding radiance
Boosting color vibrancy
Extending longevity of tones
Toning gray or colored hair. Glossy hair is always on trend! Try out a toner today and see the difference in your look – you won't be disappointed!
Correcting Fading Hair and Streaks
Revive your color and add gloss with a toner that corrects fading hair and streaks. Toner benefits include restoring vibrancy to previously colored or porous hair, as well as correcting any splotches or unevenness.
Depending on the product used, toners can last from two to six weeks. Expert advice is key for finding the right shade; French Balayage Pearls is an interesting option! With proper maintenance and haircare products like dpHUE Gloss+ or Wella Professionals Care Color Fresh, you'll enjoy vibrant locks for longer periods of time.
Providing Gloss and Shine Without Affecting Color
Bring your hair to life with professional gloss treatments and clear toners that add shine without changing color. Toner benefits include glossy locks, adding depth and luminosity while restoring fading or streaky hair.
For longer-lasting effects, opt for salon products like dpHUE Gloss+ or Wella Professionals Care Color Fresh.
Avoid the hassle of daily styling by using a gloss treatment every two weeks. It will help maintain high shine levels even when exposed to UV rays and pollution.
Let your glossy locks speak volumes about you today!
Can Toner Be Used at Home?

Are you looking to achieve salon-level hair toning at home? Incorporating a professional-grade toner into your hair care routine is the key. At-home options include pigment-depositing masks, glazes, and glosses that can help maintain color vibrancy while restoring fading tones, correcting streaks, and adding shine.
At-Home Toning Products
With at-home toning products, you can easily refresh and personalize your hair color without a trip to the salon. DIY toning is made easy with on-the-go options such as pigment depositing masks, glazes, and glosses that are simple to apply.
For maximum effectiveness, consider professional at-home options like dpHUE Gloss+ or Wella Professionals Care Color Fresh. These products provide superior results that can last up to six weeks, depending on your hair type and the product you choose.
Toning benefits all shades by neutralizing brassiness, adding depth and shine, restoring faded locks, counteracting yellow undertones, creating streaks of contrast color, and providing gloss. The list goes on! To maintain your toned hair, it's important to avoid over-washing (twice weekly maximum), use protective styling against UV rays and heat damage, and incorporate toner into your haircare routine for continual upkeep between salon appointments.
Incorporating Toner Into Haircare Routine
Keep your hair looking salon-fresh with the right toner incorporated into your at-home haircare routine! Toner application requires expert knowledge – consult a stylist to determine which shade best suits you.
To maintain color, use professional haircare products that protect from UV and heat styling. Toners offer many benefits; they remove unwanted warm undertones, add depth and shine to all hair shades, restore fading hair, correct streaks, and provide gloss.
Varying toner options are available for different results. Ashy tones neutralize brassy hues, while icy white achieves pure blonde or light blonde shades. For pastel colors such as gray or lavender, a pale blonde base like göt2b® Color Lightened Heavenly Blonde is required before applying the toner for a maximum duration of 20 minutes.
With proper maintenance using purple shampoo and avoiding excessive washing of 2x/week max, tone longevity can be prolonged up to 6 weeks depending on the product used and the type of hair!
Expert Recommendations for Toning Hair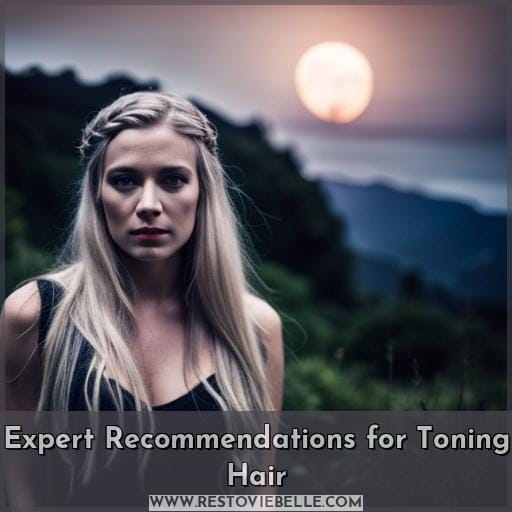 If you're looking for expert advice on toning your hair, talking to a stylist is the best way to go. French Balayage Pearls are also an excellent option if you want unique effects that will last.
Consultation With Stylists
Consulting a stylist can help you find the exact toner shade to achieve your desired hair color. They can advise on what kind of product suits best and how to maintain it, whether it's golden blonde, ashy tones, icy white, or rose gold hues.
From professional salon colors for long-term effects to at-home options like pigment depositing masks and glazes, suitable advice is invaluable in choosing the right toner for your hair type.
Color correct shampoos are also available to keep brassiness at bay while maintaining a salon fresh result between visits. The selection of varieties allows you to personalize your look from subtle shades to pastel results, all within one application time frame.
Unique Hair Effects With French Balayage Pearls
Transform your look with French Balayage Pearls and create a unique, eye-catching hairstyle that stands out in the crowd. Using an artistic blend of highlights and lowlights, this creative hair coloring technique is one of today's hottest trends.
With its vibrant shades and subtle blends, French Balayage offers you the freedom to express yourself through artful styling.
Achieve everything from beachy waves to edgy spikes using these balayage techniques – add texture without sacrificing color vibrancy! Whether it's soft curls or a wild mane, let loose those creative juices as you explore new ways to rock stunning hair colors while staying on trend!
Conclusion
When it comes to hair, toner is the ultimate secret weapon. It's the key to achieving and maintaining a desired hair color, whether you're blonde, brunette, or redhead.
Toner can neutralize unwanted warm undertones and add depth and shine to all hair shades, making it a beneficial treatment for everyone. There are many options to explore, from in-salon toners to at-home products, based on your hair color and needs.
With the right toner shade and application, you can achieve the look you want and keep your hair looking salon-fresh for weeks. If you're considering toning your hair, be sure to consult with a stylist for advice and recommendations.