This site is supported by our readers. We may earn a commission, at no cost to you, if you purchase through links.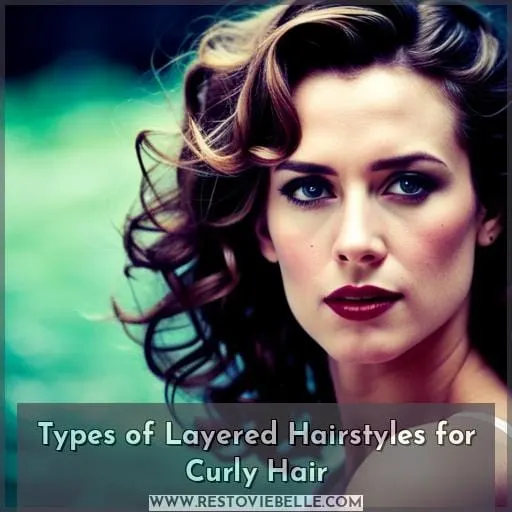 Are you fed up with your boring, same-old curly hairstyle? Looking to shake things up and embrace a chic new look? Look no further than layered haircuts for curly hair—they can add texture, volume, and movement to any length or type of curl.
From long layers with balayage highlights to tousled bobs with bangs, we've rounded up 30 trendy looks that will transform your curls into something truly special.
Key Takeaways
Layered haircuts for curly hair add texture, volume, and movement.
A shaggy cut is a great option for naturally curly hair to enhance texture and definition.
Regular trims are important to maintain healthy ends while enjoying the benefits of layering.
Tailor your layered hairstyle to your face shape, lifestyle, and hair texture.
Sparkling Layered Curly Bob

Try out a sparkling layered curly bob to show off your curls and add shine to any look. The perfect way to embrace your natural texture, this style is ultra-versatile and can be worn straight or wavy.
With its shorter layers in the back for movement and longer bangs that frame the face, you'll never go wrong with this classic cut.
For maintenance tips on how to keep your hairstyle looking fresh all day long without weighing down those luscious locks of yours, use curl defining products such as mousses or gels when styling wet hair before drying.
Avoid using heat tools unless necessary since these can damage delicate strands over time.
Finally, don't forget about regular trims every few months so you can maintain healthy ends while enjoying all the benefits of layering!
Curly Shaggy Bob With Blonde Highlights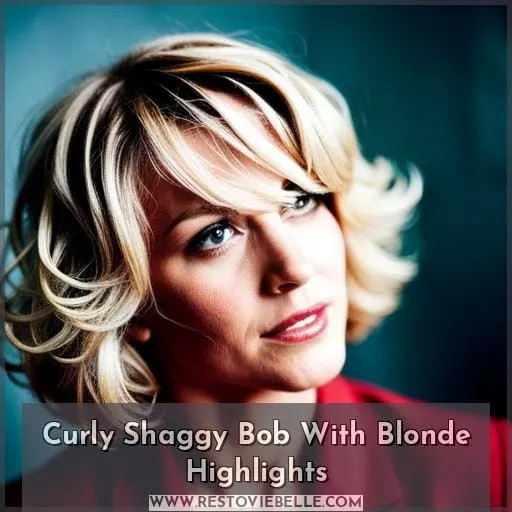 Ready to take your curly locks to the next level? A shaggy bob with blonde highlights is a great way to add dimension and style. Whether you're looking for something modern or classic, there are plenty of variations that will suit any taste.
Blonde Highlight Techniques – Depending on how dramatic you want the effect, choose between balayage, ombre, or babylights when highlighting your hair.
Styling Tips – To keep curls bouncy and full of life, use curl-defining products like mousses and gels after washing but before styling with a diffuser attachment on a low heat setting if needed.
Shaggy Bob Variations – Find inspiration in different lengths from chin-length bobs all the way up to shoulder-length cuts; both work well for layered hairstyles!
Hair Care For Highlights – Use color-safe shampoo & conditioner specifically designed for colored hair, as regular shampoo can strip away color too quickly, leaving behind dull tresses without body or shine!
Trendy Color Combinations – Go bold by mixing cool hues like platinum blonde mixed in with warm shades such as honey tones for an effortless yet chic look! No matter what version you choose, make sure it fits your face shape, lifestyle needs, and hair texture, so just have fun experimenting until you find the perfect style match!
Red Curly Hair With Face-Framing Layers

Transform your look with a red curly hairstyle featuring face-framing layers for an eye-catching style. Whether you're looking to enhance your curls or add texture, this type of layered cut can be tailored to suit most face shapes and hair types while providing volume and movement.
To achieve the desired result, ask your stylist for layers that frame the sides of your face, as well as adding subtle highlights throughout to create depth and dimension. When styling at home, use curl-enhancing products in combination with defining mousses or creams for hold without weighing down the curls too much.
Accessorize by incorporating colorful scrunchies or headbands into any upstyle look. These will help keep frizz under control while giving it extra character! For those who prefer more vibrant looks, consider combining shades like copper tones along with deep side partings.
With proper maintenance tips, such as regularly using hydrating treatments combined with gentle haircare practices like avoiding heat tools whenever possible, you can ensure long-lasting results from whichever styling options work best for you!
Shaggy Cut for Naturally Curly Hair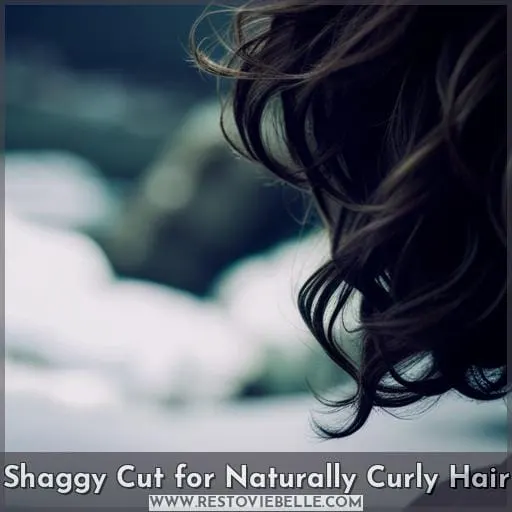 Get a gorgeous shape with a shaggy cut for your naturally curly hair. A shaggy cut is the perfect way to frame and define curls while giving you texture and movement. To achieve this look, ask your stylist for layers that go from short to long in order to create volume and movement.
The key is not to have too many layers so as not to weigh down the curl pattern of your natural locks.
Styling techniques such as scrunching or plopping will help keep unruly curls under control throughout the day while creating more definition in each layer of hair. Maintenance tips, such as using moisturizing products specifically designed for curly hair, are essential in keeping it healthy and manageable between cuts.
Finish off by adding stylish accessories like headbands or clips if desired. Then, show off those beautiful face-framing layers!
Subtle Highlights on Curly Layers

Adding subtle highlights to your curly layers can create a beautiful, eye-catching look. Take Sarah, for example, who decided to add honey blonde balayage highlights to her bouncy curls. To achieve this style, it's important to understand highlighting techniques and color combinations that best flatter your skin tone and hair texture.
Furthermore, don't forget about styling options as well as maintenance tips for keeping up with the look between salon visits. Consider face framing highlights for added dimension if you have an oval face shape or longer locks.
These highlights can help bring out features like cheekbones and eyes while accentuating texture in wavy or curly strands.
When selecting colors, be sure not to overpower your natural hue. Instead, enhance it by choosing a complementary shade. For example, caramel blondes can work well on light brown tresses, while golden hues can complement dark chocolate waves or curls.
Lastly, remember that there are many different products available specifically designed for curl care. Find one that works best with your hair texture to achieve and maintain this beautiful hairstyle.
Long Curly Hair With Golden Blonde Balayage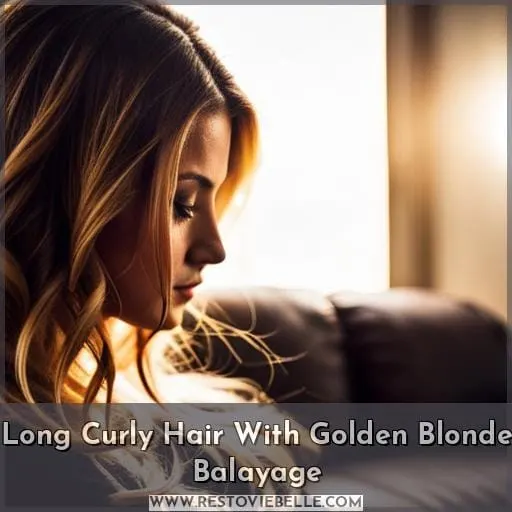 Experiment with your long curly hair and bring out its natural beauty with golden blonde balayage highlights! Balayage styling adds movement and texture to long curly locks, while providing a seamless transition between colors.
Color maintenance is easier as the lighter strands blend into the darker ones for an effortless look.
Long even layers on deep layers on curlies create volume without compromising curl definition, while face-framing layers give a flattering shape that accentuates all features. To keep curls bouncy and healthy, use premium-grade styling products like curl cream or defining gel before blowdrying them in sections using your fingers to style instead of brushes or combs, which can cause frizziness.
Curly hair maintenance also involves trimming regularly; cutting off split ends keeps curls looking fresh for longer periods of time so they don't become dry and brittle with age.
Bright Copper Curly Shag

Ready to add a little something extra to your curly locks? Bright copper curls can take your look from everyday to extraordinary! From subtle highlights for an understated elegance, or bolder shades of red and orange for a statement-making style, this look is sure to turn heads.
Here are 5 tips you need when styling bright copper curly hair:
Make sure you get the right cut. Whether it's shaggy or layered depends on what kind of shape and length best suits your face. A curl specialist will be able to give you advice on what will work best with your natural texture.
Use complementary colors. If going all out with copper tones isn't quite in line with how much drama you want, opt instead for golden blonde balayage that complements the red hues without overpowering them completely!
Keep up maintenance routine. Regular trims every 6-8 weeks are essential, as well as deep conditioning treatments, to make sure those curls keep looking healthy and hydrated even after hours spent in heated tools or harsh weather conditions!
Choose products wisely. Lightweight oils like argan oil help seal moisture into strands while controlling frizz, which makes them ideal companions when dealing with this type of hairstyle. So try using one before heat styling each time, just remember not to use too much, otherwise, they won't hold their shape correctly.
Voluminous Springy Curls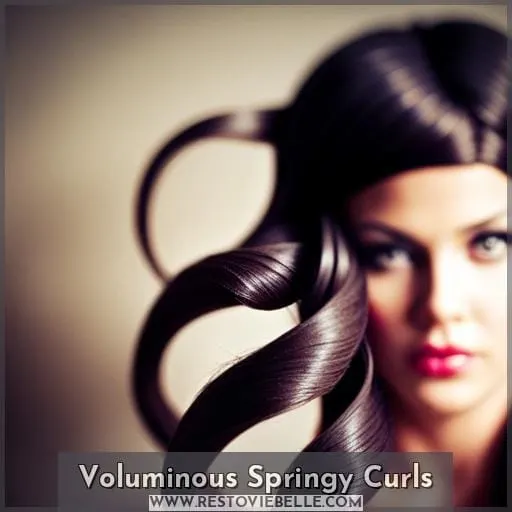 Embrace your inner free spirit with voluminous springy curls. Whether you have naturally curly hair or are looking to create them, having the right styling products and techniques can help achieve a magnificent look that will keep heads turning.
To start, use curl enhancing products such as mousse and sprays to build up texture in those natural locks! Additionally, there are plenty of styling tools like diffusers and hot rollers that can be used to shape up your style even further.
When it comes to seasonal maintenance for these voluminous curls, protective hairstyles come into play greatly! This means wrapping your curls at night using silk scrunchies or covering them off with a satin bonnet while sleeping – this kind of care helps maintain their softness throughout the day.
Lastly but not least important is finding out what type of layers work best for each unique curly texture – from short bobs all the way down long mane-like styles; there's always something new waiting out there so go explore!
With proper knowledge on how to properly cut, style, and maintain our beloved curly haircuts at home, we can reduce trips back into salons allowing us more time doing things we love most!
Retro Shag Hairstyle With Layered Curls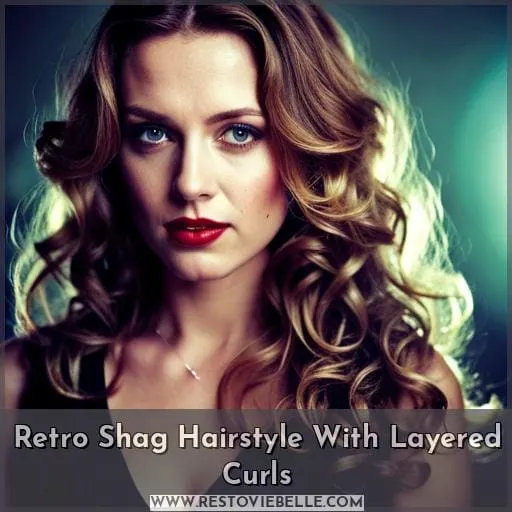 Dive into the depths of nostalgia with a retro shag hairstyle featuring layered curls! Get ready to bring back 90s vibes with modern twists and styling tips. Celebrities like Gigi Hadid have been spotted rocking this look, showing off her glossy golden blonde locks in all their glory.
To get the right look for your curly hair, start by ensuring you've got a good haircare routine down pat. Use curl-defining products while layering your hair, and make sure to avoid heat styling as much as possible or use heat protectants if needed.
The key is to layer it properly – ask your stylist for advice on the types of layers that would suit you best according to your face shape and body type.
Then, add some highlights or lowlights depending on your preference before getting creative with accessories such as headbands or barrettes! Retro shags are also great for giving volume without weighing curls down too much, so experiment away until you find just what works best for you!
Shaggy Bob Cut for Curly Locks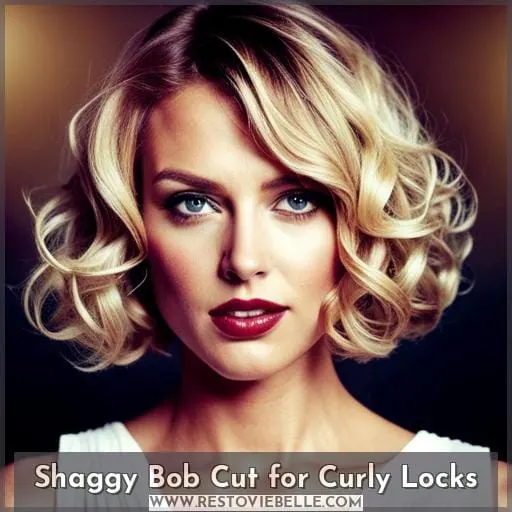 Transform your locks with a trendy shaggy bob cut for curly hair! This salon favorite combines the best of both worlds: manageable length and plenty of volume. A stylist can tailor the look to fit any face shape, curl pattern, and color preference.
With styling tips for short texturized layers or super long bobs, you'll be able to create an eye-catching style that will last all day long.
Add some flair by opting for balayage or ombre coloring techniques on your curls too. No matter what look you choose, face framing layers will help bring out natural beauty in every client's unique features while also allowing their beloved curls breathability without compromising definition or fullness.
Conclusion
From subtle highlights to vibrant ombre hair colors, there are countless ways to style layered curls. Whether you're looking for a retro shag or a voluminous pixie, the type of layers you choose for your curly hair can make all the difference.
To create the perfect hairstyle, it's important to work with a curl specialist who understands your specific hair needs. With the right layers, anyone can show off their beautiful curls and enjoy the freedom of a layered hairstyle.
With the myriad of options available, you can find a type of layers for curly hair that fits your unique style and personality.