This site is supported by our readers. We may earn a commission, at no cost to you, if you purchase through links.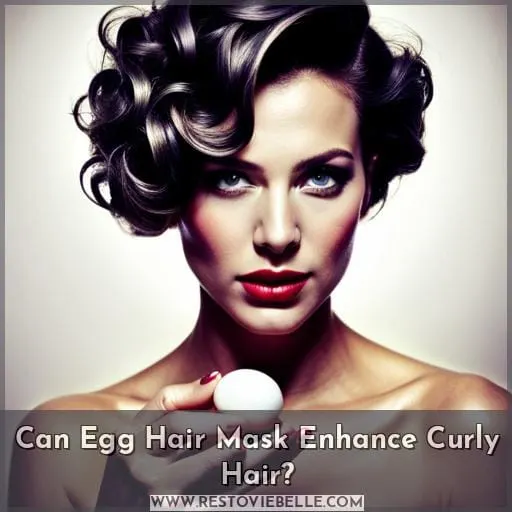 Are you seeking a natural way to enhance the health and beauty of your curly hair? An egg hair mask may be just what you need! Eggs are packed with protein, biotin, vitamins A and D, as well as omega-3 fatty acids – all of which can help strengthen and nourish your locks.
With this simple DIY treatment at home using ingredients from around the kitchen, you'll have healthier curls in no time. Read on to learn more about how an egg hair mask can help improve the look of curly hair.
Key Takeaways
Egg hair masks can strengthen, soften, add shine, and reduce frizz in curly hair.
They provide hydration, control frizz, enhance shine, and retain moisture.
Cold-water rinses seal in moisture, and whole eggs should be used for maximum benefits.
Other ingredients like olive oil, coconut oil, and honey can also provide hydration and nourishment for curly hair.
Benefits of Using Egg Hair Masks on Curly Hair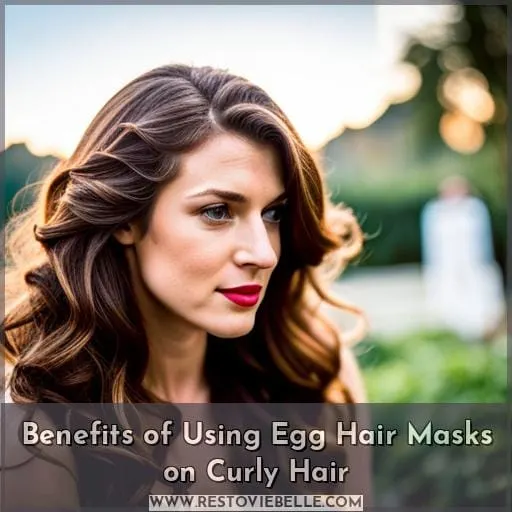 Eggs can provide a powerhouse of nourishment to help you transform your curls, from strengthening and softening to adding shine and reducing frizz. Egg hair masks are an effective way to get the protein benefits curly hair needs for healthy hydration, frizz control, natural shine enhancement, and moisture retention.
An egg mask will also add strength back into weakened strands due to breakage or chemical treatments. With regular use of an egg mask as part of your routine, you'll be able to restore life back into your curls with fullness while controlling the volume and definition they create naturally.
Applying a blend consisting of olive oil or coconut oil mixed with honey is known for its hydrating properties, which helps prevent dryness in those wavy locks that have been stripped away by heat styling tools like flat irons or curling irons over time, as well as harsh products such as shampoos containing sulfates that strip out oils needed for shiny, bouncy tresses!
How to Make an Egg Hair Mask for Curly Hair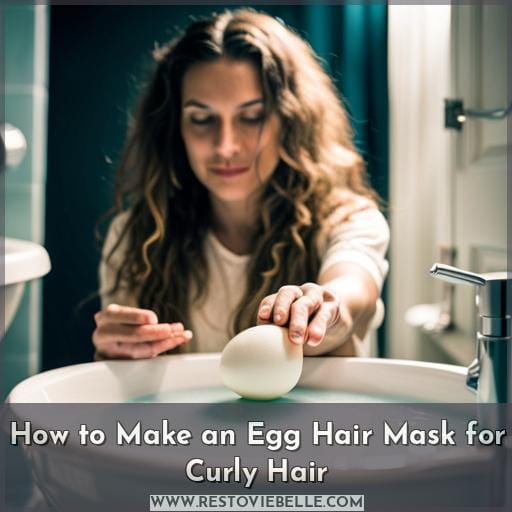 Egg hair masks can help transform your curly hair in a variety of ways. For instance, they can contribute to hair growth, moisture, and shine, reduce frizz, and repair strength. Egg proteins are rich in amino acids that nourish the scalp while adding volume and texture to curls.
Egg Hair Mask for Hair Growth
You can nourish your tresses with an egg hair mask to promote growth and strength. Rich in protein, vitamins, and fatty acids, this nutrient-rich formula provides natural nourishment for curly hair transformation.
Egg Hair Mask for Moisture and Shine
For lusciously hydrated and shiny curls, mix up an egg mask with natural ingredients like honey, olive oil, or avocado for moisture. Nourish your strands with homemade recipes to boost hydration and add natural luster.
To achieve glossy curls, you can:
Healthy habits are essential in achieving beautiful locks, so don't forget the importance of following through on regular care routines!
Egg Hair Mask for Frizz Reduction
Slather on an egg mask to tackle frizzy hair and instantly transform your curls with a smooth, glossy finish! Natural remedies like avocado oil, honey, and mayonnaise nourish locks for reduced breakage.
Mix yogurt with egg whites for probiotic power against dandruff, while olive oil softens strands.
Egg Hair Mask for Strength and Repair
Transform dry, damaged curls with an egg mask for strength and repair! Begin by applying a mixture of one egg yolk, 1/2 mashed avocado, and 1 tbsp. of olive oil to shampooed hair, focusing on the ends. Leave it in for 20+ minutes, then rinse and detangle for nourishing strands and restoring resilience.
The protein benefits from eggs help repair, while natural oils moisturize without weighing down curls.
Tips for Using Egg Hair Masks on Curly Hair

Are you planning to use an egg hair mask on your curly hair? Before diving into this nourishing and restorative treatment, it's important to understand how best to use the ingredients in order for them to be effective.
Avoid hot water when rinsing so as not to cook the egg proteins. Opt for using a whole egg over just its whites or yolks for maximum benefits. Choose high-quality eggs that are rich in Biotin and vitamins A & D. Make sure you know what each of your chosen ingredients will do before applying.
With these tips in mind, get ready to give your curls some extra love with an amazing homemade recipe!
Avoid Hot Water for Rinsing
Avoid hot water when rinsing your egg mask – it will strip away nourishment for curls. Cold-water benefits: prevent heat damage, seal hydration in hair cuticles, and leave curls soft and manageable. Use gentle techniques like soaking with cold water to keep strands moisturized and healthy.
Use the Whole Egg for Maximum Benefits
Incorporate the whole egg into your hair mask routine to maximize nourishment. Protein infuses weak strands; nutrient-rich application nourishes curls. Variations include olive oil, honey, milk, avocado; castor oil and lemon juice for shine.
Choose High-Quality Eggs for Better Results
For optimal results, choose high-quality eggs when creating your custom hair mask. Source nutrient-rich eggs from ethical production practices to ensure maximum nourishment and freshness. With the right egg quality, you'll get more out of a homemade treatment – reducing breakage and improving overall curl health.
Understand the Ingredients in Your Hair Mask
Gain an understanding of the nourishing ingredients in your egg hair mask to promote maximum benefits for curls. Eggs, avocado, olive oil, and honey all provide essential nutrients like protein, vitamins, and minerals that help make dry, brittle hair healthier.
Learn how each ingredient can help moisturize and reduce breakage, as well as create perfect shine or manageability for your unique curl pattern. Know where to source quality products so you can achieve a vibrant look without causing further damage.
Recommended Egg Hair Mask Recipe for Curly Hair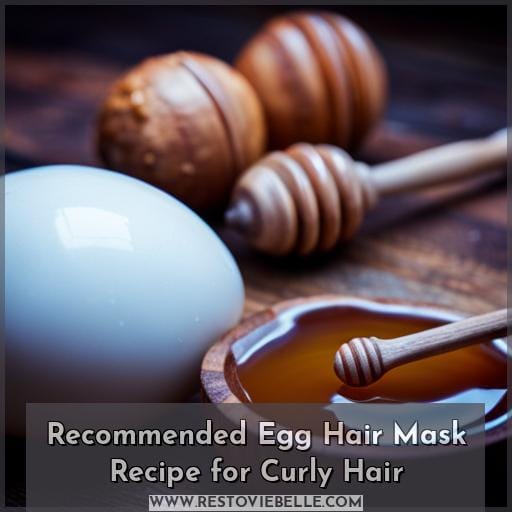 Transform your curls with this nourishing egg hair mask recipe, featuring avocado and olive oil for added softness and shine. Create a DIY solution that will leave your curly hair feeling softer, shinier, and more elastic, while enhancing the natural texture of each curl.
Begin by combining one egg yolk with half a mashed avocado and one tablespoon of olive oil in a bowl until blended together smoothly. Then apply the mixture to shampooed hair, focusing on the ends. Leave it on for twenty minutes or longer, and then rinse it out using cool water, as hot water can damage delicate strands.
Finally, gently detangle your hair and style it as desired to reveal glossy, bouncy ringlets full of life! With careful application, you can reap all the benefits from this nourishing mask made specifically for curly locks.
Styling Tips for Curly Hair After Using an Egg Hair Mask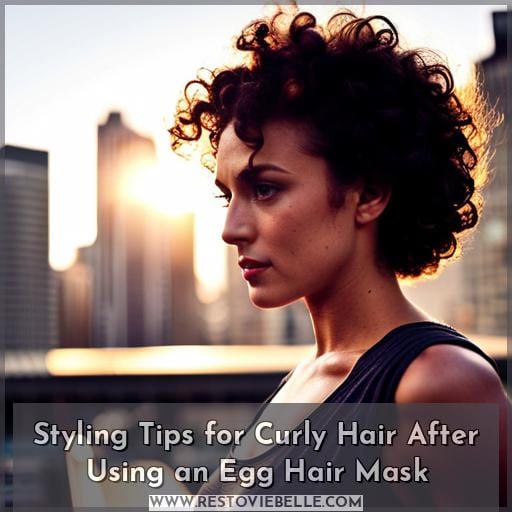 After treating your curls with an egg hair mask, nourish them further by using styling techniques that keep your locks bouncy and healthy.
To define enhancement, use curl-boosting products like a leave-in conditioner. Then, add cream or gel to help hold the shape of the curl.
For frizz control, try wrapping damp hair in a t-shirt for 30 minutes before adding product.
Moisture lock methods include cold water rinsing after shampooing and conditioning. Additionally, try hot oil treatments with coconut or olive oil for 15+ minutes to deeply hydrate dry strands.
Following these steps will help ensure beautiful definition without compromising hair health!
The Importance of Styling With Quality Products for Curly Hair

To keep your curls looking their best, it's essential to invest in high-quality styling products that will give you the bang for your buck you're after. Curl definition techniques are key when using egg hair masks on curly hair. Investing in products with natural ingredients like olive oil and honey is a great start.
Frizz control methods can also be effective when used correctly. Look out for lightweight conditioners, leave-in creams, or overnight care treatments that focus on hydration. In addition, seasonal adjustments may need to be made depending on climate changes or if traveling.
Explore different product types such as oils and mousses to help lock in moisture while avoiding any crunchy residue buildup.
Styling importance shouldn't ever go underrated. Finding the right balance of quality ingredients mixed with curl definition techniques can bring long-lasting results no matter what type of curls you have!
Benefits of a Cold Water Rinse for Curly Hair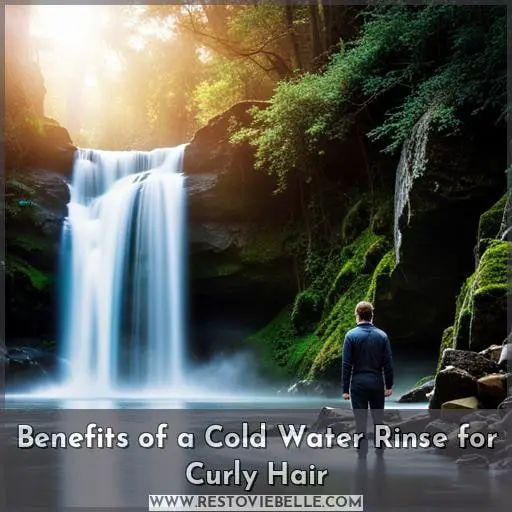 Curly hair requires extra love and care to maintain healthy locks. One key step is a cold water rinse after shampooing and conditioning. This helps seal the hair shaft, giving it more definition while enhancing curl formation without damaging heat styling tools or harsh chemicals.
Cold water also stimulates your scalp, which encourages new growth for thicker curls that look full of life.
Additionally, egg masks can be used as part of a regular deep conditioning routine to nourish dry or damaged strands.
With these tips, you'll have gorgeous curly tresses everyone will admire!
The Benefits of a Hot Oil Treatment for Curly Hair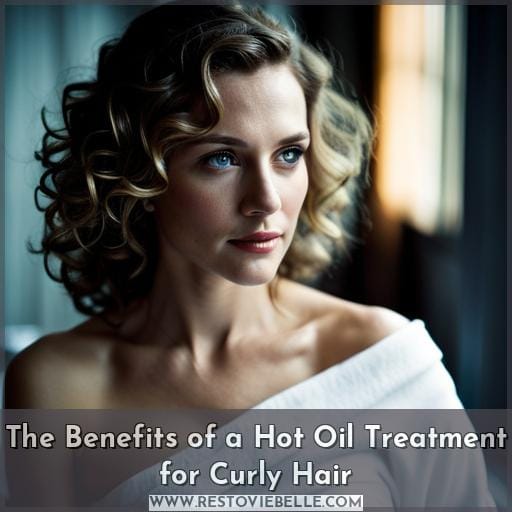 Indulge your curls in a luxurious hot oil treatment to restore hydration and nourish each strand. Hot oil treatments are specifically beneficial for curly hair because the oils can penetrate deep into the individual strands more effectively than conditioners alone.
Choose wisely when selecting an oil – coconut is full of fatty acids that will help tame frizz and add shine, while olive helps lock in moisture without leaving behind any residue or heaviness.
Applying hot oils requires heat protection. Use gloves while handling heated bottles of oil or wrap your hands with a kitchen towel to prevent them from becoming overly warm from direct contact with the bottle itself.
When used correctly, these treatments provide amazing benefits for curly hair. However, they should not be confused with deep conditioning, which typically involves using heavier products such as mayonnaise-based masks combined with steam therapy to improve overall hydration levels over time – making it an invaluable part of maintaining healthy curls!
Essential Rules for Maintaining and Caring for Curly Hair

Take care of your beautiful curls with essential rules that promote healthy hair growth and reduce breakage. Start by defining the curl pattern — tightly coiled, wavy, or somewhere in between.
Then, make sure to practice nighttime care. Use a silk pillowcase and scrunch with a microfiber towel for optimal moisture retention.
Humidity control is also key. Limit trips outdoors during humid months and use natural oils to keep curls hydrated indoors.
Regular scalp massages are another great way to improve circulation. This can help stimulate new growth while controlling dandruff build-up on the scalp's surface areas.
Heat protection is also vital when styling curly hair. Don't forget products infused with shea butter or coconut oil before blow-drying or flat ironing delicate strands!
Finally, avoid chemical treatments like relaxers unless absolutely necessary. These weaken fragile hairs, leading to increased shedding over time.
Where to Find High-Quality Eggs for Your Egg Hair Masks

When it comes to curly hair care, egg hair masks are an essential ingredient. Not all eggs are created equal, so you must be mindful of their quality when crafting a mask for your curls.
To ensure that your mask is packed with the best nutrients for healthy locks, look out for organic free-range eggs from pasture-raised hens. These eggs have higher levels of Omega 3 fatty acids and Vitamin E compared to conventionally farmed varieties.
When selecting ingredients for a DIY egg hair mask, make sure to use natural oils like olive or coconut oil. These oils, when combined with honey or mayonnaise, help condition the scalp and lock in moisture while providing shine without weighing down strands.
Finally, take advantage of styling techniques like wrapping wet curls in a cotton t-shirt before blow-drying on low heat.
Conclusion
At the end of the day, you can use an egg hair mask on curly hair. It can be an effective solution for attaining healthier, shinier, and more manageable curls. When used judiciously, this age-old remedy can provide much-needed nourishment and protection for your curly hair.
To get the full benefits, make sure to select high-quality eggs. Also, take the time to understand the ingredients of the mask and apply it according to the instructions. By using the right combination of products, styling techniques, and maintenance rules, you can transform your dull and lifeless curls into vibrant and beautiful ones.
Remember the saying, 'An ounce of prevention is worth a pound of cure'. So, make it a habit to use egg hair masks regularly to keep your curls hydrated and healthy.