This site is supported by our readers. We may earn a commission, at no cost to you, if you purchase through links.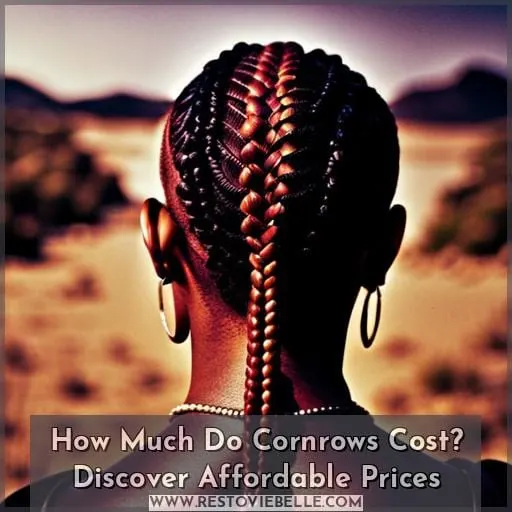 Turning a blind eye to the cost of cornrows can be costly in itself. You may think you're getting away with something good, but it's important to know what goes into the price and how much they really are before you commit.
Cornrows have become an increasingly popular style for many people due to their versatility – no matter your age or gender, this hairstyle is sure to turn heads! However, when trying to figure out just how much cornrows cost, it pays off (literally) in spades if you take some time beforehand to do research on potential prices across different locations.
The most expensive cornrow appointment we've seen was $183 in Utah, while South Dakota had one of the cheaper averages at $38 per appointment. Prices vary depending on factors like salon location, hair length/type, and desired style.
Understanding these factors will help narrow down braiders that fit within your budget before booking any appointments.
Key Takeaways
Cornrow prices vary across the U.S.
Factors such as hair length, complexity, and braider expertise impact costs.
Additional costs include extensions, hair care products, and maintenance.
Consider DIY cornrows, finding a skilled braider, cost-saving strategies, and the cost of hair care products/extensions.
Cornrow Prices Across the U.S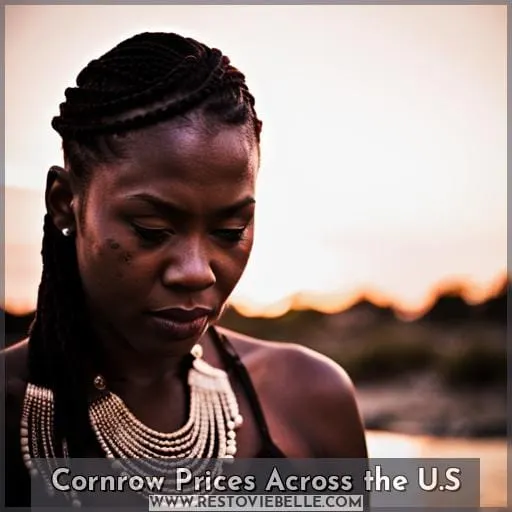 You may be surprised to find that cornrow prices vary significantly across the United States, with Utah being the most expensive and South Dakota coming in as a budget-friendly option. Regional factors like salon choices, braider expertise, hair length, and style complexity all contribute to cost differences between states.
When selecting a stylist for your cornrows, look into their portfolio of previous work and read reviews from other customers to ensure you are getting the best service at an affordable price. Factors such as using extensions or additional services will also affect pricing, so make sure these items are discussed before booking any appointments.
Remember that proper maintenance is essential for extending the longevity of your hairstyle.
Be mindful when choosing this popular hairdo that some employers still have policies against certain styles, so check on those first before going ahead with making an appointment at one of the many salons offering competitive rates on cornrows costs nationwide today!
Factors Affecting Cornrow Costs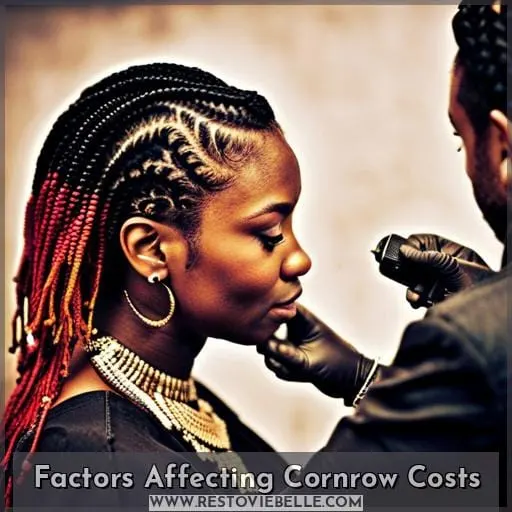 When it comes to cornrow costs, there are a number of factors that can affect the cost. Hair length and complexity, as well as the use of hair extensions, all play a role in determining how much you will pay for your braids.
With this in mind, it's important to consider all elements before committing to any style or price point.
Factors affecting cornrow costs
With so many factors influencing cornrow costs, you'd be surprised how quickly the price of your 'do can add up! Hair length and thickness, style complexity, location – all these affect cost. Extensions and other services add to the tally. Braiding expertise is a major factor too: Great braiders often offer consultations and maintenance tips for long-lasting results.
Hair length and complexity
Length and complexity of the cornrow style determine how pricey your look can get. If you opt for extensions, intricate designs, or longer hair length, expect to pay more for braiding services. Braiders may also charge differently based on their level of expertise and pricing factors such as location.
Use of hair extensions
Extend your look with extensions: adding hair can increase the cost of cornrows and give you extra length for added style. Explore different brands, styling techniques, and maintenance tips to get the most out of your investment.
Hair extension options range from clip-ins to pre-braided bundles—all factors that add up when considering braiding costs. Keep an eye out for discounts too; they're often available at barber shops or salons specializing in cornrows! Braiding doesn't have to be expensive; explore techniques like box braids or Ghana weaves to save money while still achieving a great look.
Additional Costs for Cornrows

Be sure to budget for additional costs, such as hair extensions and hair care products, when getting cornrows. Extensions are a great way to add extra length or texture without damaging your natural locks.
For instance, synthetic braiding hairs can be used for more intricate designs, and faux locs can provide added volume.
Depending on the type of extension you choose and how long it takes the stylist to braid them in, you could end up spending an extra $50-$100 on top of the original cost of your cornrows.
Cultural significance is another factor that comes into play here. Historically speaking, African-American women have embraced this hairstyle as a form of self-expression, so make sure that's taken into consideration when selecting which style best suits you!
Braiding time is often determined by complexity level but typically lasts between 2–6 weeks.
Important Considerations for Cornrow Updos

Are you searching for a stylish and unique way to wear your hair? Cornrows offer a variety of styling options, ranging from intricate designs to simple updos. Let's delve into the cost considerations associated with this traditional African hairstyle.
Styling options for cornrows.
You'll be amazed by the countless styling options available for cornrows – from simple designs to intricate braids that will make your head spin! Variations, maintenance tips, braider selection, and cultural significance all play a part in selecting the right braid.
Alternatives include twists, locs, and box braids – all with different costs and duration. Hair braiding traditions date back centuries, but modern-day styles remain powerful symbols of unity for those seeking liberation.
Factors affecting cornrow prices.
Discover how the location, style complexity, braid size, and more affect cornrow prices – from Utah to South Dakota. From hair length to extensions, braiding appointment costs can range drastically. Know what factors impact hairstyling cost so you're prepared for a credit card payment at checkout! Length and complexity vary state-to-state; check out reviews of local salons beforehand for better insight into price expectations.
Tips for maintaining cornrows
To maximize the longevity of your cornrows, it's important to prepare the hair before the appointment, ensure that the braids aren't too tight, and maintain clean and moisturized hair. Keep up with styling options that will protect them from damage! Consider scalp care techniques when doing braiding for extra protection.
Hair products specifically designed for cornrow maintenance are great investments to keep costs down in the long run.
Tips for Extending the Lifespan of Cornrows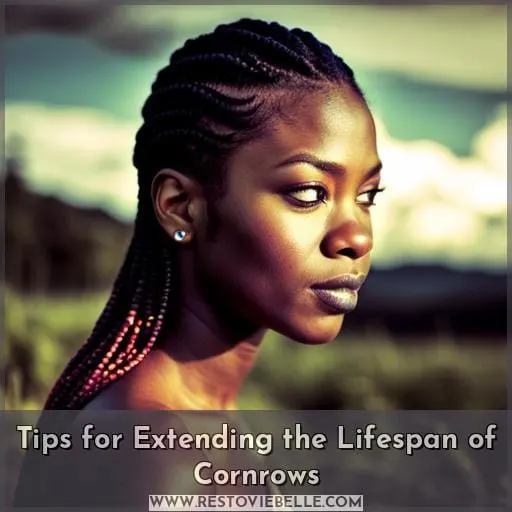 With proper care and maintenance, you can keep your cornrows looking fresh for weeks. Preventive care is key to extending the lifespan of any style, but especially with intricate braiding techniques like those used in cornrows.
Maintain moisture levels by using a leave-in conditioner or shea butter cream after washing hair and before styling.
Regularly inspect scalp health to ensure there are no signs of irritation or infection from tight braids.
Experiment with different styling options, such as accessorizing with beads or changing up the braid pattern every few weeks for added texture and movement without having to start over completely each time!
Finally, consider experimenting with new techniques that may help extend how long they last. For example, try neater parts when starting out and incorporate crisscrossing patterns instead of straight rows.
DIY Cornrows: Can You Save Money?

Considering DIY cornrows can save you money, it pays to know the basics of braiding. If you're up for the challenge, attempting cornrows at home is possible with simpler styles. Before starting your own project, find a great braider who offers consultations and provides transparent pricing.
You should also be on the lookout for maintenance tips, comfort adjustments, and budget-friendly style options that could help extend the longevity of your do in between salon visits.
| Home | Salon |
| --- | --- |
| Budget Friendly Styles | Custom Blends & Colors & Hair Extensions Available |
| Limited Braiding Techniques or Complexity Levels Possible | Experienced Braiders |
Maintaining clean hair and scalp, along with keeping them moisturized, are key elements when attempting DIY Cornrows. It is also important to use products specifically designed for this hairstyle to ensure they last longer than the average 2-6 week duration period (up to 12 weeks).
Finding a Skilled Braider: What to Look For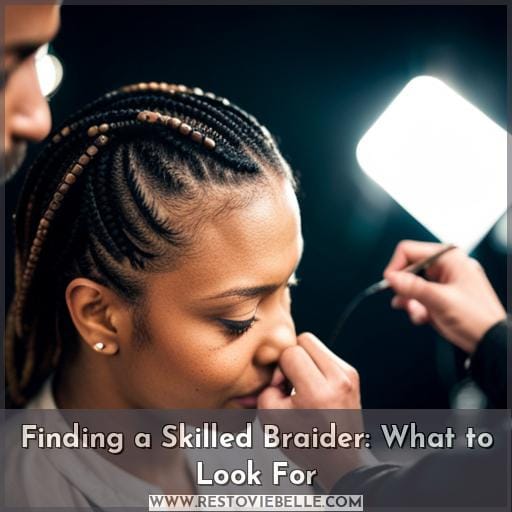 When looking for a skilled braider, the consultation process is key. Review their portfolio and read reviews to get an idea of pricing transparency, comfort adjustments, and maintenance tips.
To get accurate pricing information on cornrows cost or other braiding hairstyles, consult the salon's price list during a one-on-one session with the stylist. They can provide more details about traditional hairstyles, taking into account factors like hair length and thickness, as well as any extra fees for longer or thicker hair types or extensions.
Before committing, ask all relevant questions. It's important to ensure commitment and quality service when trying something new like cornrows. At Nia Soule Salon, they require a $50 deposit at booking, which is refundable if canceled 24 hours prior.
Cost-Saving Strategies at the Hair Salon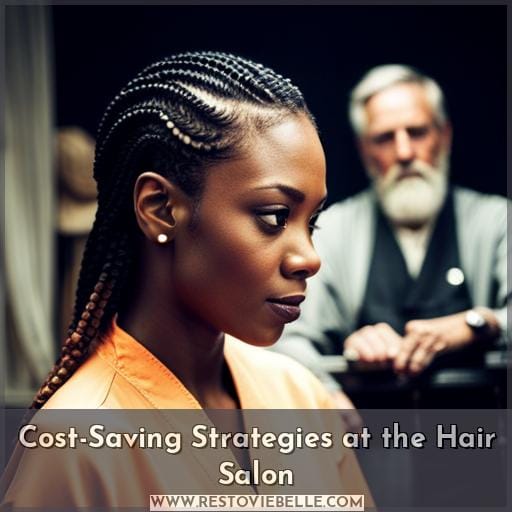 To save on cornrow costs, explore your options at the salon and beyond. Consider discount options like budget braiders or group bookings for multiple services to get a better deal. Student discounts are sometimes available, so don't forget to ask about them when booking an appointment.
You can also check if salons offer any deals that could help you save money on your cornrows service while still getting quality hair care. If opting for custom color blends during the service, expect additional fees. Additionally, there may be a convenience fee or no-show fee in some cases.
Conclusion
Finally, you can find the perfect cornrows for you without breaking the bank. Whether you're looking for a complex design or a simpler style, there are a variety of affordable options available, from local barber shops to online directories.
With a bit of research and a trusted braider, you can get the perfect cornrows to complete your look at an affordable price. Don't forget to factor in the cost of hair care products and extensions to ensure your cornrows last for weeks and maintain their beauty.
Now, you can feel confident knowing that you have the power to rock the hottest braid styles of 2022 without breaking the bank.