This site is supported by our readers. We may earn a commission, at no cost to you, if you purchase through links.
Are you looking for a way to get the perfect shade of blonde in your highlighted hair? Toning is an important part of maintaining healthy and vibrant hair color, but it can be tricky. It's essential to choose the right toner when working with highlighted hair – otherwise, you risk dulling or fading your highlights faster than necessary.
In this article, I'll provide tips on how to choose the right toner for your highlighted hair as well as common mistakes to avoid when using a toner.
Key Takeaways
Assess hair level and use color wheel laws to select the right toner.
Apply the toner evenly without touching the roots.
Consider the desired shade and hair condition when selecting the toner.
Rinse thoroughly until the water runs clear and deep condition after applying the toner.
What is Hair Toner?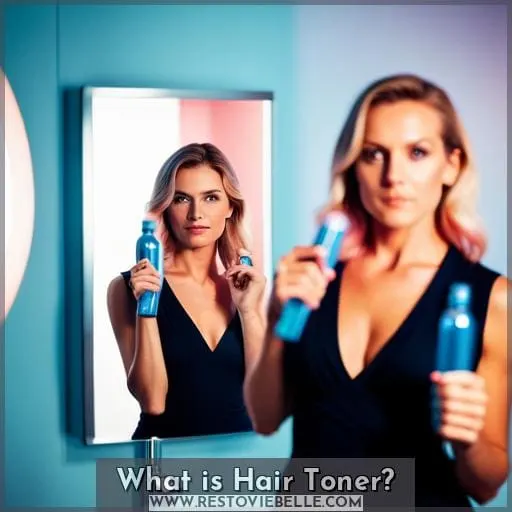 When you look in the mirror, it's like a painter standing before an unfinished canvas – toners are your paintbrush to add dimension and depth to your hair color.
Hair toner is a product used after bleaching or lightening the hair that can help neutralize brassiness and preserve color. There are different types of toners such as ammonia-based, purple shampoo, dye, silver shampoos/conditioners with UV pigments for neutralizing brassiness which result in ashy dusty or platinum blonde shades.
When choosing the right tone for your highlighted hair, consider the desired shade and current condition using the color wheel laws. Ash blonde tones down warm brassy shades while violet or blue-based will eliminate any yellow hues from prelightened level 9-10 yellow hair.
For very orange/yellow level 7-8, opt for intense cream with boosters but use regular cream without lifting when on prelightened levels 9-10 instead of higher volume developer solutions to protect delicate strands from damage while still achieving desired pearl/silver looks.
To maintain results, limit heat styling & sun exposure & apply purple shampoo 1–3 times weekly.
How Does Hair Toner Work?

Are you looking for a way to maintain your highlighted hair? Toner is an important step in ensuring that highlights stay vibrant and don't become brassy or too warm. It helps balance out the blend of colors, ensuring that your style looks natural.
With the right toner, you can achieve salon-worthy results at home without worrying about over-coloring or damaging your hair. Learn how to choose the right toner for highlights and how to tone them safely at home.
Why Toner is Needed for Highlighted Hair
Toner is essential for adding vibrancy to your highlighted locks and canceling out unwanted yellow or orange tones. Choose the right toner type based on hair color level. For light blonde shades, use silver shampoo or ammonia toners.
For darker blondes, use purple shampoo. If you're looking to add a touch of color, use demi-permanent dyes. To select the perfect tone that complements your highlights without turning brassy, use the color wheel laws.
Violet pigments can neutralize oranges, while blue helps cancel out yellows. For long-lasting results, maintain with deep conditioning treatments and protect from heat styling using thermal protection spray before drying/styling.
What Toner Does to Highlights
Toning your tresses can transform them, providing pigment protection to prevent premature fading and preserve the perfect platinum. When selecting a toner for highlighted hair, consider the types of toners (permanent, semi-permanent, or demi-permanent), color wheel laws, and desired shade.
Violet/blue-based toners are best for canceling out brassiness on blonde hair. For very orange or yellow tones at level 7-8, use an intense cream with a booster. For yellow shades 9-10, use regular cream without lifting to achieve a pearl/silver hue.
Apply the toner according to the instructions, evenly distributing it with a dye brush. Avoid applying it to the scalp and overprocessing. Rinse thoroughly until the water runs clear and deep condition your hair after application.
Before heat styling, use a thermal protector, and when refreshing your highlights at home, use purple shampoo.
How to Tone Highlights at Home
By using the right products, you can easily tone your highlighted hair at home to achieve that perfect look. Minimizing brassiness and creating ashy tones is easy with a purple shampoo or using a hair toner with developer levels between 10 to 20V.
For optimal results, use color-enhancing shampoos designed for highlights – these will help maintain the highlighters' vibrancy while protecting them from heat styling damage.
With careful application of quality toners, you'll be able to enjoy salon-worthy color without ever setting foot outside your door!
Choosing the Right Toner for Your Highlights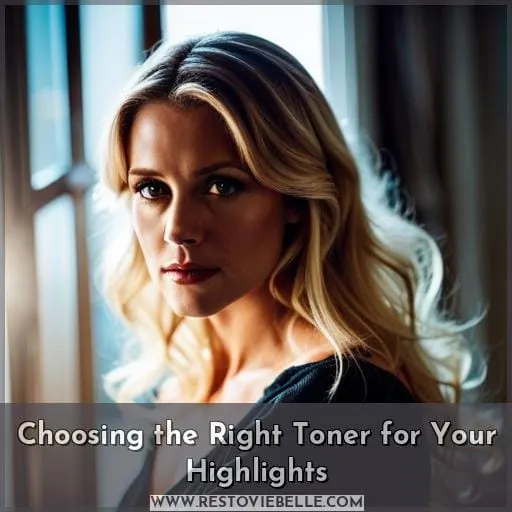 With highlighted hair, it can often be difficult to choose the right toner. When dealing with orange highlights, you should look for intense cream toners with boosters that will both lift and tone in one step.
For yellow highlights at levels 9-10, semi-permanent or demi-permanent products without lifting are best suited.
Toning Orange Highlights
If you have highlights that are on the warm and orange side, toning them can help balance out your look. Opt for demi-permanent toners to avoid fading; they last 4-6 weeks and don't contain ammonia. Color wheel laws will guide you in choosing a color corrector – violet, blue, and green tones cancel yellow/orange hues while ash or platinum blonde works best for brassiness.
Use a low-level developer with demi-permanent to apply gently, then protect hair from heat styling with thermal protection spray before use. Finally, purple shampoo refreshes white blondes at home between retonings every 4-8 weeks.
Toning Yellow Highlights
For yellow highlights, opt for toners with violet or blue-based pigments to help banish brassiness. Pay attention to the desired shade and current color of your hair when choosing a toner. Avoid using dye on yellow or orange-tinted bleached hair as it can create an unevenness in tones.
Stick to ash blonde or platinum shades as they neutralize the brassy hue best without causing too much damage.
Make sure you're aware of the correct ratio between developer and pigment, along with techniques used in applying a toner so you don't make any mistakes!
Remember that maintaining your new tone requires some extra care. Use heat protectant before styling, limit washing cycles, and incorporate purple shampoo into your routine for refreshing those highlighted locks!
Toning Highlights Without Touching Roots or Dark Base
Transform your highlighted hair to the perfect shade without disturbing your dark base or roots by using a toner.
Assess hair level with a bleaching chart;
Select blonde-based toners for brassiness;
Use silver shampoo 1-3x/week;
Choose semi/demi-permanent based on desired tone & condition. With these simple guidelines, find just the right hue from ash blonde to icy platinum that works best for you and make sure it stays put! Silver shampoos help maintain color while thermal protection prevents fading and washout of highlights.
How to Preserve Toned Hair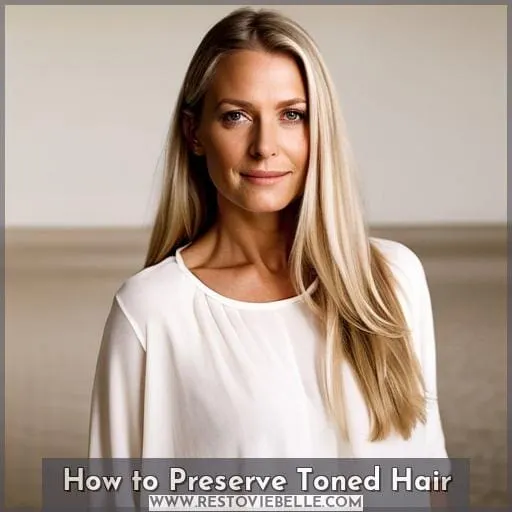 To preserve the toned hue of your highlighted locks, avoid over-washing and heat styling as much as possible, and use a thermal protection spray before any heat application to ensure it looks salon fresh for weeks on end.
Limit exposure to UV rays and sun by wearing a hat or scarf when outdoors. This will help keep your tone vibrant for longer periods of time.
Deep condition regularly with nourishing products that are specifically designed for color-treated hair. This will prevent dullness, frizziness, dryness, and fading of the shade over time.
Use silver shampoos/conditioners once in a while. They contain UV pigments which neutralize brassiness while adding an icy shimmery finish that helps make highlights look brighter without going too golden or orangey! A bit goes a long way, so don't go overboard with them either.

Just use them whenever you feel like the shade needs refreshing between retoning sessions every 4-8 weeks depending on how often you wash your hair (more washing = more re-toning).
Finish off each session with thermal protection spray before applying any kind of heated tool such as flat irons or curling wands.
Tips for Preventing Hair Color Fading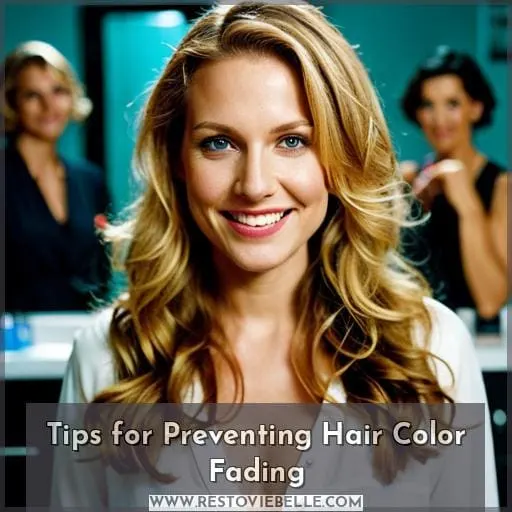 When it comes to preserving toned hair, there are a few key tips to keep in mind.
Additionally, limit your exposure to the sun and avoid over-washing or using too much product, as this can cause fading of the color.
To further protect your highlighted hair from fading quickly, consider investing in a color-enhancing shampoo/conditioner that is specifically formulated for highlights.
Lastly, if you need an extra boost between salon visits, opt for deep conditioning treatments or purple shampoo refreshes. Both work wonders on maintaining vibrant tones while also nourishing and hydrating strands at the same time.
To ensure optimal results when coloring highlighted hair:
Use a low-level developer with demi-permanent dyes for gentle application.
Assess the desired shade compared to the current condition.
Use purple shampoos/conditioners that contain UV pigments.
Invest in thermal protection sprays before heat styling.
Opt for deep conditioning treatments and color-enhancing shampoos regularly after the coloring technique has been applied.
By following these simple steps, you'll be able to preserve those beautiful tones long-term with minimal effort!
Recommended Toner Brands for Highlighted Hair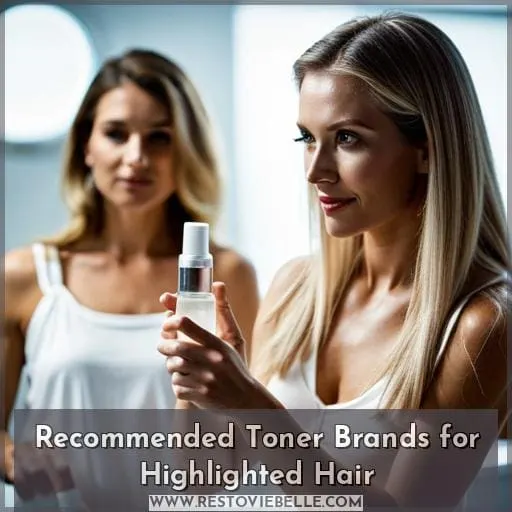 For highlighted hair, there are a variety of toner brands to choose from, such as ammonia toners, purple shampoo, and dye that can help neutralize brassiness. When selecting the perfect one for you, consider your desired shade, current color level, and hair condition first.
Using the color wheel laws will also help determine which tones work best against yellow or orange undertones in prelightened or bleached hair.
Silver shampoos/conditioners have UV pigments to remove warmth, while demi-permanent toners offer 4-6 weeks of long-lasting results when used with a low-level developer for gentle application purposes.
Semi-permanent options provide 10-14 days coverage in various colors, so it's important to select an acidic pH formula for optimal protection and conditioning before leaving on 5-20 minutes based on your individual needs.
For even better results, use moisturizing shampoo beforehand, followed by thermal protection spray after applying the product.
How to Apply Toner to Highlighted Hair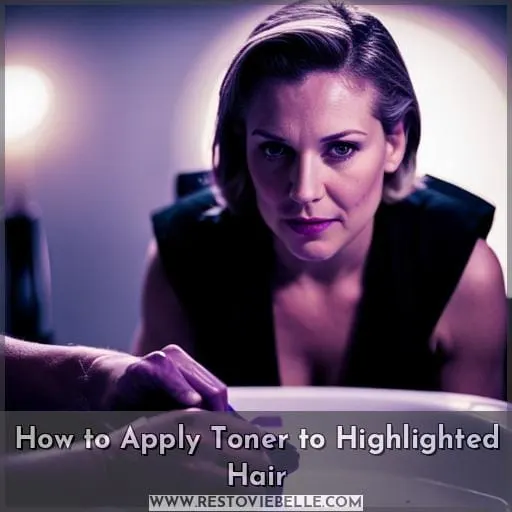 When it comes to maintaining the tone of your highlighted hair, it's important to choose the right toner.
There are several steps you can take in order to ensure you use the appropriate toner for your highlights:
Assess your current level and desired shade per color wheel laws before choosing a toner.
Use thermal protection spray prior to heat styling.
Utilize purple shampoo formulated with UV pigments weekly in order to maintain color throughout the process.
By following these tips, you'll be able to keep that beautiful highlight look without worry! Additionally, consider incorporating conditioners designed specifically for colored hair into regular wash days.
Common Mistakes to Avoid When Using Hair Toner

Avoid over-coloring your hair or else you'll risk fading away the toner's effects. When selecting a toner, consider the base color of your highlighted hair and select one with a slightly darker hue than what you want to achieve.
Toners should be applied after bleaching has been completed and desired lightness achieved.
Additionally, don't forget to patch test on small sections first if mixing two colors together for custom tones as this could potentially damage strands beyond repair! Lastly, avoid heat styling when possible as high temperatures will only cause further discoloration; use thermal protection spray if opting for heat anyway.
With all these tips in mind, choose carefully based on what suits best with both the color of highlights and their cuticle structure so that they can stay vibrant longer without compromising its natural healthiness too much.
When to Seek Professional Help for Toning Highlighted Hair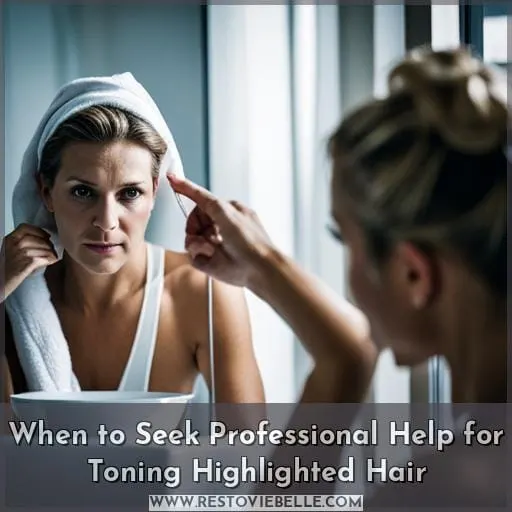 It's best to seek professional help when you want to tone your highlighted locks, as they can provide the most accurate and precise coloring.
Toner selection – A professional hair stylist will have an extensive knowledge of different toners and be able to select one that is right for your hair type and desired color result.
Hair coloring techniques – With their experience in all types of toning techniques, a salon specialist can ensure that the process goes smoothly without any potential damage or fading from improper application of products or incorrect timing during processing time.
Professional advice – An experienced hairstylist at your salon will also offer expert advice on how much product should be used, what kind of developer should accompany it, and how long it should stay on for optimal results.
Color fading – By seeking a pro's help with choosing a toner, you'll reduce any chances of fading by selecting the correct amount depending on natural hair color shade and opposite tone if you wish to go lighter than expected.
Frequently Asked Questions (FAQs)
What are the differences between permanent, semi-permanent, and demi-permanent toners?
Let your hair be your guide! Permanent toners provide permanent color, while semi-permanent only last 10-12 washes. Demi-permanent is the longest-lasting of the three and can stay vibrant for up to 6 weeks.
How often should I use a silver shampoo or conditioner to maintain color?
Maintain your color with silver shampoo or conditioner like a master artist, consistently applying it 1-3 times a week. UV pigments in silver products will neutralize brassiness for an ashy, dusty, or platinum blonde shade.
What colors should I choose to cancel out yellow and orange tones?
To cancel out yellow and orange tones, choose toners with violet, blue, or green pigments. Imagine a vibrant rainbow; these colors are opposite to the warm shades like yellow and orange.
How do I determine the best toner for my current hair color and level?
To determine the best toner for your hair color and level, consider the desired shade, current color, and hair condition. Employ the Color Wheel laws to neutralize yellow/orange tones with violet, blue, or green pigments.
For pre-lightened shades 9-10, use regular cream toners without lifting. For shades 7-8, choose Intense Pearl 100V or Silver 10B.
Are there any special instructions for applying toner to highlighted hair?
Treat highlighted hair with care before toning. Use a moisturizing shampoo and conditioner, protect against heat, and patch test first.
Conclusion
In a nutshell, toner can make or break your highlighted hair. When used correctly, it can add a beautiful, vibrant shine to your hair and enhance your highlights. But choosing the wrong toner can leave you with an unwanted orange or yellow hue.
When selecting the right toner for your highlighted hair, consider the current hair color, desired shade, and hair condition. Intense cream toners with boosters should be used for orange or yellow hair at level 7-8, while regular cream toners without lifting are best for prelightened yellow hair at level 9-10.
Opt for violet or blue-based toners to eliminate brassiness, and use an ash blonde toner to tone down warm, brassy blonde shades.
To keep your toned hair looking its best, limit heat styling and sun exposure, use a color-enhancing shampoo/conditioner, and retone every 4-8 weeks. With a bit of knowledge and the right toner, you can have stunning, highlighted hair.