This site is supported by our readers. We may earn a commission, at no cost to you, if you purchase through links.
Using the best toners for men is essential if you want to give your skin a generous and healthy dose of all necessary to stay smooth, fresh, and youthful.
It is called (toner) because it helps your skin retain its natural, healthy skin tone that can often be diluted or damaged due to clogged pores and excess skin oil.
Toners are used to strengthen your skin by controlling the production of oil and balancing the pH. They are, without a doubt, the secret weapon that men with bold skin trust to help them look their best.
Toners can also be very useful for men who suffer from acne because they help clean out pores, allowing your skin to absorb more product.
The search for the perfect toners can be daunting. Why have we rounded up the best toners for men at a price point, regardless of your skin needs?
Let's start with a list of things to keep in mind when buying a skin toner for men.
Things to Consider to Find The Best Toner for Men
As with shopping for other skin care products, such as the world's best men's shaving cream, it is also essential that you proceed with caution and caution when looking for the best toner for men.
Consider the following factors. When buying toner:
1. Ingredients
The ingredients in any facial toner drastically affect the overall effect on your skin.
Also, certain ingredients are not suitable for different skin types, so pay attention to the main components of any given formula to ensure that they meet your needs.
Whenever possible, always look for skincare products that contain all-natural ingredients, such as tea tree oil, witch hazel, and other oil balance products.
Generally speaking, you will find the following ingredients in many toners, although not all ingredients listed are the same for everyone.
Alcohol: It is helpful to know that there are more (healthy) types of alcohol called fatty alcohols that can safely rid your skin of excess oils and balance your complexion. It is important to remember that alcohol is often harsh on the skin, and men with sensitive skin are advised to avoid toners containing alcohol.
Salicylic Acid: This acid is gentler than alcohol but still has great properties for digging deep into your pores and clearing them up. Salicylic acid is especially helpful for removing excess skin oil compared to other ingredients, so it's a great choice if you have oily skin.
Witch hazel: Witch hazel is a plant extract that serves as an anti-inflammatory agent. It is beneficial in treating acne-induced redness and helps soothe the skin. You can use witch hazel as an alternative to alcohol and other pore-cleansing ingredients while taking the load off the skin.
Glycolic Acid: Like salicylic acid, this ingredient removes dirt and grime from your pores and is gentler on your skin than alcohol.
Antioxidants: It is always beneficial that a toner contains a healthy dose of antioxidants; first of all, they help restore the health and vitality of skin cells.
Moisturizers: These are ingredients such as aloe vera and hyaluronic acid. These compounds can help your skin retain moisture and prevent moisture from leaking out, even while applying toner products.
Cucumber Extract: Cucumber extract contains Vitamin K, helps balance your skin's pH, improves skin elasticity, and soothes irritated skin. You will love the cooling, refreshing effect of toners with cucumber extract.
Soothers: These are compounds such as chamomile and other natural ingredients. They are particularly essential ingredients for men with sensitive skin. They can help balance the harsh properties of alcohol or other acidic ingredients, even if you're on more normal or (tough) skin.
2. Skin type
Skin type is an important factor when buying toner for many reasons. If you choose a toner that is not ideal for your skin type, you risk irritation and even skin damage if you use it for too long.
Dry skin: Some men have a dry skin type. If yours is dry, it could be due to aging. In that case, find the best toner for men with a reliable and effective moisturizer. The presence of these moisturizing properties can clean your pores and cause excess cause dehydration.
Sensitive skin: Sensitive skin comprises a layer of the epidermis that is generally more sensitive to the outside world and substances you use topically. With sensitive skin, it is always a good idea to look for organic and natural ingredients, preferably without a drying effect. If you have sensitive skin, look for toners that do not contain alcohol. Toners with added aloe vera are always a good option. Option for men with sensitive skin.
Oily skin: It is very common in men, and the best face lotions, like toner is an excellent solutions for this skin type as a whole. You want to focus on toners with different acidic compounds or alcohol-based ingredients. These ingredients help to reduce excess oil on your skin your pH level and, allow your skin to flush with blood enough, and make it look younger with natural color.
3. Fragrance
Some toners have a distinctive fragrances, and their scents can vary widely from one product to another. Male toners usually have fresh or masculine scents or citrus-based scents that are refreshing.
Although some scents can be a nice addition to a skincare routine, you should avoid artificially added perfumes as they can irritate the skin. Instead, look at the ingredients and make sure the toner scent is from natural sources such as peppermint, menthol, herbal ingredients, etc.
Using a toner daily can make the fragrance more important. Prefer scents that are subtle and not overpowering.
4. Purpose
Before you start buying a toner, think about the specific reasons you want to use it – you may want to reduce the amount of oil produced by your skin – another possible reason is redness and inflammation, clogging, and exfoliating your pores.
Some also use the toner to enhance the effects of other skincare products they use, such as moisturizers and serums. Set the exact goal you want your toner to use. This is the key to finding the most suitable toner for your specific case.
5. Effects
The effects of a particular toner product may vary slightly.
You can check these effects to narrow down your options and choose a toner that will help you achieve all of your goals in one bottle.
Reduce all toners to improve the oil content on your skin, as this is their primary purpose.
In addition, most toners have mild or significant exfoliating and pore-cleaning properties.
Although they are not a substitute for facial cleansing or general hygiene like showering, they can be a great addition to a morning or evening routine to make sure your pores are as clean as possible.
Other toners have a moisturizing effect due to their ingredients.
These toners are often excellent choices for men with dry or sensitive skin.
Now let's move on to our reviews of the best toners for men.
10 Best Toners For Men Of 2023
1. Brickell Men's Balancing Toner

View On Amazon
brickell's toner combines witch hazel and other sensitive ingredients to create the best toner for men that is ideal for almost any skin type.
This toner uses no alcohol or oil but still manages to thoroughly cleanse your pores and exfoliate your face to balance your skin's pH.
It is incredibly effective at removing excess fat and dead skin cells, with witch hazel as the main ingredient.
Thanks to the hazel, this toner can also be used on sensitive skin, as this ingredient soothes the skin and makes it more comfortable during the toning process.
Put together is some aloe vera, which helps to moisturize your skin and keep the toner from over-drying everything uncomfortable.
There is also some cucumber distillate that will tighten your pores and soothe everything further. It is truly one of the best choices when it comes to sensitive skin that needs firming.
Brickell's toner has a light minty fresh scent that reminds our testers of peppermint extract when applied to their skin.
Please keep this in mind if you plan to wear perfume or any other fragrance after the showing.
This toner is also quite affordable, and you get 8 ounces for the purchase.
Overall, we recommend this as a great all-around toner option and an acceptable choice for men with more sensitive skin than average.

Affordable
Gentle but effective
Very soothing
Good for all skin types
2. Baxter Of California Herbal Mint Toner

View On AmazonLike Brickell, Baxter of California is a men's grooming company that offers a range of products, such as the Herbal Mint Toner, that help men look and feel their best.
You can find Herbal Mint Toner in many of the top reviews, and with good reason.
It's a gentle astringent: in fact, the best astringent toner: it contains cucumber extract and a host of antioxidants that cleanse, tone, and remove impurities and leave skin looking its best.
And there is more, including herbal extracts and vitamin E that protect skin from free radicals and cell damage while leaving your face looking fresh and clean.
It also contains no alcohol, which most skincare experts say is a good thing, and serves as an excellent primer for applying a daily moisturizer.
Cucumber extract is a popular ingredient found in toners and, as mentioned, has many skin-healthy properties, including cooling the ski.
It also contains peppermint oil, which helps refresh the skin, and the cucumber extract works to counteract the tingling sensation you can get with peppermint oil.
Another proven ingredient is witch hazel, a natural astringent.
Baxter of California has another excellent product to offer with its Herbal Mint Toner. It does everything you need to do a good toner and works for men of all skin types.

It cleans and purifies the skin without drying it out.
It has a masculine smell that is noticeable but not overpowering.
Removes excess oil while serving as an excellent primer for your favorite moisturizer
Witch hazel (also found in high-quality aftershave balms)
Aloe
Mint Essential Oil
This Control Excess Oil Without Leaving The Skin Too Dry
This Is A Toner Product That Does Not Burn Sensitive Skin
Helping The Skin Look Healthy And Decorating
Expensive Cost For Just 60 Toner pads
Can Irritate Sensitive Skin
Some users say that the texture is a bit sticky.
4. Thayers Toner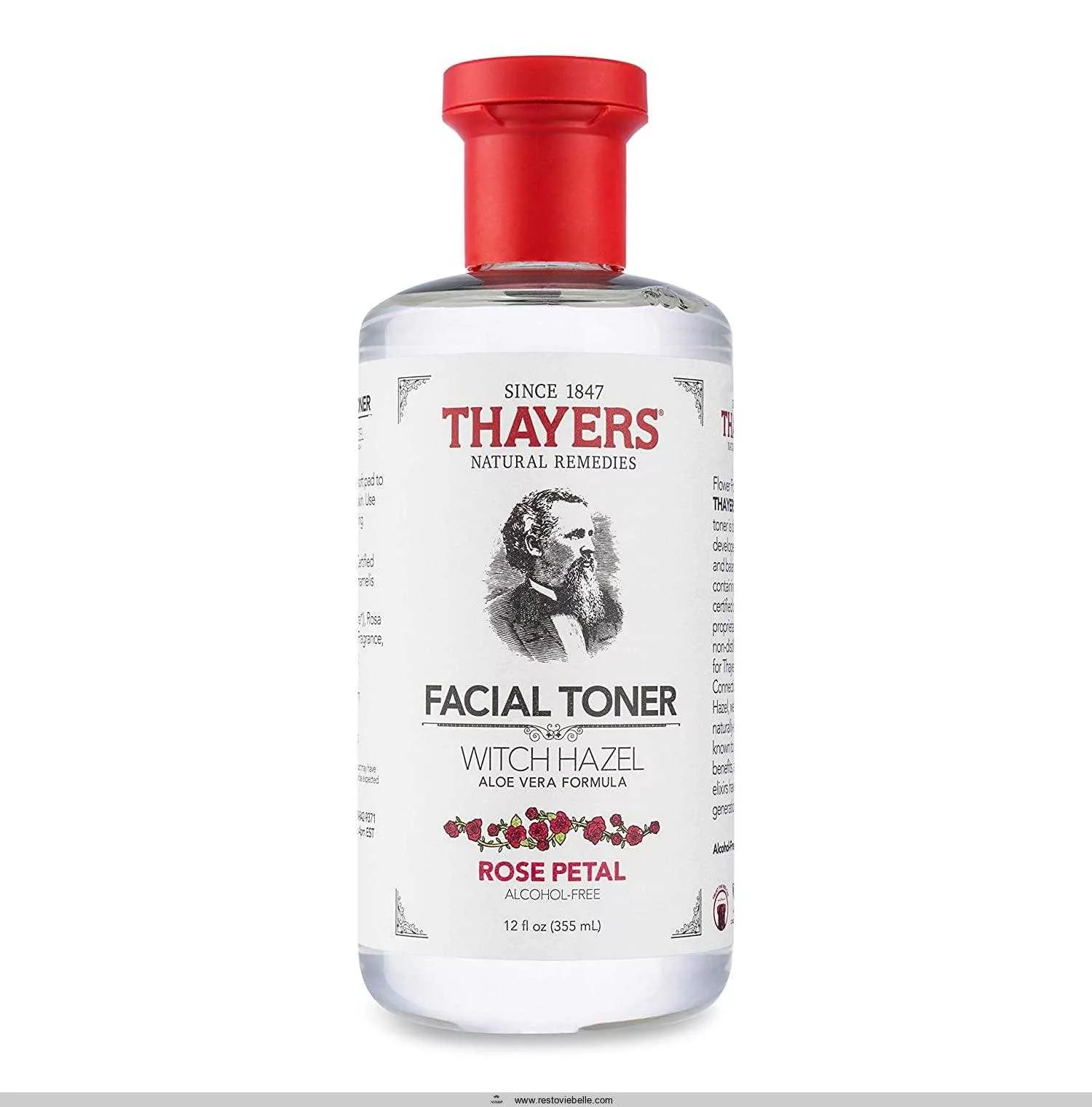 View On AmazonThayers Toner is an alcohol-free formula that contains rose water, witch hazel, and aloe vera. The combination of organic ingredients gives your skin a healthy and hydrated appearance.
The rose water has moisturizing properties and helps dry skin to look hydrated and radiant. Vitamin C promotes collagen formation, improves skin cell growth, and eliminates dark spots.
Organic Witch Hazel Extract contains a high level of tannin, a mild antioxidant that aids in skin healing; it also helps shrink pores and control oil production, reducing acne breakouts.
The formula has a soft rose scent and helps reduce redness and inflammation. It is free from all forms of alcohol that can be harmful to the skin.

Made from mostly organic ingredients
Has calming and healing properties
Contains no alcohol
It can cause a reaction to the sensitive skin
5. Lavo Glycolic Acid Toner
View On AmazonSkin type is important in choosing the right toner; as we discussed earlier, if you have oily skin, then Lavo's Glycolic Acid Toner should be at the top of your shopping list.
A key ingredient in Lavo's toner, as the name suggests, is glycolic acid. The Lavo blend contains 10% glycolic acid, which exfoliates dead skin cells, reduces sun damage, and helps clear clogged pores.
The exfoliating aspect of glycolic acid is important: it loosens the bonds between the cells of the epidermis. It removes dead skin cells on the top layer of skin, which in turn exposes the living cells below the surface and new cell growth.
But glycolic acid also helps the skin to maintain the correct pH balance. This is a vital function for men with acne-prone skin that can become dry and cause the body to produce too much oil to overcome this. compensate.
Oily skin can become a breeding ground for acne. Glycolic acid also counteracts the dryness that can be caused by acne treatments with salicylic acid or benzoyl peroxide.
Lavo's glycolic acid toner helps to normalize the pH level and fights the bacteria that cause acne when the pH level gets too high [16]
Lavo toner ingredients list contains aloe vera and calendula extract that soothes skin irritation while leaving it feeling cool and refreshed and also helping to stay well-hydrated.
Another interesting but effective ingredient is lemon juice. Lemon juice is rich in vitamin C and helps fight acne bacteria while leaving the skin looking more radiant, less dull, and lifeless.
It also contains lactic acid, which stimulates the growth of new skin cells.
Another of the many properties of the Lavo toner is that it prepares the skin for serums and creams to apply afterward. It will help the skin absorb the moisturizers more effectively and to ensure that they penetrate deeper into the skin.
Lavo recommends applying the product with your hands or, better still, with a cotton pad and then with a moisturizer of your choice. You can apply it several times a day if you wish, although many men do not need to be applied often.
More good news: Lavo's products are free from parabens and cruelty and are made in an FDA-registered facility (in America). In addition, the glycolic acid toner comes with a 100% satisfaction guarantee that provides full refund offers to anyone unsatisfied with it.

Contains glycollic acid, which helps the skin to maintain its natural pH balance while fighting acne-causative bacteria
It helps prepare your skin for serums and creams that require the necessary hydration.
It works well for removing leftover detergents, excess oil, and makeup.
Does not work so well for men with dry skin
6. Instanatural Vitamin C Facial Toner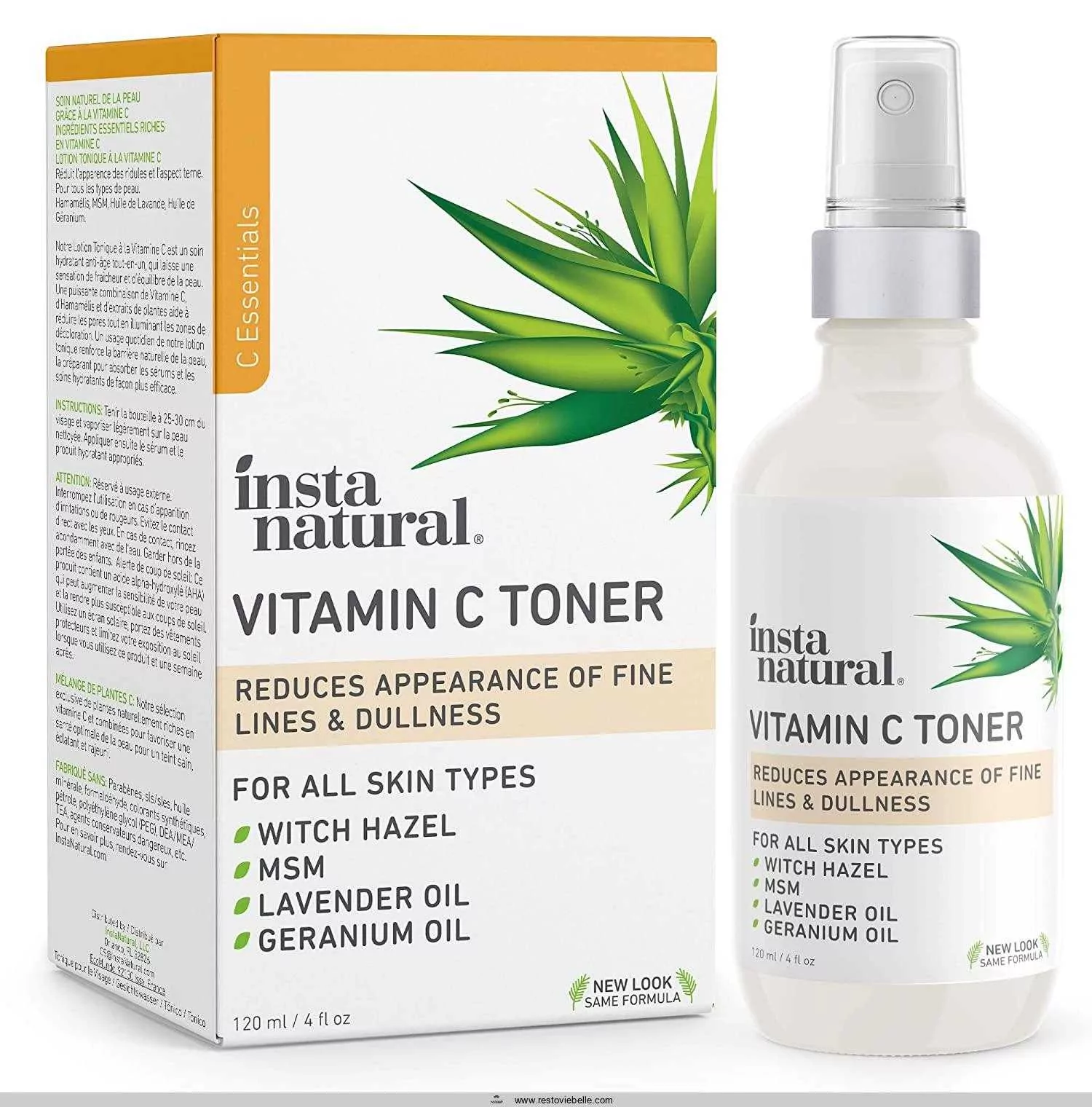 View On AmazonThis toner is made with witch hazel and glycolic acid, so it exfoliates deeply and effectively without being too rough.
This facial toner also uses Vitamin C as one of its main ingredients, so it has the same citrus scent as the toner above, although it is slightly less pronounced in this formula, according to our testers.
There are also witch hazel and glycolic acid as primary ingredients.
By combining the two, you can work with oily or sensitive skin while still experiencing a comprehensive and deep cleanse.
Antioxidants are added to repair cells and make your face feel younger and younger.
There are also some mild moisturizing compounds in the formula.
All things considered, it is an excellent product for almost every skin type.
The main drawbacks are that it only includes 4 ounces of the formula with your purchase, making the asking price a bit high.
This formula also uses lavender and geranium oils as additional ingredients.
How does this affect the formula?
While still effective for most oily skin types, if you have extra oily skin that often suffers from acne breakouts, adding these two oils to your skin's environment can lead to adverse effects.
That's why we recommend it to men with oily skin but not extra oily skin.
It's a small difference, but our testers go above and beyond to make sure you get the best product for your needs.

Great for most skin types
Sooding exfoliating, and cleaning properties
Refreshes, light citrus scent
Moisturizes well
Not great for super-fat skin
Just 4 oz in purchase
7. Neutrogena Alcohol And Oil-Free Toner
View On Amazon
Alcohol is present in many toners to help sterilize and close pores.
Burning alcohol, however, is unpleasant for many, and the feeling of a tightened face is not very pleasant.
Plus, if you already have dry skin, alcohol can dry it out even further. This Neutrogena toner uses no alcohol or oils, so it won't feel greasy and won't dry out your skin.
Instead, he uses mild cleansers and ingredients to re-moisturize skin and cleanses pores—a healthier glow.
Because it contains no alcohol or oil, it is perfect for all skin types. Oily skin will benefit from the cleansing properties of this product, and dry skin will enjoy the cool and refreshing moisture this product provides your face.
The only downside to this product is that it really doesn't contain all-natural ingredients; some people with sensitive skin might find this product a bit harsh on them. For an aftershave balm or just a good facial cleanser for men, this works great and is unbelievably cheap to try.

Brand Is Dermatologist Trusted
Let Skin Maintain Moisture
Refreshes And Calms The Skin
Helps Acne By Cleaning And Minimizing Pores.
Does Not Come In A Spray Bottle
Smell In First
Can Not Be Powerful With All Natural Ingredients
8. Pure Rose Water Facial Toner By Poppy Austin
View On AmazonPoppy Austin Toner is made from pure and organic rose water and is suitable for all skin types. Its components have been carefully selected to maintain its natural healing properties.
The toner contains natural anti-inflammatory properties that help reduce skin irritation and redness. It has a moisturizing effect on the skin, leaving it soft and radiant.
The product removes excess oil from the skin and reduces blemishes. It soothes the skin and helps to even out the skin tone. It can tighten and shrink pores on the face.
It helps to restore and balance the correct pH level of the skin. It does not cause dryness and can be mixed with a cleanser or shampoo.

Has anti-inflammatory properties
Reduces excess oil without dryness
Helps even the skin tone
It can take a long time to make the effects visible.
9. The Ordinary Glycolic Acid 7% Toning Solution
View On AmazonThis toner is mainly made with glycolic acid and little else; it is effective and simple.
This is a straightforward formula that is both effective and affordable.
You get 8 ounces of the product for a very reasonable asking price, which makes sense, given the limited ingredient list.
The main ingredients that matter to us are glycolic acid, which makes up 7% of the total formula, making it quite potent and powerful and a wrong choice if you have overly sensitive skin.
This is because glycolic acid can tingle or make your skin uncomfortable because it is so concentrated.
The formula does not contain any other emollient or moisturizing components.
This is a fundamental tool to remove overly oily skin and tighten your face, restoring your skin's natural pH.
Due to the limited ingredient list, this toner has no odor.
This toner is an excellent choice if you often wear cologne or don't want to cover your natural body odor.
It's an incredibly simple formula that serves toning's most universal purpose, so we recommend it for men who want a primary product that can help them with their firming needs.

No Odor on All
Basic Ingredients List
Excellent for cleaning pores and restoring skin pH
Affordable
Not good for dry skin
Not good for sensitive skin
10. Neutrogena Rapid Clear 2 In-1 Toner
View On AmazonA well-known name in the skincare industry, Neutrogena contains various products designed to quickly and effectively combat various skin conditions, such as wrinkles, acne, sun spots, and more.
This Neutrogena toner targets your pores, effectively cleanses, and firms the skin to prevent future breakouts.
Unlike other products in this list, Neutrogena is not natural and contains some manufactured solutions to speed up the cleaning process.
This is the best toner for men with acne-prone, oily, or generally non-compliant skin types.
It contains salicylic acid, a powerful acne fighter that targets the root of the problem, deeply cleanses pores, and helps reduce future breakouts. While this is a great product for many skin types, people with sensitive skin can get experience discomfort.
If you are looking for a gentler product, use Poppy Austin's Rose Water Toner, or Anthony's Toner Pads (which are also in this article) is worth a try.
However, salicylic acid works quickly and is the favorite ingredient of many top products.
Fortunately, you cannot afford a fancy price tag, as you can usually find it with a price tag of less than $ 15 dollars.

Stimulates The Smoothing, Younger Skin
Gets Rid Of Acne Quickly And Helps Heal Scars
Fully Cleansing Face
Reduces Dark Spots
Can Increase The Likelihood Of Sunburn If The Correct SPF Is Not Used
Can Cause Slight Redness At The Beginning Of The Regiment
How to Apply a Toner for Men Properly
Once you have chosen the best toner for men, you should familiarize yourself with the actual steps for applying it. Here's how you can properly apply your toner and get the results you desire:
1. Wash and cleanse your face
Never apply the product if your face is dirty, grimy, or sweaty. Wash and cleanse your face first with a facial cleanser or facial cleanser. Use warm water to gently scrub your skin and remove any visible dirt and soot. Then splash it off with some cold water.
2. Let your face dry completely
You can use a soft and clean towel for this step. However, avoid vigorous scrubbing. Gently tapping until completely dry should be enough.
3. apply the toner
After you have completely dried your face, apply the toner. Simply soak a cotton ball in your chosen toner. Spread the cotton that has absorbed the toner evenly over your facial skin. Upward Strokes Concentrate on the T-zone areas as they will absorb more oil than the others.
4. Let the toner sit on your face for a few minutes
Let the toner soak into your skin by letting it air dry. Do not wipe with a towel.
Once your skin is dry and has absorbed the toner, you may want to use other skincare products, such as your usual moisturizer and anti-acne treatment. You can also use a toner after shaving, especially if you want to prevent ingrown hairs and clogged pores in combination with mild shaving soap.
A safe, effective, and gentle shaving soap provides a more precise and accurate shave, which can also help prevent ingrown hairs. When using a toner it is also recommended to get into the habit of using a toner. Trim the beard to avoid irritation and redness.
FAQs About Toners for Men
How Do Skin Toners Work?
The toners balance the oil levels in your skin. In other words, if you are sensitive to a small forehead sheen or to acne-a toner can do wonders. Place a few drops in your hands or on a cotton pad, and distribute evenly around the face, especially in areas that are most susceptible to acne and oil accumulation.
(A toner can reduce the oil and optimize pH,) says dermatologist Michael Swann. (They are often based on mild acids; glycollic acid often occurs. They gently remove oils and also lightly moisturize the skin.)
How often should you apply a toner?
Due to the alcohol content in some toners designed for men, it is advisable to be extra careful about the frequency of use. It is best to use it only once a day. You may even benefit from using it only once every 2-3 days. By taking care not to apply too much, you can prevent the product from having adverse effects on your skin's moisture barrier.
Can I Combine Toner with Other Skincare Products?
Absolutely! If your skin is too dry, adding a moisturizer after applying toner can actually be particularly helpful.
The only thing we would advise against is using a facial cleanser or facial cleanser afterward .using a toner product.
Never mix toner with another facial care product. Always complete one product routine before moving on to the next.
This applies to any skincare product, not just toner.
When should you use a toner?
The answer to this varies from case to case. There are those who can benefit a lot from applying the toner once, which is highly recommended by many experts; it could be in the morning after washing or in the evening before you sleep. You can also apply it after exfoliating your skin or after daily activities that may disturb the pH of your skin.
Is Astringent a Toner?
Not really. Astringents do not balance oil levels in the same way and instead will often dry out the skin completely.
An astringent causes tissue contraction and is used after shaving to reduce the effect of cuts on the skin. improve.Skin.String tents are mostly alcohol-based, and while they also reduce oil on the skin, they can be harsh on sensitive skin types. I generally don't recommend an astringent except as an aftershave.
Conclusion
Indeed, the best toner for men can perform many functions that can improve the skin of anyone who uses it.
Fortunately, this skincare product is easily available in the market.
Do you have a favorite skin toner? Yes, which product, and why do you like it?
We would love to hear from you and are always open to your comments.
[/Conclusion]
References
primandprep.com
baldingbeards.com
beardoholic.com
toolsofmen.com