This site is supported by our readers. We may earn a commission, at no cost to you, if you purchase through links.
The best toners for oily skin and large pores are a must-have in your beauty regime!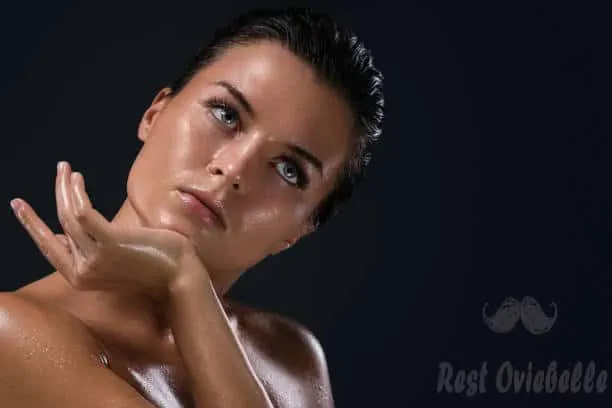 A right toner refines your pores, maintains the pH balance and hydration, and ensures that no traces of oil remain on your skin at the end of the day. It starts with balancing your skin, which is crucial for oil control. Scroll down to see the best toners for oily skin.
Oily skin types can especially benefit from an oil-free toner, as most of these formulas can also help fight off excess oil and shine, in addition to some blotter and mattifying makeup powders.
So think of it this way: The cleaner cleans the slate and unclogs the pores. The toner balances oil production and further empties the pores. And the moisturizer maintains the level of hydration in the skin without making the skin even more oily.
What Does a Toner Do?
A toner is a liquid that easily penetrates the skin and provides quick hydration while helping to remove dirt, grime, or product left on your skin after cleansing.
It returns your skin to its naturally acidic state and balances the pH while wiping away impurities and helping your skin absorb your skincare products.
A toner also acts as a preparation for the following skincare products, such as serums and moisturizers.
However, the old school toners of the past were considered to be completely unnecessary, drying, and astringent.
They used to be recommended for people who had acne because of their antibacterial, drying, and cooling properties.
Toners also contain high concentrations of alcohol to remove fat and excess sebum from the skin.

What Ingredients Should I Look For Best Toner For Oily Skin
If you have combination skin, you can only get oily in certain areas of your face, namely your T-zone, and toner makes it easy to target these areas without drying out other areas that are less oily and not necessary have
People with oily skin should look for ingredients such as salicylic acid, an oil-soluble beta hydroxy acid that can remove excess sebum from the face, as well as mandelic acid, an alpha hydroxy acid derived from almonds with antimicrobial properties.
He also recommends using a toner that contains glycolic acid, which can help remove oil from the T zone, but it is also useful in drier areas like the cheeks, often toners combine different alpha and beta hydroxy acids at lower concentrations, which can make them effective and minimize potential skin irritation.
If you're more prone to acne, your skin will likely benefit from medicated cleansers and toners.
10 Best Toners For Oily Skin Of 2023
If you are someone with oily, acne-prone, or combination skin, a toner should definitely be a staple in your skincare regimen.
Yes – another very important skincare product to add to the list along with your cleanser, serum,
moisturizer, eye cream, etc.
Here are ten best toners for oily skin that works well to balance oil production if your glowing skin is otherwise impossible to feel.
1. Epionce Purifying Toner
View On AmazonI've long been a fan of a certain brand of toner for my still oily skin (I'll tell you later in this post), and sometimes it's a little convincing to let me try something new, especially if I'm happy with some work. After all these decades of toner usage, I definitely have very different opinions about what works for my skin.
The kicker with this product is that I tried the Epionce Purifying Toner, and being a big fan of more natural skin products, it struck a chord with me. After using it twice a day for the past week, I've noticed absolute results. My acne-prone skin looks clean, bright, and clear, to the point that my husband even said how beautiful it looked.
That alone makes me an avid fan. This greasy skin toner removes excess shine, dirt, and debris, and indeed it reduced my little pimples, especially around my nose and chin. This medical-grade cosmeceutical feels super cool and refreshing on your skin. It doesn't remove your natural oils like many of the harder, greasy skin toners.
My skin did not feel tight, dry, or irritating after use. Then I discovered that this product has a few tricks up its sleeve, starting with willow bark, which is a natural skin lightener. In addition, it contains grape seed extract, which helps protect your skin from environmental damage, and lavender, which helps soothe inflammation.
The orange extract also adds skin-brightening vitamin C. Menthol and cucumber extracts leave your skin feeling refreshed and cool, which means this is probably my summer toner choice. This formula also contains salicylic acid, which means that it is particularly effective at removing dead cells and gives your complexion a fresh and renewed appearance.
Since the Epionce skin care line is made by a dermatologist, I also feel safe to use it on my skin, especially on my face. The other plus: a handy spray bottle, so you don't have to pour and waste this toner too much. Since it's not cheap, I don't intend to spill a drop.

Makes the skin clean and clear
Cool and refreshing
Contains naturally brightening herbal ingredients
Dermatologist made
Super spent
Small bottle
The packaging does not contain an ingredient list
2. Plum Green Tea Alcohol-Free Toner
View On AmazonThis is one of the best-selling products for oily skin from this brand. The Plum Green Tea Toner controls enlarged pores and reduces excessive oiliness of your face, giving you a shine-free and matte look for hours. The green tea and glycolic acid extracts in the toner gently exfoliate dead skin cells and give you flawless skin.
100% alcohol-free
100% vegan
Cruelty-free
No animal products
Paraben-free
Phthalate-free
No DEA and PABA
Budget-friendly
3. Clarins Toning Lotion
View On AmazonRegardless of your skin type, it is a promising choice for the best toner for oily skin and large pores.
We love how it comes with an alcohol-free formula, among other things. It is gentle on sensitive skin. This also does not cause the skin to dry out.
If you have sensitive skin, it has ingredients that can provide soothing benefits.
It also comes with an innovative anti-pollution complex. This was developed exclusively by Clarins. This protects the skin from dirt and pollution.
With iris and sage extracts, this toner promises to visibly tighten pores. These ingredients are also effective for removing deposits. In addition, it prevents acne.
This toner also effectively prepares the skin for your serum and moisturizer. It prepares your face for optimal absorption of the ingredients.

Cleans the skin but does not dehydrate
Alcohol-free formula
Good for sensitive, oily skin
Delicious fragrance
Spent on a small bottle
May irritate some people's skin
Not effective for every user
4. Pixi Glow Tonic Exfoliating Toner
View On AmazonThis exfoliating toner was the Winner of the 2017 Teen Vogue Acne Awards. It is outstanding for acne-vulnerable skin (and oily skin as nicely). It exfoliates your skin gently and unclogs skin pores. It tightens the skin pores and tones your skin.
It consists of butylene glycol, but this ingredient is protected for the skin and doesn't cause irritation.
Heralded as 1 of the greatest drugstore toners money can purchase, this glow-inducing pick from Pixi is rumored to yield outcomes equally staggering as its substantially pricier counterparts. It will take location to be a genius recommendation from Byrdie Editorial Director Faith Xue and functions oil-banishing benefits courtesy of five% glycolic acid, ginseng, and aloe vera.

Appropriate for all skin types
Not examined on animals
Contains glycolic acid
Exfoliates skin
Minimizes pores
5. Vichy Pureté Thermale Perfecting Facial Toner
View On AmazonOne thing many of us with oily skin lean towards is choosing an alcohol-based toner to dry out some of that fat that we produce in abundance. Sometimes that choice can even backfire. In some cases, drying out your skin can even cause you to produce more oil. Plus, it can irritate your skin, especially if it's sensitive, which can often be oily skin.
This super-soft, alcohol-free toner can be a great solution to give you clear skin without irritation. Of course, Vichy Pureté Thermale's perfecting toner is made with that famous French mineral spring water from the protected Auvergne region, which is rich in 15 minerals. That immediately gives your skin a refreshed and clean feeling and removes all traces of makeup, dirt, and surface oils, without burdening your skin.
While your skin doesn't feel tight, which can take a while to get used to, your skin feels smooth, fresh, and hydrated. A perfectly mild cleanser for use on your sensitive, oily skin is Vichy Micellar Cleansing Water. Once you've removed all your makeup, the soft Vichy toner is the perfect sequel. Both are reasonably priced, compared to many in the luxury category.

Great for sensitive, oily skin
Alcohol-free
Leaves skin feeling clean and hydrated
Affordable compared to other luxury brands
May not be best for the fairest skin
Not effective for every user
Strange to be considered makeup remover and toner
6. Avène Thermal Spring Water
View On AmazonOily skin can be sensitive. If you fall under this category and are looking for a toner that soothes your skin and soothes irritation, redness, and sunburn, go for this product. The brand claims to collect thermal spring water directly and bring it to you with all the best-preserved.

Safe for infants and children
Neutral pH (7.5)
Clinically proven results
No harmful chemicals
Suitable for hypersensitive skin
7. LAVO Glycolic Exfoliating Toner
View On AmazonWe've talked about all the reasons why you might want to consider glycolic acid skin care products, but they're repeated. Glycolic acid, one of the alpha hydroxy acids, effectively exfoliates and brightens your skin, helps reduce sun and breakouts, and increases the rate at which your skin renews itself. It sounds a bit like the fountain of youth.
This glycolic acid toner has 10 percent glycolic acid, so it is definitely the strongest of all the toners I talked about. This Lavo toner also contains some of my favorite skin-soothing ingredients, including curative aloe vera and antimicrobial calendula, both of which will leave your skin feeling calm and cool, as well as hydrated.
This cruelty-free formula also helps tighten pores and dries with a matte finish that's perfect for applying serums, moisturizers, and makeup. Since this formula is quite strong, you may want to test it two or three days a week first to make sure you don't get a reaction. If the 10 percent glycolic acid formula irritates your skin, you can try the LAVO 5 percent glycolic acid toner.

Most concentrated glycolic acid formula
Exfoliates and reveals glowing skin
A little goes a long way
Contains skin-friendly natural plant ingredients
High glycolic acid concentration can be too hard for many
On the expensive side
The fragrance is quite strong and floral
May cause tingling or burning sensation when used
8. Kopari Coconut Rose Toner
View On AmazonIf you don't mind spending a little extra money, this multitasking toner can be a great addition to your skincare arsenal. It provides relief from redness, uneven skin tone, blemishes, and skin irritation. It can also be used as a makeup spray, facial primer, or simply as a facial mist to keep your skin awake all day long.
100% vegan
Alcohol-free
Cruelty-free
Non-comedogenic
Gluten-free
Silicone-free
No synthetic fragrances
Paraben-free
SLS-free
9. Clinique Clarifying Lotion
View On AmazonAfter years and years of trying to control my oily skin, I finally found an oily skin toner that did the job: CLINIQUE Clarifying Lotion. While it's kind of crazy they call it lotion because it's a clear, watery toner, this stuff really works.
This bottle of pink toner is truly a miracle cure for oily and combination skin types. It never stings or burns, and it leaves your skin feeling shiny and fresh without a trace of makeup. Used in the morning for makeup and at bedtime, after thoroughly cleaning it, it helps clear out pimples and seriously eliminates blackheads.
Also developed by a dermatologist, you can feel safe using it on your skin, especially if you have acne-prone skin that exfoliates you excessively to address the problem. This best toner for oily skin helps deeply cleanse the pores, and because it is made with salicylic acid to exfoliate, it removes old, dead skin cells, flakes, and makeup residue. It also makes your skin more receptive to your favorite moisturizing products, which are important even if you have oily skin.
Clinique has a three-step skincare system that is super effective and worth trying if you want to experiment with all of their products for oily skin.

Great for oily and combination skin
Removes every last trace of makeup
Great for men and women
The huge bottle lasts a long time
Expensive compared to some
May sting or burn irritated skin
Salicylic acid may be too harsh for some
Most oily skin may need the stronger Clarifying Lotion 4
10. TruSkin Daily Super Toner
View On AmazonThe glycolic acid in this product makes it an excellent choice for the best toner for oily skin and large pores.
It also contains Vitamin C, active plant extracts, aloe vera, and witch hazel. They work together to exfoliate the skin to shrink pores and reduce oiliness.
Another thing we love about this toner is how it comes in a spray bottle. This benefits the ease of use. It also minimizes waste.
This also works if you are looking for an effective addition to your anti-aging skincare program.
Satisfied with the use of this toner? You can return it to the manufacturer within 90 days. They, in turn, give an unconditional refund.

Natural and Organic
Healing and calming botanical ingredients
Helps minimize pores, fine lines, and wrinkles
Pump Spray reduces waste
Quite expensive for a small bottle
May be too dry for some
Heavy witch hazel scent
May irritate sensitive skin
FAQs About Toner For Oily Skin
Conclusion
A toner is essential to remove traces of makeup, dirt, and impurities from your skin after washing. So don't skip the step. Use a toner and fall in love with the way your skin feels.
I enjoyed sharing some of the best toners for oily skin, and hopefully, it will help you find the right one for yourself.
Let me know in the comments if you have tried any of my recommended products and what your experience was with it.
In addition, I would also like to know which toner suits your oily skin best.
References
heavy.com
stylecraze.com
ladyandbeard.com
theskincareculture.com