This site is supported by our readers. We may earn a commission, at no cost to you, if you purchase through links.
Our experts have spent a lot of time testing and testing several of the best skin care products for men for different needs.
Gone are the days of a bar of soap, a quick shave; today's skincare and grooming for men are considered to be much more serious and beneficial than that.
Men suffer from oily, wrinkly, and dry skin as much as if not more than women.
Good skincare will rid your skin of dirt and old skin cells that build up over a day, fight the signs of aging, and keep your skin looking as young as possible for as long as possible.
To get optimal skin, consider starting a good skincare routine, and that's where we can help.
Below we've compiled a list of well-reviewed best men's skin care products for men that will be effective to your new start skincare journey.
Things to Consider to Find the Best Product for Skin Care
Before recommending the best men's skin care products, we must determine exactly what those needs are.
Our advice for buying a men's skincare product is always the same: don't pick up the first item on the shelf or choosing the product with the coolest packaging or logo
you need to know what to look for before you buy. You will avoid wasting money on an inferior product.
We'll discuss some important aspects to consider when selecting your product or some ideas that can help you determine the best product for skincare for your skin.
1. Type Of Skin
Since this post is about skin care products for men, it makes sense that your skin type should be a high priority during the selection process.Whether it's anti-aging creams, body lotions, face cleansers, or acne treatments, know your skin type is everything.
2.Ingredients
the ingredients are the most important factors in any skincare product we are going to discuss.
You can generally identify the overall purpose of a particular skin care product by looking at the ingredients list.
We prefer natural ingredients, and many of our reviews feature products packed with natural ingredients. Still, we're not saying you should only buy products that contain those ingredients (but know that we love natural ingredients a lot).
Let's take a look at some of the most common ingredients in skincare products, so you know what to look for in your ideal cream or lotion.
Washes / Cleansers: It naturally depends on your skin type: concerning washes and cleansers, including aloe, salicylic acid (which exfoliates and moisturizes), glycolic acid, allantoin (good for sensitive skin), olive oil, coconut oil, and more.
Moisturizers: Moisturizers are conventional in both skin moisturizers as their primary ingredient and as secondary ingredients in other skincare products, such as face masks and various lotions: Vera, a compound derived from a plant.
Anti-Aging Cream: Anti-aging creams contain some big-name ingredients: dimethylethanolamine and methylsulfonylmethane, which are natural, not chemical.DMAE prevents the loss of skin elasticity, while MSM helps skin cells to grow better. Other important ingredients in anti-aging creams are retinol, hyaluronic acid, glycolic acid, antioxidants such as vitamins B3, C, and E, and more. Creams with Coenzyme Q10 are good for reducing wrinkles around the eyes.
Exfoliants: Exfoliants are the main ingredient in facial scrubs and a secondary ingredient in washes and similar substances. They come in two varieties: chemical, where the ingredients dissolve dirt and grime in your pores, and physical, where the ingredients remove dirt from your pores, exiting to wash it away.
3. Fragrance
Some skin care products have a noticeable or heavy odor that you should be aware of before making a final purchase.
This is because the scents don't always match a man's natural body scent or the deodorant or cologne.
You can always try to find a skincare product that has no fragrance at all, so you don't have to think about it.
To make the decision more comfortable for you, we always mention whether certain products may or may not have a noticeable odor as part of the formula.
For now, let's move on to the best men's skin care products of 2023.
10 Best Skin Care Products for Men of 2023
Skincare isn't as daunting as it may seem, especially for men, and a little care over time will help you see far into it (and feel fresh and young).
To help you out to help you put together your own skincare routine, we'll show you the best skincare products for men based on your general needs.
1. Rugged And Dapper Face Moisturizer For Men
View On AmazonGranted, the hallmark of a good moisturizer is how well it moisturizes your face. It wouldn't be a moisturizer if it weren't. However, if you can find a moisturizer that not only moisturizes but also provides other skin benefits, there is no reason not to look at it long and seriously.
Rugged and Dapper's Face Moisturizer for Men is one such product, and it delivers in several ways: it moisturizes, protects the skin from irritation after shaving, it helps reduce signs of aging, such as fine lines and wrinkles, and to eliminate.
It also protects against harsh weather and damage from overexposure to the sun.
Like Brickell and Jack Black, Rugged and Dapper: Founded in Los Angeles by husband and wife duo Ryan and Janine Labaqui, is a serious player in the men's grooming game.
Their list of skincare products is designed exclusively for men, especially men (every day) who lead hectic lives.
Like Brickell and Jack Black, RandD products contain natural and organic ingredients rather than the harmful chemicals and toxins found in many skincare options.
The main natural ingredients in Rugged and Dapper's Face Moisturizer for Men are aloe vera, botanically derived hyaluronic acid, jojoba oil, shea butter, and various vitamins, minerals, and antioxidants.
All of this makes for a good skincare choice for men of all skin types.
This face cream has a lot more to it, too, like light, non-greasy, and fragrance-free. You don't have to worry about your face smelling a little non-masculine.
But it's the versatility of R and D's Face Moisturizer for Men that makes it a cut above the rest.
If you are an older man, you will understand how this moisturizer will help prevent the signs of aging on your face.
While no product can stop the aging process, the quest for the proverbial Fountain of Youth continues: a good face cream reduces fine lines and wrinkles.
Robust and Dapper's Face Cream also protects against the harmful rays of the sun, as well as harsh weather conditions that can accelerate signs of aging.
Thanks to its thinner texture, R and D Face Moisturizer for Men absorbs quickly and easily without leaving a greasy or shiny residue, leaving your skin with a smooth, matte finish.

Hydrates very well despite the alcohol
Also helps to repair skin cells
No odor
Aftershave / soothing properties
Pricey
Only a few grams with purchase
2. Brickell Men's Balancing Toner

View On AmazonThis toner uses witch hazel, a powerful pore-cleaning and softening agent to remove oil and dirt without hardening effectively.
This toner is perfect for almost any man with oil issues.
The key ingredient, witch hazel, can remove both excess oil and dirt in your pores without getting too rough, so even men with sensitive skin can enjoy its effects.
Thanks to its ingredients, it can tingle itself when applied and refresh your skin.
Aloe vera is present as an essential ingredient to keep your skin from drying out.
The fact that the product both soothes and cleanses your skin is something our testers really enjoyed.
The main drawback is the noticeable peppermint scent that comes with the formula.
However, this is generally a pleasant fragrance for most people, so don't consider it such a big mistake.
Affordable, effective, and gentle, what more could you want from a male facial toner?

Gentle
Affordable
Soothing to the skin
Effective in removing excess oil
3. Brickell Renewing Face Scrub For Men
View On AmazonDon't let the name fool you: Brickell's Renewing Face Scrub For Men is a true exfoliator because it contains pumice stone. Pumice stone's primary purpose is to eliminate dead skin cells, which is what the exfoliation process is all about.
Whatever you call this product, it gets the job done in true Brickell fashion (that is, it's of the highest quality).
The Renewing Face Scrub For Men deals with the hard work of clearing away dead skin, excess oil, and other facial impurities without drying out your skin.
It leaves the skin feeling soft and your complexion clear, thanks to natural exfoliating particles: jojoba pearls and pumice stone: while other ingredients, such as aloe vera, nourish the skin.
But again, all Brickell products consist of natural and organic ingredients and are specially formulated to treat a man's tough skin. The Renewing Face Scrub contains 98% natural ingredients and 70% organic.
Other natural ingredients in this scrub include avocado butter and vitamin E, which help nourish the skin, while coffee extract and green tea stimulate your skin and senses.
What you won't find are harmful parabens, sulfates, gluten, petrochemicals, synthetic fragrances, or other kinds of unnatural things that aren't good for you.
The Renewing Face Scrub for Men has a pleasant scent, thanks to the coffee extract and green tea.
Another reason we love this product is that you can use it as a pre-shave to break down tough facial hair and soften skin for a while. A smooth, comfortable shave that's hard to beat.
Brickell's renewing facial scrub for men also works well for men of all ages and skin types. If you are prone to oil build-up on your skin or blackheads and ingrown hairs, you'll love this scrub.
The scrub comes in a 120ml jar, which will last for approximately two months when used. Two to four times a week as part of your skincare routine or before shaving.

Gentle enough for all skin types
Cleanses thoroughly
Soothes / moisturizes the skin
Feels good on the application
Not much for sale
A bit pricey
4. Proactiv 3-step Acne Treatment System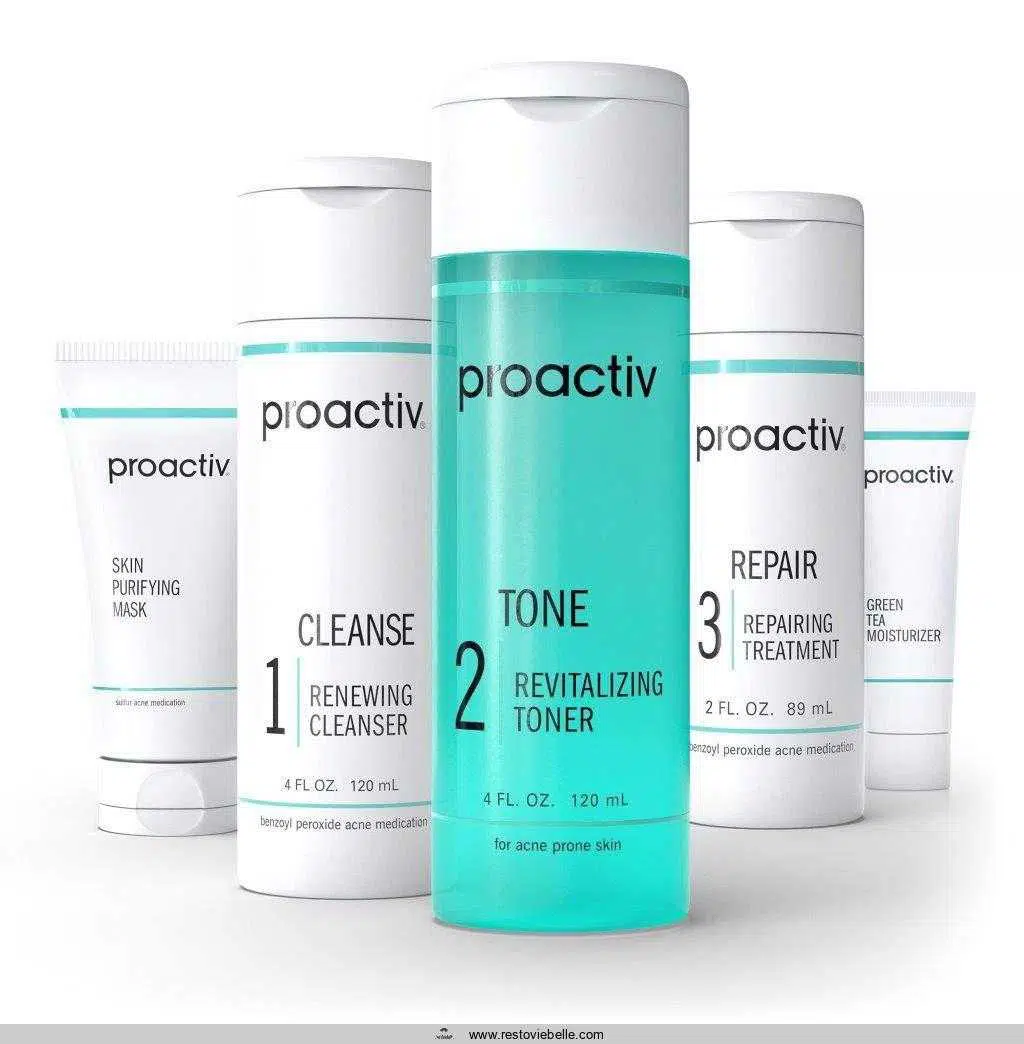 View On AmazonThis product is a 3-bottle pack, each bottle having a unique formula to combat acne and its effects.
This 3-step plan contains 3 independent bottles that each work differently for your skin.
The first bottle cleanses your pores with the ingredient peroxide, removes dirt and debris, and chamomile is included to soothe your skin.
Plus, this bottle contains Hyaluronic Acid to keep your skin hydrated instead of drying it out.
The skin bottle has a revitalizing toner formula that uses glycolic acid to remove excess oil and balance your skin tone.
The last bottle contains more peroxide to penetrate deeper into your pores.
This prevents acne from coming back by targeting the deepest impurities and toxins.
The disadvantage of this choice is that the three bottles have to be applied separately, which takes time and has to be replaced if they run out relatively often.
However, when it comes to effective acne treatment, nothing is as simple and effective as this choice.

Prevents recurrence of acne
Deeply cleanses pores
Hydrated skin
Good for all skin types
Expensive because of the replacement rate
It takes time to apply everything
5. Brickell Men's Revitalizing Anti-aging Cream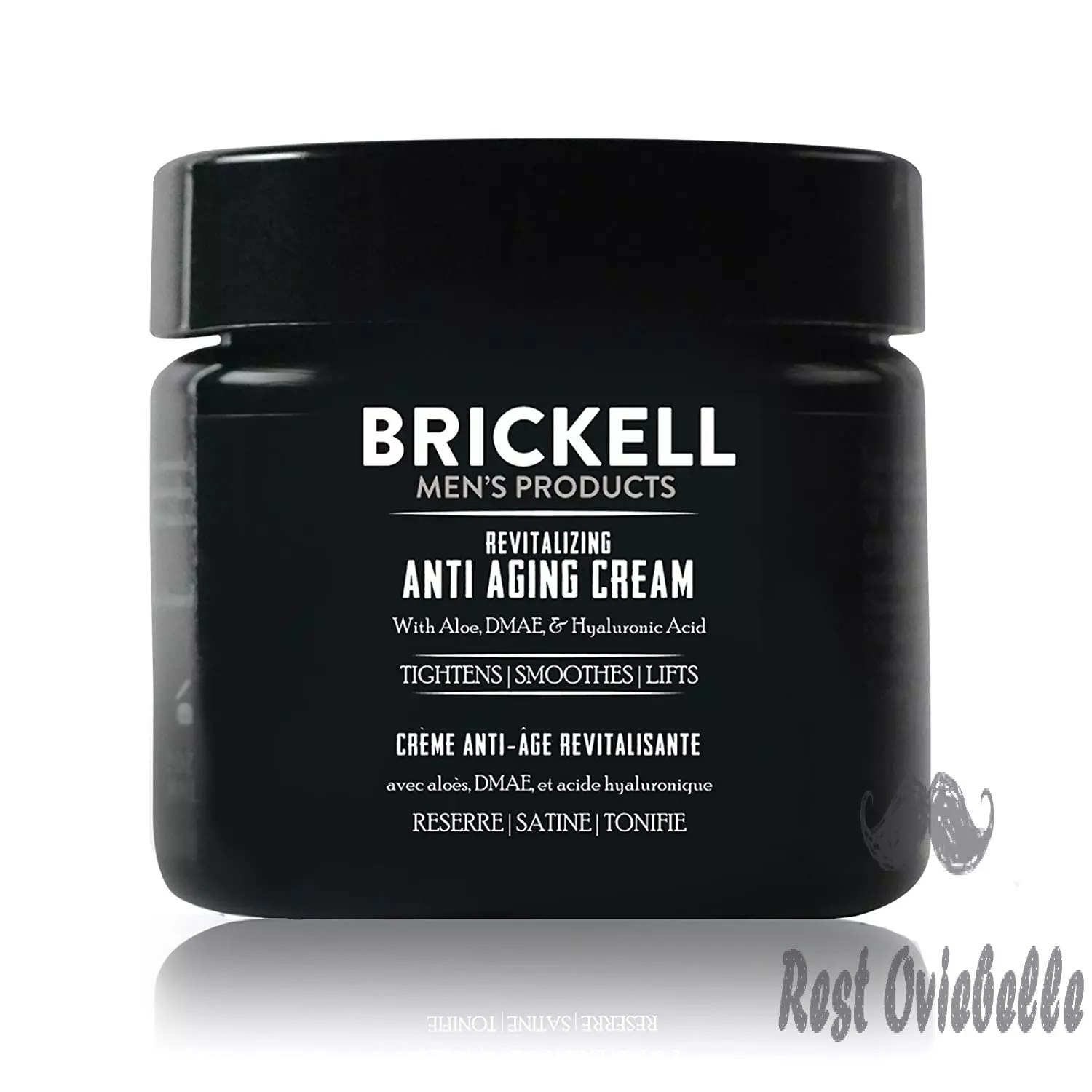 View On AmazonGetting old doesn't have to be that hard; you indeed feel aches and pains that you've never felt before, you can't burn off the midnight oil as you did in your twenties, and your skin is showing signs of aging.
Fortunately, products like Brickell Men's Revitalizing Anti-Aging Cream are here to help – at least when it comes to your skin. It's the best anti-aging cream for men.
As with all of their products, Brickell's ingredients list in their Revitalizing Anti-Aging Cream for Men is 100% natural. Natural ingredients don't always seal the deal, but they are better for your skin in so many ways.
They also work to slow the signs of aging, which is most important in this case.
Brickell's Revitalizing Anti-Aging Cream for Men is formulated for thicker skin in a man and works for all skin types, including dry, sensitive skin.
You will significantly reduce your wrinkles, crow's feet, and other signs of aging thanks to the powerful, natural formula.
You will love the thick texture of Brickell's Anti-Aging Cream and the fact that a little of it goes a long way – use only a small amount for each application; one jar should last a month and a half or more.
For best results, use it twice a day: once in the morning and once before bed. The moisturizing effects will continue to work while you sleep.
Many reviewers rave about the fragrance of Brickell's Anti-Aging Cream, a blend of peppermint, eucalyptus, and lemongrass. The fragrance is refreshing, not overpowering, and lingers all day long.
Again, there is no end to the aging process, but products like Brickell's Anti-Aging Cream help slow the progression and reduce its obvious signs: such as wrinkled skin.

100 all-organic elements
Decreases and eliminates lines and wrinkles
Refreshing natural fragrance
A small goes a long way.
Small or none. Much more costly than some other lotions (but worth the price)
6. Burt's Bees Natural Moisturizing Lip Balm
View On AmazonThis pack of four contains tubes of high-quality moisturizing lip balm that feels soothing when applied.
This brand of lip balm is known for its overall effectiveness and excellent emollient action.
It combines Vitamin A Beeswax to moisturize and soothe your lips and keep your lips from drying out, even in the harshest climates or conditions.
Because these ingredients are natural, this lip balm has no oily residue or feel, even though it uses peppermint oil to give the balm a wonderful scent and tingling sensation.
The pack of four also offers excellent value for money.
In general, there is no better choice for lip balm.
The only downside is that it doesn't offer protection from sun damage, like a few niche choices.
For even more options, see our guide to the best lip balms for men.

Soothing and gentle
Cost-effective
Four tubes in buy
Hydrates and protects
No SPF protective abilities
7. Viking Revolution Charcoal Face Wash For Men
View On Amazon
This excellent facial cleanser contains activated charcoal, which effectively cleans your skin without being too rough.
This facial cleanser is one of the best skin care products for men because it does what all other facial cleansers do without alcohol.
This means that it is still a good choice, even if you have sensitive skin.
Our testers found it okay for all skin types, although some guys with super sensitive skin find it naturally a little rough.
It uses activated charcoal to cleanse your pores and remove dirt and impurities gently and aloe vera to keep your skin hydrated throughout the process.
Vitamin E is present to repair and protect your skin cells.
Also, this choice shows its excellent value for money as it is affordable and additionally comes with a 2 oz travel bottle!
The only downside is the minty scent, but it's not so obvious to ruin the experience in our eyes.

Comes with a travel bottle
Charcoal is an exceptional cleansing ingredient
Outstanding at hydrating skin
Gentle
8. Lubriderm Men's 3-in-1 Body Lotion With Light Fragrance
View On AmazonLubriderm has a long history of making quality products for women, but some say their 3-in-1 body lotion is even better than their women's lotion.
We've talked about it before, but it's worth repeating: Men's skin is different from women's; for example, it's 25% thicker, so it's only natural that a man needs a lotion that fits on his skin.
Men also have more collagen than women, so it's important to know a lotion that provides a collagen booster. Lubriderm's 3-in-1 Body Lotion does that and more.
As its name suggests, this lotion poses a triple threat: it works as a body and facial lotion as well as a post-shave lotion. It's also lightweight, absorbs quickly, and is non-toxic. Fat.
The Lubriderm brand is all about healthy, comfortable skin. Their dermatologists understand that skin is often affected by the environment, including prolonged exposure to the elements and its ability to retain moisture over time. To keep. Keep losing.
But Lubriderm has been clinically proven to improve moisture and collagen to give your skin a full sense of elasticity. It is enriched with aloe that soothes the skin, especially after shaving.
Lubriderm's 3-in-1 lotion comes in a 16 oz pump container, which is easy to use and cost-effective. We think you'll like the fragrance too, which is decidedly masculine with hints of black pepper and sandalwood.
There are not many body lotions for men on the market that smell this good.

Effective, Aloe-Enriched Face, Physique And Proper following-Shave Moisturizer
Fragrance-Totally free
Lightweight And Breathable: By no means Greasy Or Sticky
Superb Really worth (Cost-successful)
May Irritate Sensitive Skin
9. Brickell Men's Purifying Charcoal Face Mask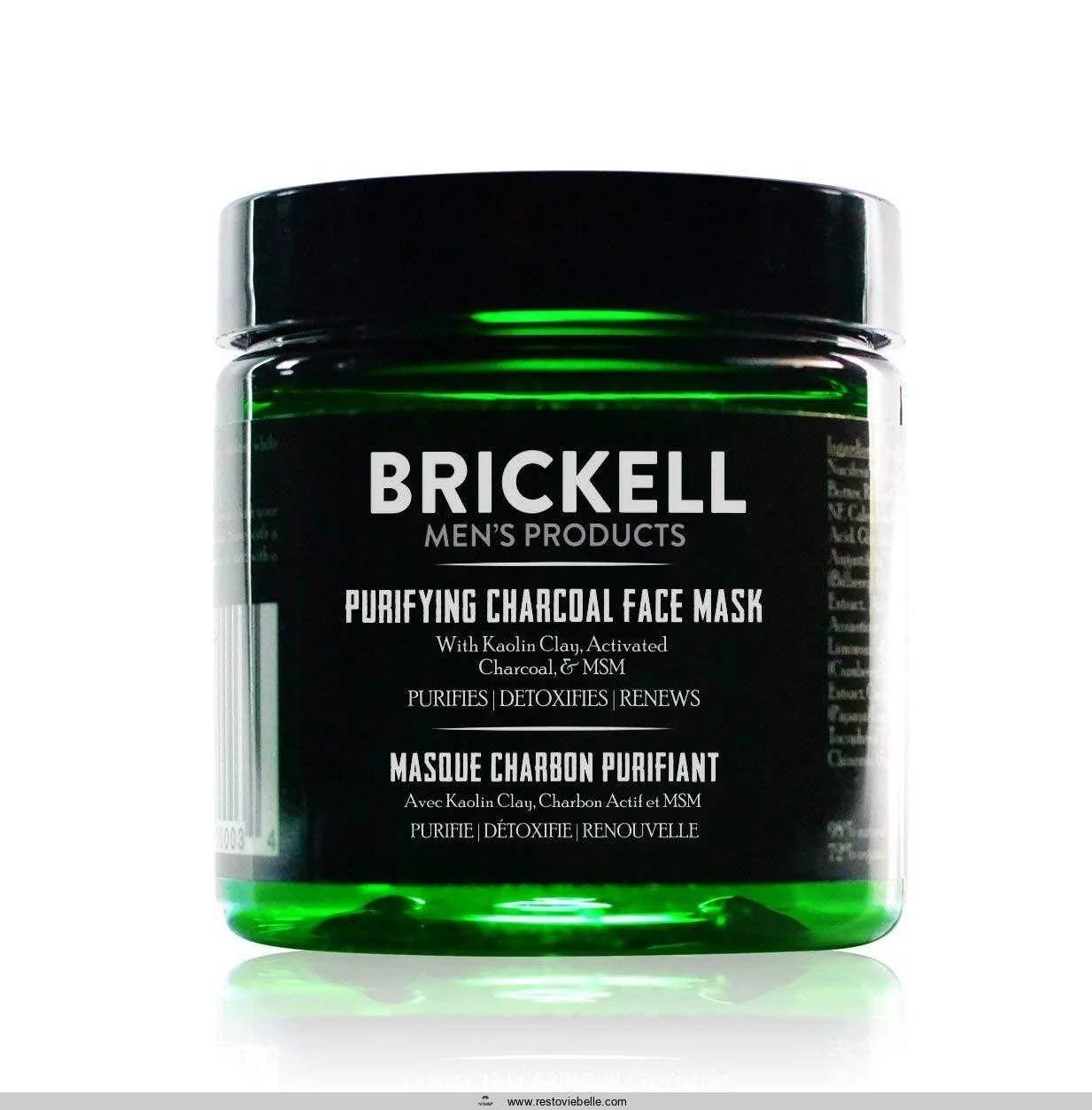 View On AmazonAnother great Brickell product, this mask combines activated charcoal and other great ingredients to provide a soothing and practical experience.
This face mask forms a thick cover over your face by combining activated charcoal and kaolin clay.
Both compounds penetrate deep into your pores and remove toxins and impurities, and take these things with them when they are removed.
The result is super clear pores that feel and look great.
They retain moisture to prevent dehydration; even if they didn't, the hyaluronic acid would help moisturize your skin.
Also, this mask contains antioxidants, so it even rejuvenates your skin cells and helps repair them over time.
You will have younger, healthier-looking skin after the first application of this mask.
It's a bit pricey, but with this choice, you will definitely get a high-quality mask.

Fantastic for deep cleansing
Soothing
Hydrating
Rejuvenates and repairs skin cells
10. Gold Bond Men's Everyday Essentials Lotion
View On Amazon
This lotion combines all three significant effects of hand lotions in a very affordable and fast-drying formula.
This hand lotion does it all: it repairs, soothes, and moisturizes all in one formula.
It's great to keep your hands hydrated and clean all day long.
As a result of fighting off dry skin, your hands will feel more comfortable and less prone to major skin damage, such as cracking.
Besides, they will feel better, both for others and for yourself.
The lotion feels great to apply thanks to the natural soothing extracts in the formula.
We like this because too many hand lotions feel thick or chunky.
It is an excellent choice for restoring the appearance of your hands and repairing skin cells.
However, this lotion has a generic fresh scent to keep in mind, and the cap was not too tight during our tests.
In general, these flaws are relatively minor and do not overshadow the benefits.

Repairs soothe and moisturize
Expense-efficient
Dries rapidly
Excellent texture
The smell is odd and generic
Cap is loose
FAQs About skin care products for men
Let us explain a few frequently asked questions to be sure that you are using the product correctly and safely.
When should I apply skincare products?
The answer to that depends on what exactly skincare products you use at that time.
For example, and in the body, the lotion should be applied throughout the day or before bed if necessary to allow your skin a chance to rehydrate and repair yourself.
Moisturizers should be applied before your workday or before bedtime, while anti-aging cream should be used for sleeping.
What if I need multiple skincare products?
If you need more than one skin product, buy the products you need and use them in the correct order!
Most skincare products can be used with each other, but not necessarily at the same time.
If you want to schedule an active schedule and a schedule, you should fit many different types of skin products into one single combined routine.
Do not worry about using too many products on your skin; it can treat it all as long as you use everything properly.
Conclusion
Now that you have one or more excellent and best skincare products for men, you don't want to leave any doubt about it and start to use it right away.
As always, we welcome your feedback. What are your favorite products in each of the above categories? What products are you using at this time? We'd like to hear from you.
References
primandprep.com
baldingbeards.com