This site is supported by our readers. We may earn a commission, at no cost to you, if you purchase through links.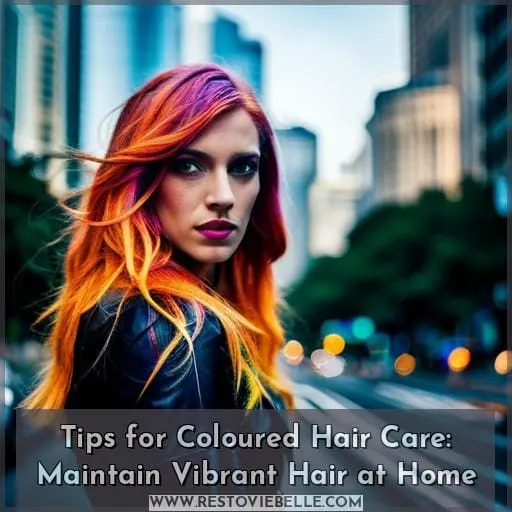 Are you looking for a way to maintain vibrant hair color at home? Colored hair requires extra care and attention, but following the right tips can help keep your locks looking luscious.
Whether you've just dyed your hair or have been rocking colored tresses for years, here are some essential coloured hair care tips that will ensure beautiful results.
Start by waiting 72 hours after coloring before shampooing as this allows the dye to fully set into each strand of your mane.
Next, opt for sulfate-free shampoos and conditioners – these products don't strip away vital oils from strands so they won't dull down your hue over time either!
Enhance vibrancy with dye-infused conditioner, lower water temperature when shampooing, wash less often, and use dry shampoo on off days – all great ways to preserve color while still keeping it clean!
Protect further with leave-in treatments during styling, then finish up with a heat protectant spray before using hot tools – this is key if you want healthy locks post-blowout session too!
Preparing ahead of time ensures the next color process goes smoothly – avoid chlorine & saltwater exposure altogether if possible. However, there are also specialized products available which can help shield against discoloration in these cases as well.
So why not give yourself an easy makeover without ever leaving the house? Follow our top ten recommendations above and watch the world be amazed by stunningly toned tresses every day of the week!
Key Takeaways
Wait 72 hours after coloring before shampooing to let the dye set.
Choose sulfate-free shampoos and conditioners to retain oils and color.
Apply deep conditioning treatments and masks weekly for nourishment.
Protect color with leave-in treatments during styling.
Wait 72 Hours Before Shampooing Colored Hair

Wait at least three days after coloring your locks before shampooing to keep the color vibrant. This will allow enough time for the cuticle layers of your hair to close, helping preserve and prolong the vibrancy of your new hue.
During this period, try covering up with a hat or scarf when outdoors and stay away from exposure to damp air as much as possible.
Additionally, incorporate conditioning oils like L'Oréal Paris Elvive Extraordinary Hair Oil into your routine for added nourishment and shine while using gloss formulas like Expensive Amla Oil Hi-Shine Topcoat during washing for extra conditioning benefits.
Lastly, remember not only is it important to use color-protecting shampoos but also opt for sulfate-free ones so that natural oils are retained along with color longevity.
Use Sulfate-Free Shampoo and Conditioner

Opt for a sulfate-free shampoo and conditioner to keep your color vibrant and hair nourished. Using these products will help protect against fading, while providing the necessary conditioning needed to maintain healthy locks.
UV protection sprays can also be incorporated into daily styling routines for added defense against sun-induced discoloration. Additionally, nourishing masks and creamy hair oils used weekly can provide additional hydration without stripping away precious color pigments.
To further enhance shine levels between coloring treatments, gloss treatments like Expensive Amla Oil Hi-Shine Topcoat are great alternatives.
Don't forget about prepping before swimming with chlorine or salt water by applying a deep conditioning treatment beforehand – this is an important step in preserving all that beautiful colored hair! Color-safe dry shampoos are also key when it comes to protecting tresses from heat damage too.
With so many options available, there's no reason not to opt for sulfate-free alternatives whenever possible.
Enhance Color With Dye-Infused Conditioner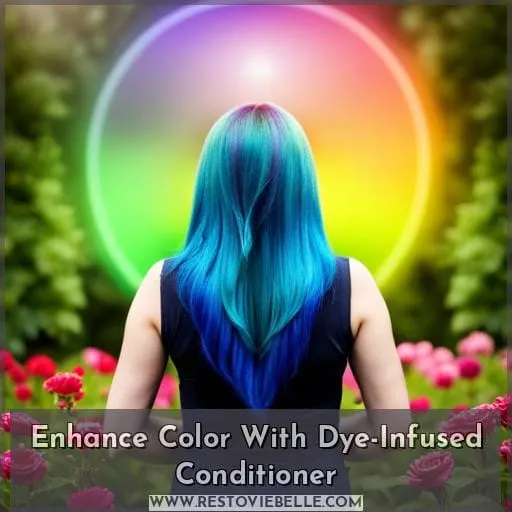 For added vibrancy and shine, enhance your color by infusing it with dye in conditioner. Color depositing conditioners are a great way to maintain the color of your hair without having to use a permanent dye.
Look for one that doesn't contain any sulfates or harsh chemicals that could damage your hair.
For extra moisture lock, apply anti-frizz treatments like L'Oréal Paris Elvive Extraordinary Hair Oil before styling. Afterward, use heat defense products such as R+Co Bleu Super Style Crème to retain luster throughout the day.
To extend the longevity of vibrant locks, finish off with clarifying shampoo once every two weeks. Follow this with regular trims every 6-8 weeks for shape and healthiness maintenance.
Also, don't forget leave-in treatments which can be used daily. Along with a heat protectant spray prior to using hot styling tools, they provide further protection against breakage caused by excessive exposure to environmental factors.
Lower Water Temperature When Shampooing

It's important to transition from color-infused conditioner to pre-shampooing for maximum protection and longevity of your colored hair. Prioritizing a color-safe, low-sulfate content shampoo is essential when you're ready to lather up.
To retain natural oils and help seal the cuticle layer, lower the water temperature while washing your mane. This will also help protect against UV damage that can fade vibrant colors over time.
You can maintain color vibrancy by regularly trimming dead ends every 6-8 weeks. This helps keep split ends at bay too! Additionally, adding dry shampoo on days you don't wash or using cold water rinses are great alternatives.
These further extend salon visits in between touch-ups as well as keeping tresses soft and manageable with nourishment without fading out shades quickly.
Wash Hair Less Frequently for Color Preservation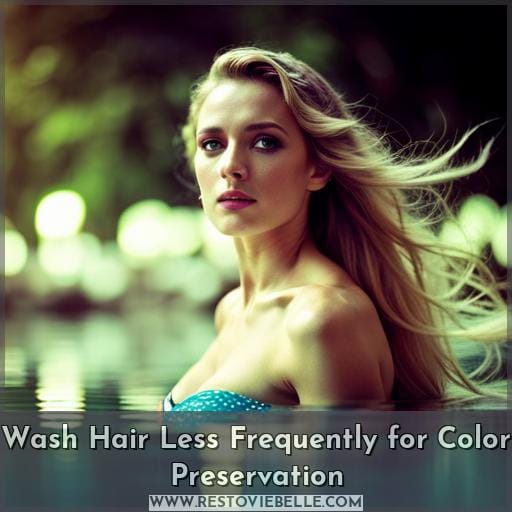 Wash your vibrant tresses two to three times a week for color protection. Preserving hair color requires infrequent washing, so make sure you shampoo only when necessary and skip days in between if possible.
To help maintain the health of your colored hair, try these tips:
Use clarifying shampoos once or twice a month to remove buildup from styling products and environmental pollutants.
Incorporate hot oil treatments into your routine every few weeks for added nourishment and shine.
Add protein treatments like Kérastase Chroma Absolu or Mizani 25 Miracle Milk on an as-needed basis.
For added vibrancy, use blonde toning drops such as Mixed Feelings Leave In Blonde Toning Drops after each wash.
Refresh Hair With Dry Shampoo on Off Days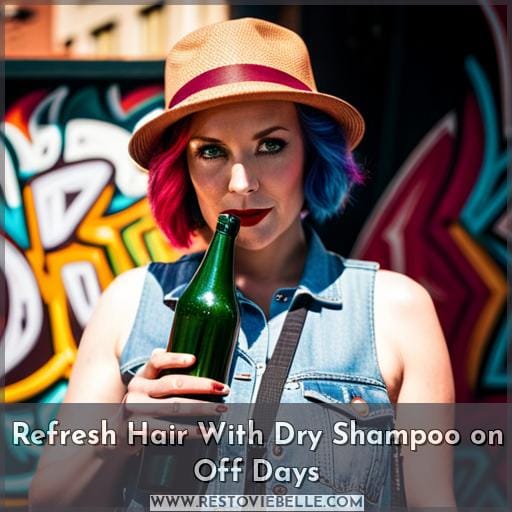 Make the most of those off days by refreshing your hair with a color-safe dry shampoo! Dry shampoos are an easy and convenient way to protect colored hair from fading, while still providing nourishment.
They help lock in moisture and keep strands silky smooth without weighing them down. Plus, they can be used as part of long-term care for split end prevention and at-home toning.
When choosing a dry shampoo, make sure it has UV protection to shield against sun damage, heat styling protection for added defense from hot tools, plus chlorine and saltwater resistance if you're planning on swimming or taking showers outdoors.
Table 1 provides some great product recommendations that will help you achieve all this:
| Brand | Product |
| --- | --- |
| IGK Pay Day Instant Repair Shampoo | L'Oréal Paris Elvive Extraordinary Hair Oil |
| Expensive Amla Oil Hi Shine Topcoat | Davines Oi Milk Reverie Milk Anti Frizz Treatment |
| Bread Beauty Supply Hair Oil | Color Wow Dream Coat |
Protect Color With Leave-in Treatments During Styling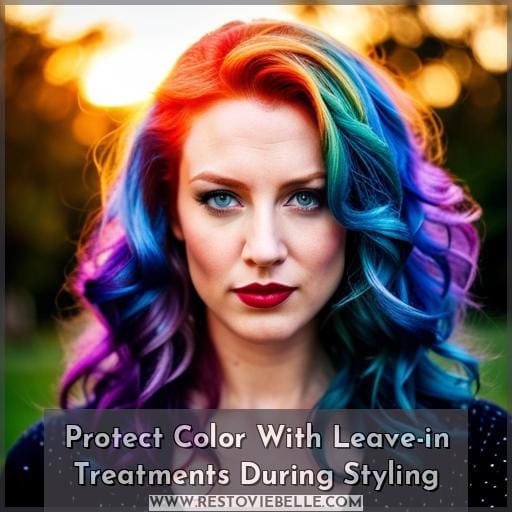 Strengthen your color with leave-in treatments for a vibrant style that'll last. Brightening treatments help keep hair looking healthy, while UV protection helps guard against fading and discoloration caused by the sun's rays.
Nourishing oils like L'Oréal Paris Elvive Extraordinary Hair Oil can be used to provide additional hydration and shine.
Clarifying shampoo should always be done prior to applying any of these products. This helps remove buildup from styling products while further preserving the vibrancy of colored hair strands.
Incorporate weekly hair masks and trims into your routine for maximum nourishment and health benefits.
When it comes time for styling, use heat protectants such as IGK Good Behavior Smoothing Spray or R+Co Bleu Smooth & Seal Serum in combination with leave-in conditioning creams like R+Co Bleu Super Style Crème before blow drying or using hot tools on locks.
These will help lock in moisture, making sure colors stay vibrant even after heat has been applied.
Finally, apply an anti-humidity complex product like Color Wow Dream Coat beforehand when planning on spending time outdoors.
Apply Heat Protectant Spray Before Using Hot Tools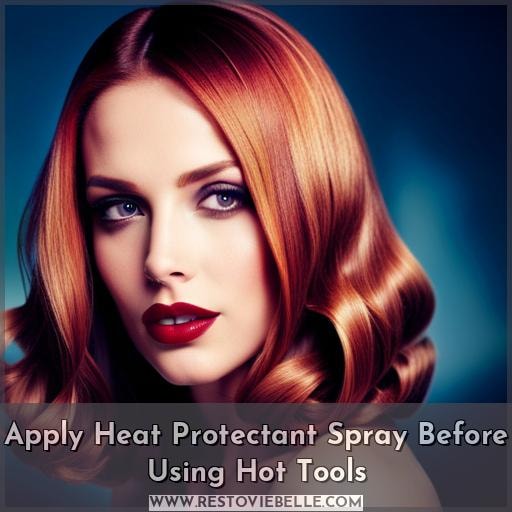 Before you hit the hot tools, spritz on some heat protectant spray to keep your color looking fresh and vibrant. Heat protection sprays help create a barrier between your hair and high temperatures, reducing damage due to styling.
They can also provide UV protection for maximum vibrancy with blonde toning drops or clear formulas without affecting color balance.
Optimal temperature is key when using any type of heated tool – starting low ensures minimal risk of causing fading or breakage from excessive heat exposure. Regular trims will ensure that all split ends are removed so they don't cause further damage.
Brushing through wet hair after washing it with a clarifying shampoo helps prevent breakage as well.
Heat protectants like IGK Good Behavior, R+Co Bleu Smooth & Seal, and Living Proof Perfect Hair Day Heat Styling Spray give extra conditioning benefits along with protecting against high temperatures for an added layer of defense during styling sessions.
Adding in specific supplements designed to improve overall hair health, such as those containing walnuts and omega-3 fatty acids, can also be beneficial.
Using products meant specifically for colored locks, like Davines Oi Milk Reverie Anti-Frizz Treatment, which lock in moisture by creating a protective shield from chlorine and salt water, may be beneficial too! With these steps taken before hitting the hot tools, you'll have colorful tresses that look beautiful day after day!
Prepare Hair for Next Color Process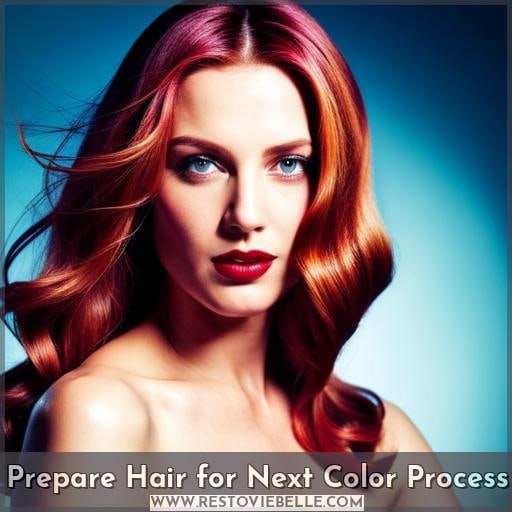 Now that you've applied heat protectant spray before using hot tools, it's important to prepare your hair for the next color process. Pre-conditioning with a dye-infused product can help maintain vibrancy and ensure long-lasting results.
Incorporate UV protection into your routine as sun exposure can cause fading of the color over time. Make sure to use heat protectants like IGK Good Behavior or R+Co Bleu Smooth & Seal when styling to prevent breakage from high temperatures and thermal damage.
For added nourishment and shine throughout the day, use color hydration products like L'Oréal Paris Elvive Extraordinary Hair Oil or Expensive Amla Hi-Shine Topcoat.
When swimming, it's important to avoid chlorine and salt water as they can cause color fading. Prioritize using a conditioner before entering chlorinated pools and wear a cap afterwards for an extra layer of protection.
Lastly, regular trims every 6-8 weeks are essential to keep your ends healthy and maintain overall color vibrancy. If you've done a DIY hair color, pre-color treatments might be necessary to achieve the desired results.
Avoid Chlorine and Salt Water for Color Maintenance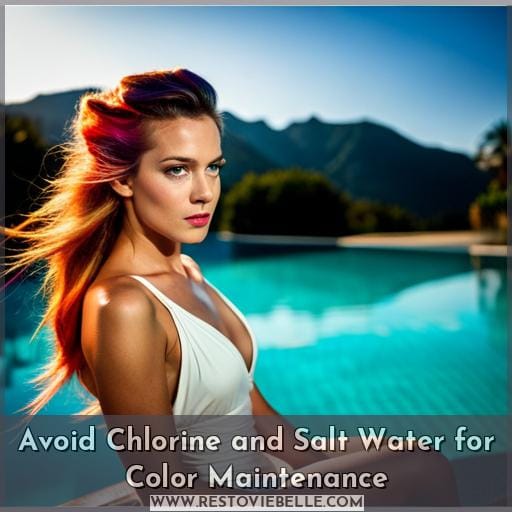 To preserve your color vibrancy, wear a cap and use conditioner when swimming in chlorine or salt water. Pre-conditioning hair before swimming is key to protecting against damaging effects of the pool's chemicals.
UV protection for hair should also be incorporated into your routine with products such as Oribe Power Drops or Mizani 25 Miracle Milk, which can act as leave-in conditioners. Frizz control is essential if you're looking to maintain colored locks – try R+Co Bleu Smooth & Seal Style Crème for lightweight moisture without compromising on sleekness and shine! DpHUE Cool Blonde Purple Shampoo helps keep blonde tones fresh, while Kérastase Chroma Absolu Strengthening Conditioner adds nourishment and hydration back into strands that may have been damaged by chlorine contact.
Frequently Asked Questions (FAQs)
How often should I use hair masks?
Unlock vibrant, healthy hair with a nourishing routine! Hair masks are an essential part of keeping color alive and well.
Are there any gloss formulas that I can use for conditioning?
Yes! Try Expensive Amla Oil Hi-Shine Topcoat or Shu Uemura Color Lustre Brilliant Glaze Conditioner for a luxurious feel. Enjoy a glossy, healthy look without sacrificing vibrancy while protecting from fading and breakage.
Pamper your hair with these nourishing options that will give you strong, shiny locks.
What is the best heat protectant spray to use?
Protect your hair from heat damage with a reliable heat protectant spray. Try IGK Good Behavior, R+Co Bleu Smooth & Seal, or Living Proof Perfect Hair Day Heat Styling Spray for conditioning and smoothing.
What is the best way to prevent sun-induced fading?
Protect your hair from sun-induced fading with a UV filter spray in the morning and a finishing spray during the day. Shield your strands with UV filter products like Oribe Power Drops, Color Wow Style on Steroids, and Living Proof Perfect Hair Day Heat Styling Spray for optimum protection.
What are the benefits of using a purple shampoo?
Purple shampoo helps tone blonde hair, prevents breakage, and maintains vibrancy while locking in moisture. It works to condition strands, giving you healthy-looking locks with shine that lasts all day long.
Conclusion
The bottom line when it comes to keeping your colored hair looking vibrant is to treat it with care. As the old adage goes, an ounce of prevention is worth a pound of cure. Take the time to pre-condition your hair before swimming, apply heat protection before styling, and opt for sulfate-free shampoo and conditioner to retain natural oils and color.
Plus, add gloss formulas for conditioning and UV filter products to your daily routine to shield hair from sun-induced fading. With these colored hair care tips, you can keep your locks looking vibrant for months to come.