This site is supported by our readers. We may earn a commission, at no cost to you, if you purchase through links.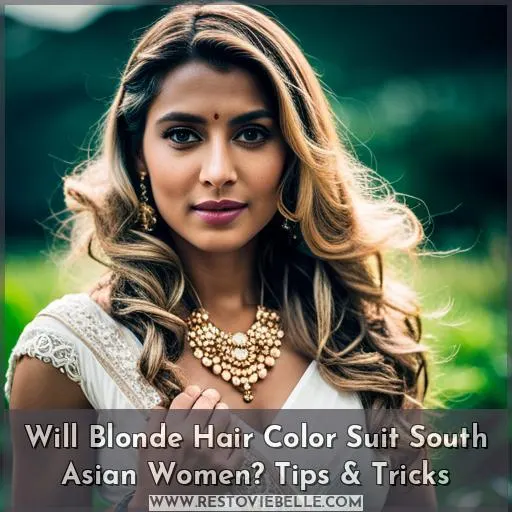 According to a recent survey, 8 out of 10 South Asian women have considered trying blonde hair color for themselves. Blonde hair has long been associated with beauty and elegance, but the trend is now growing in other parts of the world.
The answer is not so straightforward as it depends on your skin tone, undertones, and desired look. Whether you're looking for light golden or platinum shades or something unique like chestnut blondes or dusty rose blondes – we've got you covered! Consider some tips below when selecting a shade that best suits your individual style while considering potential damage during the bleaching process.
Key Takeaways
8 out of 10 South Asian women have considered trying blonde hair color.
Blonde hair is associated with beauty and elegance.
The best blonde shades for South Asians depend on their skin tone.
Professional consultation is recommended before bleaching to determine the best color.
Is Blonde Hair Color Suitable for South Asian Women?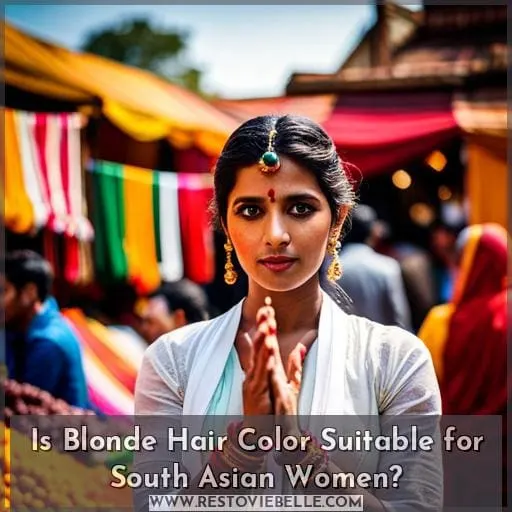 With an array of skin tones, South Asians can find the perfect hue to flatter their look and make a statement with hair color. Blonde dyeing is becoming increasingly popular among South Asian women, but it's important to choose the right shade that suits one's undertone.
For warm undertones, light golden blonde provides a soft glow while honey blonde is ideal for medium skin tones. Platinum blonde works best on fair skin for a bold look, whereas ash blonde gives off an elegant vibe suitable for cool-toned complexions.
Consultation with professional hairstylists can help determine which colors work best before bleaching, which may cause damage or breakage if done incorrectly. Cool platinum shades should be avoided by those of darker complexion as they tend not to blend naturally into brown tresses.
Instead, opt for warmer hues such as caramel and chestnut blondes that suit Indian skins well without looking overly dramatic or overwhelming.
Ash blondes provide contrast against warm undertones like olive, while bright pink highlights are great for adventurous personalities who want something more daring than pastel shades! Whatever you decide upon will ultimately depend on your personal preference – so go ahead and experiment until you find what empowers you most!
Factors to Consider for Blonde Hair Color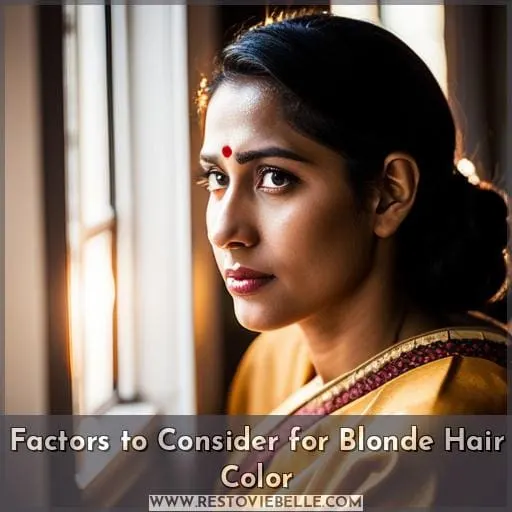 Choosing the right blonde hair color for South Asian women is a complex task. It depends on skin tone and undertone, as each shade of blonde will look different depending on these two factors.
Skin Tone
You must consider your skin tone when deciding on a blonde hair color, as it will determine which shade best compliments you and creates the perfect glow. For warm skin tones, light golden blonde is ideal. Honey blondes suit medium complexions while platinum is bold for fair ones; ash works well with cool hues.
Darker skins may opt for strawberry or ginger shades but avoid too-warm platinums that can look unnatural on olive undertones whereas ash highlights are more flattering.
Undertones
Your complexion can be complemented by the right undertones – warm for a golden glow or cool for an elegant sheen. When it comes to blonde hair on South Asian women, quality products should always be used to maintain its luster and prevent damage.
Warm platinum tones are usually best suited for darker skin, while cool platinum may not look natural on dark skin types. Ginger hair with warm undertones may also clash with olive-toned skins, so ash blonde is typically better if you have cooler undertones.
Face-framing highlights, such as honey highlights, can also bring out your features while adding dimension to your hairstyle without looking too drastic or unnatural! Quality products should always be used when bleaching the hair to strip pigment from it, which could cause breakage and damage if done improperly.
Recommended Blonde Shades for Warm Skin Tones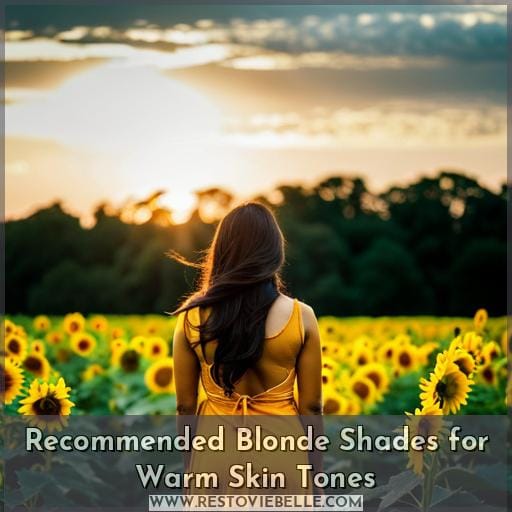 Choosing the right blonde shade for South Asian women depends on their skin tone. For warm skin tones, light golden blonde and honey blonde offer a soft glow that will make you look gorgeous. These shades are popular choices as they complement the complexion while adding subtle highlights to your hair.
Light Golden Blonde
Light golden blonde is the perfect shade for those with warm skin tones, radiating a soft glow. Subtle changes can be achieved through lightening tips like balayage, which add dimension and style to your hair without causing too much damage.
Golden blonde, honey blonde, or even ash blonde hair works well with warm undertones, while cool undertones benefit from shades of platinum or strawberry blondes.
Light golden blonde will give you an eye-catching look that won't overpower but still stands out, making it ideal for those who want subtle yet powerful results. It's important to note, however, that if your natural skin tone has warmer hues such as olive, then ginger-hued highlights may not suit as they clash against these warmer undertones.
Honey Blonde
Honey blonde can give your warm skin a golden glow like an inviting sunset. It's the perfect way to blend colors and add dimension to your hair without going over-the-top or committing too much.
With platinum tips, darker shades of honey blonde will look great with pastel highlights for those who want something stylish yet soft.
For ashy shades, try blending honey blonde with strawberry or chocolate brown for a subtle transition from dark roots to light ends, creating an eye-catching butterscotch effect.
If you're looking for something even more daring, ash brown hair is always in style – combining various tones like rose gold and mahogany reddish brown hues creates beautiful texture when paired with lighter shades of honey blonde at the ends!
Recommended Blonde Shades for Medium Skin Tones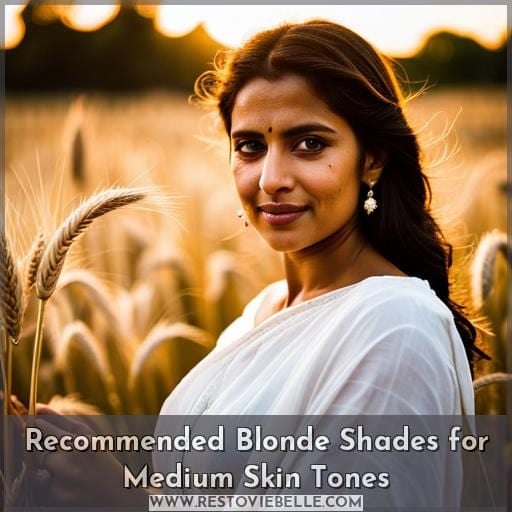 If you have a medium skin tone and are considering going blonde, platinum and ash blonde shades may be the right choice for you. Both of these colors will provide a unique look to your hair while also complementing your complexion perfectly.
However, it is important to consult with a professional hairstylist on which type of shade would suit you best in order to get the desired results without damaging or over-bleaching your hair.
Platinum Blonde
You can make a bold statement with platinum blonde, but be aware of your undertone for the best result. Those with warm undertones should choose ginger hair or ash bronde to avoid clashing tones. A bronde shade is also ideal for those who want a subtle look, and blue black works well if you're looking for something more dramatic.
Purple highlights are perfect to add an extra dimension without going too extreme, while adding lighter highlights creates more contrast than choosing one solid color.
Professional stylists recommend careful consideration when selecting shades of blond as individual preferences vary greatly depending on skin tone and desired effect.
Ash Blonde
Try a sophisticated look with an ash blonde shade to give your hair a cool, glowing hue. It's best suited for those with warm undertones and can be achieved through bleaching. Consider the potential damage that bleach may do – from dryness to breakage – before proceeding.
Here are some tips when choosing an ash blonde:
Consult a professional hairstylist on how to achieve it safely.
Opt for warmer shades of platinum in order to avoid over-bleaching.
Add subtle tones such as dusty rose or Korean hair color if you're feeling adventurous.
To maintain this look requires regular root touch-ups and intense conditioning treatments, so keep that in mind before making the switch! Ash blondes will help you stand out without appearing too drastic or unnatural; go ahead and make everyone else jealous of your beautiful locks!
Consultation With a Professional Hairstylist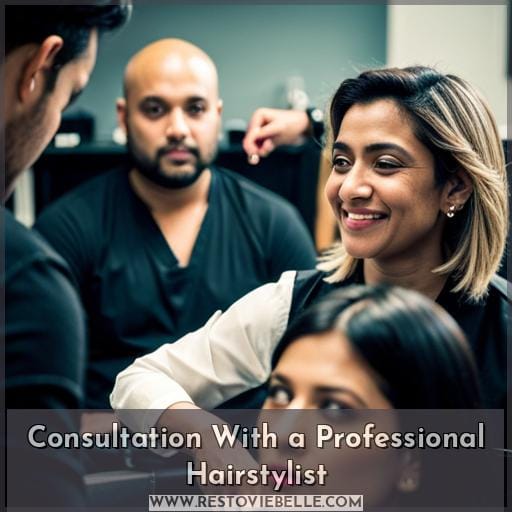 It's recommended to consult a professional hairstylist before attempting to dye South Asian hair blonde, as over-bleaching can cause serious damage. Studies have found that 7 out of 10 people who attempt bleaching without the help of an expert are not satisfied with the results.
A color analysis from experienced hair colorists will ensure you achieve your desired shade and maintain healthy locks in the process. The most suitable shades for medium skin tones include warm platinum, ash blonde, honey blonde, and light brown.
Chestnut blonde or champagne blondes may be better suited for cooler complexions.
Hair health should always be a top priority when choosing a product such as platinum hair dye – this is where trusted beauty products come in handy! With their expertise on current trends and knowledge about various types of dyes available on the market today, your stylist can help you pick out something perfect for any occasion or simply everyday life!
From subtle highlights to unique colors like rose gold or green ombré – there's no limit when it comes to creating beautiful looks with safe and reliable products while keeping our precious mane intact!
Bleaching and Potential Hair Damage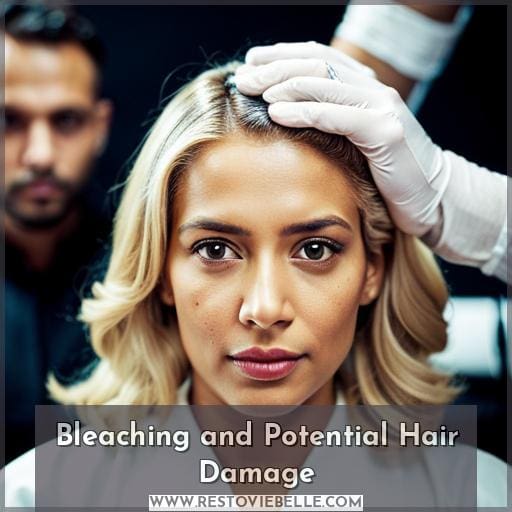 Bleaching your locks to achieve a blonde shade requires careful consideration, as it can lead to breakage and damage. Before starting any blonding process, it's important for you to understand the right haircare routine and color selection that will best suit your skin tone.
This includes taking into account whether or not you have warm undertones in order to get the perfect match between hair health and tonal matching. For example, if you have an olive complexion, ginger hair color would be more suitable than platinum blonde shades as they may clash with each other instead of creating harmony.
It's also vital that when bleaching is done correctly without compromising on quality – using professional-grade products like bleach powder – split ends are avoided at all costs. This can be achieved by ensuring there's enough moisture stored in every strand before beginning the lightening process.
In addition, golden browns and ash brondes are great alternatives for South Asian women who want a subtle change from their natural dark tresses. They may not necessarily want something too drastic, such as going full-on platinum blonde or strawberry tones.
However, either way could prove damaging if not done properly by an experienced hairstylist.
Blonde Hair Color for Cool Skin Tones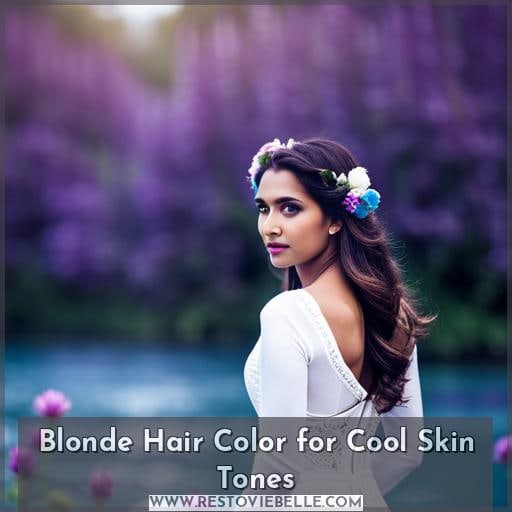 Cool skin tones may be best complimented with a soft and subtle ash blonde, like the light glimmer of a sunlit snowfall. Ash blonde is an excellent choice for South Asian women, as it provides cool undertones while still being bold and eye-catching.
Women with cool skin tones can also consider deep brown or copper highlights to give their hair dimension without compromising on its natural beauty. Strawberry blonde is another great option; this shade gives hair both warmth and vibrancy while remaining classy.
Mahogany brown and bronde highlights are other choices that look stunning on South Asian women with cooler complexions–both shades provide depth without clashing against the underlying tone of the hair color itself!
Bluish black hair has become increasingly popular among those in Western culture who want to make an edgy statement without going too far out there – if you're feeling adventurous, try out this unique hue! For something even more daring yet toned down at the same time, opt for ash pink which looks amazing when paired up with some lighter shades underneath such as honey brown or golden blondes.
No matter what shade of blonde you choose to go for–whether it's bright pink or mahogany red–you'll be sure to turn heads wherever you go!
Blonde Hair Color for Warm Skin Tones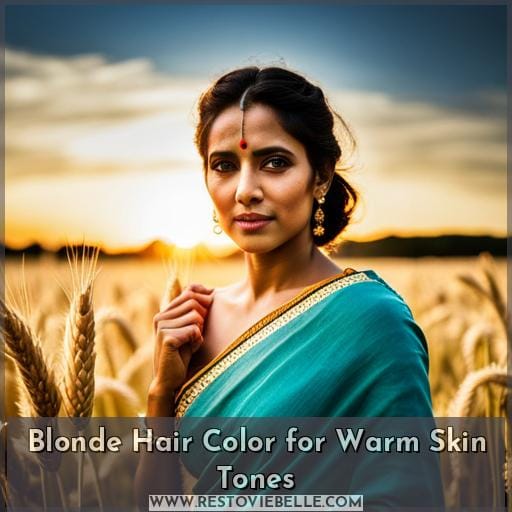 When it comes to blonde hair color on South Asian women, the suitability depends heavily on their skin tone and undertone. For warm skin tones, a light golden blonde is recommended for its soft glow. Honey blonde works well with medium-toned complexions while platinum shades are bolder looks best suited for fair South Asian skins.
Ash blondes can be a great choice for those with cool undertones and strawberry hues make an interesting look against darker skin tones.
But before you go ahead and try any of these unique shades, remember that bleaching is involved in changing your hair color – which can damage or cause breakage if not done properly! So caution should always be taken when going from dark to light hair colors! Caramel blondes work especially well on cool Indian complexions while honey browns provide just enough warmth to brighten up lighter ones.
Sunflower blonds bring out youthful vibrancy, and copper highlights give subtle dimension changes without being too drastic.
Whatever route you choose, opt for what makes you feel confident because at the end of the day, that's all that truly matters when it comes to beauty decisions like this one!
Unique Blonde Hair Color Options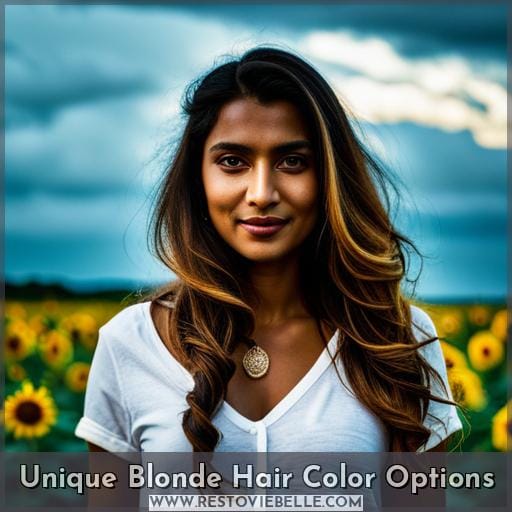 If you're considering blonde hair color for South Asian women, there are many unique options to consider. From golden blondes to chestnut and dusty rose shades, each hue can provide its own distinct look depending on the underlying skin tone of the individual.
Golden Blonde
Go for the gold! A golden blonde is a classic, timeless choice that will flatter warm skin tones and give you an elegant look. Add babylights or light ash to create depth and dimension without overpowering your complexion.
If you're feeling daring, try pairing it with cool-toned ash blonde or bronde highlights for a powerful contrast of colors. Blonde ombré can also be used to soften bright pink sections while still allowing them to stand out against the golden hue of your hair color.
Golden blondes are a perfect way to add warmth and sophistication. No matter which version suits you best, this is one powerful shade that won't let you down!
Chestnut Blonde
Embrace the bold look of Chestnut Blonde for a unique, sophisticated style that will make heads turn! This shade is perfect for cool skin tones and those looking to boost their confidence. It's subtle enough to be natural while still making an impact – ideal if you want something different than honey blonde or strawberry blonde.
Combine this shade with brown hair and golden streaks for a special touch that brings out your natural beauty.
Make sure you consult a professional hairstylist before deciding on any hair color shades so they can help you find the right one to suit your needs best!
Dusty Rose Blonde
Paint your tresses with a subtle, dusty rose hue for a sophisticated look that will flatter cool skin tones. This shade of blonde combines rose gold and soft pink for an edgy effect when paired with ash blonde.
Warm platinum tones can be bold on darker South Asian women, while ginger hair may clash with olive skin.
Rose gold highlights add just the right touch of vivacity without being overwhelming.
Confidence and Personal Choice in Hair Color Selection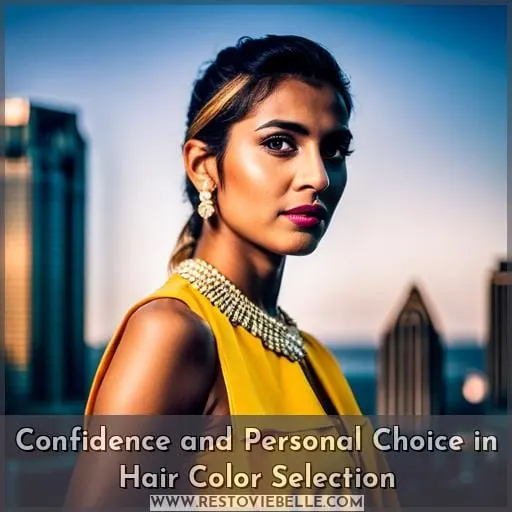 Choose the hue that best reflects who you are and what makes you feel beautiful. Blonde hair on South Asian women is a trend that has spread globally, but it may not be suitable for all skin tones. To achieve an optimal result, consider your individual features such as skin tone and undertone before making a decision.
Light golden blonde highlights can give off a soft glow to warm skin tones, while honey blondes provide medium-toned complexions with an eye-catching radiance. Platinum blonde offers those with fair complexion a bold look, while ash blonde is perfect for cool undertones to create sophistication.
For darker South Asian skins, strawberry blonde provides unique charm, while warmer platinum shades work well in combination with olive-toned complexions. However, cooler shades of platinum will likely appear unnatural when paired together due to the contrast in coloration between them both.
Subtle changes like burgundy reds or chestnut blondes offer low maintenance options, whereas vibrant colors such as purple highlights or pastel pinks add flair without compromising natural beauty.
Frequently Asked Questions (FAQs)
How long does blonde hair color last on South Asian women?
Do you want your blonde hair color to last? South Asian women can make it happen with the right choice of shade and regular maintenance. Bleaching may be required, but a professional stylist will help ensure long-lasting results without damaging your hair.
Is bleaching necessary for achieving blonde hair color?
Bleaching might be necessary for achieving a blonde shade, but it could also damage your hair and cause breakage.
What are the best products for maintaining blonde hair color?
Maintaining blonde hair color requires quality products. Look for shampoos and conditioners specifically formulated for colored hair, as well as leave-in treatments to protect the color from fading. Use a toner to neutralize brassy tones or add highlights, while weekly deep conditioning masks will keep your locks hydrated and healthy.
Are there any special hair care tips for South Asian women with blonde hair?
To maintain blonde hair, South Asian women should seek professional help for the best shade to suit their skin tone. They should regularly use hydrating products and avoid over-washing to prevent breakage or damage from bleaching.
Additionally, they should incorporate weekly conditioning treatments and utilize UV protection when outdoors to create captivating color that conveys power and liberation.
Are there any natural alternatives to achieving blonde hair color?
Yes! Natural alternatives like henna, chamomile tea, and lemon juice can help you achieve a blonde hue.
Conclusion
When it comes to South Asian women, the question of whether or not blonde hair color will suit them is one that is often asked. While it's true that there is a wide range of South Asian skin tones, not all of them are suitable for blonde hair.
Depending on the skin tone and undertones, there are various shades of blonde that are recommended for South Asian women. From light golden blonde for warm skin tones to strawberry blonde for darker skin tones, there are a number of options available.
It's important to consult a professional hairstylist to determine the best blonde shade for your skin tone. Additionally, bleaching is usually required to strip the pigment in the hair, and this can damage the hair and cause breakage.
When it comes to choosing a blonde hair color, the decision is ultimately a personal one. Choose the shade that makes you feel the most confident and don't be afraid to step out of your comfort zone and try something new.