This site is supported by our readers. We may earn a commission, at no cost to you, if you purchase through links.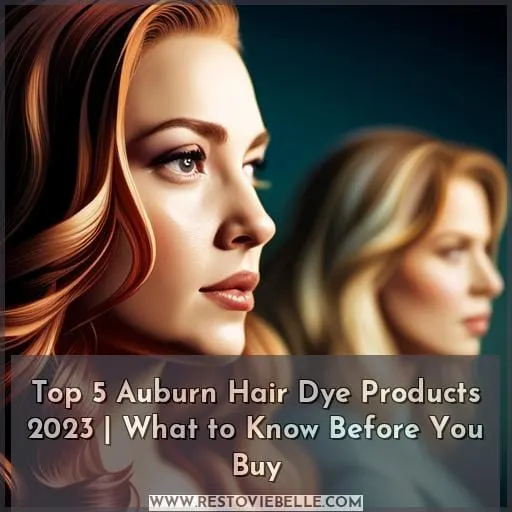 Ready to join the auburn hair coloring craze? If you're looking for a new shade that will make heads turn, then look no further. Auburn is the perfect balance of red and brown, flattering both cool and warm skin tones so everyone can get in on the trend.
Top 7 Best Auburn Hair Dyes
Auburn hair dye adds a warm, vibrant hue to your hair that can last for weeks. If you're looking for the perfect shade of auburn, consider trying one of these top 7 products: Clairol Nice 'n Easy 6R Light Auburn, Garnier Nutrisse Ultra Color R3, L'Oreal Preference Hair Color 6AB, Madison Reed Zucca Mask, High Beams Auburn Hair Color, dpHUE Gloss Auburn Hair Dye, and Schwarzkopf Keratin Color Dark Auburn.
Clairol Nice Easy 6R Light Auburn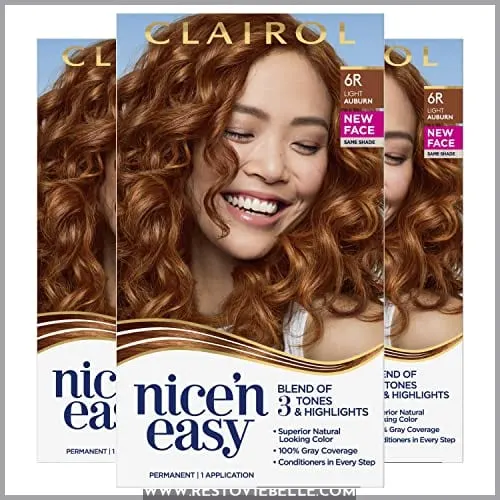 View On Amazon
Enjoy a natural-looking, multi-dimensional light neutral brown with warm golden tones and highlights for up to 8 weeks when you try Clairol's ColorBlend formula. This permanent hair coloring cream is perfect for dark blonde to medium brown hair as it offers 100% gray coverage and contains built-in CC Plus ColorSeal conditioner that makes your hair soft and shiny.
You'll love how this product matches your natural color while boosting shine – plus it's cheaper than going to the salon. It might look a bit brassy at first wash, but don't worry; it will lighten over time! Darker shades are expected on darker hairs, so if you're looking for subtle highlights, then this isn't the right one for you.
Matches natural color & boosts shine
Covers grays fairly well
Makes hair look thicker
Cheaper alternative to the salon
Fades after 1 or 2 washes
Too red/dark on lighter hairs
Color fades quickly
Garnier Nutrisse Ultra Color R3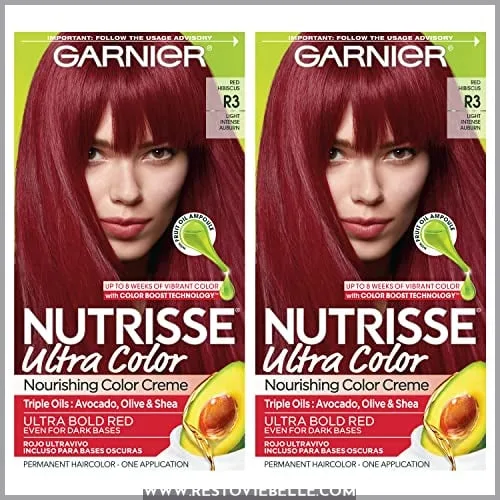 View On Amazon
Try Garnier Nutrisse Ultra Color R3 for a light, intense auburn shade with up to 8 weeks of bold, boosted color that nourishes your hair. This semi-permanent dye is popular among customers who report satisfaction with its results.
It is adaptable to all types of hair texture and offers deep red tones on light brown locks. The color boost technology and oils like avocado, shea, and olive in the mix help lock moisture in place after coloring, leaving you with vibrant colors that look natural even when bleached.
The box contains gloves and instructions, making it easy to use at home or take along if visiting the salon for professional help or touch-ups. Shipping is available within the US & APO/FPO addresses, making this product an ideal choice.
Vibrant colors appear natural even when bleached
Easy-to-apply formula adapts well to different hair textures
Locks moisture into colored strands
May not be shipped internationally
Product may vary from images
Loreal Preference Hair Color 6AB
View On Amazon
Transform your hair with L'Oreal Paris Superior Preference 6AB for a vibrant, multi-dimensional color that lasts up to 8 weeks. This permanent hair dye kit provides over 50 fade-defying shades and covers gray, highlights, bright colors, and ombre.
The gel formula comes with Care Supreme Conditioner containing shine serum, vitamin E, and UV filter, which locks in the color vibrancy for long-lasting results. It works well on bleached hair, leaving natural-looking shades while making the strands soft thanks to its conditioner.
Over 50 fade-defying shades available
Gel formula with Care Supreme Conditioner containing shine serum
Covers gray, highlights, bright colors, and ombres
Works well on bleached hair
Natural-looking shade
Softens strands
Less breakage than other brands
Not suitable for very dark or black-colored hairs
Must be used carefully as per instructions given
Madison Reed Zucca Mask
View On Amazon
Experience the luxurious argan oil and keratin-infused Madison Reed Zucca Mask for a quick in-shower color refresh that'll add copper golden tones to your blonde, brunette, or auburn hair. This ammonia-free formula wraps around the hair rather than penetrating the cuticle, leaving it soft and shiny.
The mask is vegan, animal-friendly, and free of parabens, sulfates, phthalates, and gluten – an ideal choice for those seeking salon-quality results without breaking their budget! It is not intended for gray coverage but works great on lightened locks to give them depth with rich red undertones.
Plus, there's no need to worry about staining as this product won't stain clothing or towels either! Enjoy easy application with long-lasting vibrancy while nourishing your tresses at home – you're sure to love what Madison Reed Zucca Mask has done for your hairstyle from day one until wash out time arrives weeks later.
Ammonia-Free Formula
Cruelty-Free & Paraben-Free
Adds Intense Hydration
Non-Staining Formulation
Easy Application
Not suitable for Gray Coverage
Can only be used on Lightened Hair
High Beams Auburn Hair Color


View On Amazon
Take your hair color transformation to the next level with High Beams Auburn Hair Color – it's vibrant, intense color won't rub off once it dries!
This temporary spray-on dye is a salon quality option for quickly covering grey roots or adding highlights without damaging existing hair. The aerosol can contains 2.7 oz of product and washes out in one shampoo, so you don't have to worry about long-term commitment.
With quick dry time and being easy to blend into your natural shade, this product helps unleash creativity while providing great value for money.
Vibrant & intense color that doesn't rub off once dry
Covers grey roots or adds highlights without damage
Washes out in 1 shampoo
Quick drying
Easy blending
Great value
Doesn't last all day
Multiple shampoos needed for full washout
Need to avoid excess combing after application
DpHUE Gloss Auburn Hair Dye
View On Amazon
Elevate your style with dpHUE's Gloss Auburn Hair Dye, featuring an ammonia-free formula that wraps around the hair to give a salon-fresh look and deep red tones for vibrant color.
Perfect for brunettes looking to add reddish highlights, this semi-permanent dye enhances and deepens both natural or color-treated locks without parabens, sulfates, phthalates, or gluten.
An 8 oz bottle contains vegan and animal-friendly ingredients to condition hair while keeping it soft, shiny, and manageable.
To reduce any brassiness left behind by the intense hue of this product, you can mix it with Sheer dpHUE shades to dilute it further.
Ammonia-free
Vegan & Animal Friendly
Long-lasting
Adds vibrancy & shine
May not cover gray completely
Can be drying on some types of hair
Small bottle size compared to price
Schwarzkopf Keratin Color Dark Auburn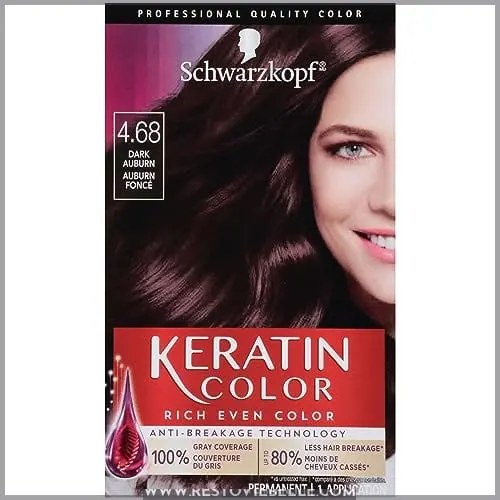 View On Amazon
Give Schwarzkopf Keratin Color Dark Auburn a try for long-lasting, rich color and up to 80% less hair breakage. This permanent dye contains K·bond-plex technology to help protect against damage. The box includes pre-color serum that conditions hair before coloring for even color from root to tip, so you get the best results possible.
Customers report satisfaction with the dimensional color that works well on dark brown hair and fades nicely into a burgundy shade over time.
100% gray coverage
Long-lasting & rich color
Contains K·bond-plex technology
Pre-color serum included in the box
Fades nicely into a burgundy shade
Strong smell
Bleeds/stains skin
Color darker than model
Understanding Auburn Hair Color

Confused about what auburn hair color actually is? Is it red or brown? Warm or cool? Well, auburn is not just one shade but many and can vary from burgundy to copper to blonde. It also has warm undertones thanks to its red hues, making it great for adding lowlights and balayage blends with cooler shades.
Is It Red or Brown?
Confused about whether auburn hair is more red or brown? Get the lowdown on this warm hue and its many variations, from cherry to copper.
Rich in red tones—warm look perfect for cool shades like burgundy and copper.
Blonde auburn brings out natural highlights in lighter hues of hair color.
Red hair is an eye-catching shade that pairs well with darker colors like brunette or black.
Brown hair can be transformed into blonde auburn by using dyes specifically formulated for dark hues.
Auburn color has something to offer all types of tresses; experiment with different shades and find the one that compliments your unique style best!
Is It Warm or Cool?
Choose between warm, rich auburn or cool copper hues to find the perfect color for your hair. Whether you're looking to go from blonde to something new or just want a subtle change, there's an option that's right for you.
Auburn tones are typically warmer due to their red undertones, and lowlights/balayage blend well with cooler shades. Hair dye types range from temporary (1 shampoo wash out) to permanent (lasting until grown out).
Salon tips include lightening first if you want lighter colors and using sulfate-free products to keep the vibrant shade longer.
Explore different options of auburn shades, from natural browns, dusty coppers, cherry reds, and more!
Finding the Perfect Auburn Hair Dye Shade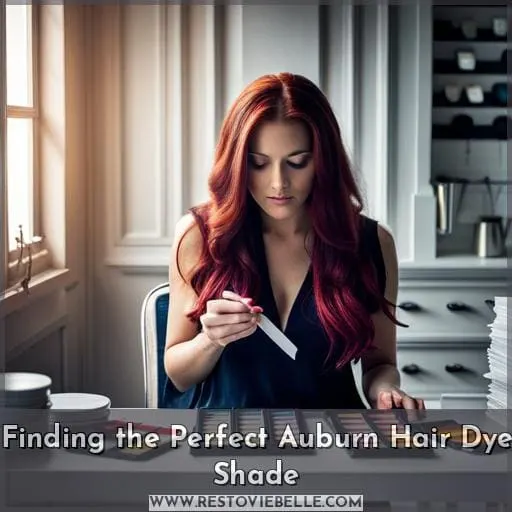 Choosing the right shade of auburn for your hair can be tricky – but with this guide, you'll have gorgeous highlights to show off in no time.
Before dyeing, consider both undertone impacts and skin tones to select the best hue for you. Test various dyes on strands prior to full application and opt for ammonia-free formulas that protect hair integrity during color blending.
Semi-permanent options are great if you're looking to add subtle hues or deepen natural color, while permanent colors offer vibrant shades and long-lasting results.
From light strawberry blonde through rich red copper, there's an array of beautiful auburn shades available:
Light Auburn – Soft golden undertones ideal for dark blondes
Rich Auburn – Deep brows mixed with hints of chestnut brown
Natural Auburn – Subtle reddish tints combined with warm brunettes
Red Copper – Bright copper hues blended into classic auburn
With these tips in mind, finding an eye-catching yet natural-looking shade is easy! Whether it's creamy caramel or icy white chocolate, embrace your style by picking up the perfect dye today!
Auburn Hair Color Ideas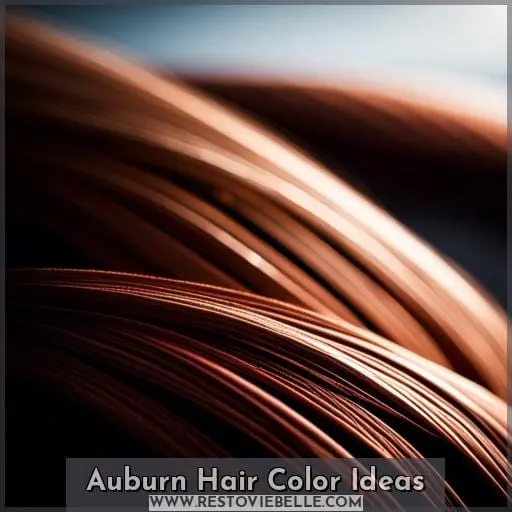 Whether you're looking for subtle light auburn, deep dark auburn, or something in between, there are plenty of shades to choose from.
Light Auburn
Light Auburn is a beautiful color that will give your hair a warm, golden hue with natural highlights. It has an orange-brown-red hue and offers coverage levels ranging from dark blonde to medium brown.
Clairol's Nice'n Easy 6R Light Auburn is the best for achieving this look, as it provides up to 8 weeks of vibrant iridescent tones with 100% gray coverage.
For those wanting something more trendy or burgundy blends, L'Oréal Préférence Infinia and Excellence Creme are great options too, with lasting results of 4-8 weeks! Brightening tips, such as strand tests before dyeing, help ensure you get the perfect light auburn shade.
Give light auburn hair dyeing a try today!
Dark Auburn
For those looking for a bolder hue, dark auburn is the way to go. It offers classic tones of red and brown with copper highlights that make it stand out. The deep color lasts long, allowing you to enjoy this striking look without having to constantly touch up your hair.
To get the best results, use tested products. Lighten your hair first if necessary.
Strand test before dyeing and add lowlights/balayage for cool shades. All these tips will help create an amazing, vibrant dark auburn shade!
Use tested products for best results.
Lighten hair first if necessary.
Sulfate-free shampoo helps maintain vibrancy.
Auburn Brown
Transform your hair with a rich, warm shade of brown that has subtle red hues for an enlivened look. Blonde to auburn transition may not require bleaching, depending on the desired shade and current blonde level.
The lowlights effect creates dimension, and copper tones add warmth to the undertones without an ammonia smell like other dyes.
Sulfate-free products are necessary when maintaining vibrant colors, as these help keep hair soft and shiny.
Natural Auburn
Experience the warmth of Natural Auburn hair color for a vibrant, sun-kissed look that will make your gorgeous locks shine! From blonde to dark auburn and copper to golden tones, it's easy to find the perfect shade.
Try dye types like temporary, semi/demi-permanent, or permanent – just follow best practices such as testing products beforehand and using sulfate-free shampoos afterwards.
Rich Auburn
Bring out your inner fire with a rich auburn hair color that combines warm tones of brown and red for an unforgettable look. A subtle blend of dye types can help you achieve the perfect shade – from permanent to temporary – while using sulfate-free products will keep vibrant, multidimensional undertones alive.
If you're going blonde, consider lightening first to reach lighter or brighter hues before applying any warm auburn dyes. Tested products like L'Oreal Paris Superior Preference offer chic shades that last 4-8 weeks, leaving soft and shiny locks without strong smells.
Dyeing Your Hair Auburn at Home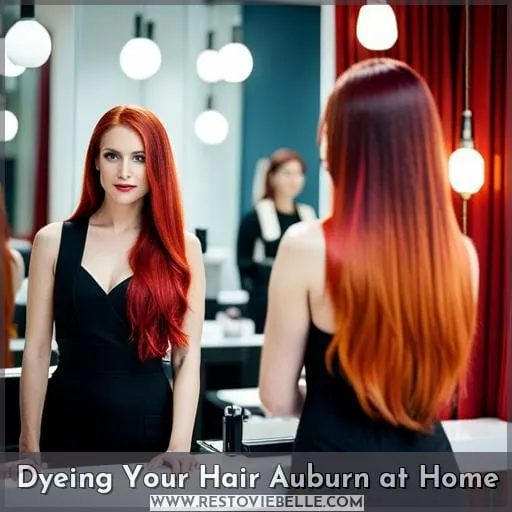 Whether you're looking for a subtle change or an all-out transformation, dyeing your hair at home can be done with ease. There are four types of dyes to choose from – temporary, semi-permanent, demi-permanent, and permanent – each offering different levels of coverage so you can find the one that best suits your needs.
Temporary Hair Dye
Try your hand at a new look with temporary hair dye to give yourself an instant makeover in no time. Consider your hair type, skin tone, and desired effect before selecting a color from the red color family – a mix of red-orange-brown shades for copper tones or lighter browns.
Dyeing techniques such as balayage can create subtle ombres without long-lasting effects, while semi-permanent dyes last up to 8 washes but still require some preparation like pre-shampooing and avoiding conditioner afterwards.
Temporary dye is easy to apply on damp or dry hair – follow the instructions carefully for best results! Have fun experimenting with unique colors that won't break the bank; you'll be amazed by what you can achieve in just one session!
Semi-Permanent Hair Dye
Take your hair to the next level with semi-permanent auburn dye! Try at-home application for long-lasting color without bleaching effects. Get up to 70% grey coverage and a color extender for roots. Plus, enjoy an ammonia smell that's much lower than permanent dyes.
Achieve salon-style results that last 4-12 washes and don't lighten or damage hair. Enjoy vibrant hues of reds ranging from cherry to copper blonde with no harsh fade in between applications.
Demi-Permanent Hair Dye
If you're looking to add a subtle change of color, try demi-permanent hair dye! For example, Sarah recently tried L'Oreal Paris Excellence and was amazed by the results – her hair looked vibrant yet natural.
Demi-permanent dyes last longer than semi-permanent ones but don't require bleaching or lightening processes. They also give your locks an extra boost with the pro-keratin spray formula for shine and nourishment.
With warm tones like red hibiscus or cool shades like caramel ombre, you can find the perfect hue for yourself without the ammonia smell or harsh chemicals in products.
Permanent Hair Dye
Discover the difference permanent hair dye can make to your look with a salon-quality, fade-defying color. Permanent hair dyes provide long-lasting coverage of gray hairs and offer up to 8 weeks of brilliant red tones, warm shades, and golden hues.
Ammonia-free formulas won't damage or dry out your hair while you maintain auburn locks, keeping them vibrant for months! Color vibrancy is locked in with aftercare masks that also add shine without breaking strands.
Whether you're looking for dark cherry or light copper hues, find the perfect shade with no more than one shampoo wash off needed! Achieve beautiful salon results from home – goodbye grays and hello luscious locks!
Choosing the Right Auburn Hair Dye for You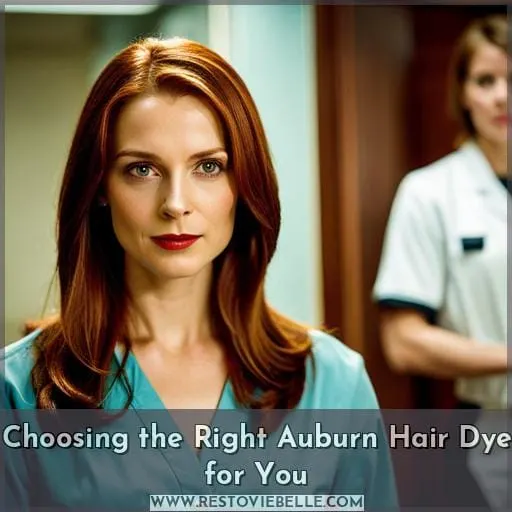 If you are looking for the best auburn hair dye, it's important to factor in your own personal hair type and texture as well as skin tone. Additionally, consider if semi-permanent or permanent is best for you and always do a strand test beforehand.
Considering Hair Type & Texture
When considering your hair type and texture, take into account whether you have natural or bleached blonde hair to determine the level of auburn shade desired. Porosity, damage level, and texture type play an important role in color changing success.
Casting Creme Gloss is best for those with lower porosity; it provides long-lasting color as well as fading protection.
Considering Skin Tone
Choosing the right hair dye for your auburn shade can be tricky, especially when you factor in skin tone. Matching your complexion to the right tones of auburn is key. Warm-toned complexions look best with copper or cherry hues, while cool-tone types suit dusty and strawberry shades better.
Older women should opt for softer colors, while younger ones go bolder for maximum vibrancy! Consider as well if you'd like highlights or lowlights infused into your hair color, depending on its texture and type.
Semi-Permanent Vs Permanent
Deciding whether to go with a permanent or semi-permanent hair dye can be daunting, but understanding the differences between them gives you the power to choose confidently.
Permanent hair dye provides full gray coverage and long-lasting color that won't fade easily. It also contains a shine serum to make your locks look bright and healthy while helping reduce breakage.
Semi-permanent dyes don't provide 100% gray coverage. However, they are more gentle on the scalp than permanent ones, so they will not damage your natural color as much over time.
It's best used for adding caramel hues or deepening existing shades when applied correctly after an initial strand test has been done beforehand.
Choose wisely!
The Strand Test
Before committing to a bold new hair color, make sure to take the strand test for an absolutely flawless look! Strand testing allows you to see how different dyes and colors work with your hair type and skin tone.
Test out multiple dye options on one single lock of hair. This will allow you to choose from various shades, like fresh rust or intense auburn highlights, without making any major mistakes.
When visiting the salon, bring along pictures of what is considered auburn so they can match it perfectly! Whether warm or cool-toned, using this method will help ensure that you get just the right shade for your desired result.
Frequently Asked Questions (FAQs)
Is auburn hair dye safe?
Yes, auburn hair dye is safe when used as directed. However, it's important to test products first and follow instructions carefully for the best results.
How long will auburn hair dye last?
Time is of the essence when it comes to auburn hair dye – lasting anywhere from 4-10 weeks. How long your color stays vibrant depends on how well you care for your locks, so make sure to use sulfate-free products and conduct strand tests before applying! As the old adage goes: 'the early bird catches the worm', so don't wait too long if you want to keep that perfect shade.
Does auburn hair dye work on blonde hair?
Yes, Auburn hair dye can work on blonde hair. However, you may need to lighten your locks first for lighter or brighter shades and should consult a professional to ensure the best results.
Are there any natural auburn hair dyes?
Yes, there are natural auburn hair dyes available. Look for products containing plant-based ingredients like avocado and grape seed oils to get vibrant color without the strong smell of ammonia. If you're going from blonde to auburn, strand test before dyeing for best results.
Does auburn hair dye need to be touched up?
Touching up auburn hair dye will depend on the type of product used. Permanent dyes may need to be retouched every 4-8 weeks, while semi and demi-permanent formulas can last 8-12 washes or longer.
Conclusion
The best auburn hair dye can instantly give you a stunning look. Whether you want to go for a light, dark, brown, natural, rich, red, dusty, copper, cherry, sunset, or strawberry auburn, you can find the perfect shade for you.
From temporary to permanent, there is a variety of auburn hair dyes to choose from. Some popular options include Clairol Nice Easy 6R Light Auburn, Garnier Nutrisse Ultra Color R3, Loreal Preference Hair Color 6AB, Madison Reed Zucca Mask, High Beams Auburn Hair Color, dpHUE Gloss Auburn Hair Dye, and Schwarzkopf Keratin Color Dark Auburn.
Each of these dyes will provide you with vibrant and long-lasting color while nourishing and protecting your hair.