This site is supported by our readers. We may earn a commission, at no cost to you, if you purchase through links.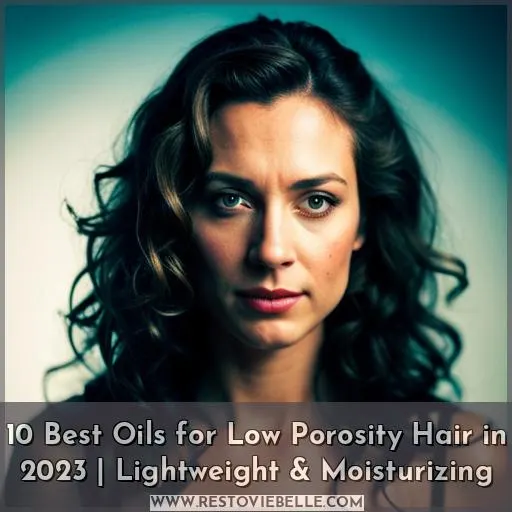 Do you have low porosity hair? If so, it might feel like an uphill battle to keep your strands nourished and moisturized. With the right oil, however, you can get those tight cuticles to open up and finally give your hair the TLC it needs.
In this article, we will be exploring 10 of the best oils for low porosity hair in 2023. These oils are lightweight yet powerful enough to penetrate even the most stubborn locks! From Castor Oil to Avocado Moisturizer, find out which oil is best suited for your unique needs.
Get ready for healthy-looking tresses with no more frizz or breakage!
Key Takeaways
Coconut, olive, and almond oils are recommended for low porosity hair due to their light molecular weight and ability to penetrate tightly packed cuticles.
Oils with saturated fatty acids, such as omega-3s, are beneficial for low porosity hair as they strengthen locks and boost shine.
Refined argan, jojoba, and grapeseed oils are lightweight, absorb quickly, and provide intense nourishment for low porosity hair.
It is important to avoid heavy oils like castor, coconut, and hemp seed for low porosity hair as they can weigh it down.
Top 10 Best Oils for Low Porosity Hair
Discovering the perfect oil for low porosity hair can be a challenge. Luckily, there are many options that work well with this type of hair, such as Nutiva Organic Coconut Oil, Organic Babassu Oil, Tropical Holistic Olive Oil, Kate Blanc Castor Oil, NOW Avocado Oil Moisturizer, and more.
These oils provide nourishment to your scalp while helping to strengthen and boost shine to your locks.
Nutiva Organic Coconut Oil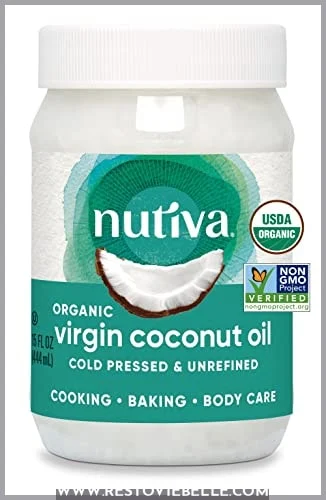 View On Amazon
For a versatile, lightweight oil that's perfect for vegetarian and vegan diets, Nutiva Organic Coconut Oil is an excellent choice to help nourish your hair. The organic and non-GMO cold-pressed virgin coconut oil contains 63% medium-chain triglycerides and 50% lauric acid as natural moisturizers and deep conditioners.
This 15 fluid ounce BPA-free container is great for cooking, baking, or other beauty needs without added chemicals or hexane. A light coconut flavor makes it the perfect addition to any kitchen, while its easy absorption when used as a moisturizer helps keep skin supple with its natural nutrients like Vitamin E & A antioxidants.
Lightweight & versatile
Non-GMO & USDA certified organic
Contains beneficial fats like lauric acid
Not always white in color
Some may not care for the scent of coconut
Refined version better suited for some baking purposes
Organic Babassu Oil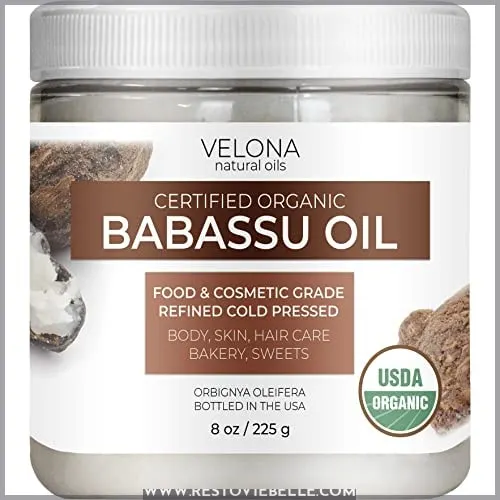 View On Amazon
Velona's Organic Babassu Oil is a perfect vegan alternative to coconut oil, providing supple skin and relief for those with sensitive skin or signs of aging. It has a smooth texture that absorbs quickly into the skin without leaving it feeling greasy.
This oil contains no scent but can cause breakouts in some people. While it isn't life-changing for low porosity hair on its own, this shea butter provides an effective and reliable staple for perpetually dry skin types.
Smooth, fast-absorbing, non-greasy texture
No scent
Vegan substitute for coconut oil
Can cause breakouts in some people
Not life-changing on its own
Tropical Holistic Olive Oil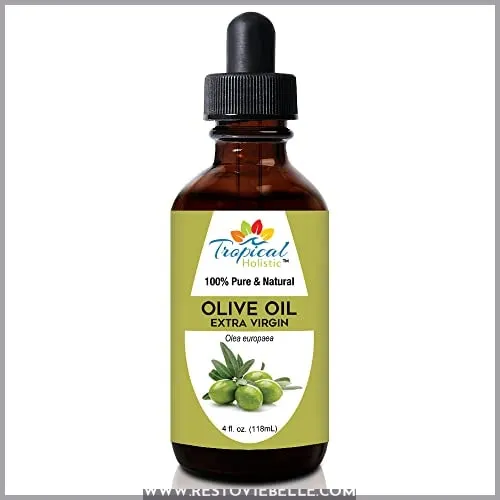 View On Amazon
Try Tropical Holistic Olive Oil for a luxurious, light oil that absorbs quickly and helps keep your hair hydrated without weighing it down. This cold-pressed extra virgin olive oil is of premium quality and is full of nutrients like Vitamin A, E, antioxidants, and essential fatty acids.
It can be used as a moisturizer or after-shower product to help reduce wrinkles, fine lines, and dark spots.
The natural nutty aroma adds an additional layer of luxury to this amazing experience.
100% pure organic Cold Pressed Extra Virgin Olive Oil sourced from premium olives grown without chemicals or impurities.
Rich in Vitamin A, E, antioxidants, and essential fatty acids.
Helps reduce dryness on the scalp and skin, improves elasticity, prevents stretch marks and acne scars, and hydrates the scalp, etc.
The natural nutty smell may not appeal to some people.
Kate Blanc Castor Oil
View On Amazon
Kicking hair woes to the curb with Kate Blanc's Castor Oil – just like a magic wand, this 100% pure and USDA certified oil will help you grow longer, thicker lashes and brows! Made from organic castor beans in a GMP quality assured facility, it provides an array of benefits such as reducing hair loss or dandruff while moisturizing your skin.
It comes with its own dropper for easy application that won't leave your eyes oily if too much is used. Layer over other serums for maximum effectiveness – users have reported thickening and strengthening their lashes after 6 years of use! Even uneven brows can be balanced out by applying regularly to the affected areas.
With fast shipping, so you don't need to wait long before seeing results, try it today for healthier-looking locks!
Reduces hair loss/dandruff & moisturizes skin
Comes with dropper & 1-year warranty
Thickens & strengthens hairs quickly
Takes time before seeing results
May cause breakouts on some people
NOW Avocado Oil Moisturizer

View On Amazon
NOW Avocado Oil Moisturizer is perfect for those with sensitive, acne-prone skin and dryness, as its unscented formula quickly absorbs into the skin without leaving a greasy residue. It's also great for wintertime moisturizing when your body needs extra hydration to counteract cold temperatures.
This 100% pure vegetable oil contains UV light protectant and is not tested on animals or made with GMOs. It comes highly rated from customers who love using this product in their beauty routine! Not only does NOW avocado oil nourish dry cuticles and promote hair growth, but it can also be used as an all-natural massage oil too.
Softens rough, stubborn skin
Absorbs quickly; no greasy residue
Contains UV light protection
Can pour out too much of the product at once
No added fragrance, so it may clash with perfumes
Organic Sweet Almond Oil
View On Amazon
You can give your hair an added boost of vitamins and antioxidants with Organic Sweet Almond Oil, which is packed into a 4 fl oz bottle. Unrefined and hexane-free, this oil contains oleic acid, Vitamin E, and A, as well as retinol to help reduce wrinkles and fine lines while promoting healthy skin tone.
Perfect for those who suffer from dryness or acne scars; it also helps soothe under-eye circles while hydrating the skin.
With no additives or chemicals included in this product, you can feel good about treating your hair right with Organic Sweet Almond Oil's natural ingredients.
Rich in vitamin E & A antioxidants
Easily absorbed without leaving a greasy residue
No additives or chemicals included
Some variance in scent from nutty to no scent
May have a medicinal aroma if organic & pure
Can go rancid over time
Organic African Shea Butter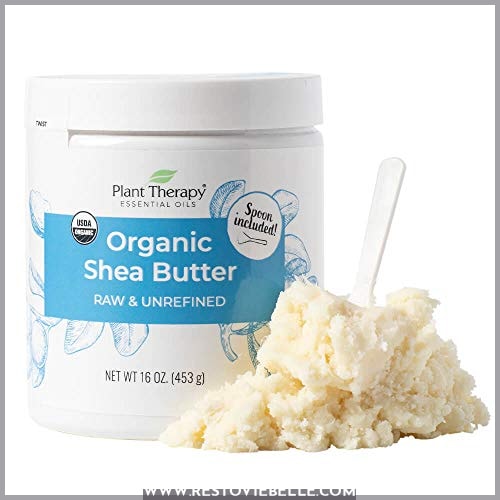 View On Amazon
Treat your hair to the luxurious, raw shea butter from Africa – rich in vitamins A and E with a nutty aroma that melts into the skin for deep hydration. Organic African Shea Butter is 100% pure, unrefined, and imported directly from where it's sourced – perfect for those who want top quality without any processing or refinement.
The solid texture at room temperature makes this product a great choice when making lotions or balms at home. It is also an excellent moisturizer for dry skin! It comes with a disc lid for easy storage and a spoon so you can scoop out just the right amount of butter every time.
Customers have been using this shea butter successfully on their hair, face, body, and nails to keep them soft and hydrated over many years! This organic African Shea Butter is certified by aromatherapists on staff, ensuring its quality.
Plus, there's even a satisfaction guarantee if you're not completely satisfied with your purchase.
Rich in Vitamins A & E
Unrefined/Organic
Nutty aroma which melts into the skin
Can cause breakouts in some individuals
7 Not life-changing results
US Organic Grape Seed Oil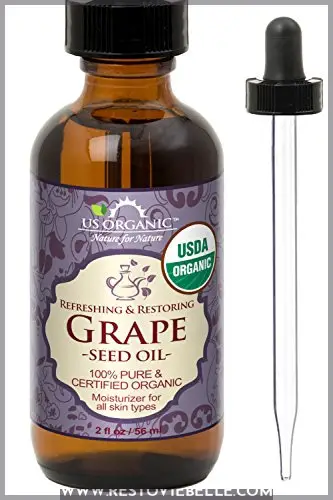 View On Amazon
Try US Organic Grape Seed Oil to nourish and moisturize your skin, while promoting a radiant glow through its rich antioxidant properties. This 100% pure, cold-pressed oil is sourced from premium grapes in Turkey, Argentina, Chile, France, or Italy and is packed with Oleic (C18:1) and Linoleic (C18:2) fatty acids.
With a high smoke point of 420°F, it can be used for frying as well as massage therapies due to its quick absorption into the skin. It also helps retain moisture, which contributes to the overall elasticity of the skin, making it perfect for those prone to dryness.
For those looking for an easy way to apply it on their face or body without leaving behind residue, try this amber glass bottle, which comes with its own dropper!
USDA Certified Organic & 100% Pure cold-pressed grapeseed oil
Rich in antioxidants like Oleic (C18:1) and Linoleic (C18:2) fatty acids
High smoke point of 420°F, great for high heat cooking/frying
Can cause breakouts if not suited to individual's needs
Issues reported with defective/leaky droppers
RAW Organic Wheat Germ Oil
View On Amazon
RAW Organic Wheat Germ Oil from Nature's Potent is a holistic, fresh, and pure oil that will leave your hair feeling soft and hydrated while offering powerful nutrients for healthy skin. This 100% pure, cold-pressed wheat germ oil is sourced from the wheat kernel germ with vitamins A, E, as well as fatty acids to nourish all types of skin.
The dark glass bottle helps maintain its longevity by protecting it against light damage, while the twist cap makes it easy to store away after use.
Holistic & Fresh
Rich in Vitamins A & E plus Fatty Acids
Unscented yet Natural Earthy Smell
Dark Glass Bottle Protects Against Light Damage
Twist Cap Bottle Makes Storing Away Easy
Small Batches Always Made Freshly When Ordered
Supporting Woman-Owned Business Certified Therapist/Herbalist
No Dropper Included
Darker Color May Not Be Appealing To Some
Righteous Roots Hair RX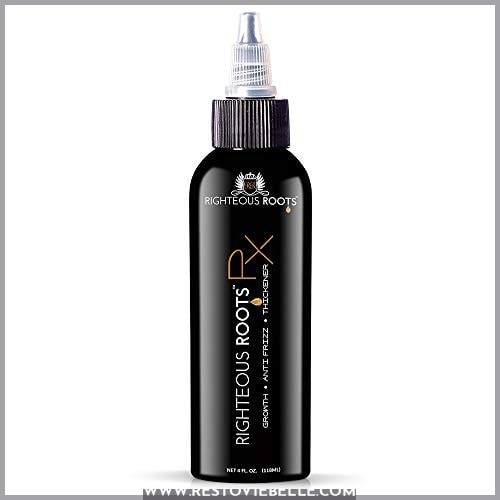 View On Amazon
Reap the benefits of Righteous Roots Hair RX and feel your hair transform into its strongest, most radiant self. This vegan, cruelty-free oil blend is designed to help address hair loss and breakage while softening gel cast and smoothing split ends.
Formulated with natural ingredients like tea tree oil, coconut oil, castor oil, olive oil, avocado oil, grapeseed oils, rosemary oils, peppermint oils, jojoba, and argan, it adds shine and protection to all types of hair while also offering SPF protection.
It helps grow over 8 inches long and protect new growths, leaving a glossy but not greasy look.
With a unique scent combination of peppermint and coconut, this 2.89 oz bottle can go a long way in adding moisture without the thickening effect that you'd get from using butters or creams.
Addresses hair loss/breakage
Softens gel casts
Smooths split ends
Can't use with butter or cream products
Some find it makes their hair appear greasy
Factors to Consider When Buying Oils for Low Porosity Hair

When shopping for oils to nourish your low porosity hair, consider factors such as greasiness, moisturizing ability, price point, and effects on your hair so you can find the perfect fit. Lightweight and low molecular weight oils like coconut oil or almond oil work best due to their small size.
Polar molecules like castor oil also adhere well to hair proteins, which makes them beneficial for penetrating the cuticle layer.
Refined oils of argan, jojoba, or grapeseed are great lightweight options that absorb quickly yet provide intense nourishment. Shea butter is a powerhouse when it comes to restoring moisture lost in styling routines.
Testing different types of these nutrient-rich selections often proves good value since each reacts differently depending on texture type. Nutiva Organic Coconut Oil provides natural hydration. Kate Blanc Castor Oil helps grow thicker brows & lashes.
NOW Avocado Oil Moisturizer hydrates skin & nails without causing breakouts. Organic Sweet Almond Oil softens skin texture & reduces dark spots. Raw Organic Wheat Germ Oil adds elasticity plus vitamins A&E.
Tropical Holistic Olive Oil revives dryness post showers. Organic African Shea Butter protects against stretch marks whilst providing a nutty aroma.
So why not try out various combinations until you find what works best for you?
How to Use Argan Oil for Low Porosity Hair

Argan oil can be a great moisturizer for low porosity hair, so give it a try and see if your strands love it! It's packed with beneficial components like Vitamin E, phenols, carotenes, and essential fatty acids that help nourish the hair.
These properties make Argan oil ideal for all types of hair care. It can repair split ends and protect against damage caused by heat styling tools. Plus, its lightweight consistency makes it perfect for those with finer locks. It's also great for those seeking an extra boost of hydration without weighing their tresses down.
Here are some other oils you may want to consider: sweet almond, which helps strengthen fragile strands; grapeseed, for restoring moisture balance; avocado, perfect for smoothing frizziness; baobab, to add shine; and apricot, for controlling flyaways.
These oils also improve overall scalp health. With just one product, you can benefit from these amazing ingredients.
Hair Porosity and Its Importance

Understanding your hair's porosity is an essential part of maintaining healthy locks, as it can greatly influence the success of oil treatments. Porosity describes how easily moisture and product can enter and stay in the hair shaft.
There are three levels of porosity: low, normal/medium, and high. Low-porosity strands have tightly packed cuticle layers with small pores that make it difficult for oils to penetrate deeply into the hair shaft.
On the other hand, high-porosity strands have open cuticles, allowing easier penetration but also making them more prone to product buildup over time.
To achieve optimal results when caring for low-porosity strands, use lightweight oils like coconut or almond. These oils match the pore size more closely than heavier ones such as castor or hemp seed oil, which would only weigh down your tresses without providing proper nourishment.
Additionally, opt for nutrient-dense options such as sweet almond oil, safflower oil, grapeseed oil, avocado oil, or camellia oil.
Understanding Low Porosity Hair

Low porosity hair can be tricky to tame, but with the right knowledge and products, you can achieve beautiful results. Testing oils based on greasiness, moisturizing ability, price point, and effects on your hair is essential for finding the best oil tailored to individual needs.
Lightweight oils like coconut or almond are ideal as they penetrate easily, while heavier ones like castor or hemp seed should be avoided as they tend to weigh down low porosity strands.
Deep conditioning regularly, along with clarifying shampoos, will keep follicles clean of product buildup. Moisturizing oils such as pomegranate, sesame, or rosehip oil applied every few days are great at sealing in moisture.
With these tips, you shouldn't have any problem achieving healthy-looking tresses.
Why Lightweight Oils Are Ideal for Low Porosity Hair

Lightweight oils are ideal for low porosity hair because they can effectively penetrate the tightly packed cuticle layers and provide moisture and nourishment to your tresses. Oils like coconut, olive, almond, and avocado are best due to their light molecular weight, which allows them to pass through the small 0.
Symmetrical oil molecules with saturated fatty acids also help with better penetration compared to irregular shaped or polyunsaturated ones.
Regularly using these types of moisturizing oils will give you gorgeous-looking strands full of shine while helping strengthen your hair at its core!
Oils to Avoid for Low Porosity Hair

Avoid using heavy oils like castor, coconut, and hemp seed oil as they can weigh your hair down. Instead, focus on lightweight oils that are nutrient-rich and designed specifically for low porosity hair.
Look for 100% pure or refined options that are cold-pressed with a light texture, such as almond, avocado, or grapeseed oil.
Also, be aware of any harsh chemicals in ingredients like detergents, pomades, and silicones, which can cause build-up over time.
By choosing the best lightweight products tailored towards low porosity hair, you will ensure maximum hydration without damaging your strands further. Add some shine by incorporating omega-3s and antioxidants into your routine while keeping it balanced with heavier sealing agents if needed.
How to Apply Oil to Low Porosity Hair

Applying the right oils to your hair can nourish your strands and give them a much-needed boost of moisture, leaving you with luscious locks. Low porosity hair requires special attention when selecting products as its tightly packed cuticle layer makes it difficult for oils and moisture to penetrate.
Moisturizing Tips: Use lightweight, low molecular weight oils like coconut, olive, or almond oil as they're small enough to penetrate the cuticle layer.
Oil Types: Polar oils such as castor or coconut adhere best due to their chemical properties matching those of proteins within our hair's structure. Refined versus diluted versions also work well, but cold-pressed is ideal for maximum benefits.
Product Selection: Compare 100% pure options vs diluted ones before deciding which one works best for you based on greasiness, moisturization ability, and price point. Avoid heavy options like hemp seed that could weigh down strands instead of moisturizing them properly.
Sealing Techniques: After choosing an appropriate product, use a lightweight option first followed by a heavier one. This seals in all the goodness from the previous step without weighing things down more than necessary.
Porosity Levels: Checking porosity levels is key, so make sure you know yours before attempting any further steps! With this knowledge comes power, so arm yourself accordingly and get ready for good times ahead with healthy-looking tresses!
Frequently Asked Questions (FAQs)
What is the best way to determine my hair porosity?
To determine your hair porosity, try the strand test. Take a single strand of clean, dry hair and observe how it behaves when submerged in water: if it sinks quickly, you have low porosity; if it takes time to sink or floats on top, then you have high porosity.
How often should I be oiling my low porosity hair?
Oiling your low porosity hair should be done regularly, depending on the condition of your locks. Aim to moisturize and lock in moisture at least once a week with lightweight oils that penetrate the cuticle layer and are packed with omega-3s and antioxidants for strength.
Are there any natural oils that are better for low porosity hair than synthetic oils?
Yes, natural oils like coconut, olive, and almond contain fewer synthetic additives than their counterparts. Not only are they lightweight and easier to penetrate the hair cuticle, but they are also high in omega-3s and antioxidants that protect from breakage while promoting shine.
Are there any tips for styling low porosity hair?
Style low porosity hair with lightweight, nutrient-rich oils to strengthen and add shine. Moisturize, then seal in moisture for the best results. Clarify regularly to remove product buildup and overstyling.
Choose suitable oils based on greasiness, moisturizing ability, price point, and effects on your hair.
Are there any natural ingredients I can use to help increase the porosity of my hair?
If you're looking to increase the porosity of your hair, consider using natural ingredients like avocado oil and castor oil. These oils are rich in antioxidants and omega-3s that help strengthen and boost shine while also moisturizing for optimal results.
Conclusion
The quest for the best oils for low porosity hair ends here! From Nutiva Organic Coconut Oil to Righteous Roots Hair RX, this list of 10 top-rated oils is sure to keep your locks hydrated and nourished.
All these oils are lightweight and highly moisturizing, crafted specifically for low porosity hair. Whether you're looking for an all-natural oil to replace coconut oil, a sweet almond oil to promote healthy skin, or a castor oil to grow longer lashes, there's something for everyone.
So go ahead and pick the oil that best fits your needs and budget. With these oils, you can say goodbye to dry, brittle hair and welcome healthy, beautiful locks!