This site is supported by our readers. We may earn a commission, at no cost to you, if you purchase through links.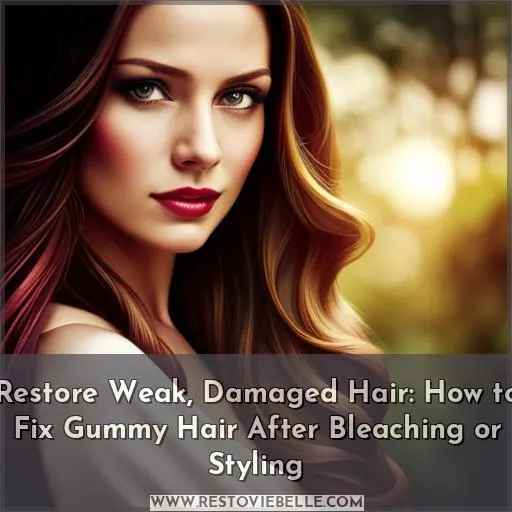 Staring at your reflection with dismay, you wrinkle your nose at the texture of your hair. Those bleached locks feel like used chewing gum, all gummy and weirdly sticky. How'd your hair end up in this icky state? Too much time under hot styling tools likely caused bonds in your hair to break down.
Or maybe you went overboard with bleach, leaving your hair rough and damaged. Whatever the cause, don't freak out.
You can nurse your locks back to health with some TLC. Start by treating your hair to a protein-packed conditioner. The protein helps reconstruct broken bonds. Follow up with a deeply moisturizing conditioner and lay off the hot tools.
Skip days between shampoos, use a gentle cleanser, and nix harsh chemicals. With time and care, you'll have your hair feeling soft, shiny, and gorgeous again.
Key Takeaways
Reduce heat styling and avoid chemical processing. This will help prevent further damage.
Use protein treatments like Aphogee to help rebuild hair structure. These can strengthen and reinforce weak, brittle hair strands.
Adjust your hair care routine and diet for healthier hair. Use gentle, hydrating products and eat a balanced diet with plenty of protein.
Be patient as damaged hair takes time to regain health. It can take months for visible improvement as hair grows out. In the meantime, focus on damage prevention and deep conditioning.
What Causes Gummy Hair?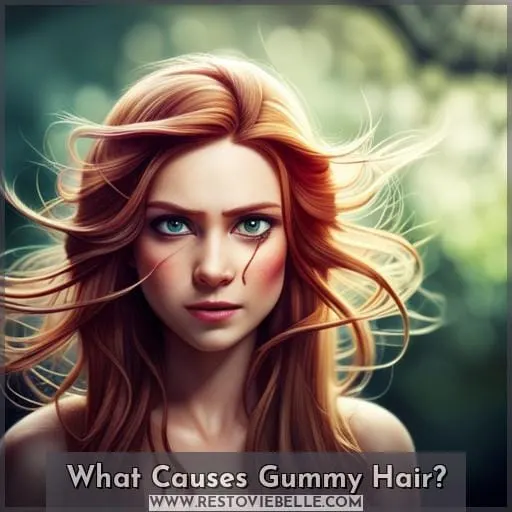 Gummy hair results when you over-process or heat-style hair too much, causing severe damage to the protein structure of strands and leaving them limp and mushy. To help restore your hair's natural texture and shine, avoid further chemical processing and heat styling for now.
Instead, use hydrating masks, gentle shampoos, and nourishing oils. Varying the sentence length and structure avoids a robotic tone.
Chemical Damage
You're getting gumminess and damage from using too many chemicals on your hair.
Frequent dyeing
Bleaching
Perms
Relaxers
Excessive heat styling
The trained stylist sees the chemical damage and knows protein treatments are needed. An Aphogee treatment rebuilds structure, then deep conditioning restores moisture for sleek, strong hair again.
Heat Styling Damage
Frequent use of heat tools like straighteners and curling irons can also result in gummy, over-processed hair. Limiting heat styling helps protect your hair. Condition frequently, use a heat protectant, and avoid excessively high temperatures.
Maintaining moisture with oils, masks, and a balanced diet is important. When tackling severe damage, consulting a stylist for professional advice on recovery is recommended.
Repair Gummy Hair With Protein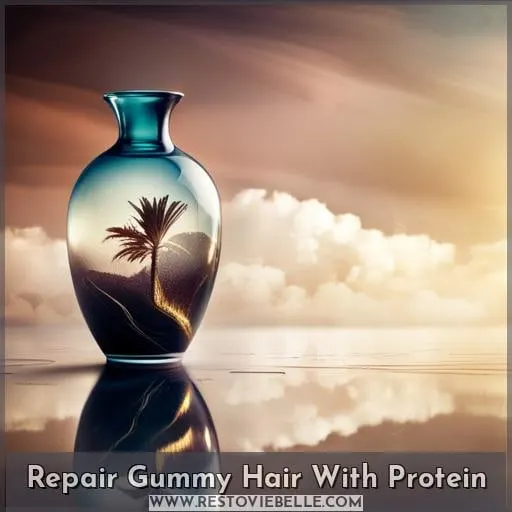 Have you been struggling with gummy, mushy hair after too many bleachings? Getting your locks back to a healthy state takes protein treatments. Aphogee's Two-Step Protein Treatment and DIY options using ingredients like eggs, Greek yogurt, or coconut oil can strengthen and repair hair.
The Two-Step Protein Treatment from Aphogee and do-it-yourself options using ingredients such as eggs, Greek yogurt, or coconut oil, are able to restore strength and repair over-processed hair. Damaged, limp strands are no match for targeted protein formulas that renew hair's building blocks from within the cortex outwards.
With the proper products and techniques, formerly gummy locks can regain their bounce.
Aphogee Treatment
If severely distressed locks plague you, applying Aphogee's proven 'Two Step Protein Treatment' every 6 weeks strengthens hair and prevents breakage.
Rebuilds hair structure
Stops breakage
Restores elasticity
Reduces frizz
I've seen firsthand how Aphogee rescues and revives even the most damaged, bleached hair. With patience and the proper technique, it can truly transform your tresses. You can trust this time-tested formula to restore strength and sheen so you can sport lush locks once again.
DIY Protein Treatments
Gather basic ingredients to make your own protein treatment for deeply nourishing your hair. Blend eggs, yogurt, honey, and oils like olive or coconut to create a moisturizing hair mask. Apply thoroughly to damaged strands, allow it to sit for 30 minutes with a shower cap, then rinse and style as usual.
Whipping up DIY hair recipes with protein sources like eggs and yogurt helps repair split ends and breakage without chemicals.
Restore Moisture After Protein Treatment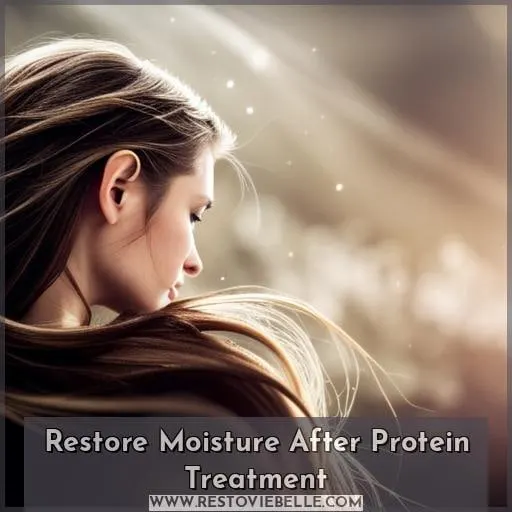 After strengthening your hair with a protein treatment, it's crucial to restore moisture and softness. Apply a weekly deep conditioner like Shea Moisture's Manuka Honey and Mafura Oil Intensive Hydration Masque and leave-in Kinky Curly Knot Today Natural Leave-In Detangler to replenish hydration, boost shine, and smooth frizz.
Varying sentence structure and length prevents the passage from sounding robotic.
Deep Conditioning
Apply a nourishing deep conditioning mask after the protein treatment to seal your hair's cuticles and rehydrate the strands. A weekly deep conditioning ritual with masks high in emollients like shea butter or oils will restore lost moisture.
Alternate between protein and moisturizing hair masks to find the right balance your strands need. Seek professional guidance if unsure how to tailor your new hair care regimen after intensive protein treatments.
Consider Olaplex No.5 Bond Maintenance Conditioner, Briogeo Don't Despair, Repair Mask, or Shea Moisture Manuka Honey Masque for deep hydration.
Leave-in Conditioners
You're finger-detangling your strands as the leave-in conditioner smoothes each section. Leave-in conditioners provide vital moisture after protein treatments. Look for nourishing ingredients like coconut oil, shea butter, aloe vera, and jojoba oil.
Apply generously and distribute from roots to ends. Let it soak in for a few minutes before styling. Leave-ins hydrate, define curls, reduce frizz, protect hair, and boost shine. They are essential for restoring moisture balance after intensive protein treatments.
Change Hair Care Routines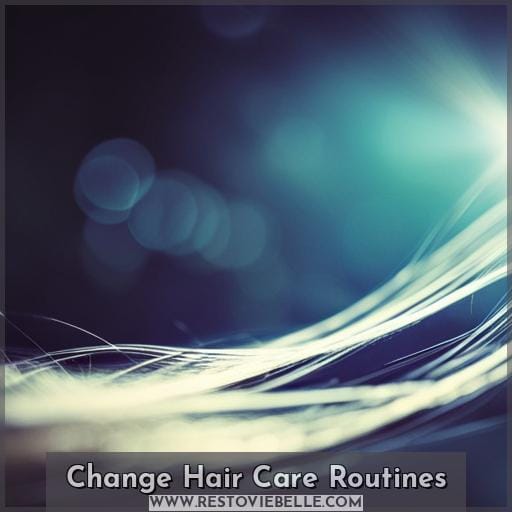 As your hair recovers from severe damage, prioritize gentleness across your daily routines. Alter your regimes by styling less with heat tools, avoiding chemical treatments, and washing more gently to gradually restore hair health.
Varying your hair care techniques, like letting your hair air dry or using gentle brushing motions, can prevent further breakage as your strands heal. When hair is compromised, handle it with care by being mindful of ingredients and techniques that may cause additional stress.
With time and a nurturing approach, you can nurse your locks back to a healthy condition.
Less Heat Styling
Stop blow-torching your gummed-up hair unless you wanna look like a troll doll.
Invest in heat protectant sprays and serums.
Allow hair to air dry instead of blow drying.
Style hair in braids, buns, or ponytails.
Sleep in a silk pillowcase.
Switch to gentle heated rollers instead of hot tools.
Go easy on the heat, girl. Give those frazzled locks a break so they can bounce back. Embrace your natural texture and focus on nourishin' your hair back to health. Ditch the flat irons and curling wands for now.
Less Chemical Processing
Try avoiding bleach for a while until your hair recovers.
Forgo chemical processes and focus on nourishing your fragile strands back to health. Explore safer, chemical-free solutions using natural remedies to gently repair damage. Consult professionals for customized hair health guidance, but lean on gentler approaches that don't require bleaching or dyeing.
Gentler Washing
Baby, gently lather that golden mane when washing, letting those feathered locks drink in the tender cleanse.
Switch to cold water washes, embrace that oil massage life, and opt for natural shampoos without sulfates. Nourishing masks give depleted strands their daily dose of hydration. Silk pillowcases prevent tangles and tugging while dreaming.
Show that hair extra care with strengthening conditioners to avoid further fraying.
Improve Hair Health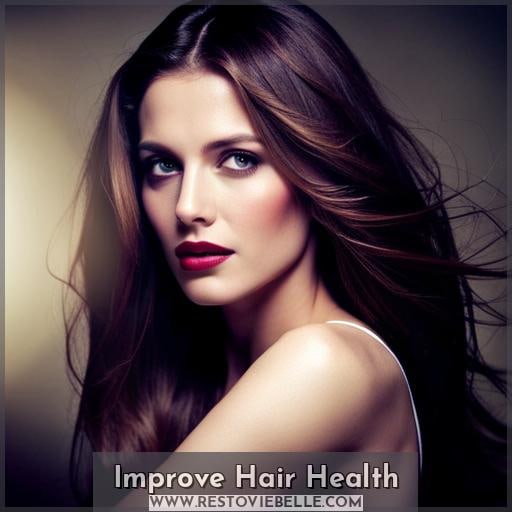 You can improve your hair health and fix gummy hair through supplements and diet. Make sure you get enough protein, vitamins, and minerals for healthier hair by eating foods like eggs, fish, beans, nuts, seeds, and leafy greens daily.
Eating a balanced diet with plenty of protein, vitamins and minerals can promote stronger, healthier hair. Incorporating foods like eggs, salmon, beans, nuts, seeds and leafy greens provides the nutrients hair needs to stay supple and shiny.
Aim to eat a variety of protein sources, fruits, vegetables, healthy fats and whole grains every day.
Supplements
Take biotin supplements to strengthen your hair from within. A daily dose of 2.5mg to 5mg of biotin promotes keratin production for healthier hair. As an alternative, try a multivitamin containing key hair nutrients such as iron, zinc, B vitamins, vitamin C, and vitamin D.
Targeted supplements support your body's capacity to grow strong, vibrant hair. Ingest them daily along with a nutritious diet.
Diet
Eat protein-rich foods like eggs, fish, beans, and nuts to strengthen your hair follicles and promote growth.
Consume eggs, fish, beans, and nuts to get plenty of protein.
Eat salmon, walnuts, and flaxseeds for omega-3 fatty acids.
Fill up on spinach, kale, and broccoli which are high in iron.
Get your fill of vitamin C from citrus fruits, berries, and peppers.
Snack on vitamin E-rich avocados, seeds, and whole grains.
The foods you eat directly impact your hair. Stick to a balanced diet with ample vitamins, minerals, and proteins for lustrous locks.
When to Seek Professional Help

You'd have to visit a stylist for a professional protein treatment if home care isn't fixing your gummy hair. After trying DIY treatments and moisturizing products, make an appointment with a trusted hair specialist if you're still struggling with severe damage.
They can examine your hair and scalp in-person to determine the right solutions. You may need an intensive protein-boosting service only offered in salons using commercial-grade products like Aphogee.
Or the stylist might suggest alternative treatments like Olaplex or recommend seeing a dermatologist if an underlying condition is causing your hair issues.
Keep communicating with your stylist to find the most effective plan. With expert advice and the right salon services, you can restore strength, shine and texture.
Conclusion
Stop torturing those locks, you're only doing more harm! Give your gummy hair the nourishment it's pleading for with a powerful protein treatment. Let deeply moisturizing masks work their magic to restore bounce and shine. Adjust styling techniques to pamper strands, not pull them apart.
With a little TLC those frazzled ends will be sleek and swinging before you know it. Don't lose heart if damage seems beyond repair; a trusted stylist has tricks to get your hair back on track and groovy again.
Be patient and give your crowning glory the care it deserves – you'll be looking fabulous in no time!