This site is supported by our readers. We may earn a commission, at no cost to you, if you purchase through links.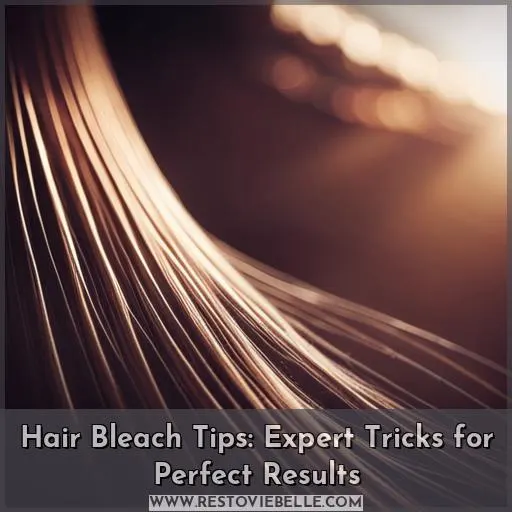 Ready to take your hair transformation into your own hands? Bleaching can be a daunting process, but with the right tips and tricks, you'll have perfect results in no time. Get ready for an expert crash course on all things bleach from celebrity colorist Ryan Pearl, Madison Reed master colorist Shvonne Perkins, and celeb colorist Guy Tang.
It's time to make that blonde moment happen!
To start off on the right foot – literally – assess how hydrated your hair is and its texture before any bleaching takes place. Coarse or damaged locks may need extra attention like Collagen Treatments or Olaplex treatments when possible at a salon down the road.
Then get familiar with assessing each section of hair: subtract 10 from its current level to figure out how many levels it needs lifting by (the more lightening needed often means needing stronger developer).
With these basics mastered, you're well on track for successful bleaching!
Key Takeaways
Assess hair quality, porosity, and health before bleaching.
Use high-quality bleach products with Bond Protect technology.
Choose the appropriate developer strength for the desired lift levels.
Maintain color with toning techniques and nourishing conditioning treatments.
What to Consider Before Hair Bleaching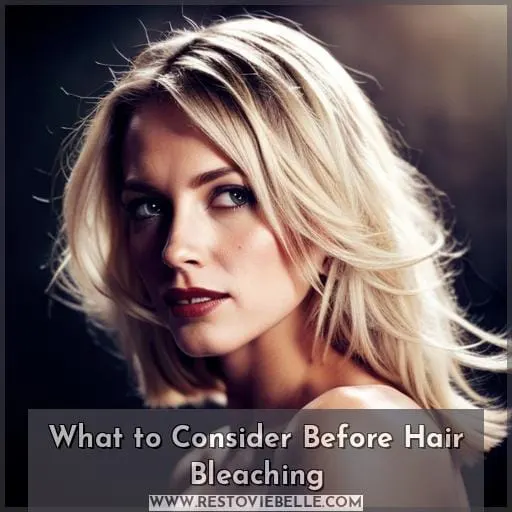 Before bleaching your hair, it is important to consider both its quality and health. Doing thorough preparation and research on the process will ensure you have a successful outcome.
Hair Quality and Health
It's essential to assess the quality and health of your hair before bleaching, as it can make all the difference in achieving stunning results. Scalp care is especially important; make sure to address any existing issues before starting.
Additionally, determine if your hair is healthy enough for bleaching by assessing porosity level or using an online Hair Health Checker tool. Proper preparation and maintenance are key. Consider using deep conditioning treatments or taking supplements like biotin for better overall health.
When you're ready, be sure to use high-quality bleach products with Bond Protect technology while following directions carefully.
Hair Bleaching Preparation and Research
Before bleaching, take the time to do your research and make sure you have all the necessary supplies. Research methods like porosity assessment can help determine how well your hair will absorb bleach and its potential for color correction.
Hair health should also be a top priority when considering bleaching. Factors such as pre-bleach treatments, shampooing after application, and post-care maintenance are essential for achieving successful results with minimal damage.
To ensure safety, choose the right bleach products and follow the directions carefully when applying it to sections of hair one inch away from the scalp level.
How to Safely Bleach Hair at Home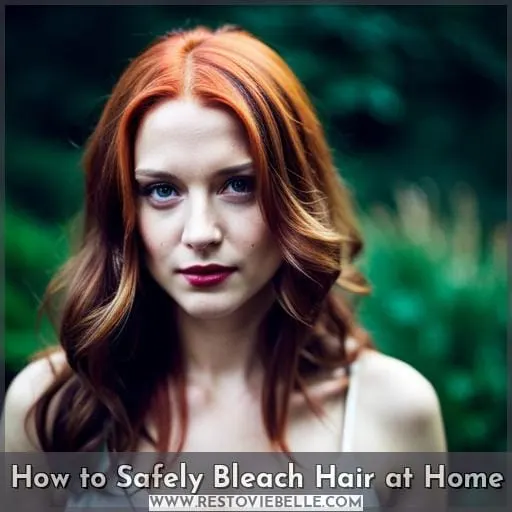 Are you considering bleaching your hair at home? It's important to understand the necessary techniques and tips for safe processing, proper application, and maintaining color. Determining the right time to process is key; applying bleach with care can help avoid any damage or splotchy results.
And finally, using products like Purple Shampoo and Mask will ensure that your new look remains vibrant for weeks after bleaching.
Determining Processing Time
Determining the processing time for your hair bleaching is essential to achieving successful results. Start by considering your hair texture and color level, then select a bleach strength that matches it.
Temperature control is also important; use lukewarm water when mixing the bleach powder and developer together in order to avoid product separation or clumping.
To ensure you don't overdo it, do a strand test first before applying all over. This will give you an idea of how long each section should be processed without causing damage.
Additionally, choosing the right bleach developer strength can help protect from breakage or fading too soon after a successful job!
Proper Application Techniques
To ensure a successful at-home bleaching experience, it is important to apply the bleach in an even manner, sectioning off sections of hair and starting one inch away from the scalp. Balayage vs Foil are popular techniques for application; however, toner selection will vary depending on root touch-up needs or bleach timing requirements.
It's also necessary to consider hair porosity before choosing the right bleach product and developer strength for product saturation.
Maintaining Color at Home
Once you've achieved your desired color through home bleaching, there are several steps you can take to maintain it.
First, consider a color refresh or root touch up for highlights every 6-8 weeks.
If needed, use toning techniques such as purple shampoo or glosses to counteract unwanted tones.
Hair health should remain a priority. Supplement with vitamins and opt for salon treatments when necessary.
A DIY maintenance plan also helps. Choose the right bleach products and aim for product saturation without overprocessing time.
Follow up with sulfate-free shampoos/conditioners plus coconut oil masks once complete!
With this strategy in place, achieving beautiful hair will be much easier over time.
Hair Bleaching Tips for Different Hair Types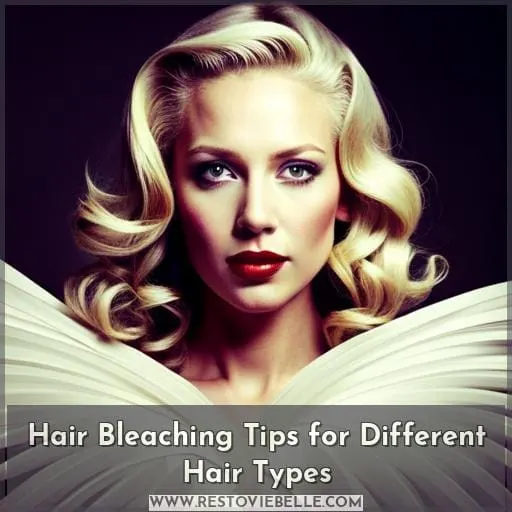 If you're looking for hair bleaching tips and tricks, depending on your hair type, there are a few things to consider. It is key to use the right products and processing time for black or dark brown hair to avoid over-bleaching.
Textured hairs should be treated with care as they can easily become damaged when bleached. Coconut oil-based products can help protect them during the process. White or gray hairs require special attention due to their delicate nature.
Previously bleached or damaged hair should have pre-bleaching treatments before attempting another color change.
Tips for Black or Dark Brown Hair
If you have black or dark brown hair, it's important to take extra precautions when bleaching at home. For instance, the Manic Panic Hair Bleach Kit is a great option for lightening your locks without excessive damage.
Color correction can be achieved with alternative methods such as gloss treatments and toning products, rather than bleach solutions that may cause further damage.
Maintaining vibrancy requires special considerations due to the challenges of working with darker hair. Consider using shampoos and conditioners that are free from sulfates and other harsh chemicals that can strip color away too quickly.
To ensure healthy locks throughout the process, supplement your daily diet with biotin-rich foods. These foods provide essential nutrients for strong strands. Additionally, try the HushHush DeeplyRooted Hair Supplement, which helps block causes of hair loss and increases volume and shine.
Use an effective kit like the Manic Panic Hair Bleach Kit
Consider alternatives like color correcting glosses/toners
Choose shampoos/conditioners without sulfates
Eat nutrient-dense foods rich in biotin
Try the HushHush DeeplyRooted Hair Supplement
Tips for Textured Hair
For textured hair, consider using a lightening balm or mousse to get gradual and even results. Hair type analysis is essential when bleaching your hair. Look for the right products to retain curl definition and moisture.
When choosing bleach developer strength, take into account porosity level and desired result to avoid over-processing or damage. Opt for smaller sections that cover fewer strands at once for maximum control of lightening effects.
Finally, be sure not to use overly hot water on your scalp, as it can cause irritation post-bleaching session.
Tips for White or Gray Hair
Experience the transformation of your white or gray hair with expert bleaching techniques! Choose a bleach product carefully and ensure it is suitable for your hair type. Consider adjusting the developer strength, depending on the desired results and how dark the natural color is.
To achieve silver-gray tones, opt for toning products such as purple shampoo to keep yellow hues away from cool shades. For gray roots management, try glosses between bleaching sessions – they are non-damaging alternatives that won't damage fragile strands or cause breakage.
Tips for Previously Bleached/Damaged Hair
It's important to take extra caution when bleaching hair that has been previously treated or damaged. Repairing strands and restoring color requires knowledge, patience, and the right products.
Damage recovery starts with choosing the right bleach developer strength for your hair type. Then, use a professional-grade lightening powder like the Manic Panic Hair Bleach Kit for zero damage results.
Post-bleach care is essential as well. Nourish strands with coconut oil treatments, opt for salon treatments over DIY haircare routines, and consider purple shampoo masks to revive color while protecting against further damage.
Healthy maintenance is key. Keep up regular trims while taking supplements designed specifically for hair health!
Essential Tips for Professional-Level Hair Bleaching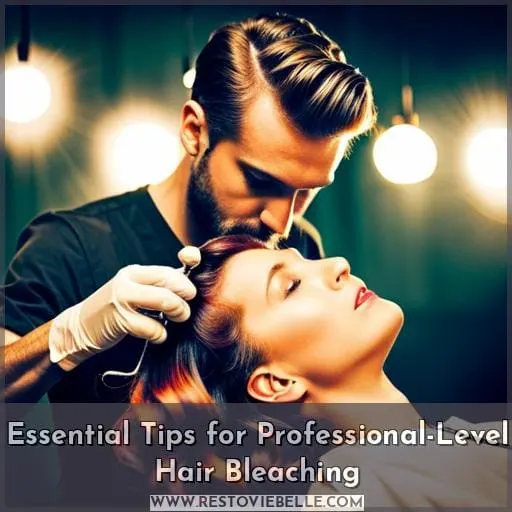 Are you looking to achieve professional-level hair bleaching? To ensure stunning results, it is essential to accurately calculate lift levels, choose a high-quality bleach and developer, ensure proper product saturation, and select the right toner for desired results.
With these tips in mind, you can be sure to get the look that you want without damaging your hair.
Accurately Calculating Lift Levels
When it comes to professional-level bleaching, accurately calculating lift levels is key for achieving the desired result. It's important to assess hair quality and darkness first, then choose a developer strength with caution.
Additionally, product saturation must be precise while also timing between bleaching sessions carefully; these all have an impact on lightening precision. As for toning hair post-bleach, that requires choosing the right toner based on color level and using purple shampoo/mask when needed – as well as utilizing coconut oil products for maintenance afterwards.
Choosing High-Quality Bleach and Developer
You need to make sure to choose high-quality bleach and developer for professional-level bleaching that will help you achieve the desired results without damaging your hair. For maximum effect, select a bleach with Bond Protect technology. Pick a developer strength based on the level of lift needed.
Product saturation is key. Make sure each strand is completely covered for even lifting.
When it comes time to tone, explore toner choices like Bleach1 Intense Pearl Blonde Toner or 10V Toner from Wella Professionals. Also, consider Blondify Liquid toner by L'Oreal Professional if yellow tones are unwanted in light blonde shades.
Finish up with Purple Shampoo once every two weeks. Follow it up with regular use of conditioners and masks for long-lasting color!
Ensuring Proper Product Saturation
For professional-level bleaching, ensuring proper product saturation is crucial. To minimize patchiness and achieve even coverage, you need to apply the product carefully. It's important to choose the right bleach strength for your desired results. Using bleach that is too strong can cause unnecessary damage, while using too little can leave your hair dull or unevenly colored.
The longer you allow the bleach to saturate into the hair shafts, the more effective it becomes at lifting color pigments out of the strands and brightening your hair safely with minimal harm. Understanding proper product saturation is essential when aiming for a salon-worthy lightened look through bleaching services.
Choosing the Right Toner for Desired Results
To achieve the best results, choose a toner that's specifically tailored to your desired outcome. Applying the wrong toner can result in unwanted undertones or color corrections.
Consider using:
Blondify Liquid Toner for subtle highlights and natural-looking blonde shades.
Semi-Permanent Color for long-lasting intensity and full coverage.
Gloss Treatment to refresh existing tones without further lifting hair color levels – this is especially useful after lightening dark hair!
When selecting a bleach developer strength, it's important to factor in any previous product saturation as well as individual client needs before applying toners or glosses.
Pre-Bleaching Preparations and Techniques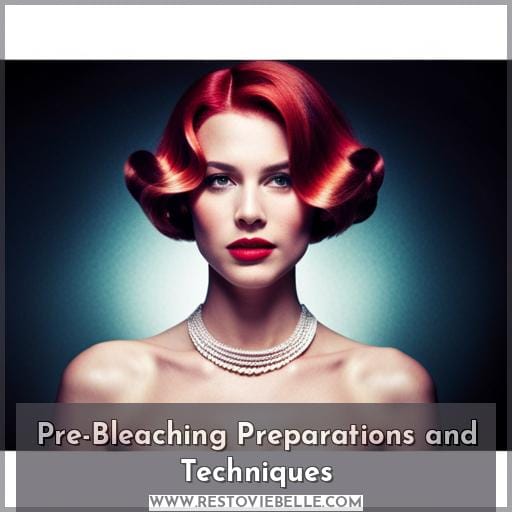 Before attempting to bleach your hair, it's essential to properly prepare and care for it to achieve the best results. Protecting your hair from damage is key. If you have previously colored or damaged locks, you may need to do pre-bleaching treatments like deep conditioning before starting the bleaching process.
To assess porosity levels, test strands with water droplets. This will help determine when your roots need a touch-up and inform the processing time required during the bleaching session. When choosing a product for application methods like balayage or foil highlights, consider selecting one with Bond Protector technology.
Adjust the strength of the developer depending on the desired lift level. Using too much can strip away natural pigments.
Expert Advice for Hair Bleaching Success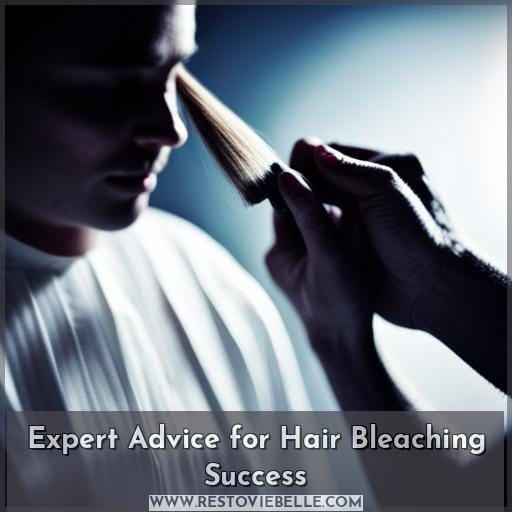 Following expert advice is key for achieving hair bleaching success. When it comes to hair bleach techniques, professional insights are invaluable. Experts can provide guidance on choosing the right bleach, finding the correct developer strength, and toning your hair color to get desired results without compromising on hair health or risking DIY disasters.
The most important tip is selecting a toner that will give you just enough lift while also neutralizing unwanted tones in your new look. Hair maintenance after bleaching should be done with care. Avoid sulfates and heated tools as much as possible.
Regularly use coconut oil products to keep your hair healthy. Consider supplements if needed and invest in salon treatments from time to time for optimal results.
With smart tips like these at hand, you'll soon have beautiful locks that everyone will envy!
Things to Know Before You Bleach Your Hair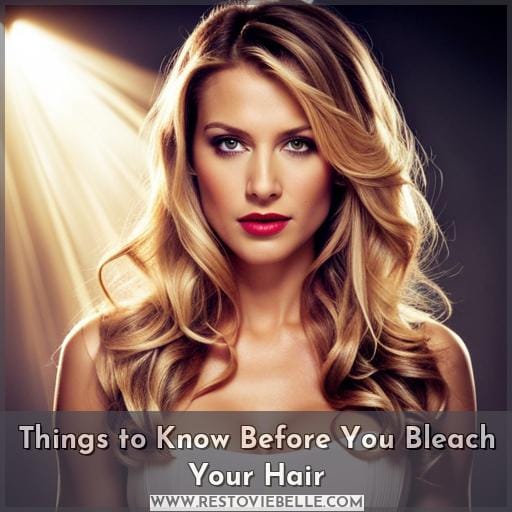 Before you embark on a hair bleaching journey, it's essential to know your hair's condition and health. Preparation is key for success – make sure that you have the right products and tools available, as well as an understanding of the process itself.
Taking these steps will ensure that your experience is safe, satisfying, and successful.
Hair Condition and Health
Take the time to assess your hair condition and health before bleaching for best results. Pre-bleach treatments, safety basics, and porous hair precautions are all important considerations when it comes to bleach use.
Hair color experts advise that textured or damaged hair should avoid certain products and methods.
Post-bleach maintenance is also key. At-home steps like glossing and selecting the right shampoo can be just as essential as visiting a stylist for help after lightening up locks! Keep these tips in mind:
Prepare with a pre-bleach treatment.
Follow safety basics.
Consider the porosity of your strands.
Research various techniques.
Maintain a healthy post-process.
With attention towards preparation beforehand and mindful care afterwards, you'll ensure great results that last longer while keeping your tresses strong and shiny!
Preparing for the Bleaching Process
To get the best results, it's important to properly prepare for your bleaching session. Choose a quality bleach with bond protect and a developer strength that matches your desired hue.
Timing prep will help you achieve product saturation without over-processing. This is especially important when doing at-home root touch-ups or DIY blonde makeovers using store-bought color.
Take hair health into account by avoiding sulfates and high heat post-bleach for better maintenance outcomes.
Set up safety measures like parchment paper around bathroom sinks to prevent spills from damaging surfaces during application. This is especially important when using intense pearl blondes or 10A/10V toners for natural ash toning.
Safe Practices for Bleaching Hair at Home

Bleaching your hair at home requires taking into account the right processing time and maintenance tips for color-treated hair. Knowing when to stop processing is critical for achieving desired results, as well as maintaining healthy hair afterward.
Thus, it's important to follow safe practices in order to achieve a successful bleaching experience from start to finish.
Determining the Right Processing Time
It's important to be mindful of the processing time when bleaching your hair, as it can make or break your results. Professional advice is key in determining what kind of bleach techniques are appropriate for your hair health and desired look.
Too much processing can lead to dryness and damage, while not enough won't get you far with a lightening effect. Start small by timing five minutes at first, then gradually increase based on the desired outcome.
Also, consider toning tips for brassiness due to over-bleaching – purple shampoos work wonders! With these considerations in mind, you'll have beautiful blonde locks before you know it!
Maintenance Tips for Color-Treated Hair
Once you've achieved the perfect bleached blonde, it's important to keep up with post-bleaching care for lasting results. To maintain color longevity and hair health, use toner periodically to correct unwanted tones.
Avoid sulfates in shampoo as they can strip your newly lightened locks of moisture. Reach for a nourishing conditioning treatment at least once a week to replenish lost hydration and protect from environmental stressors.
Glosses are an excellent choice for refreshing color without causing damage – choose one that complements your new hue! With regular upkeep, enjoy long-lasting beautiful blonde tresses without compromising on hair health or shine!
Tips for Bleaching Different Hair Types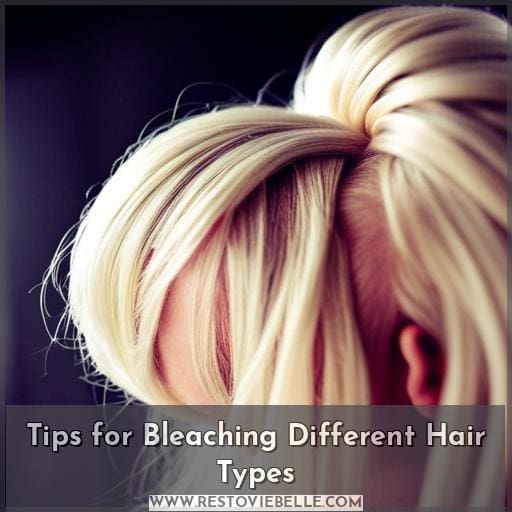 When it comes to bleaching hair, different types of hair require special attention and care. Black or dark brown hair can take several sessions to achieve light blonde results, while textured and curly strands should be handled with extra caution due to the risk of breakage.
White or gray shades may need more processing time compared to other colors as they tend not to lighten quickly. Lastly, previously bleached or damaged locks must be treated with an intensive pre-bleach treatment before attempting any color transformation.
Black or Dark Brown Hair
For those with black or dark brown hair, it is important to understand the process and necessary precautions you must take when bleaching. To ensure success, start off with a pre-bleach treatment to restore hair health; then choose quality products like the Manic Panic Hair Bleach Kit for controlled application.
Professional insights are essential for understanding root touch-up versus a full platinum makeover methods; also consider strategies such as glosses for refreshing color without damage. Finally, post-bleaching care and supplements can help maintain healthy results over time.
Textured Hair
When it comes to textured hair, you'll want to use a product specifically designed for curls and coils. Curl maintenance is key. Look for products that offer frizz control and help maintain moisture balance in the hair cuticle.
Experiment with styling techniques like blow-drying or air drying on cool settings, as well as diffusing or finger coiling your locks. Consider using gentle shampoos and conditioners that are free from sulfates, parabens, silicones, etc.
Add treatments such as deep conditioning masks into your haircare routine once every week.
For healthy-looking curls that last all day long, make sure you finish off with an oil sheen spray or leave-in conditioner of choice!
White or Gray Hair
If you have white or gray hair, it's essential to be extra cautious when bleaching. Darkening tones can become much brighter than intended, so think of the process as a lightbulb switch.
Gray hair maintenance should include regular trims and salon treatments like glosses for vibrant silver strands. Styling with thermal tools or chemical products needs to be done correctly, as this type of hair tends to break easily.
Gray haircare products specifically formulated for natural gray shades can help nourish and keep tresses healthy while embracing silver locks in all their glory!
Previously Bleached or Damaged Hair
Previously bleached or damaged hair demands extra care and caution when it comes to further lightening. It's important to repair the hair before attempting any color correction, using restorative methods such as deep conditioning treatments.
Toners can be used for damage recovery too; however, patch tests are recommended prior to application of toning techniques. Heat-based tools should also be avoided if possible, as they may cause additional drying and breakage in already fragile strands.
Instead, opt for sulfate-free shampoos with protein reconstructors that help strengthen weak areas of the scalp while avoiding stripping natural oils from it altogether.
Expert Advice for Professional-Level Hair Bleaching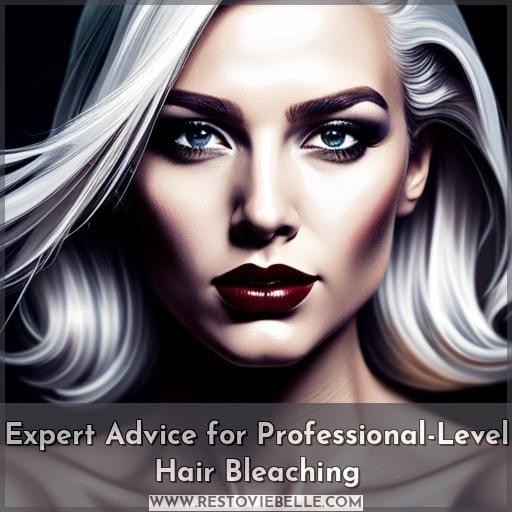 Are you looking to elevate your hair bleaching skills? Achieving professional-level results requires accurate calculation of lift level, selecting high-quality bleach and developer, and choosing the appropriate toner for desired outcomes.
With the right knowledge and practice, these steps can be accomplished, resulting in stunning hair transformations.
Accurate Lift Level Calculation
Accurately calculating necessary lift levels is essential for professional-level bleaching, so don't let your clients down! Hair porosity must be taken into account to avoid overprocessing. Choose a developer strength that will ensure desired results and select the right toner for post-bleach correction.
Balayage techniques can help create perfect highlights with control and precision, but timing also matters greatly here. Knowing when to stop is key. Too much processing can ruin hair texture permanently, so it's worth investing in Bond Protect bleach products plus conditioning treatments before beginning any process.
With these tips, you'll be able to achieve stunning blonde locks every time!
Choosing Quality Bleach and Developer
When bleaching hair professionally, it's essential to choose quality bleach and developer for optimal results. Select the right product based on hair texture, color correction needs, and desired level of lift.
Use a lightening powder with Bond Protect technology to minimize damage during processing.
Consider the strength of your chosen developer. Use 20 or 30 volume for dark shades, while 40-volume is ideal for platinum tones. Application techniques are also key. Apply bleach in sections evenly from root to tip using a brush or spatula before rinsing when done correctly.
Taking into account these factors ensures healthy locks with minimal fading over time!
Selecting the Right Toner for Desired Results
Once you have achieved the desired level of lightness, selecting the right toner is crucial to get that perfect blonde shade. Toner selection includes factors like hair porosity and condition, while usage requires careful application for effective color correction.
Choose a toner based on your current hair level.
Apply with precision for even coverage.
Regular maintenance is necessary to maintain vibrancy and shine. With these tips in mind, you can create stunningly beautiful blonde locks with professional-level bleaching techniques!
Tips and Tricks for Successful Hair Bleaching

Bleaching your hair can be a tricky and time-consuming process. To ensure you achieve the best results with minimal damage to your locks, consider using the Manic Panic Hair Bleach Kit and supplementing it with HushHush DeeplyRooted Hair Supplement for extra nourishment.
Recommended Bleach Kit
For stunning bleaching results, try the Manic Panic Hair Bleach Kit. It offers a cruelty-free and vegan formula that works well on light to medium blonde hair with minimal damage.
To maintain healthy hair after bleaching, consider the HushHush DeeplyRooted Hair Supplement. It helps block causes of hair loss while increasing volume and shine. Keep your color looking fresh with purple shampoo or glosses between sessions.
These non-damaging options help keep your look vibrant without risking further damage to locks already weakened by bleach treatments.
Experience professional quality at home – invest in top products for the best results!
Product Name
Features
Benefits
Manic Panic
Cruelty-Free & Vegan Formula Tint Brush Dust-Free Powder Cream Developer
Minimal Damage Quick Results< br > Uniform Light Bleached Blonde
HushHush Deeply Rooted
Dietary Supplement Blocks Causes Of Hair Loss < Br /> Increase Volume & Shine
Reduced Shedding
Purple Shampoo/Glosses
Non-Damaging Options Between Sessions
Refresh Color Without Risking Further Damage
Hair Supplements for Healthier Hair
To ensure your hair looks its best after bleaching, consider taking HushHush DeeplyRooted Hair Supplement to give it a fighting chance against any potential damage. It helps block the causes of hair loss and increase volume by providing nutritional support for healthy hair growth.
Users report reduced shedding and improved thickness with regular use over 90 days.
Supplement benefits include:
Increasing shine
Adding volume
Managing shedding
Improving manageability
The supplement is cruelty-free and vegan, with a money-back guarantee if you're not satisfied within 30 days of purchase.
Insights From Hair Bleaching Experts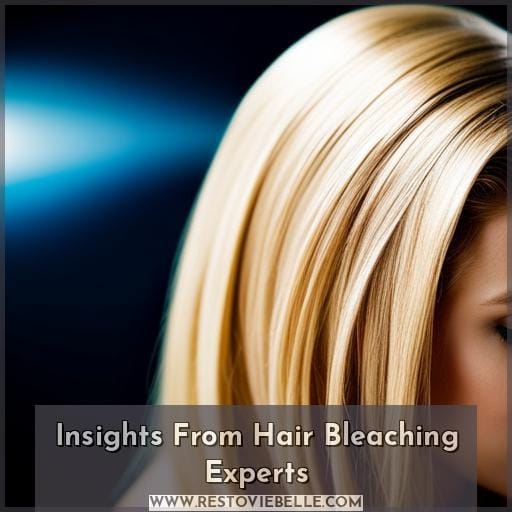 Ready to take your hair bleaching game up a notch? Get insider knowledge from the experts! Professional hairdressers and colorists are incredibly knowledgeable about all aspects of hair care, including bleach.
They can provide advice on DIY techniques, haircare routines, color correction methods, and more. Whether you're looking for that perfect shade or just need some tips on how to keep your new hue vibrant – they've got you covered.
Pay attention to their expert opinions when it comes time for maintenance too. This includes maintaining healthy locks with professional products designed specifically for bleached hair, as well as nourishing treatments such as deep conditioning masks.
Conclusion
With the right equipment, knowledge, and techniques, you can confidently bleach your hair at home or professionally for stunning results. From the Manic Panic Hair Bleach Kit to HushHush DeeplyRooted Hair Supplement, there is a range of products to help you achieve the look you're after.
Consider hair health, porosity, and lift levels carefully, and follow the tips in this article to ensure you achieve the perfect hair bleach results. With these hair bleach tips and tricks, you'll be sure to turn heads with your new look.