This site is supported by our readers. We may earn a commission, at no cost to you, if you purchase through links.
Ready to take your beard game up a notch? Coloring your facial hair can be an excellent way to create the look you want and give it some extra flair.
From selecting the right dye shade to prepping and coloring, we'll provide all the steps necessary for achieving perfect results.
So let's get started with our complete guide on how to color your beard.
Key Takeaways
Enhance beard appearance with coloring.
Choose the right beard dye shade that matches the natural color.
Prep the beard for dyeing with 1-2 weeks of growth and exfoliation.
Invest in quality shampoos for color retention.
How to Color Your Beard: a Step-by-Step Guide
Want to take control of your look? Coloring your beard can be an easy and effective way to achieve the desired style. Products like True Sons Hair Dye for Men, Just for Men Beard Dye in Dark Brown, Indigo Hair Beard Dye, SoftSheenCarson JetBlack, Volt Grooming Beard Color in Burnt Umber, and Cremo Hair Beard Color in Medium Brown offer a range of shades that make it simple to find the perfect color for you.
True Sons Hair Dye Men
View On Amazon
Transform your look with True Sons Hair Dye Men – a simple, no-mess application designed to give you the desired natural-looking results without damaging your hair. This dye includes no ammonia or harsh chemicals and comes in seven different shades ranging from Dirty Blonde to Brown Black.
In addition, it's suitable for beards and mustaches as well as other types of facial hair. The kit includes 1.75 oz of Hair Dye Foam, a Dye Booster, gloves, wipes, and QSG (Quick Start Guide).
True Sons Hair Dye Men offers several benefits that make it an attractive choice for men looking to enhance their appearance:
No mess – easy application process so you can achieve salon-quality coloring at home
Damage-free formula – containing none of the harsh chemicals found in traditional dyes
Suitable for all types of facial hair – perfect if you have both a beard or mustache
Seven shades available – choose from light browns through black tones depending on the desired result
Includes everything needed – gloves included so there's no staining when applying color!
The cons associated with this product are few but worth considering before use:
Results may vary based on the individual's skin type/hair texture/color intensity chosen
It contains synthetic ingredients which some people may not prefer due to ethical reasons
Limited shade range compared to other brands.
Just for Men Beard Dye Dark Brown
View On Amazon
You could be just moments away from a super suave, dark brown beard! Just For Men Beard Dye Dark Brown is the perfect product to get you there. It's easy to use and formulated with Biotin, Aloe, and Coconut Oil for natural-looking results without damaging your hair.
It includes a color base, developer, and brush for an even distribution of dye on all types of facial hair – beards, mustaches, or soul patches – plus gloves to avoid staining.
A skin allergy test is recommended 48 hours before use so that no surprises arise when applying the dye. The process itself is simple: mix in the color base with the developer, apply using the provided brush, wait five minutes, rinse until the water runs clear, and then shampoo as normal – et voilà! You'll have dark brown locks that look fuller and thicker than ever before.
No ammonia or harsh chemicals included
Up to 3 applications per box
Suitable for all types of facial hair
Skin allergy test required beforehand
Must follow directions precisely
Indigo Hair Beard Dye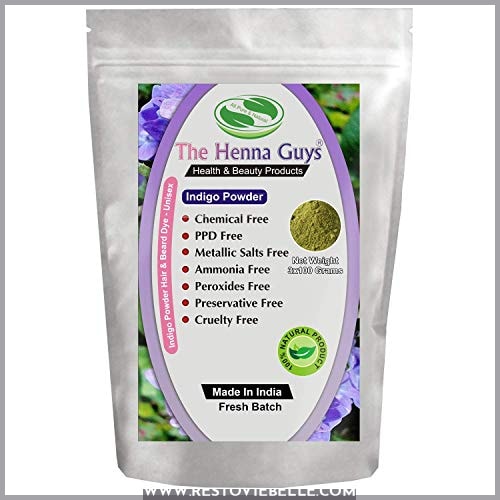 View On Amazon
Indigo Hair Beard Dye is a natural, cruelty-free option that uses zero chemicals and metallic salts to give you the subtle, vibrant look you're after. This vegan dye contains 100 grams of net weight per pack and offers an excellent alternative for those looking to go green with their beauty routine.
The gentle formula doesn't lighten dark hair color but instead adds depth while simultaneously nourishing your facial hair with essential oils like aloe vera and honey.
Natural ingredients
Cruelty-free & Vegan
Pesticide Free
No Chemicals or Metallic Salts
Won't Lighten Darker Colors
SoftSheenCarson JetBlack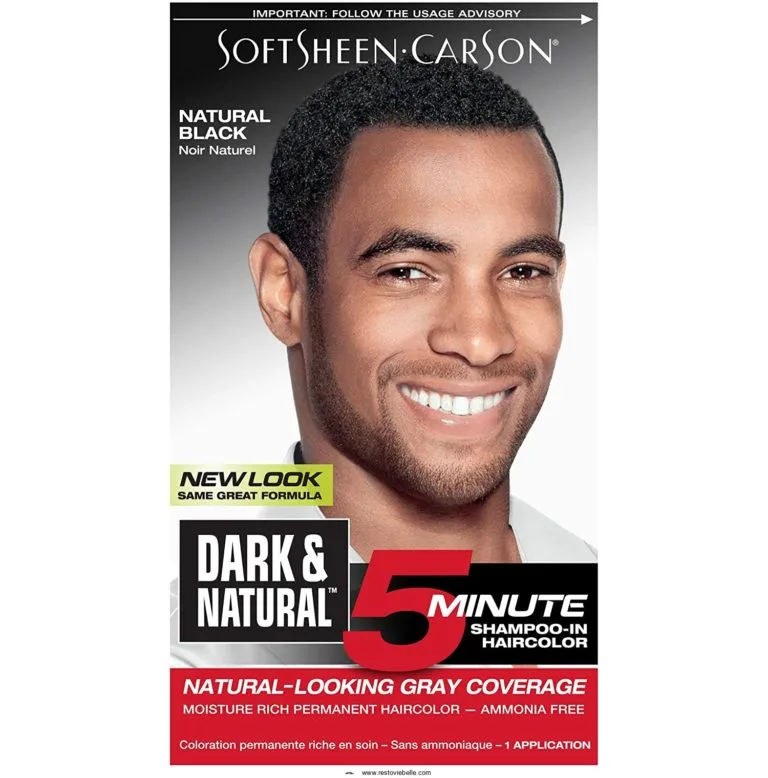 View On Amazon
SoftSheenCarson JetBlack's ammonia-free formula is designed specifically for black men, providing better grey blending and a natural-looking color that lasts up to 6 weeks. With aloe vera and honey in its moisture-rich formula, it works in just five minutes with no mess or hassle.
Available in three shades, there will be something to suit everyone's needs from subtle highlights through to full coverage of those pesky greys!
For those who want an easy application process without the worry of staining skin or scalp, this product guarantees you won't have any problems as long as directions are followed correctly.
The cruelty-free approach also means that not only do you get great results, but your conscience can rest assured knowing no animals were harmed during production either – win/win situation all round!
Ammonia-free formula provides better grey blending and natural-looking color lasting up to six weeks
Easy application process with no mess or hassle
Cruelty-free, meaning animal-friendly production
Color may fade quickly if not maintained properly
Can cause irritation if instructions are not followed correctly
Only available in three shades
Volt Grooming Beard Color Burnt Umber
View On Amazon
For a natural, smudge-resistant look that lasts up to 6 weeks, try Volt Grooming's Burnt Umber Beard Color and give your face the perfect touch of color. Formulated with Argan Oil and Vitamin E for added nourishment and hydration, this dye-free, hypoallergenic formula applies in seconds to provide a daily touchup for those hard-to-reach areas.
Available in 10 colors with 35 applications per tube, you can be sure you have the right shade every time. No gloves are required as it won't stain your hands or skin – just apply on dry beard hair using an applicator brush or comb until the desired color is achieved, then wait 5 minutes before rinsing off! Plus, it's made without any harsh chemicals like ammonia or PPD, so there's no need to worry about irritating sensitive skin either – making it suitable for all types of facial hair.
Dye-free, hypoallergenic formula
Enriched with Argan Oil & Vitamin E
Smudge & water resistant
Lasts up to 6 weeks
Ammonia & PPD free
Not ideal if looking for permanent results
Can take multiple applications over time
Results may vary depending on individual needs
Cremo Hair Beard Color Medium Brown
View On Amazon
Cremo's Hair Beard Color in Medium Brown is like a breath of fresh air for your facial hair. It offers an easy application process and natural-looking color that lasts up to six weeks.
With its lightweight foam texture and quick drying time, you're sure to love this product. Plus, it can be stored away after each use, so you don't have any excess waste or mess in between applications.
No mix, No Mess Formula
Lightweight Foam Texture & Quick Drying Time
Easy To Use Tool Included In Kit
Color May Fade Faster Than Other Products (6 Weeks)
Not Suitable For All Skin Types
Should You Dye Your Beard?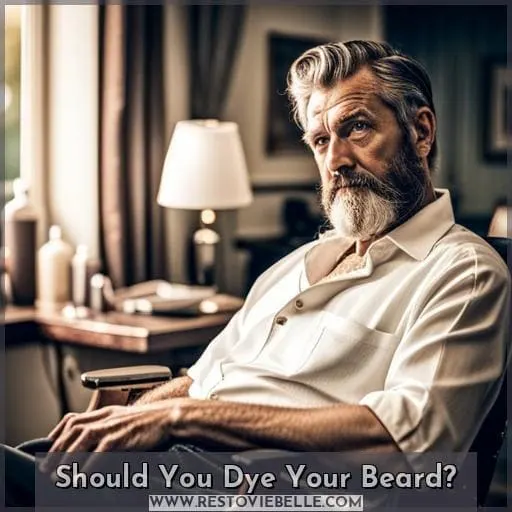 Considering whether to dye your beard? It can be a great way to hide gray and achieve a more youthful appearance, while also providing an opportunity for self-expression. However, it's important to weigh the pros and cons of using chemical dyes as they may cause skin reactions in some users.
The Benefits of Dyeing Your Beard
Dyeing your beard can help you achieve a more youthful look and hide signs of aging. With the right product, such as True Sons foam dye or Indigo Hair's all-natural henna formula, you can find one that fits both your needs and budget.
Not only will it give you a confidence boost to see your new look, but it also provides more styling options compared to non-dyed facial hair. Plus, there are skin-friendly options available on the market designed specifically for black men's needs, such as SoftsheenCarson's JetBlack or Cremo's no mix color cream.
Maintenance tips, such as touch-ups every 3-6 weeks and using color-protecting products, help keep up appearances while still being gentle on sensitive skin types.
Potential Drawbacks of Dyeing Your Beard
Although dyeing your beard can help you look more youthful, there are potential drawbacks to consider. Skin reactions and allergic risks exist when using harsh chemicals like PPD (para-phenylenediamine) in dyes, which have been linked to chemical burns and premature aging.
Additionally, maintenance challenges like color fading or staining skin may arise from improper application or not following up with touchups every few weeks. If you have sensitive skin, it's important to do a patch test for allergies before use and avoid direct contact with metal when applying the product.
Choosing the right shade is also key. Too light will make grey hairs stand out, while too dark might appear unnatural. So be sure to pick one close enough that won't clash with your natural hair color.
Choosing the Right Beard Dye Color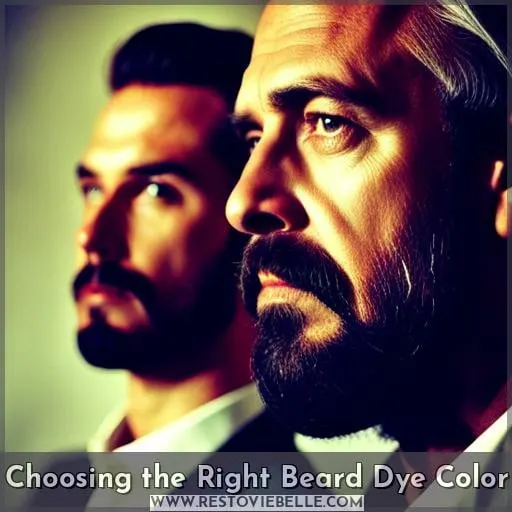 Are you ready to take the plunge and color your beard? Choosing the right shade for your hair can be a daunting task, but it's essential that you find one that closely matches your natural hair color in order to achieve a seamless look.
Matching natural hair color
When selecting a dye shade for your facial hair, it's important to choose one that matches your natural hair color as closely as possible. Patch test the product before using and avoid metal contact with the dye itself.
Regular maintenance is also key. Seek professional help if necessary or opt for natural pigments like henna. Colorsmith Custom Hair Color is an excellent subscription service offering tailored shades, while natural beard dyes provide a greener alternative to traditional products.
By choosing the right shade of beard dye, you can hide signs of aging and maintain a more youthful appearance with freshly dyed facial hair combined with a firming serum!
Considering henna options
If you're looking for a natural substitute, consider henna-based dyes that provide rich hues and long-lasting color. Henna offers many benefits, including conditioning the beard and skin without harsh chemicals.
Plus, it's perfect for sensitive skin types. Color variations are endless depending on how much is used—from deep reds to coppers to warm browns.
Applying henna is easy but takes some time. Use an applicator brush or toothbrush to ensure even coverage of the dye throughout your facial hair.
Pros and cons
Dyeing your beard has its perks, but it's important to weigh the pros and cons before diving in.
Gray coverage that hides true age;
Potential for cosmetic allergen reactions;
Complicated removal process if you don't like the results;
Possible damage from harsh chemicals. Take time to research products, patch test for allergies, and follow directions carefully when dyeing your beard—for the best results without regret!
Preparing Your Beard for Dyeing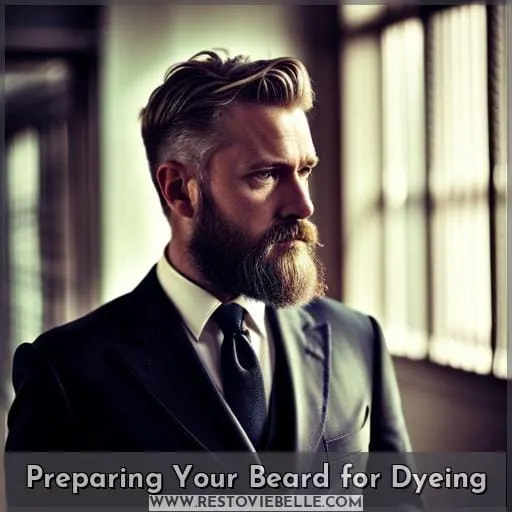 Are you considering dyeing your beard? Preparing for the process is key to achieving natural-looking results. To ensure a successful coloring, grow your beard out for 1-2 weeks before application and choose a shade similar to your natural hair color.
Additionally, it's important to do an allergy test patch as well as wash and dry the hair thoroughly prior to use.
Prepping Your Beard
To get the best results, prep your beard for dyeing by growing it out for 1-2 weeks and washing and drying it before applying.
Exfoliating helps to remove dead skin cells, which can interfere with even distribution of color.
To avoid staining your skin, apply Vaseline around the hairline and neck area before application.
Once ready to go, don't use conditioner as this will impede absorption of pigment into hair shafts.
Finally, remember that freshly dyed facial hair plus firming serum is an unbeatable combination for hiding age.
Avoiding Stains and Skin Irritation
Before dyeing your beard, make sure to exfoliate and apply Vaseline around the edges of your facial hair to avoid staining or skin irritation. This will help protect against allergic reactions caused by the chemicals in the dye.
Consider using a patch test on an inconspicuous area before applying the dye. Wear gloves while applying the dye evenly throughout your beard using an applicator brush or toothbrush. After rinsing off any excess product and drying thoroughly, maintain your beard's color by using color-protecting products for touch-ups every 3-6 weeks, depending on how quickly it fades.
If you prefer a more gentle option than chemical dyes, you can try natural alternatives like henna. And if you don't achieve the desired results after following these steps, consider seeking professional assistance.
Applying Beard Dye: Step-by-Step Instructions

Are you looking to color your beard? Mixing and applying the dye, allowing it to set, and then rinsing and combing for even distribution are great ways to get started. Make sure you have all the necessary supplies before beginning: an applicator or toothbrush for applying dye, rubber gloves to avoid staining your hands, a timer if needed so you don't over-darken, and shampoo or conditioner (optional) depending on what type of product you use.
Mixing and Applying the Dye
Put on the gloves, grab your applicator or toothbrush, and mix up the dye according to the package directions. Then, choose a technique for applying – brush strokes, dabbing with an applicator, or combing through are all options.
Select a shade that is close to your natural hair color for the best results. Bear in mind that skin reactions may occur, so do patch tests first and avoid metal contact when using dye products.
Allowing the Dye to Set
Once you've applied the dye, set a timer to ensure it doesn't stay on for too long. The optimal waiting time varies depending on the desired color and texture of your beard. For darker shades, leave the dye in for around 10-15 minutes. Lighter colors should be left in no longer than 5-7 minutes.
Remember to periodically check during this stage of the coloring process to gauge your beard's growth cycle and determine if any additional time needs to be added or removed from your dyeing duration.
Rinsing and Combining for Even Distribution
Rinse away the dye until the water runs clear, then comb your facial hair for even distribution. Use a beard brush to ensure the color is blended evenly throughout. For best results, use circular motions and start at the root of each strand.
Keep in mind that freshly dyed beards may appear darker when wet than they do after drying – so don't worry if it looks too dark initially! After you have finished rinsing and combing, apply some beard oil to help lock in moisture while protecting against environmental damage like sun exposure or windburn.
Tips for Touching Up and Maintaining Your Dyed Beard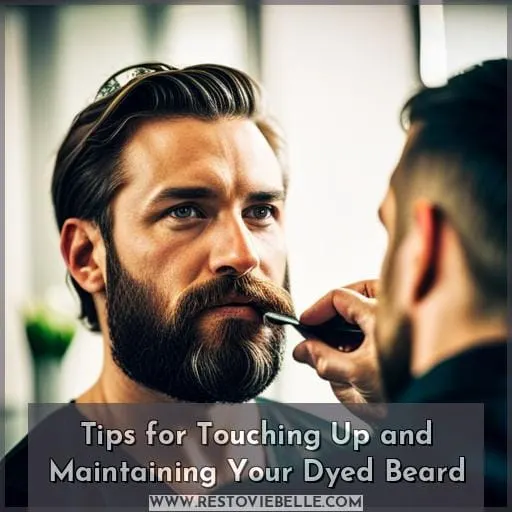 To keep your dyed beard looking its best, touch up every 3-6 weeks and use color-protecting products, such as a firming serum, to hide age.
Use natural pigments like henna for an even finish that won't fade quickly.
Consider professional help if you're not satisfied with the results of home dyeing kits or need extra guidance on touching up your look over time.
Stay ahead of grey hairs using gray coverage dyes specifically formulated for beards. These dyes can reduce their appearance without affecting the overall shade dramatically in one go.
Wash off any excess dye after application with Just For Men Control GX Grey Reducing Beard Wash to avoid staining clothes or skin.
Invest in quality hair care items, such as shampoos containing nourishing ingredients like argan oil, to maintain good health between salon visits. This will allow you to enjoy more vivid hues for longer periods without having to worry about damage caused by harsh chemicals found in many conventional dyes.
How to Turn Back Time on Your Face: the Benefits of Colored Beards

Are you looking to turn back time on your face with a colored beard? Dyeing your facial hair can be a great way to make yourself look younger, but there are both pros and cons that come along with it. Knowing which products offer the best coverage and results for you is key; luckily, there are plenty of quality options available from companies like True Sons Hair Dye Men, Just For Men Beard Dye in Dark Brown, Indigo Hair Beard Dye, and SoftSheen-Carson JetBlack.
Youthful appearance with dye
By achieving a more youthful appearance with dyed facial hair, you can take years off your look. Achieving this glow doesn't have to be difficult – just follow the right guidelines for beard maintenance and use age-defying secrets like dyeing benefits.
For maximum results, pair it with men's skincare products specifically designed to reduce gray hair reduction and other signs of aging.
Discover all that beard dye color has to offer for an unbeatable facial transformation today!
Pros and cons of dye
Professional help is available.
Skin reactions can occur with chemicals.
Henna offers natural pigmentation.
Allergic risk requires patch testing before use.
Achieving a youthful look may require other products such as firming serum too! Research carefully, speak to professionals, then make an informed choice for the best results.
Best beard dye options
You can achieve a more youthful appearance with tailored facial hair by choosing the right dye for you. Select one that is free from harsh chemicals and allergic reactions, such as True Sons or Just For Men.
If natural alternatives are preferred, opt for Indigo Hair Dye or SoftSheenCarson JetBlack. Volt Grooming's Beard Color Burnt Umber and Cremo's Hair Beard Color Medium Brown allow easy application without messes while maintaining beard color safely over time.
Henna is also an excellent choice to consider when selecting a natural dye alternative! With the right product selection, your look will be sure to turn back time on your face in no time at all!
Pros and Cons of Beard Dye

Coloring your beard can be a great way to mask signs of aging and give you a more youthful look. However, there are some potential drawbacks that come with using beard dye products, such as the risk of skin reactions from chemicals used in the dye formula.
Therefore, it's important to weigh both the pros and cons before deciding if coloring your facial hair is right for you.
The Benefits of Beard Dye
Dyeing your facial hair can instantly transform your look, giving you a more youthful and vibrant appearance. It offers an easy way to boost confidence and is the perfect solution for aging gracefully while still expressing yourself through personal grooming.
Different brands offer customizable options like subscription-based beard dyes and instant touch-up coloring for gray hairs or black men's beards. There are countless ways to achieve the desired outcome without having to mix chemicals or mess with prepping your beard.
Whether it's a short style or long mane that needs taming, using quality products specifically designed for facial hair will help keep your skin clean of any staining.
Potential Drawbacks of Beard Dye
However, there are some potential drawbacks to using beard dye that you should be aware of before making a decision.
Skin reactions may occur due to the chemicals in the product.
Allergic risks can arise from colorants or other ingredients in dyes and can cause irritation or swelling around the eyes, mouth, and scalp.
Color maintenance is important as fading is an issue with many products. Frequent touch-ups may be required for optimal results over time.
Chemical exposure could also pose long-term health risks if used too often without proper precautions, such as gloves or masks during the application process. Additionally, it's important to follow package directions precisely when applying any kind of hair dye since mistakes could result in undesirable outcomes.
Ultimately, weighing both pros and cons carefully will help determine if beard dyeing is right for you.
Additional Tips and Considerations for Beard Dyeing

Are you looking to add some color to your facial hair? Beard dyeing can be a great way to restore natural-looking color and achieve the desired look with ease.
Avoiding skin reactions
Always patch test for any allergies before using beard dye to ensure you don't suffer from any unwanted skin reactions. Taking precautionary measures is the best way to prevent allergic reactions, as some people are more sensitive than others and may experience irritation or rashes after applying dye.
If you have a history of skin sensitivity, it's important that you do an allergy test on your arm first before doing anything else.
Natural alternatives like henna
Consider exploring natural alternatives like henna to achieve a vibrant, gentle look that will last. Henna offers an array of benefits: it's free from harmful chemicals, and allergic reactions are rarer due to its organic nature.
Application techniques vary depending on the color variety you desire; simply mix it with water or lemon juice for a subtle tint, or apply it directly onto your beard for more intense results.
Maintenance and touch-ups
To keep your look fresh, consider touching up every 3-6 weeks with a quality beard dye. This will ensure that you always put your best face forward. Regular maintenance will help prevent fading and allow for natural regrowth of color over time.
To maximize the longevity of results, use a color-protecting product after each application. Look for a product that is specifically formulated for beards. If you're not achieving the desired results or if too much time has passed between touch-ups, consider seeking professional help.
When choosing a brand of beard dye, be sure to choose wisely. Some brands may contain harsh chemicals that can cause skin irritations or damage hair follicles in the long run.
By following these maintenance and touch-up tips, you can keep your beard looking its best and maintain a fresh and vibrant appearance.
Conclusion
Coloring your beard is an excellent way to create a youthful, vibrant look. With the right products and techniques, you can easily achieve a natural-looking color that lasts for weeks. From True Sons Hair Dye Men for a subtle salt and pepper look to SoftSheenCarson Jet Black for black men, and Volt Grooming Beard Color Burnt Umber for quick touch-ups, there are many options to choose from.
With the help of this guide, you can now confidently dye your beard and enjoy a vibrant, youthful look.