This site is supported by our readers. We may earn a commission, at no cost to you, if you purchase through links.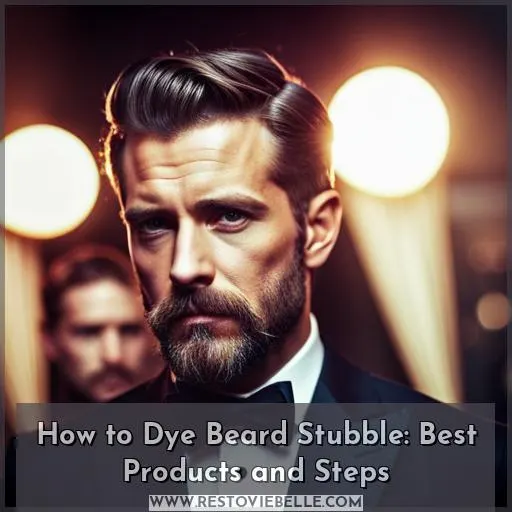 Do you want to add a touch of color and style to your beard stubble? If so, then you've come to the right place. Here we will discuss how best to dye your beard stubble with some of the most popular products on the market today.
We'll also provide steps for applying each product correctly, as well as tips for selecting and using hair dyes designed specifically for men.
Whether you're looking for an easy-to-use solution or something more customizable that gives longer lasting results, there are plenty of great options available.
Key Takeaways
Opt for hypoallergenic and chemical-free beard dyes.
Use upward strokes for an even application.
Choose the right shade based on beard length.
Follow product instructions carefully for a successful application.
How to Dye Beard Stubble
For those looking for a natural-looking salt and pepper look or full coverage of gray hair, True Sons Hair Dye Men offers an easy-to-use, ammonia-free formula that is gentle on the scalp. Just For Men Mustache Beard Dye also comes with 12 shades ranging from blond to jet black.
Henna Guys Indigo Powder dye can help cover grey hairs without lightening dark colors. SoftSheenCarson JetBlack is tailored specifically for men of African descent. Cremo Hair Beard Color in Medium Brown helps restore natural color for up to 6 weeks.
True Sons Hair Dye Men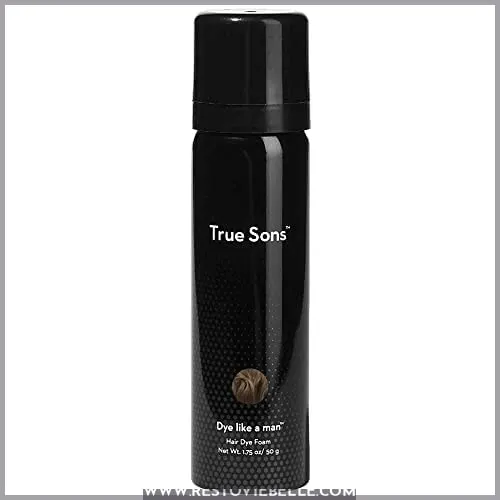 View On Amazon
Take a bold step towards achieving the look you desire with True Sons Hair Dye Men, an easy-to-use foam formula that's gentle on hair and scalp. This product offers up natural-looking results without damage or harsh chemicals.
The kit includes everything necessary for a successful dyeing experience, including gloves, wipes, and even a Quick Start Guide. For more than 50% gray hair coverage, mix the Dye Booster into the original foam formulation of True Sons Hair Dye Men for maximum effect – no need to worry about uneven coloring here! Confirm the shade under the bottle before application, then massage into clean, dry hair until the desired look is achieved.
Results last weeks to months, depending on how often shampooed or exposed to environmental elements such as sun exposure, which may cause fading over time.
No ammonia or harsh chemicals in the formula
Easy application process with a quick start guide included
Natural-looking results without any damage
Suitable for beard and mustache dyeing
7 different shades available, including Dirty Blonde, 2 Brown, and Black
Mixed reviews on effectiveness
Some users experienced irritation during processing
Fast application but shorter-lasting
Color holds well initially but fades quickly
Just for Men Mustache Beard Dye
View On Amazon
Try Just For Men Mustache Beard Dye for an ammonia-free formula that nourishes your facial hair while restoring a natural color. This easy-to-use brush-in application takes just five minutes, and with 12 shades ranging from blond to jet black, you can achieve the desired look.
It contains Biotin, Aloe, and Coconut Oil to help hydrate and nourish your beard while creating a thicker, fuller look. The color can last up to several weeks or months, depending on how often it is washed.
The kit also includes gloves to prevent staining of the skin during the application process.
For best results, patch test 48 hours prior to use before applying this product all over. Go slow when transitioning from light colors or covering gray hairs for a more natural-looking appearance.
After the initial coloring, variation may occur due to shipping issues (Amazon reliability), but the overall satisfaction rate is fairly high among users who tried JetBlack by SoftSheenCarson. This product is specifically designed for African descent beards, requiring less maintenance than other brands since it doesn't need touch-ups as often.
Additionally, a video consultation option helps with a step-by-step guide on achieving the desired color outcome safely at home without the assistance of a professional colorist, unless requested otherwise.
Easy 5-minute application time
Ammonia-free formula made gentle enough to not only cover stubborn grays but also hydrate and nourish the beard during the entire process
Available range of 12 shades suitable for even sensitive complexions, including JetBlack tailored especially towards persons of African descent
Comes with gloves included, preventing accidental staining around the face area
Patch testing recommended before fully committing to using the product
Overly ambitious expectations could lead to final unsatisfactory results, such as attempting full coverage versus leaving some grays within the mix
Amazon delivery issues might cause delays or damaged boxes upon arrival
Henna Guys Indigo Powder Dye
View On Amazon
Feel the freedom of a natural-looking salt and pepper look with Henna Guys Indigo Powder Dye. Just like painting on a blank canvas, you can achieve your desired shade. This 100% natural, cruelty-free, vegan hair dye does not lighten dark hair color and is effective for covering gray hairs.
The kit includes gloves, cap, and instructions to help you create your masterpiece.
The product offers numerous advantages: it's free from pesticides or chemicals that could irritate sensitive skin. Plus, it has various shades available, including Mahogany & Light Brown, so you can find the perfect match for yourself! What's more, its aloe vera formula ensures added moisture while nourishing each strand without any itching during processing.
100% Natural
Cruelty-Free
Vegan
Pesticide-Free
Zero Chemicals
Zero Metallic Salts
Available in Various Shades
Nourishes Hair Strands Without Irritation
May Require Careful Mixing
Begins To Wear Off After 5th Day
Odor Not Appealing To Some
SoftSheenCarson JetBlack
View On Amazon
SoftSheenCarson JetBlack is a tailored shampoo-in color offering better grey blending for African descent men, lasting up to 6 weeks.
Available in three shades from blond to jet black, this ammonia-free formula provides superior coverage with minimal dripping during application. Its unique drip-free design makes it easy to use every two weeks without worrying about mess or damage caused by regular dyeing techniques.
Furthermore, SoftSheenCarson's special tailor-made formula helps those with silver/white hair achieve perfect results that last long enough between touch-ups!
Easy application and minimal dripping
Ammonia-free
Tailor-made for African descent consumers
Provides superior coverage of gray hairs
Lasts up to six weeks
Slight stiffness observed in some users' hair texture after using the product
Not suitable for lightening dark-colored facial hair
Patch testing recommended before full usage
Cremo Hair Beard Color Medium Brown
View On Amazon
Cremo Hair Beard Color Medium Brown is a premium barber-grade hair and beard color with an easy-to-use, ready-to-use formula for natural results that last up to 6 weeks. Its lightweight foam application requires no gloves, so you can apply it quickly without mess.
The kit also includes a beard detailing tool which helps cover gray hairs without leaving any patchy areas behind. With its click together shake and press the button design, this product lets you store away your dye for repeat use whenever needed.
It's enriched with aloe vera and honey to provide moisture while coloring your facial hair, making it suitable for all types of facial hair including silver or white hairs as well as those of African descent who require better grey blending coverage than traditional products offer them.
Customers have reported positive experiences with the product noting its ease of application and good results from using Cremo Hair Beard Color Medium Brown. However, some users found their skin feeling slightly irritated during processing time due to sensitivity on their face or scalp area.
Lightweight foam application
No gloves required
Easy storage
Enriched with aloe vera & honey
Suitable for all types of facial hair
Potential irritation during processing time
May not be suitable if allergic to PPD
Godefroy Dark Brown Spot Coloring
View On Amazon
Discover the ultimate solution for spot-on beard dyeing with Godefroy Dark Brown Spot Coloring! This convenient and easy-to-use 20 application kit contains premeasured capsules, providing precise application with no waste.
The cream formula is perfect for covering gray hair and blending seamlessly with existing color as it doesn't drip.
With an easy click together shake and press button system, you can apply without the need for gloves or creating a mess. For those looking to touch up roots or cover small areas such as beards, mustaches, sideburns, or temples, this product is ideal due to its gentle nature on both skin and hair.
It's not just suitable for facial hairs either – use it wherever you may require some extra coverage in your locks! Plus, there's no strong odor, so applying won't feel unpleasant at all!
Godefroy Dark Brown Spot Coloring provides natural-looking results that last up to 4 days, making it great value compared to other products out there.
Pre-measured capsules provide precise application
Suitable for various facial hairs
Cream formula allows easy and drip-free application
Blends well into existing color
No strong odor
Good value
Stains countertops, so precautions should be taken
Some users prefer individual capsule opening
Only lasts 3-4 days
Step 1: Choosing the Right Beard Color Product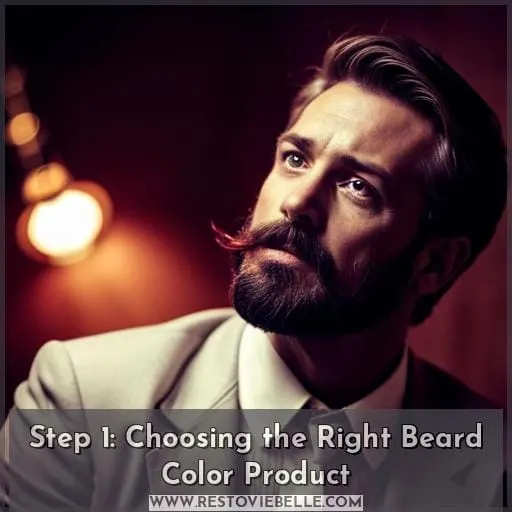 When searching for an easy-to-use beard dye, consider a hypoallergenic and chemical-free option that offers customization and quick application time. Volt Grooming Instant Beard Color is one such product, offering precise blending with its brush applicator to avoid the shoe polish look of traditional dyes.
With only 20 seconds of shaking required before brushing it onto stubble, you can enjoy perfectly colored facial hair in no time at all.
Hypoallergenic and Chemical-Free Options
Achieve youthful, fuller whiskers without the mess of traditional dyes with hypoallergenic and chemical-free options. Volt Grooming Instant Beard Color is a great option for those looking to customize their look without risking skin irritation.
For best results, choose a brush-on color that matches your stubble shade and apply it using upward strokes from the middle to the sides, going lighter near the sideburns. Lay the brush flat for streak-free application. Leave it on for 5 minutes before washing out according to the kit instructions.
Another allergen-friendly choice is Henna Guys Indigo Powder Dye – 100% natural and ideal for sensitive skin types.
Finally, use beard dye specifically formulated for facial hair instead of scalp dye products. Follow the directions precisely and patch test if needed. Avoid regular skincare products after 24 hours post-coloring session.
Customization and Application Time
Customize your facial hair look quickly and easily with a precise brush applicator, allowing you to avoid the messiness of traditional dyes. Volt Grooming Instant Beard Color is an excellent semi-permanent dye option for customization tips and quick application.
With 10 colors to choose from, it's easy to find one that matches your current beard color or desired look while avoiding skin irritation.
For those looking to go beyond basic coloring options, Cleverman offers customized kits created by online quizzes. Additionally, professional colorists at Colorsmith can provide custom shades tailored specifically for you.
Whatever product you decide on, make sure it fits your lifestyle—and don't forget the cardinal rule: always use a beard-specific dye over scalp dyes!
Step 2: Applying the Beard Color

Preparing to dye your beard stubble? Get started by shaking the product. This ensures all ingredients are evenly combined and ready for application, so you can achieve a natural-looking color result.
Shaking the Product
Before applying your beard dye, give the product a thorough shake for 20 seconds to ensure an even mix. This will help prevent streaking and poorly blended colors from appearing on your face when you're ready to apply.
When choosing between permanent or translucent dyes, be sure to opt for one that's specifically designed for facial hair.
Avoid leaving any residue around the edges of your facial hair after shaking. This could lead to staining while applying with a brush or comb later on.
Make sure to choose a color that best complements both your natural skin tone and existing facial hair color.
Starting From the Middle
When it comes to coloring your stubble, start by lightly coating the middle of your face and work outwards. Choose shades that blend with existing hair color for gray coverage or customize dyes for beard styling techniques.
Use an applicator brush and remember: go lighter near sideburns, lay flat for streak-free application, use upward strokes on coarser beard hairs. For optimal results, follow tips on color maintenance; avoid regular skincare products afterwards and wash dye before bedtime.
Customizing the Beard Color
For a truly tailored look, use a precise brush and layer on the colorant with upward strokes. Match your beard's hue to your stubble for maximum effect. Start at the middle of the face and blend into the sides.
Practice caution when using an at-home dye. Pick a slightly lighter shade designed for facial hair.
A quality beard-specific product will keep you looking youthful without the risk of skin irritation or damage from harsh chemicals found in traditional dyes.
Step 3: Enjoying a Perfectly Colored Beard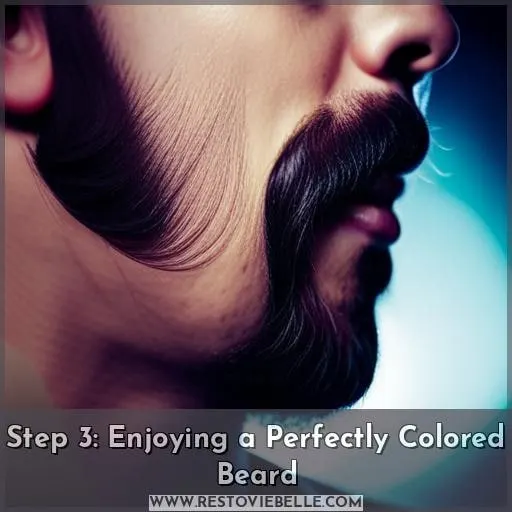 Enjoy the precision and natural blending of Volt's brush, avoiding that shoe-polish look.
Pick a slightly lighter shade designed for stubble, not regular hair.
Start with an unwashed face and stubble to retain natural oils.
Mix the base and developer equally in the tray; stir thoroughly before application.
Brush the dye lightly onto the stubble using upward strokes. Avoid pressing on the skin around the sideburns or nearby areas of sensitive skin.
With a few easy steps, you can enjoy your own customized beard color! Opt for one that matches your desired tone but is still slightly lighter than what you want, as it will darken over time when exposed to air or sunlight.
Apply from the middle outwardly towards the sides, then downwards. Lay the brush flat against facial contour lines for streak-free results.
Finish off by adding some argan oil for an added sheen after washing out excess product with lukewarm water within 5 minutes' time. After 24 hours have passed since the initial application, begin incorporating regular skincare products back into your routine, such as moisturizers, shampoos/conditioners specifically tailored toward beards.
Hair Dye for Men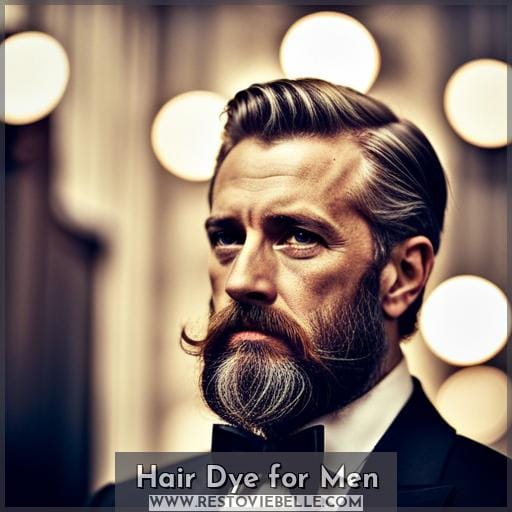 Experience the perfect beard color with a range of specially-formulated hair dye for men, from natural henna to custom kits! Gone are the days when you had to settle for thin areas or no coverage at all.
Forget about traditional dyes that require mixing and waiting time before permanent results show.
For those with sensitive facial skin, there's Henna Guys Indigo Powder Dye, which is 100% natural and chemical-free.
For an easy brush-in application in just five minutes, opt for Just For Men Mustache Beard Dye.
If you want gradual coloring instead, then try out Just For Men Control GX Washable Hair Color Shampoo. It deposits color each time it's used until the desired shade has been achieved.
If customization takes priority, Cleverman Customized Kit offers an online quiz so they can personalize their kit based on beard length, thickness, shape, etc. Madison Reed MR allows video consultation with professional colorists who match shades according to individual needs using AI technology.
True Sons Hair Dye Men provides seven shades of salt & pepper looks ideal if you're looking for more than 50% gray coverage.
Just for Men Mustache & Beard Dye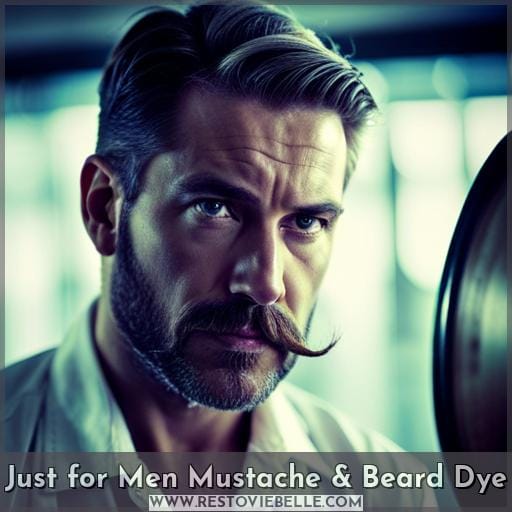 Just For Men Mustache & Beard Dye offers an easy-to-use brush applicator and a range of shades to suit the desired look. With it, you can achieve natural coverage of gray hair or patchy areas with minimal effort.
Here are 5 tips for using Just For Men:
Do a patch test before use to ensure that your skin is not irritated by this dye product.
Start with unwashed facial hair for better color absorption and longevity; wait at least one day after washing before applying the dye again.
Choose the right shade according to your beard's length – lighter shades work best on shorter beards while darker ones can provide fuller coverage in longer beards.
Use upward strokes when brushing on colorant for even application, avoiding pressing too hard onto skin or scalp area (which may cause irritation).
For black men, SoftSheenCarson JetBlack provides specially tailored colors designed specifically for textured hair types – offering a professional grade result from home!
Using Just For Men Mustache & Beard Dye allows you to create custom looks without ever having to step out of your house, nor compromising safety as its hypoallergenic formula contains no ammonia or PPD chemicals like traditional dyes do! Plus, removing any unwanted spots is also incredibly simple thanks to its water-resistant property, allowing you to take off excess quickly with alcohol wipes within 24 hours if needed.
Cleverman Customized Beard Dye for Men

Looking for a way to add color and definition to your beard? Try Cleverman's customized beard dye! It offers customizable, natural-looking colors that are hypoallergenic, non-permanent, and FDA approved.
The easy application process requires no gloves or messes. The included brush allows you precise control over how much coverage you get. Plus, there are plenty of shades available so you can achieve any look from salt & pepper stubble to full coverage gray hair without an overly done shoe-polish look.
With Cleverman's customization benefits, it will be easy for anyone to dye their beard stubble in minutes without any hassle – giving them the confidence they need!
Advantages:
Customizable Natural Looking Colors
Brush Control For Precise Coverage
No Gloves Needed
Ample Shade Options Available
Long Lasting Results
Quick And Easy Application Process
Disadvantages:
Hypoallergenic Non Permanent Dye
Colorsmith Custom Hair Color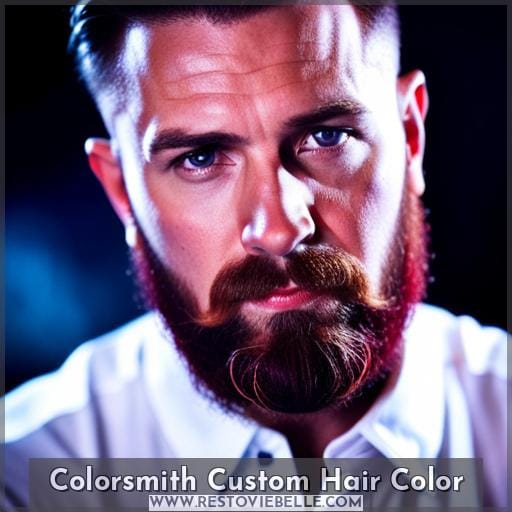 Achieve your desired look with Colorsmith's custom hair color kits, expertly formulated to match your unique shade and style. Whether you're looking for a subtle salt-and-pepper blend or full coverage of gray hairs, these DIY solutions offer the perfect solution.
Their no mix formula is FDA approved and contains only hypoallergenic ingredients that are safe on skin and won't cause irritation like traditional dyes do. Plus, it offers precise application with their brush applicator tool. This ensures natural blending from the middle outwards while avoiding a shoe polish effect near sideburns.
Enjoy perfectly colored results in just 20 seconds! The non-permanent dye also makes touch-ups easier than ever. Simply brush lightly onto stubble without having to wash out before bedtime each night. This gives you all-day control over any fill patches needed throughout beard growth cycles, as well as longer-lasting color retention compared to other temporary products on the market today.
With so many options available from Colorsmith Custom Hair Color Solutions, there's sure something here for everyone – make sure to check them out!
MR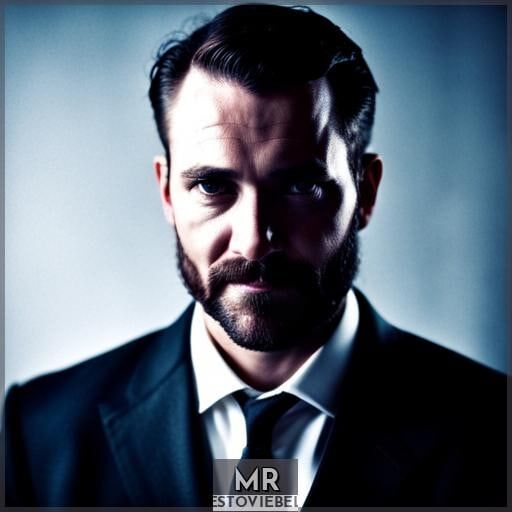 For a salon-quality touchup, Madison Reed's MR is the perfect choice to give your beard an even, natural hue. It helps you achieve the exact look you're seeking with its color-matching quiz and video consultation options from colorists.
The non-toxic formula is designed specifically for facial hair and contains no ammonia or harsh chemicals that may irritate sensitive skin.
Simply apply MR with an applicator brush in upward strokes starting at the base of your beard. Then, go lighter near the sideburns for a streak-free finish. It provides full gray coverage lasting up to 8 weeks, so your facial hair looks refreshed all day long without any messiness or fussiness associated with regular dyeing techniques.
To ensure optimum results, follow their Beard Care Tips. These tips include washing out before bedtime and waiting 24 hours after coloring to use skincare products on your face again.
Achieve professional-level grooming through proper maintenance using sophisticated coloring techniques like those offered by Madison Reed MR.
Just for Men Control GX Grey Reducing Beard Wash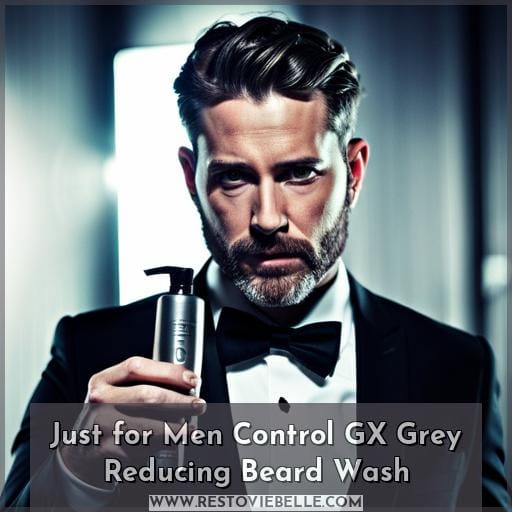 Now that you've found the perfect shade of gray coverage, it's time to apply your beard color. Just For Men Control GX Grey Reducing Beard Wash is a revolutionary no-mix formula specifically designed for gray coverage and facial hair maintenance.
The easy-to-apply foam has an applicator brush which helps evenly distribute the product onto stubble for natural blending without leaving behind any patchy spots or a shoe polish look. It also contains aloe vera and honey to nourish the skin while providing up to 6 weeks of grey reduction with continued use.
Furthermore, this hypoallergenic option ensures a comfortable experience since it washes away from the skin quickly after application – just leave it on for 5 minutes before rinsing off!
Additionally, it is important to avoid using regular skincare products within 24 hours after dyeing as they can reduce the effectiveness and longevity of the colorant applied to your beard stubble.
With proper care, such as avoiding overuse, washing off promptly when necessary, and regular touch-ups, you'll have a perfectly colored customized look in no time!
Conclusion
With a variety of products and techniques, you can easily dye your beard stubble and achieve the desired look. From True Sons Hair Dye Men to Cremo Hair Beard Color in Medium Brown, it's easy to find a product that suits you.
Just remember to choose a shade that is slightly lighter than your natural hair color to avoid a shoe-polish appearance. Also, don't forget to carefully follow the instructions for your chosen product to ensure a successful application.