This site is supported by our readers. We may earn a commission, at no cost to you, if you purchase through links.
Are you considering getting hair extensions? Before taking the plunge, it's important to understand what kind of care they require. After all, hair extensions are not cheap and if you don't take good care of them, your investment could be wasted.
One key factor in maintaining healthy looking hair extensions is finding the right shampoo that won't damage or strip away their natural oils and moisture. There are plenty of shampoos out there designed specifically for use on human or synthetic hair extension strands; however, knowing which one is best can be challenging.
Fortunately, we have done some research and compiled a list of 12 best shampoos for your precious locks so that you can make an informed decision when choosing a product!
Key Takeaways
Consider hair extension shampoo carefully for proper care.
Avoid sulfates, parabens, dimethicone, and mineral oil.
Select shampoos based on hair type and needs.
Use sulfate-free and organic options.
12 Best Shampoos for Hair Extensions
Finding the right shampoo for hair extensions can be a daunting task, but luckily, there are plenty of options to choose from. From Videri Lemon Sage Shampoo and SheaMoisture Raw Shea Butter Shampoo to OGX Coconut Milk Conditioner and Pureology Hydrate, we've compiled 12 of the best shampoos for hair extensions that will leave your locks looking healthy and vibrant.
1. Videri Lemon Sage Shampoo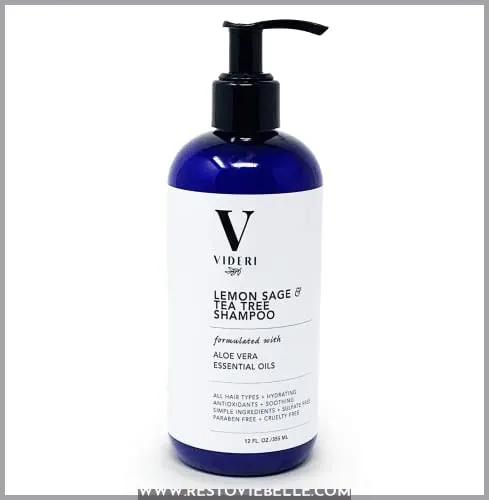 View On Amazon
If you have a sensitive scalp, Videri Lemon Sage Shampoo is the perfect choice to nourish and hydrate your hair while providing an uplifting citrus scent. It's specially formulated for those with sensitivities in mind. This shampoo is crafted with essential oils like aloe vera, lemon, sage, and tea tree extract that work together to soothe the scalp without irritation.
The rich formula contains hydrolyzed wheat protein along with provitamin B5, which helps strengthen strands from root to tip. Organic jojoba oil provides deep nourishment, while chamomile distillate works as an anti-inflammatory agent that prevents itching and flaking on the scalp.
Improved hair body
Refreshing feel
Moisturizes without greasiness
Contains Essential Oils: Aloe Vera, Lemon, Sage & Tea Tree Extracts
Dissolved keratin treatment
Received incorrect product (peppermint shampoo) due to labeling error
2. SheaMoisture Raw Shea Butter Shampoo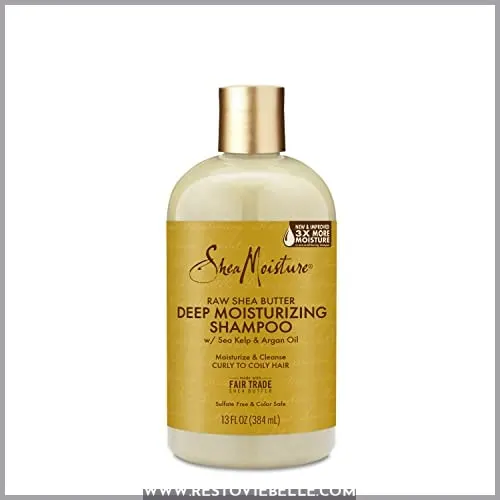 View On Amazon
SheaMoisture's Raw Shea Butter Shampoo is a nourishing treat for your hair, like plunging into a pool of silky coconut oil and emerging with glossy locks. Formulated without damaging sulfates, parabens, or phthalates, this organic shampoo contains fair trade shea butter to fortify dry and damaged tresses while restoring their natural shine.
Argan oil provides intensive moisture, while sea kelp strengthens hair from the roots up.
Suitable for 3A to 4C textures, including wavy curls through to tight coils, as well as transitioning strands in need of some extra TLC, it'll leave your locks feeling soft yet strong – no more dreaded split ends here!
Nourishes & restores dry/damaged hair
Organic ingredients are gentle on sensitive scalps
Sustainably produced & cruelty-free
May cause scalp irritation if used frequently
Some users may find the scent too overpowering
3. OGX Coconut Milk Shampoo Conditioner
View On Amazon
OGX Coconut Milk Shampoo Conditioner is a sulfate-free formula that nourishes and strengthens hair with coconut milk, egg white proteins, and coconut oil for added shine. This shampoo provides color protection while leaving your hair squeaky clean with no heavy buildup.
It's designed to protect against color fade so you can maintain vibrant hair without damaging it further.
Ideal for all types of hair, including colored or chemically treated tresses, this liquid product helps give body and movement to fine or thick locks. It delivers a refreshing tropical scent as well as softness and shine. Many customers praise the results they've seen in their own strands: smoother texture, improved hydration, reduced frizziness, and stronger roots leading to better styled looks overall.
Nourishes & Strengthens Hair
Color Protection
Sulfate-Free Formula
Some Users Reported Dryness After Prolonged Use
Not Suitable For Oily Scalps
4. Pureology Hydrate Shampoo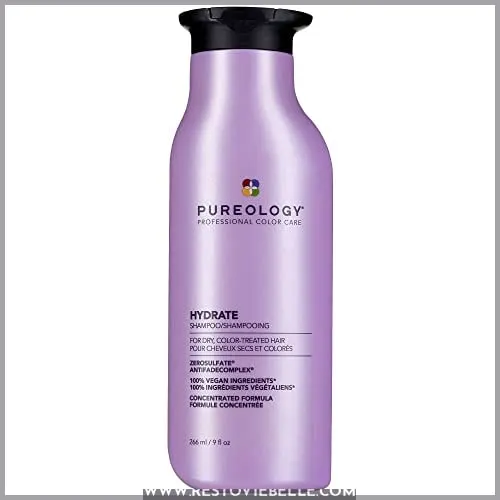 View On Amazon
Pureology Hydrate Shampoo is trusted by hairstylists and provides long-lasting hydration, leaving over 85% of customers' hair soft, shiny, and manageable. It's sulfate-free, paraben-free, vegan formula contains key ingredients such as Jojoba for hydration; Rose Extract to prevent hair loss; Green Tea for scalp health; Sage to stimulate follicles.
These work together to add body without weighing down the hair or causing scalp irritation.
With a pleasant scent and long-lasting effects, this shampoo is ideal for all types of damaged, dry, or color-treated hair – from normal to thick – creating an overall healthier look that boosts your confidence!
Moisturizing & hydrating
Sulfate-free & paraben-free
Vegan-friendly
Can be drying if used too often
May cause itchiness in some cases
Pricey compared with other shampoos
5. Big Kizzy Biotin Shampoo Conditioner
View On Amazon
Nourish and strengthen your hair with Big Kizzy's Biotin Shampoo Conditioner, a specially formulated set that adds volume and body to fine or thick locks. This cruelty-free shampoo contains 11 amino acids for strength and repair, as well as fortifying Biotin and ProVitamin B5.
It's designed by hairdressers for modern service demands, so it's free from harsh chemicals like silicone, sulfates, and parabens.
Users have reported softer tresses with improved manageability after using this product. However, some experienced no volumizing effect on their thin strands. The size of the bottles has also been an issue according to mixed opinions about value for money spent on this duo set.
Enhanced volume & body
Nourishes & strengthens thin/fine hair
Cruelty-free (lightly scented) & free from silicone/sulfates/parabens
Improves manageability & adds softness
Mixed reviews on price vs quantity
May not provide volumizing effect
Not suitable for all users
6. Hair Extension Shampoo Biotin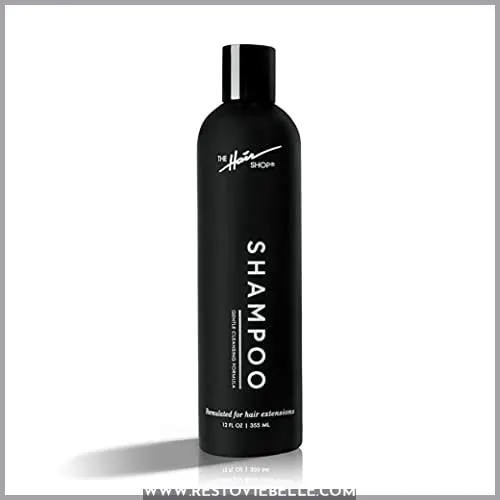 View On Amazon
The Hair Shop's Hair Extension Shampoo Biotin gently cleanses extensions with a blend of chamomile and rosemary, leaving your hair soft, smooth, and smelling like cucumber. Aloe & Biotin promote hair growth and strengthening, while the narrow bottle design helps you avoid spills or mess.
Suitable for wavy, dry, curly, or straight hair types; this shampoo is perfect for those looking to keep their extensions healthy without sacrificing any cleansing power! It lathers well and doesn't leave behind any greasy residue either.
Cleans Extensions effectively
Pleasant scent
Cleans natural scalp & hair well
Leaves hair clean & soft hydrated
Narrow non-slip bottle design
Great for hydrating & preventing frizz
Product exploded during delivery
Broken bottles lost product
Expensive but potentially extends life
7. NYK1 Color Treated Hair Shampoo Conditioner Set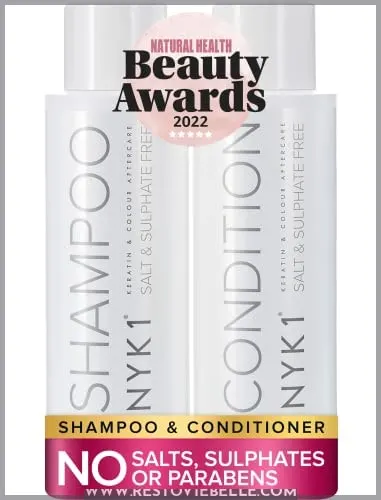 View On Amazon
NYK1 Color Treated Hair Shampoo Conditioner Set is like a deep cleaning for your hair, providing the perfect balance of protection and hydration. It's sulfate-free and paraben-free, helping to maintain vibrant color while leaving hair smooth, frizz-free, soft, and shiny.
This shampoo is suitable for all types of hair, including Brazilian Keratin Hair Straightening Kit treatments and extensions aftercare protection.
Users noticed improved quality in their locks when they avoided using sulfates, which can strip away vital moisture from already brittle strands.
Improved hair quality when avoiding sulfates
Generous quantity in each bottle
Good scent that leaves your locks thicker & softer
Not very effective at detangling
Doesn't lather very well due to lack of sulfates
Leaking bottles during shipping
8. Color Wow Security Shampoo
View On Amazon
Cleanse and protect your color-treated tresses with Color Wow Security Shampoo. It is formulated to rinse away impurities without weighing down hair. This sulfate-free shampoo is suitable for all types of hair, from fragile and damaged to chemically treated or colored.
It contains no silicones, thickening agents, conditioning agents, or anti-frizz ingredients that can cause scalp irritation.
The rinse-clean formula works effectively against color fade while leaving your locks squeaky clean with no heavy buildup! Users report improved scalp health after just two uses of this product. It's especially great for those who have allergies to chemicals in beauty products.
Color Wow Security Shampoo has been highly praised by users across different hair types as an excellent choice for colored locks.
Does not contain harsh chemicals such as silicones and sulfates
Gentle enough even on sensitive scalps
Protects against color fade while maintaining vibrancy
Leaves hair soft and shiny without any residue build-up
Considered expensive by some customers
Part of a larger line specifically designed for color-treated tresses
9. Oribe Gold Lust Dry Shampoo
View On Amazon
Try Oribe Gold Lust Dry Shampoo for a light and refreshing way to refresh your hair between washings without adding texture, grip, or weight. This ultra-lightweight, translucent powder instantly absorbs dirt and oil from the hair and scalp while nourishing and fortifying dry, damaged hair.
It provides body and movement to the hair without weighing it down or leaving it feeling greasy. Formulated with vitamins, nutrients, proteins, as well as Aloe Vera and Rosemary Extracts, to increase the strength and vitality of color-treated locks, this shampoo is dermatologist tested and free from parabens, sulfates, and sodium chloride, making it safe even for fragile, colored, chemically treated, and damage-prone tresses.
Customers praise its clean scent, effective performance in removing product buildup, improved hydration, body repair, softer, shinier, and more manageable results, as well as its great value for money all around!
Adds fullness to fine hair
Pleasant scent & texture
Lasts a long time
Can be used for volume
Good quality product
Requires too much pressure when spraying
Expensive
Scent may be strong for some users
Pricey compared with quantity provided
Fragile hairs may require premium products
10. Giovanni Eco Chic Shampoo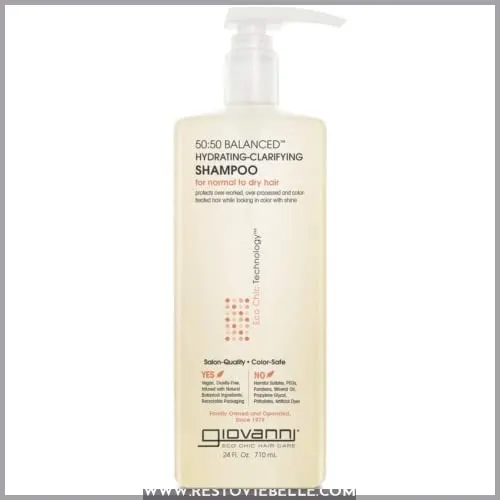 View On Amazon
Experience the power of Giovanni Eco Chic Shampoo, infused with vitamins, proteins, and botanical extracts to boost your hair's strength while locking in color and shine. This vegan-friendly shampoo is Leaping Bunny Certified and cruelty-free—perfect for those looking to make a sustainable choice for their haircare routine.
The natural formula contains Aloe Vera, Rosemary, and other Botanical Extracts, which provide moisture without leaving your hair feeling greasy or weighed down. Customers have praised its effectiveness in removing product buildup while also providing a pleasant scent that lingers long after use.
Vegan-friendly & cruelty-free
Contains natural ingredients such as aloe vera & rosemary extract
Effective at removing product buildup
Pleasant scent that lasts long after use
Packaging issues reported (leakage)
Not suitable for daily use
11. Moroccanoil Moisture Repair Shampoo
View On Amazon
Revitalize your hair with Moroccanoil Moisture Repair Shampoo for salon-quality repair and restoration. This luxurious formula contains argan oil and reconstructive keratin to nourish, strengthen, and protect damaged hair.
It is free from sulfates, phosphates, and parabens, making it suitable for all ages in need of deep hydration without harsh chemicals. The exquisite scent of Fragrance Originale will linger in the air as you leave your locks feeling smooth yet voluminous.
Thanks to this shampoo's special blend of vitamins and proteins, it promotes healthy growth while locking in color vibrancy. Numerous users have reported improved manageability after using this product, along with softer strands that are easier to style than before.
Formulated with Argan Oil & Reconstructive Keratin
Sulfate-, Phosphate-, & Paraben-Free
Suitable For All Ages
12. Batiste Dry Shampoo Variety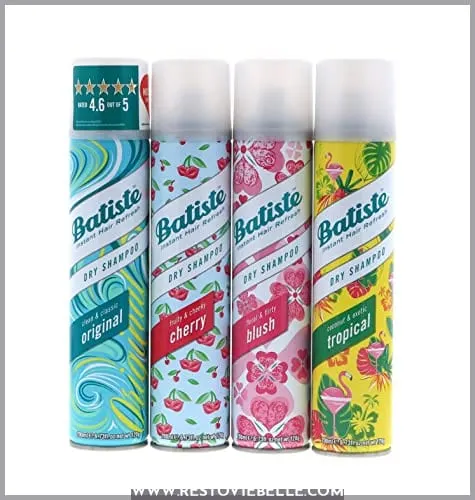 View On Amazon
Enjoy the fresh, light scent left in your hair by Batiste Dry Shampoo Variety 4 Pack. This four-pack of 200ml cans contains a variety of scents designed to reduce oiliness and leave a pleasant aroma. It quickly absorbs excess oils and odors from the scalp, providing body and movement without weighing down or irritating delicate hair strands.
The product is free from sulfates, phosphates, parabens, or silicones, making it safe for use on dry scalps as well as color-treated locks.
Suitable for all types of hair, including straight, wavy, or curly styles, users can expect long-lasting results with improved hydration and manageability after each application when used with a brush.
Quickly absorbs oil and odor
Lightweight formula
Does not weigh down hair
Sulfate-, phosphate-, and paraben-free
Suitable for all types of hairstyles and colors
Avoiding Toxic Ingredients in Hair Extension Shampoos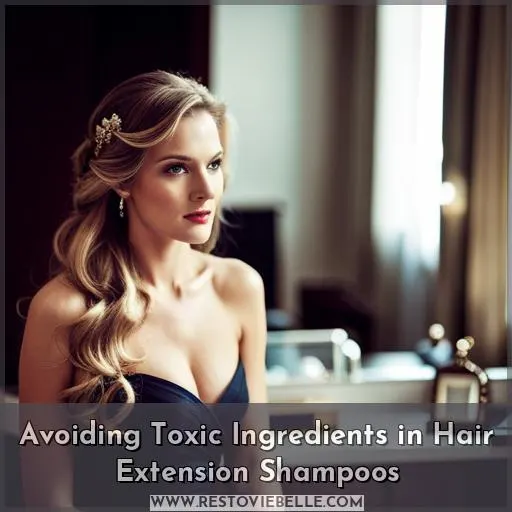 When it comes to hair extensions, you want to be sure that the shampoo you use is free of toxic ingredients. While there are many shampoos on the market that claim to be safe for extension care, it is necessary to thoroughly analyze the ingredients before making your selection.
Sulfates and parabens should always be avoided as they can damage bonds and cause extensions to fall out prematurely. Alcohols, such as short-chain alcohols, can also dry out hair. Additionally, dimethicone may lead to residue buildup over time.
Mineral oil should also be avoided to prevent conditioners from building up on the scalp or becoming greasy with regular use.
To ensure proper extension maintenance, it is recommended to choose sulfate-free products with natural oils like argan oil and jojoba oil. These oils help protect against heat damage while hydrating strands from within without weighing them down with heavy silicones or petroleum derivatives.
Investing in quality haircare products will help keep your investment healthy!
Proper Washing Techniques for Hair Extensions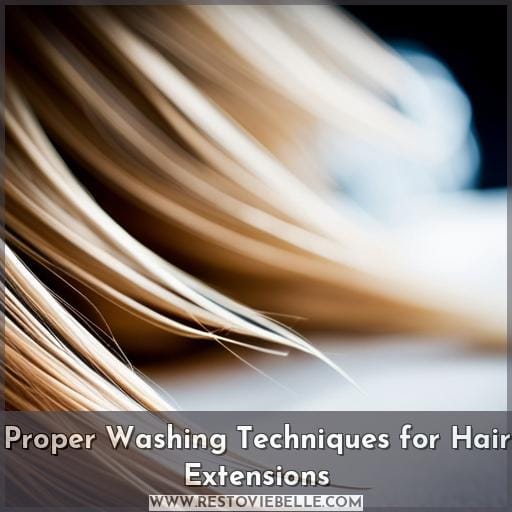 Properly washing your extensions is key to keeping them looking and feeling their best.
Start with the right shampoo selection – choose one that's specifically designed for extension care, free of sulfates, parabens, and other harsh ingredients.
Use lukewarm water when rinsing. This helps keep the bonds intact while also preventing product build-up.
Detangle thoroughly before each wash. Brushing out knots will help prevent damage from tugging or pulling at wet strands during cleansing.
Limit heat styling as much as possible. Excess heat can cause drying out or weakening of natural hair fibers, which may lead to breakage in some cases.
By following these steps, you can ensure that your extensions stay healthy and vibrant over time! Be sure to take extra caution when selecting a suitable shampoo. Pay attention to its ingredients list so you know what products should be avoided at all costs, such as dimethicone, mineral oil, and sodium chloride among others.
Additionally, consider if it's suited for your type of hair (straight/curly, etc.
Choosing the Right Shampoo for Your Hair Extensions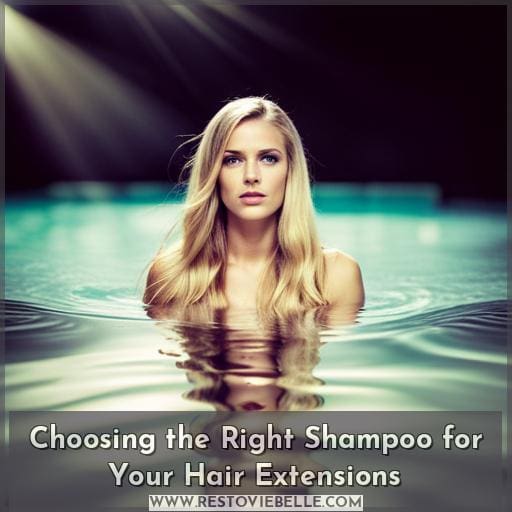 When it comes to protecting and caring for your hair extensions, choosing the right shampoo is essential. There are many types of extension shampoos available on the market, from sulfate-free options to vegan and cruelty-free brands.
To ensure your extensions stay healthy, look for a shampoo that contains natural ingredients such as argan oil or jojoba oil while avoiding harsh chemicals like sulfates or parabens. Highly recommended shampoos include Videri Lemon Sage Shampoo, SheaMoisture Raw Shea Butter Shampoo & Conditioner Set, OGX Coconut Milk Shampoo & Conditioner, and Pureology Hydrate Shampoo among others.
Types of extension shampoos
With so many types of shampoo available, it can be hard to know which one is best for your 'do – but don't worry, we've got you covered.
From Videri Lemon Sage Shampoo to Color Wow Security Shampoo and Batiste Dry Shampoo Variety 4 Pack, there are a variety of sulfate-free options that hydrate extensions while avoiding buildup.
For preserving hair quality and scalp health when using different types of hair extensions like glued or taped in pieces, consider Moroccanoil Moisture Repair and Pureology Hydrate shampoos – both designed with natural ingredients specifically for extension maintenance.
With the right selection process based on color treatment needs or desired scent profiles as well as ingredient consideration such as the inclusion/exclusion of silicones, this will ensure optimal results with clean locks all day!
Ingredients to avoid
Be sure to steer clear of ingredients like sulfates, parabens, dimethicone, and mineral oil when choosing a shampoo for your hair extensions. These ingredients can all cause damage and leave your extensions looking dull. Parabens are linked to hormone disruption, while sulfates strip away protective oils from the scalp.
Harmful alcohols dry out the hair, while dimethicone coats strands, making it difficult for moisture to penetrate. Hair dye chemicals weaken bonds, leading to breakage, whereas mineral oil creates product buildup on the scalp, preventing oxygenation of follicles.
Recommended shampoo brands
When selecting the right shampoo for your hair extensions, there are many quality brands to choose from.
Videri Lemon Sage Shampoo
SheaMoisture Raw Shea Butter Shampoo
OGX Coconut Milk Shampoo Conditioner, which offers color protection and strength
Pureology Hydrate, a sulfate-free, paraben-free, and vegan option
Big Kizzy Biotin, which strengthens with 11 amino acids
Hair Extension's Biotin, which helps repair split ends with chamomile & rosemary extracts
NYK1 Color Treated Hair Set, which protects vibrant hair color
Color Wow Security, which adds volume without heavy buildup or scalp irritation
Oribe Gold Lust Dry Powder, which refreshes between washes
Giovanni Eco Chic, which nourishes over-processed locks with vitamins & proteins
Moroccanoil Moisture Repair, which repairs damage for all hair types
Batiste Dry Variety Pack, which keeps oily scalps fresh even on infrequent shampoos!
Conclusion
It's no surprise that hair extensions require special care and attention, but it can be difficult to know what kind of shampoo to use.
Fortunately, there are a plethora of shampoos specifically designed for hair extensions that are sulfate-free, paraben-free, and organic. From Videri Lemon Sage Shampoo to Batiste Dry Shampoo Variety, these shampoos are designed to nourish, hydrate, and protect the hair while prolonging the life of the extensions.
So if you want to keep your hair extensions looking their best, be sure to choose a shampoo that is dedicated to the health and maintenance of your extensions.