This site is supported by our readers. We may earn a commission, at no cost to you, if you purchase through links.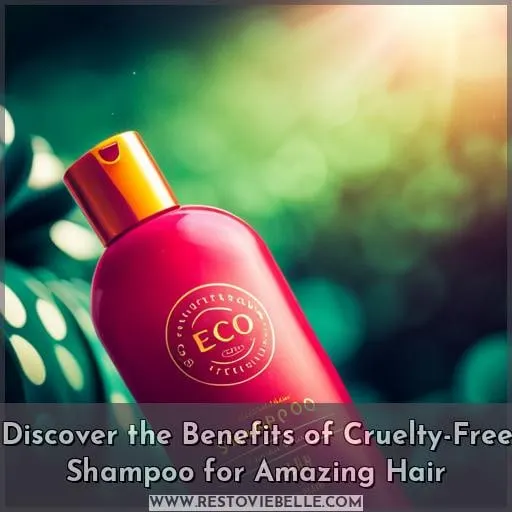 Do you want to give your hair a natural and rejuvenating makeover without sacrificing the welfare of animals? Cruelty-free shampoo is an excellent way to achieve just that. Not only are these products free of animal testing, but they also often contain plant-based ingredients that offer numerous benefits for beautiful strands.
In this article, we will explore what cruelty-free shampoo is, why to use it, and some top picks for every hair type.
Key Takeaways
Cruelty-free shampoos offer natural, rejuvenated hair without animal testing.
These shampoos contain plant-based ingredients, promoting animal protection.
Healthier hair and ethical choices.
Avoid contributing to animal cruelty.
What is Cruelty-Free Shampoo?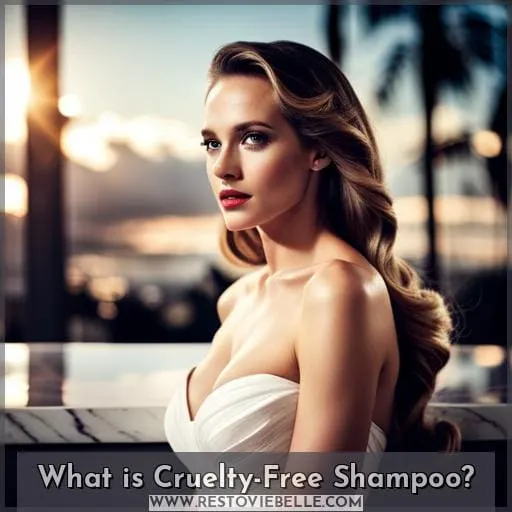 Animal testing should be banned as it is both cruel and inaccurate. Clean, vegan, and cruelty-free shampoo represents an ethical alternative that offers numerous benefits to the user, such as healthier hair through natural ingredients, protection of animals from harm caused by animal testing, cost savings due to non-animal testing formulations, and increased availability of cruelty-free options.
Choosing cruelty-free shampoo helps protect animals while ensuring our haircare needs are met in a more sustainable way.
Why Animal Testing Should Be Banned
You should consider the drawbacks of animal testing when choosing cruelty-free hair care. It can provide an inaccurate representation of human reactions and cause environmental impacts that go beyond beauty without cruelty.
Ethical brands are available, but regulatory reform is still needed to ensure alternatives are considered before animal ingredients or tests take place.
What About Clean, Vegan, and Cruelty-free Shampoo?
Finding the right cruelty-free, vegan shampoo can be a challenge, but there are plenty of options to help you find the perfect fit for your hair needs. Sustainable shopping with cruelty-free products and plant-based formulations allows you to make informed choices while also enjoying hair health benefits.
Volumizing options like Rahua's Voluminous Shampoo and Pacifica's Rosemary Purify offer amazing results without sacrificing animal welfare.
Opting for clean haircare that is both ethical and effective has never been easier.
The Benefits of Cruelty-Free Shampoo
Choosing a cruelty-free shampoo can be a great way to help protect animals, while also giving you the ultimate clean hair care experience. Cruelty-free labeling ensures that no animal testing has been done in the formulation and production of your favorite products – like Pacifica, Avalon Organics, Eva NYC, or Maui Moisture.
Plant-based ingredients make sure your hair is nourished without harsh additives. Vegan solutions are available from brands like The Body Shop for those looking to go above and beyond with ethical hair care.
Why Use Plant-Based Shampoo?

You're looking for a shampoo that not only cleanses and hydrates your hair but is also vegan and cruelty-free. Plant-based ingredients, such as olive oil, coconut oil, chamomile extract, and aloe vera juice, provide great benefits to the scalp without relying on animal-derived products or testing on animals.
Many commercially available shampoos can contain non-vegan ingredients like beeswax or lanolin, which are sourced from animals.
There are now custom vegan shampoos and conditioners that allow you to create your own haircare routine with peace of mind, knowing all the ingredients used have been ethically sourced.
The Advantages of Plant-Based Ingredients
By opting for plant-based ingredients in your hair care routine, you can enjoy the benefits of natural nourishment and hydration to improve hair health. Organic shampoo, natural oils, and plant-based ingredients are all great options.
Cruelty-free brands such as Ethique and The Honest Company offer a variety of sustainable shampoo solutions like Aspen Kay's Plant Protein Blend Shampoo or Love Beauty Planet's Volume Fine Hair Care. All of these products are packed with quality ingredients that provide gentle yet effective cleansing while also protecting locks from damage caused by harsh chemicals.
Non-Vegan Ingredients in Hair Care
When selecting a cruelty-free shampoo, it's important to be aware that some may contain non-vegan ingredients. It is essential to read the ingredient labeling as vegan labeling isn't always present. Animal products can have an environmental impact, so consider ingredient alternatives such as plant-based ingredients for hydrating shampoos like Not Your Mother's or top brands like Love Beauty Planet and Yarok Volume Shampoo Vegan.
Custom Vegan Shampoo and Conditioner
Enhance your hair's natural beauty with custom vegan shampoo and conditioner tailored to suit your individual needs. Find cruelty-free ingredients that protect against damage while providing sulfate-free solutions for scalp health.
Top 7 Best Shampoos for Hydration and Moisture
Looking for the best cruelty-free shampoo to hydrate and moisturize your hair? From Hask Argan Oil Haircare Set to Jason Dandruff Shampoo, we've rounded up seven of our top picks that are perfect for color-treated or dandruff control.
Whether you're looking for volume, clarifying options, or a vegan option—we have something that will suit all types of needs.
1. Hask Argan Oil Haircare Set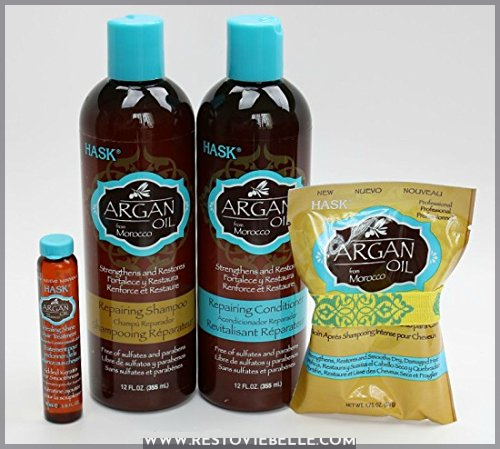 View On Amazon
Treat your hair to the nourishing benefits of Hask Argan Oil Haircare Set and experience a luxurious spa-like experience in the comfort of your own home. This comprehensive haircare solution is infused with argan oil that helps address issues like dryness, damage, and frizz while promoting healthy hair growth.
The set includes multiple products such as shampoo, conditioner, mask, and oil for a complete routine. Each product contains natural ingredients that work together to improve overall hair quality without stripping away essential moisture or nutrients.
Get ready to say goodbye to dull, lifeless locks because this cleansing system will leave you with beautiful, shiny tresses everyone will be envious of!
Comprehensive haircare set with argan oil infusion
Addresses issues like dryness, damage, and frizz
Natural ingredients promote overall health & shine
Perform a patch test before using
Results may vary based on individual's conditions
Keep away from eyes; if contact occurs, rinse thoroughly
2. GIOVANNI Smooth Silk Shampoo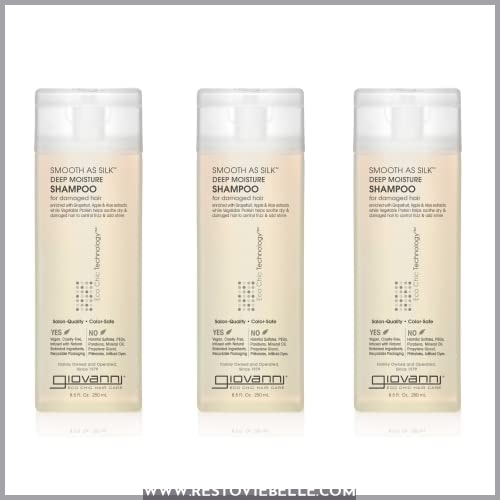 View On Amazon
Experience unparalleled softness and deep hydration with GIOVANNI Smooth Silk Shampoo, scented with invigorating Lavender and Lemongrass. This delicious shampoo is formulated to nourish all hair types, eliminating frizz while protecting against breakage.
It's enriched with Apple and Aloe Extracts for a luxurious pearlized effect that leaves your locks glistening in the sunlight.
The formula is free of harsh chemicals like Lauryl & Laureth Sulfates, so you can use it confidently, knowing that your scalp will remain healthy.
Nourishing moisturizer for deep hydration
Alleviates frizz and maintains hair color
Cruelty-free; vegan-friendly ingredients
Free from harsh chemicals like Lauryl & Laureth Sulfates
Sophisticated recyclable packaging
Not suitable for those seeking sulfate-free options
3. KEVIN MURPHY Blonde Angel Wash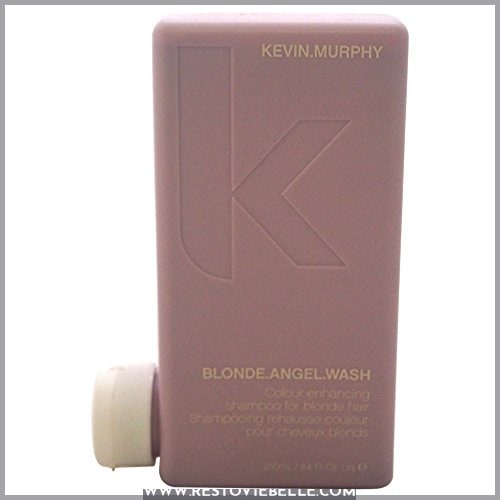 View On Amazon
Protect your blonde or silver hair from yellow and brassy tones with KEVIN MURPHY's Blonde Angel Wash. It is an ultra-rich formula that is free of sulfates, parabens, and animal testing. This shampoo is specifically designed for color-treated hair. It helps to maintain cooler tones while protecting the vibrancy of your hue.
The unique blend of hydrating ingredients, such as shea butter and avocado oil, nourishes each strand, leaving it soft to the touch but never weighed down.
Enjoy beautiful locks without compromise when you use KEVIN MURPHY's Blonde Angel Wash.
Sulfate-, Paraben-, & Cruelty-free
Hydrates & Nourishes Hair
Enhances Color Vibrancy
Expensive
Not Ideal For All Hair Types
4. Paul Mitchell Shampoo Two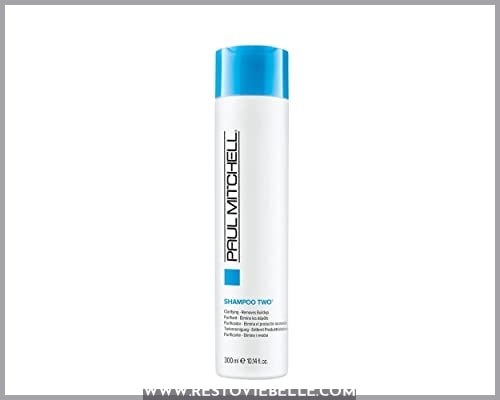 View On Amazon
For a deep clean that won't strip your locks, Paul Mitchell Shampoo Two is the go-to solution. This lemony fresh clarifying shampoo deeply cleanses hair and removes dulling buildup from oily hair. Its color-safe formula leaves hair squeaky-clean, shiny, and full of body. It's an ideal choice for those who want to achieve salon-quality results without worrying about harsh chemicals damaging their locks.
With Paul Mitchell Shampoo Two, you can enjoy beautiful, healthy-looking strands with confidence!
Deeply cleanses oil
Removes dulling buildup
Color-safe formula
Leaves hair shiny & full of body
May be drying for some scalp types
5. Yes to Blueberries Shampoo

View On Amazon
You can trust Yes To Blueberries shampoo to give you the nourishment and protection your hair needs, with its natural ingredients packed full of antioxidants. Formulated without parabens or harsh chemicals like petroleum and SLS, this shampoo is suitable for all hair types looking for an eco-friendly option.
It contains blueberries rich in vitamins A and C that work together to help promote healthy locks, while clover flower helps mend damaged tresses.
Natural ingredients
Paraben & Petroleum free
Suitable for all hair types
Not ideal if not looking for a vegan product
6. Yarok Volume Shampoo Vegan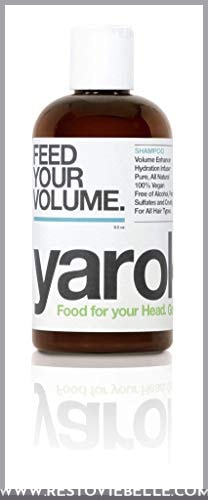 View On Amazon
Yarok Volume Shampoo Vegan is an organic and natural vegan shampoo, boosted with nourishing oils like Grapeseed, Macadamia Nut, and Primrose to provide a luxurious volumizing solution for normal to fine hair.
Its special vitalized water purification process utilizes rare volcanic minerals that add extra nourishment while the botanicals in the formula promote hair growth, elasticity, strength, and dimension.
Aloe vera soothes inflammation for better scalp health, while its aromatherapy blend of essential oils adds a refreshing scent.
Yarok's commitment to being cruelty-free ensures you can trust their product range without compromising on quality or performance – perfect if you're eco-conscious! It's sulfate-, paraben-, gluten-, and alcohol-free; leaving your locks soft yet strong & hydrated all day long.
Volumizes limp/fine hair
Deeply cleanses & hydrates scalp
Sulfate free & safe ingredients
May not be suitable for dry/colored hair types
Fragrance may be too strong
7. Jason Dandruff Shampoo
View On Amazon
Try Jason Dandruff Shampoo to soothe scalp inflammation and get rid of dandruff easily – it's like a breath of fresh air for your hair!
This nourishing shampoo from Jason is formulated with natural ingredients such as sulfur, salicylic acid, jojoba, olive, and rosemary oils. You can trust that this product will cleanse and nourish your hair without harsh chemicals like parabens or sulfates.
Plus, you don't have to worry about the impact on animals since this formula is always cruelty-free.
Natural ingredients
Cruelty-free
Free from harmful chemicals
Sulfur may cause irritation in some people
Not suitable for all scalp types/conditions
May leave hair feeling dry if not used properly/combined with conditioner afterwards.
Top 7 Best Shampoos for Color-Treated Hair
If you're looking for the perfect shampoo to keep your color-treated hair vibrant and healthy, try Timeless Organics Repairing Shampoo. Vegan shampoo bars, cruelty-free clarifying shampoos and conditioners, natural hair care products like Mineral Fusion or Herbal Essences; thickening shampoos such as Hope & Repair; awapuhi shampoo for all types – all sustainable options.
Top 7 Best Shampoos for Dandruff Control
For dandruff control, try JASON Dandruff Relief Shampoo – its natural ingredients like salicylic acid and rosemary oil are free of harsh chemicals for a gentle yet effective clean. Consider Humane Alternatives, Sustainable Sources & Cruelty-Free Labels with Natural Ingredients for Clean Beauty.
Kelp & Mint Volumizing Shampoo by Oars + Alps, Paul Mitchell's Majestic Noughty Care, or Jason Dandruff provide relief.
Vegan Shampoo at Target

If you're looking for vegan shampoo at Target, look no further. The top 7 brands available at an affordable price, all of which provide many benefits such as being cruelty-free and free from harsh chemicals, are here.
Top 7 Vegan Shampoo Brands Available at Target
Discover the top 7 vegan shampoos available at Target that will nourish and protect your hair! From cruelty-free ingredients to plant-based options, you'll find a variety of affordable shopping choices.
Try shampoo bars like Native's Daily Clean or Rahua Voluminous for ultra-hydrating shampoo; dry shampoo from Pacifica Rosemary Purify; volumizing conditioner from Love Beauty Planet; Pure Clean Shampoo & Conditioner by L'Oréal Paris for pure, clean scalp care; Big Body Shampoo by JASON natural cosmetics with an invigorating lemongrass scent – all perfect vegan solutions! Shop cruelty-free this season at Target.
Affordable Options for Vegan Shampoo at Target
Looking for an affordable vegan shampoo option? Target has you covered with options such as Pacifica's Rosemary Purify and Acure's Ultra Hydrating Shampoo. These shampoos are cruelty-free and plant-based, certified to meet clean standards without any animal sacrifice or ingredients list.
For dandruff treatment, try the Jason Dandruff Relief Shampoo with salicylic acid and rosemary oil. It's free from sulfates, parabens, petrolatum, and cruelty! Looking for a bar shampoo? Lush Big Shampoo is enriched with sea salt texture to add bouncy volume while still being purple safe.
Benefits of Shopping for Vegan Shampoo at Target
Shopping at Target for vegan shampoo is like embarking on a journey to ethical hair care. Discover high-quality products with cruelty-free formulas, sulfate-free, and nourishing ingredients that your hair needs.
From Derma E's coconut-powered strong and long healing & moisturizing shampoo, a brand that does not conduct animal testing, to Art Naturals' Argan Oil Shampoo or Andalou Naturals Coconut Milk & Verbena Volumizing Hair Care, you can find the perfect solution for any hair type without breaking the bank! Elevate your hair care routine today by choosing Target's quality combined with vegan beauty standards.
Shampoo Bar Vegan Brands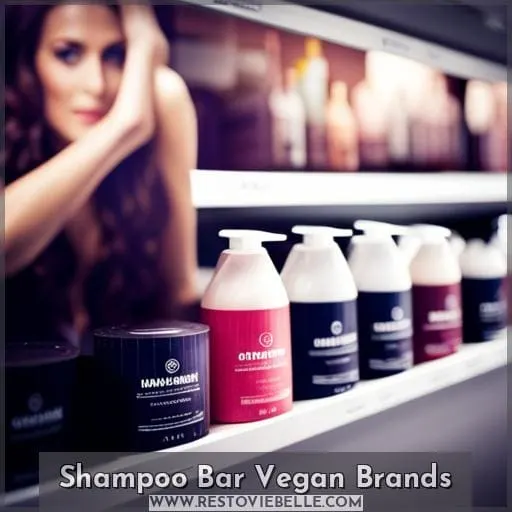 If you're looking for a vegan-friendly shampoo bar, there are many options available. Here, we will explore the top seven brands and how to choose the right one for your hair type. Shampoo bars offer numerous benefits over traditional liquid shampoos, such as being more sustainable, less wasteful, and free of harsh chemicals that can damage hair.
With so many choices available, it can be difficult to find what's best suited for your needs.
Top 7 Shampoo Bar Brands That Are Vegan-Friendly
Upgrade your hair care routine with vegan-friendly shampoo bars from top brands like Hask, Giovanni, Kevin Murphy, and more! Get a dandruff control solution with Jason's natural ingredients or boost volume and color protection with Native's Daily Clean.
Superzero also offers an oil treatment bar to nourish hair, while Rahua Voluminous Shampoo can provide a hydration boost. Not Your Mother's has a product especially designed for colored hair, so you can get the salon look without any animal testing involved.
Benefits of Using Shampoo Bars
Switching to a Shampoo Bar is an easy way to make your hair care routine more eco-friendly and effective! Not Your Mother's, Fantastic Deal, and Large Bottles offer vegan options with natural aromatherapy ingredients like lavender or rosemary.
You can also find sulfate-free and chemical-free formulas for comparable quality without the plastic packaging.
How to Choose the Right Shampoo Bar for Your Hair Type
Finding the right shampoo bar for your hair type can be a challenge, but with a bit of research, you'll find the perfect fit! Consider volumizing benefits, dandruff solutions, sulfate-free options, and clean formulations when choosing.
Well-known cosmetics companies have embraced cruelty-free products to protect animals from harm.
Clarifying needs? Choose Native's Daily Clean Coconut & Salt clarifying shampoo.
Looking for a volumizing option? Rahua Voluminous Shampoo with Amazonian rahua oil is ideal!
Affordable drugstore shampoos like Pacifica's Rosemary Purify are also great choices.
With so many options available, your haircare routine will soon become ethical and clean without compromising health or beauty results!
Vegan Purple Shampoo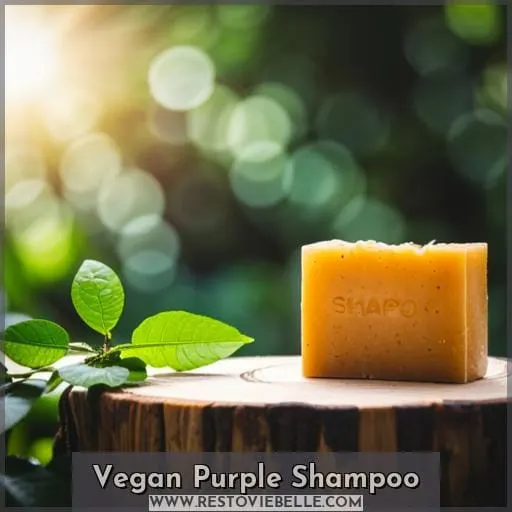 Are you looking for a way to prevent brassiness in your blonde or silver hair? Consider using vegan purple shampoo! It is an effective solution that helps preserve the natural hue of lighter-colored locks.
We have gathered some top picks for you, along with some tips on how to use them effectively.
Benefits of Using Purple Shampoo for Blonde or Silver Hair
Using purple shampoo on blonde or silver hair can help maintain the cool tones in your locks, with up to 81% of users saying they noticed a difference after one use. Vegan-friendly and cruelty-free options like Kaia Naturals, R+Co, Carol's Daughter, and Love Beauty & Planet include natural oils for additional brassiness prevention without drying out strands.
For an alternative to traditional liquid shampoos, consider using vegan shampoo bars. These bars are compact yet effective at cleansing scalp buildup while nourishing dry scalps.
Dry shampoos from these brands offer convenience when you're short on time but still want the same results as regular washing!
Top 7 Vegan Purple Shampoos for Brassiness Prevention
Discover the top 7 vegan purple shampoos that help prevent brassiness for blonde and silver hair! The L'Oréal Paris EverPure Volume Plus Blonde Shampoo is sulfate-free with plant-based ingredients to keep your locks looking vibrant.
Eco Roots Purple Balance Shampoo contains rice protein, tea tree oil, and quinoa proteins to reduce brassiness.
Raw Sugar Living's Color Protecting Miracle Shine system helps retain color while nourishing with natural oils.
Strands Hair Care's Silver Luxe shampoo helps tone down yellow tones in blondes or grays without drying out strands due to its mild formula of avocado oil and aloe vera extract for hydration.
Enjoy a purified scalp, balanced pH levels, increased volume plus luxurious shine when using any one of these cruelty-free purple shampoos!
Tips for Using Vegan Purple Shampoo Effectively
To get the most out of your vegan purple shampoo, make sure to apply it correctly and give it enough time to work its magic. Look for natural ingredients like those found in Carol's Daughter or Honeybee Gardens products that are specifically designed for preventing brassiness.
For a quick refreshing cleanse, try Long Wknd by Pela Fragrance-Free Shampoo & Conditioner Bundle. You can also consider cutting costs with DIY recipes using household items such as baking soda and apple cider vinegar.
These ingredients can also help control dandruff without harsh chemicals or additives.
Get creative with your hair care routine by using cruelty-free and vegan-friendly options that will leave you feeling refreshed!
Vegan Dry Shampoo

Looking for a quick and easy way to refresh your hair without the use of traditional wet shampoo? Vegan dry shampoos are an excellent option, offering many benefits such as adding volume, extending the time between washes, and absorbing oil and grease from the scalp.
We will explore the top 7 vegan dry shampoos on the market today, along with tips on how to apply them correctly for the best results.
Top 7 Vegan Dry Shampoos for Quick Refreshing
Refresh your locks in a flash with these 7 vegan dry shampoos that'll leave you feeling and looking great!
Natural ingredients like coconut oil, sunflower seed oil, and jojoba seed oil will keep your scalp healthy while still giving it the refreshment it needs.
For ethical haircare, try shampoo bars from Kiss My Face or Giovanni 2chic.
Everpure Volume Shampoo offers volume without sulfates for fine hair types, while Carol's Daughter gives smooth-as-silk deep moisture shampoo.
To tackle brassiness, opt for purple shampoo to maintain cooler tones.
Experience liberation through the power of choice by choosing one of these vegan dry shampoos today!
Benefits of Using Vegan Dry Shampoo
Using vegan dry shampoo can give you a quick and easy way to refresh your hair without compromising on quality or ethics. Organic shampoos, crafted with plant-based ingredients, provide vegan solutions that are sulfate-free and include natural oils like Argan oil for healthier hair.
Companies such as L'Oréal have adopted cruelty-free policies in response to consumer demands for ethical products, while Carol's Daughter specializes in providing specific hair care concerns. By investing in vegan dry shampoo, you'll be able to enjoy healthy locks while also supporting companies that prioritize sustainability and animal welfare over profit margins.
How to Apply Vegan Dry Shampoo for Best Results
For the best results, apply your vegan dry shampoo correctly – but how? Use DIY recipes with sulfate-free, plant-based oils to nourish and protect your scalp. Not Your Mother's diluted detergents maintain moisture balance without weighing hair down.
Carol's Daughter offers a great range of colored hair care for oily strands, while Rahua Voluminous Shampoo adds volume by harnessing Amazonian rainforest ingredients.
What is Vegan Dandruff Shampoo?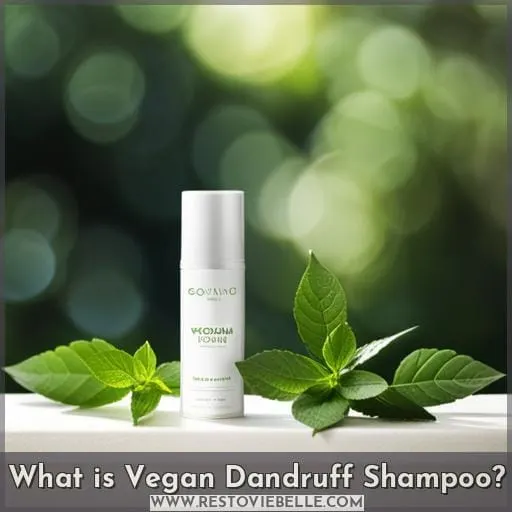 Finding the right vegan dandruff shampoo for your scalp can be challenging. We've got you covered – here are seven top picks to keep your hair healthy and free from flaky buildup. From JASON Dandruff Relief Treatment to Rahua's Voluminous Shampoo, these cruelty-free formulas contain natural ingredients like salicylic acid, coconut oil, Amazonian rahua oil, and rosemary essential oils that help nourish and protect against dryness while controlling dandruff symptoms.
Top 7 Vegan Dandruff Shampoos for Dandruff Control
If you're looking to control your dandruff, try one of these top seven vegan dandruff shampoos for healthy hair. From L'Oréal's affordable bottle to a solid shampoo bar from Yarok, there are many vegan alternatives available.
Try treating scalp irritation with natural remedies or synthetic fragrances and oils in products like Rahua Classic Shampoo. Pacifica's Rosemary Purify is perfect for dry scalps, while Acure Ultra Hydrating offers cheap hydration.
Benefits of Using Vegan Dandruff Shampoo
Ease your conscience and treat yourself to luxurious vegan dandruff shampoo that soothes, protects, and nourishes with its natural ingredients. Avoid irritation while combating flakes with the ultimate hydration of ethical hair care products.
Bestselling shampoos like L'Oréal's Beauty Guide are free from cosmetic animal testing for vegan-friendly solutions to all hair needs.
How to Choose the Right Vegan Dandruff Shampoo for Your Scalp
To find the right vegan dandruff shampoo for your scalp, consider your hair type and needs as well as which ingredients are best suited to nourish and protect it. Look out for natural ingredients like salicylic acid and rosemary oil that help control dandruff, sulfate-free cleansing formulas that won't strip moisture from strands, cruelty-free brands with sustainable technology alternatives, or affordable shampoos and body washes.
More Vegan Beauty Guides to Explore

Looking for vegan and cruelty-free makeup? You've come to the right place! Here, you will find a list of top vegan makeup brands that are free from animal testing or any other unethical practices. From foundation and lipstick to mascara and blush, discover all your favorite products without worrying about their ingredients or production processes.
Vegan Makeup Brands
Look no further than vegan makeup brands for the perfect cruelty-free way to enhance your look! Vegan labeling is important when choosing cosmetics, as it ensures that animal ingredients aren't used in production.
Many established and new natural beauty brands offer nourishing solutions without compromising ethical haircare practices. Shampoo bars made with organic oils and plant butters provide a sustainable packaging solution.
They also deliver concentrated cleansing power thanks to their ultra-concentrated formulas.
For those with sensitive skin or scalp conditions, there are gentle yet effective shampoo solutions free from harsh sulfates and parabens.
Ethical haircare doesn't only benefit animals – it also helps reduce environmental impact. This is achieved by reducing waste caused by unsustainable packaging materials such as plastic bottles or tubes of product.
These factors make vegan makeup brands an easy choice for consumers looking to make eco-friendly choices when shopping for cosmetics products.
So if you're looking for an ethical way to enhance your look each day, opt for vegan makeup brands today!
Frequently Asked Questions (FAQs)
What is the difference between cruelty-free and vegan shampoo?
Cruelty-free shampoo does not involve testing on animals, while vegan shampoo is free from animal ingredients. Both help protect animals and the environment; however, if you're looking for additional ethical considerations, opting for vegan products is a great way to go.
What is the best cruelty-free shampoo for color-treated hair?
Looking for a cruelty-free shampoo for color-treated hair? Try Timeless Organics Repairing Shampoo. It's sulfate-free and formulated to help repair, nourish, and protect strands without stripping away natural oils.
Are there any cruelty-free shampoo brands that are affordable?
Yes! There are many affordable cruelty-free shampoo brands available, such as Pacifica's Rosemary Purify and Acure's Ultra Hydrating Shampoo.
What are the benefits of using cruelty-free shampoo?
Using cruelty-free shampoo has many benefits! It can help protect animals, reduce environmental impact, and provide safe ingredients. You'll enjoy a luxurious clean while feeling good about making an ethical choice that's gentle on your hair.
Are there any cruelty-free shampoo bars available?
Absolutely! Cruelty-free shampoo bars are a great option for those who want to embrace ethical and clean hair care. They are free from harsh chemicals, provide nourishment, add volume and texture, and restore natural luster – all while being eco-friendly.
Conclusion
So, you've been wowed by the incredible benefits of cruelty-free shampoo. You can find a cruelty-free shampoo solution for every hair type and need, from nourishing plant-based oils and extracts to vegan dandruff and dry shampoo.
There are plenty of options available, making it easy to find an affordable cruelty-free shampoo that will leave your hair healthy, hydrated, and voluminous. And the best part is, by choosing ethical haircare, you're helping to keep animals safe and protected.
As you start your cruelty-free haircare journey, rest assured that you're making a positive impact on the world.