This site is supported by our readers. We may earn a commission, at no cost to you, if you purchase through links.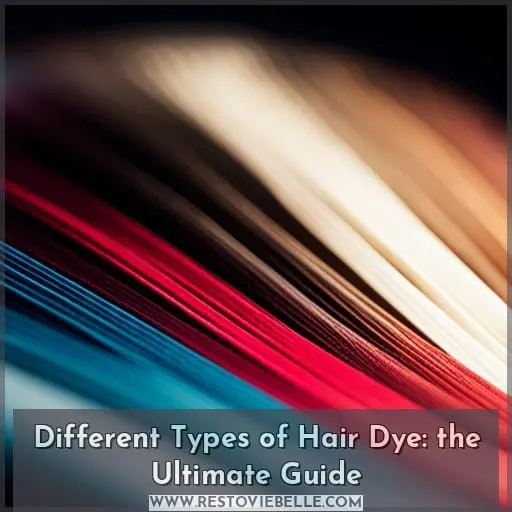 Are you tired of the same old hair color? With so many types of hair dye available, it can be hard to decide which one is right for you. From temporary wash-out tints to permanent hues, this ultimate guide will give you all the information needed on different types of hair colors and how they interact with your strands.
Whether you're looking for a subtle change or a dramatic transformation, our comprehensive overview will help you find the perfect shade that suits both your lifestyle and skin tone.
Temporary Hair Color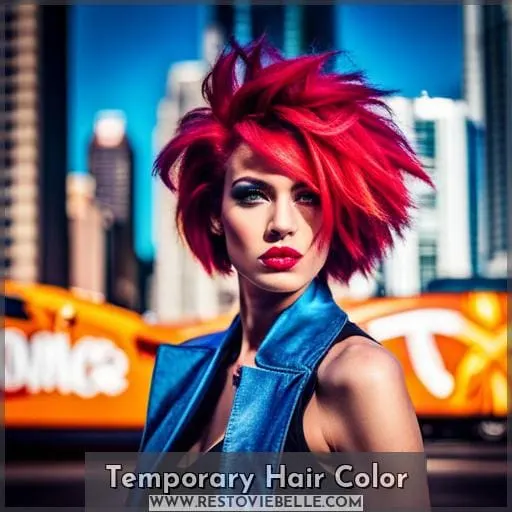 If you're looking to switch up your look with a temporary color change, try L'Oréal Colorista Hair Makeup for an array of shades and quick wash-out convenience. Temporary hair dye is ideal for those who want vibrant expressions without the commitment or are ready to take on new adventures in colorful playfulness! It coats the outside of each strand but washes out easily over time, giving you just enough time to make a statement before reverting back quickly.
Choose between hues like pink, blue, and purple that give off daring vibes or more subtle pastels if bold isn't quite your style. Whichever color you go with, it'll be sure to add dimension and texture while blending seamlessly into natural locks as well.
So enjoy quick transformations without any fear of permanent damage by exploring all the options available through L'Oréal's line of hair makeup products today!
Semi-Permanent Hair Dye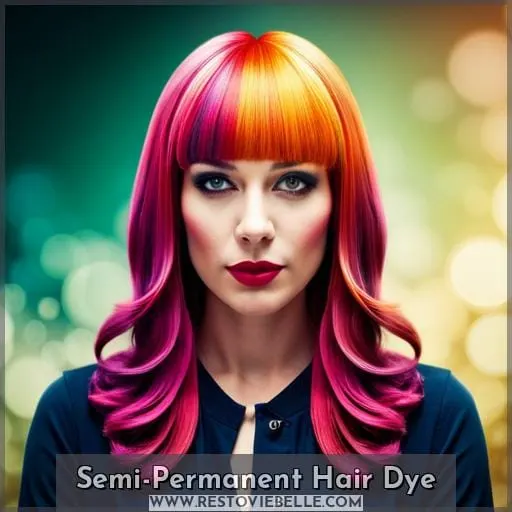 Ready to take the plunge and try out a new hair color? Look no further than semi-permanent dye! It's gentler on your hair, lasts for up to 8 washes, and comes in an array of shades.
Benefits include adding gloss or concealing roots without damaging your locks. Here are some tips when applying: choose a shade close to your natural hue; start with one application before going deeper; use sulfate-free shampoo/conditioner for maintenance and protect against fading.
Plus, it won't damage healthy strands like permanent dyes can, so you don't need bond builders such as Olaplex during the process! So go ahead—experiment with this long-lasting yet temporary option that works great for those looking to switch things up while still taking care of their mane's health.
Demi-Permanent Hair Dye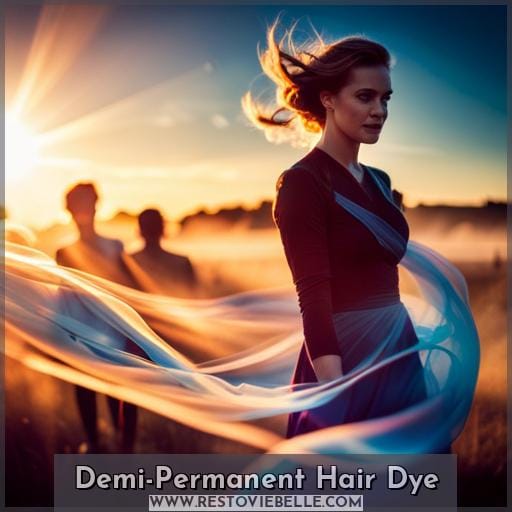 Try out demi-permanent hair dye for a subtle shift in color that'll last up to 24 washes. It's perfect if you're looking to make smaller changes or touch up the roots without full commitment. Demi-permanent benefits include natural gloss, and it can even be used to correct overly brassy tones after lightening your hair with bleach.
Proper application tips are key when using this type of dye. Proper preparation is essential for longevity factors like avoiding fading and uneven coloring.
Professional vs DIY application also matters. While some people feel comfortable enough applying their own color at home, consider visiting an expert stylist if you're dealing with complex processes such as major corrections or repairing damaged locks due to over-styling products or incorrectly applied dyes in the past.
No matter what your hair type and skin tone are, demi-permanent hair dye offers plenty of options.
Permanent Hair Color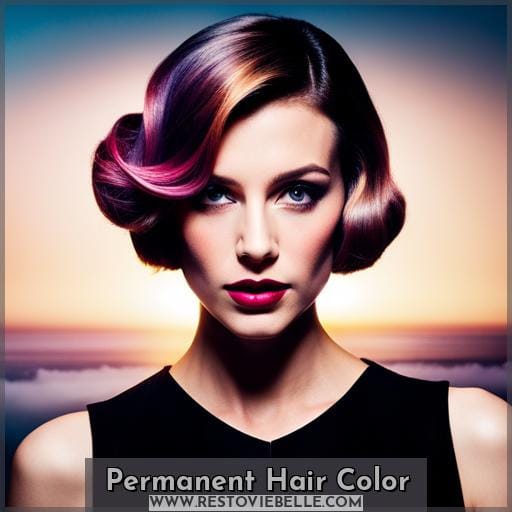 Discover the perfect permanent hair color for your desired look with L'Oréal Paris products. Choose from Superior Preference Fade-Defying Shine Permanent Hair Color, Féria for a fashion-inspired shade, and Excellence Crème Triple Protection Hair Color to cover gray strands.
L'Oréal Paris Superior Preference Fade-Defying Shine Permanent Hair Color
Reveal your true beauty with L'Oréal Paris Superior Preference Fade-Defying Shine Permanent Hair Color – it'll keep you looking vibrant and glossy for months to come! Choose from the wide range of shades, enjoy long-lasting color that is fade-resistant, and get a salon-like look.
High shine finish due to patented technology.
Up to 8 weeks of color longevity per application.
Nourished hair thanks to essential oils in the formula.
Enjoy beautiful, healthy-looking hair without compromising on vibrancy or condition – all while keeping up with changing trends!
L'Oréal Paris Féria
Discover L'Oréal Paris Féria for fashion-inspired hair color. With a variety of shades, easy application tips, and long-lasting color with special care, you can choose from intense reds to cool blondes or bright platinums.
L'Oréal Paris Excellence Creme Permanent Triple Protection Hair Color
Unlock your full potential for luminous color with L'Oréal Paris Excellence Crème Permanent Triple Protection Hair Color – perfect for achieving that gorgeous, vibrant hue in an instant! Get gray coverage and long-lasting protection with its Triple Defense Technology.
Expert application will ensure optimal results, providing superior shine and maximum hair protection while achieving the desired color longevity.
Root Concealer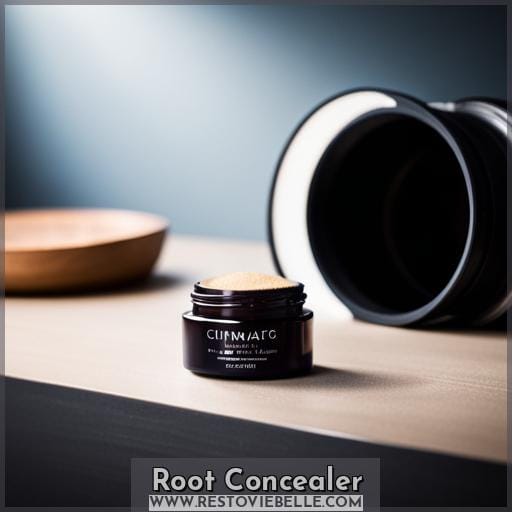 Root concealer is a great option for quickly and easily covering up roots between hair dyeing sessions. It comes in both temporary and permanent versions, allowing you to choose the type of coverage that best suits your needs.
Temporary root concealers are often applied with a brush or comb-like applicator, while permanent varieties require an aerosol spray canister. When it comes to color matching, choosing one that complements your natural hue will help create a seamless look.
The longevity of each product depends on the ingredients used; however, most products last several washes before needing reapplication or touch-ups along the hairline.
Hair Bleach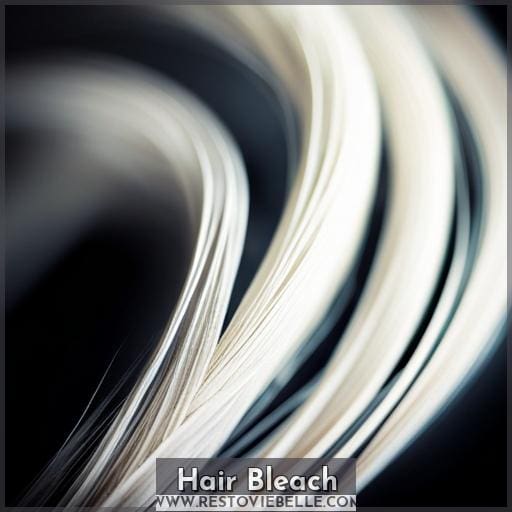 Lighten up your look with hair bleach! Hair bleaching is the perfect way to transform dark locks into a bright, beautiful blonde. You can use hair dye products like L'Oréal Feria Hyper Platinum Bleach for an intense lightening process.
Here's what you need to know about using this product:
Start by protecting the rest of your mane with a leave-in conditioner.
Mix in equal parts powder and developer before applying.
Pay attention when timing – don't go over 40 minutes total.
Rinse thoroughly until water runs clear and apply shampoo once done.
Finish off with a deep conditioning mask for best results.
With proper precautions, you'll be able to achieve any blonde transformation you desire! Check out other types of hair coloring products from L'Oreal for all kinds of dyes and shades that will meet any lifestyle or skin tone needs so that you can get exactly what works best for your unique style.
Henna

If you're looking for a natural alternative to hair dye, henna is the perfect choice. It's becoming an increasingly popular at-home beauty treatment due to its hypoallergenic properties and range of colors.
Henna has many benefits compared to regular hair dyes. It conditions your scalp and strands while also providing long-lasting color without damaging your locks like harsh chemicals can.
When choosing henna as a hair dye option, make sure you pick one that suits your needs best.
Hair Gloss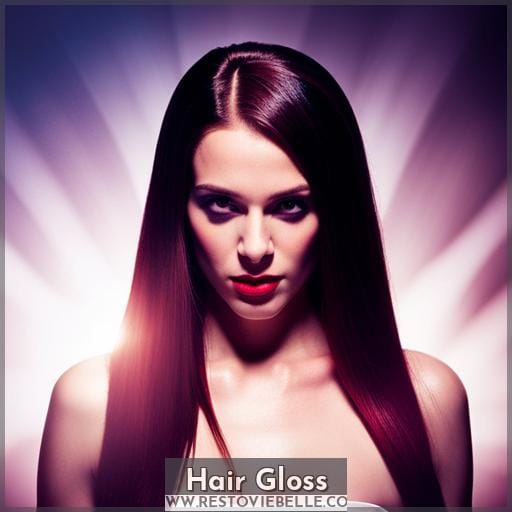 Achieving a glossy finish to your hair is possible with the use of a hair gloss. This temporary color option adds shine and vibrancy, while it also enhances natural tones. Hair gloss benefits include long-lasting protection from dullness and loss of luster due to environmental factors like sun exposure and humidity.
Applying this product is easy; you can either do it yourself or have your stylist apply it for you at the salon. For best results, start by shampooing twice before applying the product evenly throughout dampened strands using an applicator brush.
Then, wait 10 minutes before rinsing off thoroughly with cool water for maximum hold duration, which can last up to 8 weeks depending on the type used.
To maintain that glossy finish after application, be sure not to use styling products with alcohol as they can strip away color quickly over time, diminishing its effect on locks and leaving behind dry, lifeless-looking tresses instead of healthy, shiny ones! Gloss vs traditional dyes offer similar coverage but often require extra maintenance to make them last longer.
However, if you're willing to go through the process, the result will be worth the effort.
How to Choose the Right Type of Hair Dye for You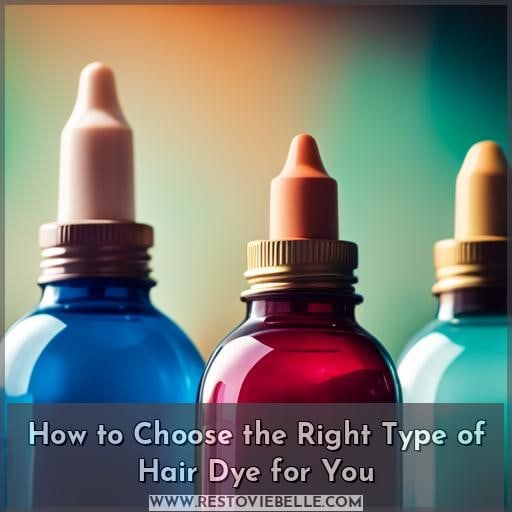 Choosing the right type of hair dye for you can seem daunting, but it doesn't have to be! Taking into account your hair type and texture, skin tone, lifestyle, as well as doing a strand test beforehand, will all help ensure that you get the desired look.
Hair Type and Texture
When choosing a hair dye, consider your unique hair type and texture – from fine to thick and curly – as it can make all the difference in achieving the look you want. Hair types are classified according to volume, so texture considerations must be taken into account when selecting colors, while curl pattern insights help choose products for thin or coarse hair.
Skin Tone
Your skin tone can be a crucial factor when selecting the perfect hair color. Consider complementary shades, undertone considerations, and color harmony to create a neutral base.
Your Lifestyle
With your lifestyle in mind, it's important to choose the right hair dye. Permanent dyes last 12 weeks; semi-permanent only a few washes. Consider customization options, color maintenance, and professional advice for activity impact and wardrobe coordination.
Strand Test
Before taking the plunge, always perform a strand test to make sure your chosen hair dye is right for you. Strand testing helps determine sensitivity, predicts results, and protects color preservation.
It's also critical when using direct dyes or ammonia-free hair dye that may require more caution than traditional coloring products.
Hair Care Products for Colored Hair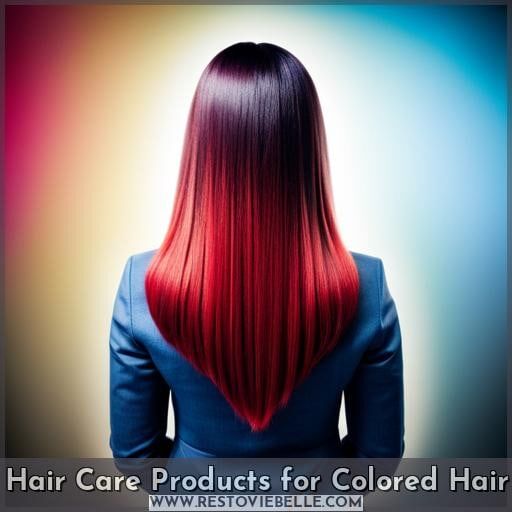 To keep your color looking vibrant and healthy, explore the latest hair care products designed specifically for colored hair. Color-enhancing shampoos provide shine while hydrating conditioners help maintain moisture levels.
Heat protectants are ideal for shielding against heat tools, while leave-in treatments contain UV protection that shields from sun damage and fading.
Hair rinses ensure optimum results when used after dyeing with vegan-friendly hair dyes or toners. Hair oils can be used to reduce frizziness created by chemical processing of dyed locks. A deep conditioning mask will nourish strands from root to tip every few weeks or so.
A volumizing conditioner is perfect for those who need added body in their style without weighing it down! Finally, regular haircuts help refine the shape of your cut and maintain its healthiness over time.
Conclusion
With a vast range of dyes available, it can be hard to choose the right one for you. According to a survey, 80% of people aren't aware of the differences between the types of hair dyes available.
This ultimate guide has explored the various options available, from temporary to permanent dyes, root concealers, hair bleach, henna, and hair gloss. Knowing the differences between types of hair dye and color is essential to ensuring you get the best results.
Consider your hair type, texture, skin tone, and lifestyle when selecting the right hair dye for you. With this guide, you can be sure you're making an informed decision and will be able to achieve the look you want.