This site is supported by our readers. We may earn a commission, at no cost to you, if you purchase through links.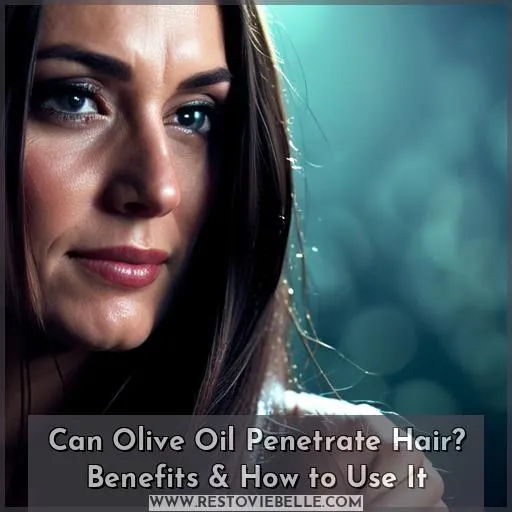 Are you wondering if olive oil can penetrate your hair? If so, you've come to the right place. Olive oil has long been touted as a natural remedy for many haircare woes and it is known for its moisturizing benefits.
In this article, we will explore what makes olive oil uniquely beneficial in haircare applications and discuss how to use it effectively on various hair types. We will also compare penetrating oils like coconut and avocado oils against sealing oils such as Jamaican black castor oil or jojoba in order to determine which type of product would be best suited for your individual needs.
So keep reading — we are here to help you unlock the potential of olive oil in achieving beautiful, healthy locks!
Key Takeaways
Olive oil penetrates the hair strands, providing extra moisture and nourishment.
Applying olive oil to dampened ends maximizes its benefits.
Olive oil is best used on dry hair to nourish and strengthen.
Other natural oils like coconut and avocado oil also penetrate the hair to provide nutrients and moisture.
Is Olive Oil Good for Hair?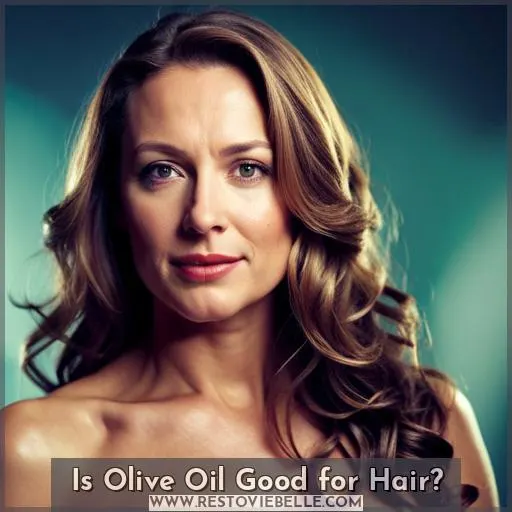 You can nourish and moisturize your hair with olive oil, a versatile beauty oil that helps reduce swelling and damage while providing beneficial fatty acids. It's perfect for preventing dryness, repairing split ends, adding shine to dull locks, and conditioning the scalp.
Olive oil has many benefits when it comes to hair care. Its ability to penetrate the strands provides an extra layer of protection against moisture loss.
Using natural oils like olive gives you shinier hair and helps maintain a healthy scalp.
To reap maximum rewards, apply olive oil directly onto dampened ends or try incorporating it into deep conditioners or masks for stronger penetration into the core structure.
How to Use Olive Oil for Hair Health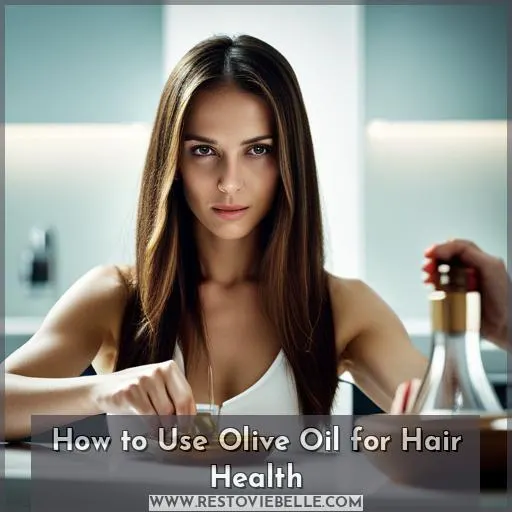 If you want to take care of your thick, processed hair and prevent split ends and dandruff, using olive oil may be the answer. This lightweight oil is capable of penetrating deep into each strand of your hair.
Not only does it help nourish damaged strands but also helps lock in moisture for a stronger, healthier mane.
Thick Hair
Thick hair can especially benefit from the moisturizing fatty acids in olive oil, giving it a luscious shine and helping to protect its natural structure. To keep thick strands healthy, try using sealing oils like avocado, coconut, jojoba, or olive.
These will help reduce heat damage while promoting hair growth and preventing split ends for a healthier shine.
Processed Hair
If your processed hair is feeling dry and brittle, olive oil can help restore its luster and softness. Lock in moisture with organic oils like extra virgin olive oil or grapeseed oil to nourish damaged strands.
Heat styling causes breakage, so use moisturizing oils before applying heat for protection against dryness.
Split Ends
Split ends can be a nuisance, but olive oil can help smooth them out like a silk ribbon! Rich with vitamins and minerals, it nourishes the hair shaft to prevent future split ends. Jamaican black castor oil is also beneficial for repairing existing ones. Hair Growth Lab suggests using an all-natural blend of oils as part of your regular routine for optimal results.
Dandruff
To keep dandruff at bay, it's important to use an oil that won't clog the scalp and cause further irritation. Try these: Coconut oil, Velona Babassu Oil, Extra Virgin Olive Oil, Kate Blanc Castor Oil, and NOW Avocado Oil – each offers unique hair care benefits tailored to your specific hair type.
Penetrating Oils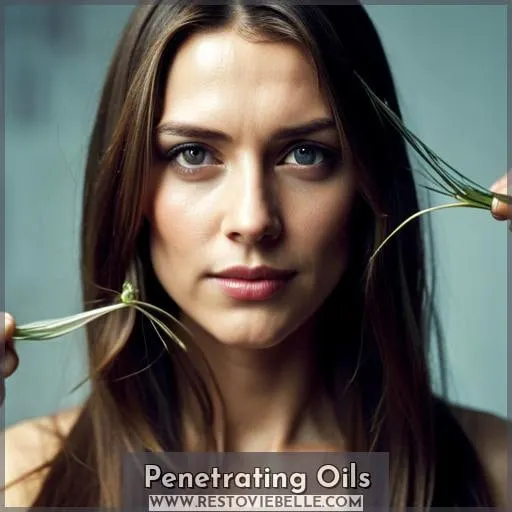 You may have heard of coconut oil, avocado oil, and olive oil being recommended for hair health. These oils can penetrate the hair to provide nutrients and moisture that help protect against damage caused by environmental factors.
Olive oil is particularly great because it provides nourishing fatty acids like oleic acid that give your locks a protective barrier from swelling and water absorption.
Coconut Oil
Coconut oil is a powerful, plant-based powerhouse that penetrates and pampers your hair.
Avocado Oil
Avocado oil is the perfect choice for those looking to nourish and moisturize their skin. It's non-greasy, absorbs quickly with no greasy residue, and contains proteins enriched with vitamins and minerals.
Its therapeutic benefits include strengthening split ends, scalp care, nourishing effects on cuticles and promoting nail growth while giving a glowing complexion.
Olive Oil
You'll love the incredible moisturizing effects of olive oil; it's been shown to reduce wrinkles by up to 37% when used regularly. Its natural properties provide hair with nutrients, seal in moisture, and possess antimicrobial qualities.
Olive oil can also help reduce pressure changes and create liquid bridges on dry scalp, all while providing a protective layer against damage from environmental stressors.
With regular use, you'll notice fewer flyaways, softer strands, and improved texture that will keep your mane looking luscious with every wash.
Sealing Oils

You may have heard of Jamaican Black Castor Oil, Jojoba Oil, and Grapeseed Oil being used for a variety of hair treatments. These oils are widely known in the beauty industry as great sealing agents that help keep moisture in and protect your hair from environmental damage.
They can also be helpful in strengthening weak strands while simultaneously adding luster and shine to dull-looking locks.
Jamaican Black Castor Oil
Jamaican Black Castor Oil is a powerful restorative that can help revive and protect your hair. It provides heat protection and encourages dreadlock formation. Massaging it into the scalp stimulates growth and treats dryness while nourishing each strand.
JBCO has it all! Plus, it is easy on curls and coils due to its lightweight feel.
Jojoba Oil
Try jojoba oil to nourish and hydrate your hair, adding moisture that won't weigh it down. Its naturally occurring fatty acids help soothe a dry scalp while vitamins B and E promote healthy growth. Use it as an overnight deep conditioning mask for curls or add it to your favorite shampoo for extra luster.
Massage it into the scalp before bed for a relaxing yet revitalizing treat! Jojoba oil can even be used in homemade hair masks—it's the perfect ingredient if you want intense moisturization without greasy residue.
Grapeseed Oil
Grapeseed oil is an excellent choice for hair. It helps lock in moisture while still providing a thin protective film to nourish and shield strands. Did you notice any difference? This oil also offers anti-frizz benefits, strengthens the hair shafts, and provides much-needed hydration without weighing down your tresses.
Not only does it moisturize, but its lightweight composition can help protect from harsh elements like heat or humidity.
So Which Oil is Best for You?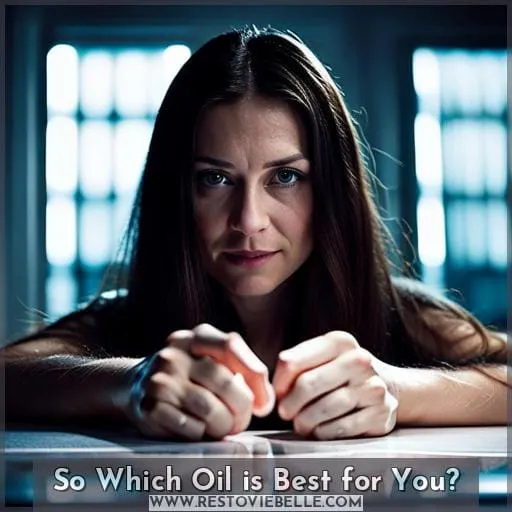 When it comes to scalp care, you need the right oil for your hair type. Olive oil is a great all-rounder that can provide heat protection and help with dry scalp. However, if you have fine or thinning hair, then coconut or sunflower oils may be more suitable as they are lighter and won't weigh down your locks.
For those with thicker, coarser strands, avocado oil helps nourish cuticles, while castor oil encourages growth and prevents breakage from styling tips like blow-drying or curling irons.
Frequently Asked Questions (FAQs)
How much olive oil should I use on my hair?
Use a small amount of olive oil on your hair to nourish and moisturize. It will help soften, hydrate, and add shine without weighing it down. Olive oil can also reduce flyaways and strengthen split ends for healthier-looking locks.
Does olive oil help protect hair from heat damage?
Yes, olive oil helps protect hair from heat damage! It acts as an incredibly powerful shield that creates a barrier between your strands and the hot temperatures, dramatically reducing split ends and breakage.
Can olive oil help with frizz?
Olive oil can help tame frizz by sealing in moisture, providing nutrients, and forming a protective barrier against environmental stressors. Its natural fatty acids create an invisible shield that reduces friction between strands, leaving hair smooth and glossy.
Does olive oil work better on dry or wet hair?
How often should I apply olive oil to my hair?
Apply olive oil to your hair only a few times per week. It's like giving it a nutrient-packed boost, leaving locks moisturized and nourished! Use the power of this natural wonder to help you achieve luscious, healthy tresses that will shine with vitality.
Conclusion
It's an absolute miracle that one single oil can make such a difference to your hair! Olive oil is a powerful and versatile oil that can penetrate the hair, nourishing it with its fatty acids and reducing damage caused by water absorption.
Its moisturizing properties make it ideal for dry, thick, and coarse hair, while its antimicrobial properties prevent fungal growth and dandruff.
Coconut, avocado, and olive oils are some of the best penetrating oils, while castor, jojoba, and grapeseed oils are great for sealing in moisture.