This site is supported by our readers. We may earn a commission, at no cost to you, if you purchase through links.
The Series 9 9290cc is Braun's flagship product, which is why Braun has left no stone unturned to put everything they had to offer in this electric foil shaver.
View On AmazonAt 40,000 cuts per minute with 4 different blade types and one skin protector, you can expect a super smooth shave without irritating your skin.
The Braun Series 9 9290CC is the best electric shaver yet with five synchronized shaving elements, the world's strongest Sonic technology, and an intelligent motor with automatic detection to shave more hair in one stroke.
Braun praises this electric shaver Braun series 9 as the most efficient shave in the world and exceptionally gentle on your face.
It has a titanium-coated trimmer and is 100% waterproof.
They also include some cute features and offerings that improve shaver performance.
I love that this is the only model I know of that can be used in 10 different ways—striking directions to follow your face's contours.
But since it still comes with a hefty price tag, you probably want to know if it's worth your hard-earned money.
That said, there's a lot to see; judging by the Braun 9290cc, there are some downsides too.
Read this Braun series 9 9290cc review, and I'm sure you'll find all the information to help you decide if Braun shavers series 9 is perfect for you?
Braun Series 9 9290cc Electric Shaver Review
Braun is an established brand name in the shaving industry, and the Braun 9290cc model is their latest and greatest option. In fact, this particular shaver is known in the market as the "most efficient shaver in the world" – something that is immediately very attractive when you try cost-effectiveness.
In the Braun series 9 review, I give a thorough overview of this shaver, including the main points, the benefits, any negatives, some common accessories, and what consumers say about this product. I'll wrap things up by giving an overall rating of series 9 Braun.
Features Overview
The Braun Series 9 9290cc certainly has plenty of technologies and options; let's look at that.
4 individual cutting elements
The Braun Series 9 shaving head consists of 4 separate cutting elements:
Two foil cutters called OptiFoils to shave the hair close to the skin, using Braun's infamous hexagonal holes that are supposedly superior for capturing hair in comparison with the more common round holes.
A HyperLift and Cut trimmer – a novelty and a definite part of the Braun shavers series 9, the specially designed trimmer lifts and cuts flat hair. Series 9 models such as the 9290cc / 9291cc are mentioned in this review. This trimmer's unique color results from a titanium nitride coating, a ceramic material used for its anti-corrosion properties and edge retention.
A Direct and Cut trimmer that catches hair growing in different directions.
One thing that caught my attention was Braun's attempt to market the Series 9 as a 5-cutting shaver.
According to Braun, the fifth is the so-called SkinGuard, a piece of metal that sits right next to the Direct and Cut trimmer and supposedly smoothes the skin.
Design and Ergonomics
The Braun Series 9 9290CC scores right from the start. The black with silver housing exudes elegance and style and is compact and easy to carry.
The Braun 9290CC electric shaver is exceptionally light and has a rubber grip on the back, back, and sides for a balanced grip.
This makes it easy and comfortable to hold and prevents the shaver from accidentally falling.
The Braun Series 9 9290CC outperforms its predecessors in design by eliminating the chrome finish in this shaver, solving messy fingerprints.
The only downside I feel is the plastic casing which could have been better if the casing were metal, but on the other hand, this shaver's exceptional lightweight characteristics affected.
The 10D Flexible Pivoting Head
Braun's four-cutting system is based on the directional swivel head. To make trimming simple and independent, the head can swivel back and forth.
Braun has added a 10-way swivel head to their Braun series 9.
This series is also one of the flexible shaving heads implemented. I can bet it is the best of all the other shavers.
You can lock this in any position you want. This is for a switch on the front of the shaver.
SyncroSonic Technology
With the Series 9, Braun dropped the Series 7's customization modes, allowing the user to manually adjust the shaver's power to suit the area to be shaved.
Those were pretty much useless, and Braun probably thought the same.
Instead of these, they have implemented the so-called SyncroSonic technology that supposedly reads the beard's density and adjusts the power accordingly.
Incidentally, this type of technology is also found on high-end Panasonic shavers.
I prefer to have the full power for the entire shave as I've never found this type of feature to improve the actual shaver performance significantly.
Slide-up Trimmer
The Braun Series 9 9290cc electric shaver has a premium flip-up trimmer for trimming details.
You can shape your sideburns, eyebrows, and mustache with the retractable trimmer.
The trimmer is also handy for creating edge lines.
So you also get the option to trim with the Braun series 9 shaver.
Wet/Dry Shave
The Braun series 9 9290CC comes with both wet and dry shaving. It is absolutely waterproof, and you can use your shaver in the shower or with shaving cream.
The shaver can be submerged in water for up to 5 meters and can be easily rinsed underwater. Still, due to the shaver's complex head, manual cleaning underwater is not an easy task, and using the buttons when wet can also be a bit tricky.
Automatic cleaning station
As you probably know, the Series 9 9290cc in this review comes with the Clean and Charge station that does exactly what its name implies.
Plus, it also dries and lubricates the shaving head.
Clean & Charge Technology
It takes an hour to fully charge this shaver, which then gives 50 minutes of shaving time. The Braun Series 9 comes with a charging station that also works to clean the appliance while charging mode. Shaver and removes any shaving residue, meaning it's as good as new when you need to use it again.
This shaver gives a visual countdown of the number of minutes left before you need to recharge it in cordless mode. This is very useful, and there's nothing more annoying than being halfway through a shave and draining your device's battery!
Looking at the LED display, a water drop indicator lights up when the trimmer needs to be washed in the Clean and Charge Place the Braun electric shaver simply in the Braun series 9 cleaning station, and the Clean and Charge automatically selects the correct cleaning level for your electric shaver.
LED Display
It is convenient to use a foil cordless shaver because there is no way of knowing how charged it would stay.
There is also no way of knowing battery life, unlike other models. But this model comes with a large LED display. So you can know the remaining run time.
The display shows. It also shows how many minutes are left before the power goes out. This screen also shows information about the hygiene status.
The Braun logo is located just below the LED screen, so you can remember who makes your shaver every time you shave.
Included Accessories
Apart from the shaver itself, when you open the package, you will receive the following items:
Cleaning and charging station
Charging cord
A travel case
1 x cleaning cartridge
Cleaning brush
Instruction manual
Performance of Braun Series 9 9290cc Shaver
Now let's take a look at the most important part of our Braun Series 9 9290cc / 9291cc review and see how well the shaver performs.I tested the 9290cc Braun model for a few months and used it daily, every other day, and every two to three days to shave.
Me, I've had a dry shave most of the time, but I have also tried shaving cream as this model can also handle a wet shave.
To put things in context, I have sensitive skin and medium to coarse facial hair.
Braun's electric shaver; indicates charging status and hygiene level, so you should have no problem thinking about the next charging time.
Whether you use it to shave with foam or shaving gel or in dry mode, make sure to wipe the head clean of residue.
So automatic cleaning / drying only starts when you manually dry the head of the appliance after use! I personally think this is a bit of a limitation, but it works as described.
I can honestly say that the 9290cc has given me one of the most enjoyable, pleasant, and comfortable shaves of any electric shaver I've used to date.
If I could describe the shaving experience in one word, it would be effortless.
Pros and Cons of Braun 9290CC Foil Shaver
Elegant design
Exceptional cutting elements
Titanium coated trimmer
Built-in precision stainless steel trimmer
SyncroSonic technology to control output power based on Autosense of beard density
10D swivel head with 5 multi-head closures – Wet / dry shave and 100 percent waterproof
Quick charge option
Alcohol-based cleaning dock
Travel lock
The robust head does not reach problem areas such as under the nose.
Manual cleaning is annoying.
The shaving head must be free of foam and dripping water before it is placed in the cleaning station.
Duration
Braun Series 9 9290cc Benefits
This Braun shaver series 9 has been tested countless times in direct competition with leading options from other brands. The results of these tests can be seen on Braun's official site;
5 unique shaving elements work in a synchronized way to trim the maximum amount of hair in the first stroke
Two titanium coated blades are specially designed to work on all hair types
The patented SyncroSonic technology and 10,000 micro-vibrations dramatically improve the overall cutting experience
A built-in AutoSensing motor ensures every trim is efficient and complete
Incredibly gentle on the skin and eliminates irritation
The lightweight design is a little more over 2 kilos in weight and 6.2 x 6.2 x 9.9 inches in dimensions
Suitable for wet or dry use as this device is 100% waterproof
Designed to last up to 7 years
Alternative shavers
the Series 9 shaves faster and a bit softer, and personally, I like the experience more, but if you shave more often and don't have a lot of flat-lying hair, the Series 7 is probably good enough for you or you can try some other alternatives to 9290cc Braun shaving machine.
Braun Series 7 790cc
View On AmazonYou can choose a dry-only model such as the Series 7 790cc or a wet/dry variant such as the Series 7 7865cc.
However, I would still recommend buying a Series 7 with a cleaning station for the same reasons outlined in this review.
If you are on a tight budget but still want an electric shaver that works great for sensitive skin, the Braun Series 5 is an excellent option.
Braun Series 5 5195cc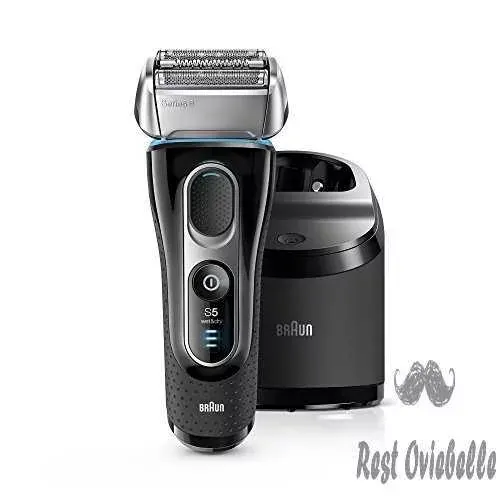 View On AmazonThe 5195cc seems like the best choice as it comes with a cleaning station and the price is right too.
If sensitive skin isn't an issue and you're primarily interested in getting the best shave possible, a Panasonic Arc 5 would probably be a better choice than the Series 5.
The price of the latest Arc 5 "third-generation" is currently very high, and I don't think it's worth the money.
With that said, I would personally opt for a second-generation Arc 5 such as the ES-LV65-S "no cleaning station" or the ES-LV95-S "including an automatic cleaning station."
Panasonic Es-lv65-s Arc 5
View On AmazonIn my opinion, Panasonic shavers also work better when used with shaving cream and are easier to clean manually, so you can skip the ride and save some money in this case.
Finally, a budget-friendly alternative to the Panasonic Arc 5 is another shaver from Panasonic, the Arc 4.
With 4 blades, a powerful motor of 14,000 CPM, and super sharp blades, it delivers very close shaves, only a fraction of the price.
My personal choice is the ES-LA63-S or the ES-LF51-A, two great performers that are very reasonably priced.
You can also use an Arc 4 with a cleaning station in the form of the Panasonic ES-LA93-K, but that is really not necessary.

Conclusion
That puts an end to my Braun series 9 9290cc review. As you can no doubt see at this point, there are plenty of reasons why this product is such a coveted grooming tool. It really deserves the nickname "the world's most efficient shaver".
The Braun Series 9 is by far the best Braun electric foil shaver line ever, and there is no argument for that. If you like Braun's other offering. with the shaver, you will, of course,e love this.
I personally want to say that the Braun Series 9 9290cc electric foil shaver gave me the most comfortable shave. Every foil protector has a positive difference between the two.
With modern and thoroughly specialized technology, the Braun Series 9 9290cc is rightly seen as the start of one of the best shaving options on the market today – something that is backed by excellent reviews and testimonials that can be found with this product.
References
shavercheck.com
malesensepro.com
theshaverzone.com
shaverinfoformen.com
shaverfreak.com