This site is supported by our readers. We may earn a commission, at no cost to you, if you purchase through links.
So you're looking for the best purple hair dye to take your dark locks from drab to fab? We've got you covered! Whether it's a semi-permanent or permanent change, this guide will give you all the information and products needed to get that vibrant hue on your head.
From understanding aftercare and maintenance, testing for skin sensitivity reactions, deciding between dye types, and finding out what's inside home dyeing kits – we'll be exploring everything related to getting that perfect shade of purple.
Plus, discover our top 8 picks of the best purple hair dyes designed with darker tresses in mind – including Arctic Fox Vegan Purple Hair Dye, Lime Crime Unicorn Hair Dye, and Pony Violet Purple.
Key Takeaways
Semi vs Permanent Dye: Choose based on desired look and hair condition.
Application: Section hair, follow instructions, rinse thoroughly, repeat touch-ups as needed.
Aftercare: Use color-safe shampoo, deep condition weekly, limit heat/sun exposure, trim split ends regularly, follow up with toning treatments.
Best Brands for Purple Dye: Arctic Fox vegan purple, Lime Crime unicorn purple, Lunar Tides orchid purple, Ion liqui-creme plum, Garnier Nutrisse violet.
Factors to Consider Before Dyeing Your Hair Purple

Are you ready to take the plunge and dye your hair purple? Before you dive in, there are a few things to consider. Check the condition of your hair first, then determine what shade of purple will look best with your skin tone.
Always do a patch test on a small area of skin before applying color all over so that you can monitor for any adverse reactions or sensitivities. Aftercare is also important; understand how often touch-ups may be required and choose between semi-permanent or permanent dye depending on desired longevity results.
Check the Condition of Your Hair
Before you dye your hair purple, make sure to assess its condition first. Are you dealing with dryness or damage? Healthy hair is key for vibrant color, and easy-to-use applicator bottles help avoid staining during application.
Hair manufacturers offer products specifically formulated for permanent and semi-permanent coloring that will lift and deposit the best purple hair dye while nourishing strands with conditioning agents like keratin or argan oil.
Determine the Right Hair Color
When deciding on the perfect purple hair color for you, consider your skin tone and whether to go with a semi-permanent or permanent dye. Fair skin looks great with pastel lilac shades, while electric violet is best suited for olive complexions.
For those looking to make a statement without commitment, temporary hair dye can give a subtle violet sheen that lasts up to one shampoo. For something longer lasting, warm purple tones will last 6-8 weeks if applied correctly using quality gloves and applicator bottles.
Test for Skin Sensitivity and Reactions
Always patch test skin 48 hours before applying the hair dye to check for any sensitivity or reactions. This is an essential part of the traditional application process, as it can prevent irritation and even allergic reactions.
When selecting a shade, consider your natural skin tone. Pastel lilacs are flattering on fair complexions, while olive skins look great in electric violets.
For temporary color that lasts around one shampoo, try out Purple Haze Hair Color Gel!
Darker hues should opt for deep cool violets or warm plums for long-lasting results up to 8 weeks.
Strand tests prior to purple dyeing will ensure desired results and guarantee no surprises when using these dark hair colors.
Understand Aftercare and Maintenance
Take proper care of your hair color to ensure that the stunning purple hue you desired stays vibrant and beautiful for weeks! Opt for deep cool violets or warm plums with permanent colors for long-lasting results if you have dark hair.
Afterward, use a conditioner set to nourish locks and keep them looking healthy. Semi-permanent dyes are gentler on manes but fade faster than their permanent counterparts. Don't forget about regular trims as well as weekly deep conditioning treatments.
These will help eliminate split ends while maintaining vibrancy! Finally, use heat sparingly and limit sun exposure to maintain luscious locks over time.
Decide Between Semi-permanent or Permanent Hair Dye
Decide whether you want semi-permanent or permanent color to give your mane the perfect purple hue and keep it looking vibrant!
Permanent dyes are harsher on hair, but they last 6-8 weeks.
Semi-permanent is gentler, yet fades faster.
Consider darker shades such as deep violets or warm plums for dark hair that would require permanent dyeing.
Opt for vegan formulas like Arctic Fox, which condition while depositing rich pigment and gradually fading over 4-8 washes.
For temporary fun looks, try Fudge Paintbox Raspberry Beret or Purple Haze Classic High Voltage – these wash out after one shampoo session!
Make sure to follow instructions carefully in order to avoid itching and irritation when applying any type of dye onto your locks.
This way, they can look their best with natural vibrancy for a long time!
Can I Dye My Hair Purple at Home?

Yes, you can dye your hair purple at home – just make sure to tread carefully and take it slow so that you don't get in over your head! Inside home dyeing kits, there are clear instructions that should be followed step by step.
Make sure to read the product selection for specifics about application time, rinsing times, etc., before applying the color on damp or dry hair. Also, ensure that all necessary tools are within reach such as clips for sectioning off different parts of the scalp while dyeing and bowls or applicator bottles if needed.
Is Purple Hair Dye Damaging?

Purple hair dye is a great way to make a bold statement and express yourself. That being said, it's not without its drawbacks. Depending on the type of dye chosen, permanent or semi-permanent dyes can be damaging due to their hydrogen peroxide content, which dries out the hair during the dyeing process.
Permanent purple hair color requires high maintenance as well since you'll need frequent touch-ups every 4-8 weeks, depending on how quickly your roots grow in and if you want to maintain consistent vibrancy throughout your locks! Semi-permanent dyes may last longer but are gentler for those who don't want such an intense look with red undertones that come from long-term use of purple dyes.
It's important, though, regardless of what kind of dye is used, proper care treatment should always follow.
Want to Discover More Hair Color Trends?

Discover the latest, trendiest hair colors with an array of vibrant hues to choose from and make a lasting impression!
From lavender locks to perfect purple hair color, you can find a color that suits you.
For those who love Katy Perry's iconic purple-silver style, try mixing up your own unique shade for something truly special.
Or if you're feeling daring, why not switch it up completely with some violet locks?
Whatever look you go for – whether subtle or bold – make sure to use quality products designed specifically for colored hair so your new 'do remains in top condition and looking its best!
Top 8 Best Purple Hair Dyes:
Are you ready to take your look to the next level? Upgrade your style with a vibrant, long-lasting purple hue that will turn heads!
From Arctic Fox Vegan Purple Hair Dye and Lime Crime Unicorn Hair Dye Pony Violet Purple, all the way through Garnier Nutrisse Ultra Color Dark Intense Violet, there are so many options for achieving perfect purple hair.
And don't forget about temporary dyes like Purple Haze Hair Color Gel or Lunar Tides Semi Permanent Orchid Purple – great choices if you're looking for something more fleeting.
For those wanting an intense finish, try ION Intensive Shine Permanent Liqui-Creme Kit Plum – this permanent dye will last 6-8 weeks and leave your locks soft and shiny.
Arctic Fox Vegan Purple Hair Dye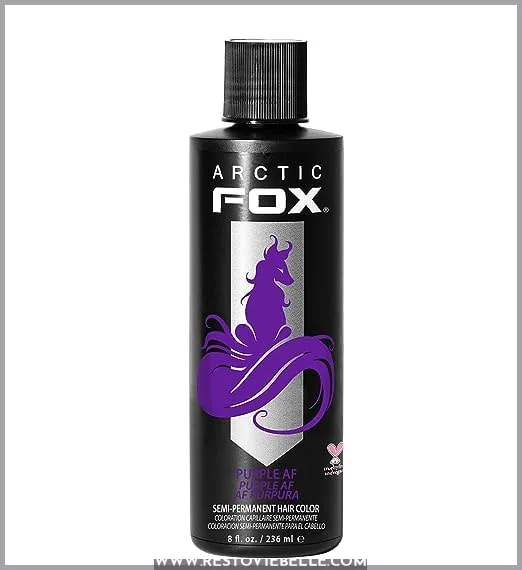 View On Amazon
Experience the vibrant, long-lasting color of Arctic Fox Vegan Purple Hair Dye – cruelty-free and free from harsh chemicals so you can rock your new look with confidence. This vegan formula delivers a semi-permanent purple hue that fades gradually over 4 to 8 weeks.
It also conditions hair while coloring, leaving it soft and shiny without any damage or irritation caused by harmful additives like peroxide, ammonia, or ethyl alcohol.
Suitable for prelightened or bleached hair only, this USA-made product is sure to give you an eye-catching look!
Vibrant purple hues that last up to 8 weeks
Cruelty-free & gentle on the skin
Conditions locks while coloring
Must be applied carefully as it may stain skin temporarily
Not suitable for dark hair tones
Lime Crime Unicorn Hair Dye Pony Violet Purple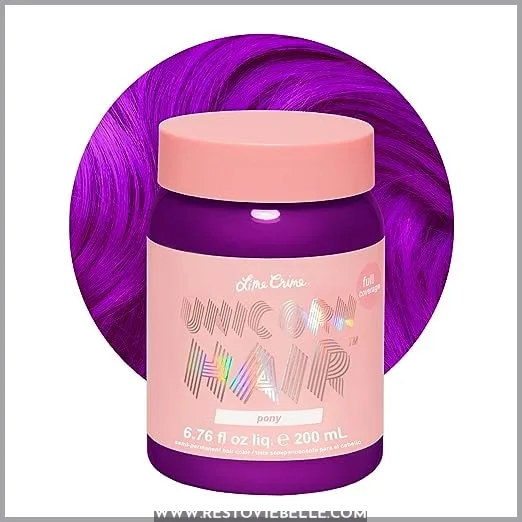 View On Amazon
Unleash your inner unicorn with Lime Crime's vegan and cruelty-free semi-permanent hair dye, Pony Violet Purple. This vibrant hue lasts 8-10 washes, and as the old adage goes, if you can dream it, you can do it.
It's perfect for those seeking to switch up their look without committing to something permanent.
This bold purple shade will leave heads turning. The formula is ammonia-, peroxide-, and bleach-free, making it gentle on both the scalp and hair. Despite being gentle, it still delivers intense color payoff – what more could one ask for? The recipe includes keratin conditioning agents, leaving locks feeling soft and healthy after application.
What stands out about this product is that it fades gradually into a pastel hue over time, so there's no harsh transition back into natural coloration when ready to move on from lavender locks!
Ammonia-, peroxide-, and bleach-free
Vegan & cruelty-free certified
Vibrant long-lasting purple color
Can be mixed with other Unicorn Hair dyes
Purple Haze Hair Color Gel
View On Amazon
Transform your locks into a vibrant purple shade with Purple Haze Hair Color Gel, an easy-to-apply temporary hair color that lasts up to 3 washes. This vegan and cruelty-free product conditions the hair while coloring it for a fun look that's perfect for festivals or summer days.
Before use, perform an allergy test 48 hours prior to ensure there won't be any adverse reactions. Then simply follow the enclosed instructions carefully to avoid skin staining during application before rinsing thoroughly afterwards.
Easy application & washout
Conditions hair while coloring
Vegan & cruelty-free formula
Ammonia & peroxide-free
Lasts up to 3 washes
Not suitable for children under 12
Final results may differ from model on packaging
Temporary color will fade over time
Lunar Tides Semi Permanent Hair Color Orchid Purple
View On Amazon
Bring your hair to life with Lunar Tides Orchid Purple Semi-Permanent Hair Color for a fade-resistant look that you'll love. This vegan and cruelty-free formula is enriched with protective keratin to condition as it colors, delivering intense purple hues that last up to 15 – 20 washes.
Perfect for prelightened or bleached hair, this damage-free product makes at-home application easy so you can achieve salon results from the comfort of your own bathroom! With no developer needed and clear instructions included in every box, all you need is patience for professional-looking tresses!
Vegan & cruelty-free formula
Conditions while coloring
No developer needed
Fades gradually over time
Lasts 15 – 20 washes
Damage-free formulation
Works best on prelightened/bleached hair
May not show up well on darker strands
Color may vary based on individual's hair color tone
Follow directions carefully when applying dye
Temporary stain may transfer onto skin or clothing
ION Intensive Shine Permanent Liqui-Creme Hair Color Kit Plum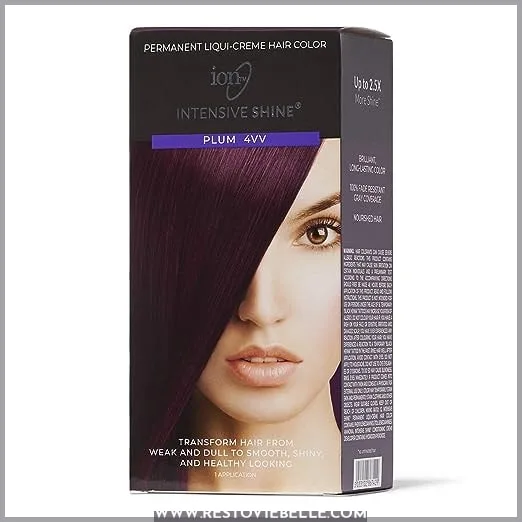 View On Amazon
Elevate your look with ION Intensive Shine Permanent Liqui-Creme Hair Color Kit in Plum for vibrant, long-lasting color that conditions as it colors. This ammonia and peroxide-free formula is perfect for all hair types seeking full gray coverage or lightening/darkening of natural hair color.
The easy-to-apply liqui creme makes coloring at home a breeze. Just section the hair, apply from root to tip before processing for 25-35 minutes, and rinse out! With up to 8 weeks of lasting vibrancy, this vegan-friendly formula will give you salon results without having to leave your bathroom.
Ammonia & peroxide-free
Lasts up to 8 weeks
Easy application
Conditions while coloring
Vibrant plum shade
Suitable for all hair types
Allergy test required 48 hours prior
Can lighten or darken natural color
Use gloves during application
Results depend on original color & porosity
Garnier Nutrisse Ultra Color Dark Intense Violet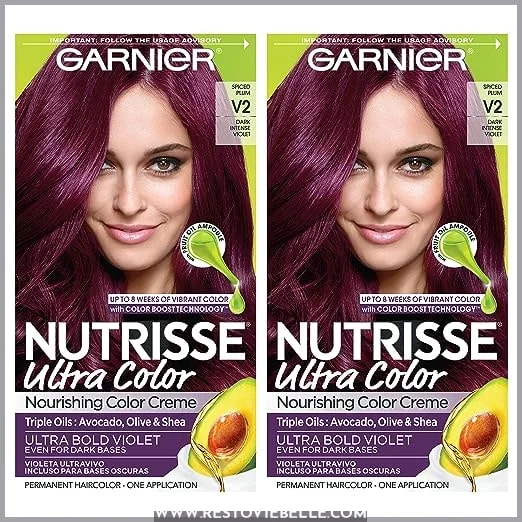 View On Amazon
Give your hair a bold and beautiful makeover with Garnier Nutrisse Ultra Color Dark Intense Violet. This permanent hair dye delivers long-lasting vibrancy, covering all gray hairs while leaving locks soft and shiny.
The ammonia-free formula also deeply nourishes for added protection against damage from styling, heat, or environmental factors.
Suitable for dark hair only, this vibrant purple hue will turn heads wherever you go! To use at home safely and effectively without staining the skin during application, perform an allergy test 48 hours prior to applying the color root to tip in sections before processing for 25-35 minutes, then rinsing thoroughly afterwards.
With up to 8 weeks of lasting intensity on dark tresses, unleash your inner beauty today!
Ammonia-free
Lasts up to 8 weeks
Intensely pigmented
Deep conditioning
100% gray coverage
For dark hair only
Can stain skin if not careful during application
Requires a patch test 48 hours before use
Other Things to Consider:

Are you looking for the perfect purple hair dye color? Let's take a look at what's inside home dyeing kits and discuss which option is the best. From semi-permanent to permanent options, we'll explore each one in detail so that you can make an informed decision about your hairstyle.
What's the Best Purple Hair Dye Colour?
Choose the perfect purple hue to make a statement and truly stand out! If you have light-colored hair, go for pastel shades. They will give you vibrant results. For olive skin tones, opt for plums or deep violets.
If you have dark hair, look for cool-toned violets or warm plums. These shades will lift the color of your strands without damaging them. Check out Arctic Fox's vegan dye, Lime Crime Unicorn Hair Dye Pony Violet Purple, and Garnier Nutrisse Ultra Color Dark Intense Violet.
All of these options are sure to provide intense colors with lasting vibrancy! When selecting your brand's dyes, always consider semi vs permanent options. Also, think about aftercare needs like regular trimming and using color-safe shampoo.
What's Inside Home Dyeing Kits?
Home dyeing kits typically contain the necessary tools to help you achieve a perfect purple hue. From semi-permanent dyes and box dye gloves to plum purple for olive skin tones and permanent box dyes – celebrity colorist Nikki Lee recommends them all! Be sure to read instructions carefully, as well as do a patch test before applying any product.
Wear quality gloves when handling hair products, section off your locks using clips or bands prior to the application process – this will ensure even saturation of the strands with dye.
Frequently Asked Questions (FAQs)
Is purple hair dye suitable for all hair types?
Yes, purple hair dye is suitable for all hair types! Whether you're looking for a short-term fix or long-lasting vibrancy, there are plenty of options to choose from. Experiment with semi-permanent dyes that offer gentle color and fade gracefully over time – perfect for those seeking liberation and power in their look.
Or opt for permanent solutions to achieve intense hues with shine that lasts up to 8 weeks.
What is the difference between permanent and semi-permanent purple hair dye?
How often should I dye my hair purple?
Depending on the type of purple dye used and hair condition, you could be re-dyeing your locks every 4 to 8 weeks. Permanent dyes tend to last longer but require more upkeep, while semi-permanent shades offer a vibrant burst that can gradually fade away with poetic grace.
What are the best ways to maintain my purple hair color?
To maintain purple hair, use color-safe shampoo and deep condition weekly. Trim damaged ends and limit heat and sun exposure.
What should I look for when buying purple hair dye?
Look for ammonia-free, conditioning dyes with easy application. Choose vegan, cruelty-free formulas that last 4 to 8 weeks and fade evenly.
Conclusion
Ready to go purple? With the right knowledge and products, you'll be able to find the perfect hue for your dark hair. To make sure you get the desired results, take into account the condition of your hair, the right color, skin sensitivity, and aftercare.
Semi-permanent and permanent hair dyes are available, and the latter can offer longer-lasting vibrancy. With the best purple hair dye in hand, you'll be able to transform your look and rock the shade of your dreams.