This site is supported by our readers. We may earn a commission, at no cost to you, if you purchase through links.
Men and women love to find the best hair growth products that work instead of making big promises that don't give results.
More than 50 million people in the United States suffer from hair loss alone. Unlike a cold or toothache, hair loss does not go away after a while. If it is not treated, it will continue until most or all of the hair has disappeared.
Whether your hair is lost due to a hereditary factor, or health problems, it is normal; hair loss can happen to anyone.
Fortunately, there are a number of hair growth products that work and can help to improve the problem.
A trip to your doctor or dermatologist can offer you more guidance and solutions.
In this post, we give you what we think are the best growth hair products available and hair loss products.
We cover the full range of treatments for hair loss – shampoos, minoxidil formulas, tablets, and tools.
We hope you find one that suits you best and effectively deals with your hair loss.
Let's first look at what causes hair to fall out in the first place.
What Is Causes Hair Loss?
There are many things that make the hair thin and fall out; see this list:
medicines
Diseases such as anemia and thyroid diseases
Skin problems such as psoriasis
Genetic disorders such as androgenetic alopecia
Chemical products such as dyes
Tension
Sudden weight loss
Environmental conditions
Malnutrition or lack of essential vitamins
Too much vitamin A
Pregnancy
If you can determine what causes your hair loss, you will likely treat the hair successfully. An experienced hairstylist and a doctor may be able to help you decide if you do not already know the cause.
What is the Best Growth Hair Product?
Best hair growth products can help you retain the hair you have, accelerate regrowth, and make your hair appear fatter and fuller at once.
Results can take weeks to months before they become clear, so it's important to be patient and follow the regime exactly.
It is best to use these products early, at the first signs of balding or thinning hair. Drink more water, follow a balanced diet, and take multivitamins daily; supplements such as Biotin can also help speed up hair growth.
What is the best way to stop hair loss?
As we said, not washing your hair is not enough to stop hair loss. You have to find the cause of what causes the problem, whether it is a thyroid disorder, another disease, or excessive use of styling products and stress. The sooner you get help, the better your chances of stopping and reversing.
Many doctors do not like to prescribe pills to solve skin problems and prefer topical treatments. Many doctors will tell you to try the only FDA-approved female hair loss treatment, Minoxidil. This drug was invented to treat high blood pressure but causes extra hair growth as a side effect.
Research shows that Minoxidil's 5% concentration solution is more effective than 2%.
Although it promises, you should bear in mind that in clinical trials, there was 'moderate regrowth' in only 19% of the patients treated with it. Nobody had great success with it.
Another product that can slow down hair loss is used in shampoos that fight against dandruff. It is called ketoconazole.
It slows down the damage that DHT causes to the hair follicles caused by the production of testosterone. Although a 1% solution is easy to find, you need a prescription to buy a more effective 2% concentration.
Let's go to dive into our list of best hair growth products.
10 Best Hair Growth Products For Men & Women Of 2023
There are a variety of hair growth products on Amazon, from supplements to shampoos and conditioners.
We have combed the Amazon jungle to discover the highest-rated, best hair growth for men and women the e-retailer has to offer.
If you want hair growth, continue to scroll down to the bottom to find out more about the best hair growth products on Amazon.
1. Ultrax Labs Hair Surge | Caffeine Hair Loss / Hair Growth Stimulating Shampoo

View On Amazon
Hair Surge Caffeine Hair loss Growth Stimulating Shampoo has earned many compliments, and we think it scores very, very high on the list of best hair growth products for men and women.
It is formulated in such a way that it is a complete delivery system because it supplies the right ingredients to the hair follicles and ensures that they stay there.
As for ingredients, well, there is no discussion about hair loss shampoo without mentioning caffeine. No, a shampoo with caffeine does not mean a bottle of coffee grounds or a cup from yesterday's post, but rather caffeinated compounds integrated with essential oils and ketoconazole.
Why caffeine? Because several studies show that caffeine causes hair follicles to grow faster than with other hair loss components. Caffeine compounds have also been shown to reduce hair loss.
And, in case you are wondering, you can not skip the shampoo and drink excess amounts of coffee to stimulate your hair growth.
That is, unless you plan to drink more than 100 cups of coffee per day (please do not do it), that is what you should drink to get hair results.
The other two primary ingredients in the Ultrax Labs Hair Surge shampoo are ketoconazole and saw palmetto, essential hair loss product ingredients that we have previously touched.
Some users report noticeable hair growth after only three months of using Hair Surge (remember that hair growth does not happen overnight).
Other reviewers said that it works particularly well for regrowth around the hairline.
Ultrax Labs Hair Surge shampoo can be used alone or with your regular shampoo.
It is backed by years of proven results.
It helps keep your hair and scalp healthy.
Ultrax Labs Hair Surge shampoo does not lather as well as some hair loss shampoos.
It is probably not strong enough to use on its own, but it is best in combination with another treatment when hair loss has already started.
2. PURA D'OR Hair Loss Prevention Premium Organic Argan Shampoo
View On AmazonThe Pura d'Or hair loss prevention shampoo is the #1 hair growth product bestseller on Amazon in hair and scalp treatments since 2012. It prevents premature hair loss, increases volume, and supports healthy hair growth.
Organic shampoo strengthens the hair strands, increases blood circulation, and promotes rapid, healthy growth. It nourishes the hair follicles with essential nutrients to repair any damage and start the healing process.
The new and improved formula with an advanced DHT blocker mixture uses effective premium organic ingredients without parabens, sulfates, DEA, and harsh chemicals. The specially designed mixture has been selected for increased bioavailability and maximum absorption.
The soft formula is enriched with an organic blend of argan oil, vitamin B complex, Biotin, nettle extract, saw palmetto, He Shou Wu (Fo-ti), and other clinically proven natural ingredients. This can make the hair smoother, thicker, easier to handle, and more delicious.
This is ideal for daily use and ideal for both women and men of all hair types. You can also enjoy excellent online reviews and a 100% money-back guarantee.
Detangles and promotes healthy-looking
15 important active ingredients help hair growth
Strengthens and stimulates hair from root to tip
Soft but effective, Soft enough for daily use
It is manufactured in the USA. Color safe. Vegan.
3. Lipogaine Hair Growth Stimulating Natural Shampoo
Lipogaine is a well-known name for hair loss and growth products, and hair Extension / Hair Growth Stimulating Shampoo is on every list of hair growth products that work.
You can find this shampoo on many lists with the best growth hair products, and it differs from the others by the long list of natural ingredients.
I mean, we're talking about coconut oil, jojoba oil, green tea extract, sage oil, rosemary oil, and so on.
But you have to concentrate on three ingredients: Biotin, castor oil, and emu oil.
Caffeine is also in the Lipogaine formula, which we do not want to overlook, but we have already spent some time on this post.
The list of ingredients of Liopgaine is long but combined; they form a gentle formula that is free from harsh chemicals, safe for all hair types and colored hair and is designed for both men and women.
The Lipogaine shampoo is rich in natural ingredients that are gentle on most skin and hair.
It is easy to apply.
It is a non-greasy, water-based formula.
This Lipogaine shampoo should be used consistently for the best results.
Some people may react to the essential oils it contains.
4. Nizoral A-d Anti-dandruff Shampoo
View On AmazonLet's go back to ketoconazole for a moment, it is the main hair loss/hair growth ingredient in Nizoral AD Anti-Dandruff Shampoo, and it is an ingredient in many other hair products.
We've talked briefly about ketoconazole and its antifungal properties before, but those properties are worth further investigation. Studies have shown that ketoconazole affects hair growth.
First, ketoconazole fights fungus on the scalp; fungus inhibits hair growth and can cause hair loss. It also has anti-inflammatory properties that are good for scalp health and has mild DHT-blocking properties.
If seborrheic dermatitis causes hair loss, products containing ketoconazole, such as Nizoral's AD Anti-Dandruff Shampoo, are worth serious consideration.
Plus, with Nizoral AD, you get the added benefit of a strong dandruff-fighting shampoo, and you know what dandruff is like: an unwanted visitor shows up on your clothes at the worst possible times (not that there ever was a good time to get dandruff).
Nizoral AD prevents the scaling, itching, and flaking that come with dandruff. Ketoconazole has been shown to be a capable dandruff fighter, as well as taming fungus and inflammation on your scalp.
Unlike other anti-dandruff shampoos, Nizoral AD is formulated in such a way that you only need to use it twice a day. A week to keep those unwanted flakes at bay. Ketoconazole binds to your hair's natural protein, so it continues to work in between uses of Nizoral AD.
We also like that it is gentle on your hair – mild enough that it is also suitable for colored hair.

Nizoral A-D has been proven to fight dandruff and hair loss.
It fights fungus on your scalp.
It has a natural fresh scent.
Some reviewers wish it came in a larger bottle.
This shampoo is another shampoo that is great for those concerned about hair loss, but those dealing with hair loss that is already occurring will want to pair it with a different, more powerful treatment.
5. Rogaine Hair Loss Hair Thinning Treatment Minoxidil Foam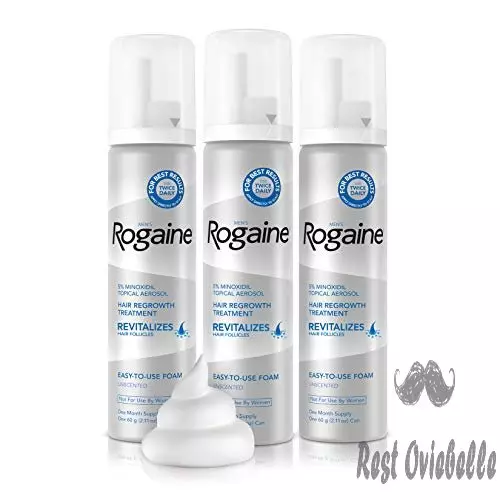 View On AmazonLike Lipogaine, Rogaine is just around the corner regarding dealing with hair loss and growth and was the first company to patent minoxidil as a hair loss treatment and the first company to develop an FDA-approved foam for hair loss. The same three mechanisms we discussed for Lipogaine, as they both contain MinoxidilMinoxidil as one of their primary active ingredients. However, Rogaine has no added ingredients to block the conversion of testosterone to DHT in the scalp.
Rogaine's hair loss and thinning treatment also come in a topical aerosol form that is quick and easy to apply, but as the foam, not that there's anything wrong with the aerosol. In any case,
Rogaine is one product to try if you suffer from AGA. Their decades of experience mean they've had a lot of time to perfect their formulation to increase efficacy and reduce side effects.
FDA approval means it is clinically proven to promote hair growth in men who use it every day for four months. It may take a few weeks to see results, but Rogaine offers a full refund if you use it. Used. I was not satisfied at the end of those 120 days.
Rogaine uses a 5% minoxidil solution with its Tricho-prime Technology to stimulate hair growth. The technology helps distribute Rogaine's proprietary blend of ingredients evenly over the scalp and hair follicles to promote hair growth and thicken hair to make.
Indeed we think it is one of the best products for hair growth and thickness.
While the aerosol version might be a bit easier to apply, there's nothing rocket science-Esque about using the foam either – it goes on smoothly with little to no mess.
Again, Rogaine is for men – not women – who suffer from androgenetic alopecia. If you don't have a family history of hair loss or don't know the reason for your thinning hair, consult a doctor before using Rogaine.

Rogaine offers clinically proven results.
It has a pleasant, neutral scent.
It is easy to apply.
It does not contain DHT-blocking properties.
6. Roots Naturelle Virgin Hair Fertilizer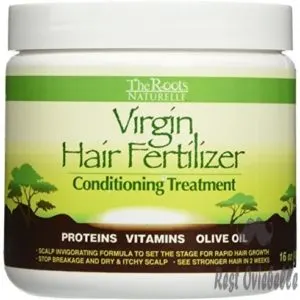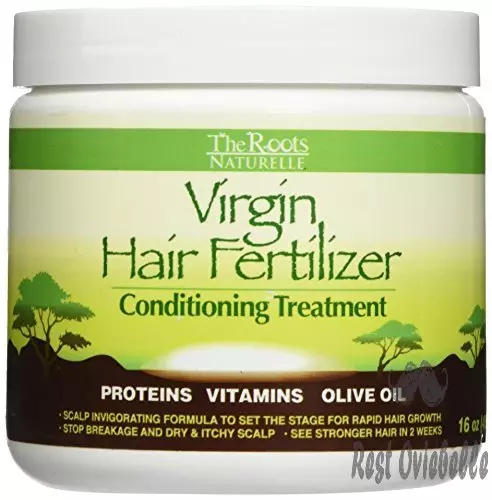 View On Amazon
Often referred to as African Hair Fertilizer, the Virgin Hair Fertilizer Deep Conditioner treats and conditions weak, damaged, brittle, and dry hair to make it look smooth and healthy.
This effective product benefits from organic vitamins, nutrients, natural hair growth proteins, olive oil, shea butter, black castor oil, sweet almond oil, and peppermint oil. The invigorating formula can strengthen hair, promote rapid hair growth, reduce fractures, and even help treat dry scalp. It can help to repair years of damage from heat or chemical treatments.
It contains nutrients, vitamins, and proteins that combine to promote hair growth for women and men and provide an essential deep conditioning treatment for your hair. This product can be applied to curly hair, weaves, and thinning hair or for people who are worried about hair loss. Safe to use on colored hair.
It can also be used for your usual hair styling product because it makes your hair easier and looks soft, thick, and healthy.
Use your hands to spread it just by rubbing or combing the hair and enjoy the tingling sensation on the scalp. Ideal for both men and women, for curly hair, weaves, colored hair, and thinning hair, it can be used daily.
The powerful hair root stimulator is ideal for Afro-American, Caribbean, and dry and damaged hair. It has strong loyalty from people who use it and impressive reviews online.
7. DrFormulas HairOmega 3-in-1 Hair Growth Vitamins with DHT Blocker
We have previously discussed nutrition and its relationship with healthy hair. It is a fact that a healthy diet full of vitamins and minerals can indeed affect hair growth and slow down hair loss. If it is nothing, it will keep your hair healthy – and healthy hair has a better chance to ward off baldness and a thinning scalp.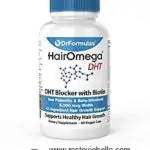 View On Amazon
DrFormulas HairOmega DHT Blocker for hair loss and hair growth has 41 ingredients, including a boatload of natural herbs and vitamins to feed the hair roots and, at the same time, support healthy hair (and growth) for men and women. It is one of the best natural hair growth products.
It is also loaded with Biotin, zinc, saw palmetto, and other proven natural ingredients for hair growth. But look at the vitamins:
Wait, there is more:
Magnesium (one of the signs of hair loss is magnesium deficiency Magnesium helps in the supply of oxygen and nutrients to hair follicles).
Green tea
Red raspberry antioxidants
Buyer
Tomato powder
Juniper
Pumpkin seed
Selenium (helps with healthy hair growth by maintaining balanced hormone levels while strengthening the immune system).
Parsley leaf
Omega-3 fatty acids (while also improving blood flow and nutrients to hair follicles).
Moreover, the formula of DrFormulas is vegetarian and comes in a vegetarian capsule. And it is gluten-free. It is clear that it is not only good for your hair.
DrFormulas HairOmega DHT Blocker is intended for use as a dietary supplement. It is recommended that users take two capsules daily: once after breakfast and once after dinner. Note: it is made in the USA in a facility that the FDA regularly inspects.
Hairomega 3-in-1 formula for hair, skin, and nails with DHT Blocker contains Biotin 5000mcg to support hair growth, beautiful skin, and nails.
100% vegetarian.
5000mcg extra strength biotin means that you don't have to buy an extra biotin supplement for hair growth.
Vitamin C supports collagen synthesis for radiant skin.
It is made in the USA in an FDA-inspected facility under NSF GMP quality assurance guidelines.
8. Nioxin Care System Kit for hair growth
View On Amazon
Nioxin consists of a 3-part system kit, including a cleanser, scalp revitalizer, and scalp treatment; the cleansing process helps remove sebum secretion sebum, fatty acids, and environmental residues from the scalp and hair.
The scalp revitalizer is a lightweight conditioner that helps provide resilience and control fluid balance.
Finally, the scalp treatment contains antioxidants that help a refreshed scalp environment.
The technologies used in Nioxin are BioAMP, Glyco-Shield, and Scalp Access Delivery System. The result is a comprehensive cosmetic treatment for noticeably thinning hair.
It also contains an SPF 15 sunscreen to protect the scalp and antioxidants and botanicals to encourage a fresher, cleaner scalp.
9. Natrol Biotin Maximum Strength Tablets
By Natrol Biotinmeans that you get the largest dose of Biotin (10,000 mg) that you will find almost everywhere. Do not worry because Biotin is soluble in water, and excess fat is naturally removed from your body.
We mention Natrol Biotin tablets with maximum strength here for their effectiveness in treating hair growth and hair loss, but it is also a supplement that is good for you in several ways:
Biotin, a vitamin B, also promotes healthy skin and nails.
Biotin supports your metabolism and helps in the conversion of food into energy.
In other words, you will get more energy.
View On Amazon
It is vegan because it does not pack its ingredients in soft gels made of gelatin. Natrol instead uses cellulose and glycerin.
They even added a natural strawberry flavor to the table to facilitate swallowing.
The unique formula of Natural is designed to dissolve faster than other tablets to increase the absorption speed. It can be taken anywhere and anytime, with or without water.
We have already spoken extensively about Biotin's role in treating hair loss.
However, it is worth repeating that Biotin supports the growth of cells and the production of fatty acids, which in turn can increase the size of hair follicles.
It not only helps to slow down hair loss while restoring hair growth, but your hair also looks fuller and thicker. In the meantime, biotin deficiency contributes to hair loss and fragile nails.
Natrol Biotin Maximum Strength comes at a budget-friendly price, especially when you consider that every tablet offers the maximum dose of Biotin you will find.
Promotes healthy hair, skin, and nails.
Increase of energy : (Biotin, a b vitamin, also known as vitamin h or b7, helps support metabolism and helps convert food into energy.
100% vegetarian Je
10. iRestore Laser Hair Growth System – FDA Cleared Hair Loss Treatment for Men and Women
The use of laser technology for the treatment of hair loss still has to cause a major upheaval. That can change, however, thanks to the iRestore laser hair growth system.
Approved by the FDA – which has verified its positive results – iRestore is a medical device for the treatment of hair loss, balding hair, receding hairline and thinning hair for men and women. How positive are the results? In a study carried out just this year, 100% of the iRestore users saw a visible improvement in hair growth.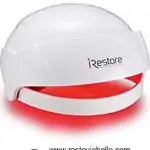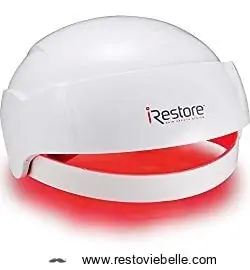 View On Amazon
What is it?
iRestore consists of a helmet-like device with which low-grade laser therapy stimulates your hair follicles to become thicker and fuller. Light energy is radiated by 51 medical lasers and LEDs that 1) improve the cell metabolism rate and 2) reactivate the follicles to stimulate hair growth.
The device is lightweight, comfortable, and durable. You just place it on your head, turn it on and let it complete its cycle (about 25 minutes).
The recommended use is every two days, and doctors recommend using it with a shampoo for hair growth, although it is fine.
Laser therapy such as iRestore certainly has its advantages: you do not have to use foams or liquids, it has no potential side effects. It is ideal for men and women who may have allergies or sensitivity to certain medications and ingredients.
And again, it seems to work with remarkable consistency. In the four-month 2017 study above, the average increase in hair count was 43.2%. It is difficult to beat that kind of result. In addition, iRestore has sufficient confidence that it offers a full money-back guarantee if you do not see the results in six months.
Not that you will not see the results for six months. In some cases, iRestore users experienced a noticeable improvement in hair growth in just three months.
IRestore Laser Hair Growth System (also known as iRestore Essential, ID-500) is an FDA-approved hair loss treatment and medical device for the treatment of alopecia, receding hairline, baldness, and thinning hair to stimulate hair growth for men and women.
Six months 100% money-back guarantee.
IRestore has been clinically examined by doctors, and it has been proven that it promotes hair growth for men and women in a recent study from 2017.
Developed in GMP-certified facilities, this medical device for home use is durable, lightweight, comfortable, hands-free, and easy to use.
How Is Much Hair Loss Normal?
Hair usually grows about six strands per year. A person loses about 50 to 100 threads per day.
Washing your hair can lose up to 250 strands at the same time, but not washing does not necessarily stop hair loss.
Does Hair Ever Stop Growing?
Many people do not know this, but it can even stop growing. But normally, this is only about 10% of your hair at any time.
The remaining 90% will still be longer.
There are three cycles of hair growth. The first growth cycle lasts from 2 to 8 years. Then it takes her two to three weeks into a transitional phase.
The follicle of each strand shrinks. The non-growing phase is when your hair takes a break and rests for 2 to 4 months.
Conclusion
Hair loss is not life-threatening, but it significantly impacts people's lives. However, many best-growth hair products are now available for people suffering from this condition.
We wanted to help you become a better-informed buyer and, hopefully, help you to undo your hair loss; we think these are all valid products, and we also wanted to offer you a wide range of options, which is why we included everything from hair loss foams and liquids.
After all, you would like to experiment to find what works best for you. And not every product in our review is suitable for everyone.