This site is supported by our readers. We may earn a commission, at no cost to you, if you purchase through links.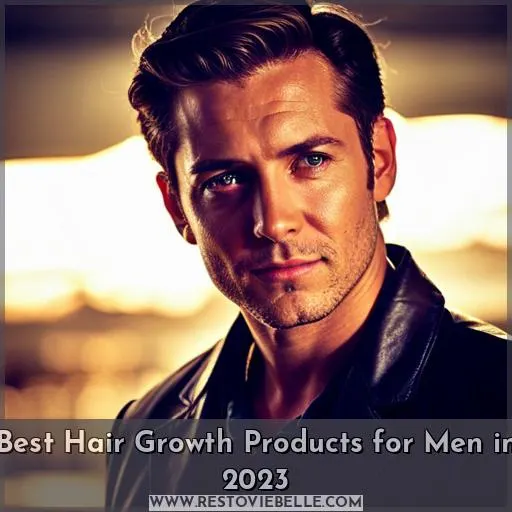 Struggling with hair loss? If you're looking for the best hair growth products for men in 2023, look no further. From minoxidil to laser treatments and scalp serums, there are a variety of options available that can help restore your confidence and give you back your full head of healthy locks.
We've scoured the market to bring together an extensive list of the top 9 most effective solutions out there—all backed by science. But before we get into our picks, let's take a closer look at what causes male pattern baldness and why some treatments may be more effective than others.
Key Takeaways
Male pattern baldness is the leading cause of hair loss in men, which is often due to genetic predisposition.
There are various hair growth products available for men, with different ingredients and treatment timelines, and results may vary.
Some popular hair growth products for men include Rogaine, Hims, ActAcre Apple Stem Cell Scalp Serum, and Viviscal Men's Hair Growth.
It is important to consider insurance coverage, lifestyle changes, and consultation with a healthcare professional when choosing a hair growth treatment.
9 Best Hair Growth Products for Men
Are you looking for effective hair growth products specifically designed for men? There are a variety of options available, such as Men's Rogaine Hair Regrowth, Hims Hair Regrowth Treatment for Men, ActAcre Apple Stem Cell Scalp Serum, Viviscal Men's Hair Growth, and iRestore Laser Hair Growth.
Other popular choices include HairStem Biotin Shampoo and Kirkland Minoxidil 5% Regrowth for Men. Spectral DNCN is an alternative to minoxidil that offers continuous release of key active ingredients like Caffeine and Azelaic Acid.
If you're wanting extra nourishment for your scalp or more overall hair support, then try Meraz Pureauty Naturals Biotin serum, which has been made in the USA with premium ingredients.
Determining the best product to suit your needs can be tricky, but with these nine options, there should be something suitable!
1. Men's Rogaine Hair Regrowth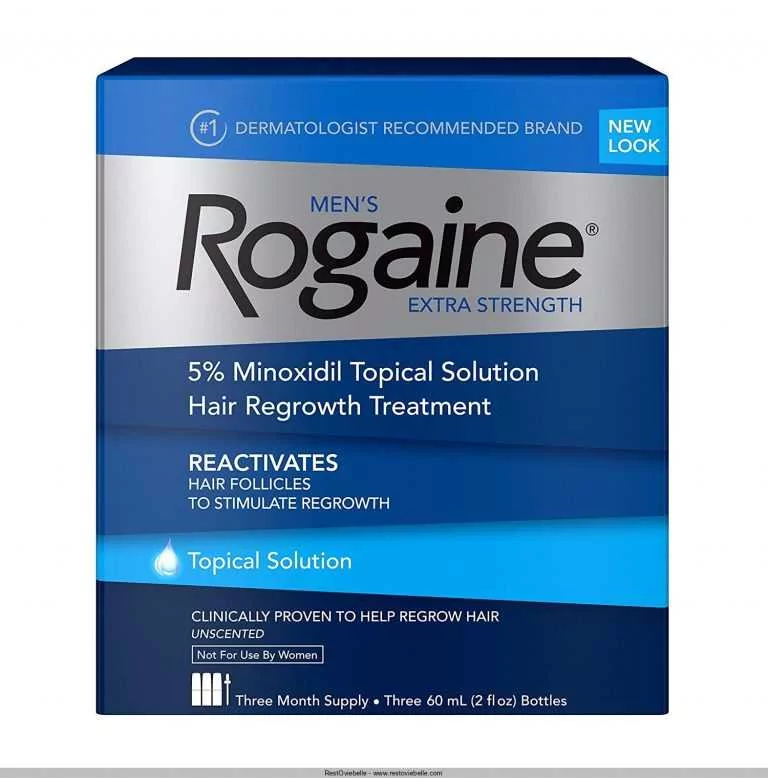 View On Amazon
You can experience visible results with Men's Rogaine Hair Regrowth in as little as 12 weeks, making it an ideal choice for the early stages of hair thinning. This extra strength 5% Minoxidil Topical Solution penetrates the scalp to reactivate shrunken hair follicles, boosting activity and protein production.
The easy-to-apply topical solution should be applied 1 milliliter directly to the scalp twice daily.
Many users have experienced positive results such as thickening of existing hair and new growth. However, some users have reported developing dense scalp crusts after usage, which led them to discontinue use altogether.
Men's Rogaine Hair Regrowth is suitable for treating alopecia, receding hairlines, or balding due to its effectiveness in working well on moderate genetic hair loss. It slows down further shedding from occurring, although no new hairs may appear.
Significant regrowth can be observed over a 3-month period when used consistently, according to user feedbacks online.
However, caution should be taken when buying this product online due to concerns about authenticity arising from customers' experiences.
Visible Results In As Little As 12 Weeks
Clinically Proven To Regrow Hair In Men
Boosts Activity & Protein Production In Follicles
Suitable For Treating Alopecia & Receding Hairs Or Baldness
Works On Moderate Genetic Hair Loss By Slowing Down Further Shedding
Dense Scalp Crust Developed After Usage
No New Hairs May Appear Despite Significant Growth Observed Over A Period Of Time
Concern About Product Authenticity When Purchased Online
2. Hims Hair Regrowth Treatment Men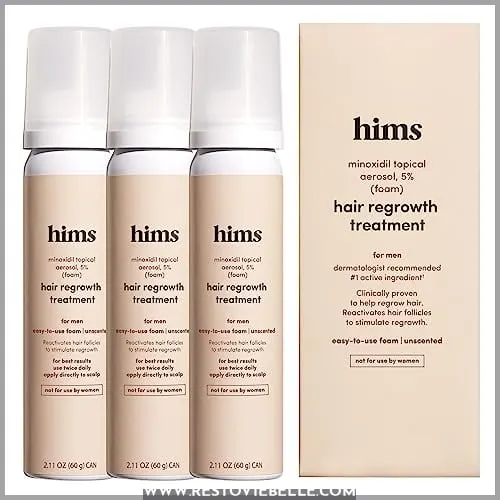 View On Amazon
Discover the clinically proven HIMS Hair Regrowth Treatment Men, and watch your hair thicken as you escape male pattern baldness. This easy-to-use foam targets male pattern baldness to help regrow lost hair in 3 to 6 months.
It works by reviving dormant follicles, increasing blood flow to the scalp, and extending the growth cycle for longer sustainment.
When used consistently on dry hair areas of loss or along sections of your head twice a day, you can expect improved results, including thicker existing hair and new growth. Its powerful active ingredient, Lactic acid, penetrates deep into the scalp, providing real results quickly without leaving a mess behind.
Clinically Proven
Targets Male Pattern Baldness
Easy To Use Formula
Results Seen In As Little As 3 Months
Costly Compared To Other Products
Difficulty Applying On Large Areas Or Shaved Heads
3. ActAcre Apple Stem Cell Scalp Serum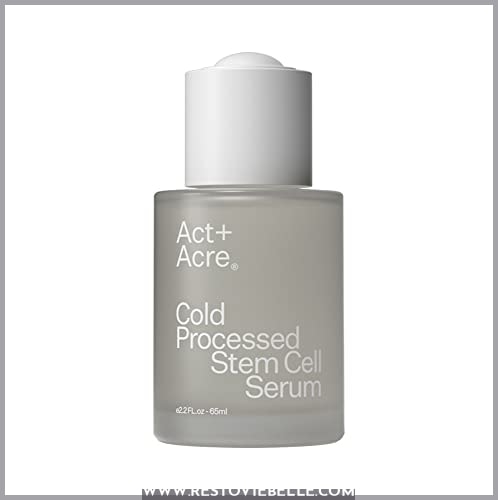 View On Amazon
Feel the difference with ActAcre Apple Stem Cell Scalp Serum, a revolutionary hair growth treatment that nourishes and protects your scalp. This serum contains clinically proven active ingredients such as Swiss Apple Stem cells, bamboo, and pea extract, and aloe vera for immediate relief from itchy scalps.
It also supports collagen production to help reduce thinning or shedding of hair.
Contains premium ingredients like Biotin & Saw Palmetto
Nourishes & hydrates the scalp
Delays signs of aging on the scalp
Non-greasy formula suitable for both men & women
Scientifically tested product made in the USA with a 100% money-back guarantee
Results may vary depending on individual usage
Requires consistent use for potential results
May have issues with dropper applicator design
4. Viviscal Mens Hair Growth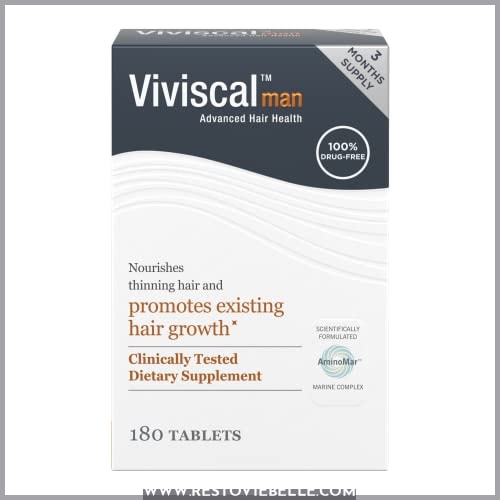 View On Amazon
Viviscal Men's Hair Growth is a drug-free solution to help tackle thinning hair and boost confidence. Developed in GMP-certified facilities, this advanced formula contains AminoMar collagen complex, Vitamin C, Zinc, Horsetail Extract, and Flax Seed Extract to nourish hair from within.
It is suitable for treating alopecia, receding hairlines, and balding or thinning hair in both men and women.
Recommended by dermatologists as well as hairstylists worldwide for its effectiveness at promoting healthy regrowth of lost hairs due to male pattern baldness or aging-related issues.
Clinically proven & recommended by medical professionals
Drug-free alternative
Contains high-quality ingredients that are beneficial towards strengthening existing follicles
Needs time (3 months) before significant effects take place
Shark cartilage present, which may not be favorable amongst some consumers
Not evaluated nor approved by FDA
5. IRestore Laser Hair Growth
View On Amazon
Experience the ultimate hair restoration with iRestore Laser Hair Growth, a clinically proven device that helps to regrow and thicken thinning hair. Developed in GMP-certified facilities, this FDA-cleared device is suitable for treating alopecia, receding hairlines, balding, and general thinning of hair in both men and women.
It's no wonder why so many users are seeing positive results using the iRestore Laser Hair Growth system. 100% of active male and female participants saw visible improvement within 3 to 6 months (results may vary).
In addition to this fantastic product alone, you can also pair it up with other treatments such as minoxidil or biotin shampoos for better effects.
Clinically studied and proven to promote hair growth
Suitable for Alopecia, Receding hairlines, etc.
Durable and lightweight
Hands-free
Easy on your budget – Money Back Guarantee
Results may vary
Requires consistent use
Not ideal if looking for immediate results
6. HairStem Biotin Shampoo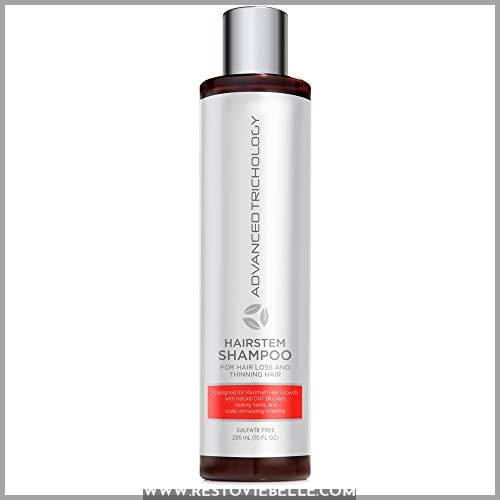 View On Amazon
Try HairStem Biotin Shampoo for a scalp-nourishing experience that'll leave your hair feeling as strong and thick as velvet. Specially formulated to support healthy hair growth, this sulfate-free shampoo contains high-quality ingredients, including biotin, saw palmetto, tea tree oil, aloe vera, and Arnica Montana.
These powerful DHT blockers help nourish the scalp while preventing further thinning or shedding of existing hairs.
With regular use of this clinically developed product, you can expect stronger strands with added volume and shine – plus, it's suitable for both men and women! Perfectly balanced with vitamins, herbs, and minerals, its pleasant scent ensures a luxurious user experience every time you wash your hair.
Backed by scientific testing in trichologist-approved labs in the USA, it promises unbeatable results within 120 days, or else receive a 100% money-back guarantee!
Clinically developed formula designed specifically for treating thinning on top or sides of the scalp
Contains key active ingredients such as biotin, saw palmetto extract & more
Suitable for both men & women
Pleasant smell & volumizing effect
Money-back guarantee within 120 days if unsatisfied with results
May take up to several weeks before noticeable improvements are seen
Not recommended if pregnant/breastfeeding
Must be used consistently over an extended period to see potential regrowth
7. Kirkland Minoxidil Hair Regrowth Men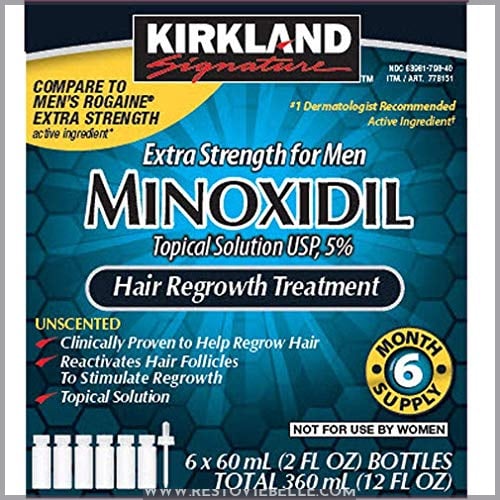 View On Amazon
Kirkland's Minoxidil 5% Hair Regrowth Men offers a 6-month supply of liquid drops that can help to regrow and thicken hair. This product is convenient and easy to use with the help of child-resistant dropper applicators.
Results typically appear within 1 – 2 weeks after starting treatment, but may take up to three months or more for noticeable results in terms of thickening existing hair or growing new strands. Notable benefits include affordability compared to pricier brands as well as improved beard growth over time when used consistently throughout the entire six-month period.
This drug-free alternative is suitable for treating thinning hair in both men and women due to its effectiveness at promoting thicker locks without causing side effects like erectile dysfunction associated with other medications like Finasteride (Propecia).
Unscented formula
Child-resistant droppers included
Affordable compared to name brands
Effective at addressing thinning hairs
Requires patience & consistency
May not work equally well on everyone
Doesn't offer immediate results
8. Spectral DNCN Hair Serum
View On Amazon
Spectacular Spectral DNCN Hair Serum soothes scalps and stimulates strands swiftly for thicker, healthier hair. It's a Minoxidil alternative leave-in serum that contains 5% Nanoxidil as a hair growth alternative to Minoxidil.
This modern formula features Nanosome Technology, which provides continuous release of key active ingredients like Caffeine and Azelaic Acid. These ingredients have been proven to block DHT conversion, resulting in denser hair growth.
The water-based non-greasy serum works directly on follicles with lighter molecular weight for better efficacy. It doesn't contain any Propylene Glycol, making it suitable even for those with skin reactions from other products.
Most users can expect results within 90 days of consistent use, but it requires dedication throughout the process as results may vary depending on the severity of hair loss issues or individual responses towards certain treatments.
Additionally, this product does not work as an actual regrowth treatment. Instead, it serves more effectively in reducing further losses while nourishing existing strands by stimulating their roots through gentle massages twice daily.
It is recommended to use six sprays per application before shampooing every day.
Minimizes further losses while nourishing existing strands
No Propylene glycol content, thus suitable even for those with sensitive skin
Made In USA
Expensive compared to other brands if used twice daily
May not show desired result despite regular usage
Greasiness experienced after 2nd application
9. Biotin Hair Growth Serum
View On Amazon
Meraz Pureauty Naturals' Biotin Hair Growth Serum can help you achieve thicker, shinier hair with its non-greasy formula packed with premium ingredients. It is formulated to provide continuous release of key active ingredients like Caffeine and Azelaic Acid.
The serum is enriched with Biotin, Saw Palmetto, Tea Tree Oil, and Aloe Vera to promote healthy hair growth without the use of harsh chemicals or drugs.
Made in the USA
Non-greasy formula
Contains premium ingredients such as biotin & saw palmetto
Enriched with tea tree oil & aloe vera
100% money-back guarantee
Price increase from £19 to £47 questioned
Limited quantity for price
Some users find it challenging to apply
Can Hair Grow Back After Hair Loss?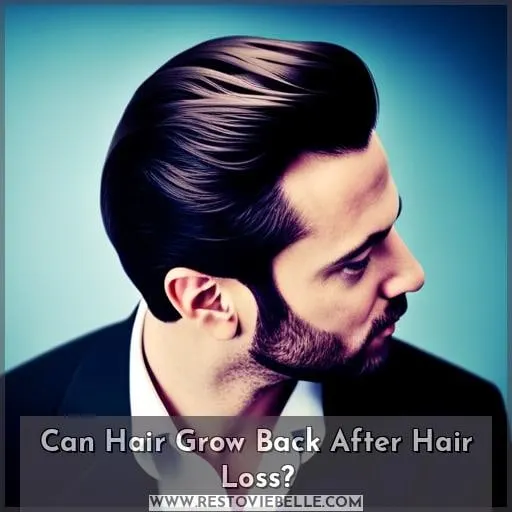 When it comes to hair loss, the question of whether or not hair can regrow is important. Fortunately, there are several options available for those seeking to restore their lost locks. Hair transplant surgery and other medical procedures offer a more permanent solution than topical treatments like shampoos and vitamins.
However, these methods may require multiple treatments over time to maintain results.
Additionally, natural remedies such as dietary changes or scalp massage can help stimulate new growth without invasive interventions. It's also important to consider the emotional impact that losing your hair has on self-confidence and mental wellbeing.
Ultimately, when considering the best hair growth products for men with thinning or balding issues, it's essential that you find what works best for you!
Understanding the Effectiveness of Hair Loss Treatments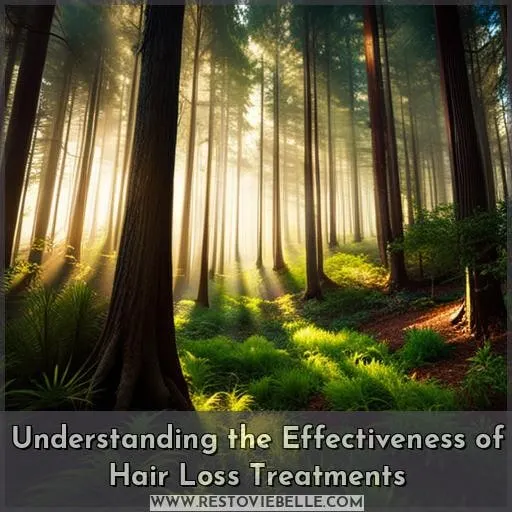 Discover how hair loss treatments can help you regrow and maintain a healthy head of hair. Effectiveness assessment is key when considering treatment options for male-pattern baldness or other forms of hair loss.
Minoxidil, finasteride, and various alternative products have been clinically studied to determine their efficacy in treating these conditions.
Additionally, user feedback from individuals who've used these treatments can provide valuable insight into potential results as well as side effects that may be experienced with continued use. Hair growth research continues to progress with new medications being developed that offer more targeted solutions than ever before.
With careful evaluation of the available evidence from both clinical studies and personal testimonies, it's possible to make an informed decision on which treatment option will work best for your specific needs while also taking into account any potential risks associated with its usage, such as scalp irritation or decreased libido in some cases.
By understanding what's out there on the market today, you'll be able to identify which product could potentially give you back your confidence while helping restore a full head of hair once again!
Does Insurance Cover Hair Loss Treatment?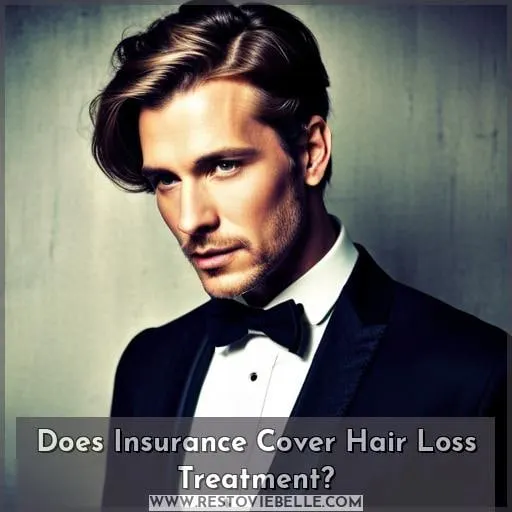 Insurance coverage for hair loss treatments can vary, so it's important to check your policy before seeking treatment. There are several options when it comes to insurance coverage for hair regrowth: some policies cover the cost of medications, while others may only provide reimbursement for certain products or treatments.
Additionally, some insurers offer discounts on the best hair loss products and men's hair loss treatments.
Insurance policies may also include preventive care such as topical creams that slow down balding or scalp massage therapy, which promotes healthy circulation to prevent further thinning of existing hairs.
It is worth researching different insurance companies and their specific offerings in terms of covering costs associated with treating male pattern baldness and other forms of alopecia, such as traction alopecia caused by styling habits like tight braids or ponytails.
Understanding what type of financial assistance you can get from an insurer will help determine the most suitable course of action when considering a particular form of hair loss prevention methods or medical treatment plan.
In short, knowing your own personal health insurance provider's policy regarding covering expenses related to treating hair loss can save you time, money, and stress in the long run.
What You Can Do to Address Hair Loss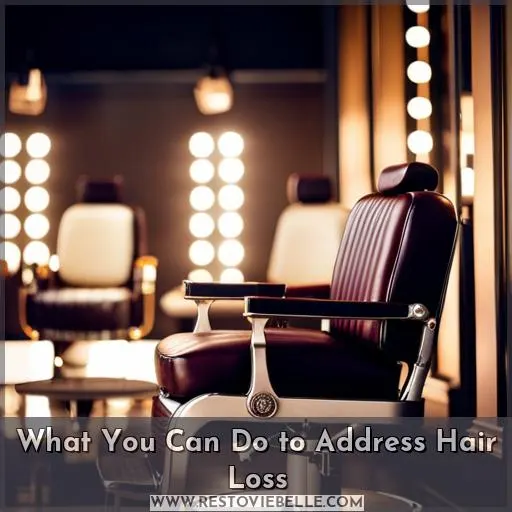 Although hair loss can be a difficult experience, there are various steps you can take to address it. As the old adage goes, prevention is better than cure, so understanding its causes and taking proactive measures such as quitting smoking or avoiding tight hairstyles could help reduce the risk of further hair loss.
Hair care products, such as sulfate-free shampoos and conditioners, may also help protect your scalp from damage while still keeping your locks healthy.
In addition to lifestyle changes, medications like Minoxidil (Rogaine) for male pattern baldness or Spironolactone for hereditary baldness are available to slow down hair shedding and promote regrowth.
Other treatment options include platelet-rich plasma therapy (PRP), laser therapy devices, topical finasteride solutions, or comprehensive treatment kits that contain multiple products at once.
Counseling can also provide emotional support during this trying time, while home remedies such as wigs or extensions might offer temporary relief from feelings of insecurity associated with thinning tresses until desired results appear after a few months of using top-rated hair growth products specifically designed for men's needs.
When faced with sudden patchy rashes or scaly skin, it is always best practice to consult healthcare professionals before embarking on any course of action related to this issue. This ensures that you receive tailored advice suited only for you based on your individual case circumstances, diagnosis evaluations, tests, and treatment plans.
In some cases, long-term daily commitment may be required, but it will undoubtedly result in improved outcomes when done right.
What to Expect From Your Doctor Regarding Hair Loss Treatment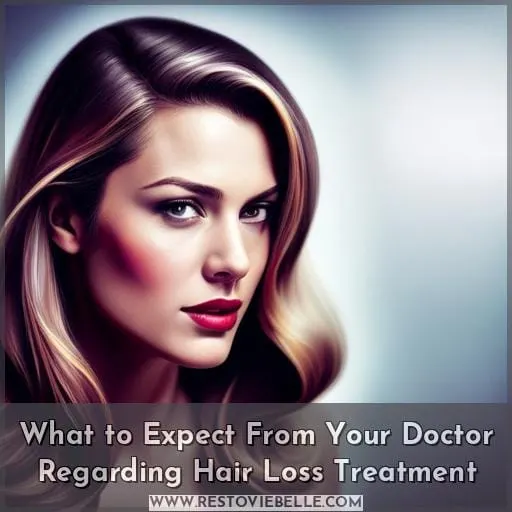 When seeking guidance on addressing hair loss, it's important to be prepared with questions for your doctor about available treatments. Your healthcare professional can diagnose the cause of your hair loss and ensure that you're receiving proper treatment.
Common causes such as male pattern baldness or stress-related issues may require different approaches; however, some treatments are effective for both types of conditions. It's also important to discuss any potential emotional impact associated with the condition and ways to address this issue if necessary.
Your doctor can provide advice on preventing further hair loss through lifestyle changes or offer options like medications, laser therapy, platelet-rich plasma (PRP) therapy, or a scalp biopsy procedure when needed.
Hair restoration surgery may also be an option in certain cases depending on the diagnosis methods discussed during consultation with a healthcare professional experienced in treating patients who suffer from various forms of alopecia and other forms of hereditary baldness disorders.
Conclusion
With so many products on the market, it can be hard to decide which one is right for you. Fortunately, the best hair growth products for men in 2023 are all safe and effective ways to help regrow hair and prevent hair loss.
From Men's Rogaine Hair Regrowth to Biotin Hair Growth Serum, these products offer different solutions to suit individual needs.
With consistent use and some patience, you can expect to see visible results in as little as 12 weeks.
Before you begin any hair growth program, it's important to understand the effectiveness of hair loss treatments and whether your insurance covers them.
If you're looking for a more permanent solution, hair implants may be an option, but be sure to consult a healthcare professional before making any decisions.
With the right product and a bit of dedication, you can be sure to put the spring back in your step and the hair back on your head.