This site is supported by our readers. We may earn a commission, at no cost to you, if you purchase through links.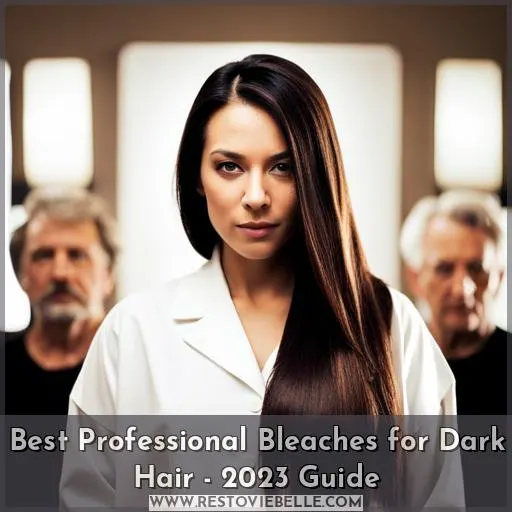 Have you ever felt frustrated by the lack of options for dark hair? Don't worry, we've got your back! This guide will help you find the best professional bleach for dark hair that'll make sure your locks look light and beautiful.
Whether it's a subtle transition or an extreme color change, there are products designed to give you the perfect result every time. We'll discuss what power developer and bleach work best on black hair as well as how to repair damaged locks after bleaching.
Key Takeaways
Arctic Fox lifts up to 8 levels, is vegan and cruelty-free, and contains conditioners to reduce brassiness.
Wella Color Charm lifts up to 7 levels, locks in moisture, and prevents dryness with a dust-free formula.
Manic Panic gently lifts up to 7 levels, is vegan and cruelty-free, and leaves hair soft.
Hair Bar NYC lifts up to 10 levels without brassiness or damage, and contains amino acids and keratin.
Top 10 Best Professional Bleaches for Dark Hair
Are you searching for the best professional bleach to lighten dark hair? Look no further! In this article, we will review the top 10 best bleaches, including ARCTIC FOX Bleach Hair Lightening Kit, L'Oreal Paris Colorista Bleach All Over, WELLA Color Charm Lightener, Manic Panic Hair Bleach, Professional Hair Dye Toner Lightener Clairol Professional BW2 Lightener, Hair Bar NYC Blond Bond, Jolen Creme Bleach Pot, L'Oreal SuperBlanc Powder, and Sparks Hair lighteners.
These bleaches can lift up to 8 levels without damaging your hair or removing yellow tones quickly, and they are also cruelty-free and vegan.
ARCTIC FOX Bleach Hair Lightening Kit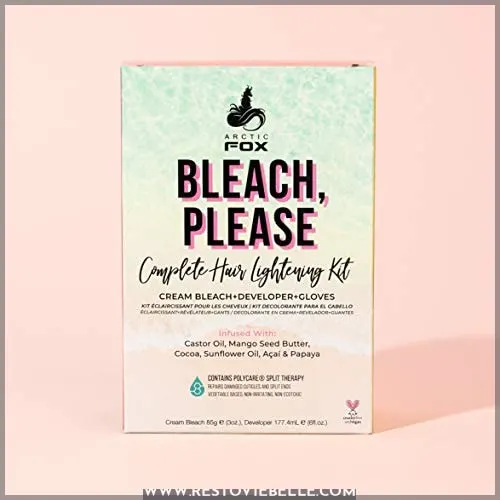 View On Amazon
Using the ARCTIC FOX Bleach Hair Lightening Kit, you can lift dark hair up to 8 levels without damaging it, while the special conditioner helps reduce brassiness. The kit includes 35 Volume developer, cream bleach, and gloves for at-home bleaching convenience.
Additionally, Polycare Split Therapy prevents split ends, while natural oils and extracts like açaí berry oil nourish your hair for maximum health benefits. Mango seed butter provides anti-inflammatory properties to soothe irritation from lightening treatments.
Plus, this cruelty-free and vegan product is sure to make you feel good about using it on yourself or others.
Lifts up to 8 levels without damaging hair
Includes 35 Volume developer & cream bleach
Contains conditioning agents that prevent split ends & yellow tones
Cruelty-free & vegan
Natural oils/extracts nourish hair
May require multiple kits if used on long or thick hair
Strong odor
Should be done by a professional to avoid overprocessing
Loreal Paris Colorista Bleach All Over
View On Amazon
You'll be surprised at how quickly L'Oreal Paris Colorista Bleach All Over can turn your dark locks into a light, luminous hue – without the hassle of mixing multiple products! This customizable permanent bleach is designed for all-over lightening, highlights, or ombre.
It comes with an anti-brass conditioner to keep brassiness away and leaves a copper tone meant for coloring over.
Customers report that this product works well on box-dyed hair as well as giving depth and contrast to their color. However, caution should still be taken when using this product due to its potential damage or irritation if not used correctly.
Lightens hair so semi-permanent color can be applied after
Multiple applications over time can lighten from dark brown to blonde
Helps unnatural colors pop more compared to unlightened hair
Adds depth and contrast to hair color
Can make hair orange if used alone
Does not have a toner
Not salon quality; requires multiple applications for significant lightening
WELLA Color Charm Lightener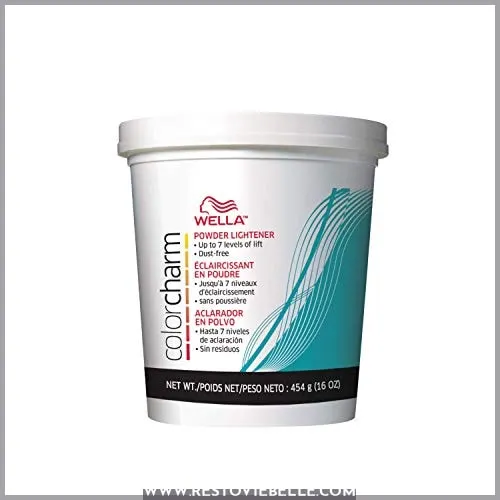 View On Amazon
Experience professional-grade lightening with WELLA Color Charm Lightener, designed to lift up to 7 levels and lock in moisture without damaging your hair. This dust-free formula is perfect for foiling, balayage, full head lightening, and off-scalp applications.
It's easy to measure out, and this product offers maximum control so you can achieve the desired results every time, from subtle highlights to the sheerest platinum blonde.
Perfect for personal use as well as professionals looking for great quality without any damage or a smelly ammonia, this bleach powder is sure not to disappoint!
Up To 7 Levels Of Lift
Dust-Free Formula
Protecting Oil System Locks In Moisture
Strong Smell When Mixed
Should Be Used By Professionals For Best Results
Manic Panic Hair Bleach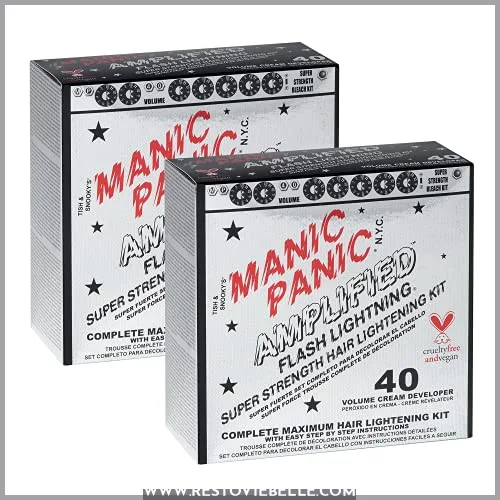 View On Amazon
Try Manic Panic Hair Bleach for a gentle lightening solution that quickly lifts your hair up to 7 levels with minimal damage and fallout. This vegan and cruelty-free product is perfect for at-home bleaching. It comes in an easy one-pound kit containing dust-free bleach powder, 40 volume cream developer, a mixing tub, a tint brush, a plastic cap, gloves, and instructions.
A little bit of the formula goes a long way, meaning two kits may be necessary if you have thick or long hair.
Vegan and cruelty-free formula
Quickly lifts dark hairs to achieve medium blonde to very light blonde tones
Comes with dust-free bleach powder plus accessories such as mixing tubs, etc.
Gentle formula causes low damage/fallout
Conditioning properties leave the hair soft and moisturized
May require two kits for long or thick hairs
Can cause patchy results if inexperienced; help required when applying
Doesn't lift quite as light as some users expect
Professional Hair Dye Toner Lightener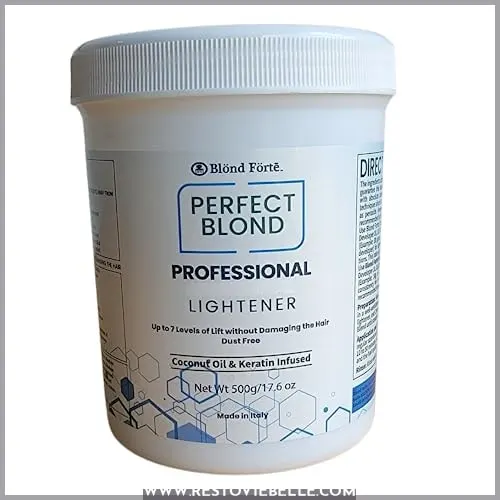 View On Amazon
Discover the Professional Hair Dye Toner Lightener and its nourishing ingredients that will help lighten your hair without damage or a strong smell. This Italian-made product is perfect for achieving blonde tones, highlights, and ombre styles with superior quality control.
Infused with keratin and coconut oil, it leaves hair soft while also restoring moisture to give vibrant color results quickly. It works on all types of hair colors, so you can get creative! You don't have to worry about any nasty smells as this toner doesn't contain ammonia – it's gentle enough for those who are sensitive too.
Nourishing ingredients
No damage/smell
Versatile use
High-quality Italian-made
Not suitable for beginners
Must be used carefully
Results may not last long
Clairol Professional BW2 Lightener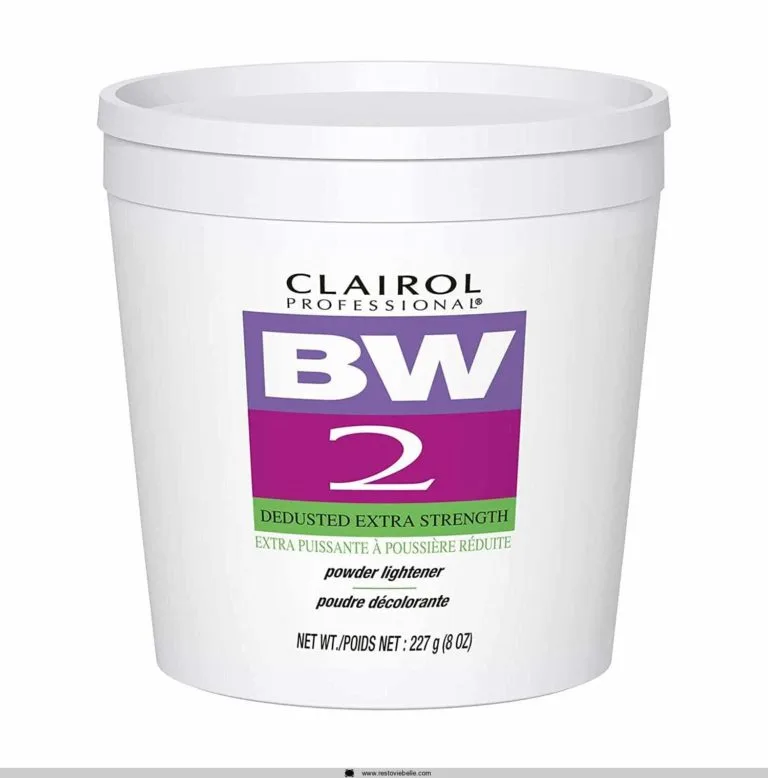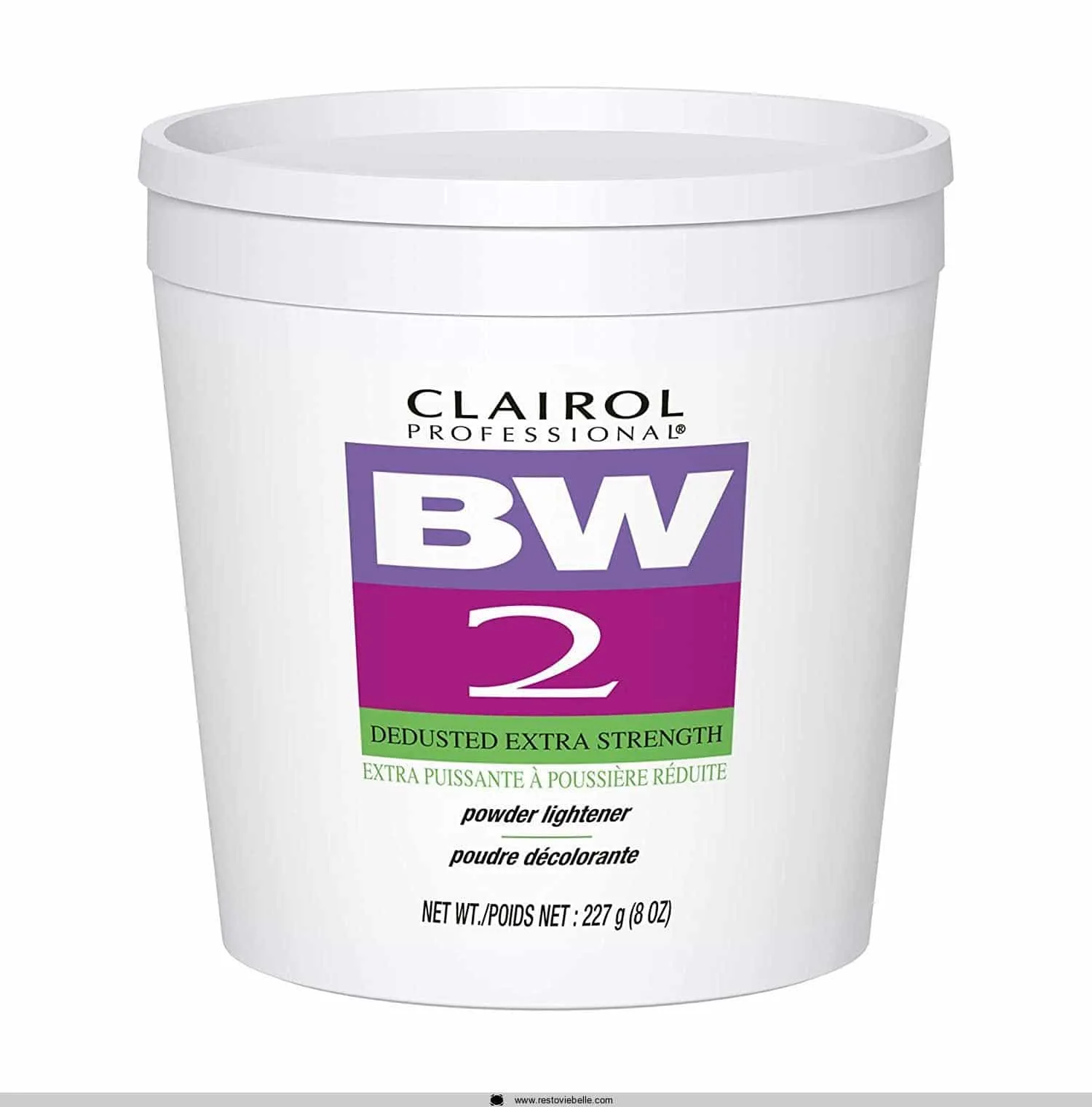 View On Amazon
You'll love the Clairol Professional BW2 Lightener, which provides up to 7 levels of lift and is easy to measure. A little goes a long way, making it perfect for first-time users. This dust-free formula minimizes flyaway hair and contains humectants that provide creative control over lightening, as well as balanced and predictable results.
Whether you're looking to foil your locks or use balayage techniques for off-scalp lightening, this powder has you covered! It's simple enough for anyone new in the business, yet powerful enough that seasoned professionals trust its high quality every time.
Easy to measure powder
Contains humectant
Provides creative control over lightening
Balanced and predictable results
Good for foiling and balayage
Smells awful
Takes longer than stated time
Pricey in the UK compared to the US
Hair Bar NYC Blond Bond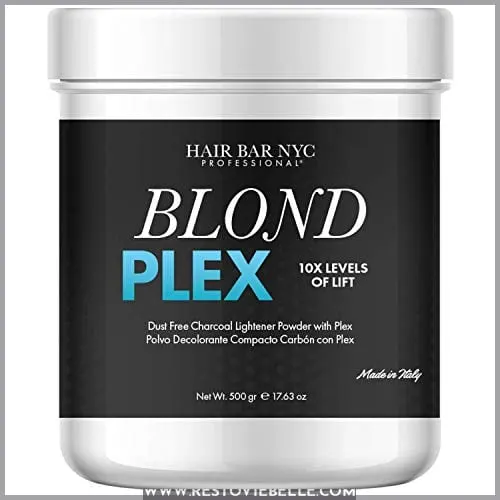 View On Amazon
Experience the intense lift of Hair Bar NYC Blond Bond Charcoal Lightener Powder and say goodbye to dark hair tones. This professional-grade lightening powder is ideal for achieving platinum blonde tones, lifting up to 10 levels without brassiness or damage.
Formulated with arginine amino acids and keratin for conditioning, it gets hot during processing but provides excellent results in one session with no strong odor.
Hard to gauge progress due to its charcoal color, this product works well on various hair types and textures but can cause overprocessing if left on too long – so a professional application is highly recommended!
Lifts up to 10 levels without brassiness or damage
Formulated with arginine amino acids & keratin for conditioning
Provides great results in one session
Difficult to gauge progress due to the charcoal color
May cause overprocessing if left on too long
Requires a professional application
Jolen Creme Bleach Pot
View On Amazon
Try Jolen Creme Bleach for a gentle, baby-powder scented lightening solution that quickly removes facial and body hair with no irritation. This hydrogen peroxide-based cream lifts hair color up to four to six weeks, making it an ideal choice for those who want temporary results.
Perfectly safe when used as instructed, this product is dermatologist tested and can be applied onto the upper lip, chin, cheeks, or legs without fear of irritation or redness. For best results, test on a small area first before applying fully to check skin sensitivity levels.
Ready-to-use formula with no mixing required
Hydrogen peroxide-based formula effectively lifts hair color
Smells like baby powder
Dermatologist tested
Test on a small area first for skin sensitivity
Avoid contact with eyes; rinse immediately if product gets into eyes
Keep out of reach of children
L'Oreal SuperBlanc Bleach Powder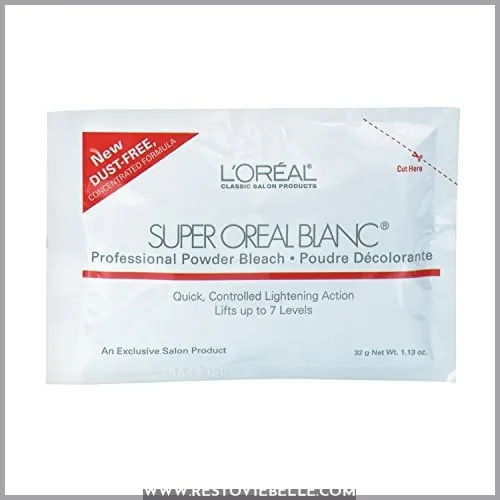 View On Amazon
L'Oreal SuperBlanc Bleach Powder is a powerful lightening solution that gives you precision control for the perfect highlights or sheerest platinum blonde. Its dust-free, non-drip concentrated formula stays moist and creamy throughout application and processing, providing maximum control over the lightening process.
The extra strength powder lifts dark hair up to seven levels with quick action – no need to wait around! With its balanced results and predictable outcome every time, you can trust this professional product for your bleaching needs.
Quick & controlled lightening action
Concentrated formula
Maximum versatility off-scalp highlighting techniques
Gives maximum control for desired results from subtle highlights to sheerest platinum blonde
Extra strength can cause irritation/damage if used improperly
Strong smell
Professional use recommended
Sparks Hair Lightener
View On Amazon
Sparks Hair Lightener is an extra-strength powder lightener that can help you achieve blonde tones, but with caution as it may cause irritation or damage if used improperly. Its dedusted formula helps minimize flyaways and provides creative control for desired results.
But this product must be handled carefully and used by a professional to avoid overprocessing your hair. It's important to test the product on a small section of hair before using it all over and keep it out of reach of children at all times.
Dedusted extra-strength powder minimizes flyaways.
Provides creative control for desired results.
Can lift up to 7 levels without brassiness or damage.
Extra strength can cause irritation or damage if not properly handled.
Must be tested on a small area first.
Keep away from eyes and skin.
How to Choose the Best Bleach for Dark Hair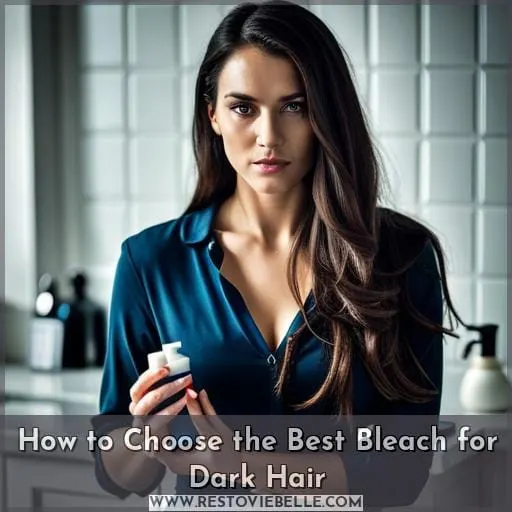 Choosing the best bleach for dark hair comes with a few considerations. If you have darker hair, it is likely that your undertones are red or orange; conversely, lighter-colored hairs tend to have yellow and orange tones.
It's important to know what color level you're starting at before bleaching since this process can take multiple stages and lift up 6-10 levels in order to achieve the desired look.
Hair Undertones
To achieve the desired results with minimal damage, it's important to understand your hair tone and how it may be affected by lightening. Darker hair tends to have more red or orange undertones, while lighter shades often have yellow and orange tones.
When bleaching dark hair, avoid brassiness by using blue or purple-toned bleaches that counteract the underlying tones of your natural color. Choose a bleach with bonding agents, oils, and nourishing ingredients, but no ammonia for the best results based on the texture and thickness of your strands.
Always perform a strand test first, as well as patch testing before full application.
Hair Color Levels
When lightening your hair, consider the levels of lift needed for your desired color – 6-10 are ideal to achieve a brighter hue without too much damage. For dark hair, multiple bleaching stages will be necessary, and strand testing should be done prior to application.
Use professional bleach with bonding agents and oils that contain blue or purple tones to counteract brassiness. After each session, deep conditioner and moisturizers are essential for post-bleach care while avoiding heat styling as much as possible.
Stages of Hair Bleaching
When bleaching dark hair, it is important to understand the stages of lightening needed to achieve your desired result. Multiple bleaching sessions spaced days apart are often required to gently lift dark hair to pale blonde without damage.
Checking the hair's level between sessions ensures proper progress before applying more bleach. Choosing products with nourishing ingredients provides protection during the multi-step lightening process.
With patience and the right techniques, dark hair can be safely lightened over time to reach your ideal shade.
Want to Learn More About the Hair Bleaching Process?
Not sure where to start with bleaching your dark hair? Look no further – here's all you need to know.
Bleaching stages are essential for achieving the desired outcome, and toners used afterwards can help prevent brassiness. Choosing the best bleach for dark hair is crucial, as it should contain bonding agents and nourishing ingredients while avoiding ammonia.
Heat styling must be kept at a minimum after bleaching; use protein-free products that provide extra moisture post-bleach care.
The Arctic Fox Bleach Hair Lightening Kit, L'Oreal Paris Colorista Bleach All Over, or Wella Color Charm Powder Lightener are great choices of professional bleach when lightening dark hair safely with minimal damage!
What to Look for in a Professional Hair Bleach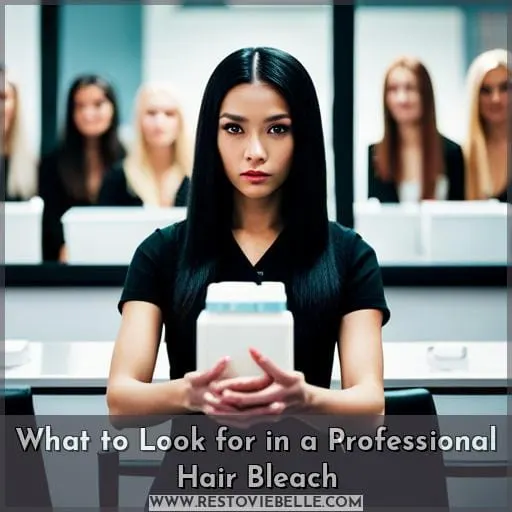 When looking for a professional hair bleach, conditioning additives are essential to prevent damage and ensure a smooth lightening process. Ammonia should be avoided at all costs as it can severely dry out the hair strands.
It is also important to consider your own hair type: fine or thick, curly or straight. This will determine how quickly you need to lift levels and therefore what kind of products you should use.
Conditioning Additives
Look for lightening products that contain conditioning additives to help protect and nourish your hair while you bleach. Choose bleaches with bonding agents, oils, and other nourishing ingredients to minimize damage.
Avoid those containing ammonia as they may cause excessive damage or discoloration.
Also, consider the lift levels needed (6-10), the type of developer used (20/30 volume), hair texture, color level before dyeing, and previous dye jobs when selecting a product.
Lastly, check if the product has added UV filters, which can prevent fading over time due to sun exposure.
Avoid Ammonia
Avoid using ammonia when bleaching dark hair as it can cause irritation and damage. Ammonia lifts the cuticle of the hair, allowing higher levels of lightening but also increasing the risk for breakage and dryness.
To avoid excessive brassiness, it is best to control the lift stages instead. Here are some tips:
Choose bleaches that have appropriate bonding agents, oils, and nourishing ingredients to protect the hair from over-processing.
Before applying the bleach to the entire head, it is important to do strand tests to assess the desired level of lifting.
Use products with lower ammonia levels and consider using toners like Goldwell Colorance or Elumen after bleaching to counteract any yellow undertones.
After bleaching, make sure to deep condition the hair and reduce heat styling. Using protein/sulfate-free products can help maintain healthy locks.
Educate clients on the benefits of gradual lightening over multiple gentle sessions for optimal results without compromising the health of their hair.
It is important to note that excessive use of bleach may result in uneven color or costly salon fixes, so caution should always be taken.
Consider Your Hair Type
Take into account your hair texture and thickness when choosing a bleach to ensure the best outcome for your locks. Thick, coarse hair can tolerate harsher bleaches that will lift pigment quickly without breaking bonds or causing excessive damage.
Fine, thin strands may require gentler formulas with less lifting power to help prevent breakage and brassiness from counteracting pigments in the cream bleach.
Multiple bleaching sessions can lighten dark hair, but heat styling should be minimized afterwards, as well as deep conditioning treatments to avoid further weakening of delicate strands.
Why Can't I Just Dye My Dark Hair Directly Instead of Bleaching?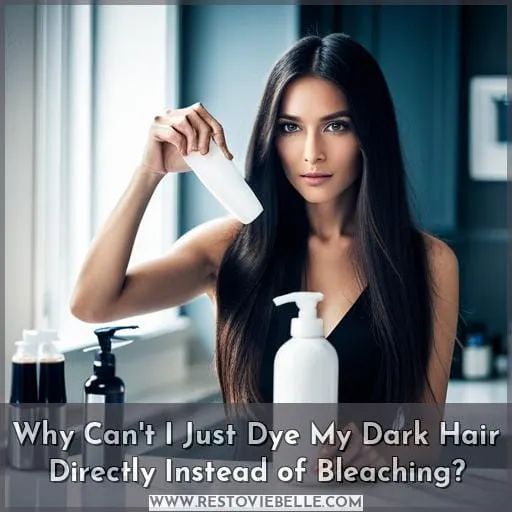 It's not advisable to dye dark hair directly, as the color will be too heavy and could cause damage. Evaluating safety should always come first when considering any type of hair lightening procedure. Professional advice from a qualified colorist is recommended for the best results with minimal risk of damage to your hair.
Bleaching can be done in stages or all at once depending on how quickly you want to remove existing color and achieve the desired shade. However, extra caution must be taken as bleaching alternatives can have unpredictable outcomes if used incorrectly or left on too long.
Dust-free formulas are ideal for highlights, balayage, and full head lightening. They provide balanced and predictable results while minimizing flyaways due to their oil system that locks in moisture, preventing further dryness or breakage during processing time.
When it comes down to it, take into account what kind of changes you plan on making before deciding whether bleaching would work best for achieving the desired look without damaging your natural strands beyond repair!
Why Trust Our Recommendations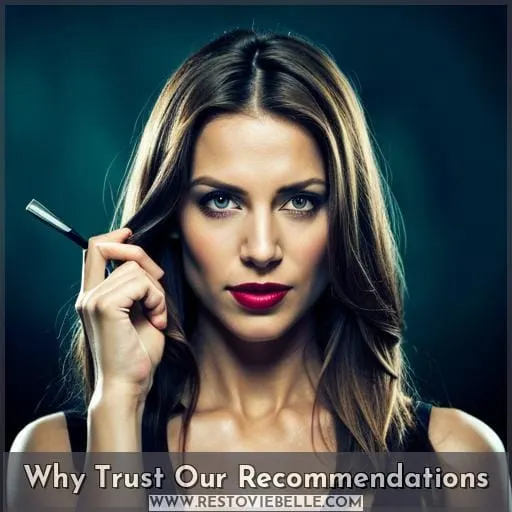 Making the decision to bleach dark hair is a big one. It's important to feel confident that you're in good hands and making an informed choice.
Here are some tips for protecting your locks when lightening:
Look out for ammonia alternatives such as hydrogen peroxide or ethyl alcohol.
Consider factors like hair thickness, texture, previous dye jobs, and color levels before choosing a product.
Do strand tests to assess damage and lift levels needed (6–10) without overprocessing.
Use toners with blue/purple tones after bleaching to counteract brassiness or yellow hues.
Utilize deep conditioning treatments between sessions of highlighting black, brown, or orange tones in order to maintain its health.
Our top picks offer advanced bonding ingredients and anti-yellow agents while still being gentle on all types of haircuts and styles – allowing us all freedom from fear when it comes time to let go of darker shades!
Frequently Asked Questions (FAQs)
What are the risks of bleaching dark hair?
Bleaching dark hair carries risks such as uneven color, damage, expense for salon fixes, coarsening of fine hair, and loss of curl pattern. Hair is more porous, so lighter shades only last. Take caution when using products to avoid irritation or worse.
Should I visit a professional for bleaching dark hair?
Visiting a professional for bleaching dark hair can help reduce the risk of damage and uneven color – up to 90% according to one study. With their expertise, you'll be able to get the desired results in fewer sessions with less hassle.
An experienced stylist will also ensure your safety is prioritized during application and post-bleach care.
How frequently should I re-bleach my dark hair?
Re-bleaching dark hair should be done sparingly, depending on how frequently you wash and style your hair. Keep an eye out for signs of brassiness or fading, then use a professional lightening kit to gently refresh the color – no more than once every 4 weeks.
What products should I use after bleaching my dark hair?
After bleaching dark hair, you'll want to use nourishing products that protect and hydrate. Look for ones with oils, antioxidants, and anti-yellowing agents like toners or conditioners. Condition frequently and lower heat styling to keep your locks healthy – trims and treatments are a must! Deep conditioning post-bleach is key for keeping your hair looking its best.
Is bleaching dark hair safe for my hair type?
Bleaching dark hair can be safe if done properly. With the right product, knowledge, and technique, you can safely lighten your locks while avoiding damage or irritation. Choose a bleach with bonding agents to nourish hair and protect against brassiness.
Conclusion
Choosing the best professional bleach for dark hair is an important decision, as it can make all the difference in achieving the desired color. With so many products on the market, it can be overwhelming to choose the right one.
Our 2023 Guide to Best Professional Bleaches for Dark Hair covers the top products available and what to look for when selecting a bleach. Understanding hair undertones, color levels, and stages of hair bleaching are key in achieving your desired outcome.
Factors such as conditioning additives, avoiding ammonia, and considering your hair type are essential when selecting the right product. Whether you're creating subtle highlights or aiming for platinum blonde, our guide will set you up for success in achieving your hair goals.