This site is supported by our readers. We may earn a commission, at no cost to you, if you purchase through links.
The Philips OneBlade is suitable for men with beards, mustaches, sideburns, stubble, or other facial hairstyles.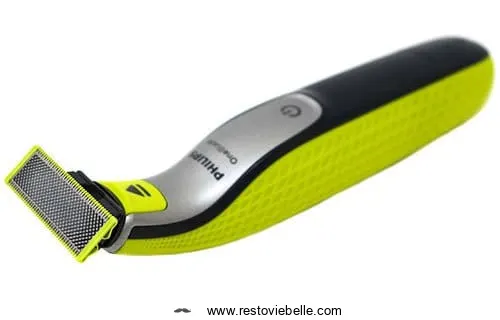 According to Philips, the device " is specially designed to meet the needs of modern humans." It can trim, bevel, and shave the hair of any length to a precise stubble length using one of the three included combs.
Philips makes some of the world's most popular beard trimmers. And they claim their OneBlade Face Unit is the " one blade " you need to cut, shave and trim any length of hair. Or you can use it without a comb for a closer shave.
Unlike many of the best beard trimmers on the market, the Philips One Blade uses a unique, interchangeable head like the standard blades you might come across. Found on a Wilkinson Sword or Gillette disposable razor.
Philips has completely reinvented the electric shaver and beard trimmer; they merge into one beautiful product, the Philips Norelco OneBlade.
Would we basically recommend this to our best friend looking for a new beard trimmer? Is it good?
We answer these important questions in our detailed Philips one blade review.
Philips One Blade Review
The Philips Norelco oneblade shaver/trimmer comes with three different comb attachments. These combs can be turned on and off as needed. Select the best for the desired beard length.
The trimmer is also rechargeable and can be used both wet and dry.
The Philips OneBlade is designed with a long-lasting NiMH battery.
It takes eight hours to fully charge the battery, giving you forty-five minutes of shaving time.
You can use this trimmer to trim your beard.
With the included comb attachments, you can trim your beard to any desired length.
You can use it to trim around the edges of your beard or shave it off if you wish. If you choose to shave your beard, it will easily shave any beard length.
The blades in the shaver move quickly, so they shave long beard hair quickly but don't shave so close to your face that it becomes uncomfortable.
Unboxing the Philips Norelco OneBlade
You may notice that our test model has a silver front. We had great difficulty buying the American model (QP2520) directly from Philips America. So to test this for a few months and release our review earlier, we bought an international model from abroad (QP2530).
The international model is almost identical to the American model except for an extra comb (0.2 mm) and the silver front, which is completely black on the American model.
When you open the box of your brand new Philips Norelco OneBlade, you will find this in the box:
Philips Norelco OneBlade handle
Replaceable single blade
3/64 inch stubble comb
1/8 inch stubble comb
3 stubble comb / 16 inch
Battery charger adapter
User manual
The contents of the box are similar to those of a traditional beard trimmer. So let's take a closer look at what makes the Philips Norelco unique.
Philips Oneblade – Design and Build
The green and blue color scheme don't make for the smoothest finish you'll see on a shaver this year, but it's not too off-putting when you consider the well-designed contoured case.
The OneBlade is. Beautiful and sleek, making for an easily maneuverable device that makes all the difference when it comes to precise trimming. Weighing in at 324 grams, this isn't the lightest shaver you'll ever hold – the larger Panasonic ES-LV95 weighs just 200 grams – but it certainly didn't feel heavy in hand.
Despite that showy green on his hand. Rubber edges, the OneBlade even manages to maintain a certain density. The lack of a digital display or an adjustable head really plays into the shaver's strengths in this regard. The OneBlade has an on / off button and an eject slide to remove the head and a charging port on the bottom of the handle.
If you are looking for a more refined shaver, there are also two " Pro " versions in the OneBlade range. Both have a more refined black design. One of the Pro shavers comes with an adjustable precision comb with 10 length settings from 0.5-9mm, while the other comes with a digital display and a precision comb with 14 lengths. Note that the standard OneBlade is also available with an additional 2mm comb attachment for £ 39.99. The model discussed here is the £ 34.99 model.
Although Philips says the OneBlade uses a combination of rotary technology and a trimmer, this is not a foil or rotary shaver. In fact, the headline uses a single blade, a refreshing move in an industry that seems to think adding as many blades as possible is the definition of innovation.
This single blade moves incredibly fast – 200x per second, in fact. It is surrounded by a " double protection system," which means that a shield protects it with rounded plastic ends to protect your skin. I am not sure where the rotating part will come in, but it is certainly a beautiful and simple design. Also useful is that the head rotates, which provides more control when tackling the more difficult parts of your face.
Changing the head only takes a few seconds with the aforementioned " eject button " to remove the old one. . My review model had an extra head; Philips recommends replacing the heads every four months.
Overall, the OneBlade is well designed and therefore pleasant to use. The lack of unnecessary extras is also an advantage; If only Philips had chosen a different color than the luminous green along the edges of the OneBlade.
Weight and Size of the Oneblade Compared to Other Razors
While the OneBlade carries some weight (97g / 3.42oz), it's actually no heavier than a traditional safety razor.
We tested this with both the Gillette Fusion ProGlide (50 g / 1.76 oz) and the Merkur 38 'Barberpole' (112 g / 3.95 oz).
While we expected the OneBlade to be a bit heavier (it contains a battery, after all), we were surprised to see that it still weighed less than our safety razor!
Looking at the length of these three devices, the OneBlade was, as expected, the longest, but not much.
Finally, the width of the OneBlade was ¼ " smaller than our cartridge razors with a total length of 1.25 ".
Finally, the OneBlade head turns quite well and matches the leading cartridge razors in this category.
As you can see from our comparison, the pivot point allows you to shave seamlessly around the contours of your face for great results (especially around the nose and chin).
Features and Performance of Philips Norelco One Blade
Philips praises (perhaps oddly) that the OneBlade doesn't shave as close as most razors, suggesting that this helps reduce skin irritation and burning.
I certainly haven't had any razor burn from using it, but I'm actually happy with how close the shave is. Sure, it's not the best shave I've ever had in my life, and it might not quite match my old-fashioned safety razor, but it actually removes all my visible stubble and smoothes my skin enough to count, if not quite, babyface.
More importantly, it's consistent. My experience with most electric shavers is that I have to shave the same areas of skin multiple times to get results, which takes more time and increases the risk of skin irritation.
With the OneBlade, I've found the stride to do the job almost every time, and because the head is so compact, it does a remarkable job under my jaw and along my neck – despite a rigid design – where much more expensive razors that are struggling.
So it gives me a fairly close shave, without skin irritation, and fast. That last point also helps battery life – officially, it offers 45 minutes of use without recharging, but because it's so quick to use, that's probably more shaves than you'd expect. For context, after two weeks of normal (but not daily) use, I still haven't had to charge it once.
If you have to, there is, unfortunately, no luxury charging station, and there is no '• Use a handy stand such as Micro-USB, so you have to carry the cable with you, and a full charge takes no less than eight hours. Still, that's literally the only complaint I have about the OneBlade that says anything.
The battery of Philips OneBlade
To make the blades move that fast, the OneBlade will go through its charge ridiculously fast. It requires eight hours of charging for just 45 minutes of use. Those who use it for their morning shave can use it for maybe five days. But anyone who uses the OneBlade for its intended purpose, which is to trim and style facial hair, will probably only get you two shaves before plugging it in.
As a result, the OneBlade has the longest battery life. Downside. For example, the Philips 9000 Series Rotary Shaver lasts 50 minutes after an hour of charging, and the top quality 9000 Series Laser Beard Trimmer gives you an hour of use after an hour of charging.
Please note that you will need a shaver socket or an adapter to turn a regular socket into a shaver socket to charge the appliance. The included charging cable can then be plugged into the bottom of the OneBlade and is ready to use… in eight hours.
Price and availability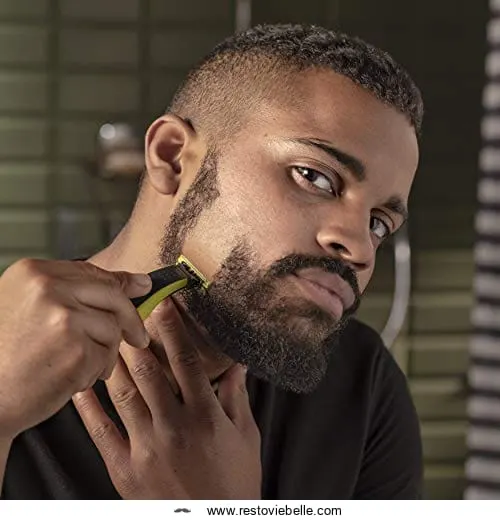 View On AmazonThis is the first thing I like about the OneBlade: the price.
For £ 40 / $ 35, you get the shaver itself direct from Philips, along with three stubble/beard combs of varying lengths, all the while hopping up to £ 50 /. For $ 50, you also get a skin protector that supposedly helps if you want to shave it elsewhere on your body – although Philips hasn't given me this add-on for review, so I haven't tested it.
Browse on Amazon, and you will also find different bundles with combinations of different combs and extra blades, so look around to find out what is best for you.
Blades are a bit pricey at £ 25 / $ 35 for a pack of three, but since each blade is meant to last for four months, that can be enough for a whole year of shaving. The fine print of Philips is based on two full shaves per week, not daily use.
Regardless, with some other rotary and foil shavers costing over £ 100 / $ 100, the OneBlade is undeniably price stable, even when the blade's long-term commitment is taken into account, and remains over keeping time still scores fairly favorably with most manual shavers.

Great value
Well designed
Versatile
Short battery life
Long charging time
Can not be done with longer hair
Philips Oneblade Vs Oneblade Pro
Finally, we want to talk about both the OneBlade and the OneBlade Pro.
The most important factor in comparing these two systems is that the blades are the same.
While Focusing on the OneBlade According to our review, all great shaving performance is carried over to the OneBlade Pro.
The OneBlade Pro really shines because it fixes all of the OneBlade's major shortcomings, namely the battery.
Rather than relying on a NiMH battery, the OneBlade Pro has an improved lithium-ion battery (the same type used in your smartphone).
Not only does this mean that it charges incredibly quickly (about 1 hour), but the shaving time is also much improved (90 minutes in total).
That means that you not only save 7 hours of charging compared to the OneBlade, but you can shave up to 45 minutes extra with the OneBlade Pro!
Not only does this make the OneBlade Pro perfect for road warriors, but it's also great for most guys who don't always master their tricks once they're done.
Oh, and did we mention the OneBlade Pro also has a travel lock feature? This ensures that you do not have an empty device on the go.
While the battery is the biggest performance difference, the OneBlade Pro's biggest visual difference is its large LED display.
There you can clearly see how much juice is in the device before it dies. This ensures that you don't get stuck in a scenario like us, where you wait for the battery to charge while you're in the middle of shaving.
For extra bells and whistles, the OneBlade Pro has 14 length settings (0.4mm to 10mm) and also comes with a travel case and charging stand.
What does this mean when we compare the OneBlade to the OneBlade Pro?
Do you have the extra? $ 45, go with the OneBlade Pro.
All the major drawbacks of the OneBlade are gone when you use this razor.
If you can solve the drawbacks of the OneBlade, know that you cut just as well. Like the more expensive OneBlade Pro.
Final Thoughts on the Philips Norelco One Blade Review
All in all, the Philips OneBlade is a high-quality beard trimmer and shaver. You don't shave all the way with it, but close enough. At the end of the day, you can get great stubble and find the detail you want.
For its price on Amazon, it's worth a try, especially if it's summer and you have to ditch the big beard for that cooler, short stubble.
While the OneBlade is an exciting new way to shave your hair, it's certainly not for everyone.
The recurring cost of a replacement blade will turn you, frugal people, right off with the OneBlade.
Likewise, the OneBlade is not suitable for people with thick, coarse, and flat-lying beard hair.
But if none of these last two apply to you, the OneBlade is a well-designed and innovative product that really gets us excited about the future of razors; it proves that it is possible to have one tool for both trimming and shaving.
Good luck!
References
toolsofmen.com
moo.review
groomreviews.com
techadvisor.com
shaverguru.com
trustedreviews.com