This site is supported by our readers. We may earn a commission, at no cost to you, if you purchase through links.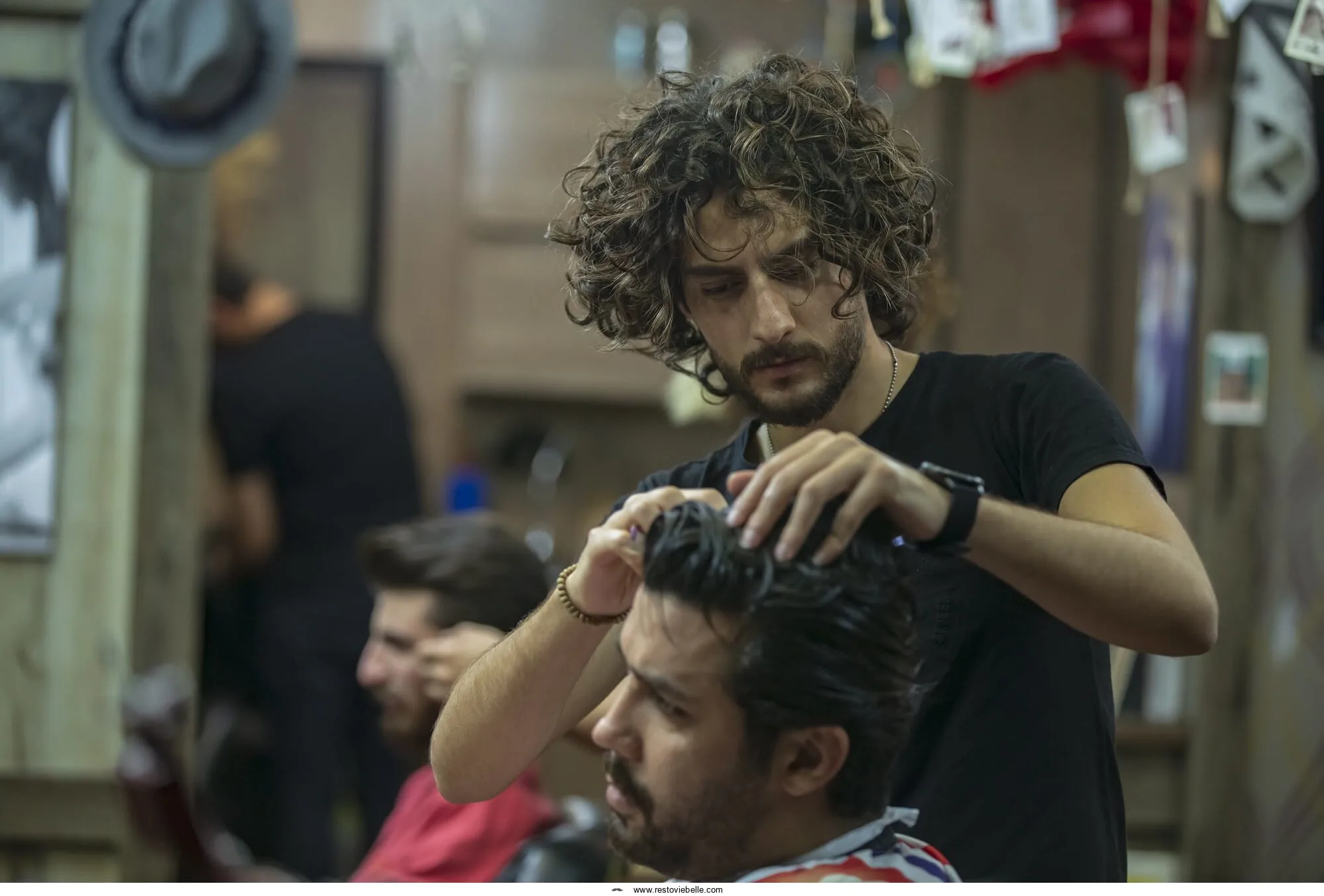 The iconic curtains hairstyle of the 90s has made a comeback and is now better known as an eboy haircut. If you're looking to freshen up your hair with this new style but unsure of how to, then you've come to the right place.
A hot favorite of boybands and the likes of Dicaprio and Kurt Cobain back in the day, the classic eboy haircut features a center parting and straight locks. It essentially looks like a bowl cut that's been split down the middle.
But is it right for you, and how do you make it work with your type of hair and face shape?
To answer all your burning questions, here is the complete guide to everything related to the eboy hairstyle. Whether you have long, short, curly, or straight hair, there's an eboy style to suit men of all ages.
The Ultimate Classic
Generally straight yet relaxed, the classic curtains are worn around eye level or around the cheekbones. Although having a center parting is typical of this style, the hair can be swept to the side for a more chilled look.
For that truly 90s look, you can slick some gel through your tresses to add some gloss and definition. However, keep the hair products to a minimum for a carefree boyish vibe that's suitable for any face shape.
This type of cut is not just for the younger crowd as seen on Johnny Depp, who still goes by this signature look today. Curtains might seem a little risque if you've always kept things short, but we can assure you that it is definitely high on the list of masculine haircuts.
Go Crazy With Color
Looking for something a little more expressive? Then adding some color can switch up this classic look, like all-over bubblegum pink. Alternatively, try keeping the roots dark (or light if you have blonde hair) for the most up-to-date TikTok trending eboy cut.
Fans of androgynous haircuts can experiment with longer curtains and different colors like baby blue and peroxide blonde. Contrasting is another popular color trend to try by dyeing the front in a darker shade and gradually lightening towards the back.
If you're not sure about dying all of your hair, then you can always add some highlights or balayage to the front parts only. Keep the highlights no more than two tones away from your hair color for a natural look to highlight your facial features. Not only does this add some variation to thick dark hair, but it's sure to turn heads without looking like you're trying too hard.
Surfer Waves
Men with natural curls can make the most of it with longer surfer waves. It's easy to maintain and requires very little upkeep compared to some of the other eboy hairstyles. Longer waves work well for strong jawlines, but for rounder faces keeping the waves shorter and away from the cheekbones is best to avoid accentuating the roundness.
Curling tongs can help increase structure and height to the hair, and adding in an undercut can help balance out a rounder face shape. Although curly hair can sometimes be unruly and difficult to style, it is also very versatile and adds a new dimension to the classic curtains look.
Short and Edgy
Short curtains are ideal if you don't have time to grow out your hair, but note that it also requires regular trims to maintain. If you want to make a statement, then try bleaching the hair a peroxide blonde and adding in a fade. Edgy and cool, it looks especially good on tanned skin and keeps with the aesthetics of the 90s.
This length is suitable for oval, round and square face shapes. For a heart-shaped face, opting for a longer curtain style is best to balance the top width of the face.
A short curtain also keeps extreme curls and frizz under control and is highly recommended if you have this type of hair. Moreover, if you hate having hair in your eyes don't then this is the perfect length to go for.
Styling Tips
Curtain haircuts for men will need styling for best results and there are many products that you can use for this. For a more wet look, you can use hair gel to slick back your curtains or separate some strands for more definition. Curly hair types should use mousse on damp hair to help with any frizzing and to maintain volume and bounce.
Hair curling tongs are useful for tidying up stray curls and straighteners are essential if you plan to recreate that grunge rock look. Try using hair wax or pomade for some extra texture if you prefer a messier style.
Maintaining the Eboy Haircut
Men's haircuts are generally low maintenance and this includes the eboy style. Nonetheless, for longer locks, a small amount of caretaking is required to keep your hair in good condition. Regularly conditioning your hair after shampooing can be extra helpful for taming frizzy hair.
Split ends can also happen to anyone, and more so if you're using heating irons and hairdryers daily. So make sure you protect your hair with products before styling to keep your head of hair shiny and healthy.
Where Can You Get an Eboy Haircut?
The eboy haircut is a timeless style that is ideal for all face shapes. But, the key to getting this popular male haircut right is to pick the right length and cut to complement your face. Whether you choose to go to a barber or a hairstylist, both can make your hair dreams come true.
A helpful tip is to do some research beforehand and to bring along some pictures to show your stylist. If you're unsure of what you want or you plan to go all out then it can be a good idea to book a consultation first.
Looking for the latest hairstyles of 2022? Then check out this post for even more inspirational styles.