This site is supported by our readers. We may earn a commission, at no cost to you, if you purchase through links.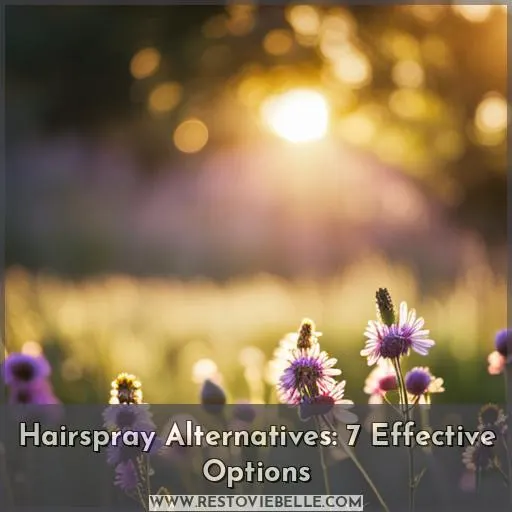 You've finally decided to ditch the hairspray. We get it—that stinging scent and crunchy hold just don't work for your curls anymore.
But before grabbing another can, consider this: there are gentler, healthier options that give you control without compromise.
With a spritz of sea salt spray or touch of pomade, you can embrace soft, touchable texture and lightweight definition.
And by swapping in shea butter or flaxseed gel, you'll infuse hydration that brings out your best natural shape.
Give your hair a fresh start. Discover alternatives that are good for your mane and kind to the planet.
You'll unlock free-flowing curls that turn heads—no crunchiness required.
Key Takeaways
Shea Moisture Curl Mousse and pomades like Smooth Viking Hair Clay provide hold without hairspray.
Do-it-yourself options such as sugar spray and flaxseed gel offer natural, flexible hold.
Seek out volumizing products like Kenra Dry Texture Spray that add body without stiffness.
Opt for eco-friendly, plastic-free styling products to avoid waste and nourish hair.
7 Best Hairspray Alternatives
When it comes to styling your hair, you may think hairspray is your only option for hold and volume. However, there are actually many great alternatives to traditional hairspray that can give you the perfect 'do without harmful chemicals.
Some options include sea salt spray, which gives beachy waves and texture. Dry shampoo can also add grit and volume at the roots. Styling creams and mousses give flexible hold and definition without being stiff or crunchy.
You can also try mixing a dab of coconut oil with a few drops of lavender or rosemary essential oil for a lightweight serum that nourishes hair. For more shine, a drop of argan or marula oil in your palms and smoothed over damp hair gives brilliant luminosity without looking greasy.
Lastly, the old standby of setting hair in velcro rollers or pin curls can create bouncy, retro-inspired curls minus the stickiness of hairspray.
With so many options, you can style your hair just how you like it without being limited to traditional hairspray.
2. Shea Moisture Coconut Hibiscus Frizz Control Curl Mousse
View On Amazon
You'll find SheaMoisture's coconut-infused mousse instantly softens your curls and defies humidity all day, leaving hair touchably soft without greasiness. The lightweight mousse formula nourishes with coconut and neem oils while natural shea butter moisturizes without weighing curls down.
Just distribute evenly through damp hair and let air dry for frizz-free definition that won't flake. With responsible ethics and thoughtful ingredients, this cruelty-free mousse supports healthy hair and a healthy planet.
Softens and defines curls
Controls frizz in humidity
Moisturizes hair without greasiness
Cruelty-free and ethically sourced
May not provide enough volume for some
Hold doesn't last all day for very curly hair
3. Cremo Premium Thickening Hair Styling Paste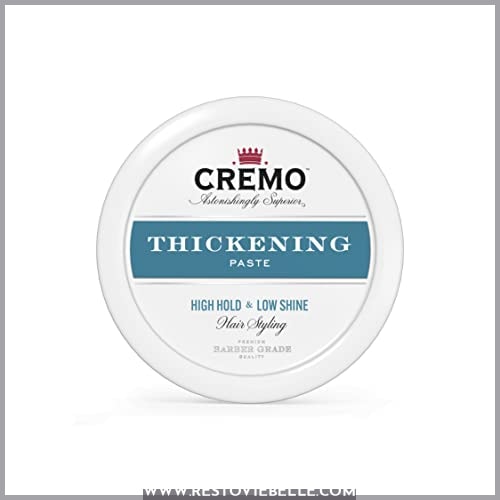 View On Amazon
Cremo Premium Thickening Hair Styling Paste
That Cremo hair paste miraculously lifts fine hair into thicker, voluminous locks. The paste contains ingredients that lift hair at the roots and add texture to create an illusion of fuller locks. The water-based formula stiffens hair just enough while still allowing you to run your fingers through it all day long.
Providing both flexible hold and volume, the thickening paste eliminates the need for hairspray, which contains concerning chemicals.
When using a small amount r믭 between palms and applied to roots on damp or dry hair, the paste leaves behind no residue or clumps. So you can feel confident skipping harsh, environmentally detrimental hairspray for a natural lift giving you effortless volume.
With some smart techniques, the paste allows you to take fine hair to the next level.
Adds volume to thin or fine hair
Holds styles in place with flexible hold
Leaves a natural, matte finish
No harsh chemicals like hairspray
Not ideal for severe thinning or very limp hair
May require some technique to apply properly
Strong hold may not last all day
4. Smooth Viking Hair Clay for Men Strong Hold
View On Amazon
Look to Smooth Viking Hair Clay for a matte, moldable alternative with a strong hold for longer styles. This hair clay is ideal if you have thick or coarse hair that needs extra control to keep your style in place all day.
It contains natural ingredients like beeswax and oils to provide texture and hold without stiffness.
The clay is versatile for various hair lengths and types if you want a natural matte finish and strong yet pliable hold.
Strong hold
Matte finish
Natural ingredients
No oily residue
Versatile for hair types
Can be sticky or rubbery
May require more product for thick hair
Some prefer for shorter styles
5. SoftSheen Carson Sportin Waves Pomade Wavitrol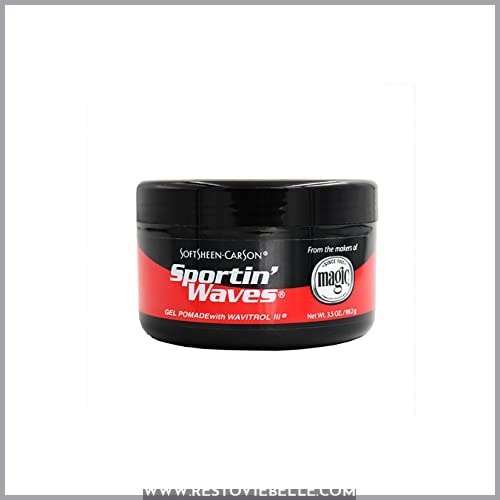 View On Amazon
Try SoftSheen Carson Sportin' Waves Pomade Wavitrol to get a strong hold that'll create beautiful, defined waves like the ocean's cresting shore. This maximum wavemaking formula's tailored for locking in moisture and sculpting luminous, bouncy curls without greasiness.
Simply massage the non-sticky pomade into damp hair, following your waves' natural pattern. The clean rinsing formula nourishes and maintains your texture post-wash without residue.
Nourishes and defines waves
Maximum hold; no stiffness
Clean rinsing formula
Scent not preferable for some
Can require thorough washout
6. Kenra Platinum Dry Texture Spray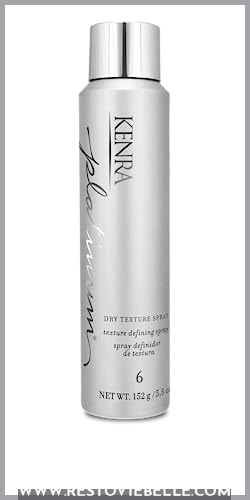 View On Amazon
Improve volume minus grease with Kenra's lightweight texture spray that absorbs oil and lifts fine hair without stiff crunchy hold. The Kenra Platinum Dry Texture Spray adds body and fullness to fine hair while controlling oils and impurities for a clean matte finish.
Simply mist hair, then brush through for flexible hold and texture that looks and feels completely natural. Customers love how it pumps up limp locks and maintains volume all day without stickiness or residue.
And unlike sticky hairsprays, Kenra's dry spray formula won't leave strands crispy or crunchy. The affordable salon-quality product also provides comparable volume to brands like Redken at a more budget-friendly price point.
Lightweight, non-drying formula
Absorbs oils for cleaner hair
Adds volume without stiffness
Matte finish, not overly producty
Flexible hold, easy to brush through
Pleasant scent
Not as strong a hold as traditional hairspray
May not work as well for thick hair
Contains alcohol which can be drying for some
7. Batiste Original Dry Shampoo Refresh Hair Absorb Oil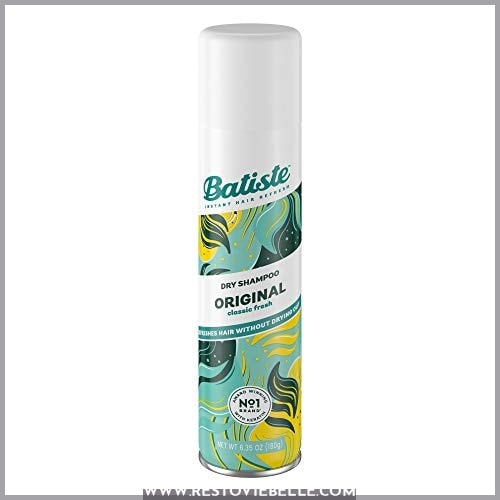 View On Amazon
Don't just set it and forget it – keep your roots fresh between washes with Batiste Original Dry Shampoo's oil-absorbing refresh. This classic dry shampoo lets you extend time between washes by targeting excess oil at the roots.
It sprays on white but brushes out invisibly, leaving hair with a clean scent and texture for fuller, volumized styles.
Reviews praise Batiste for its effectiveness on oily hair and applaud the convenience of this affordable on-the-go solution. Caution not to overuse, as too heavy an application can leave hair looking dull.
Absorbs oil and grease effectively
Easy, convenient application
Good value for the price
Clean citrusy floral scent
Can leave white residue if applied too heavily
Not as effective for non-oily hair types
8. Seven Minerals Aloe Vera Gel Organic Fresh Pure Face Skin Hair Sunburn Relief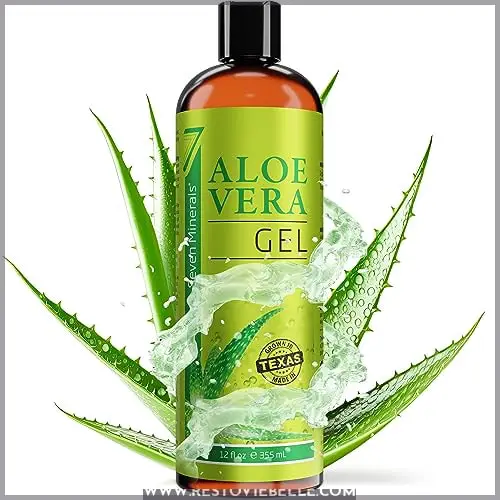 View On Amazon
Experience the soothing 'aloha' of Seven Minerals' organic aloe vera gel straight from the field, hugging your hair with hydrating comfort. Harvested from Texas farms just hours before production, this certified organic gel retains the fresh essence of the aloe plant.
Massage a dollop into damp hair before air drying and watch your locks blossom with radiance. The lightweight gel moisturizes gently without heaviness, ideal for daily nourishing care.
Organic and made from fresh aloe
Lightweight, non-greasy formula
Hydrates hair without residue
Potential aloe flakes if used indoors
Caution needed for those with aloe allergies
Some users report skin irritation
Turn to Texturizing Spray

Try our texture-boosting, lightweight hair sprays for easy styling sans crunchy hairspray!
Reach for an alcohol-free texturizing spray as a healthier alternative to heavy hairspray. These spritzes add instant body and texture without stiffness. Unlike gels or mousse, texturizing sprays won't leave hair sticky or crunchy.
Formulas infused with nourishing ingredients like panthenol and keratin help strengthen strands.
Spray it onto damp hair before blow drying for extra volume and lift. Apply to dry hair to enhance texture, waves and separation. Texturizing sprays suit all lengths and textures, from fine and straight to thick and curly.
Experiment with spritzing at the roots only to add lift, or mist lengths and ends for beachy texture.
Ditch damaging hairspray and try a nourishing texturizer for moveable hold and touchable texture.
Try Dry Shampoo

You're grabbing Batiste dry shampoo 'cause it'll refresh those roots in a snap between washes without leaving a white cast.
Absorb excess oil, add texture, get gorgeous:
Volumize fine, limp locks. This invisible wonder lifts hair roots for sky-high volume.
Perk up second-day styles. A quick spray revives bedhead and boosts texture.
Lengthen the time between washes. Dry shampoo lets you extend the life of blowouts a few more days.
Create next-level updos. Massaging dry shampoo into the scalp before styling amps up hair's grip and fullness.
Shake up your styling routine and bring life back to dull, flat hair with this time-saving hack in a can. Snag a top-rated dry shampoo like Batiste and get ready to rock tousled, touchable strands that look clean, bouncy and full of body.
Use a Sugar Spray

You can spritz your locks with a homemade sugar spray for light, touchable hold sans stiff hairspray. A simple sugar and water mixture creates an all-natural flexible hold alternative. The sugar provides a gentle adhesive texture that helps define curls and waves. Customize your DIY recipe with added oils or extracts for fragrance and extra nourishment.
For fine hair needing volume, try more sugar. For defined curls, add more water. Spray onto damp or dry hair, then scrunch and style as usual. Compared to sticky hairspray, a sugar spray allows you to reshape your hairdo throughout the day.
Give your tresses a boost the natural way with this easy, affordable styling spray. Experiment with ingredients to customize the formula and hold for your hair type and look.
Use a Little Shea Butter

Slather a dime-sized amount of raw African shea butter through damp hair for soft, touchable curls without hairspray's stiffness. Shea butter nourishes strands with vitamins A and E while providing flexible hold.
Massage from roots to ends, focusing on the mid-lengths and ends to smooth flyaways.
This multi-use beauty staple makes hair touchably soft and smooth. Shea butter's fatty acids give light hold for defined curls and waves. Avoid hairspray's alcohol, which dries out strands, and try shea butter's pure botanical oils instead.
Softens hair without weighing it down
Seals in moisture
Reduces frizz and repairs damage
Twist, coil or finger curl sections after applying shea butter. Let hair air dry or diffuse gently with a hairdryer. Fluff curls once dry. Raw shea butter offers an affordable natural styling option to enhance your texture.
Now you can achieve soft, frizz-free curls easily at home with this miracle multi-tasker.
Pomade in Heaven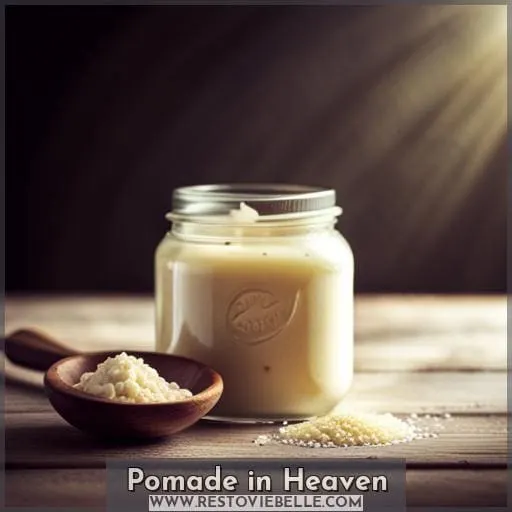 With endless joy, tame even the beastliest mane into submission with magical unicorn pomade. Caress softness into your tresses with this mythical styling potion. Divine flexibility melts stress from follicles.
Pomades mold and shape, adding sleek control or amplifying texture. Though water may douse the sizzling edges of your slick do, the pomade's wax and oils reignite styles with simple strokes. Unlike stiff sprays, the smooth paste moves with you. For fine hair, mix in sea salt spray, boosting gritty volume that remains pliable.
Curly girls, twist wet strands with argan pomade to set bouncy spirals sans crunch. Wavy bros, shape surfer texture with subtle hold. This heavenly hair helper blends nature's butters and plant oils to strengthen while providing heavenly softness with no residue.
What to Use Instead of Hairspray: 8 Hairspray Alternatives at the Store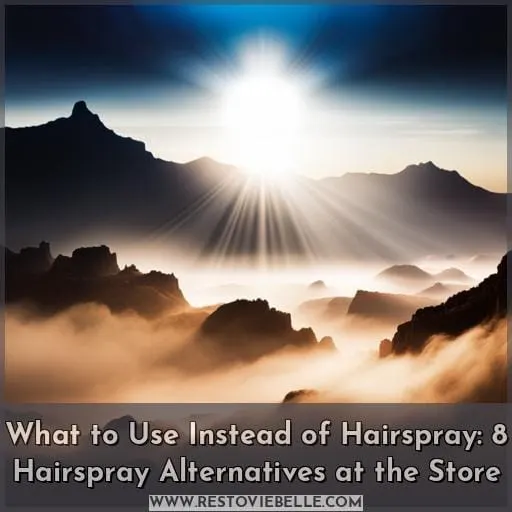 Explore lighter styling options to unleash your inner goddess without the harsh chemicals. Opt for volumizing mousses, sculpting pastes, and texture sprays to achieve runway-worthy looks with natural hold, versatile styling, and an eco-friendly impact.
Say goodbye to stiff, heavily perfumed spritzes. Seek out fragrance-free formulas to prevent scalp irritation and nourish healthy hair. Reach for aloe gel to tame frizz and define curls. Make flaxseed gel at home for a nutrient-rich curl enhancer.
Swap out synthetic polymers for natural thickeners like xanthan gum in DIY gelatin mousse.
Let your hair flow freely without compromising volume or shape. With the right alcohol-free, plant-powered products, you can maintain touchable texture and sensual movement. Explore options catered to your hair type and style goals. Treat your tresses with care to boost shine and vitality every day.
What to Use Instead of Hairspray: 8 DIY Hairspray Replacements

Try out these 8 DIY hairspray replacements for a healthier and cost-effective alternative to traditional products.
Rather than relying on drugstore hairsprays loaded with questionable ingredients, whip up your own homemade hair styling formulas using natural components you likely already have on hand. DIY recipes allow you to control what goes into your haircare while saving money.
Some easy homemade substitutions include:
| Natural | Description |
| --- | --- |
| Sugar spray | Sugar and water create hold. Add essential oils for scent. |
| Beeswax pomade | Beeswax conditions hair for flexible hold. |
| Aloe vera gel | Defines curls and tames frizz without crunchiness. |
| Flaxseed gel | Mucilaginous gel full of nutrients for hair health. |
Not only are these options generally cheaper per use, they skip the plastic waste and propellants common in traditional aerosol hairsprays. With a few simple ingredients, you can concoct your own healthy, non-toxic styling aids that work wonderfully.
Say Goodbye to Hairspray

Ditch that sticky hairspray and embrace natural-looking volume with these easy swaps. Say goodbye to the crunchy helmet head of hairsprays. You deserve healthy locks and effortless style. Seek out eco-friendly styling products made with natural moisturizing oils, botanical extracts, and innovative technologies.
Nourish your tresses with ingredients like aloe vera, coconut oil, and shea butter.
Discover flexible hold mousses, pastes, or clays that shape gorgeous texture and fullness without harming hair. Volumize fine hair safely using dry shampoos, texturizing sprays, or root lifting products.
Define your curls beautifully with curl-enhancing, frizz-taming mousses. Achieve touchable texture and luminous waves with pomades and curl revivers designed for your hair's needs.
Stay on trend with the latest solutions for boosting body and bounce minus the icky, dated hairspray.
Conclusion
Have you ever wondered if there's a better way to style your hair than with sticky, drying hairspray? After reading about these effective hairspray alternatives, you now have all the tools to ditch traditional hairspray for good.
Whether you choose a texturizing spray for volume, dry shampoo for freshness between washes, or a natural DIY option like sugar or shea butter, you can easily find a replacement suited for your hair type and styling needs.
With so many options readily available both in stores and your own pantry, why continue using harsh hairspray? Take control of your hairstyling and choose a nourishing, flexible hold alternative that enhances your natural texture and shine.
Your hair will thank you for making the switch to hairspray alternatives that are healthier for your strands.