This site is supported by our readers. We may earn a commission, at no cost to you, if you purchase through links.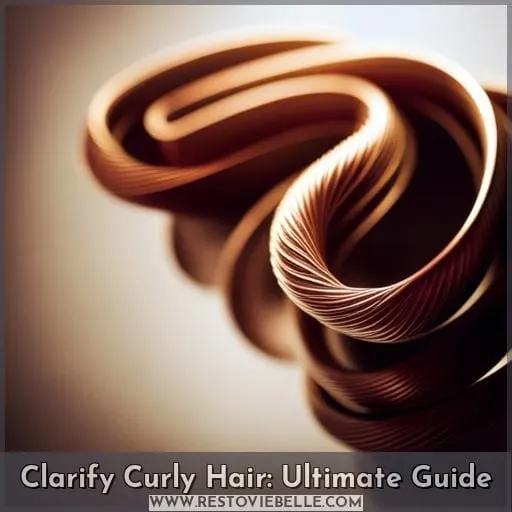 A clean slate is the foundation for success! When it comes to your curly hair, this adage couldn't be truer. To maintain healthy curls and keep them looking their best, you need to clarify them with a clarifying shampoo at least once every 4-8 weeks.
Clarifying provides an essential deep cleaning treatment that removes dirt, debris, and product buildup from your strands – leaving you with beautiful bouncy curls!
This guide will explain what exactly clarifying is, how to do it correctly at home, and provide recommendations of products that are right for you.
Key Takeaways
Clarify every 4-8 weeks to remove buildup.
Use olefin sulfonate or sulfate-based clarifying shampoos.
Apply clarifying shampoo to the scalp, massage it in, and work down to the ends.
Protect hair from chlorine and saltwater, and rinse promptly after swimming.
How to Clarify Curly Hair
For those looking to clarify their curly hair, MGA Vegan Shampoo Lemon Tea Tree is an invigorating and natural option. Formulated with botanical extracts, vitamins, and essential oils, this shampoo helps support the scalp while delivering a refreshing lemon scent that does not contain any harsh chemicals or synthetic ingredients.
MGA Vegan Shampoo Lemon Tea Tree
View On Amazon
For wavy hair, MGA Vegan Shampoo Lemon Tea Tree is an invigorating and natural option that's packed with botanical extracts, vitamins, and essential oils to support your scalp health. It is formulated with a balanced pH for stronger, glossier locks without the use of harsh chemicals or synthetic ingredients like silicone, PVP, or parabens.
A refreshing lemon scent accompanies its gel-like texture while actively cleansing away residue and product build-up on all types of hair textures from 2A to 4C! It can help relieve dryness, flaking, and itchy scalps often associated with dandruff, psoriasis, and seborrheic dermatitis.
Many users have reported positive results in terms of their scalp health improvements after using this shampoo. However, occasional use is recommended due to its higher cost compared to regular shampoos, which may be better suited for everyday use instead.
Some have noted that when used too frequently back-to-back, it can cause drying out effects.
Refreshing lemon scent
Suitable for all hair types (2A – 4C)
Botanical extracts Vitamins/Oils
Supports Scalp Conditions (e.g., Dandruff)
No Silicone/PVP/Parabens
Balanced pH
Occasional incorrect shipments
Can be drying when used too frequently
Kinky Curly Shampoo

View On Amazon
Kinky Curly Shampoo is a sulfate-free solution, perfect for giving your curls some TLC. This natural citrusy scented shampoo has many benefits: it contains Phytic Acid, a chelating agent for removing hard water minerals.
It softens hard water to rinse cleaner and prevent build-up on hair. Its exclusive blend of Mandarin Orange extract provides gentle cleaning without stripping away natural oils. Plus, it helps reset curls and remove oily buildup while being suitable for thin low-density curly hair.
Suitable for the Curly Girl Method (CGM) and seborrheic dermatitis sufferers alike, this deep clean product should be used sparingly.
Contains Phytic Acid, an effective chelating agent against mineral build-up
Softens hard water without stripping away natural oils
Natural Citrus scent & Mandarin Orange extract provide gentle cleansing
Helps reset curls & reduce oily buildup in low-density curly hair
Suitable with CGM & seborrheic dermatitis sufferers
Not recommended for everyday use – use only when needed
Some may find the scent overpowering
Can leave behind waxy residue if not rinsed properly
MopTop Gentle Shampoo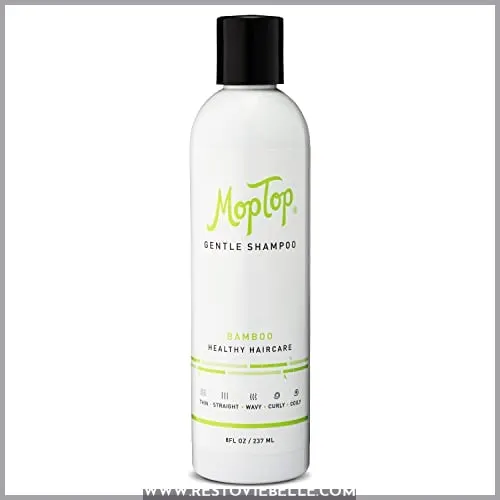 View On Amazon
MopTop Gentle Shampoo is a luxurious coconut-based cleanser that'll leave your curls feeling soft, manageable, and rehydrated. It contains natural honey, aloe vera extract, and sea botanicals to nourish the scalp.
This shampoo is suitable for all hair types, from fine and limp to thick and voluminous.
Formulated with nourishing botanicals such as honey and aloe vera extract
Safe on color-treated locks
Free of harsh chemicals and silicone
May be too drying if used more than once or twice a week
Reports of product misrepresentation on Amazon
INAHSI Clarifying Shampoo Curly Hair
View On Amazon
INAHSI Clarifying Shampoo Curly Hair is designed to keep your curls looking their best with its sulfate-free formula, promoting scalp stimulation and relieving dryness and itchiness. This versatile shampoo can be used for various curly hair conditions, from color treated to relaxed, ensuring a deep clean every time.
The 8-ounce bottle also makes it easy to get bi-monthly clarifying in without running out quickly or breaking the bank.
Sulfate-free formula that promotes scalp stimulation while relieving dryness & itchiness.
Versatile for use on various curly hair conditions (color treated, straightened, etc.).
8 ounces in volume ideal for bi-monthly clarifications at an affordable price point.
May not be suitable if you have colored or chemically processed hair, as some may find the ingredients too strong.
Some customers report that due to the high concentration of active ingredients, there's no need for frequent use, so they don't get the full value of the product after the initial purchase.
Trader Joes Tea Tree Shampoo
View On Amazon
Try Trader Joe's Tea Tree Shampoo for a salon-quality clean and invigorating tingle. This natural shampoo contains certified organic botanicals, such as peppermint and tea tree, to moisturize and clarify hair while alleviating dry scalp.
It's free of laurel/laureth sulfates, so it won't strip away your natural oils, making it suitable for all hair types—dry or colored.
Plus, this cruelty-free product has never been tested on animals! The citrusy scent will leave you feeling refreshed after each wash, while the tingly sensation leaves your scalp alive with energy. Its benefits are praised by users who have experienced improved hydration in their dreadlocks or had more manageable waves without any waxy film left behind like some other products can cause.
But be warned: contact with eyes should be avoided at all costs since irritation may occur!
Natural ingredients provide moisture and clarification
Free from harsh chemicals including laurel/laureth sulfates
Cruelty-free – Never Tested on Animals
Tingly sensations may not appeal to everyone
Avoid contact with eyes due to potential irritation
Briogeo Curl Charisma Shampoo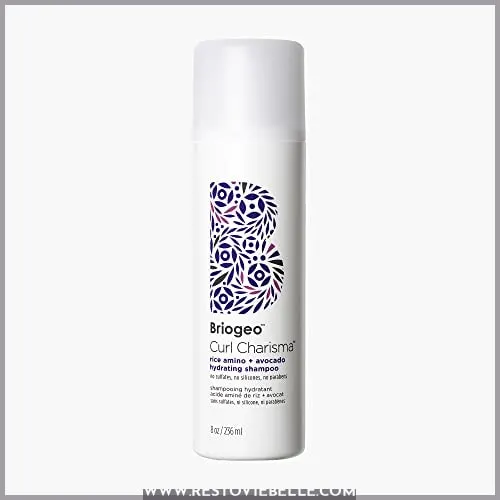 View On Amazon
For wavy, curly, or coily hair types, Briogeo Curl Charisma Shampoo is a great pick to hit the reset button and get your curls back on track. This sulfate-free shampoo features 97% naturally derived ingredients, such as rice amino acids, that work together to minimize frizz while enhancing wave, curl, and coil definition.
Plus, with nourishing shea butter and avocado oil, this shampoo provides extra hydration without stripping away natural oils from the scalp.
The scented formula is appreciated by users who don't find it overpowering yet still refreshingly pleasant. However, there have been reviews of inconsistent consistency, with some cases reporting a thicker texture.
However, some others may find they need more than just one wash since their expectations aren't entirely met, leaving no noticeable difference from regular supermarket shampoos after use.
Pleasant scent, not overwhelming
Helps reduce frizz and enhance wave and curl pattern
Gentle and effective even with long-term use
Runny consistency needs more product
Leaves hair feeling heavy or flat for some
Not suitable for all, causes dryness
Inconsistent consistency noted
No visible difference compared to other shampoos
Signs You Need to Clarify

If you have wavy hair, it is important to know the signs that signify when a clarifying treatment may be necessary. Dullness, weighed-down hair, ineffective products, and a producty feel are all indicators that your curls need help.
Additionally, if your locks appear dirty even after being freshly washed or develop an oily residue at the roots, along with an itchy/flaky scalp and stringy ends accompanied by more frizz than usual, then these issues could be caused by product buildup that requires clarification for correction.
Dullness
If you're noticing dullness in your curls, it may be time to take a deeper look at what's causing the issue. Buildup from hard water or low-quality ingredients can leave hair looking lackluster and feeling weighed down.
Product selection is key; avoid heavy oils, butters, and waxes that could cause buildup over time. Additionally, daily care is essential for shine restoration. Clarifying shampoo every 4-8 weeks keeps locks healthy and hydrated.
Give yourself a fresh start with the right products to achieve beautiful bouncy curls that shine!
Weighed-down Hair
If you notice your curls feeling weighed down and limp, it's likely time to clarify. Clarifying shampoos with olefin sulfonate or sulfates can help remove product buildup from styling products and natural oils.
Try Kinky Curly Shampoo, MopTop Gentle Shampoo, INAHSI Clarifying Shampoo Curly Hair, or Trader Joe's Tea Tree shampoo for a deep clean without stripping away moisture.
Be sure to follow up with conditioner after clarifying to keep hair soft and detangle if needed for maximum curl definition! For hard water areas, try chelating shampoos like Ion Clarifying or Malibu C Hard Water remedy as an alternative that helps defend against mineral build-up too!
Product Ineffectiveness
You might be experiencing product ineffectiveness if you find your hair isn't responding to styling products like it used to. Choosing the right products for your unique needs is essential, as ingredients like polyquats, heavy oils, and waxes can build up over time.
To prevent buildup and ensure effective clarifying, analyze ingredient labels carefully when selecting haircare items or opt for sulfate-free shampoos and conditioners instead. Also, follow a regular routine that includes clarifying every 4-8 weeks, depending on water quality or lifestyle factors such as swimming frequently.
Producty Feel
Your curls start to feel like straw, a tell-tale sign of product build-up. Producty feel and frizz control can be achieved by balancing moisture levels with styling techniques.
Buildup is caused by ingredients such as polyquats, heavy oils, butters, and waxes that don't easily wash away from the hair. Clarifying shampoos with surfactants are recommended to remove buildup. An ACV rinse may help dissolve minerals in hard water areas but should not replace clarifying shampoo use altogether.
Treating your curls right requires knowing how often you need clarification depending on lifestyle habits.
Dirty Look When Clean
When your hair looks dirty after a wash, it may be time to reach for a clarifying shampoo. Removing residue build-up and excess oils is key for scalp health and maintaining bouncier curls.
A deep clean with clarifying shampoo refreshes the hair from root to tip, leaving no trace of product or dirt behind! Regular shampoos are not enough; they can't penetrate the scalp like a clarifying shampoo does.
If you have low porosity curly hair, use the vinegar rinse method before deep conditioning; if high porosity, try it afterwards! Follow up with conditioner to keep your locks hydrated and refreshed – then enjoy that squeaky clean feeling all day long!
Oily Roots
If you're noticing oily roots, it could be a sign that your hair is in need of clarification. For example, one case study revealed that after clarifying with MGA Vegan Shampoo Lemon Tea Tree twice a month for two months straight, the participant's scalp was noticeably less oily and their curls had more definition.
Itchy/flaky Scalp
An itchy, flaky scalp can be caused by product buildup and mineral deposits in your hair. To address this condition, scalp care is key. A deep-cleansing shampoo with salicylic acid will help to remove the accumulation of dirt and oils while balancing moisture levels in the skin.
Additionally, a regular scalp massage helps stimulate circulation for healthier follicles. Use an oil-based solution or cream for increased hydration and relief from itchiness and flakiness.
Stringy Hair
Do you find yourself with stringy, limp hair? To prevent this problem, take steps such as using styling techniques to create volume. Combat humidity by using curl-enhancing products. Get regular haircuts that promote body and movement in your strands.
Clarifying curly hair regularly, every four to eight weeks, helps remove buildup from oils, products, and hard water minerals. This buildup can contribute to a stringy look. Additionally, regular clarifying can benefit your scalp health and give you bouncier curls.
For extreme dirt or oiliness, a double wash is recommended. However, be careful not to overdo it. Too much clarifying can strip away natural oils, causing dryness or further damage down the line.
More Frizz
You're tired of the same old frizz, so your curls just won't cut it. Control unwanted frizz by using styling techniques and haircare routines that work with your hair texture. Experiment with products specifically designed for humidity solutions to help you achieve smooth locks without compromising on curl definition and volume.
Color-treated or relaxed hair may require more frequent clarifying to ensure product buildup doesn't affect color retention or cause further damage. Try Malibu C Hard Water Wellness Shampoo for this purpose as it's free from sulfates and helps promote healthy growth while reducing brassiness caused by hard water in certain areas.
With a few tweaks here and there, you can have gorgeous-looking curls all year round!
Flat Curls
If your curls are looking flat, it's time to give them a much-needed boost! Enhancing volume can be done with curl-boosting techniques like using volumizing products and avoiding over-styling. Humidity plays an important role in preventing flatness. Try keeping hair hydrated by incorporating the LOC method into your routine.
Use a deep cleansing shampoo containing olefin sulfonate or sulfates to open up the hair follicles for more lift at the root. Keep track of how often you clarify with a curl tracker app so you don't get buildup from oils, butters, and waxes that weigh down locks.
Finally, finish off each wash day with an acidic rinse (ACV works great), which will help maintain proper pH levels for optimal bounce!
Addressing Different Types of Buildup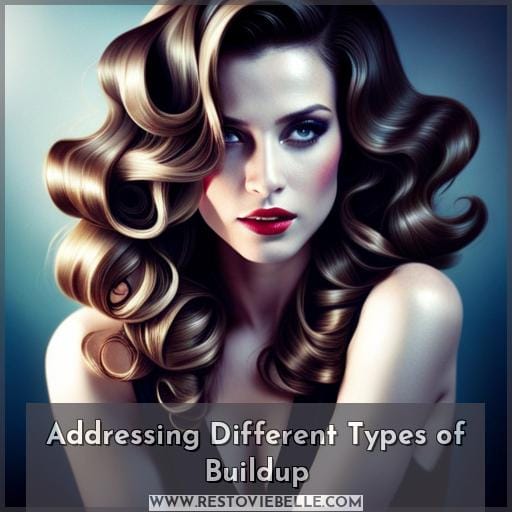 If you have wavy hair, it's important to be aware of the signs that indicate buildup from hard water minerals, certain ingredients in products, and heavy oils, butters, and waxes. Polyquats are one type of ingredient that can cause product buildup over time. Learning how to address these types of buildup is essential for maintaining healthy curls and avoiding damage caused by excess dirt or oil on your scalp or strands.
Hard Water Minerals
Hard water minerals can wreak havoc on your locks, creating a buildup that leaves curls weighed down and dull. To prevent mineral buildup, choose chelating shampoos with ingredients like EDTA or opt for brands such as Ion Clarifying and Malibu C.
An apple cider vinegar rinse is also recommended to dissolve minerals; low porosity hair should use it after deep conditioning, while high porosity hair can use it before conditioning.
Ingredients Causing Buildup
You may be experiencing buildup from oils, butters, and waxes in your hair care products. Polyquats can form a film on the cuticle that blocks moisture from entering the strand, while heavy oils often weigh down curls and flatten them out.
Butters can leave a greasy or producty feel to the hair, even when freshly washed, while waxes tend to accumulate over time due to their non-water soluble nature.
To address these issues, it's important to use clarifying shampoos with olefin sulfonate or sulfates. Some CG approved brands for safe clarification of your wavy tresses without stripping its natural shine include Max Green Alchemy, Kinky Curly, Mop Top, Inahsi Naturals, Trader Joe's, and Briogeo.
Polyquats
Polyquats are like glue; they can stick to hair and cause build-up, making it difficult to remove. Polyquat benefits include added volume and shine, as well as enhanced curl definition. However, the drawbacks of polyquats should not be overlooked. When used too frequently or in combination with other products containing them, an accumulation on hair strands will occur that is hard to wash out without a clarifying shampoo.
To avoid this issue entirely, look for polyquat-free products in your haircare routine or opt for alternatives such as rice amino acids or tomato ferment extract. These alternatives do not have the same buildup effect but still provide similar results when it comes to hydration and definition.
Pay attention to whether any product contains Polyqua so you can be aware of its impact on your curls!
Heavy Oils
Heavy oils like shea butter and waxes can cause buildup, leaving your scalp feeling weighed down and making curls look flat. To combat oil accumulation, clarify weekly or biweekly using a CG approved shampoo.
Try an ACV rinse to dissolve mineral build up in hard water areas. Use products with water soluble ingredients instead of heavy oils and waxes.
Butters
Butters can weigh down your waves, forming a dense barrier that keeps moisture out and makes hair feel greasy. However, when used correctly, they can actually be beneficial for wavy hair! Butter is thicker than oils, meaning it has the potential to lock in more hydration while providing shine and softness.
When deciding which products to incorporate into your routine, make sure you read all of the ingredients carefully so you know what type of butter or oil is being used.
Don't forget that there are also plenty of butter-free options if that's what works best for your curls.
Waxes
Waxes can leave an unpleasant residue on your hair, so make sure to choose a clarifying shampoo specifically formulated to remove them. Wax buildup is different from oil-based buildups and requires special attention.
Natural oils are beneficial for curls, but wax often muddles the curl pattern of wavy or curly hair. To reduce wax buildup, look for styling products with fewer heavy ingredients like beeswax or petroleum jelly.
Avoid flat irons and other heat tools as they break down natural oils while leaving behind a layer of product residue on each strand of hair.
If you do use products containing wax, be sure to clarify regularly with CG approved shampoos. Some recommended options include Max Green Alchemy, Kinky Curly Mop Top, Inahsi Naturals, Trader Joe's, and Briogeo Curl Charisma Shampoo.
These shampoos are specifically designed to remove excess product without stripping away moisture from naturally curly locks.
How to Choose the Right Clarifying Shampoo

Clarifying your wavy hair is essential for maintaining healthy curls. When selecting a clarifying shampoo, look for one that contains olefin sulfonate or sulfates, such as Max Green Alchemy and other CG-approved options like Kinky Curly, Mop Top, Inahsi Naturals, and Trader Joe's.
Clarifying Shampoo With Olefin Sulfonate or Sulfates
If you're looking to get your curly hair back on track, olefin sulfonate and sulfate-based clarifying shampoos are the way to go. Benefits of olefin include balanced hydration, decreased frizziness, strengthened cuticles, and improved scalp health.
Sulfates create a more thorough cleansing but can be too harsh for some hair types.
Clarify every 4-8 weeks depending on lifestyle or product use. Consider Max Green Alchemy, Kinky Curly Mop Top, or Inahsi Naturals for CG approved products that won't strip away natural oils.
Recommended CG-approved Clarifying Shampoos
CG-approved clarifying shampoos, such as Max Green Alchemy, Kinky Curly, Mop Top, and Inahsi Naturals, balance out product buildup while leaving your curls bouncy and shiny. Choose a shampoo based on hair type; those with heavy ingredients may need more frequent clarification.
Look for olefin sulfonate or sulfate formulas to remove buildup effectively. For color care, opt for a color-safe brand.
Max Green Alchemy
MGA Vegan Shampoo Lemon Tea Tree is a supercharged natural shampoo that can help restore your scalp and hair health. It's free from harsh chemicals, silicone, PVPs, and parabens. It contains botanical extracts, vitamins, and essential oils for rehydration.
This shampoo provides product benefits such as reducing dullness and weight in hair while improving scalp conditions like dryness or itching. With the right use of this product according to your needs, you're sure to see results.
For an ingredient analysis, take note that this CG-approved clarifying shampoo includes Mandarin Orange extract and Phytic Acid, which helps remove hard water minerals.
Kinky Curly
Kinky Curly Shampoo is an effective sulfate-free shampoo that helps reset curls and remove oily buildup. It is suitable for thin, low-density hair. One user found it to be a miracle product for their dry scalp condition.
The unique formula of Kinky Curly Shampoo includes natural ingredients such as Mandarin Orange extract and Phytic Acid. These ingredients help maintain moisture balance in curly hair and aid curl definition through styling techniques.
To keep your locks healthy, it is important to find the right products that suit your haircare routine. Additionally, understanding how often you should clarify your hair with Kinky Curly Shampoo is crucial.
MopTop
MopTop Gentle Shampoo is a coconut-based cleanser formulated with natural honey, aloe, and sea botanicals to rehydrate your locks and preserve your curl pattern.
This sulfate-free product removes oils without stripping away moisture for healthy hair that looks great too. Plus, its citrusy scent will make you feel refreshed after each wash. Customers rave about its lightness on their delicate strands.
Product selection matters when styling curly hair. MopTop makes the perfect addition to any haircare routine for maximum definition, frizz control, and softness without sacrificing shine or bounce!
Inahsi Naturals
INAHSI Naturals Clarifying Shampoo for Curly Hair is the perfect choice for deep cleansing and restoring your tresses. It's suitable for all curl types (2A-4C) as well as color-treated or chemically processed hair with its sulfate-free formula.
This shampoo works by using botanical extracts, vitamins, and essential oils to remove buildup while promoting a healthy scalp.
The product benefits are numerous. It helps to create bouncier curls, softer texture, and shinier hair. Additionally, it complements the Curly Girl Method. The ingredient analysis reveals the presence of natural ingredients like mandarin orange extract and phytic acid, which help dissolve hard water minerals.
When it comes to styling tips, it is recommended to rinse from root to tip with Apple Cider Vinegar after conditioning if you have low porosity hair, or before conditioning if you have high porosity locks.
Customer reviews have praised this shampoo for its effectiveness in reviving curls without stripping away moisture. Many find it to be an ideal choice for bi-monthly clarifying sessions that leave their tresses looking renewed.
Trader Joe's
For a detoxifying cleanse, try Trader Joe's Tea Tree Shampoo. It's perfect for all hair types and free of harsh chemicals! This shampoo is packed with certified organic botanicals like peppermint and tea tree to moisturize the scalp.
It also contains chelating agents that help remove hard water minerals that can build up over time.
Formulated without laurel/laureth sulfates, Trader Joe's Tea Tree Shampoo is suitable for color-treated hair as well as relaxed or keratin treated locks. Its citrusy scent refreshes your curls, and users have reported reduced frizz and improved curl definition after use.
If you're looking to get back on track with healthy scalp care, give Trader Joe's Tea Tree Shampoo a try!
Briogeo
Briogeo's Curl Charisma Shampoo is a 97% natural, sulfate-free cleanser that helps restore waves and curls while giving you softer, shinier hair – making it a favorite among curly-haired beauties around the world! This shampoo contains rice amino acids, tomato fruit ferment, shea butter, and avocado oil to hydrate your locks.
It's also approved for the Curly Girl Method (CGM), so you know it will be kind to your tresses.
Here are some of its benefits:
Hydrates dry hair without stripping away natural oils
Reduces frizz & enhances wave or curl definition
Suitable for all types of chemically processed hair
It won't leave build-up on colored or keratin-treated hair either! Briogeo's unique formula offers long-lasting hydration with just one wash; unleash those bouncy curls with this trusted brand today.
Frequency of Clarifying

It is essential to clarify your wavy hair every 4-8 weeks, depending on your lifestyle and hair type. Before coloring, make sure you clarify first as ACV rinses can fade color; be extra cautious with colored tresses.
Clarify Every 4-8 Weeks
It's important to clarify your hair every 4-8 weeks to ensure that you don't have any buildup from products or hard water minerals. Product buildup, color care, scalp health, and hair porosity are all factors in determining the frequency of clarifying.
If you live in a hard water area, it's recommended that you use chelating shampoos with ingredients like EDTA more frequently for mineral buildup removal. After deep conditioning, rinse with apple cider vinegar (ACV) if you have low porosity or before deep conditioning if you have high porosity.
Clarifying should be done before coloring as well. However, wait at least one week afterwards to avoid fading the color due to ACV being acidic.
For optimal results, use CG approved clarifiers such as Max Green Alchemy, Kinky Curly, Mop Top, Inahsi Naturals, Trader Joe's, or Briogeo.
Clarify Before Coloring
Before you color, make sure to give your hair a deep cleanse for the best results. Clarifying can help ensure that color lasts longer and creates more vibrant hues. It removes buildup from hard water minerals, heavy oils, butters, waxes – all of which can cause dullness and weighed-down locks.
Using CG-approved shampoos like Max Green Alchemy or Kinky Curly will keep curls bouncy without drying out tresses or fading dye jobs too quickly.
Wait at Least a Week After Coloring to Clarify
After coloring your hair, wait at least one week before clarifying to allow the color to settle. Clarifying too soon can strip away the color and cause damage, so make sure you wait long enough for it to set in! To maintain healthy locks after coloring, use sulfate-free shampoos, avoid hard water, and avoid overusing heat styling tools or products with waxes and heavy oils.
Regularly nourishing your hair with deep conditioners is also essential for preserving vibrant colors and improving overall hair health.
ACV Can Fade Color, Be Cautious With Colored Hair
Because of its acidity, ACV can fade color-treated hair, so it's important to be cautious when using it on colored locks.
To protect your pigment from fading, use a color protection shampoo at least once a week. Look for products with UV filters to block out damaging sun rays. Avoid hot tools as much as possible or opt for those specifically made for heat styling colored hair.
When clarifying with ACV, try rinsing the mixture through your strands quickly before conditioning. This will help reduce potential damage while still removing buildup effectively! For maximum protection, always deep condition after washing so that moisture is locked in, which helps maintain vibrancy longer.
Colored locks require special attention. Follow these tips to keep them looking vibrant all year round!
How to Properly Use Clarifying Shampoo

Clarifying your curly hair doesn't have to be an intimidating task. To properly clarify, start by lathering the shampoo onto your scalp and working it down through the length of your hair. Make sure you rinse thoroughly before following up with conditioner and detangling if necessary.
Step 1: Lather Into Hair Starting at the Scalp
Start at your roots and gently massage the clarifying shampoo into your scalp with slick, circular motions. Use a lathering technique to ensure all areas of your scalp are covered and receive the full benefits of clarifying.
Move from the front of your head to back while adding more product as needed – this will help remove dirt, buildup, oiliness, or product residue that has been weighing down on your hair's natural curls or waves.
Clarifying helps restore shine by allowing moisture to penetrate each strand for healthier-looking locks and bouncier curls! MGA Vegan Shampoo Lemon Tea Tree, Kinky Curly Shampoo, and INAHSI Clarifying Shampoo Curly Hair are all excellent choices for curlies seeking stronger cleansing power without stripping away too many essential oils from their hair strands.
Enjoy taking charge of restoring health back into those beautiful tresses!
Start massaging clarification shampoo in a slick circular motion starting at roots.
Lather thoroughly across the entire scalp area.
Add more product as necessary depending on the amount/type of buildup.
This allows better penetration of moisture through every strand.
Restore shine & bounce with products like MGA Vegan Lemon Tea Tree, Kinky Curly, and INAHISI Clarifying, which provide strong cleaning power.
Step 2: Rinse Thoroughly
Make sure to rinse your hair thoroughly, allowing the clarifying shampoo to wash away product buildup and impurities. Proper rinsing is essential for optimal results from a clarifying shampoo; don't rush it! Rinse until no residue remains on the scalp or in your hair.
Also, take into account water quality when using a clarifying shampoo. Hard water areas require more frequent clarification than soft water locations due to mineral build-up. Clarify every 4-8 weeks depending on product use and hairstyle, but be careful not to overdo it as too much can strip natural oils from strands, leading to dryness or breakage.
For best results, use high-quality ingredients with low sulfate content for maximum protection of both curls and scalp health!
Step 3: Follow With Conditioner, Detangle if Needed
After rinsing thoroughly, follow up with a conditioner and detangle your hair if necessary. Conditioners help restore moisture balance after clarifying. Curly routines require regular post-clarifying care to ensure optimal benefits from the process.
Consider using a leave-in conditioner for additional hydration or an oil/butter blend as part of your routine essentials for extra shine and nourishment. As you work through tangles section by section, use gentle strokes beginning at the ends of strands and working upwards towards the scalp to avoid breakage or split ends.
With consistent upkeep following this protocol, your curls will thank you!
Double Wash for Extremely Dirty or Oily Hair
If your hair is especially dirty or oily, try double-washing it with a clarifying shampoo for maximum clean. Clarifying shampoos are specially formulated to penetrate deep into the hair shaft and draw out excessive buildup from styling products, hard water minerals, and low-quality ingredients in products, as well as natural oils.
It helps reset curls and gives bouncier locks that look refreshed while still preserving your curl pattern. However, avoid overuse as it can strip away essential moisture from the scalp, leading to dryness or irritation if done too often.
Dealing With Mineral Buildup and Water Quality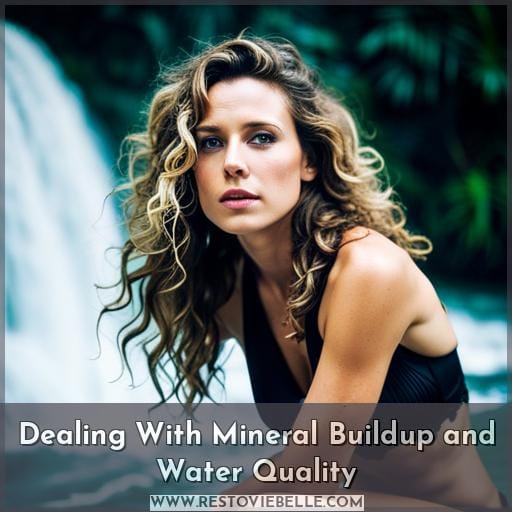 Do you have problems with mineral buildup and water quality when it comes to your curly hair? If so, frequent washing of the hair can cause the accumulation of build-up, while swimming in chlorinated or saltwater will only worsen this issue.
Buildup Accumulates With Frequent Hair Washing
Frequent washing can lead to a buildup of minerals and other residue in your hair, making it duller and more weighed down. Clarifying shampoo helps lift away these buildups from hard water, product usage, or even the natural oils on our scalp.
It's important to use clarifying shampoos according to your hair type/texture. Those with low porosity should use them after deep conditioning, while those with high porosity may benefit from using them before conditioners.
Clarification also has benefits like a healthier scalp and bouncier curls that are softer and shinier! However, be cautious when coloring as ACV rinses have been known to fade color.
Swimming in Chlorinated or Saltwater Worsens Buildup
Swimming in chlorinated or saltwater pools can quickly worsen mineral buildup in your hair, so be sure to take extra care after a dip. To protect your hair, use leave-in conditioner before swimming; rinse out chlorine with fresh water as soon as possible afterward; apply coconut oil or shea butter for added moisture and protection when going to the beach; and regularly wash off saltwater residue with a gentle clarifying shampoo like Kinky Curly's.
Rinse Hair With Apple Cider Vinegar to Dissolve Minerals
Rinsing your tresses with apple cider vinegar can do wonders to dissolve minerals and give you the hair of your dreams! You'll benefit from its natural antiseptic properties, and it helps remove buildup that may be weighing down your curls.
Not only is it great for mineral removal, but also scalp health—it soothes dryness or itchiness while balancing pH levels. Plus, ACV rinses are suitable for all hair types and porosity levels; low-porosity locks should use it after deep conditioning, while high-porosity strands should use it before conditioner.
Use this natural remedy to restore a healthy shine without stripping away essential oils!
Mix 2-3 Tbsp Vinegar With Water for Rinsing
Mix up a solution of 2-3 tablespoons of vinegar with water to dissolve away any mineral buildup from your hair. The acidity in the vinegar will help restore pH balance and avoid product build-up, while also providing nourishment to the scalp for hair growth.
A regular rinse can provide long-term benefits such as maintaining healthy curls, preventing split ends, and reducing frizziness. Consistent clarifying is key for overall good hair health. However, it should be done on an individual basis depending on usage frequency or hard water levels in different areas.
Natural Hair Care enthusiasts recommend using this method no more than once a month as part of their routine maintenance regime for beautiful wavy locks!
Low Porosity Hair Should Use Vinegar After Deep
If you have low porosity hair, use vinegar after your deep conditioning routine for maximum benefits. To maximize its benefits, there are a few things to keep in mind. Start with clean and damp hair. Mix two to three tablespoons of vinegar with water. Ensure it covers the scalp from root to tip.
Doing this will help reduce mineral buildup due to hard water. It will also add strength and shine back into locks. Additionally, it can help combat dandruff while nourishing dry strands for softer tresses.
Conclusion
At the end of the day, clarifying your curly hair should be a part of your regular hair care routine. Whether you have hard water buildup or just need to remove product residue, using clarifying shampoos like MGA Vegan Shampoo Lemon Tea Tree, Kinky Curly Shampoo, MopTop Gentle Shampoo, INAHSI Clarifying Shampoo for Curly Hair, Trader Joe's Tea Tree Shampoo, or Briogeo Curl Charisma Shampoo will help you restore your hair's natural curl pattern and bring life back to your locks.
If you're dealing with hard water, try using the Aztec Secret Indian Clay Mask mixed with Bragg Organic Apple Cider Vinegar, or a chelating shampoo like Ion Clarifying Shampoo and Malibu C Hard Water Hair Remedy.
With the right products and a bit of know-how, you can confidently clarify your curly hair and enjoy beautiful, healthy curls.