This site is supported by our readers. We may earn a commission, at no cost to you, if you purchase through links.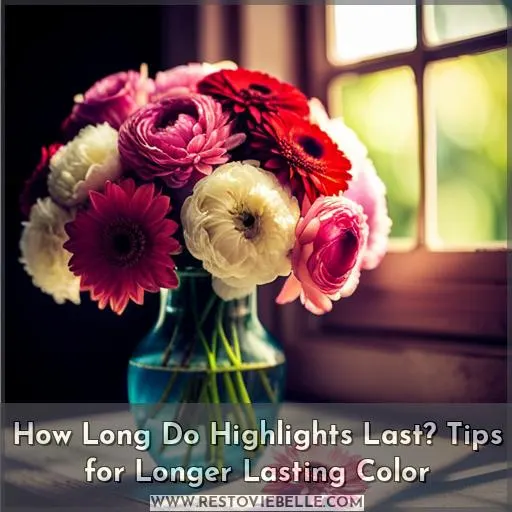 Ready to give your hair a new look? Highlights are an easy way to add dimension and volume, making them one of the most sought-after styling options. The average cost for highlights is around $100, but unfortunately, they don't last forever.
On average, how long do highlights last? Read on as we discuss factors that influence highlight lifespan and tips for keeping your color vibrant longer! We'll also cover frequently asked questions about this permanent coloring treatment so you can make sure you get the best results possible from your highlights.
Key Takeaways
Highlights are a popular styling option that add dimension and volume to hair.
The average cost for highlights is around $100.
The duration of highlights varies based on factors such as hair type, color, and care.
Factors that affect the lifespan of highlights include the type of highlights, hair texture, and care routine.
What Are Highlights?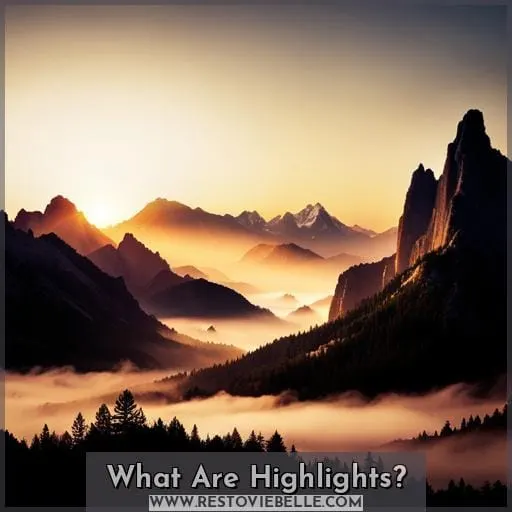 You can get a natural and subtle change with highlights, which are worth the time and investment. They typically last 6 to 8 weeks with proper care. The longevity of your highlight depends on the type, your hair texture, and color, as well as how you take care of it.
Highlights fade faster due to the bleaching process, so use heat protection spray for further sun protection. Blonde highlights may require purple shampoo to prevent brassiness, while roots need fewer touch-ups due to the blending effect when done correctly by a skilled stylist using quality coloring products such as leave-in conditioner or after-color sealers that help lock in color.
Touch-ups should be done every 4 weeks, depending on various factors like babylights that usually last 3 – 5 weeks or foil highlights up to a 6-week duration, etc. Use deep conditioning before highlighting, wait 24 hours, then wash and limit washing frequency for optimal results.
Factors That Affect Highlight Lifespan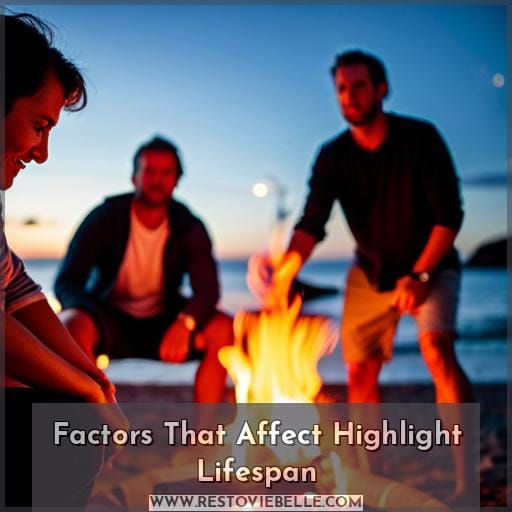 The lifespan of your highlights depends on how well you take care of them, the natural color of your hair, and the type of highlights you have. Properly caring for and maintaining your highlights will ensure that they last longer than if not properly taken care of.
Taking into account these factors is essential to getting optimal results from highlighting treatments.
How Well You Take Care of Them
Taking care of your highlights is essential to ensuring their longevity. To keep them looking vibrant, use color-safe products and a heat protectant when styling. Deep conditioning before highlighting helps reduce damage. Touch up frequency depends on the type of highlight used – from 6-8 weeks for foil highlights to 4-6 weeks for balayage and lowlights.
Weekly hydration with hydrating masks or Olaplex No 3 can help repair bonds in damaged hair. Purple shampoo may be necessary to combat brassiness in blonde tones. Finally, using aftercolor sealers locks in color and prevents fading due to rapid oxidation or washing too frequently with harsh chemicals that strip away pigments faster than normal wear does.
The Natural Color of Your Hair
Your natural hair color is a major factor in determining how long your highlights will hold their vibrant hue. Different highlighting techniques and levels of lift on different textures all affect the lifespan of the highlights.
This means those with darker, thicker hair may not need to touch up as often due to less noticeable root growth than someone with lighter or finer hair texture.
Additionally, blonde highlights strip away natural oils needed for protection and require weekly hydration through deep conditioning treatments like Arvazallia Hydrating Argan Oil or Olaplex No 3 Hair Perfector for repairing bonds weakened by the lightening process.
Touch-up frequency depends on the highlight type. Foilayage combines foils and balayage, while babylights last just three to five weeks before they begin fading out faster due to the bleaching process used during application.
Highlighting can damage your locks if improperly done, so enlisting a skilled professional is key in avoiding unnecessary breakage when coloring your tresses.
The Type of Highlights You Have
Choose the type of highlight that best suits your hair color and desired look, so you can enjoy a vibrant style for weeks to come. Highlights come in many types–from foil highlights to half head highlights, balayage, babylights, and more.
Home treatments don't always last as long as professional services but may be an option if special care is taken with color-safe products to prevent fading. Be sure to avoid damage by using heat protectant when styling and regular touch-ups every 6-8 weeks depending on the type of highlight chosen.
How Long Do Highlights Last on Average?

On average, highlights last around 2 to 3 months with proper care and maintenance, but they can vary depending on the type of highlight and hair color.
For instance, balayage highlights typically last 4-8 weeks while foil-ayage combines foils and balayage for a longer lifespan of 4-8 weeks.
To prevent fading, use heat protectant spray, avoid sulfates in drying products, deep condition before highlighting, and limit washing frequency or opt for cool water washings.
Blonde highlights may need purple shampoo to stop brassiness.
Regular weekly hydration is key, as well as using professional hair colorist touch-ups every 6 to 8 weeks so that overlapping doesn't occur, which leads to potential damage due to overprocessing of strands.
Hair goes back naturally after the growth-out process, however, quality conditioning products are necessary during this time period too!
Top 5 Best Products to Make Your Highlights Last Longer
Achieving beautiful, long-lasting highlights doesn't have to be hard. With the right products such as Arvazallia Hydrating Argan Oil, R+Co Gemstone Shampoo, Pureology Hydrate Shampoo, Olaplex Bond Maintenance Shampoo, and HSI Professional Argan Oil Heat Protector, you can ensure that your hair color stays vibrant and healthy for weeks on end.
To make sure your locks look their best all season long, it's important to use quality conditioning products designed specifically for highlighted hair.
Arvazallia Hydrating Argan Oil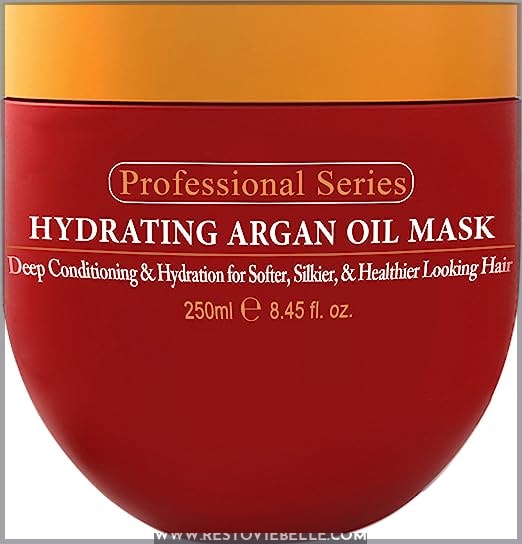 View On Amazon
Treat your damaged and dry hair to Arvazallia Hydrating Argan Oil, a professional salon treatment that transforms texture and leaves it soft, silky, and manageable. Enriched with the highest quality cosmetic-grade argan oil, rich in essential vitamins and nutrients, this product repairs weak strands while restoring strength.
It deeply conditions hair from root to tip for improved manageability as well as elasticity. Perfect for all types of hair, including permed or curly locks. Expect noticeable improvements after just one use! The sulfate-free formula ensures safe application on colored tresses without any adverse reactions either.
As part of the advanced repair system by Arvazallia, which enhances texture, softness, shine, and manageability, you can take advantage of optimal results when used alongside its other products such as Premium Hair Treatment & Ultra Curl Defining Cream too!
Repairs weakened strands while restoring strength
Deeply conditions from root to tip
Suitable for all types of hair
Sulfate-free formulation is gentle on color-treated tresses
Can be heavy if applied incorrectly
R+Co Gemstone Shampoo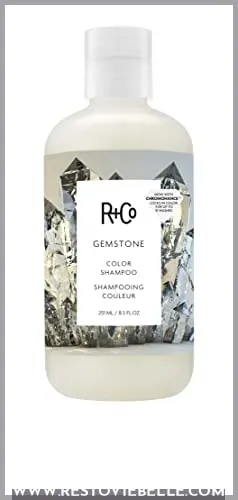 View On Amazon
Try R+Co Gemstone Shampoo for a luxurious, hydrating cleanse that extends your color life and improves the health of your hair.
Infused with vitamins and minerals, this shampoo promotes hydration from root to tip. It is formulated with a scientifically proven complex that protects color. Additionally, it contains naturally derived extracts that shield the scalp from UV damage and free radicals.
This unique product comes in an easy-to-use liquid form that smells like expensive perfume. A small amount goes a long way on dry or thick hair, leaving it silky smooth. It also aids in detangling when paired with conditioner.
The mild scent isn't overwhelming but provides softness you can feel throughout the day.
Protects against heat up to 450°F
Suitable for all hair types, including permed and curly
Contains concentrated antioxidant-rich argan oil and shine-boosting vitamins
Leaves hair softer, shinier, and more manageable
Conditioner is heavy and takes time to rinse out properly
Application has a wax texture that provides moisture
Pureology Hydrate Shampoo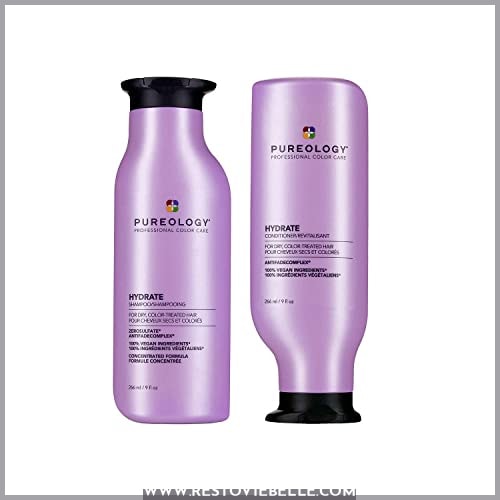 View On Amazon
Experience the power of Pureology Hydrate Shampoo with its moisturizing formula that protects color, softens hair, and adds shine for a luxurious salon-quality finish. Specifically designed to nourish normal to thick, dry, colored, or natural hair types, this vegan shampoo is free from sulfates and parabens.
Formulated with Jojoba Proteins and Green Tea Sage, it preserves hair health while boosting vibrancy in your highlights.
Vegan & Cruelty-free
Nourishing Formula Preserves Hair Health
Sulfate & Paraben Free
Improved Manageability After Every Wash
Minty Sensory Experience During Washing
Not Suitable For Very Oily Scalps
9 Oz Bottle May Not Last Long
Olaplex Bond Maintenance Shampoo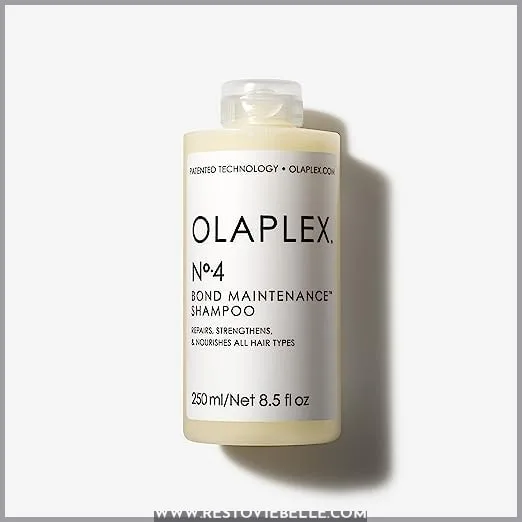 View On Amazon
Nourish your hair with Olaplex Bond Maintenance Shampoo for salon-worthy softness and shine. This revolutionary product is formulated with bond-building chemistry to restore and strengthen damaged, bleached, or heat-styled hair.
Reviews highlight how the shampoo has improved texture, volume, and softness. Customers love that there are no harmful chemicals present either. The minty sensation of this conditioner on the scalp is also pleasantly refreshing! With regular use of Olaplex Bond Maintenance Shampoo, you'll have vibrant locks that look healthy all day long.
Restores internal strength and moisture levels
Adds incredible shine and manageability
Contains no harsh chemicals
Instructions difficult to read due to small font/multiple languages
Produces minimal lather but deeply cleanses
HSI Professional Argan Oil Heat Protector


View On Amazon
Protect your hair from heat styling up to 450°F with HSI Professional Argan Oil Heat Protector – a lightweight mist that doubles as a leave-in conditioner, providing hydration and nourishment while giving you salon-level protection.
This high-grade oil is proudly Made in the USA and infused with concentrated antioxidant-rich argan oil, which helps protect color-treated hair while adding shine. It's suitable for all hair types, including natural or human extensions. The product features an effective yet mild formula that is free of sulfates, phosphates, and parabens, making it safe to use on colored strands without worry of fading.
Achieve maximum style safety by using this product prior to flat ironing or blow-drying! The subtle minty scent makes styling even more enjoyable, leaving behind soft locks that look vibrant and healthy after each application.
Protects up to 450°F when used prior to hot tools
Lightweight mist doubles as a leave-in conditioner for added hydration
Infused with concentrated antioxidant-rich argan oil
Safely protects color-treated strands without fading
Can be difficult to find the right amount needed per application
Overuse can result in a greasy appearance if too much is applied
Price point may not fit into everyone's budget
Different Types of Highlights

If you want to switch up your look, consider adding some highlights. Foil highlights are great for those looking for a bright and dramatic effect, while half-head highlights provide an all-over lightening of the hair.
Balayage is perfect if you're after a more natural sun-kissed finish, babylights offer subtle yet effective results, and foilayage combines both foils and balayage techniques to deliver unique multidimensional color.
Whether you choose one or opt for multiple highlight types, it's important to understand how long they typically last so that you can plan ahead accordingly.
Foil Highlights
Replenish your hair with Foil Highlights for a stunning, long-lasting transformation. Get the look you want without worrying about color fading or damage; this highlighting technique is perfect for those who desire subtle, natural-looking results.
With proper care and UV protection, these highlights can last up to six weeks before needing touch-ups. Salon experts recommend using color-safe products to prevent fading and keep hair healthy, while heat styling should be done at lower temperatures.
When going in for highlights, it's important that you find an experienced professional to ensure the process goes smoothly and won't harm your texture or color-treated locks.
Half Head Highlights
Half head highlights can dramatically transform your look in a flash, providing you with stunning results that will last for weeks! To maintain the color and keep hair healthy, use styling tips like deep conditioning before treatments.
Touch up frequency is usually every 6-8 weeks to blend roots, but it depends on the highlight type too. A weekly hydration regimen helps retain vibrancy; try using an oil or conditioner with Argan Oil to nourish tresses.
Heat protection products like HSI Professional are essential for reducing oxidation and fading highlights faster, while blonde hair care requires purple shampoo and cool water washes to prevent brassiness.
Balayage Highlights
Balayage highlights give your hair a natural, sun-kissed look that lasts 4-8 weeks. To get the most out of this lightening process, use Arvazallia's Hydrating Argan Oil Hair Mask and Deep Conditioner for intensive hair care before touch-ups.
Protect your hair from UV rays with trusted shampoo brands like R+Co Gemstone or Pureology Hydrate Shampoo. Additionally, use heat protectant sprays and bond-building treatments such as Olaplex No 3 Perfector to keep your hair healthy while styling it.
Different highlight types have different lifespans: foils last 4-6 weeks, half head 3-6 weeks, balayage 4-8 weeks, babylights 3-5 weeks, foilayage combines both for up to 8 weeks, ombré 6-8 weeks, lowlights last about four to six weeks, and streaks two to four weeks.
Make sure you are taking proper care of your highlights by using after-color sealers, deep conditioning regularly, avoiding sulfates and harsh chemicals in drying products, etc.
Babylights
Try babylights for a subtle way to add dimension and texture to your hair that lasts 3-5 weeks. Color correcting helps balance out highlights, while post-highlight care, such as using an after-color sealer, locks in color for longer-lasting results.
Root touches are necessary every few weeks, but the cost is worth it. Babylights create beautiful blonding trends with natural-looking brightness and shine at each strand of hair!
To prevent fading too quickly, avoid drying products with sulfates or harsh chemicals. Also, ensure proper application time when getting highlights done. Focus on strengthening hair bonds through deep conditioning masks before highlighting, then follow up with hydrating leave-in conditioners afterwards.
Foilayage
Foilayage is a highlighting technique that combines the precision of foils with freehand painting for an effortless, natural-looking result.
For color retention, use heat protectant and UV protection spray prior to sun exposure. Also, avoid hot showers or blow drying too often. It is recommended to avoid DIY highlights as it can lead to damage.
Regular professional touch-ups are recommended every 6-8 weeks for optimal results.
Hair types that are prone to dryness require additional deep conditioning before any bleaching process takes place. Additionally, color-safe products should be used after to prevent hair bleach damage.
How Long Does It Take for Highlights to Fade?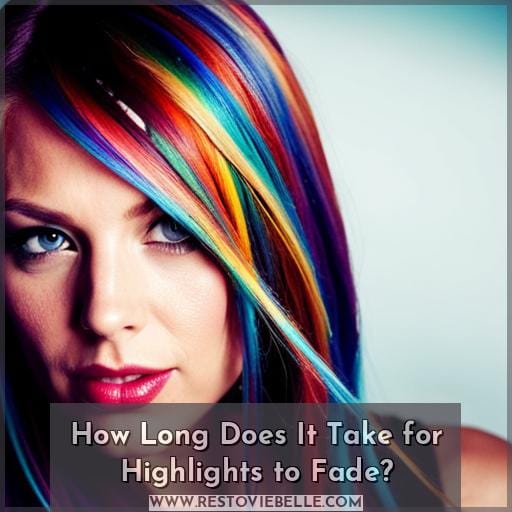 Forget about the hassle of highlights fading quickly; enjoy long-lasting, luscious locks with a colorist who knows their stuff! To protect your hair and prevent highlight fade, use heat protection sprays to slow oxidation and UV ray shields for extra protection.
Products such as hydrating masks will nourish the hair while keeping it conditioned between salon visits. Quality conditioning products are key in retaining color longer and providing overall nourishment to ensure healthy locks.
Salon highlights tend to last 6-8 weeks if taken care of properly with an applicator following exact instructions on timing application correctly. At-home treatments should be considered semi-permanent only due to the lack of professional technique, which can result in quick fading or damage from incorrect applications leading up faster than expected results, including brassiness when using blonde tones specifically needing purple shampooing more frequently than other shades for tone maintenance.
Other tips include limiting the washing schedule, avoiding drying products containing sulfates/harsh chemicals alongside deep conditioning pre-treatments before the highlighting appointment, giving tresses optimal treatment, ensuring beautiful looks lasting throughout all seasons!
How Long Do Blonde Highlights Last?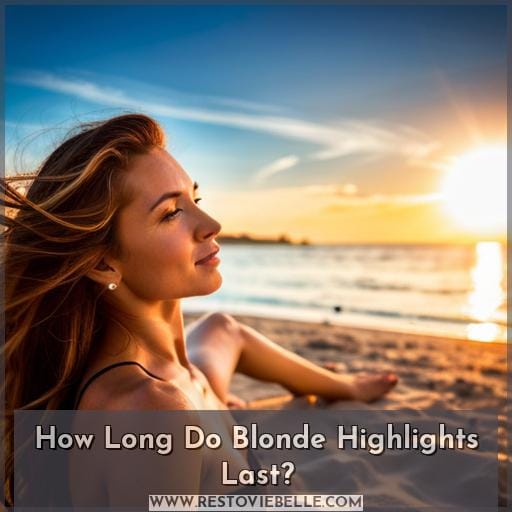 Blondes, if you want your highlights to last longer and remain vibrant, opt for balayage or foilayage! For blonde highlights that stand the test of time:
Deep condition before coloring and wait 24 hours after salon treatment before washing.
Use a UV protectant spray on sunny days to prevent fading.
Opt for shampoos with purple pigments to avoid brassiness in between touch-ups.
Heat styling should be kept at minimum temperatures as it fades even permanent color quickly. An after-color sealer locks in hair cuticle layers right away. Home hair coloring kits or DIY highlighting attempts can cause more damage than expected over time due to lack of expertise when applying them at home strand by strand level without professional help from a certified colorist specialized in ombre highlight techniques.
These techniques usually require less frequent retouches compared to other types such as balayage and foils but still need regular maintenance every 4 weeks up until 8 depending on care routine employed afterwards.
This includes proper shampooing technique, avoiding sulfates or harsh chemicals, and deep conditioning treatments specially formulated for colored tresses.
Does Your Hair Go Back to Normal After Highlights?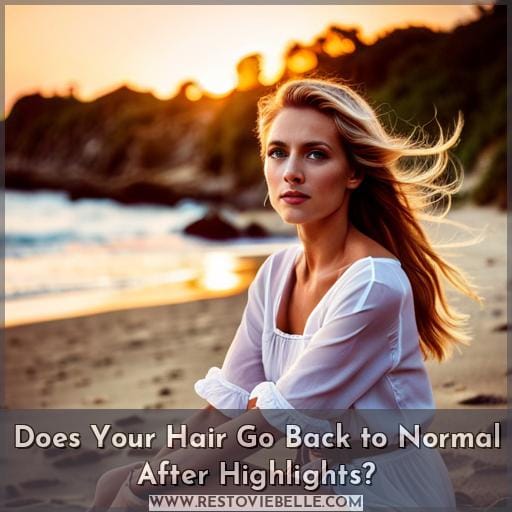 After a few weeks, your hair will gradually return to its natural shade as the highlights grow out. To ensure that happens with minimal damage, you must be aware of root growth and highlight types.
Proper care is essential for color fade prevention and protection from UV rays. Cosmetic-grade argan oil helps replenish moisture in the scalp while preventing hair damage due to heat styling or environmental factors.
The lifespan of highlights can vary depending on type, proper care routine, and natural color. However, semi-permanent ones typically last up to one month, while permanent colors usually stay bright for two months before needing retouching or repainting if desired by the client.
Maintaining highlights requires the use of sulfate-free shampoo since this element fades pigment quickly. It is also important to avoid hot showers, as they dry out strands and make them more likely to become brittle due to over-processing effects caused by bleaching agents used during highlighting services at the salon.
This can break down cuticles around follicular units, significantly reducing their lifespans and making them easy victims of breakage.
Improper highlighting techniques can also lead to the rapid formation of split ends and thinning of the hair. Therefore, it is crucial to take proper care of your highlighted hair to maintain its health and longevity.
Are Highlights Damaging?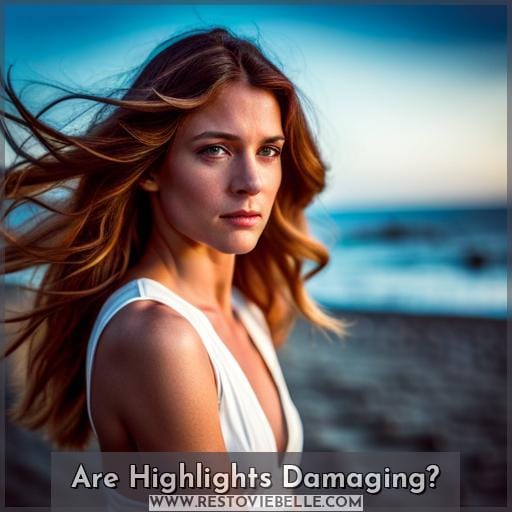 If not done correctly, highlights can cause unwanted damage to your hair. Heat styling and chemical exposure accelerate fading, washing away color retention. To protect your hair health and prevent fading, consider using deep conditioning treatments before highlighting and heat protectant products while styling.
Purple shampoo also helps retain blonde highlights from turning brassy or orange-y tones due to oxidation processes in the environment or when exposed to sunlight. Hairwashing should be kept at a minimum for best results – every other day is ideal – as over-washing will strip color faster than normal use of quality hair products that are designed specifically for highlighted locks such as leave-in conditioners with UV protection properties which help restore damaged bonds caused by highlights further preventing any kind of discoloration overtime.
Overall highlight care requires continuous maintenance including regular trims and touchups followed by proper cleansing rituals with specially formulated shampoos & conditioners so you can maintain beautiful vibrant tresses without worrying about constant damage restoration efforts!
Frequently Asked Questions (FAQs)
How Often Should I Get a Touch-up for My Highlights?
Get a touch-up every 6 to 8 weeks for your highlights. Enjoy the journey of maintaining vibrant color as you explore different techniques and products, ensuring long-lasting results with proper care.
What Are the Benefits of Getting Highlights?
Highlights add depth and dimension to your hair, creating a natural-looking result. They allow you to experiment with different shades without committing fully, while giving the illusion of thickness.
Are Highlights Expensive?
Highlights range in cost depending on the type and size of highlight you choose. Traditional highlights are typically more expensive than babylights or balayage, but all provide a natural-looking change that is worth investing in.
What Is the Difference between Highlights and Lowlights?
Highlights and lowlights are complementary hair coloring techniques that create dimension. Highlights add lighter shades, while lowlights introduce darker tones to the existing color.
Can I Do My Own Highlights at Home?
DIY highlights can be tricky, but with proper care and the right products, you can enjoy up to 8 weeks of vibrant color. Invest in quality hair protection and conditioning items for best results; use a heat protectant spray before styling.
Conclusion
With an array of colors, textures, and styles, highlights can create a unique, timeless look. But how long do highlights last? It all depends on the type of highlights, care taken, and natural color of your hair.
Fortunately, there are products to help your highlights stay vibrant and last longer, such as R+Co Gemstone Shampoo, Olaplex Bond Maintenance Shampoo, and HSI Professional Argan Oil Heat Protector.
From babylights to foils, balayage to ombré, and lowlights to streaks, highlights can last anywhere from 2 to 8 weeks depending on the type and how well you take care of them. To ensure long-lasting highlights, make sure to follow a deep conditioning routine, use color-safe products, and get professional touch-ups.
Keep in mind that highlights will eventually fade, but with the right care, you can extend their lifespan and keep your hair looking beautiful and vibrant.