This site is supported by our readers. We may earn a commission, at no cost to you, if you purchase through links.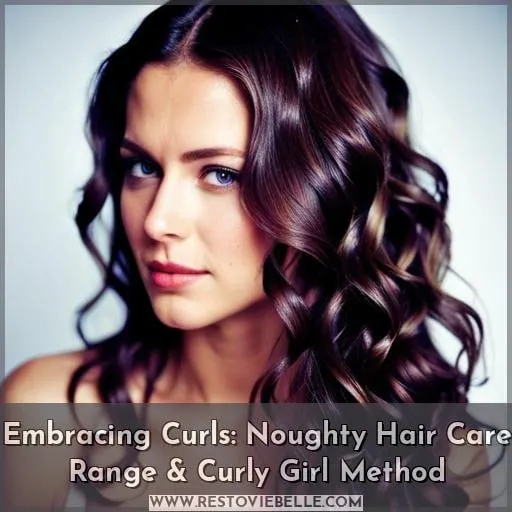 Discovering your natural curl pattern can be an empowering and liberating experience.
The Curly Girl Method (CGM) is an approach to caring for naturally curly hair in order to promote healthy growth and beautiful definition. By eliminating harsh chemicals and embracing natural curls, CGM helps create healthier-looking locks without sacrificing volume or bounce.
From advice on different curl types and textures to techniques and tips for defining those spirals – this guide will help you get the most out of Noughty's range as part of your journey towards achieving gorgeous ringlets with maximum shine!
Key Takeaways
Noughty's Wave Hello Range is a curl-friendly and vegan hair care line.
The range nourishes and smooths curls, controls frizz, and is safe for color-treated and blonde hair.
Using the products 2-3 times a week can provide the best results without weighing down the hair.
Embracing natural beauty and hair health without harsh chemicals is possible with Noughty's CGM-approved products.
What is the Curly Girl Method?
Discover how the Curly Girl Method can help you bring out your waves and curls with natural hair products, free of harsh chemicals. The Curly Girl Method (CGM) is an approach to caring for naturally curly or wavy hair that eliminates certain ingredients, like sulfates and silicones, in order to unlock its potential.
It encourages replacing these chemicals with natural products designed specifically for curl types such as 2A or 3B textures.
Developed by Lorraine Massey in her book Curly Girl, this method also provides advice on different techniques from squish-to-condish conditioning to plopping and diffusing – all essential steps toward achieving healthier tresses!
Brings out optimal look without damage
Offers a way for anyone embracing their curls
Includes tips tailored to men's styling needs
No need for heavy conditioner weighing down locks
May save money long term using approved products
Patience needed until desired results are visible
Needs research to know what to avoid in product selection
Might require trial & error to find the right product
Teaching children their own individual preferences
Curly Girl: a Guide to Caring for Naturally Curly Hair by Lorraine Massey

Curly Girl: A Guide to Caring for Naturally Curly Hair by Lorraine Massey is an essential resource for anyone wanting to learn more about caring for their curly locks. It's no wonder the book has been reprinted over 500 times since its original release in 2001! With 176 pages of advice and stories from real-world curly girls, this comprehensive guide covers it all.
From understanding high levels of isopropyl alcohol in certain products to learning the ins and outs of the Curly Girl Method, there's something in here that will work perfectly with your hair type.
To ensure you don't miss out on any key information, Noughty's website provides details regarding which items are UK curl-friendly. Plus, Lorraine Massey's book provides detailed instructions on how to achieve the best care for your curls.
Frequently Asked Questions (FAQs)
What is the difference between Noughty Wave Hello and other curly girl approved products?
Noughty Wave Hello products are vegan, cruelty-free, and UK Curly Girl approved. They are specifically designed to nourish and smooth curls while controlling frizz. Other CG approved products may be tailored for different curl types or hair textures, making it important to research what will best suit your needs.
What are the benefits of using Noughty Wave Hello on blonde hair?
Noughty Wave Hello is great for blonde hair as it nourishes and smooths curls, while providing frizz control. It's vegan, cruelty-free, and safe for color-treated hair too! With this product, you can unlock your tresses' potential to reveal beautiful waves or curls with fewer chemicals than other products.
How often should I use the Noughty Wave Hello products?
For best results, use your Noughty Wave Hello products 2-3 times a week. This will provide nourishment and hydration to keep curls looking healthy and defined – without weighing them down! With regular use of these natural, vegan-friendly formulas, you'll unlock the potential of your hair in no time.
Are there any specific techniques I should use when using Noughty Wave Hello products?
Using Noughty Wave Hello products is key to unlocking your hair's potential. A single product won't do the trick – try combining conditioners, styling gels, and leave-in treatments for the best results.
Does using Noughty Wave Hello products require a lot of commitment?
To embrace your natural curly hair with Noughty Wave Hello products requires commitment, but it's worth the effort. With a few simple steps to nurture and define your curls, you'll be unlocking their potential in no time! Enjoy beautiful waves and healthier locks – all without harsh chemicals.
Conclusion
In a world where embracing our natural beauty is of paramount importance, the Curly Girl Method and Noughty Hair Care Range offer an amazing solution. With Lorraine Massey's guide to caring for naturally curly hair and Noughty's 97% natural, vegan, and cruelty-free Wave Hello products, you can unlock your hair's potential and achieve healthy, defined curls.
Whether you have straight, wavy, or curly hair, the Curly Girl Method can help you achieve the look you want. So, if you're looking for an affordable and effective way to make sure your curls are properly nourished and protected, Noughty Hair Care is definitely curly girl approved.