This site is supported by our readers. We may earn a commission, at no cost to you, if you purchase through links.
Caring for color-treated hair can be a challenge, but with the right products and techniques, you'll have beautiful, vibrant locks. From sulfate-free shampoos to nourishing oils and heat protectants, it all starts with understanding how to care for your colored strands.
We've put together some of our favorite tips on how to care for color-treated hair so that you can keep your look fresh and full of life!
Conditioners are key when caring for colored tresses. They help maintain moisture while locking in dye molecules. Try Rena Calhoun's recommendation: an expensive Amla Oil Hi-Shine Topcoat or Reverie Milk Anti-Frizz Leave-in Nourishing Treatment if you're looking for something more lightweight yet packed with vitamins and minerals.
If styling is more up your alley, then try Color Wow Style on Steroids Texture Spray or R+Co Death Valley Dry Shampoo. Both work wonders at protecting against fading from UV light exposure while giving volume without weighing down the hair shafts.
Finally, finish off any style by using a heat protectant like IGK Good Behavior Hair Prep Spray or R+Co Bleu Smooth & Seal Blow-Dry Mist. These products will help lock in hydration as well as preserve the vibrancy of dyed hues throughout blow-drying sessions.
Key Takeaways
Use sulfate-free shampoos to protect color-treated hair.
Incorporate nourishing oils into your hair care routine for added hydration and shine.
Apply heat protectants before styling to prevent damage to your colored hair.
Lock in moisture and dye molecules with a good conditioner.
Best Conditioners & Masks for Color-Treated Hair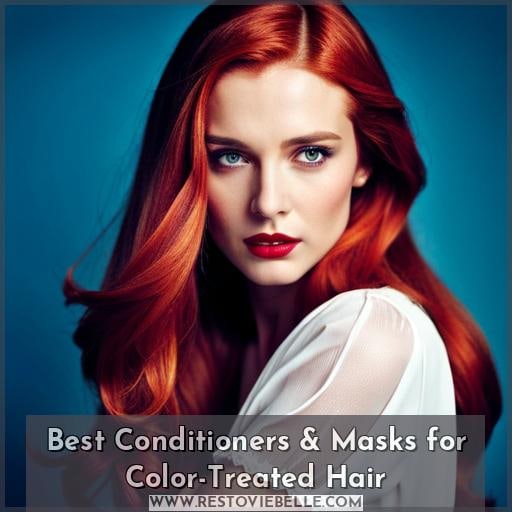 If you're looking for the best conditioners and masks to care for your color-treated hair, look no further than Rena Calhoun's recommendation of Virtue Labs Recovery collection as well as Expensive Amla Oil Hi-Shine Topcoat.
Both are excellent options to restore dull-colored hair while providing long-lasting shine and vibrancy.
Rena Calhoun's Recommendation
Rena Calhoun's recommendation for restoring dull-colored hair is Virtue Labs Recovery collection, an elixir that will bring your tresses to life.
For a glossy finish, try the Amla Oil Hi-Shine Topcoat.
To maintain color vibrancy, R+Co Bleu Primary Color and dpHUE Cool Blonde shampoos are excellent options.
Shu Uemura Color Lustre Brilliant Glaze Conditioner preserves richness, while Kérastase Chroma Absolu and Briogeo Mango + Cherry Superfoods condition daily.
Christophe Robin Regenerating Hair Mask repairs damage, while Mixed Feelings Purple Leave-In Toning Drops tone at home.
Oribe Power Drops offer UV protection, and Davines Oi Milk softens gray hair.
Reverie Milk Anti-Frizz Leave-In Nourishing Treatment, Pureology Fanatic & Mizani 25 Miracle Milk help nourish strands, with Olaplex No 6 Smoother preventing frizz and flyaways.
Expensive Amla Oil Hi-Shine Topcoat
For an added glossy effect, try the Expensive Amla Oil Hi-Shine Topcoat to give your color-treated tresses a boost of shine. This luxurious haircare product contains concentrated oils that help protect and add intense hydration to colored hair.
The hi shine elixir also helps detangle strands and is great for adding gloss without weighing down the hair.
To get gorgeous locks full of luster and glow, use this amazing product as part of your routine when caring for your colored mane! Discover the secrets behind beautiful shiny hair today with Expensive Amla Oil Hi-Shine Topcoat!
Effective Leave-in Treatments for Color-Treated Hair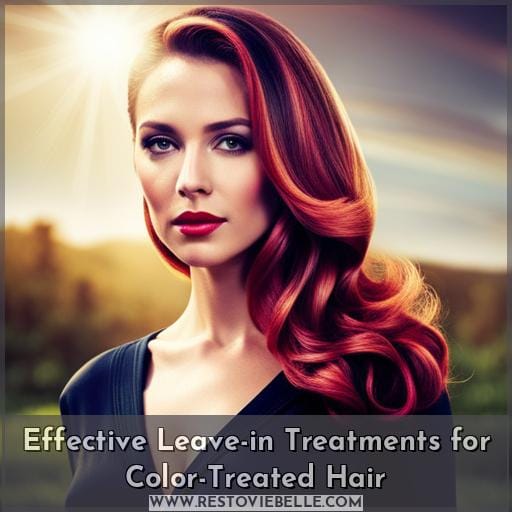 For color-treated hair, leave-in treatments are an important way to keep your shade looking vibrant and healthy. Reverie Milk Anti-Frizz Leave-in Nourishing Treatment and multitasking options like Pureology Color Fanatic or Mizani 25 Miracle Milk can help you maintain the look you want.
Reverie Milk Anti-Frizz Leave-in Nourishing Treatment
Try Reverie Milk's Anti-Frizz Leave-in Nourishing Treatment for a quick fix to bring dull-colored hair back to life and leave it feeling soft as silk! This versatile product has multiple benefits, including frizz control – it tames flyaways for effortless styling, hair nourishment – it hydrates your hair without weighing it down, and damage prevention – it helps prevent breakage while protecting from heat damage.
This ultra-light formula is designed specifically for color-treated hair, helping you keep that salon-fresh look longer with its protective properties against fading and oxidation of the pigment in your strands.
Get ready to show off smooth, sleek-looking styles with Reverie Milk's Anti-Frizz Leave-in Nourishing Treatment – perfect protection every day!
Multi-tasking Leave-in Options
Discover multi-tasking leave-in options like Pureology Color Fanatic and Mizani 25 Miracle Milk to protect your shade and keep color vibrant. Hair care essentials such as these offer UV protection, moisture retention, nourishment for damaged hair, and heat styling defense up to 450°F/232°C—all necessary features for summer hair care of color-treated locks.
Styling Products for Color-Treated Hair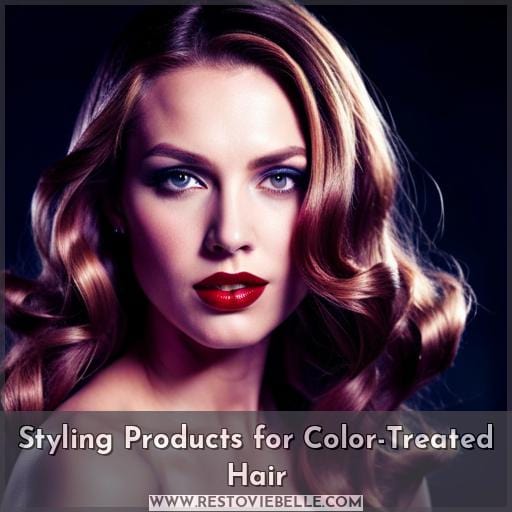 When caring for color-treated hair, look no further than Color Wow Style on Steroids Texture Spray and R+Co Death Valley Dry Shampoo. These styling products are specifically designed to add volume while also protecting the vibrancy of your hair color.
Color Wow Style on Steroids Texture Spray
Elevate your style with Color Wow's Style on Steroids Texture Spray, a lightweight styling product that adds volume and texture to color-treated hair. This spray is ideal for anyone looking to add body and bounce without the weight or stickiness of other products.
Here are five ways you can use it:
Tame flyaways by applying lightly at the roots before styling.
Enhance curls by spritzing into damp hair prior to blow drying.
Create beachy waves with a few sprays when air drying.
Get rid of stubborn static in wispy ends after styling.
Give fine hair lift and more definition around face shape.
Add this powerful multi-tasking spray into your haircare routine for textured styles that last all day! It gives long-lasting hold while keeping color-treated locks nourished, so you get beautiful results every time.
R+Co Death Valley Dry Shampoo
Keep your colored locks looking freshly-styled with R+Co Death Valley Dry Shampoo, just like a breath of fresh air in the desert! This product is specially designed to be gentle on color-treated hair while still providing the benefits of dry shampoo.
It absorbs oils quickly and leaves behind an invigorating scent that'll make you feel refreshed.
Perfect for those days when you don't have time to wash or want extra volume without damaging your hair. This shampoo is sure to become one of your favorite products. Not only does it add texture and shine, but it also helps extend the lifespan between washes.
Heat Protectants for Color-Treated Hair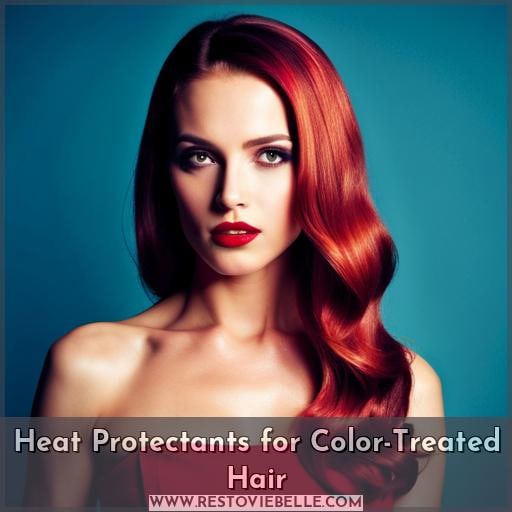 To care for color-treated hair, it is important to invest in heat protectants such as IGK Good Behavior Hair Prep Spray and R+Co Bleu Smooth & Seal Blow-Dry Mist. These products create a protective barrier between your strands and hot styling tools, locking in color vibrancy while preventing moisture loss.
IGK Good Behavior Hair Prep Spray
Experience the heat-protective benefits of IGK Good Behavior Hair Prep Spray, a lightweight mist that shields color-treated hair from styling tools. Use it while blow drying or flat ironing to protect hair health and maintain vibrant color.
Apply generously before using hot styling tools for maximum protection.
Reapply after every pass with heated appliances for extra assurance.
Refresh your style between washes with clarifying shampoo and sulfate-free conditioner afterward to balance out moisture levels in the scalp and strands.
Try this product as part of an overall Color Treated Care regimen including regular trimming, protective leave-in treatments, heat protectant spray, nutrition boost from essential fatty acids ingested through diet or supplements – then enjoy long-lasting results!
R+Co Bleu Smooth & Seal Blow-Dry Mist
Protect your color-treated locks with R+Co Bleu Smooth & Seal Blow-Dry Mist, a heat protectant that contains 20% more conditioning agents than its competitors for maximum hydration and shine. This mist gives hair the perfect combination of protection from styling tools while providing an extra dose of moisture to keep colored tresses looking vibrant and healthy.
Ideal for all hair types, this leave-in treatment shields strands from up to 450 degrees of heat–perfect for blowouts or flat ironing without worry! In addition, it has a lightweight consistency that won't weigh down the delicate texture of dyed hair.
For added benefits like smoother cuticles and enhanced shine, try using it before drying or styling as well as afterwards. Apply evenly throughout damp lengths in sections, then use fingers to distribute through ends.
Nourishing Hair Oils for Color-Treated Hair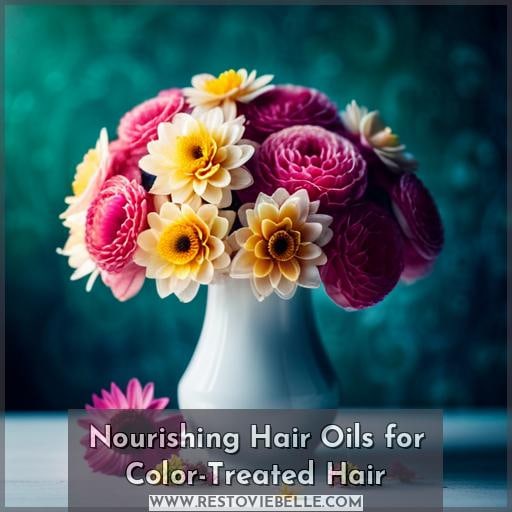 When it comes to nourishing color-treated hair, two great options are Bread Beauty Supply Hair Oil Everyday Gloss and Virtue's Healing Oil. Both offer lightweight moisture that helps enhance your locks while providing protection from environmental damage.
Bread Beauty Supply Hair Oil Everyday Gloss
Smooth on Bread Beauty Supply Hair Oil Everyday Gloss to give your tresses a glossy, healthy shine. This everyday hair elixir is perfect for those with color-treated locks, providing deep conditioning and UV protection.
For the best results, use it before coloring as its formula helps lock in pigments and prevent fading. Then, use it regularly after styling with heat protectants or when exposed to sun rays.
Regular trims are important too. They remove dead ends that can take away from vibrancy while keeping split ends at bay.
Virtue's Healing Oil
Treat your colored locks to the nourishing power of Virtue's Healing Oil. This lightweight oil helps protect against fading and damage from red dye, daily heat styling tools, and chemical processes. It's packed with rich ingredients like olive oil, bergamot extract, sea buckthorn fruit extract, and sweet almond oil for long-lasting hydration and to prevent split ends.
To get the most out of this product, start with a clarifying shampoo before applying your favorite hair mask. Then, massage in a few drops of Virtue's Healing Oil throughout damp or dry strands to seal in moisture.
Compliment this routine by incorporating healthy diet choices like omega 3 fatty acids found in salmon and mackerel, as well as walnuts for vitamin E, into your meals!
After Coloring, Wait a Full 72 Hrs Before Shampooing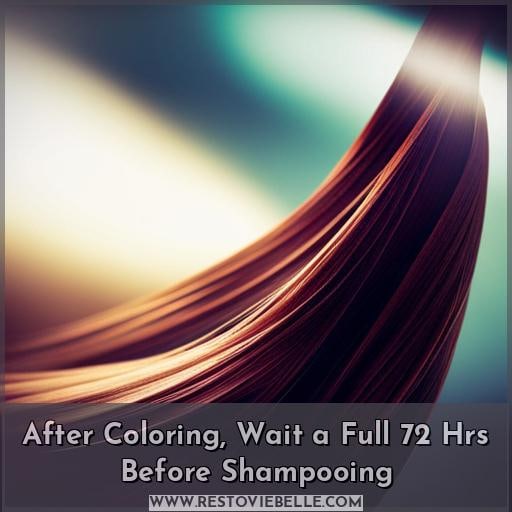 Give your freshly-colored hair the 72-hour break it needs – don't shampoo for three days after you dye. This is a crucial step to ensure color retention and longevity, as well as post-color care.
Waiting this amount of time allows the cuticle layer to close properly and protects your hue from fading away too quickly.
When shampooing, use slightly warm water for lathering up but rinse with cold water afterward; this will help seal the cuticles down so that pigment stays put longer.
Regular trims every 6–8 weeks also promote healthy ends while keeping color looking bright and fresh between salon visits – plus, regular upkeep prevents split ends from forming, which can dull colors faster than normal wear & tear would otherwise cause them to fade out naturally over time!
Use Sulfate-free Shampoo and Conditioner

Protect your hair color and keep it healthy by using sulfate-free shampoo and conditioner! Sulfate-free products are essential for maintaining the vibrancy of dyed hair, as they don't strip away natural oils.
This helps your color last longer, while also keeping it looking freshly colored between salon visits.
When washing with a sulfate-free product, use lukewarm water to prevent fading. Hot water can damage both the cuticle layer and dye molecules in colored strands. To ensure maximum longevity of your new hue, be sure to invest in chlorine protection when swimming.
Wearing a swim cap or applying an oil blend before getting into pools will help lock out harsh chemicals that can dull vibrant colors over time.
With regular care, you'll be able to enjoy beautiful locks for longer!
Enhance Color With Added Dye to Your Conditioner

Brighten up your hair with a small amount of dye added to your conditioner for an extra boost of vibrancy! Adding color-enhancing products to your conditioning routine is the perfect way to keep colored hair looking vibrant and healthy.
DIY toning can be achieved by simply mixing in a few drops of semi-permanent or permanent dyes into the conditioner at home.
You can also try using gloss formula treatments, like Expensive Amla Oil Hi-Shine Topcoat. Not only will it enhance shine, but it will also help protect against fading from heat styling and environmental exposure.
Additionally, consider taking vitamin supplements such as biotin or silica for an overall healthier scalp and hair follicles.
Finally, finish off any look with styling products designed specifically for color-treated locks.
Adjust Water Temperature When Shampooing

When shampooing color-treated hair, make sure to use slightly warm water for the wash and cold water for rinsing in order to help seal the cuticle layer and retain vibrancy. By adjusting your hot and cold settings, you can reduce color fading while still getting a thorough cleanse.
Keep in mind that washing too often with harsh chemicals can strip away pigment from hair strands; instead, opt for gentle sulfate-free shampoos every other day or 2-3 times a week. Additionally, wait 72 hours after coloring before shampooing so that the dye has time to set properly.
To maintain healthy colored locks, also be mindful of environmental factors like UV radiation by using products formulated with protection against sun exposure as well as chlorine when swimming in pools or oceans! Nutrition plays an important role too—incorporate omega 3 fatty acids into your diet through foods like salmon or walnuts, which are rich sources of vitamin E.
Vitamin E helps combat dryness caused by overstripping dyes from haircare products.
Optimize Washing Frequency for Color-Treated Hair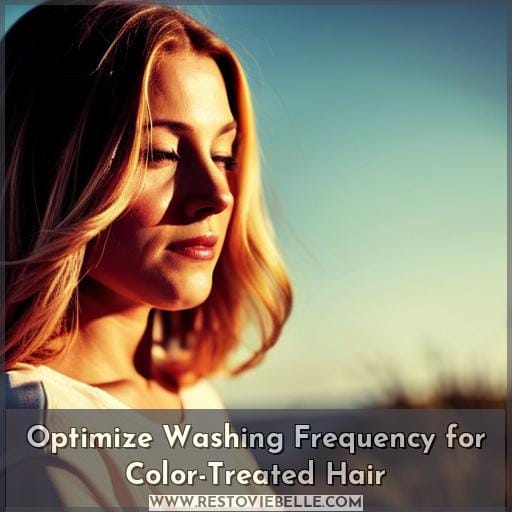 Optimize your washing frequency to maintain the vibrancy of color-treated hair. Start by limiting washes to every other day or 2-3 times a week with lukewarm water and sulfate-free shampoo. You may also mix in conditioner for an extra boost of hydration if your hair is oily.
In summer, use dry shampoos on non-wash days and leave-in treatments with UV protection for added protection against fading from sun exposure.
Keep up proper nutrition as well – omega 3 fatty acids found in salmon and mackerel are essential for healthy locks, while walnuts provide vitamin E that combats dryness!
Finally, commit to regular trims every 6-8 weeks along with using color-protective products specifically designed to preserve shades between salon visits:
Washing Frequency
Color Vibrancy
Summer Protection
Nutrition Tips
Styling Strategies
Maintain Color With Color-Safe Dry Shampoo

To preserve color vibrancy and keep hair looking fresh on non-wash days, incorporate a color-safe dry shampoo into your routine. Dry shampoos are designed to absorb oil, sweat, and dirt from the scalp without overstripping much-needed moisture or hair pigment.
Color-safe dry shampoos should be specially formulated to not dull vibrant hues over time by avoiding harsh ingredients like sulfates or silicones.
When selecting a brand of color-safe shampoo, look for one that adds volume while also helping maintain your desired hue. To apply, section off the scalp for even distribution and focus on the roots before lightly dusting down the mid-lengths and ends.
Avoid concentrated application along colored strands, as this can lead to build-up and gradual tonal stripping.
The benefits of using a dry shampoo in between washes are abundant. It helps extend the time between lathers, preventing water exposure that can fade colors faster. It also provides an extra boost in volume after styling and removes excess grease from tricky areas around the temples where buildup is common due to regular contact with hands, etc.
Using dry shampoo makes regular washing less necessary and adds back texture that is often lost during the cleansing process.
Additionally, dry shampoos offer protection against environmental factors such as UV rays by adding additional coatings onto the cuticle layer. There are many great brands available, ranging from drugstore favorites like Batiste and Dove Refresh+ to more specialized ones like AG Hair Cosmetics Detox Dry Shampoo.
Protect Color With Leave-in Treatments During Styling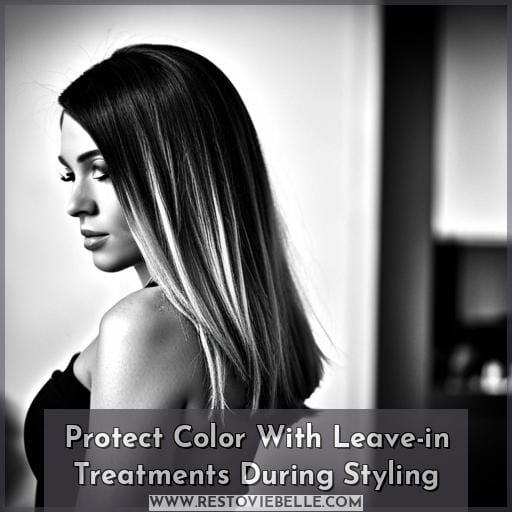 Protect your color-treated hair from environmental factors and styling tools with leave-in treatments like Pureology Color Fanatic or Mizani 25 Miracle Milk.
Leave-in treatment benefits include:
UV protection to shield the hair from sun damage.
Hydration to prevent dryness that can lead to dull color.
Restore vibrancy by adding a boost of conditioning agents and oils that lock in moisture while enhancing shine.
Styling with leave-ins helps protect against heat damage, as well as providing style control without weighing down strands for healthy movement and body retention throughout the day – perfect when air drying!
Styling products used should be designed specifically for colored hair. Examples include R+Co Bleu Smooth & Seal Blow Dry Mist or Living Proof Perfect Hair Day Heat Styling Spray. These products provide thermal/UV shielding properties along with nourishing benefits without stripping away natural oils essential for vibrant hues over time.
Color preservation sprays also help keep tones rich if applied directly after washing prior to blow drying or ironing.
Prevent Color and Moisture Loss With Heat Protectant Spray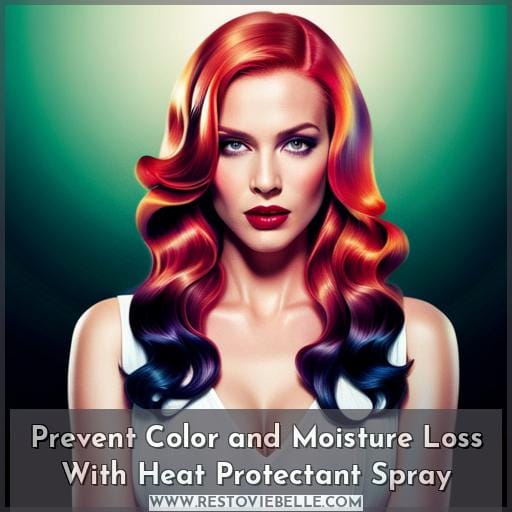 Before styling with hot tools, give your color-treated hair a protective shield by spritzing on heat protectant spray. Heat protection guards against the drying effects of high temperatures and helps retain moisture in colored hair.
Avoid direct contact between heated styling tools and strands to extend the life of your dye job and prevent damage. When using blow dryers, flat irons, or curling wands, choose lower heat settings than you would for regular locks since treated tresses are more susceptible to breakage when exposed to extreme temperatures.
A lightweight mist is ideal for protecting delicate dyed manes. Many sprays provide an additional layer of UV protection as well as thermal defense, ensuring colors remain vibrant longer and hair remains healthy overall.
Prepare Hair for Next Color Process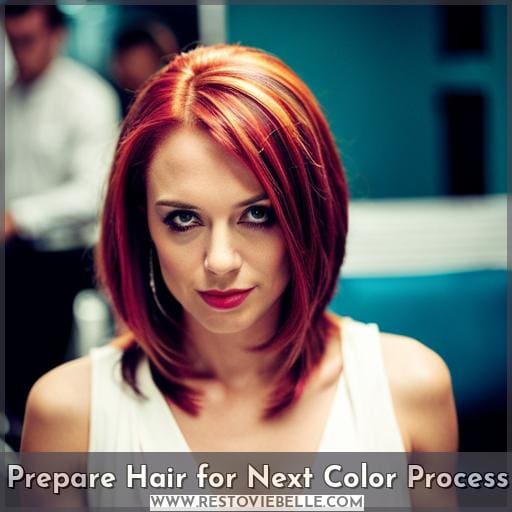 Forget about the heat, you'll want to prepare your hair for its next color process with a clarifying shampoo! It's important to get rid of any product buildup that can prevent even coloring.
Clarifying shampoos are designed specifically for this purpose and should be used the day before coloring. Additionally, avoid using styling products or conditioners on days leading up to dyeing as they can create barriers between your hair and the color being applied.
You may also want to consider a deep conditioning treatment in order to keep your locks hydrated throughout what can often be an intense process – just make sure it's done at least 24 hours prior so there is no risk of altering new colors once they have been applied!
For ultimate results come pre-dye day, opt for fresh trims instead of cutting all at once; this will ensure strands look healthy and vibrant when ready for their new hue.
Avoid Chlorine and Salt Water for Color Preservation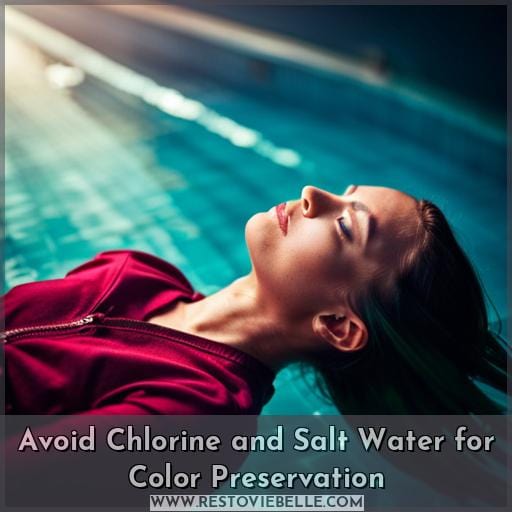 To keep your color-treated hair looking vibrant and strong, it's important to avoid chlorine and salt water. Chlorine can strip away the dye from your hair, making it look dull and faded. Saltwater will also dry out your strands, leading to breakage or split ends that can further damage the color of your locks.
Here are a few tips for preserving colored hair:
Opt for sun protection products with UV filters when swimming in pools or oceans.
Invest in swim caps if you plan on spending time in chlorinated waters.
Use special shampoos designed specifically for swimmers' needs when cleaning up after a dip.
Avoid going into deep ocean water as much as possible. Pool waters contain fewer toxic chemicals than their salty counterparts!
By following these simple steps, you'll be able to maintain beautiful colored tresses without fear of fading due to chlorine or salt exposure.
Regular Trims for Color Vibrancy

Schedule regular trims every 6-8 weeks to keep your hue vibrant. This simple hair maintenance step will help ensure that your color lasts as long as possible. Trimming away dead ends helps prevent split ends from traveling up the hair shaft and taking away from the beauty of your color treatment.
Regular salon visits also give you a chance to talk with a professional who can offer advice for other ways to preserve vibrancy. They may suggest using specific products or avoiding chlorine and salt water when swimming in pools or oceans.
Keep in mind that trimming does not mean cutting off more than what is necessary.
Investing time into regularly visiting a stylist also allows them to get familiar with how they can best serve you. They can consider factors such as the texture of your hair, the amount of damage present, and your lifestyle habits.
Invest in Color-Protective Products for Long-Lasting Color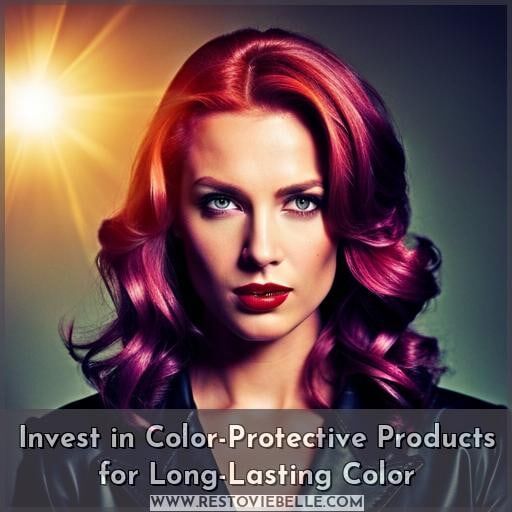 Splurge on color-protective products to ensure your hue stays vibrant and radiant for years to come – it's literally like a fountain of youth for your hair. Color-protective product benefits include preserving the integrity of dyed hair, nourishing fragile strands, and shielding against environmental damage.
Investing in professional color maintenance is also important. Look into at-home treatments with UV protection or toners that can enhance vibrancy without damaging the cuticle layer. For added longevity, incorporate color-enhancing techniques such as adding dye to conditioner or using clarifying shampoo before coloring sessions.
Finally, consider stocking up on some essential items: low sulfate shampoos, leave-in treatment with UV protection, heat protectant sprays, and oils/serums that will keep colored locks hydrated while preventing fading over time!
Conclusion
You've taken the important step of coloring your hair, and now it's time to make sure it looks vibrant and healthy for as long as possible. With the right products and practices, you can care for your color-treated hair and keep it looking salon-fresh for weeks.
Invest in color-protective products, like low-sulfate shampoos and conditioners, leave-in treatments with UV protection, heat protectants, and nourishing hair oils.
Make sure to wait 72 hours after coloring before shampooing, and adjust the water temperature when shampooing to seal the hair cuticle and prevent color fading.
Use color-safe dry shampoos on non-wash days to refresh your hair, and get regular trims every 6-8 weeks to remove dead ends.
Consume a diet rich in omega-3 fatty acids and vitamins for hair health, and consider adding a small amount of dye to your conditioner for brighter hair colors.
With these tips and products, you can keep your hair looking its best.