This site is supported by our readers. We may earn a commission, at no cost to you, if you purchase through links.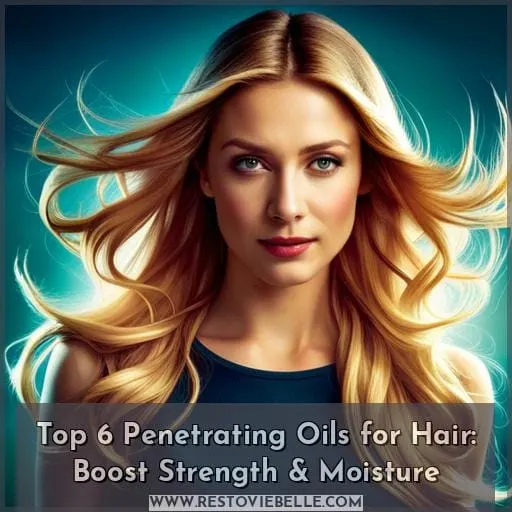 Are you looking for a way to boost the strength and moisture of your hair? Then look no further than penetrating oils. These powerful treatments have been used for centuries to nourish and condition the scalp, as well as provide intense hydration.
But with so many different types of oils out there, how do you know which one will be best suited for your hair shaft? In this article, we'll cover some of the top 6 penetrating oils that are perfect for strengthening and hydrating your tresses.
Nutiva Organic Coconut Oil
Velona Babassu Organic Oil
Tropical Holistic Olive Oil
Organic Castor Oil Kit
NOW Avocado Moisturizing oil
Righteous Roots Rx Growth
We'll also discuss what factors contribute to their effectiveness in providing maximum benefit.
Key Takeaways
Penetrating oils for the hair shaft offer numerous benefits, such as enhanced shine and moisture retention.
Some popular options for penetrating oils include Nutiva Organic Coconut Oil, Velona Babassu Organic Oil, Tropical Holistic Olive Oil, and Organic Castor Oil Kit.
Penetrating oils contain fatty acids like lauric, oleic, or linoleic acids that enhance oil penetration.
Personalizing oil selection based on hair type and needs can lead to improved hair health and overall well-being.
Top 6 Penetrating Oils for Hair Shaft
For healthy and well-nourished hair, penetrating oils are essential. Nutiva Organic Coconut Oil, Velona Babassu Organic Oil, Tropical Holistic Olive Oil, Organic Castor Oil Kit, NOW Avocado Moisturizing, and Righteous Roots Rx Growth all provide unique benefits to your hair shaft that can help prevent breakage while keeping it shiny and soft.
1. Nutiva Organic Coconut Oil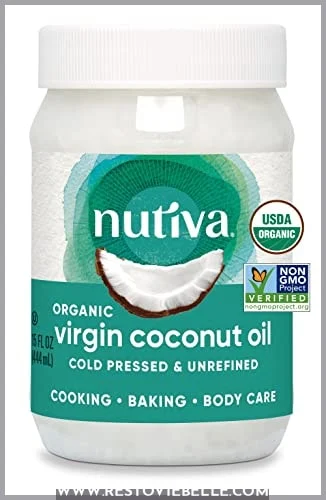 View On Amazon
Experience the nourishing benefits of Nutiva Organic Coconut Oil on your hair, with its 63% medium chain triglycerides and 50% lauric acid, for a glossy finish. This unrefined, cold-pressed cooking oil is packed with beneficial nutrients that penetrate deep into the hair shaft to lock in moisture and protect against water damage.
It's suitable for various diets like vegetarian, vegan, raw paleo ketogenic, and gluten-free, as well as personal hygiene and body care, making it an all-purpose oil you can't go wrong with! Moreover, its organic and non-GMO adherence, coupled with social and environmental responsibility, make it an environmentally conscious choice.
Benefits:
Enhances shine while locking in moisture
Increases pliability, reducing breakage
Suitable for dry, porous, or coarse types of hair
Rich in Vitamin E, antioxidants, fatty acids, and more
Drawbacks:
Can be difficult to wash off hands
Not effective for moisturizing dry or damaged strands
Some users may not like the fragrance
Liquifies at low temperature, leading to issues with packaging
2. Velona Babassu Organic Oil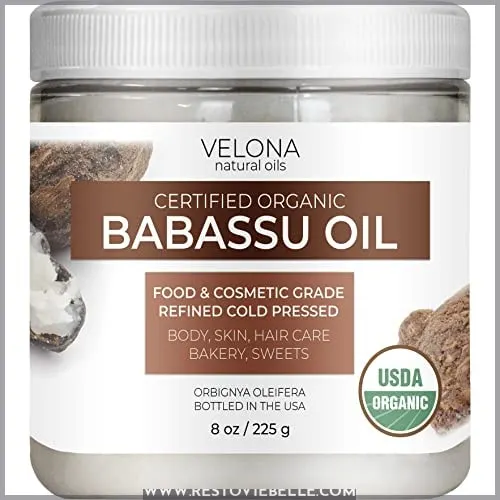 View On Amazon
Unlock the power of nature with Velona Babassu Organic Oil, a luxurious oil powered by Vitamin E and boasting an inviting aroma. Perfect for skin and hair care alike, this nourishing oil can help moisturize while also providing natural protection from environmental damage.
It is ideal for those looking to give their tresses some TLC without harsh chemicals or synthetic ingredients.
Non-greasy and fast-drying, it blends easily into any beauty regimen as part of your daily routine or weekly spa day ritual.
Velona's organic certified product is perfect for all types of skin and hair, including sensitive areas such as around the eyes – making it suitable even during pregnancy! Quickly absorbed into the skin without leaving a greasy residue behind, its subtle scent will leave you feeling refreshed throughout your day without overpowering fragrances that may irritate delicate noses.
Enjoy its many uses up to two years thanks to its long shelf life before needing replacement!
Pleasant smell
Effective at moisturizing
All-natural ingredients
Used as a hair conditioner
Recommended by holistic veterinarians
Difficult to wash off hands
Limited effectiveness on hair moisture
Liquifies at low temperatures
Some users don't like fragrance
Packaging prone to leaking
3. Tropical Holistic Olive Oil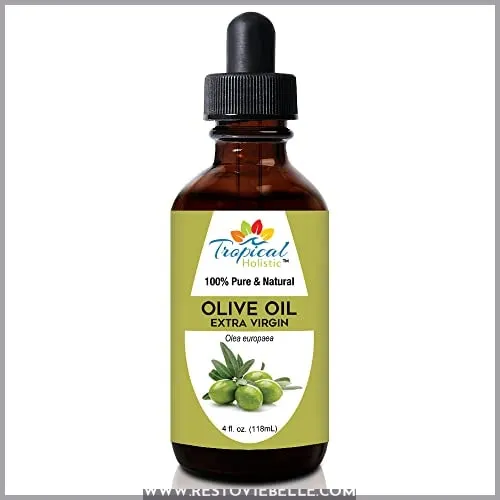 View On Amazon
Tropical Holistic Olive Oil is a nourishing and versatile oil that helps restore moisture, shine, and softness to your hair. This 100% pure extra virgin olive oil contains antioxidants, essential fatty acids, and vitamins for maximum hydration of the scalp.
It can be used as an after-shower moisturizer or body oil for all skin types, including sensitive skin, without leaving any greasy residue behind. Its non-GMO qualities make it great for vegan diets, while its high smoke point of 420°F makes it perfect even for high heat cooking applications such as sautéing or frying foods.
The amber glass bottle with dropper allows you to easily use this product on both your face and hair with accurate measurements every time; no messes! The subtle scent also adds a pleasant aroma to the experience while providing natural protection from sun damage due to its rich Vitamin E content, which aids in collagen production.
Additionally, Tropical Holistic's commitment towards sustainability by sourcing premium olives grown without agricultural chemicals shows their dedication towards protecting our environment.
Natural Moisturizer & Body Oil
Non-Greasy & Fast Drying
Rich in Antioxidants & Vitamins E/A/B
Sustainably Sourced
Amber Glass Bottle w/ Dropper
Not Tested On Animals
Color May Not Be Suitable For White Hair
Mixed Opinions On Effectiveness With Different Hair Colors
Positive Reviews Highlight Quality And Performance
4. Organic Castor Oil Kit
View On Amazon
Try Kate Blanc Cosmetics' Organic Castor Oil Kit for nourished, thicker, and stronger lashes and brows! This USDA certified organic castor oil is made with natural ingredients to promote hair growth.
The kit contains an easy-to-use glass dropper that helps improve the appearance of fine lines, reduce blackheads, breakouts, scars, dark spots, and stretch marks on your skin. Additionally, it offers protection from sun damage while also providing hydration.
It can be used as a massage or body lotion oil as well as for DIY beauty recipes such as soap making or hair masks.
100% pure & unrefined USDA Certified Shea Butter
Non-greasy & fast-drying suitable for all types of skin/hair
Comes in a convenient glass dropper with a one-year satisfaction guarantee
Rich in Vitamins E, A, B, antioxidants, essential fatty acids, Oleic Acid, Retinol
Difficult to wash off hands
Not effective for moisturizing hair
May not like fragrance
5. NOW Avocado Oil Moisturizing

View On Amazon
NOW Avocado Oil Moisturizing is the perfect choice for those looking to nourish and protect their skin with a nutrient-rich vegetable oil. This 100% pure, unrefined oil contains no hexane or solvents, making it suitable for sensitive skin.
It has a heavy texture that quickly absorbs into the skin without leaving any greasy residue behind.
The clear bottle also contains UV light protection to keep it fresh longer. You can use this versatile oil as a massage oil, body lotion, or hair and nail nourishment – all without worrying about harsh chemicals being absorbed by your body!
Not only does NOW Avocado Oil provide excellent moisturization benefits, but its thick texture makes it great for styling hair too! With its long shelf life of up to two years and easy application with a glass dropper included in every package, you'll never have an issue getting ready for your day ahead!
Nutrient-rich vegetable oils
No Hexane or Solvents
Quick absorption into the Skin
Long Shelf Life (up to 2 Years)
Thick Texture Great For Styling Hair
May be Difficult To Wash Off Hands
Not As Effective For Hair Moisturizing
Can liquify at Low Temperature
Some Users may not Like Fragrance
10. Righteous Roots Rx Growth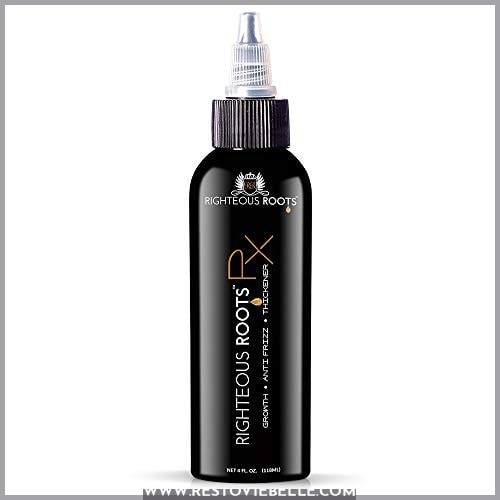 View On Amazon
Righteous Roots Rx Growth is an all-natural, vegan-friendly oil that'll give your hair the nourishment it needs to look and feel its best. Packed with a blend of natural oils, including rosemary, peppermint, coconut, Jamaican black castor oil, olive oil, avocado oil, grapeseed, tea tree, jojoba, and argan, this product offers SPF protection.
It helps detangle hair, adds shine to locks, reduces frizz, softens split ends, and promotes overall growth.
With consistent use, users report significant results in terms of length, up to 8 inches, as well as improved manageability and softness, making it great for those suffering from thinning or damaged strands.
For optimal benefits, apply generously, leave on for several minutes before washing off, then shampoo and condition accordingly afterwards.
Effective for reducing frizz and enhancing curls
Suitable for various hair types – coarse/curly, etc.
Promotes baby hair growth and adds glossiness without greasiness
Pleasant scent
Not everyone experiences notable thickness/growth
May make some people's hair appear greasy
Understanding Hair Oils

Discover the difference between penetrating and sealing oils to find which type best suits your hair needs.
Penetrating oils have a low molecular weight, enabling them to penetrate the shaft of the hair more easily than other types of oil. They provide moisture retention and help prevent damage from environmental factors like heat or pollutants.
Sealing oils are heavier in consistency, making it easier for them to coat each strand without leaving any greasy residue behind. These form a protective barrier that helps keep moisture locked in while preventing loss due to humidity or styling tools such as blow-dryers and flat irons.
Both types of oil offer similar benefits but differ when it comes down to their application methods: Choose penetrating if you need extra hydration; opt for sealing if you want protection against water damage!
Consider your unique haircare profile before selecting an appropriate product – use Hair Growth Lab's 14-Day Haircare Challenge as guidance towards healthier locks with improved texture, strength, shine, and overall look!
Benefits of Penetrating Oils for Hair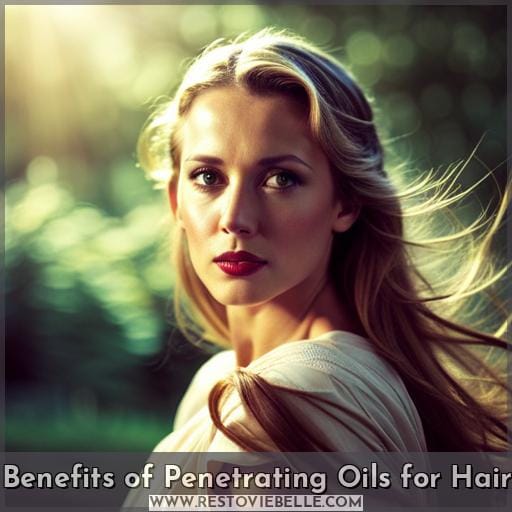 Penetrating oils for hair shafts can bring a multitude of benefits to your mane, such as improved hair strength, enhanced moisture retention, and decreased breakage. Using oils with low molecular weight and containing fatty acids like lauric, oleic, or linoleic acid allows them to penetrate deep into the scalp and nourish it from within.
This helps protect against damage from environmental factors like heat styling or UV exposure while adding shine and pliability to the strands.
Improved Hair Strength
By using penetrating oils for your hair shaft, you can give yourself a leg up in improving its strength and texture. Oils with low molecular weights and ingredients like lauric acid are best at penetrating the hair fibers to provide moisture retention secrets.
Choosing the right oil is essential; look for ones rich in monounsaturated fats or tailored to your unique porosity level.
Enhanced Moisture Retention
Try using a penetrating oil to help keep your hair healthier and better hydrated! Hair porosity levels, moisture retention techniques, and oil penetration factors must all be taken into consideration when selecting the right natural oil for you.
Hydration strategies can also vary depending on hair type and individual needs. An effective haircare regimen that includes moisturizing products is key.
Penetrating oils such as coconut, almond, or avocado are great choices for restoring softness. They can also provide protection against environmental damage. On the other hand, sealing oils like Jamaican Black Castor Oil are effective in sealing moisture and preventing moisture loss.
Get started today with the perfect blend of both types of oils!
Decreased Breakage
Unlock healthier hair with penetrating oils that reduce breakage and fortify your strands. From enhancing shine to preventing damage, these potent ingredients help keep moisture balanced while improving elasticity – all without adding frizz! Choose the right oil for you based on its molecular size and fatty acid composition, as well as your unique hair care needs.
A combination of both penetrating and sealing oils is crucial for healthy hair that resists breakage.
Factors Affecting Oil Penetration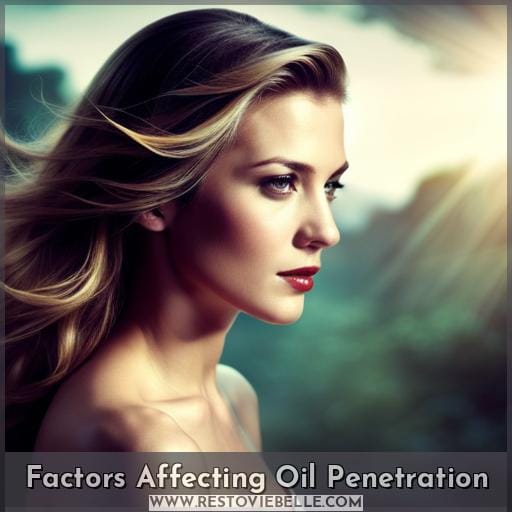 When it comes to hair porosity and penetration, molecular size plays a key role. Different oils work differently for people with low porosity hair depending on their molecular weight, fatty acid composition, and shape of the molecules.
Hair porosity and penetration.
Understand your hair porosity to help you choose the best oils for maximum penetration. Oil selection requires knowledge of low porosity challenges, penetration techniques, and oil selection tips. To maintain a balance between moisture and protein in each strand, use triglycerides and short-chain fatty acids in penetrating oils like coconut or castor oil.
Different types of oils have varying effects on low porosity hair – go with personalization! A combination of both penetrating and sealing is key for healthy locks that stay moisturized without weighing down your strands.
Effect of molecular size.
Gain insight into how molecular size affects oil penetration by exploring the differences between low and high molecular weight oils. Low-molecular weight oils are more efficiently absorbed, helping to increase scalp health for optimal hair growth.
High-molecular weight oils offer a protective barrier against environmental damage, combating porosity issues that impede absorption.
Importance of fatty acids
Discover how fatty acids in oil can help penetrate and nourish your hair shaft. Different types of fatty acid molecules determine the penetration ability of an oil, from moisturizing oils to sealing oils.
Oils rich in lauric, oleic, or linoleic acids are better at penetrating than those with polyunsaturated fats.
Hair porosity also plays a role. Low porosity locks make absorption more difficult, but small molecular weight oils minimize this issue.
Personalized Oil Selection for Hair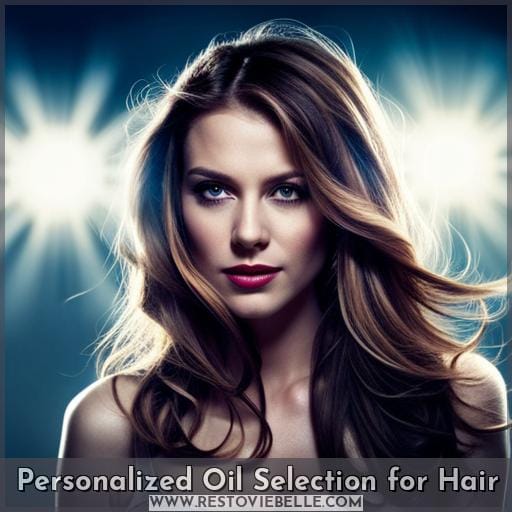 Choosing the right oil for your hair can be a daunting task, but understanding some key factors such as hair type and specific needs will make it easier. Personalized oil selection is a great way to ensure that you get maximum benefits from penetrating oils for your hair shafts.
Hair Type Considerations
When selecting oils for your hair, consider the unique needs of your specific hair type to find the perfect fit. Hair texture, porosity factors, oil compatibility, and moisture balance all have an impact on how penetrating oils will work in different strands.
Coconut oil is great for dry or porous hair types, while olive and avocado are best suited for those with a finer texture that needs added elasticity.
Unique Haircare Profile
Unlock the secret to your perfect oil selection by creating a Unique Haircare Profile! Get to know your hair type and needs for targeted treatments. Porosity, split ends, hair loss – these can all be addressed with tailored oils like penetrating or moisturizing ones.
Moisture retention is key for healthy tresses; consider the fatty acid composition of chosen oils as well as their molecular size.
Haircare Challenge Benefits
Take your hair health to the next level with a 14-Day Haircare Challenge and feel more confident in yourself! This challenge includes a healthy hair care routine, dietary makeover, and morning routine that can boost your hair health, physical well-being, and self-confidence.
Penetrating oils for the hair shaft, such as Jamaican Black Castor Oil or Grapeseed Oil, help protect against water damage, while Sunflower oil helps nourish dry or rough skin.
Conclusion
It's no surprise that the use of penetrating oils for hair shafts is becoming increasingly popular. Studies have shown that up to 79% of people have experienced improved strength and moisture retention in their hair after using penetrating oils.
These oils can be incredibly beneficial for those with dry, damaged, or porous hair, providing hydration, protection, and increased glossiness.
The key to selecting the right penetrating oil for your hair is to understand your hair type and specific needs. With the right penetrating oil, you can boost the strength and health of your hair and reduce breakage.
So, be sure to do your research on the best penetrating oils for your hair shaft and choose the one that fits your needs.