This site is supported by our readers. We may earn a commission, at no cost to you, if you purchase through links.
Boom! The solution to your bleached hair blues is here. Whether you have damaged tresses from coloring, highlighting, or heat styling, the right shampoo and conditioner can help restore your mane back to health – making it look shiny and vibrant again.
To rescue your locks, we've compiled a list of 10 best shampoos for bleached hair that will repair, restore, and hydrate in no time at all.
So let's dive into what makes these products so special, plus some tips on what else you should be looking out for when shopping around for shampoo specifically designed with bleach-treated hair in mind.
10 Best Shampoos for Bleached Hair
If you have bleached your hair and are looking for the best shampoo to repair it, look no further. Kerastase Resistance Shampoo, Aussie Total Miracle Shampoo, Oribe Gold Lust Shampoo, Olaplex Bond Maintenance Shampoo, Briogeo Repair Super Moisturizing Shampoo, and Amika Kure Bond Repair shampoo are a few of the top-rated shampoos on the market that can help nourish and restore your color-treated blonde hair.
1. Kerastase Resistance Shampoo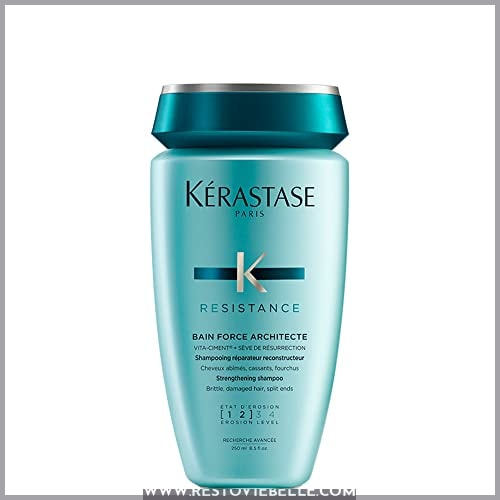 View On Amazon
If you're looking for a daily shampoo to repair and protect your color-treated strands, the Kerastase Resistance Shampoo is an excellent choice. It will help restore strength, shine, and manageability. The formula is enriched with Vita-Ciment technology, Pro-Keratin complex with serine and arginine, and Ceramide for added elasticity.
The Force Architecte Collection makes styling easier by repairing hair fiber from root to end while maintaining natural bounciness. The formula lathers well using only a small amount, making it cost-effective in the long run.
On the other hand, some customers had issues where they received their order without a cap, causing inconvenience when traveling or storing away. However, luckily these cases are few and far between. There were also some who found no significant improvement compared to cheaper brands, while others faced mixed results when combining different conditioners within the same brand range.
Reconstructs and strengthens damaged fibers effectively
Delivers smooth and shiny hair
Pleasant scent
Prevents breakage and split ends
Cost-effective
Some received orders without caps
Mixed reviews on efficacy vs cheaper shampoos
Not suitable for thinner/straight hairs
Incompatibility with other brands
2. Aussie Total Miracle Shampoo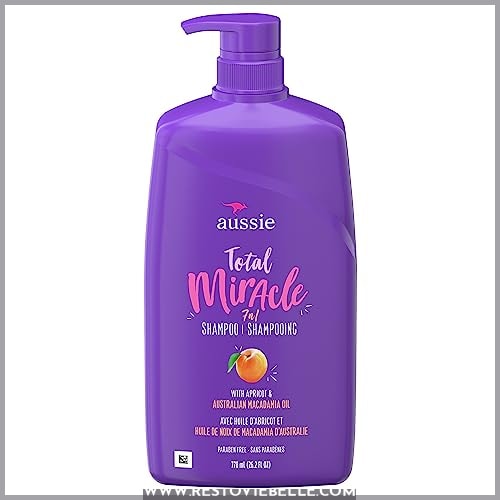 View On Amazon
Try Aussie Total Miracle Shampoo to give your bleached hair a citrusy boost of strength and shine! This shampoo is infused with apricot and Australian macadamia oil, providing 7 benefits: strengthening against damage, softness, split-end protection, moisture control, humidity control, shine restoration, and smoothing.
Perfectly suitable for those looking for an affordable solution that won't strip the color from their hair – this is definitely one to try out! Plus, it's paraben-free, so you don't have to worry about any added nasties being in there.
A light citrus scent will transport you away as soon as you lather up – many customers have noticed how much they love the smell – some even saying that it reminds them of an expensive perfume! Some also reported having more manageable and smooth locks after regular use without feeling like their scalp was dry or stripped.
One customer liked how long-lasting her results were – mentioning she could go over 2 days before needing another wash due to its oily roots keeping freshness locked down.
Infused with apricot & macadamia oil
Free from Parabens
Affordable price point
Smells amazing (like a luxurious perfume)
Not suitable for all hair types (specifically 4C curls)
Bottle/dispenser can break easily at times
3. Oribe Gold Lust Shampoo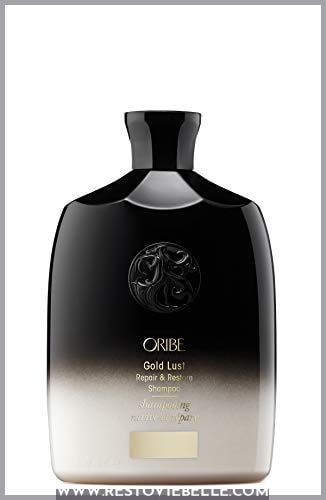 View On Amazon
You'll love Oribe Gold Lust Shampoo's luxurious formula and heavenly scent. Its highly concentrated, rich formula is designed to gently cleanse and rejuvenate hair for a youthful, healthy appearance while reinforcing strand strength and restoring moisture levels.
This shampoo is ideal for dry, wavy hair – perfect if you're looking to restore your post-pregnancy shedding or thinning locks! It also works great on curly hair. Customers have praised the product for its lather texture as well as soft results.
Although it's a luxurious product with an impressive bottle design, some users would like it to be more affordable compared to other brands in the market.
Highly concentrated & rich formula
Heavenly scent
Ideal for dry & wavy/curly hair
Works great on severely damaged/thinning locks
Luxurious bottle design
Some find it too rich for fine straight hair
High cost compared to other products
Small size packaging experiences issues with seal
4. Olaplex Bond Maintenance Shampoo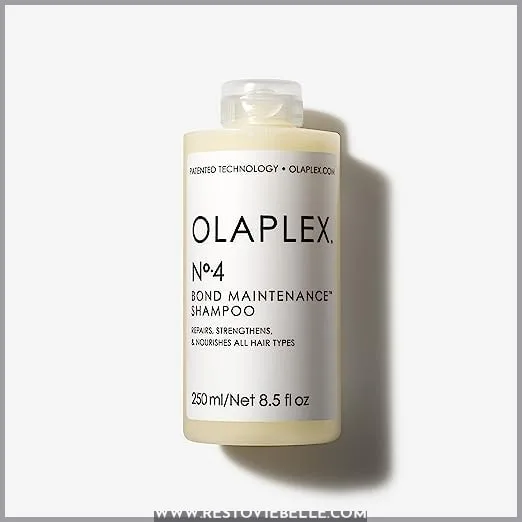 View On Amazon
Experience the nourishing benefits of Olaplex Bond Maintenance Shampoo, formulated with bond-building chemistry to restore strength and moisture levels while adding shine and manageability. This powerful shampoo is suitable for all hair types, from dry, curly, or frizzy to fine hair.
Users have reported impressive results after just a few uses. They love how soft their locks feel and how it prevents breakage.
Its easy-to-use three-step solution makes this product ideal for at-home treatments without requiring professional help or an extensive time commitment. Simply massage into wet hair in circular motions before rinsing thoroughly! It also adds body and volume to fine strands, as well as counteracting brassiness with its purple pigments.
Restores internal strength and moisture levels
Adds incredible shine and manageability
Suitable for all hair types
Pleasant fragrance
Not suitable for extremely damaged or dry strands
Can be too rich or heavy on finer textures
5. Briogeo Repair Super Moisturizing Shampoo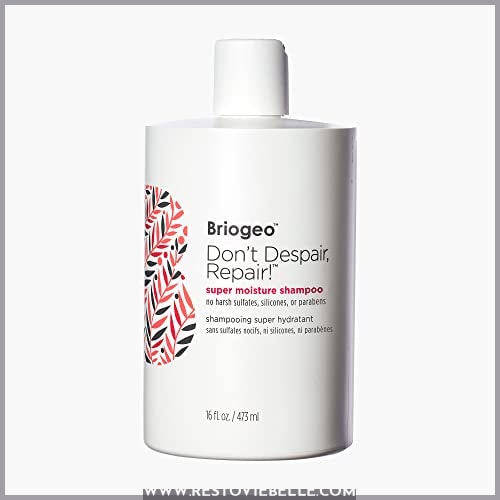 View On Amazon
Feel the difference in your hair's strength, shine, and volume with Briogeo Repair Super Moisturizing Shampoo; formulated with essential vitamins to cleanse without stripping moisture. This shampoo is 91% naturally-derived, vegan, and Leaping Bunny certified cruelty-free.
Its unique blend of Rosehip oil provides essential fatty acids and frizz control, while Algae extract offers minerals, amino acids, antioxidants, and vitamins to nourish hair strands. Additionally, plant proteins replace missing keratin proteins, and B vitamins help increase elasticity and moisture, leaving you feeling refreshed.
The creamy formula works into a gentle lather that softens even the most stubborn locks while cleansing away any build-up from styling products or environmental factors like dust or smoke. With its pleasant coconut scent, it is suitable for all types of dry, brittle, damaged hair, including 3B-4C curls, leaving them smelling fresh and clean after every use.
Makes Hair Soft and Healthy
Detangling Properties
Cleanses Build-Up From Styling Products
Not as Moisturizing as Claimed
Missing Cap Issues
6. Amika Kure Bond Repair Shampoo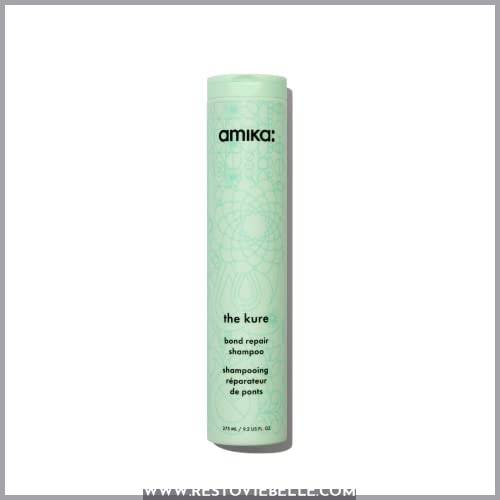 View On Amazon
With Amika Kure Bond Repair Shampoo, you can transform your bleached hair to be stronger than ever before – almost magically! This powerful formula helps restore and repair damaged and color-treated hair.
It contains plant butters and vegan proteins that provide keratin-like benefits from plant sources.
Its Bond Cure Technology targets the most abundant bonds in hair prone to breakage during daily wear and tear, while its rich nutrients such as Omega fatty acids, vitamins, and minerals help improve shine for softer locks.
Suitable for all types of men's or women's manes – even fragile dry strands – this shampoo will leave behind a pleasant scent after just one use.
Effective on color-treated & damaged blonde hair
Improved shine & softness
Pleasant scent
Reduced tangling
Not suitable for fine straight hairs
Expensive compared to similar products
7. PATTERN Beauty Curly Hair Shampoo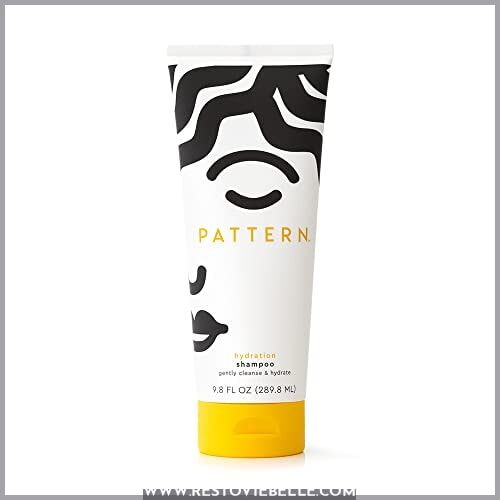 View On Amazon
Try PATTERN Beauty's Curly Hair Shampoo for a luxurious cleanse and hydrating nourishment that won't strip your curls of their natural moisture. The creamy, gentle formula lathers up quickly to remove build-up and dirt while providing essential vitamins to keep your hair healthy.
Suitable for all types of curly hair, from 3B-4C curls, this color-safe shampoo is infused with 10 nourishing oils such as Coconut Oil, Olive Oil, Avocado Oil, and Sweet Almond Oil – completely free of Mineral Oils! A little goes a long way in moisturizing the scalp without leaving it feeling weighed down or greasy.
Not only does the refreshing coconut scent make it enjoyable to use, but customers have praised its detangling properties that leave 4C hair soft and manageable.
Creamy & Gentle Formula
Contains Key Vitamins
Refreshing Coconut Scent
Suitable For All Types Of Curls
Detangles 4C Hair Well
Some Issues With Pump Not Working
Expensive Price Tag
Can Be Too Rich/Heavy For Fine/Straight Hair
8. Curls Dynasty Cocoa Mint Shampoo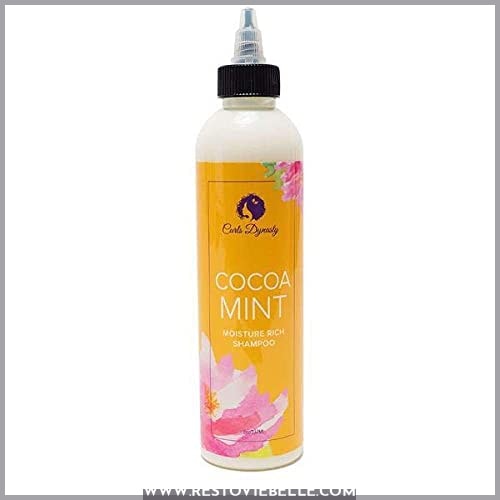 View On Amazon
Experience the Cocoa Mint Shampoo from Curls Dynasty and enjoy a hydrating, non-stripping formula infused with essential vitamins that purifies your hair while delivering intense moisture.
Perfect for all types of curly, kinky or coily hair ranging from 3B to 4C curls, this sulfate-free shampoo will enhance your curl care regimen and leave you feeling refreshed like never before!
The refreshing mint scent is perfect for those looking to add some extra joy into their wash day routine.
However, customer feedback indicates that it may not be as moisturizing as claimed by the company. There have also been reports of missing cap issues, which could cause inconvenience when using it on a regular basis.
Nevertheless, many customers are loyal fans who love how soft and healthy their curls look after using this product due to its detangling properties, which help make styling easier than ever!
Hydrating & Non-stripping formula
Infused with essential vitamins
Refreshing Mint Scent
Suitable for all types of curly & kinky/coily hair (3B – 4C)
Detangles Hair Easily
Not as moisturizing as claimed by the company
Reports of Missing Cap Issues
9. Nexxus Keraphix Shampoo Damaged Hair
View On Amazon
Unlock your hair's potential with Nexxus Keraphix Shampoo, a protein-infused keratin treatment formulated to heal severe damage and leave locks softer, bouncier, and more manageable. Harnessing the power of Proteomics research via high levels of Keratin Protein, Black Rice, Collagen, and Elastin, this salon-crafted shampoo is suitable for all types of damaged hair – from natural to color or chemically treated – making it ideal for everyone regardless of age or haircare journey.
The generous 33.8 oz bottle ensures you'll be able to reap the benefits at an affordable price too! This nourishing formula works as part of a unique 4-step process that helps revive damaged tresses in need of desperate repair.
Protein-infused formula repairs severely damaged strands
Suitable for all types & ages
Budget-friendly with a large bottle size
May be too rich on finer/straight textures
Difficult finding the product
10. Pureology Hydrate Shampoo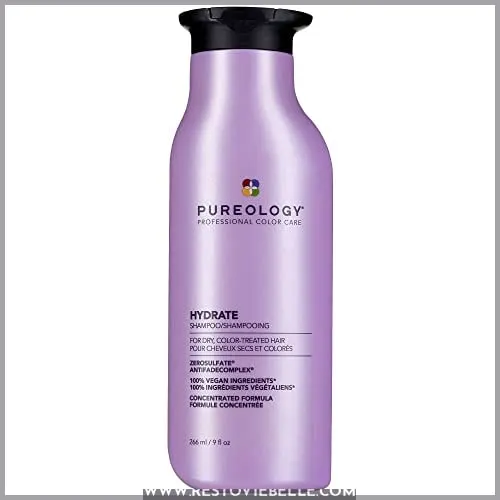 View On Amazon
Discover the luxurious and highly concentrated formula of Pureology Hydrate Shampoo that gently cleanses, rejuvenates, and protects your hair for an amazing feel. This shampoo is fortified with jojoba, rose extract, green tea, and sage to provide intense hydration while preventing hair loss.
It's a sulfate-free, paraben-free, vegan product made in the USA that effectively retains moisture without stripping away natural oils from your scalp or strands of color-treated hair.
With just a dime-sized amount, you can experience softness like never before. Its lather quickly suds up, allowing you to cleanse both the scalp and strands simultaneously – plus, it smells wonderful! Not only that, but this incredible product also contains vitamins that strengthen weakened follicles and add brilliant shine to every strand it touches.
Moisturizes dry & damaged hair
Safe for color-treated hair, actively protecting against fading/damage
Suitable for all types & textures of wet/dry, brittle, damaged hairs
Economical use with small amounts lasting months when used correctly
More expensive than other high-quality brands such as Aveda
Thick formula may be too heavy on fine, straight hairs
What to Look for in Shampoos for Damaged Hair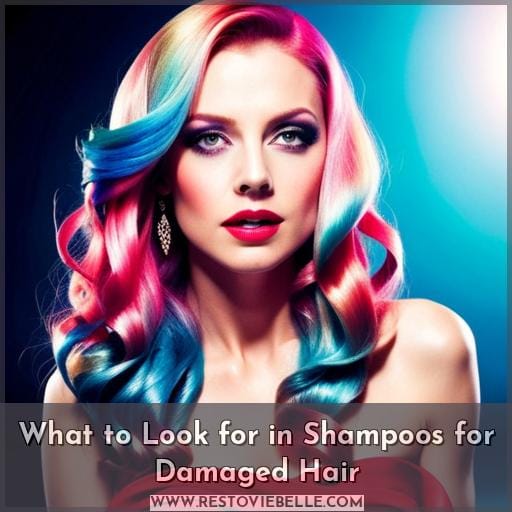 When looking for shampoos to repair damaged hair, it's important to consider products with ingredients that will help strengthen your strands and restore moisture.
Look for repairing formulas containing bond-building proteins like keratin or elastin, hydrating oils such as jojoba or coconut oil, and antioxidants like vitamins E or A.
Also, check user reviews online to get an idea of the product's effectiveness in restoring softness and shine.
Additionally, look out for color protection benefits from purple pigments if you have bleached hair.
Finally, make sure your shampoo is free of sulfates so it won't dry out fragile fibers further.
With the right shampoo formula tailored specifically towards repairing damage caused by coloring treatments, it can be a game changer when achieving beautiful blonde locks!
Why Trust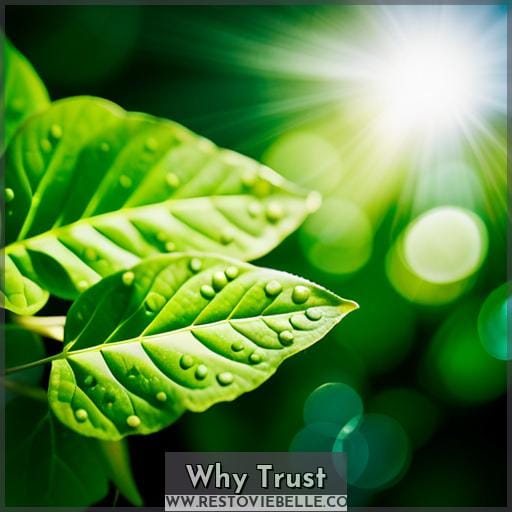 When it comes to bleached hair, you can trust products like Pureology Strength Cure Shampoo and Conditioner for comprehensive blonde hair care. Customers rave about the benefits of using these products – from improved shine to more resilient strands that are less likely to break or suffer damage.
Expert recommendations back up these claims with product ingredients designed specifically for color-treated hair, plus user experiences that show impressive results after multiple uses. Trustworthy brands also provide customer reviews on their websites so you can get an idea of what other people think before investing in a particular shampoo or conditioner set.
Furthermore, trusted companies make sure their products contain natural ingredients and meet high standards when it comes to safety and efficacy regarding the health of your scalp and locks! With all this evidence supporting its use, there's no doubt why trusting reliable haircare is the right way forward if you want healthy-looking blonde tresses!
Conclusion
With 1 in 3 Americans having bleached their hair at some point, finding the right shampoo and conditioner for bleached hair is an important task.
We've narrowed it down to the top 10 shampoos that help to repair, restore, and hydrate bleached hair. Whether you're looking for a luxurious and highly concentrated formula or a budget-friendly solution, there's something for everyone.
Products like Kerastase Resistance Shampoo, Aussie Total Miracle Shampoo, and Olaplex Bond Maintenance Shampoo use Vita-Ciment technology, Pro-Keratin, and Ceramide to prevent breakage and split ends.
Other shampoos like Amika Kure Bond Repair Shampoo and Briogeo Repair Super Moisturizing Shampoo nourish and increase elasticity and moisture.
With the right shampoo, you can restore your bleached hair to its former glory.